As responsible travelers who travel light and never check our bags (unless the airline forces us to), carryon luggage is essential for transporting our gear. The value of a good rolling bag can never be overstated, but having a great backpack is arguably even more important.
Think about it: Your carryon roller takes a leading role in getting your gear to your destination. But your backpack plays a major supporting role. We use our packs for storing things like snacks, toiletries, laptops, and headphones on the plane. We use them as daypacks once we arrive, taking them along when we hike, bike, or go Scuba diving.
The best backpacks have to be versatile enough to go from the city streets to the hiking trail. They have to offer internal organization, and easy access to all of your stuff. They have to be rugged and reliable enough to stand up to the elements, whether we're hiking up glaciers in the fjords of Norway or cycling through a tropical downpour in Mexico's Riviera Maya.
Take a look at our reviews of 40 of the Best Backpacks for Travelers, broken down into categories and highlighting pros and cons. Whether you're a man or woman, multi-day backpacker or business traveler, we hope our detailed guide will help you find the perfect pack for you.
READ MORE: The Best Carryon Luggage for Travelers
Best Backpacks for Travelers Comparison Table
Best Backpacks for Women
The Eagle Creek Global Companion backpack is designed to be compatible with their signature Pack-It system.
The 3.7lbs, 40-liter pack is made with women in mind, and is shaped to better fit the curves of a woman's body. The fixed suspension of the pack helps to add both stability and comfort, with padded, moisture-wicking straps, back panel, and hip belt.
The Global Companion pack has a traditional suitcase-style butterfly opening and offers two large main compartments for storage and organization.
There's a padded laptop compartment large enough to hold most 17" laptops, and two zippered front pockets that allow quick access to your gear. There's also a separate shoe compartment that keeps dirty or wet shoes away from your clean, dry clothing.
Pros
Great combination of a backpacking and carryon luggage bag
Very safe and secure
The unisex design ensures a perfect fit for men and women
Cons
Quite expensive compared to other bags
Outside pockets could be bigger
READ MORE: List of National Parks By State (An Epic Guide)
With a carrying capacity of 26L, and weighing only 618g, the Patagonia Arbor could be considered the Grande's little brother. Its body is made with the same recycled polyester fabric, and treated with the same DWR (durable water repellent) coating.
This means that, just like the Grande, the Arbor backpack is durable and long-lasting, but also lightweight. It's a great little backpack for female travelers.
The pack has a large main compartment that can be used for anything from books and files to camping and hiking gear. Under the lid, there's a zippered stash pocket to protect valuables such as your wallet, cell phone or keys.
Inside there's a padded sleeve that is made to hold most 15" laptops, but it also doubles as an insulated hydration reservoir. The shoulder straps have the same "Human Curve" design as the Grande, ensuring long-lasting comfort.
Pros
Large carrying capacity
Very versatile
Simple but attractive design
Cons
Could have more pockets
Does not have a rain cover
READ MORE: Inspirational Animal Rights Activists (15 Female Heroes)
The 60L Crown2 from Granite Gear is an extremely comfortable, ultra-lightweight (weighing just over 2lbs) multi-day pack.
The bag is designed specifically for women, with its Re-Fit hip belt allowing you to find the perfect fit in seconds. It also offers shoulder straps that are tailor made to fit the female form.
The Crown2 boasts a new Vapor Current Mark 2 frame, which is a molded polypropylene frame sheet with die-cut holes to minimize pack weight without compromising the design. The suspension system has a molded foam back panel and mesh ventilation channels.
All of these elements work together to create a pack with maximum breathability, reducing moisture and aiding in overall comfort.
Pros
Designed with a woman's frame in mind
Large storage capacity
Lightweight and durable, yet easy to carry and comfortable
READ MORE: Hiking the Annapurna Circuit Trek: Why It May Be Now Or Never
The 40L Coulee Backpack from Mystery Ranch is a brilliant option for a day on the trail, or as a lightweight companion for a weekend away.
It's made of tough 420D Nylon, weights 4lbs 5 oz, and fitted with YKK zippers. The pack has a 3-zip design, which allows for incredibly quick access to the interior.
The Coulee has a mainframe that's comprised of two vertical rods and an upper horizontal bar. The horizontal bar keeps the vertical rods in place, but also allows for flexibility and movement. The mainframe transfers weight into the wings of the pack and then equalizes it around the hips.
The Coulee is also fitted with female-specific harnessing, as well as macro adjusts for all torso lengths.
Pros
Specifically designed for women
Adjusts to a women's shape with ease
Mainframe ensures weight is spread evenly with no heavy spots
Cons
Would not be able to hold a sleeping bag or tent
Too small for extended backpacking journeys
READ MORE: What is Glamping? (The Top 10 Glamping Resorts in the World)
The SL carry system of the 45L Aircontact Lite from Deuter is designed to ensure a perfect torso fit for the female body.
The pack's Aircontact System keeps the weight close to the body. This lowers your center of gravity, giving you more control over the weight. The Vari-Quick System allows for fast, easy adjustments to the torso length of the pack, making this a brilliant choice for female backpackers.
The Aircontact Lite is made from PU coated 600D polyester thread, which provides extremely lightweight durability, and weighs in at only +- 4lbs
In terms of storage, the pack has a lower compartment, a valuables pocket for your keys/wallet/passport, a stretch compartment for wet clothing, an H2O pocket for a hydration reservoir, and external attachment points for hiking poles, helmet, tarp, or tools.
Pros
Large storage capacity
Designed for women
Mainframe system ensures optimal balance
Cons
Price, depending on your budget
READ MORE: The Best Travel Clothing For 7 Travel Styles (An Epic Guide)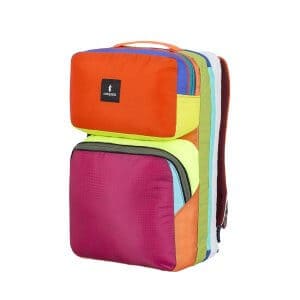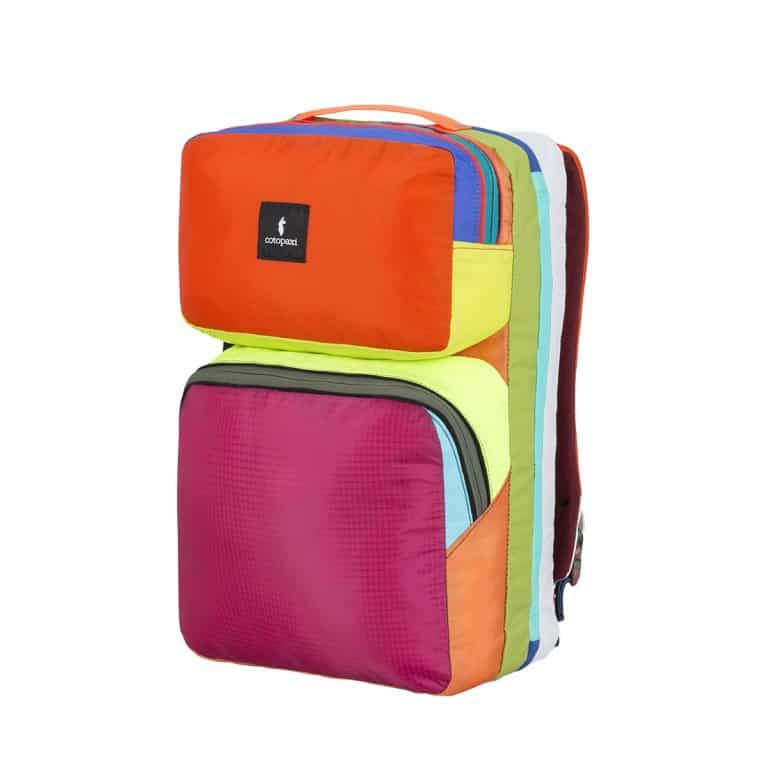 The Tasra Daypack from Cotopaxi is a 16L bag made of repurposed nylon. The bag has a very spacious interior compartment and can be used for work or play.
The external pockets keep your smaller pieces of gear organized. Internally, there is a padded laptop sleeve, as well as enough space for clothes, snacks, and more.
One of our favorite features of the Tasra Daypack is the tuck-away shoulder straps, as well as multiple grab handles. This allows you to easily use it as a carry-on pack while minimizing space.
This bag incredibly practical and versatile, which makes it a great backpack for travelers. And every pack in the Del Dia collection is completely one-of-a-kind, with a Cotopaxi employee deciding the color palette.
Pros
Very versatile and stylish
Made of repurposed nylon
Cons
Price, depending on budget
Availability
READ MORE: How Mass Tourism Is Destroying 30+ Destinations Travelers Love
Top Backpacks for Men
The Cameron Waxed Canvas Roll Top Backpack from Solo New York offers the perfect combination of classic style and material, with sleek aesthetics that fit in the 21st century.
The bag has a completely waxed canvas body, with a padded laptop compartment that can fit a 15.6" laptop. It has an internal iPad compartment and a quick-access pocket that allows you to reach your passport, wallet, or phone easily. It also offers a front zippered organizational pocket with a key clip.
A great backpack for men, the Cameron has a high-quality and durable oxford lining, metal hardware, a back panel that slides over the luggage handle, as well as a padded back panel and backpack straps. The best part? All of this weighs in at only 4.55lbs
Pros
Rugged and durable
Metal hardware is long-lasting
Wax body is weatherproof
Cons
The organizational pocket can feel a little cramped
Price, depending on your budget
READ MORE: 20 Best Festivals in the World (For Your World Travel Bucket List)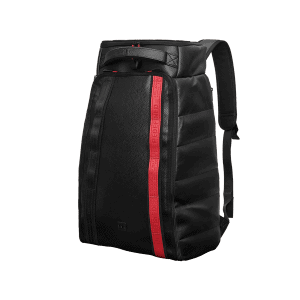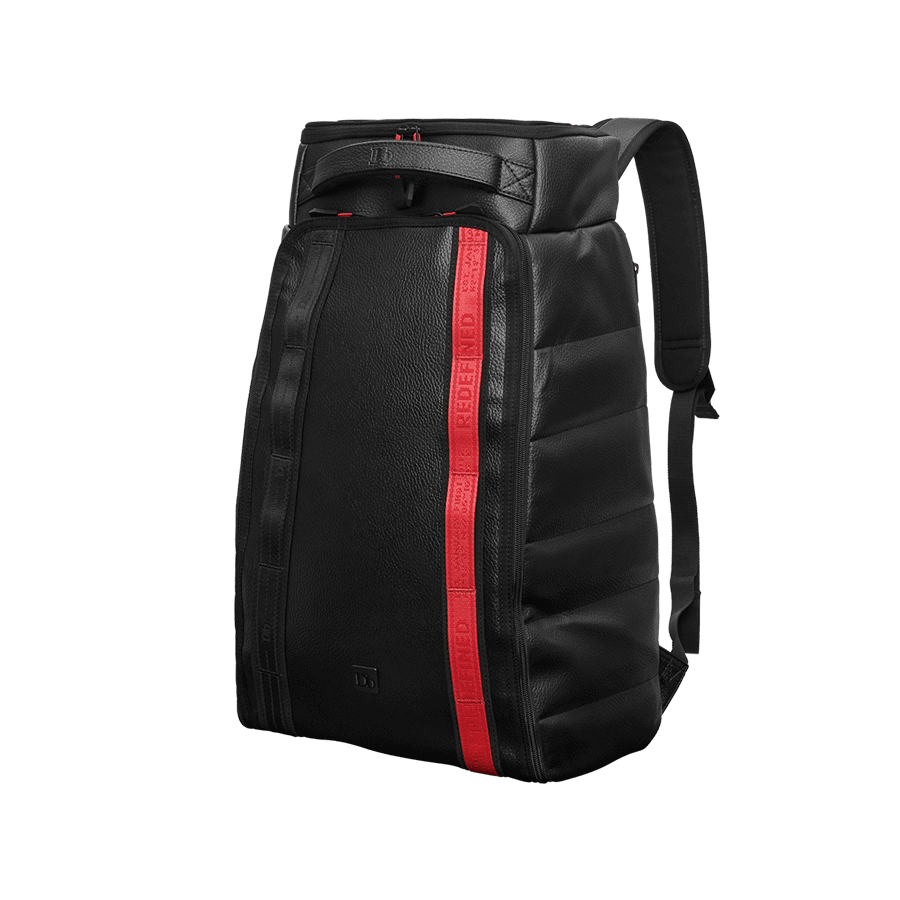 Another versatile pack from Douchebags, the Hugger is a brilliant laptop/work backpack that prides itself on simple, but effective design.
The exterior of the bag is made of highly durable 600D polyester, with the inner lining made from 300D polyester, and weighs 3.1lbs The Hugger has done away with traditional padding and instead builds on a rib cage construction that keeps the bag lightweight, yet still highly protective of your gear.
The bag has a padded laptop pocket that can hold most 15" laptops. There's also a roomy top pocket for your essentials, and mesh compartments that help keep everything organized.
The 30L Hugger backpack is designed with Douchebags' Hook-Up system, which allows it to slide and hook onto any one of their roller bags.
Pros
Fully accessible main compartment
Secure and padded laptop sleeve
High-quality construction and design
Cons
Price, depending on budget
Lacks internal organizational sleeves
READ MORE: The World's Best Road Trips For Your World Travel Bucket List
The Wayfinder Backpack from Eagle Creek is a 20L pack made of lightweight, 300D Dual-Diamond Heather Ripstop with a 500D Poly RPVB coating, and weighs just 1.7lbs!
It's built on a unisex suspension system, which means it can work for both men and women. It has a high-tech back panel that has room intended for your small electronics and power banks.
The pack boasts a built-in padded sleeve that can hold most 15" laptops securely, while the additional pockets in the main compartment can hold your wallet, keys, and other small items.
The bag also has a cord organizer to stop your cords from getting tied up and tangled. There are additional gear loops for attaching small pieces of gear to the outside of the pack.
Pros
Lightweight and durable
Keeps your tech safe and secure
Additional storage for smaller pieces of gear
Cons
Not much interior space left once filled with a laptop, cords etc.
Price, depending on budget
READ MORE: 40 Things You Should Know Before Traveling to Guatemala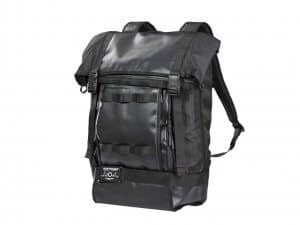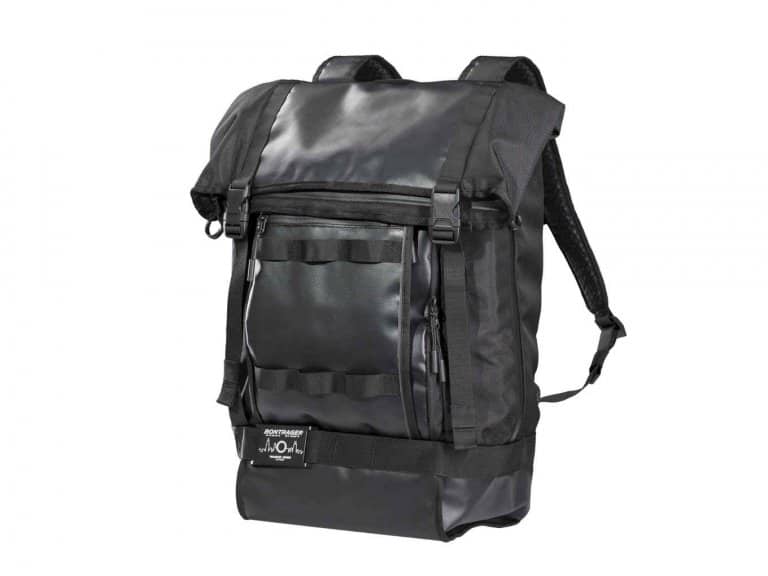 The slick urban look of the 41L Bontrager Chi-Town Backpack by Trek (a bicycle gear company) was inspired by the mean streets of Chicago.
It's designed to help you navigate your day-to-day adventures with ease, no matter which city you're traveling in.
The flap top helps keep dust and road grit out and, when unfolded, gives you additional storage volume. There's an exterior access pocket that's perfect for holding most laptops up to 17". The entire 41L pack weighs in on the scales at just 3.7lbs.
The pack also has side zipper access as well as multiple other access points to easily reach your gear. On the inside, there are divider pockets for separating your tablet, media, and other gear. The bag is also fitted with front U-lock carrying straps.
Pros
Made for urban environments
Multiple entry points
Space for a laptop, tablet, and other gear
READ MORE: Going Green: 60 Simple Tips For Earth Day & Every Day
The 38L, 2lbs weight Split Adventure Backpack by Dakine is made for spontaneous weekend getaways. If you're unfamiliar with the brand, Dakine has historically made some of the best backpacks for travel.
The pack is made of 500D Nylon with waxed PU, 400D polyester Ripstop, and 1000D Nylon and cotton blend with a DWR coating and a 420D Hypatex rubberized material. In laymen's terms, this bag is built to be rugged and ready-to-go.
The Split Adventure Backpack can fit most laptops up to 15", and has a TSA-compliant laptop sleeve that makes going through security a breeze.
The bag has an ergonomic foam back panel and shoulder straps with breathable air mesh. It also has a fleece-lined tablet pocket in order to protect your electronics.
Pros
Well respected brand
High-quality materials and craftsmanship
Perfect for a weekend getaway
READ MORE: 125+ Best Gifts for Travelers (& Every Travel Style)
Made out of repurposed military surplus, the Green Signature Rucksack from Sword & Plough is a simple, durable, and versatile backpack.
The cotton canvas and twill body (with leather accents and weighing only 2.45lbs) are not only aesthetically pleasing but add years to the bag's lifespan.
The bag's classic look may bring back memories of childhood camping trips with the Boy Scouts, learning to embrace the great outdoors.
It may look Old School, but the rucksack has modern features such as a secure laptop sleeve, big enough to fit most 15". There are also two exterior side pockets for water bottles, while the main compartment has a zipper and the fold-over lid covers the top.
Pros
Highly durable
Long-lasting craftsmanship
Strong materials
Cons
No organizational features
Only one main compartment, no separators
READ MORE: 20+ Camping Tips & Tricks for Responsible Travelers
Most Versatile Backpacks for Hiking (Daypacks)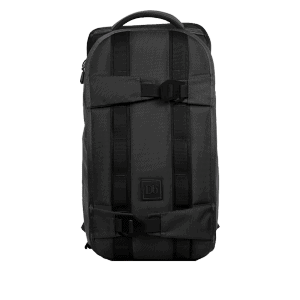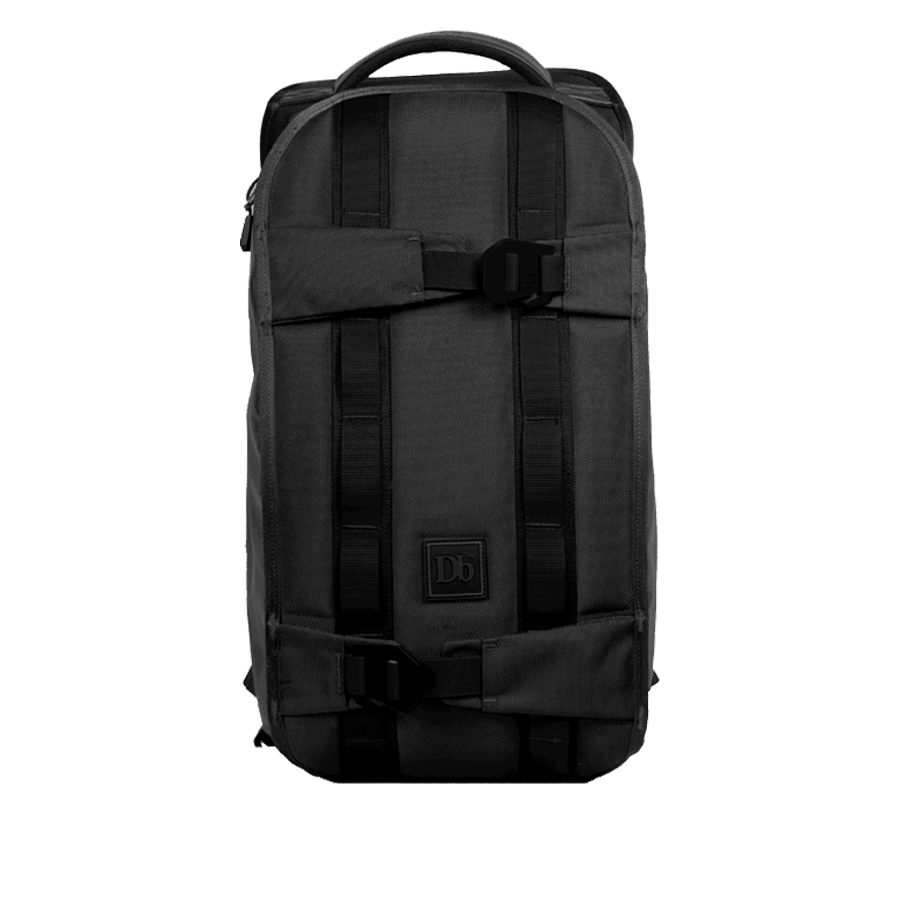 The 2.6lbs Explorer by Douchebags is an incredibly versatile backpack that has been designed to be used during your day-to-day life, as well as out on the slopes.
The outer shell of the bag is made of tear-proof 600D polyester, with a water-resistant coating and waterproof TPE 500D. The lining is made of 200D-PU polyester.
The bag itself has a 1680D, thermally formed ballistic polyester front-panel, an EVA back panel, a chest strap, a removable waist strap, and a space for a Camelbak reservoir.
There's also a top pocket for your goggles or sunglasses, mesh pockets, and protective pockets for valuables. For skiers and snowboarders, the bag boasts a diagonal ski carrying system and a vertical snowboard carrying system.
Pros
Performs well as both a daypack and a backpack for skiing
High-density, durable shell
Can easily carry your skis
Cons
A bit small
May not be able to fit everything you need once avalanche gear is packed
READ MORE: 20 Best Mountains in the World (for your World Travel Bucket List)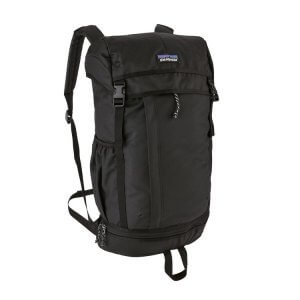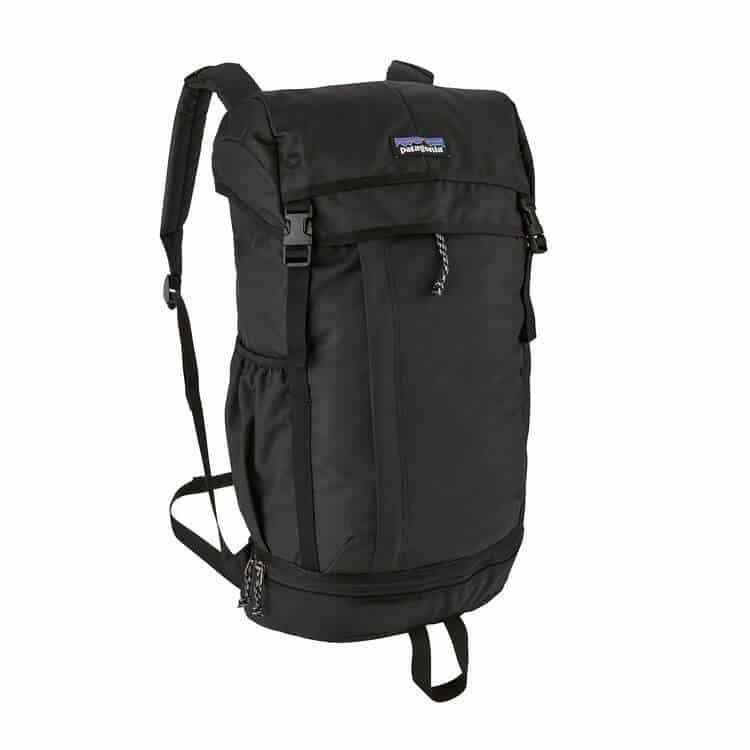 The definition of simplicity, the 1.83lbs, 28L Arbor Grande Pack by Patagonia has one roomy main compartment and a separate, smaller horizontal pocket that can be used to keep your wet gear separate from your dry goods.
The Grande quickly closes with a cinch cord, and also has a protective flap over the top.
The bag has a recycled polyester fabric body with a DWR (durable water repellent) finish. This keeps the bag lightweight but also ensures added durability against the elements. The bag also has a laptop sleeve (which can fit most 15" laptops) and a zippered front stash pocket.
The straps of the bag have been designed with the human shoulder and curve in mind. This ensures the bag stays very comfortable to carry even after hours on the trail.
Pros
Simple yet effective
Large main compartment
High-quality design and materials
Cons
Laptop sleeve needs more protection
Very few organizational features or internal pockets
The 2.2lbs 25L Rapid Origin Pack from 5.11, is an incredibly versatile daypack that can be used on hiking trails, tours around the city, or just to carry supplies for your family beach vacation.
The pack is made with impressively durable 600D polyester. It has a web MOLLE system on the front, left, and right sides to provide even more storage and carrying options.
The pack has a padded laptop sleeve and is also hydration pack- and TacTec system- compatible. There's a large, drop-front inverted U opening, allowing you to reach your gear without having to rummage.
It also has a fleece-lined eyewear pocket, 2 internal zippered pockets, and an admin panel with a keyhook compartment. On the outside, there are multiple quick releases and adjustable straps that allow you to fully customize the fit and maximize comfort.
Pros
Heavy-duty nylon material
Lightweight yet very durable
Many pockets for organization
Cons
Can be too small if used for longer adventures
There are similar, bigger packs available for a lower price
READ MORE: The Ultimate Beach Vacation Packing List
The 27L Safe Passage 800 from Orvis is a sturdy 800D nylon 1.69lbs backpack with all the space and features you could want in a perfect daypack for work or school.
But you can also quickly transform it into a hiking pack that can hold everything you need for a day on the trail. The bag is slim and streamlined, yet deceptively large.
The Safe Passage 800 has multiple storage pockets and storage options, with the two main interior compartments holding travel clothing and other gear.
The front pockets are perfect for smaller essentials, and there are two self-draining outer pockets for water bottles. The bag also has a padded sleeve big enough to hold a 17″ laptop.
Pros
Very versatile
Can be used in the office or on the trail
Cons
Can't be used for serious travel, as there's only 27L of storage space
Bigger options available if you need a more multi-functional pack
READ MORE: 10 Best National Parks in the USA For Wildlife Watching
Based in Asheville, Eagle's Nest Outfitters is best known for their hammocks. But the 27L, 1.69lbs Rothbury Daypack offers the same quality construction the brand is known for.
The pack has a 400D Nylon shell with a DWR coating and a 200D polyester Ripstop liner. The large, zippered main compartment is easy to access, and there's a padded compartment that can protect most laptops up to 16".
The Rothbury includes a lined tablet pocket and a front organizational convenience pocket for your passport, wallet, and keys. It also has a lined glasses/phone pouch and hammock hatch.
In terms of comfort and convenience, the bag has adjustable shoulder and sternum straps, a padded carry handle, and a quick-access side pocket.
Pros
Ultra-durable shell and liner
Laptop and tablet compartments
Multi-functional
Cons
Quite expensive for the capacity offered
Would not work as a multi-day pack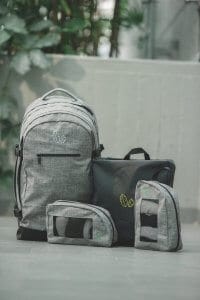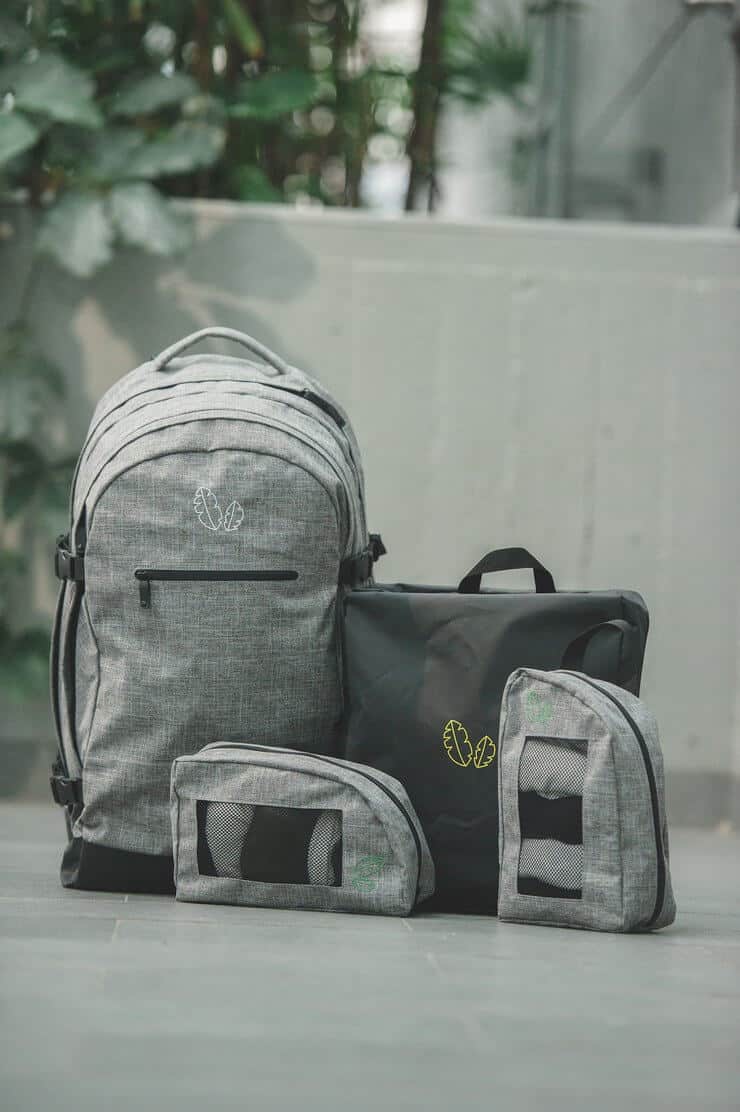 The Khmer Explorer Travel Set from Banana Backpacks is a 60L, 5.59lbs pack that comes with integrated packing cubes that allow for incredible internal organization.
The pack is made of DWR 500D Kodra Nylon with a tarpaulin bottom, and lockable YKK zips. The completely weatherproof bag is made to withstand whatever elements Mother Nature chooses to throw at you.
The 3-piece packing system stores everything you need, whether it's for a quick weekend away or a longer backpacking trip. The packing cubes can hold your socks, shirts, and shorts, while the shoe bag can also hold dirty laundry or other gear.
Best of all, each pack you purchase from Banana Backpack supports an impoverished child in Cambodia, providing them with 2 meals a day for a year. You can even get a patch on one strap with the name of the child you're supporting.
Pros
Large, highly organized storage
Very durable
Supports a great cause
Cons
Price is a little high (but justified in our opinion)
Can not store coats or thick jackets
READ MORE: 8 Reasons Why Slow Travel is Better
The High Coast 24 from Fjallraven is a weighs just 2.3lbs made from G-1000 Lite and G-1000 HeavyDuty, giving it the perfect balance of durability and packability.
The drawcord opens up the main compartment, and a metal hook ensures a secure closure. In terms of storage, the pack has a zippered front pocket, side pockets, and a security pocket.
The pack has compression straps on the side in order to stabilize it when it isn't fully loaded. It also has lightly padded shoulder straps and mesh lining for comfort.
Our favorite feature is how the chest strap and waist strap detach, and the foam frame is removable so that the pack can compress into its own front pocket. This makes it a great backpack for traveling.
Pros
Lightweight, yet very durable
High-quality materials and craftsmanship
Cons
No organizational pockets
No dedicated laptop or tech pocket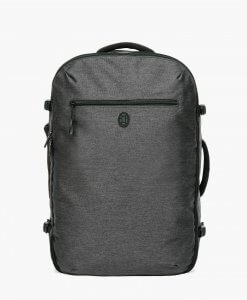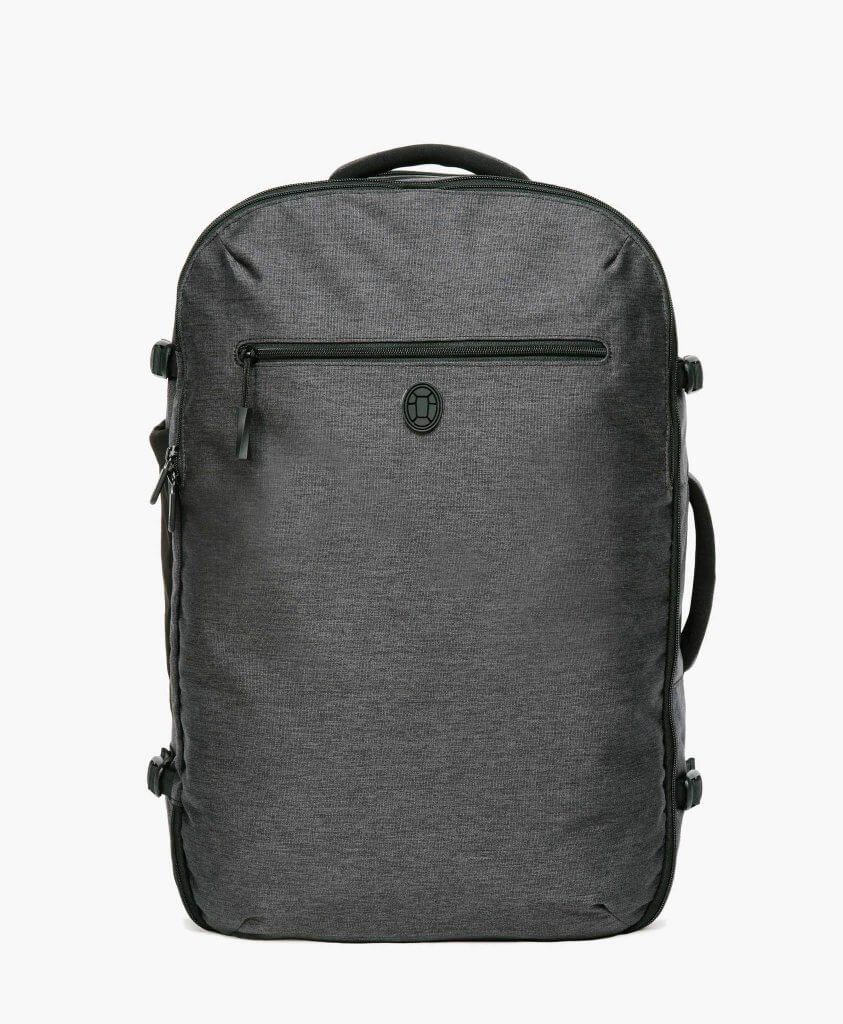 The Tortuga Setout Backpack is a 45-liter capacity, 900D heathered polyester backpack. It is a front-loading backpack, enabling you to reach your gear easily without having to unpack the whole thing. It is also carry-on size and easily fits into any airlines overhead bin.
The backpack has laptop and tablet sleeves, which are big enough to fit most 15" laptops and 9.7" tablets. The pack itself is weather resistant, with lockable zips to protect your gear, a padded hip belt for extra comfort.
Organizational pockets inside keep your gear ordered and neat. Definitely a great backpack for traveling.
Pros
Extremely durable
Carry-on size
Front-loading for easy access
Cons
Can sometimes feel too big
Shipping out of the US is expensive
Best Backpacks for Trekking (Multi-Day Packs)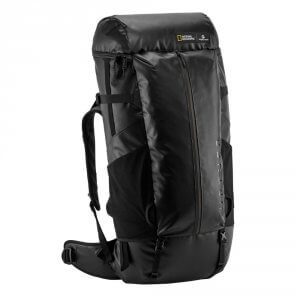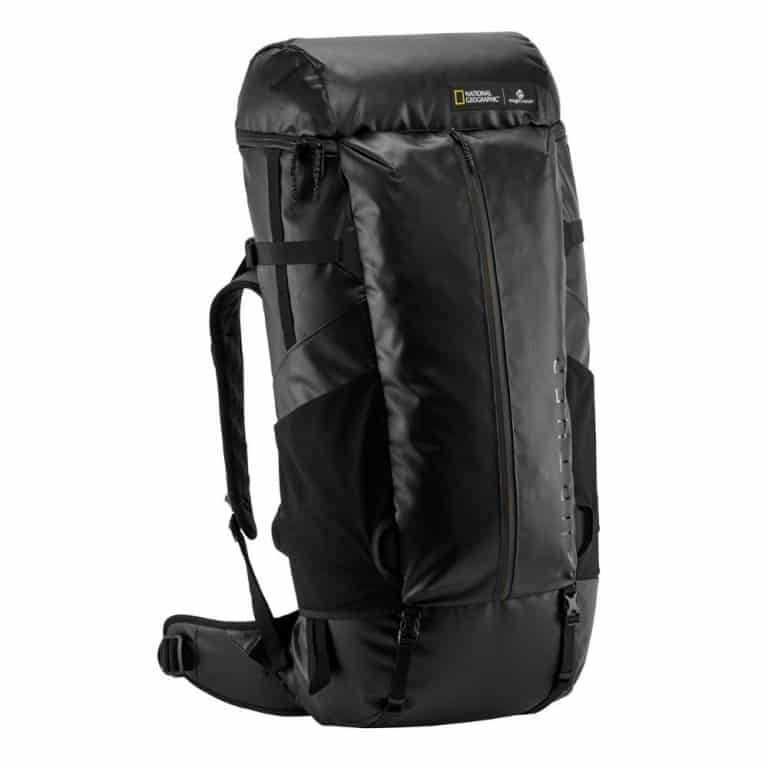 Produced in partnership with National Geographic, the Guide Travel Pack from Eagle Creek is designed for adventure.
The 65L pack is made of highly durable weatherproof materials, including a stain- and water-resistant, wipeable interior. It has a dual access main compartment, allowing you to enter it via the top or from the zippered back panel.
The bag has a separate front zippered compartment that's ideal for storing any dirty or wet items. It also has a water bladder compartment, with a hanging clip and drinking tube access through the back.
The water and dirt resistant foam-molded back panel straps and hipbelt are made to withstand wear and tear year after year. And the bag's sleek, stylish design should also withstand the test of time.
Pros
Ultra durable
Large main compartment
Adjustable torso for a perfect fit
Cons
Too heavy for day-to-day use
Not designed for lightweight travelers
READ MORE: 20 Biggest Forests in the World (For Your World Travel Bucket List)
The brand new design of Deuter's Futura 26, which weighs just over 3lbs, is made for the trail and the mountains. This 26L bag is fashioned from 600D polyester with a PU coating, which makes it sturdy, but still lightweight.
The pack has a built-in Aircomfort Ventilation System, ensuring that the chance of overheating is kept to a minimum. It also has an Active Comfort Fit system, which means that the weight of the pack is distributed evenly and there are no heavy spots that can strain your neck, shoulders, or hips.
The Futura 26 has a spring steel frame, which keeps the bag rigid, but it still gives you the full freedom of movement.
The bag has a front access zipper so that you don't have to unpack everything in order to find something. It also has a valuables pocket, a stretch compartment for wet clothes, a hydration pack-compatible compartment, as well as load adjustment straps to adjust the bag's center of gravity.
Pros
Great value for the money
Very high quality
Extremely comfortable to wear
Cons
Top-loading makes it difficult to reach gear at the bottom
READ MORE: 25 Biggest Deserts in the World (For Your World Travel Bucket List)
The 2.5 lbs Motion 60 Backpack from Klymit has a 210D Nylon base, with 150D silicone impregnated nylon upper. It has a 55-pound load rating, which is more than enough for a few days on the trail or camping.
The lightweight nylon is treated to be water-resistant and to shed light snow, protecting your gear against the elements.
The frame of the pack is incredibly lightweight (just 41.4 ounces), as it does away with the need for metal stays and plastic sheets. This keeps the weight down, but not at the expense of rigidity or strength.
The pack is also fitted with YKK zippers, which are durable, extremely reliable, and fitted with an Aqua-Guard to prevent leakage.
Pros
Great suspension system keeps the bag balanced and lightweight
Water and light snow resistant
Perfect for backpacking and hiking trips
Cons
Can be slightly difficult to fit for some body shapes
Zippers sometimes stick
READ MORE: 60+ Cool Camping Gear Reviews (For Every Camping Style)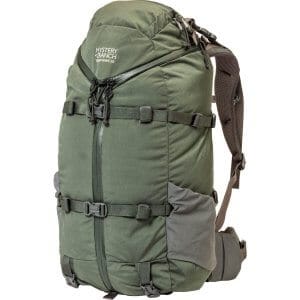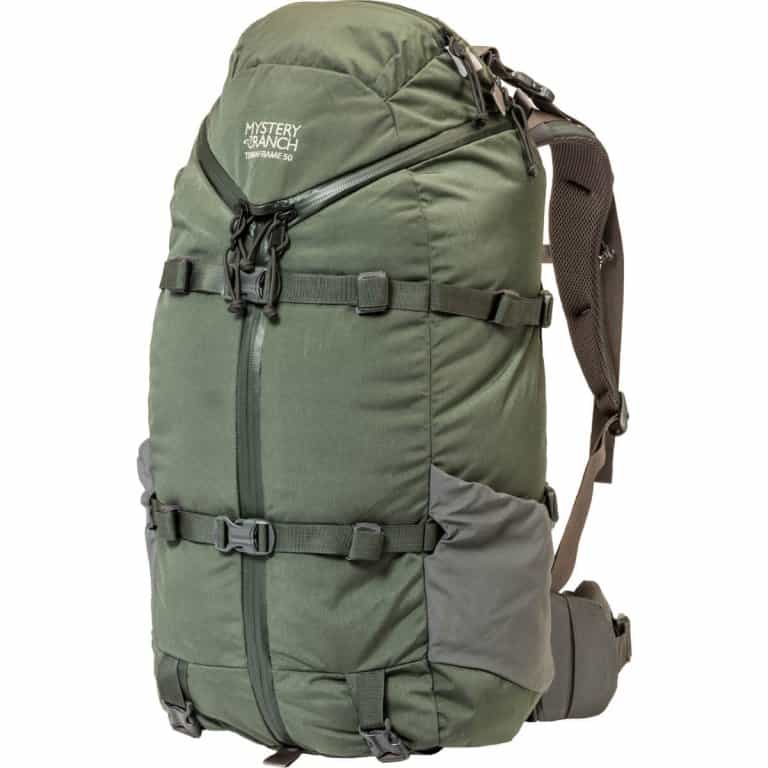 The 51L, 5lbs Terraframe from Mystery Ranch is a great backpack for hiking. It combines their trademark 3-zip design (which provides easy access to your gear) with their patented Overload system.
This feature allows you to expand the pack between the bag and the frame, putting all of the weight of the pack close to your body and vastly improving balance.
The Terraframe has a rigid, yet dynamic frame that keeps everything in control, but still moves with you. The heavy-duty compression straps and load lifters easily stabilize any weight.
The Futura Yoke macro adjusts to your torso, ensuring that you always get the perfect fit.
Pros
Overload system provides huge capacity capabilities and balance
Pack adjusts with your torso constantly
3-zip access makes entry into the pack effortless
READ MORE: 10 Ancient Archaeological Sites (for your World Travel Bucket List)
Kelty has long been a major player in the backpack game, and the Redwing once again shows that they deserve their reputation.
Weighing in at on 2lbs, and made out of 420D Polyester Small Back Stafford, this 44L capacity pack is a brilliant hiking companion. The U-Zip design allows for top-loading and panel-loading accessibility, with an internal frame keeping the bag constantly balanced.
In terms of storage, the pack has dual side pockets for water bottles, a front organizational pocket, a front stash pocket for your jacket or raincoat, as well as a top stash pocket.
The Redwing also features a laptop/hydration sleeve, ice ax/trekking pole loops, a hideaway daisy chain and handle, and a padded ventilated back panel for comfort and cooling.
Pros
Very impressive craftsmanship
High-quality materials and design
Very versatile
READ MORE: The Best Hiking Trails (For Your World Travel Bucket List)
Best Lightweight Backpacks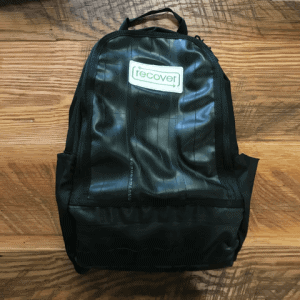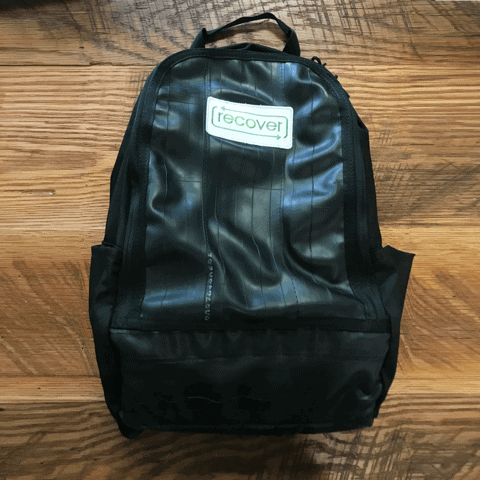 The 1.5lbs BikeTube Backpack from Recover is the epitome of recycled excellence. It's made of upcycled bicycle inner tubes, 100% recycled PETE fabrics, recycled PETE aerospace mesh, and nylon and metal hardware.
The bag is sleek, incredibly versatile and can be used for almost anything. And since it's also weatherproof, it can be used in even the most inclement weather.
In terms of features, the BikeTube has a simple zipper closure, an integrated laptop pocket, a hydration port/hangar/pocket, and two gusseted elastic side pockets.
The pack also offers aerospace mesh shoulder straps for comfort, as well as compression straps to keep all your gear secured firmly in place. With the eco-friendly elements, it's one of the best small backpacks we've tested this year.
Pros
Uses eco-friendly recycled material
Extremely durable
Lightweight
Very comfortable to wear
Cons
Not many pockets
Can't organize all of your gear
READ MORE: Recycling Tips for America Recycles Day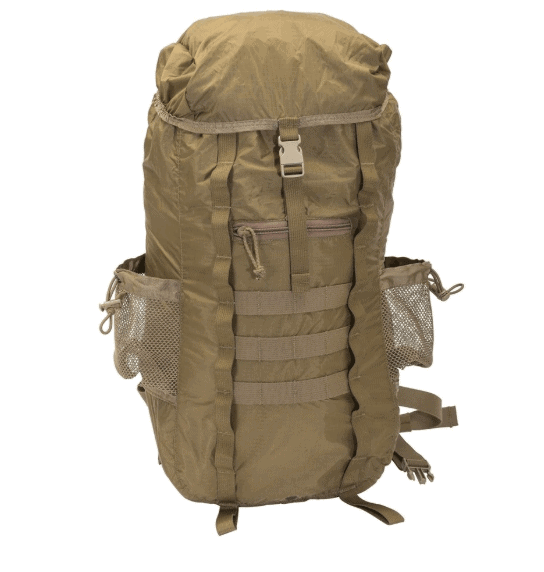 T3 Collapsible Backpack
The T3 Collapsible Backpack is a great go-to bag for anyone who wants to travel light (the bag weighs just 1.2lbs). In fact, the company believes in the product so much, they offer a lifetime warranty.
The bag is made of Ripstop material that is highly durable (similar to that used by the U.S> military). Yet, at just 14.24 ounces, it's among the most lightweight backpacks on this list.
The most unique aspect of the T3 Collapsible is that it has the same capacity as a typical 3-day bag. The pack can hold everything you need for a weekend hike or camping trip, but it can also be folded down into the size of a softball.
The bag is waterproof and tethered with bungee and fastex buckles to keep everything secure. There are also two smaller zipper pockets for your wallet, keys, or other small pieces of gear.
Pros
Ripstop material
Highly durable
Lifetime warranty
Folds down to a fraction of its size
Cons
No organizational features
No frame means little rigidity and stability
READ MORE: The 10 Best Canoe Trips (For Your World Travel Bucket List)
Top Backpacks for Business Travelers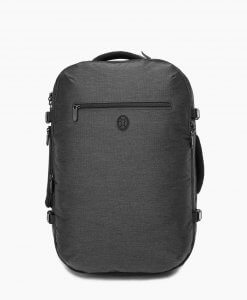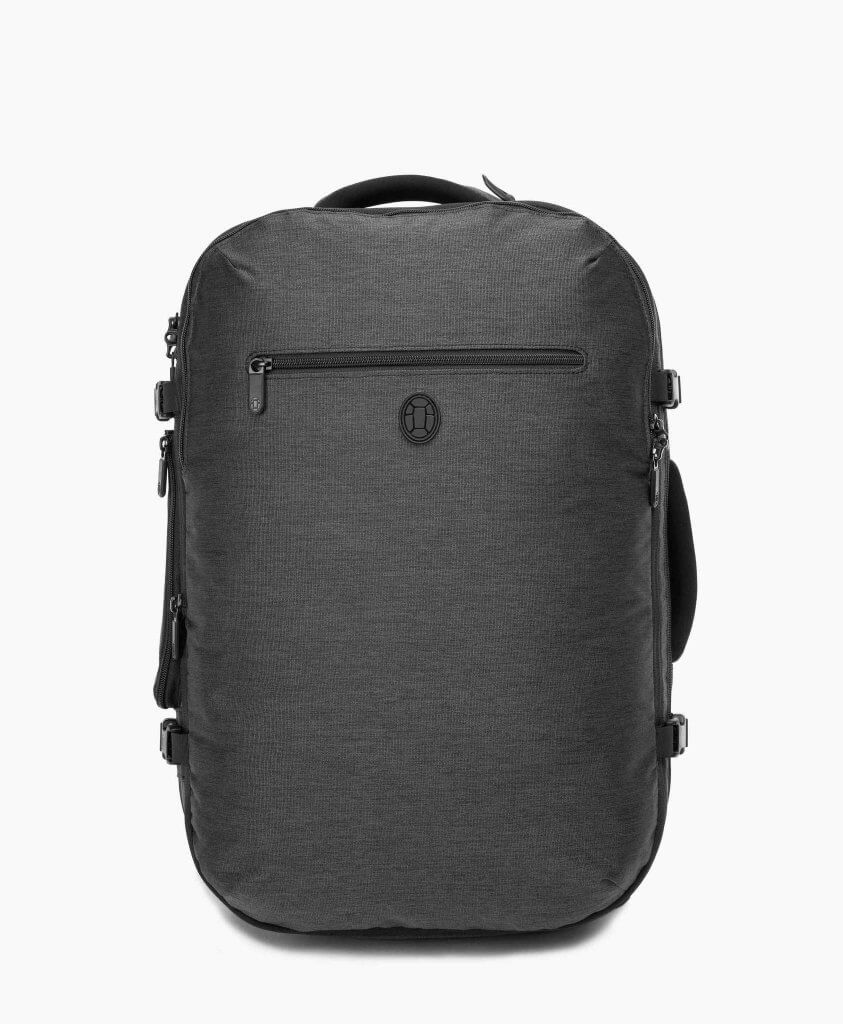 Of the bags we tested, Tortuga's Setout Divide is arguably the best backpack for business travelers taking short trips.
Made of very tough 900D heathered polyester, weighs 3.8lbs, injection molded foam, and durable YKK zippers, this bag is built tough as nails. The pack has a 26L capacity that can easily expand to 34L. So it's big enough for all your essentials, but compact enough to go anywhere.
On the inside, the Setout Divide has a laptop sleeve that can accommodate most laptops up to 15", as well as a tablet sleeve. The expandable main compartment is surprisingly roomy, and the mesh divider keeps all your essentials organized.
The backpack also has an internal organizational panel for all your small pieces of gear. And the entire bag is water-resistant, protecting your belongings against the elements.
Pros
Reputable brand and quality
Brilliant design
Very versatile
Cons
Can be too small if packing lots of clothes
Zippers are incredibly strong, but sometimes stick
Whether you're a backpacker, a businessman, or both, one thing you can never have too much of is power.
The Energizer PowerKeep Pro, which ways only 8.5 ounces, is designed to keep your electronics and gear fully charged when you travel. But it can also give you that lifesaving charge you need if you get stuck somewhere remote.
The pack has a padded laptop compartment, interior pockets, and a charging pass-through that allows you to charge your gear on the go.
The removable solar panel has a secured power bank, which can be charged using the solar panel, AC power, or a USB port. The solar panel is durable, flexible, and lightweight, ensuring it can be used in the office, at the campsite, or even out on the trail.
Pros
Can keep your electronic devices charged
Durable and rugged solar panel
Potent power bank
Cons
At 3.4 pounds, the bag is heavy for some
Not enough storage room
The focus of a recent Kickstarter campaign, the Cabin X ONE is a unique hybrid bag that can be used as either a backpack or a rolling trolley bag by simply unzipping the straps.
The bag is made of strong and durable 850D nylon, weighs 7.94lbs, with water-resistant lockable zips. Internal features include an intelligent packing system, allowing you to fit everything from your clothing and accessories to electronics and toiletries inside (all in individual, organized packing zones).
The pack offers a tech compartment, which has a padded and fleece-lined pocket for both a 15" laptop as well as a tablet. The pocket has RFID-blocking technology, allowing you to protect the personal data on your cards, passports etc.
The CabinX ONE also comes with a detachable daypack that clips onto the front of the bag and can be used for small pieces of gear, lunch, or just a day exploring the city. Thanks to this extensive array of cool features, this is one of the best travel backpacks on our list.
Pros
Strong, high-quality materials used
Highly organized pack with maximum protection for your electronics
Detachable daypack is perfect for small items while on-the-go
Cons
May be too small for longer trips
Price, depending on your budget
The 8.5 ounce, 30L PowerKeep Wanderer from Energizer is another bag designed for the adventurer or businessman who always needs a source of power.
With its simple but handsome design, the backpack is equally appropriate for transporting the gear you need for a day at the office or for a day on the trail. It has plenty of pockets for maps, passports, lunch, or whatever else you may need.
The pack is hydration compatible, with a charging-pass through for keep your electronic devices juiced up. It comes with a removable, durable and flexible solar panel for charging up the power bank.
The PK10K power bank can be charged with solar, AC, or USB power. It also has 2 output ports, allowing you to charge multiple devices at once.
Pros
Very spacious
Versatile– can be used for multiple activities
Able to charge two devices at once
Cons
Not big enough to be used for trips by itself
The 3.04lbs, 29L Professional Flight Laptop Bag from eBags is designed to be the best backpack for business travelers.
The backpack is able to fit most laptops up to 15.5" and has a TSA-friendly opening, which allows it to be scanned separately without having to unpack it.
But don't let the name fool you: With a storage capacity of 1760 cubic inches, this pack will hold a lot more than just your laptop.
The bag also has a well-appointed organizational panel and extra stash pockets for your documents, passport, keys, etc. The deeper capacity of the main compartment allows you to store a change of clothes or work supplies. The bag also has self-repairing zippers for high abrasion resistance and durability.
Pros
Perfect backpack for business trips
TSA-friendly scan opening
Can store a change of clothes for overnight trips
Cons
Ergonomics could be better
It's quite heavy when fully packed
Needs better weight distribution
With its dimensions of 19″ x 13″ x 9″, the 17L ICON Backpack from Incase is designed to carry all of your business essentials.
It's able to safely store and protect most laptops up to 15", as well as charging cables and other gear. The pack also has a dedicated side-access iPad pocket.
The ICON is made of highly durable 840D Nylon construction and has padded, ergonomic shoulder straps for long-lasting comfort.
The main compartment of the bag can hold larger items such as folders, files, and books, while the secondary compartment is for the organization of smaller pieces of gear.
Pros
Large enough to store all your business gear and essentials
Dedicated laptop and iPad compartments
Highly durable material
Cons
Pricey, depending on budget
The pack isn't very versatile
Best Camera Bags for Travel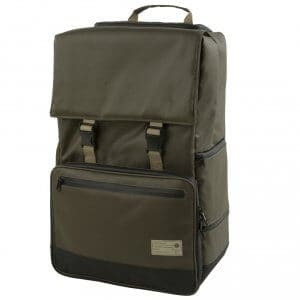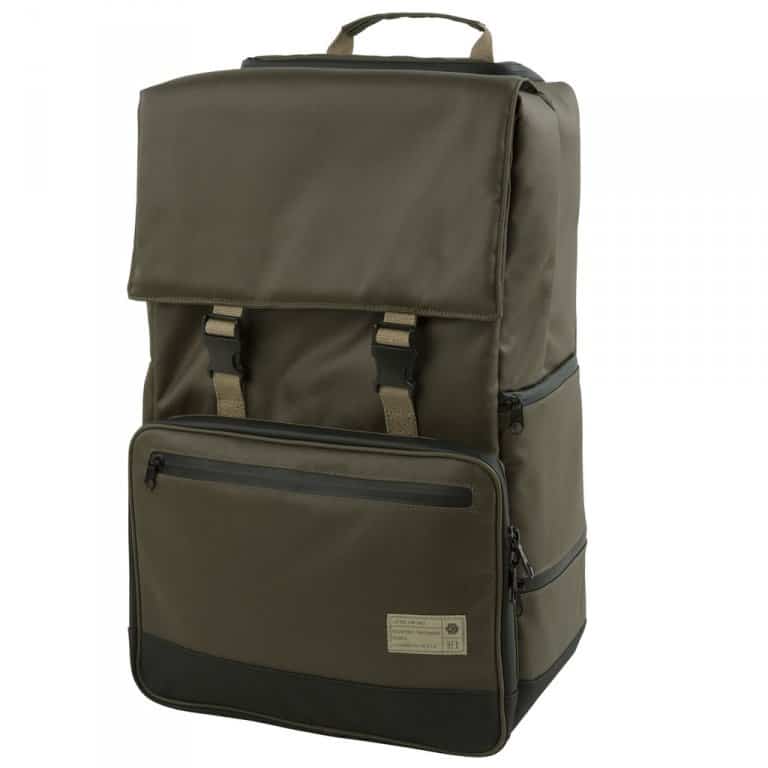 The Grid DSLR Backpack from Hex is one of the best camera bags for travel currently on the market.
It's made of highly durable, water-resistant coated canvas, with a fleece-lined, multi-functional main compartment that's designed to protect all of your camera gear. The back panel and straps are foamed for extra carrying comfort.
The bags dimensions are 20″L x 12″w x 8″H has adjustable interior dividers to fit your camera body, lenses, flashes, and filters, as well as a laptop sleeve for working on the go.
The Grid backpack has a top zipper that allows for easy access to your camera without having to open the entire pack, and there's a quick access pocket for your tablet or phone at the front of the bag. There are also an additional 5 storage compartments on the side of the impressive pack.
Pros
Multiple storage compartments
Keeps your camera, gear, tablet, laptop, and phone completely safe
Very versatile and multi-functional
Cons
Quite pricey
Can only fit one camera and attachments
The 3.53lbs, 18L MindShift Backlight Backpack is a solid camera bag for any traveling photographer.
Its design incorporates a clear rear-panel compartment for all of your photo gear. This allows you to swing the bag around and access your gear without having to take the pack off.
The exterior of the bag is made of high-density 420D nylon, with a water-resistant coating to completely protect your gear. The pack has dedicated compartments for both a laptop and a tablet.
With regards to storage capacity, it can fit 2 standard DSLR bodies with 1-3 lenses or 2 mirrorless bodies with 3-5 lenses. The 5L front compartment can also fit a multitude of personal gear, from books and files to a jacket and extra camera essentials.
Pros
Can fit multiple cameras and lenses
Can open and use pack while still wearing it
Has 5L of extra space for personal items
Cons
Price, depending on budget
Slightly big for the average photographer's needs
If you're looking for a small camera bag, the Mountainsmith Spectrum is a photographer's dream.
The 12L pack, which weighs 2lbs, allows you to carry everything from your camera and accessories to a laptop, media devices, and any personal gear you may need.
The bag is made of super strong 610D Cordura HP, has a 210D Nylon Liner, and is fitted with the famous YKK zippers. The Spectrum has a cover flap protecting the main compartment, and side panel access to the lower camera compartment.
The pack has a side access back panel laptop compartment that fits most laptops up to 17". It also has side pockets for quick access to your gear, as well as a removable, smaller pouch for storing cables and chargers or other small personal effects.
Pros
Can fit all your photography gear
Dedicated compartments for your camera and laptop
Removable pouch for cables and chargers
Cons
Can't fit large pieces of clothing, such as jackets
Can only fit one camera
READ MORE: 10 Simple Wildlife Photography Tips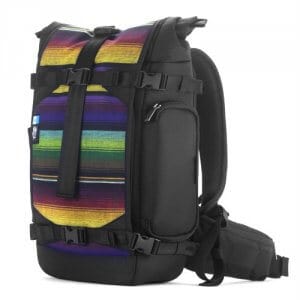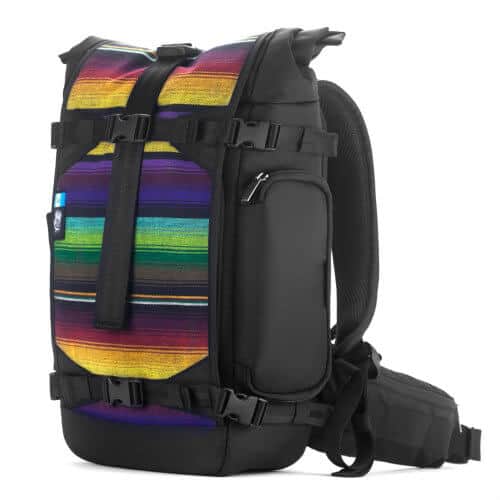 The Raja Photo Backpack by Ethnotek is a 2lbs, 30L camera bag that was tailor made for photographers, with design input from people who make their living in the profession. It's currently available on Kickstarter as a bundle that includes the Raja Waist Belt, Desa Sling Pouch, and Kota Camera Strap.
The bag is customizable, as the front panel (or "Thread") can be removed or changed to distinctively colorful patterns from India, Indonesia, and other countries.
Securely hidden behind the Thread is a zippered camera compartment. The camera compartment can accommodate two camera bodies, a drone, multiple lenses, and most of your accessories.
The Raja has a side zippered compartment that allows for quick access to your camera. There's also a secure laptop compartment, padded straps for comfort, a removable hip belt, and water-resistant internal zip pockets.
Pros
Purpose-built
Versatile
Attractive, stylish design
Cons
Limited availability
A bit pricey
The Most Eco-Friendly Backpacks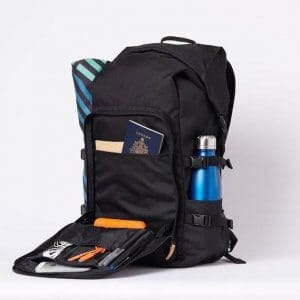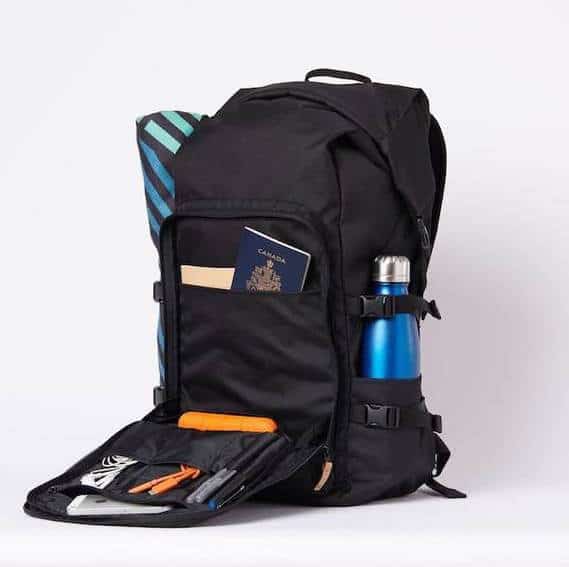 The Mobius Backpack from Tentree is arguably the most eco-friendly backpack on the market.
The Mobius is almost completely out of recycled materials. Its production process uses less energy, less water, and less CO2 than traditional backpacks made from virgin polyester. Its exterior is made from 31 recycled plastic bottles, while its BLOOM foam padding is made from algae.
You can configure the pack in three different capacities. The Mobius Small is 16L, Mobius Medium is 27L, and Mobius Large comes in at 35L. The backpacks are fitted with a 4-way zip system, which allows quick access to any pocket.
The bag has a padded front pocket for electronics, and multiple smaller pockets for your wallet, passport, and other essentials. It also has packing cubes included keeping all your gear organized on the inside.
Pros
Incredibly eco-friendly
Very versatile
Highly durable and sustainable
READ MORE: What Is Ecotourism? (The History & Principles of Responsible Travel)
The 1.82lbs Trailblazer Backpack from Haiku is constructed out of CyclePET, a rugged material made of post-consumer beverage bottles. Each of these bags saves 32 plastic bottles from heading to a landfill.
Measuring 18″H x 11″W x 7″D, the pack has the perfect dimensions for an airline carry-on, and can easily fit underneath your seat. It has a separate, padded laptop compartment that can fit most 15" laptops.
The Trailblazer also offers a roomy main compartment that has 3 organizational pockets. The front compartment has a key fob and organization spaces for small items.
The two exterior pockets can hold water bottles, travel mugs, or an umbrella. And the hidden safety pocket on the bag's front panel can store your passport, ID or phone.
Pros
Made partly from recycled plastic
Can be used as a travel carry-on
Can easily organize gear
Cons
The main compartment could be bigger
The small size does not fully justify the price
READ MORE: 40 Green Travel Tips (The Ultimate Guide to Sustainable Travel)
We fell in love with this line, which is best known for their shoes, earlier this year. Like their Eco Twx shoes, this backpack from Twisted X is made from recycled water bottles.
It may be a relatively simple design for a backpack, but each one is slowly cleaning up the mass amounts of plastic pollution found across the globe. In addition to using 100% recycled packaging, Twisted X will plant one tree (through the NGO One Tree Planted) for every ECO TWX product sold.
The pack, which weighs 3lbs, has a reasonably sized main compartment that's big enough to fit a laptop as well as small amount of books or gear for hiking or camping.
The bag also has a smaller front pocket for your keys, cell phone, and wallet, as well as adjustable straps and a padded back for maximum comfort.
Pros
Uses recycled plastic
Simple, but versatile pack
Eco-friendly
Cons
No features for organization
Not large enough for clothing or other gear
READ MORE:Why Responsible Travel Matters (and Greenwashing Sucks)
Looking to book your next trip?
Check out the following services we use!
DollarFlightClubor Airfarewatchdog to find a cheap plane tickets.
Omio for affordable European Train Tickets.
Booking.com or Agoda to find a hotel deals.
Viator for a stellar day tour.
Lonely Planetfor Travel Guides.
World Nomads for Travel Insurance
AutoEurope for European Car Rentals
or Rental Cars.com.
Outdoorsy RV and trailer rentals
TrustedHousesitters we've found great pet sitters to watch our house and love on our two dogs!
Looking for more essential Travel Gear?
Check out these great options!
The Best Travel Clothes for Women & Men
The Best Vegan Boots for Women & Men

Plastic Free Products for Travelers