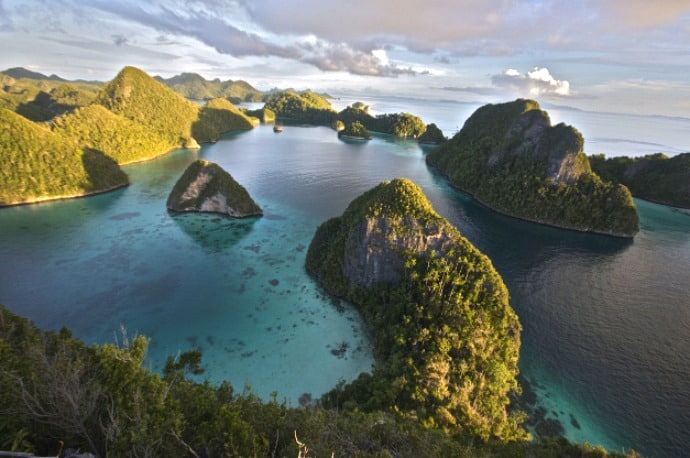 Top 5 Things To Do In Indonesia
Made up of over 14,000 islands, the world's largest archipelago extends from the tip of Southeast Asia to just off the coast of Australia.
The country crosses three time zones and offers an incredible variety of landscapes, cultures, and traditions along the way. As a result, there are a million different places to go and things to do in Indonesia.
Most people traveling to Indonesia fly into Jakarta, the capital of both the country and the island of Java. Java, the world's most populous island, offers endless plains filled with smoking volcanoes, temples, charming towns, and bustling markets.
Bali, another popular tourist destination, is beloved by sun- and surf -seekers, with a uniquely distinctive indigenous culture and laid-back vibe.
But for this story we want to move beyond the well-trod Bali/Java path and showcase some of the country's best ecotourism attractions, from Sumatra to West Papua.
You'd need several months (or several shorter trips) to explore the country in-depth, but these are a few of our favorite things to do in Indonesia: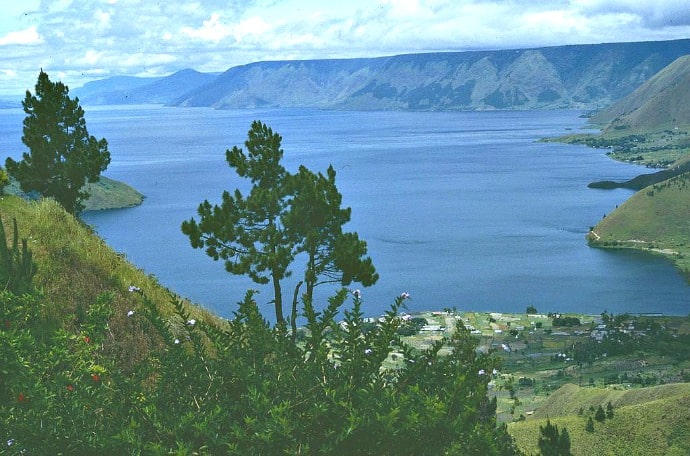 Beat the Heat on Lake Toba, Sumatra
Sumatra is Indonesia's third largest island, and the largest one that is totally located in Indonesia.
Rainforest once covered the island's entirety. But it's been estimated that up to 50% of it was felled over the last 35 years, with logging and palm oil plantations the main reasons for deforestation.
Several animal species endemic to Sumatra are now critically endangered, with the Sumatran orangutan and tiger two of the most notable examples. Having said that, pockets of wilderness still survive in Sumatra.
One of the top ecotourism destinations on the island is Lake Toba, a huge volcanic lake that reaches up to 450 meters in depth, with an island the size of Singapore in the middle.
The lake is located at 900 meters of altitude, making it an ideal retreat for escaping Indonesia's steaming heat and enjoying recreational activities such as swimming, sailing, and hiking.
Lake Toba has been popular with the backpacker community for decades. But its overall tourism numbers are still relatively small, perhaps due to the fact that the lake is relatively remote and hard to reach.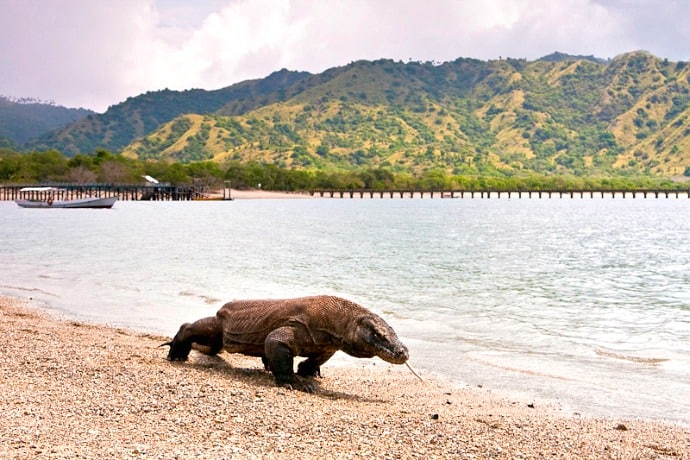 See the Dragons at Komodo National Park
Have you ever heard of the Komodo Dragon– the largest lizard in the world– which grows to a length of up to 10 feet and can move at speeds up to 12 mph? This ancient-looking animal survives in Komodo National Park, which was created primarily to protect this fearsome giant.
The National Park includes three main islands– Komodo, Rinca, and Padat– as well as several smaller ones. Besides the Komodo Dragon, other species protected in the park include the Timor deer and the orange-footed scrub fowl.
The seas surrounding Komodo National Park are considered one of the world's best places to Scuba dive. The variety of fish, corals, and marine life you'll find there is spectacular, with dugong, sharks, manta rays, whales, dolphins, and sea turtles often seen.
Sadly, the reef and marine life are endangered by unsustainable fishing practices, and poaching still occurs on the islands despite their protected status.
READ MORE: 60 Weird Animals Around the World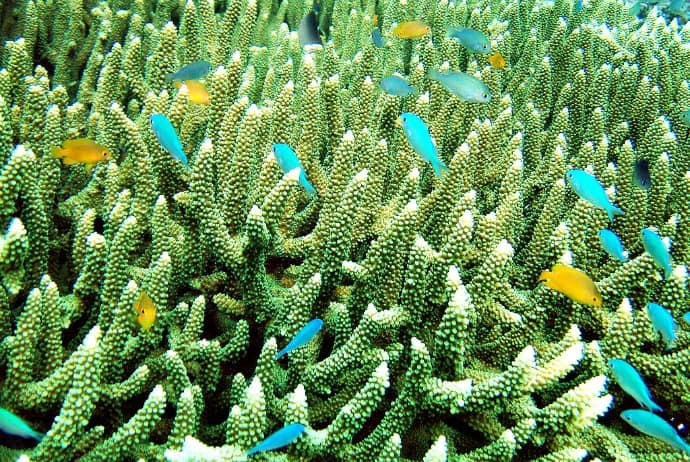 Scuba Dive in Raja Ampat
Part of the Coral Triangle, this archipelago off the coast of West Papua is one of Indonesia's best-kept secrets and natural paradises.
Raja Ampat is comprised of over 1500 islands, islets, and cays, and it reportedly offers the highest marine biodiversity you'll find anywhere on the planet. The coral colors are unlike anything you've ever seen– a true Technicolor fantasy– and it's estimated that over 75% of all coral species in the world can be found there.
The marine life will also dazzle you, with over 1000 species of fish and 700 types of mollusks that have been identified. One of the reasons for Raja Ampat's extraordinary marine biodiversity is that the islands are located where the Pacific and Indian Oceans meet.
The sea here has higher surface temperatures, suggesting that the local corals may have built up a tolerance to bleaching and other coral diseases.
Raja Ampat is very remote and only visited by a handful of tourists, which also helps to preserve the relaxed feeling of the islands and the stunning condition of their seas. Let's just hope it lasts!
READ MORE: Top 10 Things to Do in Coron, Palawan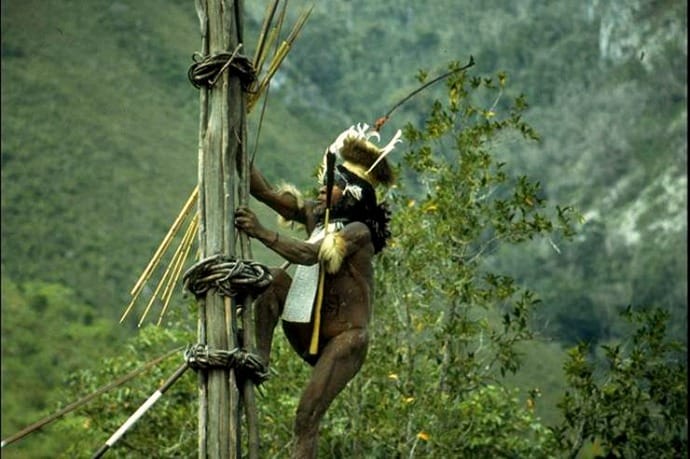 Meet the Locals in Baliem Valley, West Papua
The island of Papua is divided between two countries, Indonesia and Papua New Guinea.
It's Papua New Guinea that likely conjures up images of headhunters and thick, steamy jungles where "uncontacted" tribes still live by hunting and gathering. But the same can be found in West Papua, the Indonesian half of the island.
Of course, headhunting is now just a legend, and most tribes converted to Christianity when missionaries arrived in the mid-20th century.
Still, West Papua remains a wonderfully wild place, and the best place to enjoy its mountain landscapes and traditional culture is the Baliem Valley. It's a stunning setting– a remote mountain valley surrounded by pristine jungle– and you can learn about the life of Dani people, the ancestral inhabitants of this valley.
As with Raja Ampat, the Baliem Valley is very remote and tourists are few and far between… for now.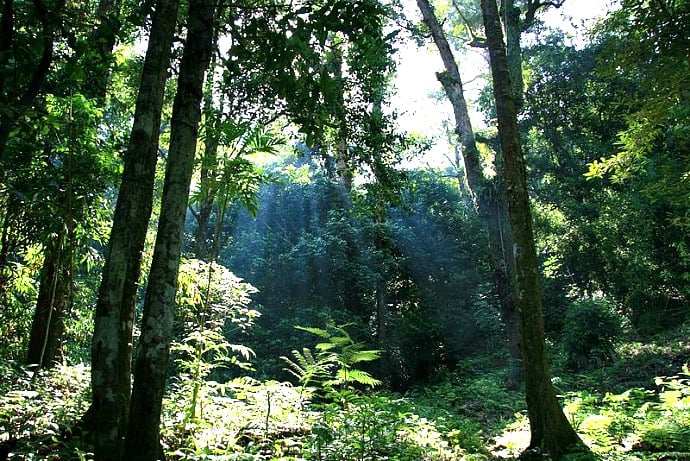 Get Up Close to Orangutans in Kalimantan
Kalimantan is the name for the Indonesian section of the island of Borneo. Borneo is another name that evokes images of impenetrable jungle inhabited by all kinds of colorful creatures. But the sad reality is that the region has been increasingly marred by deforestation and environmental mismanagement.
This area made international news last October, when forest fires in Kalimantan set to clear land for palm oil plantations produced a cloud of toxic haze that killed hundreds of people and animals, suffocating half of Southeast Asia for months.
Similarly to Sumatra, there are still some areas here where orangutans and gibbons roam free. Southern Kalimantan's Gunung Palung National Park and Kayan Mentarang in the north are two great examples of protected areas where it remains possible to enjoy nature and wildlife in its primal state.
READ MORE: How Fires in Indonesia & Palm Oil Are Killing Orangutans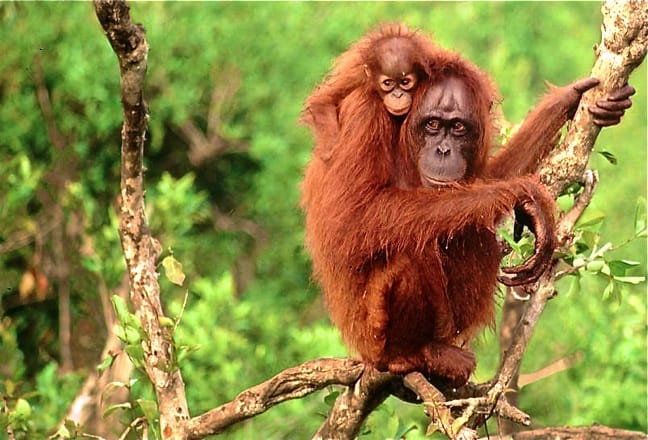 The endangered Orangutans are easily Borneo's most famous inhabitants. Spotting these gentle apes as they amble through the trees is a highlight of most travelers' visits to Kalimantan.
Although it is possible to see them in the wild, Orangutans are shy and tend to avoid contact with humans. So you may be able to spot some orange fur climbing a tree in the distance, but that's about it. If you want to get close to orangutans, your best bet is visiting a rescue center or a sanctuary such as the Orangutan Research and Conservation Program in Tanjung Puting.
Another amazing place to visit just off the coast of Kalimantan is Kakaban Island, which is famous for its huge brackish lake. Swimming with the stingless jellyfish there was one of our favorite things to do in Indonesia, and a memory we'll never forget. –Margherita Ragg
READ MORE: Bornean & Sumatran Orangutans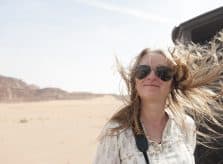 Margherita Ragg is a freelance writer and English teacher from Milan, Italy. She is passionate about wildlife, ecotourism and outdoor activities, and runs nature and adventure travel blog The Crowded Planet with her husband Nick Burns, an Australian travel and wildlife photographer.Margherita has an MA in Travel and Nature Writing from Bath Spa University, and was runner-up to the 2012 Guardian Travel Writer of the Year competition. She is one of the hosts of the @WednesdayRoamers weekly Instagram competition. Her other passions (in no particular order) are rock climbing, skiing, homebrewing and her cat Tappo. Follow Margherita on Facebook, Twitter, Instagram and Pinterest.
If you enjoyed reading the Top 5 Things to Do in Indonesia,
GO GREEN TIP #112: How to Avoid Products With Palm Oil
MALAYSIA: Bornean Orangutan Conservation at Sepilok Rehabilitation Centre
MALAYSIA: A Sneak Peak at the Borneo Sun Bear Conservation Centre