Choosing the best travel shoes is always an important decision, particularly when you always travel only with carry-on luggage (as we do). When packing space is at a premium, it's crucial that every item in your suitcase should serve as many different purposes as possible.
Take our trip last year to Ireland and Scotland, for example. In Ireland, we were teaching workshops and speaking about the importance of community-based tourism at the TBEX conference in Killarney.
But after the conference was over, we spent five days exploring the historical and ecotourism attractions of Ireland's ancient East. Then we headed to Scotland, spending a few days in Edinburgh before making our way through the Highlands to the Isle of Skye.
Over the course of three action-packed weeks, we needed an array of outfits that ranged from business and business casual (for parties and restaurant tastings) to rugged outdoor gear that could handle rain, wind, and hiking mountains and rocky shorelines. And would you believe we did all that with just two to three pairs of shoes each?
For us, the best shoes are those that balance fashion with function. They need to both look good AND to feel good, providing comfort, cushioning support, and protection from the elements. Here's a look at our picks for the best shoes for travel, including boots, flats, sandals, sneakers, walking shoes, vegan shoes and more!
READ MORE: The Best Travel Clothing For 7 Travel Styles
Most Comfortable Walking Shoes For Travel
Starting our list of fabulous travel shoes, the following pairs can be worn all day long while walking. Whether you're taking a walking tour in New York City, a charming colonial town like Cartagena, or the cobblestone streets of Greece, these shoes will keep your feet comfy and temperature-controlled. Read on to find your favorite new pair of comfortable, but fashionable walking shoes.
OluKai is a relatively new, Hawaiian-inspired footwear line that GGT co-founder Bret Love fell for last year.
Available in four color patterns, their casual men's Kahu (pronounced kah-hoo, which translates as "Honoured Guest") shoes are both trendsetting and laid-back. A soft-texture leather upper with rich full-grain leather accents a shoe that's perfect for island vacations.
These comfortable walking shoes have a Drop-In Heel® design, which provides a 'slide-in' functionality. Lining the insides of the shoes is a cooling, moisture-wicking textile.
Their micro-fiber footbeds (each with its own sea-inspired design) can be removed and washed separately.
The outsoles are razor-siped with thin slits, which allow for great traction even in wet weather. You'll add just 16 ounces of weight to your luggage with these lightweight shoes. Additionally, each pair of shoes sold helps the Ama OluKai Foundation, which gives back to the local community in Hawai'i. So you know that your shoe purchase in supporting a good cause.
Pros
Stylish & Lightweight
Proceeds help a good cause
Cons
Not a huge variety of colors available
Twisted X was one of several new-to-us clothing brands that we met at the Outdoor Retailer trade show earlier this year.
Their men's ECO TWX Moccasins are fantastically stylish shoes for travelers. Not only do they work well for driving, but also for walking and taking public transport, since they're exceptionally comfortable and won't hurt your feet over the course of the day.
A classic pair of slip-on walking shoes, they have no laces that constantly need re-tying. They are also attractive enough to be worn with or without socks. These are possibly the best loafers for walking we've tested.
In addition to the aforementioned style and comfort, these walking shoes are also impressively eco-friendly. Each pair is made from an equivalent of 13 water bottles. And for every pair sold, Twisted X will plant a tree in the US. So buying these shoes is a win-win, both for you and the planet.
Pros
Made from recycled water bottles
A tree is planted for each pair purchased
Cons
Not great for rugged terrain
We've been wearing Keen shoes for travel for several years now. Their new Uneek Exo Women's shoes are designed to keep your feet comfortable, with secure-fit two-cord construction that allows for free movement while walking.
The shoes somehow seem to mold to your foot, creating what feels like a tailor-made fit. The rubber soles allow for great grip and traction. So whether you're walking through a national park or hiking up majestic mountains, these shoes will carry you comfortably along the way.
The Exo's noteworthy features include an engineered mesh in the upper part of the shoe, which creates a sock-like fit for your foot. Key ventilation zones allow sufficient air flow in the shoes, and Cleansport NXT™ helps with natural odor control.
Keen's shoes also offer TPU overlays for durability, as well as using PFC-free, durable water repellent materials.
Pros
Secure-fit two-cord construction
Lightweight midsole
Cleansport NXT™ controls odor
Cons
They may be too tight for some – a larger size is recommended for wide feet
Comfort, style, and durability are all found in these classic women's clogs from Stegmann.
The shoes are handmade in Portugal, using genuine leather. They offer weather resistance and maintain the quality that Stegmann (a 130-year-old company based in Austria) has built their fantastic reputation around.
The greatest thing about these shoes is that they offer two ways that you can wear them. The back is designed so that it can be worn either folded down or up against your heel, whichever you find most comfortable. You can slip them on as clogs for short jaunts, or wear them up and walk the day away.
If your trip involves a lot of walking tours, then the soft, padded footbed will give you fantastic support. Grab yourself a wheat-colored pair for versatile shoes that complement all outfits and effortlessly takes you from breakfast to dinner.
Pros
Versatile design
Podiatrist recommended for anatomically correct Cork/Latex blend footbed
Cons
Runs small, so best to order a size bigger
Perfect for trail hiking, rural exploring, or walking in urban environments, the Primus Trail shoes from VivoBarefoot will not let you down. These shoes come in both men's and women's styles, with great looks for both sexes.
They're eco-friendly, using recycled PET plastic bottles to make the breathable mesh upper of each shoe.
The shoes are designed and created with a Firm Ground sole, as well as Chevron lugs and two-cord construction. This allows for a better grip on rocky and muddy terrains, as well as easy movability and secured shoes while on the move.
They're perfect travel shoes because they can be rolled up into a ball-like shape, creating more space in your luggage. They're also extremely lightweight, so they won't weigh you down whether in your bag or on your feet.
Pros
Made from recycled PET plastics
Great grip for rocky terrain
Cons
Run a size small
Toe box is fairly narrow
Based in Northern Israel, Naot (which translates as "oasis") shoes are best known for their uniquely engineered insoles, which mold to fit the shape of your foot. Their motto is "It's fashionable to walk in comfort."
Their women's Karo shoes are perfectly in keeping with that ideology. The leather-lined, cushioned, and contoured footbed will hold your foot securely. It's designed to keep you comfortable no matter how long you remain on your feet.
In terms of fashion style, the shoes are classy accessories, making whatever travel clothing you wear look smarter and more sophisticated. The lightweight but durable walking shoes will easily fit into your carry on luggage, but hold up really well against wear and tear.
With premium leather uppers and a round toe, these shoes offer a timeless design that won't go out of fashion. And with a slight heel, they'll match with your business outfits just as easy as they do casual wear.
Pros
Leather-lined, cushioned, and contoured footbed
Lightweight and durable
Cons
Sizing is at times too large or small, depending on your foot
Not a huge color variety
With their rugged durability and stylish looks, Timberland has been a favorite brand among the hip-hop crowd for years. But they also make great shoes for travel, including these awesome Alpine Chukkas.
You're guaranteed a unique blend of urban swagger and relaxed-at-home comfort when you step into these shoes. Whether you're exploring ancient Mayan ruins or hiking through the jungle in Thailand's national parks, these shoes are up for the adventure.
Featuring premium full-grain leather uppers, Gore-Tex waterproof bootie construction, and padded collars, they're designed to withstand the harshest elements. The OrthoLite footbeds and the SensorFlex comfort system gives them a cozy feel that's hard to beat.
Another great thing about these walking shoes is that they're made with about 50% recycled polyethylene terephthalate (PET) plastics, which makes them considerably more eco-friendly.
Pros
Gore-Tex waterproof construction
OrthoLite footbeds
SensorFlex comfort system
Cons
Wider ankles may cause straight leg jeans to bunch

Staheekum Women's Cascade
This women's Cascade from Staheekum offers a perfect mix of styles: The exterior is dressy enough to look fashionable out in public, while the interior is cozy enough to make you feel like you're curled up on the couch at home.
The suede outer canvas will look great during your travel explorations, while the inner faux fur lining will keep your feet snug and warm. Though not designed for serious hiking, these shoes work perfectly for walking tours, shopping trips, and other light excursions.
The memory-foam footbed feels great for resting your tired feet, while the indoor/outdoor sole means you can wear these wherever you find yourself. They also offer fashion with a sense of purpose: For every pair purchased, one tree gets planted through Trees For The Future.
Pros
Cozy and comfortable
For every pair sold, a tree will be planted
As we've said in past reviews, the breathable Uneek line from Keen is a great shoe for travel, especially if you're heading to a hot and humid climate. The shoes are completely open on the sides, allowing air to move through them and keep your feet cool, even in the tropics.
The secure fit lace capture system and metatomical EVA footbed make for a breezy, free-moving feel for your feet. There is also a two-cord construction that keeps everything together, along with the closed-in heel.
These shoes would be great if you're going to be walking in shallow water, or getting stuck in the rain, as they are quick drying. They also have Keen's trademark Cleansport NXT to help with controlling natural foot odor.
Cons
Shoes run ½ size too small
Best Travel Sneakers
Whether you're the active type who likes to go running when you travel or simply need some extra cushioning support for your feet, these supportive sneakers will keep your feet comfy and happy when you're on the go.
Designed for urban environments, the ultra-slick UltraRange Hi MTE shoes from Vans are available in 3 different colors. They're a perfect poster shoe for the brand's iconic, trendsetting style, not to mention a great addition to your travel packing list.
These hi-top shoes feature the new Ultracush Lite midsole, which gives you the cushy support your traveling feet have been waiting for.
The textile uppers are water-resistant, while the sock-fit bootie construction and seamless internal design reduce the overall weight of the shoe.
The shoes use eco-friendly, water-based inks and glues, and rugged, co-molded rubber reverse waffle lug soles. They also have a warm lining that helps keep your feet cozy.
Pros
Great for multiple terrains
Cons
A little pricey for sneakers
Altra is another new-to-us brand we discovered at Outdoor Retailer this year, and Bret has been wearing them as his go-to sneakers for travel ever since.
Their new Escalante design is yet another high-performance and fashionable athletic shoe that's available in both men's and women's styles. Designed to be worn for running, walking, or casual wear, these sneakers will take you from hiking trails to shopping trips without skipping a beat. They come in nearly a dozen different colors to suit varying tastes.
The shoes have a rubber outsole and EVA, with an A-Bound top layer as well as an InnerFlex midsole. They are also designed with a Foot Shape toe box and Cushioned Zero Drop, which keeps your foot comfy and allows your toes to relax and spread out as they naturally would.
Using Fit4Her technology, Altra has committed to designing their women's line specifically for the female foot. In other words, whether you're male or female, your feet will thank you for wearing these shoes.
Pros
FootShape Toe Box lets your toes spread out naturally
Cons
Not enough support to hold your feet on uneven terrain
You won't be slowed down while wearing Ariat's Fuse Plus, which are GGT co-founder Mary Gabbett's new favorite travel sneakers.
They have built-in comfort, are made to survive long-term wearing, and are available in three versatile colors (brown, grey, and maroon) that will pair well with almost any outfit.
These shoes feature welted TPU panels, a synthetic sole, and breathable mesh synthetic uppers. The EVA midsole offers shock absorption and rubber outsole and forefoot flex grooves allow for easy walking on almost any surface.
The Fuse Plus footbed is removable, which is great for washing them between trips or swapping between different footbeds depending on your activities. These shoes do run slightly large, so you may want to consider ordering a size smaller than you usually would.
Pros
Breathable mesh upper
Removable footbed
Cons
Run larger than usual sizes
The 5.11 ABR Trainer is designed to keep you light on your feet during heavy workouts and CrossFit, so a long day of touring in them should be no trouble at all. Their simple, plain black design will also match with any outfit you might want to wear.
The Ortholite 2mm construction and Ortholite sockliner create an ideal environment for your feet as they carry you along your journey. With a fully-welded upper and a reinforced welded toe, you get complete support as well as sturdy durability.
The ABR Trainers also feature an 8mm heel-to-toe drop and a Rope Ready Zone in the shoes. In other words, whether you're climbing hills in Coron, hiking in national parks, or wandering through the Otavalo market, these shoes will keep you moving steadily.
Pros
Sturdy construction
Ortholite sockliner
While the Ecco Soft 7 shoes are on the pricier side, their excellent quality makes them well worth the extra cost.
Made of high-quality leather and using the Danish-style design that Ecco shoes are known for, these comfy sneakers for women are sure to be a winner on your travel packing list.
Using innovative technology and timeless craftsmanship, these shoes promise a perfect fit, gentle comfort, exceptional durability and fashionable style. Despite having laces, the shoes are easy to slip on and off your feet (which is great for going through TSA security).
The full-grain leather upper gives the shoes a sleek and polished look. The sneakers also feature a direct-injected, two-component PU/TPU outsole and a comfortable (yet durable), light, and flexible sole. The insole is removable, giving the option of extra width for wider feet.
Pros
Insole is removable for extra width
A modern, rugged design from Superfeet, the Elkhorn FX is fantastic men's boot perfect for any urban adventurer. Whether you choose the Castlerock (blue and grey) or Chocolate Brown color, they'll match your favorite pair of traveling pants for effortless style on-the-go.
The full-grain leather uppers, oiled suede accents, and waxed cotton laces make these boots water-resistant and great for traveling through a variety of different climates. A lightweight EVA midsole creates the flexibility for the shoe to move with your foot.
Superfeet premium insoles bring you the brand'strademark sense of comfort, and the canvas lining inside the boot makes it breathable as well.
A leather-lined tongue sits comfortably against the top of the foot. Additionally, the slip-resistant, non-marking outsole gives great traction and stability.
Pros
Superfeet premium insoles
Cons
Not many colors to choose from

READ MORE: The 40 Best Backpacks for Travelers
Best Waterproof Shoes & Boots
From Antarctica and the Galapagos to the Caribbean islands, many of our favorite adventures involve lots of activities on, in, and around water. But nobody likes wet and wrinkly toes. So take a look at these great waterproof shoes and boots, which will help keep your feet nice and dry even when the world around you is all wet.
Cold, wet, and icy terrains are no match for Cougar pillow boots for women. They keep your feet warm with their fleece interiors and keep the elements at bay thanks to their waterproof leather exterior. Temperatures as low as -30 degrees have nothing on these boots!
These boots definitely have a classic style to them, but from a technical standpoint, they've been upgraded considerably from the original 1970s version.
The medium-high boots have memory-molded insoles, plus a padded shaft and quilt stitch detail. The outsoles are made from thermo-plastic rubber, which makes them more durable than other man-made materials. They're also PVC-free.
The boots are available in black, tan, red, and mocha, and look just as good as they'll make your feet feel. There's no need to sacrifice comfort and warmth for fashion if you pack these beauties in your luggage.
Pros
Thermo-plastic rubber outsoles
Fully Waterproof
Featuring Superfeet's innovative insole design, which cushions your heels and sides, the Blake FX sneakers are sure to become your feet's best friend. With their smooth, streamlined design, you'll step outside feeling confident and fashionable.
The waterproof leather upper and oiled suede accent panels make them durable and weather-resistant as well. These shoes are designed to move with your foot, and they are slip-resistant, making them great for walking over any terrain.
The tongue is lined with microsuede, which creates a comfy environment for the top of your foot. And each shoe weighs just 12 ounces, so you won't be weighed down on your travels while wearing these sneakers.
Buying these Jayne boots for women from Timberland is like getting two pairs of shoes in one box. The waterproof boots can be worn with the calf shaft up or down, allowing you to change your look (and level of warmth) as needed.
The soft Teddy fleece lining is great for colder weather, and the waterproof leather outer protects your feet from rain and snow. The sturdy lugged rubber outsole provides dependable traction on any uneven and slippery ground.
Using Ortholite insoles, Timberland has created a boot that will cushion your feet and provide moisture transport and antimicrobial functions, letting your feet breathe in the process.
This ultra-breathable material is guaranteed not to break down over time, nor will it ever lose its cushioning. So you should have comfort from your shoes as long as you both shall live.
Pros
Ortholite insoles
Soft Teddy fleece lining
Cons
Run slightly bigger than true size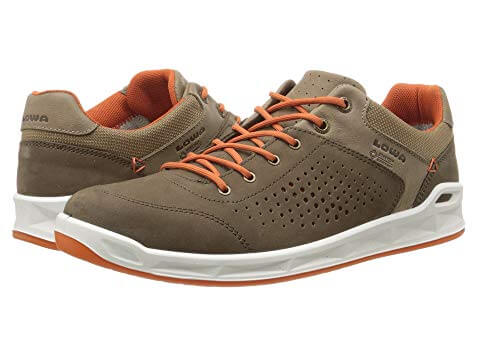 Lowa Men's San Francisco GTX
If you're heading to a warm, tropical environment, but aren't particularly fond of open-toed shoes, the San Francisco GTX men's sneakers from Lowa are perfect for you. These are closed shoes that still allow your feet to breathe, keeping them cool and dry.
Using Gore-Tex Surround technology and open sole construction, the shoes allow 360° of breathability inside. They're also waterproof, and the lightweight feel means that you can pack them away without adding much weight to your luggage.
If you have wide feet, or simply want a bit more space inside the sneaker, it's best to order a size or half-size bigger. Still, they're great shoes for traveling to warm, wet climates.
Pros
Gore-Tex Surroun technology

READ MORE: 60+ Cool Camping Gear Reviews
Most Comfortable Flats and Sandals
As avid Scuba divers and people who generally love life on the water, we tend to spend a lot of time on the world's most beautiful beaches. Long days on the beach, island-hopping, and walking tours in hot, humid climates all call for comfortable sandals. Pick one (or more) of these styles and you'll ensure that your feet stay cool when you travel!
As with all of Chaco's ZCloud sport sandals, the Mega has a LUVSEAT footbed, which makes it feel as if you are walking on clouds. The adjustable straps also help to keep your feet firmly secured for all-day walking comfort.
The polyester-jacquard webbing upper straps wrap around the foot and through the midsole for a quickly customised fit. These sandals also have ChacoGrip outsoles, which provide a perfect grip on most types of terrain.
All of Chaco's footwear is designed to last longer than their competitors, and their shoes have proven to be among the most indestructible we've tested. If they do suffer damage, the Z Clouds can be repaired easily, reducing the number of shoes ending up in a landfill.
In addition to making strong, sturdy footwear, Chaco donates 3% of their after-tax profits to organizations dedicated to caring for people and the planet.
Pros
LUVSEAT™ footbed
ChacoGrip outsoles
Cons
Run small and narrow
Straps can be too loose at times
Part of Naot's Sorce collection, the vegan-friendly Shore sandals are handmade in Israel. They feature the brand's uniquely engineered insoles, which are designed to replicate the natural shape of the foot, making them some of the most comfortable sandals we've worn.
Each sandal weighs only 9 ounces, which is great for both your packing space and your feet. The straps wrap around your foot and can be adjusted with a buckle on the side of the ankle, making them one of the best women's sandals for those with wide feet.
The sandals are quick-drying and relatively indestructible, so they're perfect for exploring islands, white water rafting, wading in rivers, and long walks on the beach. They're made with your comfort in mind and designed to last longer than most sandals.
Pros
Uniquely engineered insoles
Inspired by traditional Hawaiian basket-weaving, these attractive Olukai sandals are perfect for any island trip. Pronounced "ah-veh-ah-veh," the sandal's name comes from the Hawaiian words for "straps for a bundle."
The full-grain leather straps and well-designed footbed and outsole blend to form a sandal that's both stylish and comfortable. The straps might initially need some breaking in but gradually mold to your foot over time. So the more you wear them, the more comfortable they become.
For each pair sold, a portion of the proceeds will go to the Ama OluKai Foundation, which preserves and celebrates the cultural heritage and Aloha spirit of Hawaii. So every pair you purchase gives back to the local community.
Pros
A portion of all proceeds go to charity
Full-grain leather straps
Cons
Leather straps can be tight at first
Straps sometimes stretch over time
We're not normally huge fans of flip-flops (a.k.a. thongs), but a lot of other travel bloggers swear by them. Ventolation's Bali Flip flops offer men an opportunity to take a trip to the beach and leave the sand where it belongs.
Thanks to Ventolation's innovative "soles with holes" design, sand simply sifts through the shoes as you walk. A removable footbed allows for easy cleaning, and clips back in securely to avoid any slipping out as you're walking.
Thanks to perforated VO-FLEX (an EVA/rubber compound) insoles, the sandals ensure greater comfort and shock absorption.
The outsole is slip-resistant, making it easier to walk over all kinds of surfaces. There is also less of that horrid squelching noise when you walk on tile or concrete after being in the water, as the sandals are quick drying.
Pros
Soles with holes sift out sand and water
Keeps feet cool, clean, and dry
Cons
Can be less comfortable than foam flip flops

READ MORE: The Ultimate Beach Vacation Packing List
Best Vegan Shoes For Travel
The following section focuses exclusively on vegan shoes, which are kind to your feet and good for the planet. They're all made with animal-friendly materials, and designed to help combat the Earth's environmental challenges. We are, of course, extremely passionate about Ecotourism, and wearing these sort of shoes embraces the "going green" lifestyle.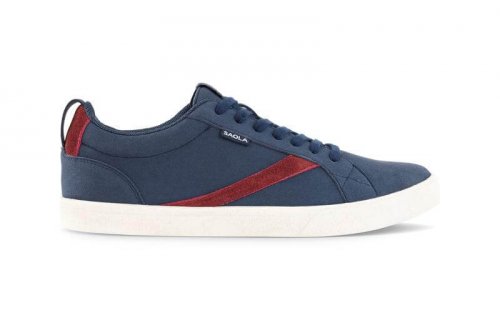 SAOLA Shoes Cannon
Grab a pair of these snazzy Cannon sneakers from SAOLA and join in the eco-friendly revolution. These shoes have the usual comfort, durability, and lightweight that most comfortable sneakers offer, but with a unique difference.
Not only is the mesh upper made from recycled PET plastic, but the insoles and outsoles are made from BLOOM foam, an algae-based material. Each pair of shoes has three to four plastic bottles inside them, and the laces are made from organic materials as well.
SAOLA also donates 3% of their profits to three different charitable initiatives, including a clean surf project, a tree-planting project and a save the turtles project. When you buy a pair of shoes, you can choose where that money goes.
Pros
100 % vegan
3-4 recycled PET plastic bottles in each pair
Cons
Not a wide variety of colors to choose from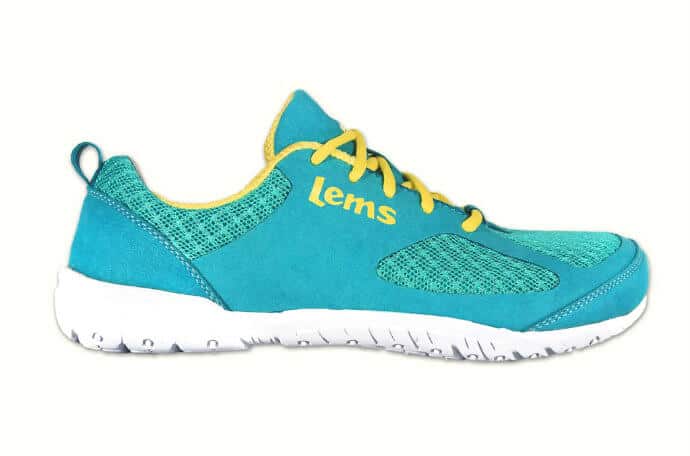 Lems Primal 2 Women's
The Lems Primal 2 shoes for women are 100% vegan-friendly. From the laces to the glue, nothing was missed in ensuring that they have minimal negative impact on the planet. They are also easily packable, lightweight, and versatile.
The shoes have Zero Drop technology, which aids in improving your posture alignment and mid-foot strike. Another fantastic feature is the wide toe box, which allows your toes to spread naturally as you walk.
These shoes are also exceptionally flexible, allowing your feet to move almost as naturally as if you were barefoot.
You can wear them from the plane to your hotel and everywhere you need to stop along the way. With seven colors available, it's easy to find one that will suit your individual style.
Pros
100% vegan
Zero Drop technology
Cons
The shoe doesn't perform well long-term with everyday use
Xero Terraflex shoes are ideal for hiking, trail running, or simply walking to your destination faster. Available in both men's and women's styles, these shoes are the perfect buy if you're planning an outdoor adventure with your better half.
The shoes are vegan-friendly, with no animal products used, and give your feet a natural feel. You can wear them with or without socks, depending on your preference. The insole is also removable if you're looking for a more barefoot feel.
These shoes are lightweight and flexible, encouraging natural foot movements. They can be rolled up into a ball-shape if need be. They also have 6mm of FeelTrue rubber and a layer of 3mm embedded BareFoam to smooth out the rough spots.
Cons
Runs about a ½ size small
Keen once again brings a fantastic pair of shoes with their new Elsa Sneakers. These shoes are 100% vegan, so of course, they earn eco-friendly props. But they're also one of the most comfortable walking shoes we've tested this year.
The Elsa sneakers are made with a canvas upper and canvas lining. They also feature a removable, metatomical, dual-density PU footbed. Each shoe weighs just 10 ounces, keeping them lightweight and easy to wear all day long.
Thankfully, fashion doesn't need to take a step back to make room for function, since these shoes look good with dresses, jeans, and everything in between.
But they may need to be broken in a bit before using them all day long. So do take a few short walks in them before you use them for full-day walking tours.
Cons
May need to be worn in a bit first
As the brand's name would seem to indicate, Vivobarefoot Primus Lite sneakers will make you feel like you're wandering the world without any shoes at all. Studies have shown that there are many health benefits to going barefoot, and these shoes are the next best thing.
The lightweight, vegan-friendly Primus Lites are made of recycled PET plastic bottles, meaning that wearing them helps to reduce your carbon footprint. The shoes are flexible enough to roll up in order to maximize the space in your luggage, and packing light is another simple responsible travel tip!
Sizes run a little big, so it's recommended that you order a size smaller than what you would normally wear. The price of these shoes may put budget-minded travelers off. But when factor in the space-saving and versatility of the style, we think they're worth a few extra bucks.
Pros
Made of Recycled PET plastic bottles
Foldable
Cons
Sizes run bigger than average
Price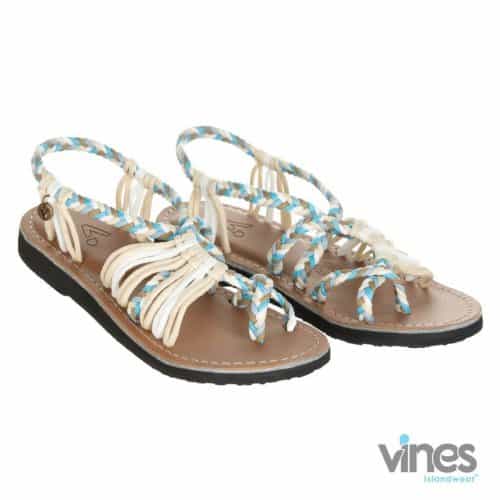 Vines Islandwear Seas The Day
If you're one of those people who likes to embrace the island life, you'll love Vines Islandwear's Seas The Day sandals. All of the brand's footwear are infused with a coconut scent, letting you breathe in the aroma of tropical paradise wherever your feet may take you.
These sandals have a criss-cross design over the toe, which keeps your foot snug and secure. The straps, whose colors remind us of our time in Bora Bora, are made from high-quality cord and braiding. You can also get them in either a flat or a cushy wedge heel.
There are 20 colors available online. They also offer 2 different toe closure styles with a 3rd open toe (freestyle) coming out this Spring.
The Seas The Day sandal's soles are eco-friendly (made with recycled tire rubber) and have a vegan-friendly lining, so they're perfect for eco-conscious buyers.
Pros
Recycled tire rubber used to make the soles
The kind of comfort you find on your yoga mat can now be taken with you on your travels, thanks to Sanuk's Yoga Sling 2 sandals. They come in a variety of vibrant patterns that evoke the colorful flowers you find in tropical destinations like Malaysia.
The footbed of the sandals is made from the same materials as yoga mats. Along with the stretch knit fabric straps, this ensures that these shoes weigh next to nothing. They can easily be slipped into the pocket of a backpack until you need them.
While these shoes are great for getting you from one beach to the next, or even from your yoga class to your hotel, they're probably not ideal for long-distance walking.
Cons
Not supportive enough for extended periods of walking
READ MORE: 15 Inspirational Animal Rights Activists
Best Travel Boots
Going on a snowy trip to the mountains? Or perhaps a camel-riding expedition through the desert? Even if you just need some extra warmth and protection from the elements during your visit to colder winter climates, check out these comfortable boots for travel.
The Naot men's Limba boot is great for traveling through towns and cities and is designed for wearing all day, every day. The lace-up boot has a padded collar and tongue, which gives your feet a fantastic feeling of cushioned comfort.
There's a padded technical lining in the front of the boot, which adds an extra element of warmth and moisture absorption. The lightweight lug sole provides long-lasting performance and a good grip even in icy weather.
As with all Nait shoes, the removable anatomical footbed molds to the shape of your foot. It's made from cork and latex and then wrapped in suede, which helps to temper the impact of hiking.
The collection also uses hand-sewn, European-style Strobel construction, which involves a specific way of stitching upper leathers and lining to the insole of footwear. The result is a sturdier boot that really stands up to wear-and-tear.
Pros
Lightweight lug sole
Removable anatomic footbed
Tap into your rugged inner cowboy with a pair of Ariat's Midtown Rambler boots for men. You'll feel ready to face the wild wild west as soon as you hop into these bad boys.
Their pre-worn look makes a macho fashion statement without saying a word, making even citified folks look rugged and untamed.
With Ariat's ATS Pro technology, the boots have great stability, and won't hurt your feet even after spending the whole day on them. Duratread outsoles make these boots tough enough to take a licking, both inside and out.
Straight leg jeans go fantastically with these boots, which come in either black or brown. And since the Midtown Rambler has elastic sides to aid in pulling them on and off, there's no need to worry about buckles, laces, or zips slowing you down as you go through security.
Pros
ATS Pro technology
Duratread outsoles
Cons
Can be a bit narrow for wide feet
Runs larger than usual sizing
Want a more feminine western-style boot for the ladies? Chaco's Cataluna boots are just what you've been looking for. They're rugged enough to take you up mountains, down hiking trails, and around cobblestone villages, but you'll look fashionable throughout your adventures.
The comfy, casual boots have a full-grain, waterproof leather upper as well as a removable LUVSEAT EVA footbed. In other words, they'll keep your feet dry, comfy, and able to walk for long periods of time. The boot also has a back zip and a solid bamboo heel, adding to its functionality and style.
The Cataluna boots also have a recycled textile lining and come in your choice of black, grey or brown. They go perfectly with skinny jeans, leggings, or tights, but the ankle might be a bit wide to pair with straight leg pants.
Pros
Full-grain, waterproof leather upper
Removable LUVSEAT EVA footbed
Cons
Narrow toe box
Run a bit small
Planning on taking a ski trip this winter? Then do yourself (and your feet) a favor and get a pair of Keen Hoodoo III boots before you go. These mid-calf-length lace-ups will keep you warm and looking "snow bunny" sexy in your travel photos.
The secret component of these boots is charcoal bamboo. This special ingredient helps make "Keen.warm," the brand's signature lightweight insulation.
Hoodoo III boots also boast "Keen.Dry" technology, which aids in making them waterproof (a must-have when you're dealing with wet snow underfoot).
The dual-compound rubber outsole provides great traction for walking in cold, icy conditions. And each boot weighs just 1 lb, so while some may say the boots look bulky, they definitely don't feel heavy on your feet.
Cons
Design may be too bulky for petite ladies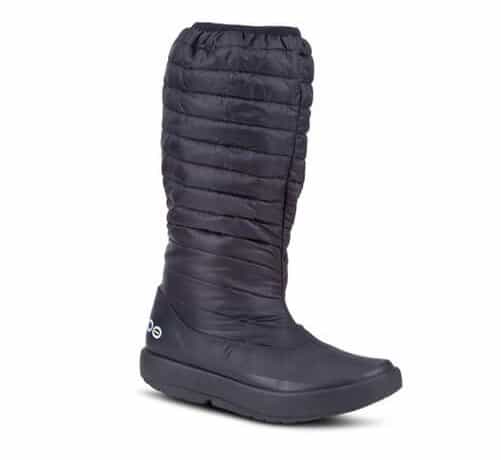 Oofos Women's OOmg High Boot
The new Women's High Boot from Oofos is an innovative extension of their OOmg line. Like ski gloves for your feet, they're perfect for colder weather and are insulated well to keep your tootsies nice and warm.
The boots are designed with OOfoam impact-absorbing recovery technology, which has been scientifically proven to reduce the stress hiking has on your body. They are water-resistant and have a lightweight, yet formidable quilted upper. They're highly versatile and can be easily rolled up or down, which makes them packable for travel.
In terms of corporate social responsibility, Oofos is committed to helping with the mission of finding a cure for breast cancer. For every pair of boots sold, 3% of the proceeds will go to the Dana Farber Breast Cancer Research team.
Pros
OOfoam impact-absorbing technology
3% of proceeds go to fighting Breast Cancer
Cons
May run a size smaller
Pricey
Fashion meets function in Chooka's Vivien Velvet Chelsea boots. With a sophisticated and stylish look, these boots will serve you well in almost any occasion.
Made using PVC plastic, the boots are designed to withstand the toughest elements. They're water-repellant, so you can wear them on rainy days without a worry in the world.
The memory foam insoles are removable, but they keep your feet cushioned so you'll most likely want to keep them in. The elastic sides make it easy to slip the boots on and off. They also have a self-cleaning rubber outsole as well as a rubber insole board and steel shank.
They're available in black, blush, and grey. And, with their fantastic pricing, even frugal fashionistas can afford to get one of each color and match them with their outfits.
Designed for working men, the Expedition Gaucho boots from Western Chief are built to stand up to the toughest adventures. They're made from waterproof leather, with Goodyear Welt Construction, and are also electrical hazard rated.
These sturdy boots are perfect for rugged outdoor explorations that require a little extra protection. They're not as lightweight or flexible as some of the other travel boots reviewed here, but they will keep your feet safe from the elements, impact, and more.
The exterior of the boots may be tough as nails, but the inside has a cushioned insole to hold your feet comfortably. The oil-resistant, rubber sports track lug sole means that these working boots are great if you're traveling through areas where footing is tricky.
Cons
Only available in one color
READ MORE: The 125+ Best Gifts For Travelers
Best Hiking Boots For Travelers
Hiking can be a great way to explore the world. But as we learned the hard way during our recent trip to Guatemala, you really need to have the right footwear for the terrain you're covering. If you're considering a serious trek in the Dolomites, Patagonia, or Asia's Annapurna Circuit, have a look at our picks for the best hiking boots for travel.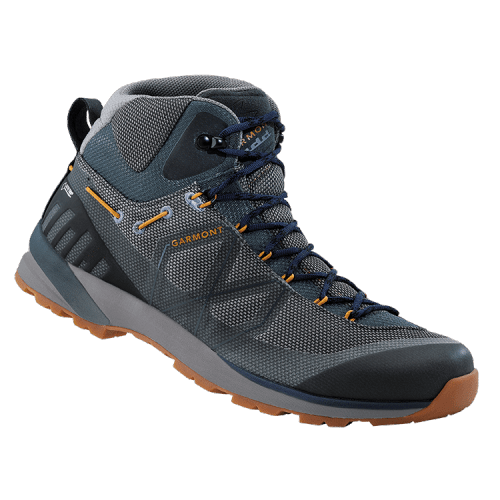 Garmont Men's Karakum GTX
The Garmont men's Karakum GTX boot offers an attractive mix between a hiking boot and an athletic shoe. These boots provide protection against the elements, all-day comfort, and look good enough to wear to dinner back at the eco lodge after your hiking day is done
The sole has well-spaced lugs, which prevent mud from sticking to it. The boots also have a ballistic fabric upper and a Vibram outsole, which gives reliable grip on uneven terrain. The toe box is slightly straighter than others, which compliments your big toe's position.
Garmont's Gore-Tex Extended Comfort design gives your feet the ultimate comfort while hiking. The construction of the ankle is made specifically to be lower on the outside and higher on the inside, which lends the boots added stability.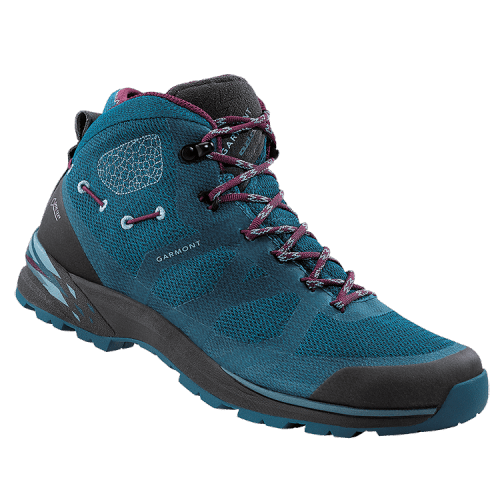 Garmont Women's Atacama Mid GTX
The ladies version of Garmont's GTX hiking boot is the women's Atacama, which offers the same fantastic features as the Karakum but fitted for the female foot. As you can see from the photo above, it's definitely a fashionable pair of boots.
The Atacamas have melange mesh and seamless PU uppers, as well as Garmont's waterproof, breathable Gore-Tex Extended Comfort construction. Each boot weighs just 12 ounces, with a lightweight midsole that cushions the foot well.
With heel lock technology your ankles are securely fitted into the shoes, which helps when hiking on uneven terrain. The shoes also feature a Vibram outsole and Vibram megagrip rubber compound, which adds great traction on wet surfaces.
Pros
Gore-Tex Extended Comfort construction
Here Keen brings us another fabulous pair of women's shoes. The Terradora Mid WP are the perfect hiking boots if you're a lady who likes to travel off the beaten path, as they're designed for rocky, rugged terrain.
They have a breathable leather lining, which allows your feet to breathe inside the boots. The synthetic sole has been created to suit all your hiking needs.
They're available in ten different colors, so you're sure to find one (or more) that suits your taste and style.
Offering a great balance of comfort and flexibility, with a glove-like fit and cushioned ankle panels, the Terradora Mid WP ranks among our favorite hiking boots for women.
Pros
Garmont's Gore-Tex Extended Comfort
Cons
Toe box can feel somewhat narrow
READ MORE: The Best Hiking Trails in the World
Best Hiking Shoes
Trail runs, short hikes and walks over hilly terrain all call for functional yet snazzy hiking shoes. Take a look at these reviews to decide which ones deserve a spot in your carry on bag.
You can step smoothly from the trail to the streets in these flexible Daylite Hiker shoes from Xero, which are available in both men's and women's styles.
These shoes are meant to bend with your feet in order to provide stability on uneven terrain, but also to allow you to move more freely and naturally.
Xero's patented FeelTrue soles (which come with a 5000-mile warranty) are designed to let your feet feel the world as you travel, without compromising protection. The Daylite shoes also feature a water-resistant ballistic mesh upper and ToughTech toe cap.
A wide toe box allows your toes to spread out and stay naturally comfortable as you tackle all kinds of terrain. The zero-drop, non-elevated sole helps with keeping your posture. There is also the benefit of a flexible sole with dual-Chevron treads, which adds stability and grip.
Pros
FeelTrue soles with a 5000-mile warranty
ToughTech toe cap
Cons
Runs a full size too small
Small opening
The ECCO BIOM Omniquest GTX for men gives you protection, comfort, and style all blended into one of the best hiking shoes we've tested this year. They're made with the same sleek Danish design and outstanding leather craftsmanship that the brand is known for.
The shoes feature a breathable textile-mesh upper and elastic laces that allow full mobility when hiking. GORE-TEX waterproof construction technology is also used to make these more long-lasting than most hiking shoes.
The low-to-the-ground sole gives a natural movement feel to the foot. Your feet will also enjoy the flexible PU outsole.
If it's comfort you're looking for, the FLUIDFORM DIP P.U foam provides long-lasting cushioning. You can also remove the textile insole for washing if needed.
Pros
GORE-TEX® waterproof construction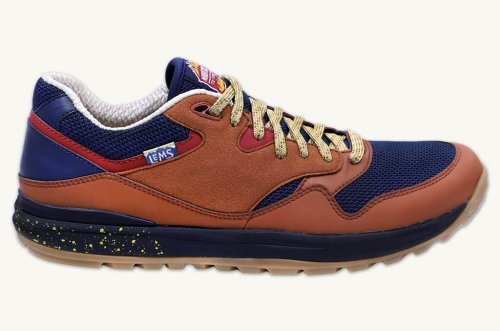 Lems Men's Trailhead
Lems' newest and most versatile shoe yet, the Trailhead sneaker is the minimalist brand's take on a classic hiking shoe that's ready for any trek, trail, or urban travel adventure. Taking design inspiration from '90s-style running shoes, they add a retro sense of style to any outfit.
These men's trail shoes boast a wide toe box, allowing your toes to spread out as much as they need to. The minimal heel drop and lightweight design give them an almost shoe-free feel that's completely flexible, moving in seamless harmony with your feet.
Designed for the trail, but styled for the streets, the shoes are 100% vegan-friendly. Whatever hiking your travel itinerary entails, the Trailhead shoes will be sure to keep up with every step you take.
A cute hiking shoe designed just for the ladies, the Oboz Sapphire has been created specifically to fit the female foot.
Hydrophobic upper materials make the low-top shoes water-repellent, while the textile lining manages to wick away perspiration (everyone knows ladies don't sweat).
The upper is made from waterproof nubuck leather, while the O-fit insole is the secret weapon Oboz uses to make their shoes ultra-comfortable for your feet. Using their Swiftcurrent outsole, the Sapphire offers good traction for the streets and perfect grip for uneven trails.
The shoes are really lightweight, weighing just 12 ounces each. And when buying a pair, you will also be contributing to a tree being planted.
Pros
Easy to clean
1 tree planted for every pair bought
Rocks, roots, and other rugged terrains are no match for the Oboz Sawtooth hiking shoes for men. They're available in 4 different earthy colors, so they'll match just about any hiking outfit.
A balance of leather and textile give the shoes a nice balance of breathability, durability, and weight. The dual-density EVA nylon shank outsole makes them super strong, but these shoes are surprisingly light at a mere 15 ounces each.
Other impressive Sawtooth features include a form-hugging heel cup, a sculpted mid-foot, and a wider-than-usual forefoot and toe box. As mentioned above, the Oboz brand is extremely eco-friendly and will plant a tree for each pair you buy.
Pros
1 tree planted for every pair bought
Cons
Can get hot in warm conditions
Not that steady on wet surfaces
READ MORE: My Stupid Mistake While Hiking Corcovado National Park, Costa Rica
Athleisure Shoes For Travel
Athleisure shoes work wonderfully for travel because they can work in almost any situation. They're good for long hours on a plane, walking, exploring ancient ruins, or even when you feel like getting a workout in. They look good, feel good, and give you complete versatility.
Designed with eco-friendly travelers in mind, Adidas' Terrex Voyager Parley shoes were built in partnership with Parley for the Oceans. For their construction, they used yarn that contains Parley Ocean Plastic, which is made from recycled plastic found all along the coast.
Their Stealth rubber outsole has a built-in drainage system, making exploring bodies of water a little easier. Your feet will love the 360-degree cooling feature that Climacool creates. The shoes also have thin TPU welds to aid in toe protection.
Whether you're hiking through forests, wading to waterfalls, or exploring urban cities, these shoes will make sure your feet are well taken care of.
Pros
Designed for all travel conditions
EVA footbed
Bret's favorite new men's shoe brand this year, Twisted X, has created the ideal shoe for travelers who prefer having one pair of shoes that work for multiple types of occasions.
The Hooey athleisure line has some of the best shoes for sightseeing, hiking, walking the streets of foreign cities, as well as sporty activities.
With a smart athletic design that not only looks great but also feels amazing on your feet, the shoes will go with almost any outfit. Genuine leather construction ensures they're built to last, and the SD Footbed is moisture wicking, antibacterial, and machine washable.
You can head out on adventures in sturdy comfort with the Vibram outsoles and XSD patented insoles. The manufacturers warn that the shoes run a half size larger than usual, so it's advised that you order half a size smaller.
Pros
Moisture-wicking footbedMachine-washable
Cons
Run a half size larger
Only available in tan
Whether you've been a loyal longtime fan of Vans or you're a new customer, this addition to their line is sure to hook you. The Ultrarange Rapidweld is designed for a sporty casual look, but they're also unbelievably comfortable.
You can wear these shoes while exploring a destination, but they'll transition perfectly for running or other forms of exercise. The rubber reverse waffle lug tread pattern gives a great grip on the ground, providing traction on almost any surface.
Other attractive features include LUXLINER, a seamless inner sock that holds your feet securely, as well as UtraCush LITE cushioning for maximum comfort.
The shoes also feature Vans' fully breathable mesh (with Rapidweld details), water-based inks and glues, and Pro Vulc Lite construction.
Pros
UtraCush LITE cushioning
LUXLINER seamless inner sock
Cons
Shoes tend to run narrow
Foxing tape can sometimes cause blisters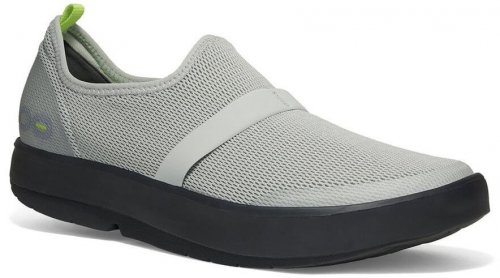 Women's Oofos OOmg Low Shoe
The women's OOmg Low shoe from Oofos is the very first closed-toe shoe to feature the brand's Oofoam technology, which absorbs 37% more impact than most active footwear foam materials.
Being lightweight, the shoes are really easy on the feet, making them perfect for workouts, walking, and more adventurous travel activities. They're also machine-washable.
On the downside, the sizing of these shoes can be a bit snug due to the strap that is placed across the top of the foot.
While the OOmg Low is designed as closed-toed shoes, the mesh upper is ventilated, letting in some air for your feet to breathe. So your feet may get a bit cold in cooler climates, but that issue can be solved simply with thick socks.
Pros
Revolutionary Oofoam technology
Easy to slip on, with mesh upper
Cons
Run a size smaller
Ventilated mesh can cause feet to get cold in cooler temperatures