When people ask me what's the most beautiful place I've ever visited in my life, Patagonia– which encompasses significant portions of northern Argentina and Chile– is always the first place that comes to mind.
My trip to Ladakh, India is also up there, and so are the Faroe Islands. But for me, Patagonia travel ultimately has to be the winner.
First of all, the southernmost tip of South America is stunning. This is a land of seemingly impregnable granite mountains, pristine greenish-blue lakes, and mighty glaciers that will make your jaw drop with their sheer beauty and power.
Secondly, Patagonia is world-renowned as a haven for outdoor adventurers like us. If you love hiking, you can just walk out of any town or village and you'll likely find yourself in overwhelmingly gorgeous surroundings.

Or you can choose to head to Torres del Paine National Park in Chilean Patagonia. There, you can hike the 4-day long W Trail, which provides exceptional views of Grey Glacier.
The opportunities for outdoor recreation in Patagonia are endless. There's rock climbing, viewing wildlife such as Guanacos and Andean Condors, cruising to the edge of massive glaciers, glacier hiking, and more. In short, Patagonia truly is a place that you will never forget.
Here are our 7 favorite things to do in Patagonia for nature and adventure lovers, including both Chile and Argentina…
READ MORE: The 10 Best Mountains in the World (World Travel Bucket List)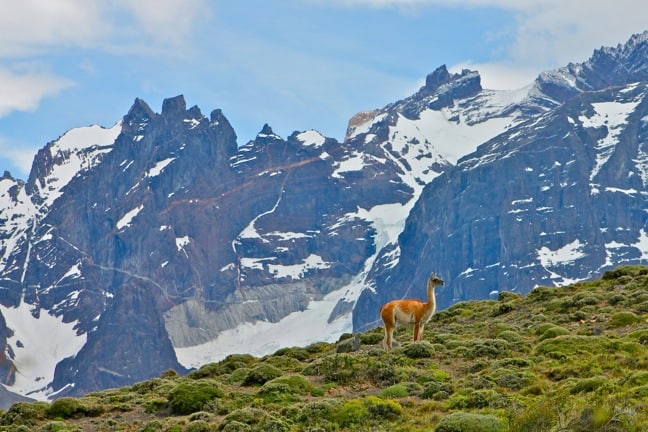 1. Hike in Torres del Paine National Park
Torres del Paine arguably offers the best hiking in Chilean Patagonia.
The most famous trail is the W, named after its shape, as it weaves in and out of valleys allowing you to get close to glaciers and mountains.
The highlights of the W are Grey Glacier, Valle Francés and– naturally– the granite peaks of the Torres del Paine, which are reached after a strenuous ascent on a sandy moraine.
Most people just hike the W when visiting the national park, even though there's a lot more to see and do there. You can hike the Fauna Trail (which provides close-up views of Chilean wildlife such as Guanacos and Andean Condors), and a visit to prehistoric Milodon Cave.
READ MORE: The Road to Torres del Paine National Park, Chile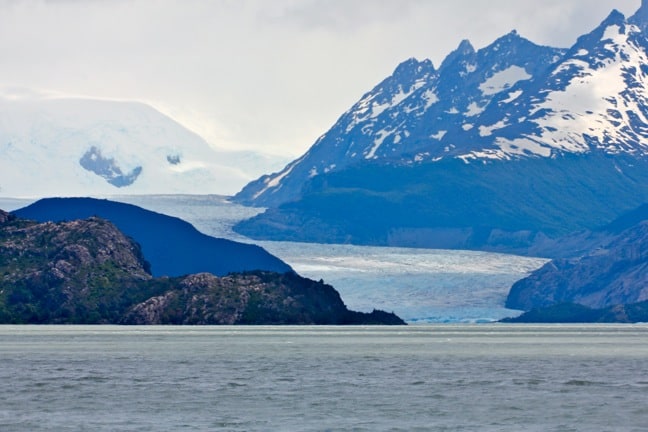 2. Visit Perito Moreno Glacier
If you're going to do just one thing in Argentinian Patagonia, make it a visit to Perito Moreno.
Standing in front of the glacier, watching chunks of massive blue ice fall into the waters of the lake below was an experience that moved me to tears. It was one of those times when I experienced the force of nature at its most powerful, mighty, and resilient.
Perito Moreno is one of the few ice fields that has withstood global warming. As a result, it is not retreating, it's actually advancing. Glaciers are dynamic entities, pushing their way through the mountains. Calving (ice falling into the lake) is a totally normal phenomenon.
There are various ways to get close to Perito Moreno: You can walk on the glacier, sail near it, or simply watch it from the viewing platforms nearby.
READ MORE: Climbing Nigardsbreen Glacier in Norway (A He Said/She Said Story)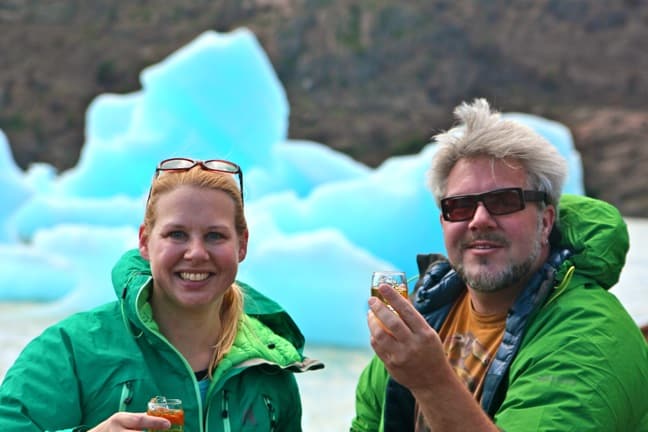 3. Walk on Viedma Glacier
If you visit Patagonia, you simply can't miss the opportunity to do a glacier hike.
Strap your crampons on, grab a harness and an ice axe, and follow your guides as they make their way up the glacier's edge, around deep-blue crevasses and pinnacles. Perito Moreno is the most famous glacier, but hiking it tends to be pricey and quite crowded.
For a glacier hike we recommend heading to Viedma, which is not far from the more famous glacier of El Chalten.
Viedma is just as spectacular as Perito Moreno, but with only a handful of tourist around. When you're out on the glacier, you may be able to try your hand at ice climbing.
Also, enjoy a glass of Scotch or Baileys Irish Cream with the purest ice you'll ever have!
READ MORE: How Mass Tourism is Destroying 30+ Destinations Travelers Love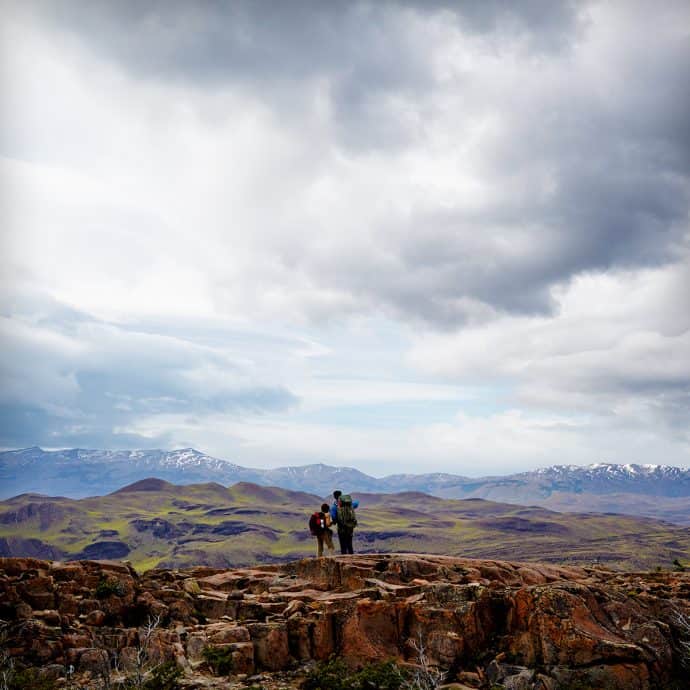 4. Hike around El Chalten
If Torres del Paine is the hiking capital of Chilean Patagonia, El Chalten is the go-to place on the Argentinian side.
Everything around El Chalten seems to be made to cater to adventure tourists, with loads of hiking maps and shops selling mountaineering and outdoors attire, and several hotels including a spa to relax those weary limbs.
We recommend two hikes specifically. The first one is Laguna de los Tres, a day-long hike weaving down a valley and then up to the laguna, where it's possible to enjoy a great view of Cerro Fitzroy, one of the iconic Patagonian mountains.
The hike is strenuous, but doable by just about anyone with a reasonable fitness level. The trail is popular and well marked. If you get thirsty, you can just fill your water bottle at one of the many streams running parallel to the trail.
The second hike is Laguna Torre, which is shorter than the hike to Laguna de los Tres, but no less beautiful. It ends at a lake with a great view over the saw-toothed profile of Cerro Torre.
READ MORE: The World's Best Hikes (World Travel Bucket List)

5. Go Whale Watching Around Peninsula Valdés
Peninsula Valdes is the main sight on the Atlantic side of Argentinian Patagonia, and it is a must-see for wildlife lovers.
Between May and November, the coastal area off Puerto Madryn is a breeding ground for Southern Right whales, and seeing them is practically guaranteed.
Orcas also travel these waters, and often get close to the shore to hunt for sea lions and seals on the beach. It's a spectacular sight that you may be lucky enough to experience on a whale-watching tour.
However, in Peninsula Valdes wildlife can also be seen away from the coast. You'll be able to spot iconic Patagonian wildlife such as Guanacos, Rheas (a small ostrich-like bird), Maras (a cross between a large guinea pig and a hare) and Dwarf Armadillos.
READ MORE: 60 Weird Animals Around the World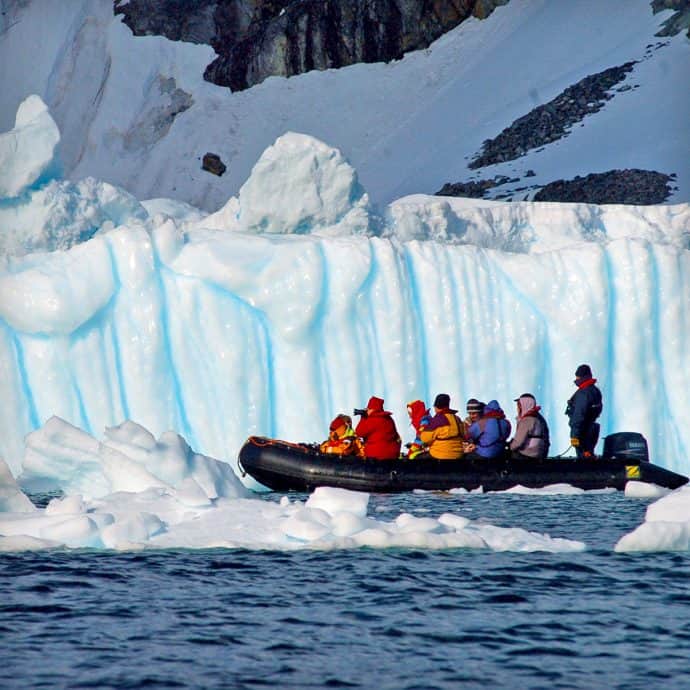 6. Visit Tierra del Fuego
The southernmost reach of the South American continent is the island of Tierra del Fuego, beyond which there is only Antarctica.
Tierra del Fuego is a wild, windswept land, with dwarf lenga forests and some plants that don't exist anywhere else on Earth.
Ushuaia is the so-called "Fin del Mundo," the main town in Tierra del Fuego and jump-off point for Antarctic cruises and adventures in the region.
Sadly, our budget didn't stretch far enough to go to Antarctica, or even to take the three-day cruise to Cape Horn, the tip where South America truly ends.
Instead we took an afternoon cruise of the Beagle Channel, where we saw a variety of penguins and seabirds. Then we did a day trip to Estancia Harberton, where we explored more Fuegian nature and learnt about the life of Patagonian pioneers.
READ MORE: Visiting "the End of the World" in Ushuaia, Argentina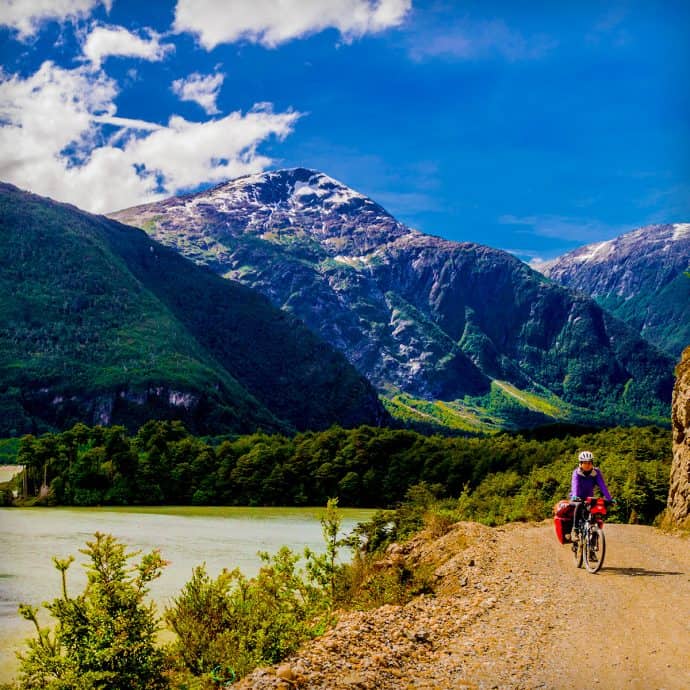 7. Drive the Ruta 40 or Carretera Austral
The Ruta 40 stretches all through Argentina, over 3000 miles from the Bolivian border at la Quiaca to Rio Gallegos in Santa Cruz province.
It travels all across Patagonian Argentina, including the mountain and lake paradises of Bariloche and El Bolson and the Perito Moreno.
The Ruta 40 isn't the quickest way to travel Patagonia– it's a long and winding road, mostly unpaved. But it offers beautiful mountain views and a true feel of adventure.
The Chilean counterpart is the Carretera Austral, a very scenic road running 770 miles from Puerto Montt to Villa O'Higgins in rural Patagonia.
The road was built by Pinochet to connect remote communities, and travels through thick forests, past fjords, glaciers and mountains.
Some points of interest along the Carretera Austral include Queulat National Park (which is home to stunning glaciers) and the unlucky town of Chaiten (which is close to glaciers and the Futaleufu River, one of the best white-water rafting locations in South America). -Margherita Ragg
READ MORE: The World's Best Road Trips (World Travel Bucket List)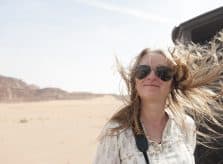 Margherita Ragg is a freelance writer from Milan, Italy. She's passionate about wildlife, ecotourism and outdoor activities, and runs the travel blog The Crowded Planet with her husband Nick Burns, an Australian photographer. Margherita has an MA in Travel and Nature Writing from Bath Spa University, and was runner-up to the 2012 Guardian Travel Writer of the Year competition. Her other passions are rock climbing, skiing, homebrewing and her cat, Tappo. Follow Margherita on Facebook, Twitter, Instagram and Pinterest.
If you enjoyed reading about Patagonia travel, you might also like:
PHOTO GALLERY: Patagonia Flora– The Flowers of Torres Del Paine