The Swimming With Galapagos Sea Lions Video below was named by Matador Network as one of "11 Travel Videos That Rocked in 2011."
It's just a small sampling of the incredible footage we were able to get of Galapagos Sea Lions swimming, nursing, playing, and fighting in the Galapagos Islands on our week-long trip with Ecoventura.
READ MORE: 30 Amazing Galapagos Islands Animals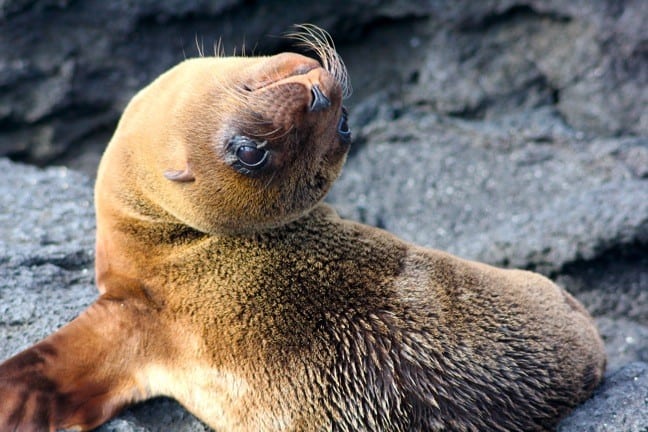 Sea Lions may be on the endangered species list, but in the Galapagos Islands they're so ubiquitous that they run the risk of being taken for granted.
Here, you can find this unofficial welcoming committee almost everywhere: In public parks, on the San Cristobal docks, and on every beach of every island.
Distinguishable from fur seals by their earflaps, sea lions seem awkward and clumsy on land, with a lurching side-to-side gait, loud barks and an array of bodily noises that can make them sound like a crew of flatulent sailors.
But once they reach the water, they transform into something magical, like elegant ballet dancers of the oceanic world.
They also prove eminently playful and curious, and the rule of keeping six feet of distance from all Galapagos wildlife gets tossed out the window once you realize they can swim much faster than you can.
With their huge eyes, cute faces and funny flippers, the sea lions' charms proved impossible to resist.
READ MORE: 21 Fascinating Facts About the Galapagos Islands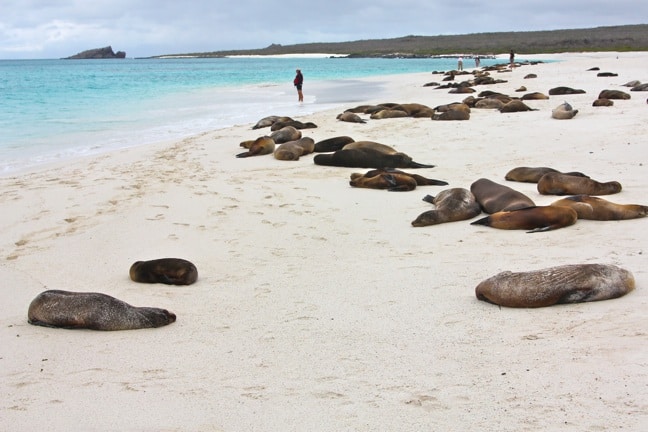 Our most memorable encounter came during a snorkel off the island of Santiago.
We'd just gotten into our wetsuits when our friends shouted that they'd spotted a sea lion. I swam along beside him as he floated lazily. But as I twisted and turned to get the best shot, it was like he thought I was trying to play.
He began swimming faster and faster, coming closer with each subsequent pass, until I could've easily reached out and touched him.
The more I contorted my body to keep him in frame, the more playful he got, zooming beneath me like a torpedo, blowing bubbles and flipping out of the water.
I dove down and tried to mimic him, only to realize he was mimicking me. It was exhausting, and also one of the most exhilarating experiences of my life.
On our last night in the Galapagos, we made our way to beautiful Gardner Bay on the island of Española.
Here, on a white sandy beach, hundreds of sea lions live in large colonies. Pups nurse from their mothers, juveniles frolic in the cerulean blue surf, and male bulls battle for dominance over their harems.
It was an amazing way to wind down our once-in-a-lifetime Galapagos experience. –by Bret Love; video by Bret Love & Mary Gabbett; music by Ken Elkinson
If you like Swimming With Galapagos Sea Lions, you might also like:
Wildlife of the Galapagos video series: Part 2, Flightless Cormorants
Wildlife of the Galapagos video series: Part 3, Tortoises
Wildlife of the Galapagos video series: Part 4, Iguanas
Video: Secrets to Swimming With Galapagos Penguins
PHOTO GALLERY: The Beauty of Galapagos Birds
DAY 1- Photo Gallery: San Cristobal, Kicker Rock & Genovesa
DAY 2- Photo Gallery: Genovesa & Fernandina
DAY 3- Photo Gallery: Isabela & Santiago
DAY 4- Photo Gallery: North Seymour & Bartolome
DAY 5- Photo Gallery: Santa Cruz & Espanola
Darwin's Paradise: Galapagos Islands Animals, Ecotourism & Adventure
7 Important Life Lessons I Learned in the Galapagos Islands