Santa Cruz Island was very different from the other islands in the Galapagos that we visited.
Instead of volcanic rock or sand-strewn beaches, we headed into the grassy highlands to Rancho Primicias, a privately-owned farm that seemed like the ultimate retreat for Galapagos Tortoises.
We learned a little bit about the different types of tortoises and their history of being exploited before getting a chance to see dozens up close.
They seemed impossibly huge and ancient, totally reminding me of that character in The Neverending Story.
READ MORE: GALAPAGOS ISLANDS DAY 1- San Cristobal, Kicker Rock & Genovesa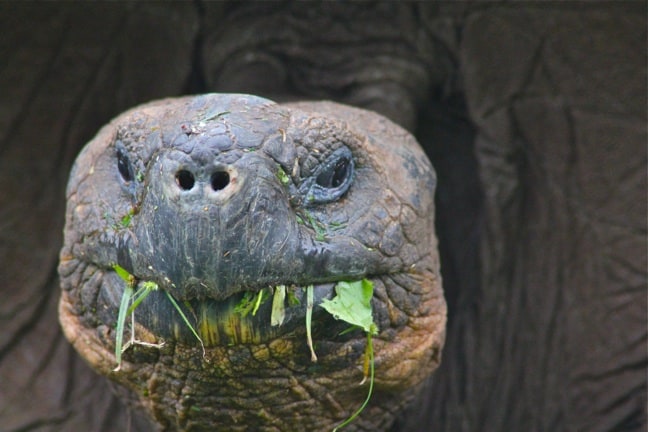 Visiting the Charles Darwin Research Station was an exciting and powerful experience, in part because it is the heart of Galapagos conservation efforts, and in part because I knew at the end of the tour, we would get a chance to talk to the marine scientists who worked there about our "Mystery Fish."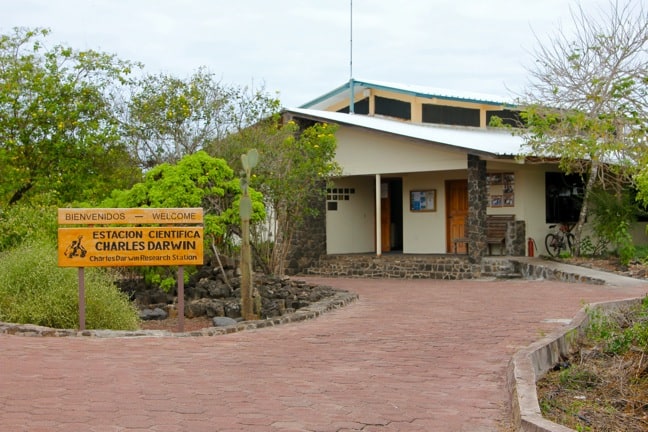 To this date, the mystery of our discovery still has not been solved, but it was amazing to get to go behind the scenes, and to have the guy who wrote the reference guide on Galapagos fishes, Dr. Jack Grove, tell me the fish was something even he had never seen before.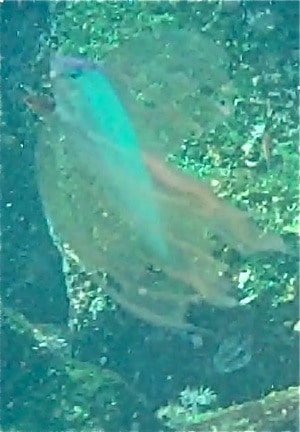 READ MORE: GALAPAGOS ISLANDS DAY 2- Genovesa & Fernandina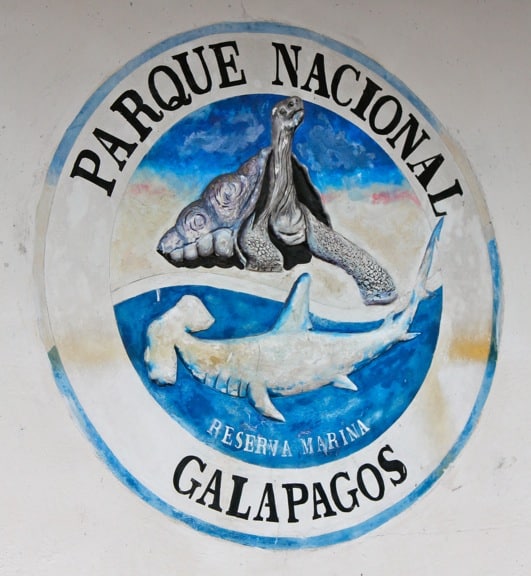 I love, love, LOVE this logo. I bought a park ranger shirt with this on it, and a patch for my daughter to sew on her Girl Scout vest.
For me, it's emblematic of the remarkable appeal of Galapagos Island Animals both on land and in the sea, and a potent symbol for their groundbreaking conservation efforts.
READ MORE: GALAPAGOS ISLANDS DAY 3- Isabela & Santiago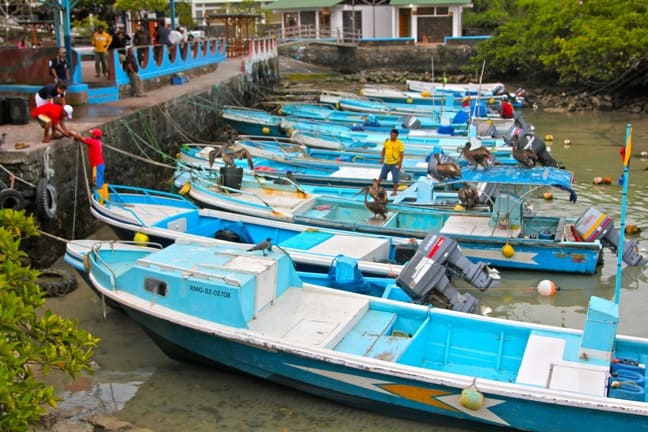 On the way back to meet our boat after a whirlwind shopping spree, we made a quick pit stop at the fisherman's wharf, where the last boats of the day were coming in to unload their fresh catch.
Note the pelicans crowding around, hoping for a few scraps to be thrown their way.
READ MORE: GALAPAGOS ISLANDS DAY 4- North Seymour & Bartolome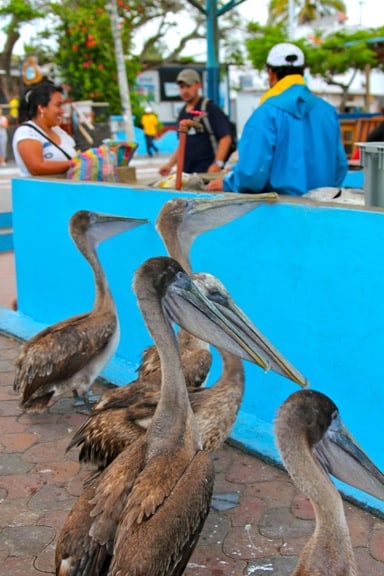 As soon as the fish were unloaded from the boats, this guy was there to filet them and wrap them in ice for shoppers to take home for their evening meal.
This group of pelicans seemed very eager for their turn, and I found it hilarious to watch them nudging each other out of the way in hopes of being first in line for scraps that never seemed to come. Poor pelicans!
READ MORE: Wildlife of the Galapagos video: Flightless Cormorants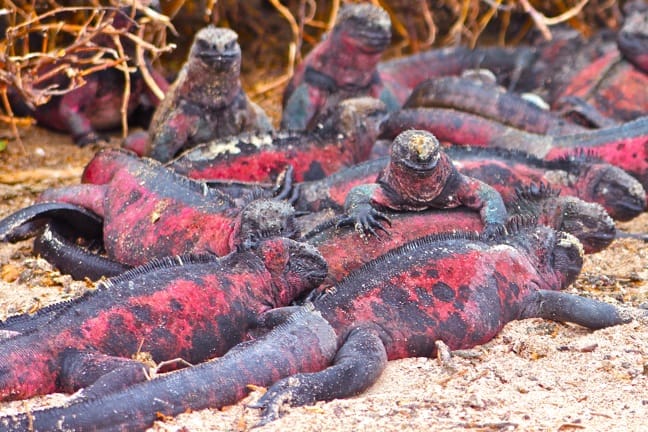 On the 6th day of our trip, I was exhausted after a serious bout of seasickness, so Mary handled the morning hike on Espanola Island all by her lonesome.
As a result, I didn't get to see these colorful Christmas iguanas, which were huddled en masse on a rare spot that wasn't covered in boulders.
"It was a rough hike," Mary said when she came back. "It would be really easy to twist your ankle on all the rocks." Given my sleep deprivation, I was glad I'd stayed in…
READ MORE: Wildlife of the Galapagos video: Iguanas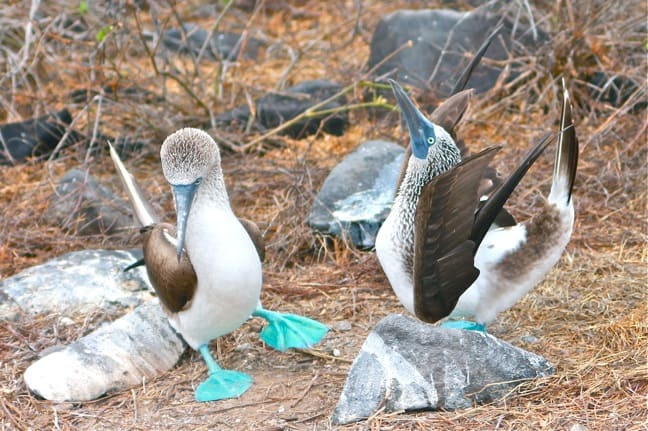 …and yet also a little sad because I missed the famed Blue Footed Booby mating dance.
It's been well-documented on this site how much I love boobys: As you can see here, one booby stamps their feet like some sort of slow-motion college step show, while the other arches its back and lifts its wings in a phenomenon known as sky-pointing.
It's really cool, and I think we may have some video of it to share with you in the near future.
READ MORE: Galapagos Birds: 25 Spectacular Species You Can See on a Galapagos Cruise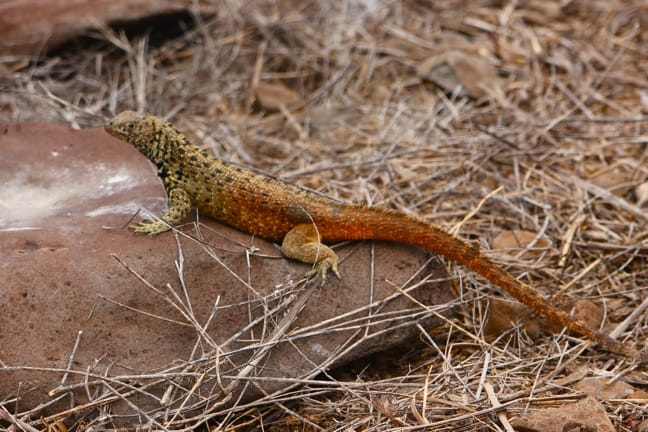 "I thought he was cool," says Mary. "I agree," says me.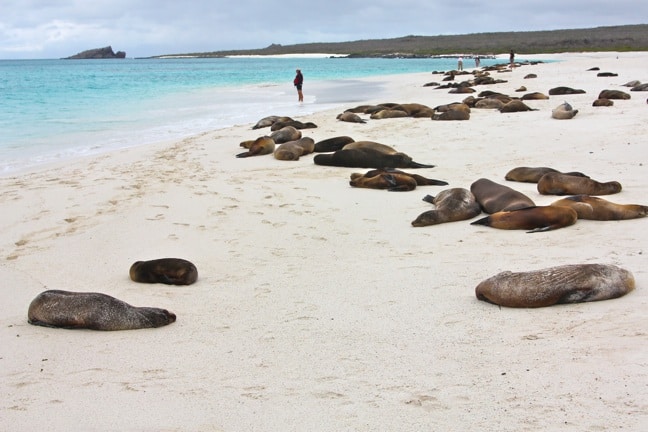 Fortunately, by that afternoon (after a morning nap) I felt much better. Next to snorkeling with sea lions, our visit to Espanola Island's Gardner Bay was easily my favorite Galapagos Islands experience.
Aside from the gorgeous scenery, there were literally hundreds of sea lions in this col0ny, which stretched as far as we could see.
There were male, females, playful teenagers and tiny little babies wailing for their mamas. There are no words to describe my feelings, so AWESOME will just have to do.
READ MORE: Swimming with Galapagos Sea Lions (Video)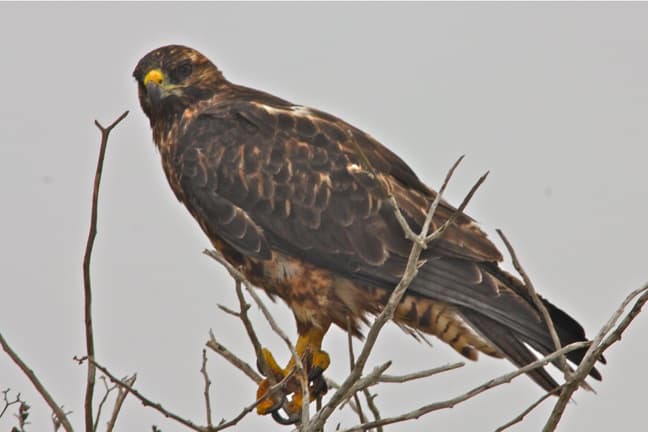 Intermingled with the exuberant joy was also a tinge of sadness.
On the edge of the Espanola Beach, we saw what was clearly a baby sea lion carcass being picked at by three Galapagos Hawks.
Other babies cried as they roamed the beach in search of mothers who never responded, and we were reminded that nature is not always kind to the weak. Still, the hawks were clearly an important part of the Galapagos ecosystem, completing the circle of life.
READ MORE: Wildlife of the Galapagos video: Tortoises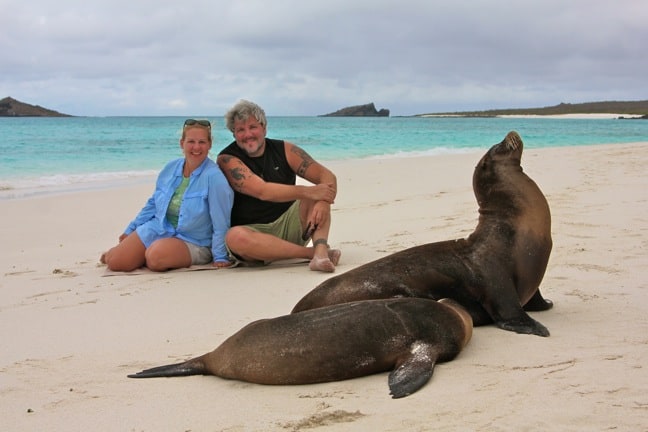 If I had not experienced it for myself, I don't know that I'd believe this shot was real. It was a perfect ending to our last full day in the Galapagos Islands.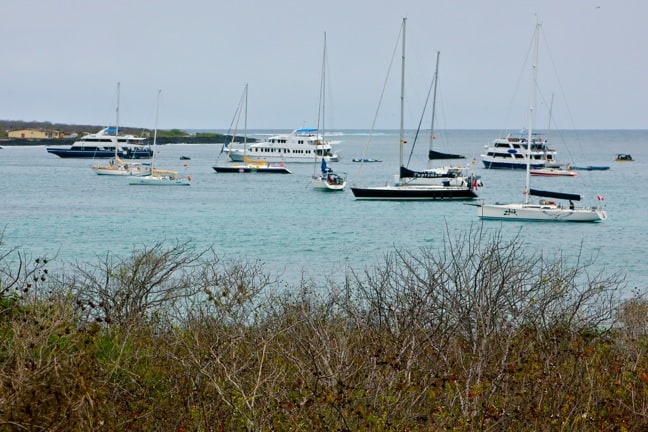 On our final day we made our way back to the docks at San Cristobal Island, where we bade farewell to Ecoventura's M/Y Eric for one last time (you can see it in the top right section of the photo).
It was a strange feeling, being on land after a week at sea, and it took a little time to get used to the ground not moving beneath us.
I can't say I was sad to be back in a bed that didn't move, but despite the seasickness I loved being out on the water, in my oceanic element.
READ MORE: 70 Cool & Weird Animals Around the World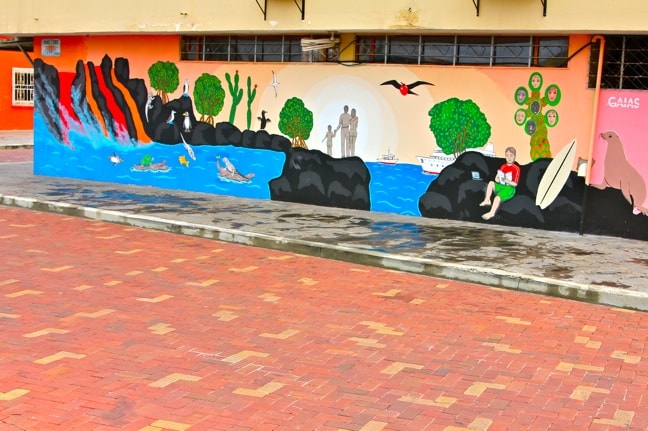 We had a few hours to kill in San Cristobal before catching our short flight back to Quito, so Mary and I did some shopping and grabbed a bite to eat at an awesome sandwich shop just off the main square.
This colorful mural caught my eye and made me miss the Galapagos Islands before I'd even left them.
It truly is a magical place and exploring it with Ecoventura was a once-in-a-lifetime experience we will never forget.
READ MORE: 30 Cool & Weird Ocean Animals Around the World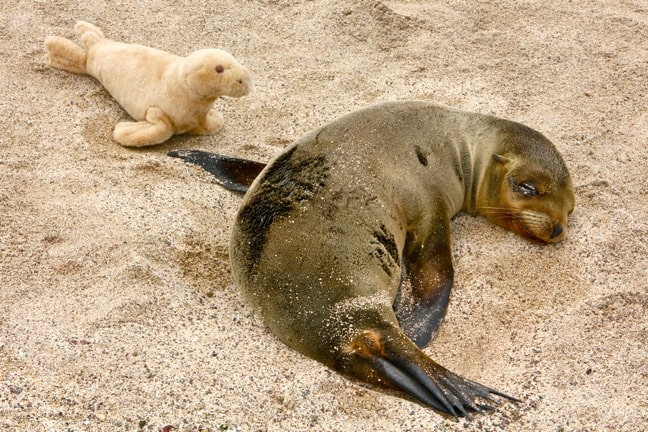 On our way back to the bus that would take us to the airport, I found this cute little sea lion stuffed animal, which I knew my daughter would love.
I knew it would be even more special for her to see her new friend next to a real sea lion pup, so I laid him down next to this sleepy guy and snapped a quick photo.
She ultimately named it Cocoa, and now she sleeps with it every single night! I hope one day our trip will inspire her to go on similar adventures, and see the amazing wildlife of the Galapagos for herself… –by Bret Love & Mary Gabbett