I fell in love with
Caribbean music
in my early 20s, but it wasn't until I traveled to
Jamaica
in the mid-90s that I realized just how attuned to the island vibes I was.
After I started writing about travel professionally in 1997, the islands of the Caribbean quickly became my favorite stomping grounds.
Caribbean culture may have been my early entry point, but I also loved the history, the cuisine, the world-class
beaches
, and especially the underwater wonders that could be found just offshore.
By 2008 I was covering the Caribbean islands for countless airline and hotel magazines (including American Way, Cayman Airways' Skies, Destination Marriott, Hilton Hotels, etc.).
One of the most common questions we got during our travel adventures was, "Is the Caribbean safe?" People asked which Caribbean countries had the highest crime rate, and which Caribbean islands are safest.
Our answer was always the same: Most of the Caribbean islands are just as safe as US cities, with rare exceptions like Haiti. You just have to leave your valuables in the hotel, and use some common sense.
But when it comes to the safest islands to visit, the Caribbean does have a few places that stand out. Perhaps not surprisingly, many of them also rank among the most expensive Caribbean islands!
Read on for our in-depth guide to the 10 Safest Caribbean Islands, including an overview of the safety concerns on each island as well as an overview of fun things to do there.
SAFEST CARIBBEAN ISLANDS GUIDE
Anguilla
Antigua & Barbuda
Aruba
Barbados
British Virgin Islands
Grenada
Montserrat
Saint-Barthélemy
Saint Lucia
Turks and Caicos
1. Anguilla
One of many Leeward Islands you'll find on our list of the safest Caribbean islands, Anguilla is a beloved British Overseas Territory that includes a 35-square-mile main island and several offshore islets.
Part of a federation with St. Kitts & Nevis until 1980, Anguilla was named for its eel-like shape. It's known for its gorgeous blue surf, ecologically important coral reef systems, and wonderful white sand beaches.
The culture is a mix of indigenous Amerindians, European settlers, and descendants of enslaved Africans (which make up 90% of the population).
Check out the Festival Del Mar in April or the Anguilla Summer Festival in August to get a taste of the island's rich cultural heritage.
Anguilla was named one of the safest Caribbean islands to visit by U.S. News & World Report due to its friendly people, upscale sophistication, and an embargo on large cruise ships, casinos, and high-rise hotels.
It also has one of the lowest crime rates in the Caribbean, though the UK government does recommend taking precautions such as locking doors and windows at night and avoiding isolated areas after dark.
READ MORE: 10 Great Islands for Luxury Caribbean Vacations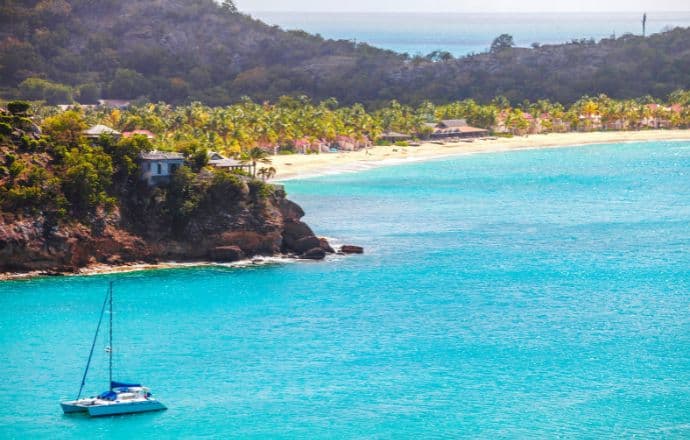 2. Antigua & Barbuda
Antigua & Barbuda is a sovereign nation in the Lesser Antilles that includes two major islands as well as a number of smaller islands (including Redonda, a SCUBA diving hotspot).
According to the U.S. Department of State, Antigua & Barbuda is a Level 1 in terms of safety, meaning visitors merely need to "exercise normal precautions."
Compared to other Caribbean countries it has one of the lowest crime rates, but there have been some reports of pickpockets and purse-snatchers in areas such as Heritage Quay and Market Street.
The country prioritizes the safety of its visitors because tourism accounts for around 80% of the GDP of Antigua and Barbuda.
If you travel to these upscale islands, don't miss the beautiful Antigua beaches, Devil's Bridge National Park, the yachting hub of Nelson's Dockyard, and the Museum of Antigua and Barbuda.
READ MORE: The 30 Best Exotic Islands in the World to Visit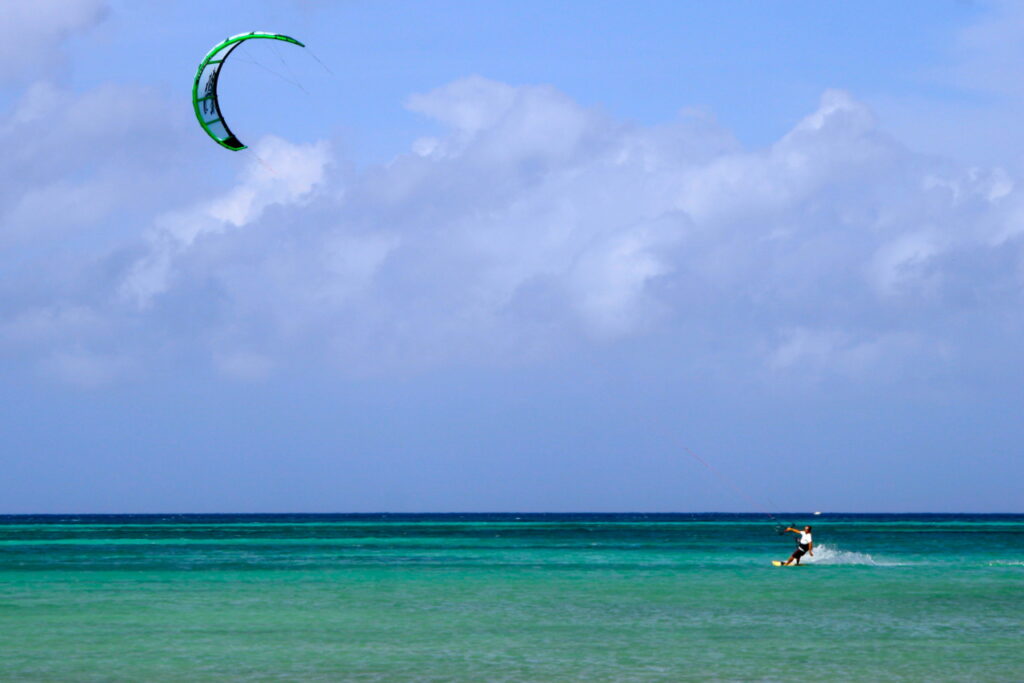 3. Aruba
Part of the ABC islands of the Netherlands Antilles (which include Bonaire and Curaçao), Aruba is an unusual island with windswept trees, rugged shorelines, dramatic rock formations, and a desert-like interior.
But it also has near-perfect weather, stunning beaches (some of which have been named among the world's most beautiful), and ocean views so dreamy, you'll feel like you're vacationing inside a postcard.
Aruba is also considered one of the safest islands in the Caribbean to visit, with a very low crime rate and an active police presence in all the major tourist areas.
The locals (almost all of whom speak English) are friendly and welcoming, the food and water are up to U.S. standards, and it's generally deemed safe to venture out at night.
Other than petty theft, the only real safety issue in Aruba is the surf on the island's northern side. There are strong currents and occasional riptides there, so check the surf conditions before going swimming.
READ MORE: The 20 Best Things to Do in Aruba for Nature & History Lovers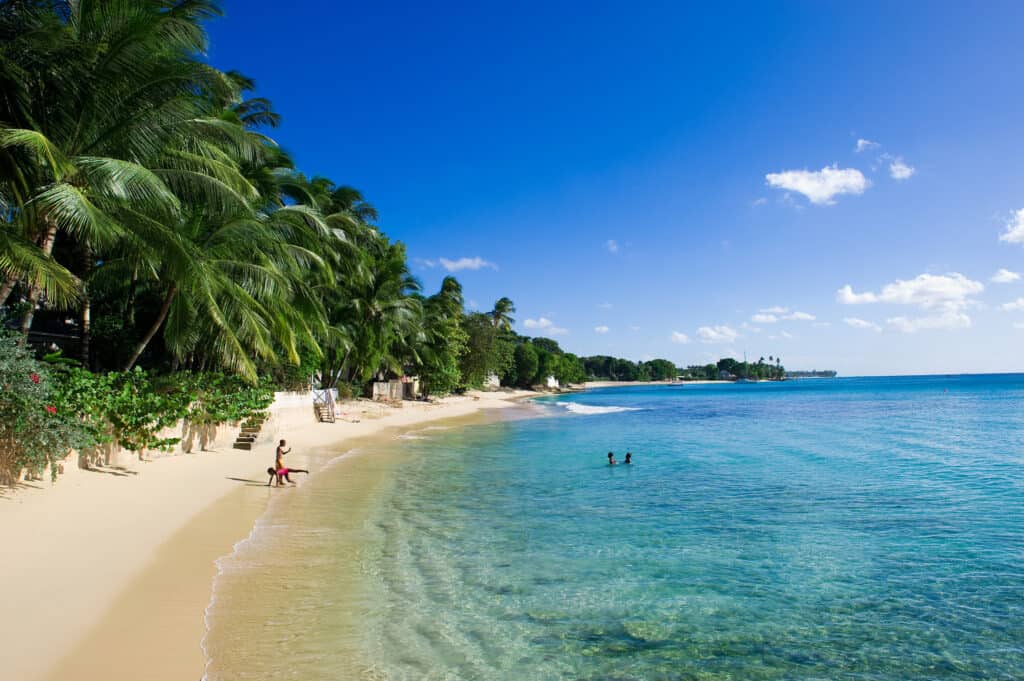 4. Barbados
Encompassing 166 square miles, Barbados is a small island with, big waves, a rugged coastline, a rich local culture, and a mountainous interior.
Located in the Eastern Antilles (about 100 miles from its nearest neighbor), this independent British Commonwealth nation is known for Rihanna, beautiful white sand beaches, and a high rating from the United Nations Human Development Index.
Attracting almost a million visitors each year, Barbados is also considered one of the safest Caribbean countries to visit, with top-notch security at the hotels and beaches in the main tourist areas.
There are some areas where petty theft is not uncommon, especially during the festival season. But traveling in groups (especially at night), avoiding overly crowded areas, and being aware of your belongings is usually enough to ensure safety.
Be sure to explore Historic Bridgetown (a UNESCO World Heritage Site), as well as the 1.4-mile-long Harrison's Cave, the 6.5-acre Andromeda Botanic Gardens, and Folkestone Underwater Park & Marine Reserve.
If you want to explore traditional Bajan culture, head to the Friday night fish fry in the town of Oistin's.
READ MORE: The Top 10 Things to Do in Barbados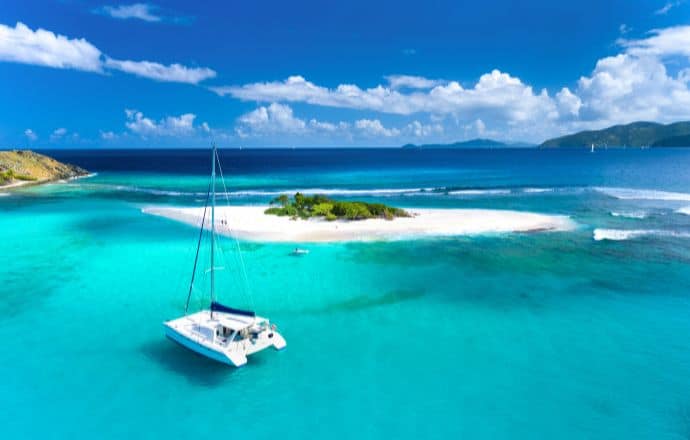 5. British Virgin Islands
This British overseas territory is part of a volcanic archipelago that encompasses 4 main islands (Anegada, Jost Van Dyke, Tortola, and Virgin Gorda) and 50+ small islands and cays.
Known for its pristine, reef-lined beaches, the British Virgin Islands is a major yachting destination. Myriad local companies offer bareboat rentals, a chartered boat or ship with no crew or provisions included.
BVI bareboat charters offer a great way to explore the highlights of these Caribbean islands, including the capital city (Road Town) and Sage Mountain National Park on Tortola, and the Baths on Virgin Gorda.
Both the US State Department and the UK government consider the British Virgin Islands a low-risk travel destination, with minimal petty crime and low risk of natural disasters.
Some people do recommend using taxis rather than rental cars own the main islands, due to careless drivers on some of the main islands.
READ MORE: The 20 Best Small Ship Cruises in the World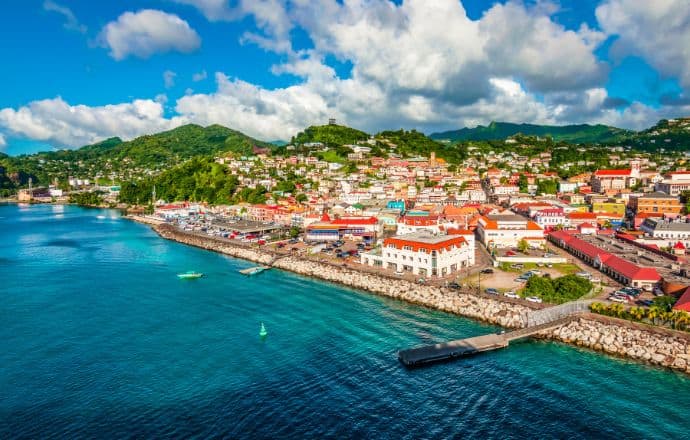 6. Grenada
Located in the eastern Caribbean and nicknamed "the Spice Isle," Grenada is known for its nutmeg plantations, sustainable eco resorts, and innovative environmental practices.
There are lots of fun things to do in Grenada for nature lovers, including visiting Levera National Park (a nesting site for Sea Turtles) and Grand Etang Forest Preserve (for birdwatching, hiking, and river tubing).
If cultural festivals are a focus of your Caribbean trips. check out the Carriacou Maroon & String Band Music Festival in April and the Grenada Chocolate Festival in May.
With its remote location and niche appeal, it may not be the best Caribbean island for first timers. But Grenada's friendly people and low crime rates make it one of the safest islands to visit.
As with any other island, it's best not to walk alone in isolated areas, especially beaches, after dark. And you should always use licensed taxis, and leave valuables in your hotel when going to street parties and festivals.
But for those who take the most basic safety precautions, Grenada ultimately proves to be one of the warmest, most welcoming islands of the Caribbean.
READ MORE: The 20 Safest Countries in Africa to Visit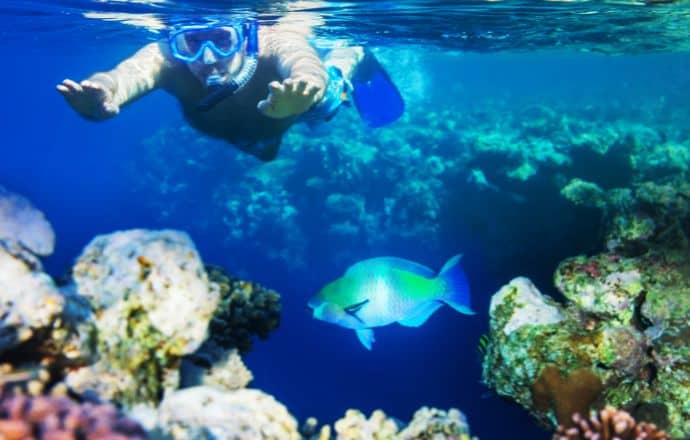 7. Montserrat
Montserrat became a playground for the rich and famous in the '70s and '80s, when George Martin's AIR Studios attracted artists such as Dire Straits, Duran Duran, and The Police to record albums there.
But Hurricane Hugo damaged 90% of the island's structures in 1989. Then the Soufriere Hills volcano erupted in 1995, forcing the evacuation of 2/3 of the island's residents, and closing the airports and seaports in 1997.
Thankfully, the island has recovered nicely over the last 25 years, rebranding itself as a nature sanctuary filled with world-class hiking trails, stunning coastlines, and excellent Scuba diving.
Montserrat was recently rated the #1 safest Caribbean island. Crime is rare here (and generally limited to domestic disputes), and volcanic activity has been minimal for 20+ years.
But if it's natural beauty you seek, you'll love the island's uncrowded and unspoiled beaches, spectacular snorkeling, and wildlife-rich rainforests. Tours to view the famous volcano are also possible.
READ MORE: The Safest Counties in the Middle East for Americans to Visit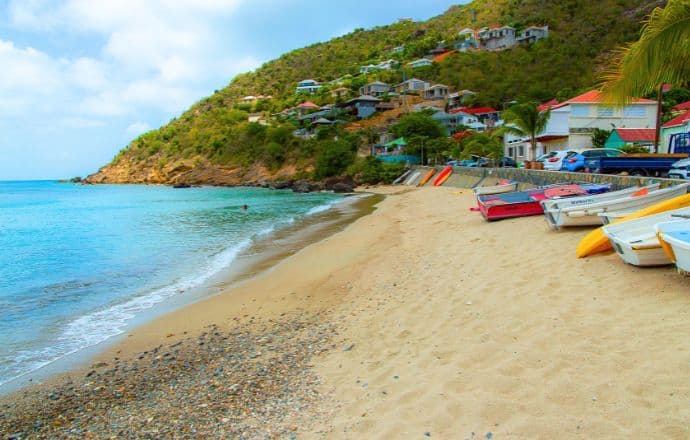 8. Saint Barthélemy
Commonly known as St. Barts, Saint Barthelemy is an upscale, French-speaking Caribbean island located approximately 19 miles southeast of Saint Martin.
This is another major yachting destination, known for its high-end restaurants, designer boutiques, white sand beaches, and historic sites such as the 17th century Fort Karl and the Wall House.
St. Barts is one of the most expensive Caribbean nations to visit, but the luxury hotels, private villas, and fine dining restaurants offer world-class quality commensurate with their budget-busting prices.
With so much money being thrown around, it's not surprising that Saint Barthelemy is considered one of the Caribbean's safest islands to travel.
The crime rate here is very low, but petty crimes like pickpocketing and purse snatching do occur. Just use common sense, and keep your passport, travel documents, and wallet secure at all times.
READ MORE: The Swimming Pigs of Exuma (Big Major Cay) Bahamas
Located in the Windward Islands of the Lesser Antilles, north of St. Vincent and Barbados, Saint Lucia is one of just two sovereign nations named after women (Saint Lucy of Syracuse).
Mary and I were fortunate to spend 8 glorious days on the island for her birthday, exploring myriad hiking trails, botanical gardens, waterfalls, hot springs, and snorkeling the marine sanctuary on the coast.
We drove all around the 2380-square-mile island, and spent time in towns such as Laborie and Soufrière, both during the day and at night. Our safety was never remotely a concern.
The crime rate is very low compared to islands like Jamaica and the Dominican Republic, and the people were both incredibly friendly and helpful when we got lost.
If you choose to rent a car in St Lucia, note that the island's winding roads and switchbacks can be tough to navigate at night. There are narrow roads lined with steep drainage ditches, so go slow and exercise caution.
READ MORE: The 10 Best Beaches in the World For Nature Lovers
Another British Overseas Territory, Turks and Caicos is an archipelago of 40 coral islands located southeast of the Bahamas, about 620 miles from Miami.
These upscale islands are beloved for their beautiful beaches, crystal-clear water, diverse array of marine life, fine dining, and luxury resorts, making it a perfect place for a romantic getaway.
The Turks and Caicos islands are also very popular among Scuba divers, with hotspots such as the 14-mile barrier reef off the coast of Providenciales and the incredible 1.32-mile wall off Grand Turk island.
This archipelago is considered among the safest places in the Caribbean to visit, with low crime rates. But the U.S. State Department cautions against petty crimes in Providenciales, such as pickpocketing and burglary.
But if you do visit the city, simply take the same precautions you would in any major metropolitan area and you should be fine. –by Bret Love; lead photo of St. Lucia by Bret Love & Mary Gabbett