In the Bahamas, the swimming pigs of the Exumas (on Big Major Cay) have become one of the most popular tourist attractions of the remote region.
That bizarre fact alone was enough to get my attention when we headed there last month to visit EMBRACE, a new sustainable eco-resort  being built on the tiny nearby island of Staniel Cay.
But, of course, the story isn't quite that simple. How did the pigs get on the island? Who put them there? And why don't the locals eat them, when each adult pig is big enough to feed a family for weeks?
READ MORE: Top 10 Attractions in the Bahamas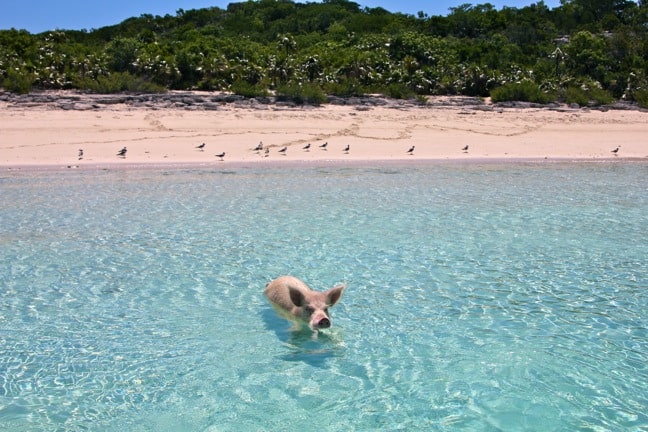 PIG ISLAND
Like many quirky tourist attractions, the swimming pigs are surrounded by colorful local legends.
One rumor suggests that the pigs' ancestors were dropped off on Big Major Cay (colloquially known as Pig Island) by sailors who planned to eat them upon their return, and that the pigs survived on food waste jettisoned overboard by passing ships.
Another says that the pigs swam to the island after surviving a shipwreck.
But the truth of the pigs' origin was explained to us over breakfast by EMBRACE owner Nicole Ferguson, whose family has lived on tiny Staniel Cay (population 110) for over 100 years.
READ MORE: Embrace Resort, Exumas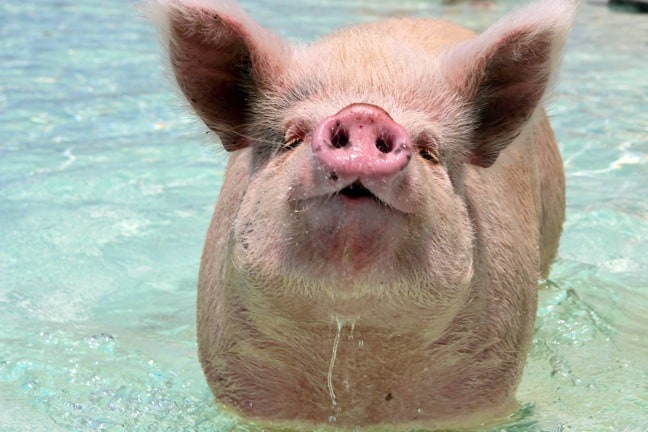 According to Nicki, the swimming pigs' story dates back to the early '90s. One of her father's friends kept pigs at his home.
Unfortunately, as anyone who's ever spent time on a farm can attest, pigs stink like the dickens, and his neighbors complained. So the men decided to relocate them to uninhabited Big Major Cay, just a short boat ride away.
The pigs were left there to roam free, and gradually began to multiply. Periodically, the men would head over to the island, pick the fattest pig for slaughter, and sell the meat to locals for their big Sunday Supper.
For a remote island  with no grocery stores to speak of, it was an ingenious entrepreneurial idea…
READ MORE: 20 Best Caribbean Islands To Visit (If You Love Nature & Hate Crowds)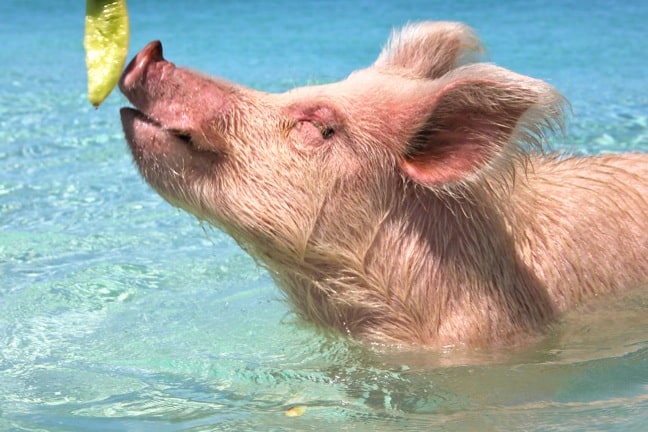 …and then the tourists came. This part of the Exumas isn't exactly what you'd call a hotspot for typical Caribbean travelers (i.e. no cruise ships here).
But Staniel Cay attracts a fair number of private yachts with its remote location and picturesque beauty.
Once people discovered  these somewhat domesticated pigs hanging out on the beach, they began feeding them. The pigs, being pigs, greatly enjoyed being fed.
Next thing you know, they're swimming out to greet the seemingly endless stream of boats that swing by the island to see them.
And, swimming pigs being something of a curious anomaly, word got around about this tiny little island in the middle of nowhere.
READ MORE: The 20 Best Things to Do in Aruba (For Nature & History Lovers)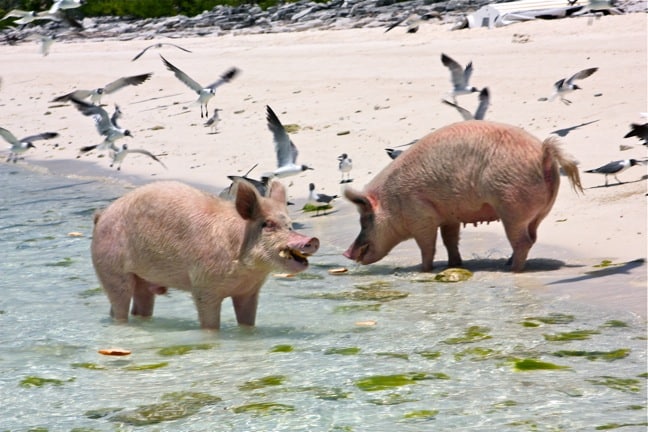 Needless to say, when we visited Big Major Cay with our friends Angie Away, The Planet D and Uncommon Caribbean, we were tickled pink by these porcine Michael Phelps.
As soon as they hear the motor, the pigs come running out from the shade and splashing into the sea, swimming as fast as their little legs can carry them. The sight seems both adorable and utterly ludicrous.
Our boat driver had brought a bag filled with stale bread, lettuce and scraps of fruit. As he began passing out treats for people to feed the pigs with, I jumped in the water with my camera to get some shots while Mary got the GoPro rolling.
It should be noted that these hungry pigs can be pushy– it's called "pigging out" for a very good reason– so it's very important not to put your hand near their mouths, or run with food in your hands.
But my cousin's family kept pigs when I was growing up, and I felt pretty confident about getting close-ups since I didn't have any food for them.
READ MORE: The 20 Best Things to Do in Barbados (For Nature & History Lovers)
A good friend of ours (and fellow wildlife lover) expressed concern about this post today, saying that "Feral pigs are a huge threat to local ecosystems."
There have been research papers saying that feral pigs are a big problem facing the Conservation of Amphibians & Reptiles in the Bahamas, as they're apt to compete for resources, alter habitat structure and quality, and prey on native species.
One study our friend referenced even suggested that, "More studies need to be conducted to quantify the impacts of feral pigs, and efforts must be made to eliminate or reduce population sizes whenever possible."
READ MORE: The 20 Best Things to Do in Curacao (For Nature & History Lovers)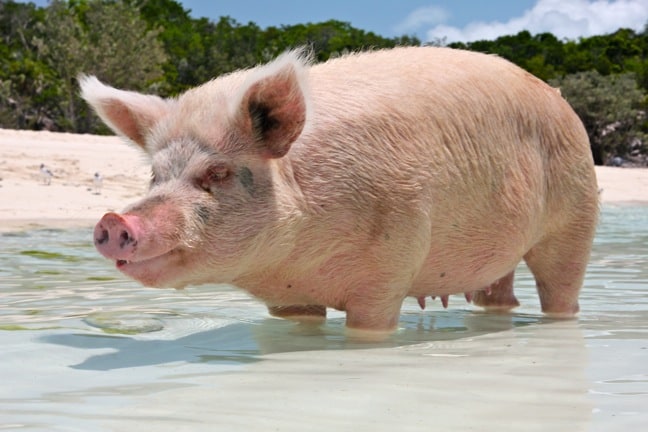 But, from our perspective, these pigs aren't feral (or wild) at all. While they may not be kept in a pen, they're surrounded and fed by humans virtually all day.
There was so much food that the pigs couldn't eat it all, with heaping piles of lettuce, bread and carrot scraps all over the beach. So why would the swimming pigs have any need or desire to hunt for amphibians or reptiles?
The bigger issue, in our eyes, was the tourists. We saw several whose hands got uncomfortably close to the pigs' sharp teeth.
One family, apparently tired of the mama pig standing close by in hopes of getting a handout, began throwing rocks at her in an effort to chase her off.
As more and more tourists begin to discover this off-the-beaten-path island paradise, guides will need to become more vigilant if they want to avoid ugly human-animal encounters.
READ MORE: The Ultimate Beach Vacation Packing List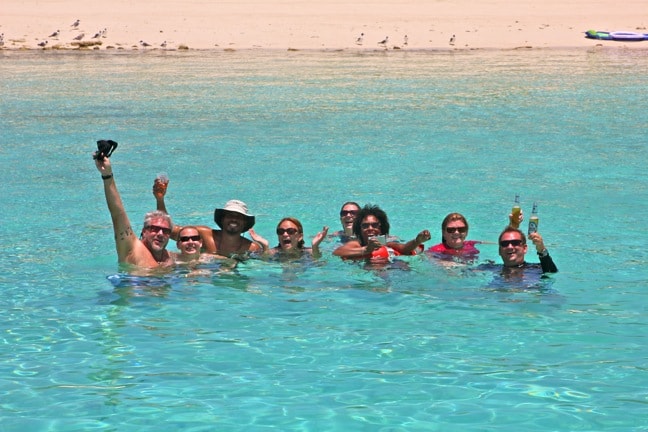 Regardless, we had a blast during both of our visits with the swimming pigs of Big Major Cay, which was admittedly one of the weirder ecotourism attractions we've ever visited.
With cute critters, good friends, and AMAZING scenery, it was definitely one of our favorite memories from our time in the Bahamas.  –by Bret Love; photos & video by Bret Love & Mary Gabbett
The 20 Best Things to Do in Jamaica (For Nature & History Lovers)
St Kitts Travel Tips (A St. Kitts Travel Guide)
Top 20 Things to Do in Cancun (For Nature Lovers)
St Thomas Islands: Outdoor Adventures on Cas Cay
St. George, Bermuda: Oldest Town in the New World
Dominican Republic Outdoor Adventures
10 Exotic Islands (for your World Travel Bucket List