One of the questions we get asked most frequently by our readers involves how to choose a responsible tour operator, eco hotel, eco lodge, or eco resort.
Research shows that global interest in ecotourism (which was defined by The International Ecotourism Society as "responsible travel to natural areas that conserves the environment and improves the welfare of local people") has grown rapidly in recent years.
According to the Center For Responsible Travel's Travel Trends & Statistics report, around one in five consumers (21%) say they would be willing to pay more for a trip with a company that has a better environmental and social record.
A report by The Travel Foundation found that 66% of travelers surveyed would like to be able to identify a "greener" holiday more easily. And 84% of those working in travel PR/marketing see "green" credentials becoming increasingly important in the near future.
Unfortunately, these sorts of stats attract a good bit of greenwashing from profit-driven people looking to cash in on the eco-friendly movement. So how do you find a responsibly managed eco resort when you travel? And what's the difference between an eco resort, eco lodge, and an eco hotel?
Read on for the answers to these questions and many others, as well as our guide to some of the most acclaimed eco hotels, eco lodges, eco resorts around the world…
READ MORE: What is Ecotourism? (History & Principles of Responsible Travel)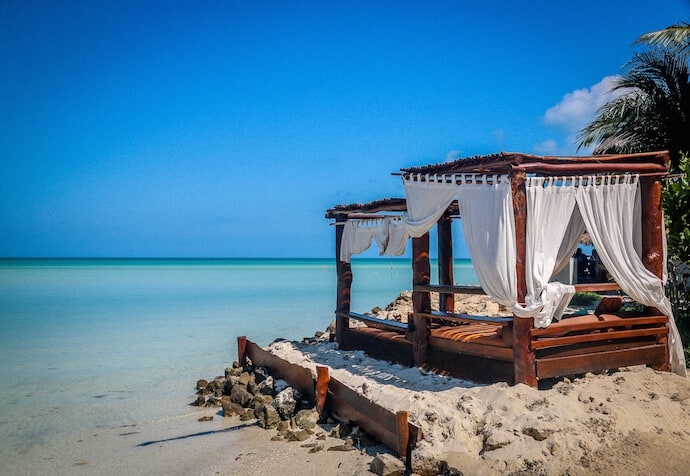 Eco Resort, Eco Lodge, or Eco Hotel?
The primary difference between an eco resort and an eco lodge is generally the amount of services that are provided on site.
In general, eco resorts tend to be located on larger properties than eco lodges, and may offer more amenities, such as spas, a choice of restaurants, and/or a variety of local tours. However, in our personal experiences, the terms eco lodge and eco resort are used somewhat interchangeably.
The biggest difference between an eco resort or eco lodge and an eco hotel is the setting in which you'll find them.
Eco resorts and eco lodges tend to be more remote, located in relatively pristine natural environments such as exotic islands, forests, and mountains. Eco hotels, on the other hand, are more often associated with cities and towns.
One thing all three of these "green" accommodation options have in common is that they emphasize elements such as environmental responsibility and minimizing negative impact.
The best ones also offer renewable energy sources, recycling services, eco-friendly toiletries, energy efficient lighting, locally sourced food, organic linens, non-toxic cleaning supplies, non-disposable dishes, water conservation methods, and various other sustainability-focused initiatives.
But most eco resorts tend to be more dependent on the natural environment than eco hotels.
They're also generally more active in nature and wildlife conservation, more focused on educating visitors about the flora and fauna of local ecosystems, and more deeply connected with the area's indigenous culture (whose influence is often incorporated into the eco resort's decor and restaurant menu).
The best eco resorts and eco lodges also work to ensure positive relationships with the local people. They train and employ them at fair wages, take part in community development initiatives, offer activities that help visitors conserve and appreciate local customs, and contribute to the local economy.
In this way, they reinforce the notion of ecotourism as a more sustainable long-term business model than altering or destroying habitats for quick financial gains.
And while some eco-friendly lodges are more expensive than traditional resorts and hotels, there are myriad sites that allow you to compare vacation rental and hotel prices to find the best deal for your budget.
READ MORE: Why Responsible Travel Matters (& Greenwashing Sucks)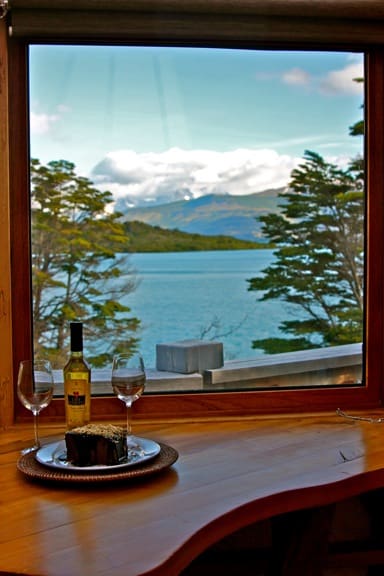 Choosing an Eco Hotel/Eco Lodge/Eco Resort
One of the biggest challenges that eco-friendly hotels and resorts face is the lack of a universal definition. Exactly how environmentally friendly does an eco lodge need to be in order to qualify? And who determines which accommodations will pass muster?
Unfortunately, some of the world's most well-known and respected "green" certification programs are cost-prohibitive for many eco lodges, which are often relatively small and owned and operated by independent entrepreneurs rather than corporations.
But there are numerous reputable certification programs that responsible travelers can look for before they book their stay at a given eco hotel, eco lodge, or eco resort.
Many– including Green Seal in the U.S.– are part of the Global Ecolabelling Network, a non-profit group comprised of 25 third-party organizations throughout the world. They're all devoted to improving, promoting and developing labelling systems for eco-friendly products and services.
Sponsored in part by the United Nations World Tourism Organization, the Global Sustainable Tourism Council Criteria are widely considered the gold standard in "green" certification.
These criteria involve effective sustainability planning, maximizing social and economic benefits for the local community, enhancing cultural heritage, and reducing negative impacts to the environment.
Where the GSTC has guidelines for destinations, hotels/resorts, and tour operators, Green Key Global is designed specifically for the lodging industry. Its flagship Eco-Rating Program, which evaluates properties on an environmental, social, and economic level, has certified around 2,370 eco hotels and eco lodges in 52 countries over the past 15 years.
Green Globe is another popular certification program, offering training and education for hotels/resorts, attractions, organizations, cruise ships, and various tourism industry suppliers.
Their global network of independent auditors provide third-party inspection and an internationally recognized seal of approval that's become increasingly popular over the past 25 years.
READ MORE: How to Choose an Eco Hotel


Best Eco Lodges in the World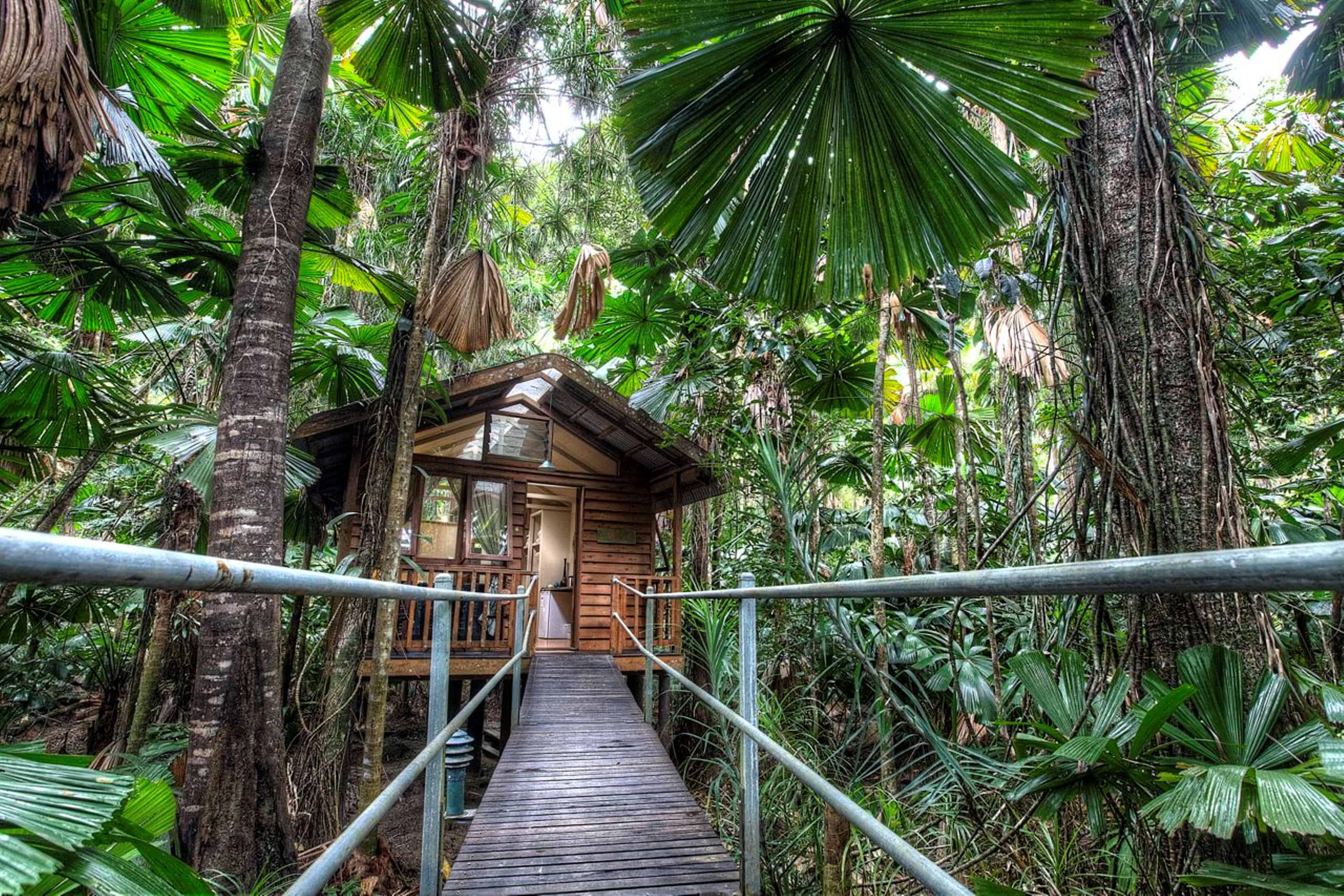 Named one of the Top 50 Lodges In the World by National Geographic, Daintree is run in partnership with the local Kuku Yalanji tribe, allowing guests a rare chance to immerse themselves in the culture of Australian Aborigines.
The lodge is set in the Daintree Rainforest, the world's oldest, which is part of the Wet Tropics of Queensland (a UNESCO World Heritage Site) on Australia's northeast coast.
The landscape looks like something out of Jurassic Park, surrounded by sandy beaches, rugged mountains, waterfalls and pristine forests. The area contains around 65% of Australia's bat and butterfly species; 30% of the frog, reptile and marsupial species; and 18% of the bird species.
The lodge's Advanced Eco Certification ensures your stay in their elevated treehouse-style villas makes a minimal impact on the pristine environment.
Activities include painting workshops using ocher from a nearby waterfall and hiking tours to explore the ancient, otherworldly plants of the forest. And the Great Barrier Reef Marine Park, of the world's best places to Scuba dive, is less than an hour away. Read Reviews and Check Rates
READ MORE: Top 10 Australian National Parks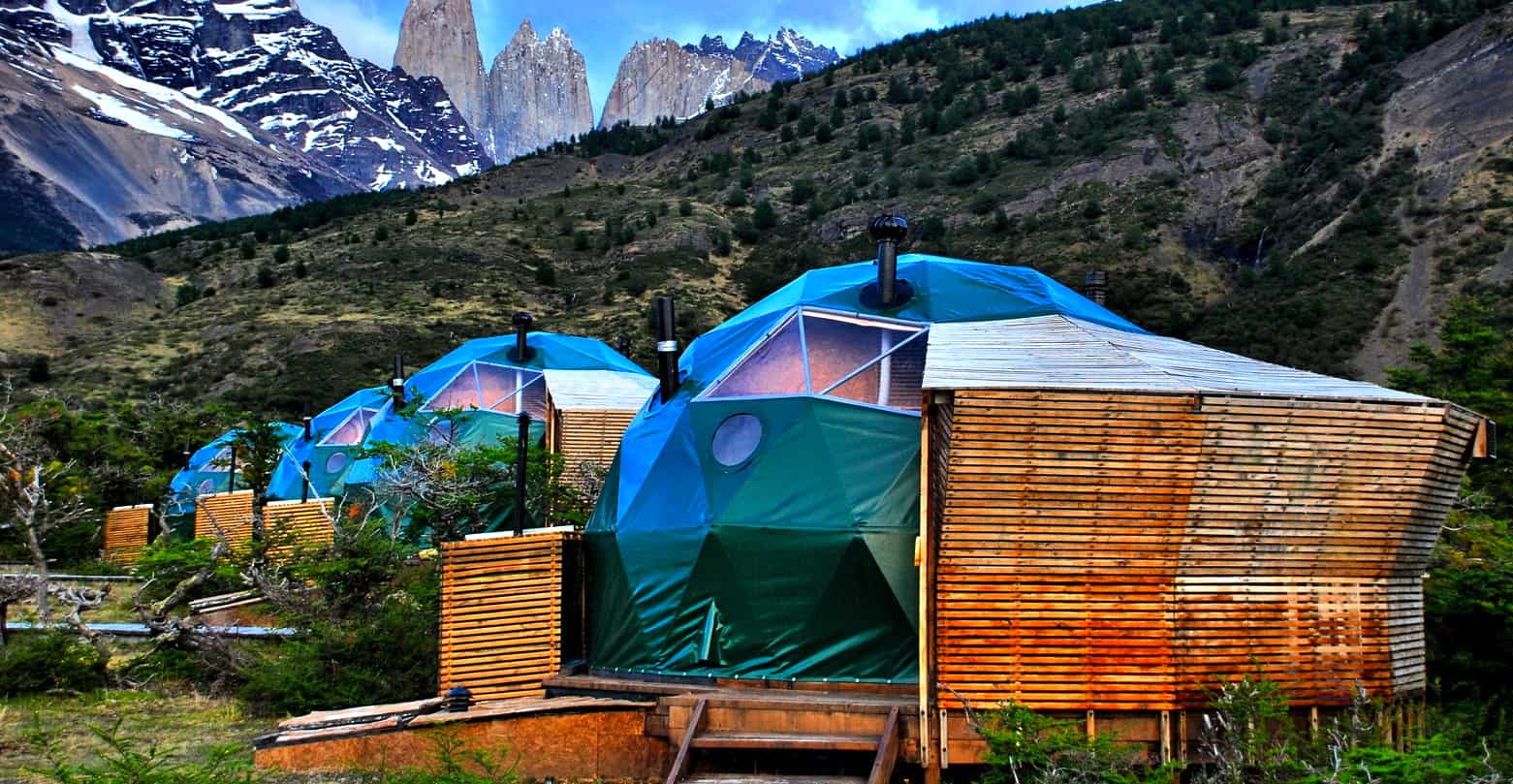 The first hotel in all of Patagonia with a certified Environmental Management System, this Chilean-owned eco lodge offers luxury glamping and spectacular views of the famed peaks of the Torres del Paine massif.
The carbon neutral camp's unique geodesic dome suites offer wood-burning stoves, en suite bathrooms, and open terraces that provide occasional sightings of local wildlife.
The dome's design was inspired by the Kaweskars (Alacalufes), the nomadic Patagonian people who once lived in what is now Torres del Paine National Park.
Their green exteriors are designed to blend harmoniously with the surrounding environment, with skylight windows designed to utilize natural heat and light.
All of the camp's electricity is provided by a micro-hydro turbine and photovoltaic panels. Their composting toilets, aggressive recycling program, and commitment to the local community/culture are commendable as well. Read Reviews and Check Rates.
READ MORE: Torres del Paine National Park, Chile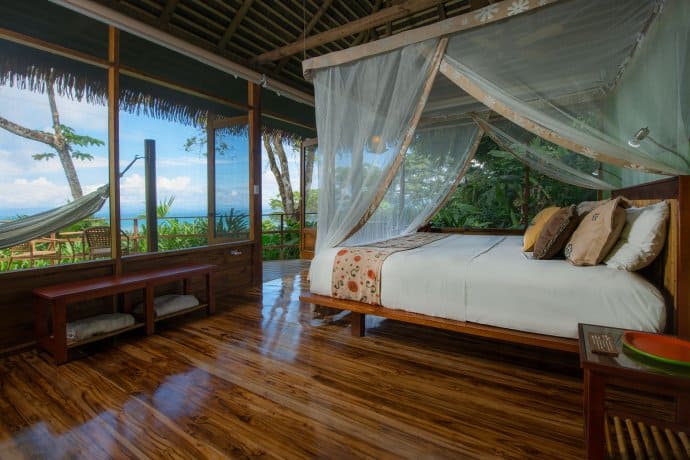 Recently named one of National Geographic's Unique Lodges of the World, this award-winning eco lodge has also been voted one of Latin America's top resorts by Conde Nast Traveler and Travel & Leisure.
Lapa Rios is set on the Pacific Ocean, surrounded by over 1,000 acres of protected rainforest on Costa Rica's Osa Peninsula. It's adjacent to Corcovado National Park, a soon-to-be-named UNESCO World Heritage Site widely considered one of the most biodiverse places on the planet.
The pristine lowland forest habitat is home to a stunning array of Costa Rica animals, including four species of monkeys and significant populations of endangered species such as the jaguar, baird's tapir, white-lipped peccaries, scarlet macaws and the harpy eagle.
Opened in 1993 by former Peace Corps volunteers John and Karen Lewis, the eco lodge was a pioneer in Costa Rica's ecotourism movement.
Their 16 thatched roof bungalows make use of cooling ocean breezes, while their salt-based pool, open-air restaurant, yoga classes and Ayurvedic massages ensure "eco-friendly" never feels anything less than luxurious.
Their community-based initiatives include working with local NGO Earth Equilibrium to build school classrooms, dining rooms, and playgrounds; provide badly needed school supplies; and install water pumps and solar panels to supply clean water and electricity in local communities around the Osa Peninsula. Read Reviews and Check Rates
READ MORE: The 15 Best Places To Stay in Costa Rica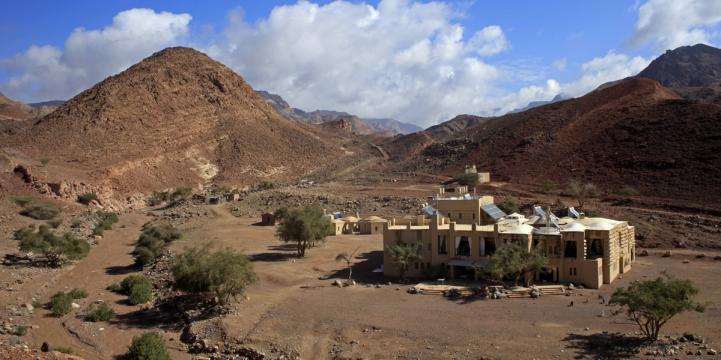 After a 14-kilometer hike through the mountainous terrain of Jordan's Dana Biosphere Reserve, Feynan seems like a mirage rising out of the desert.
Named one of the Top 50 Ecolodges in the World by National Geographic, Feynan is part of a unique partnership between EcoHotels (a private company) and Jordan's Royal Society for the Conservation of Nature (RSCN).
Feynan Ecolodge is a pioneer of sustainability, not just in Jordan but the entire Middle East region. It is fully solar-powered via photovoltaic panels mounted on the roof, with natural ventilation, and all water coming from a local spring.
A substantial portion of Feynan's revenue helps fund conservation efforts in Dana, which covers 320 square kilometers and contains the highest level of biodiversity in Jordan.
Activities at Feynan range from hiking and biking in the reserve to spending the day with a shepherd, learning about Bedouin culture from a local family in their goat-hair tented home, and taking a cooking class and making a 3-course Jordanian meal.
But our favorite was spending the night sleeping on a bed under the stars on the eco lodge's roof. Read Reviews and Check Rates
READ MORE: Ecotourism in Jordan: The Ultimate Jordan Travel Guide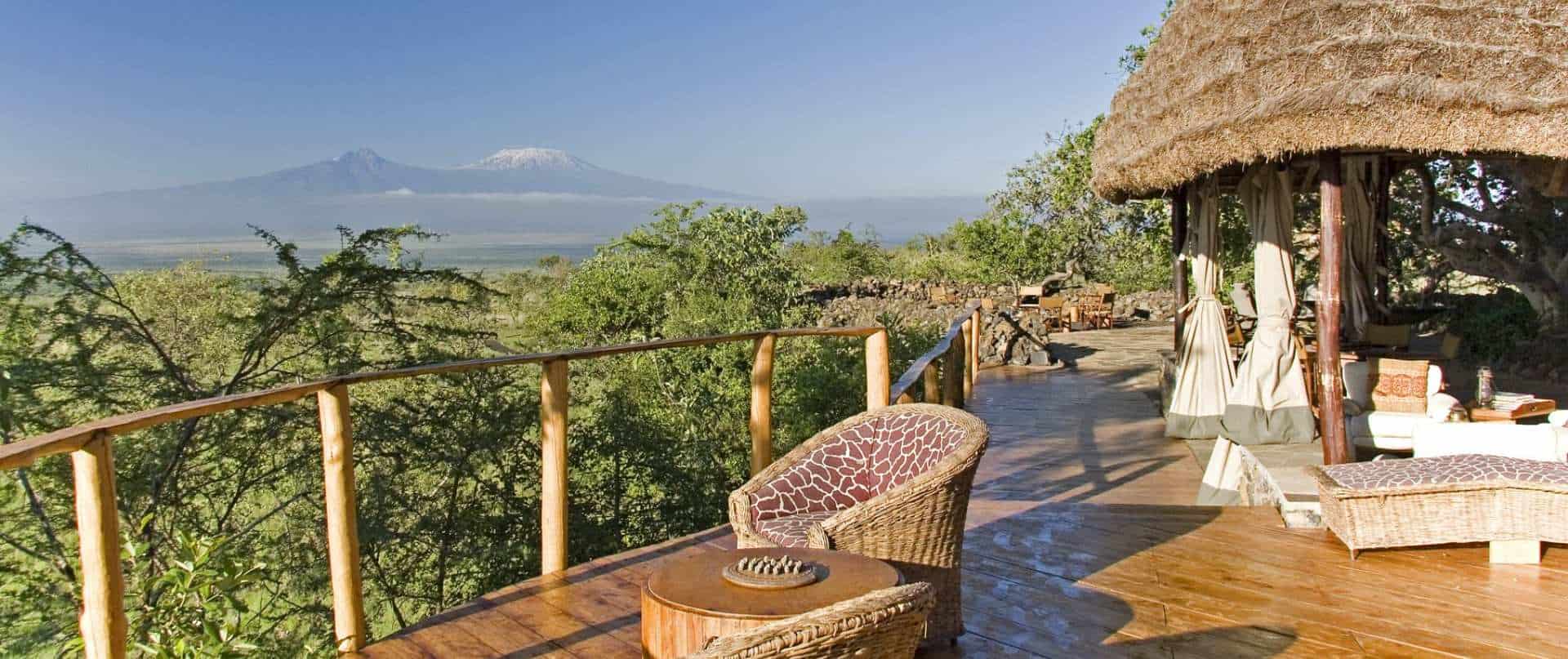 You can't swing a stick in East Africa without hitting a luxury safari camp. What makes this eco lodge overlooking Mount Kilimanjaro different is the fact that it's actually owned and operated by the Maasai people, the nomadic pastoralists who have called this region home for some 500 years.
The 400-square-mile Campi ya Kenzi ("Camp of the Hidden Treasure") is bordered by Amboseli, Tsavo, and Chyulu National Parks.
So there's a diverse array of ecosystems (mountain forest, grasslands, river woodlands, bush, and savanna) and remarkable biodiversity (50+ mammals and 400+ bird species) that makes for a memorable safari experience. Can you imagine taking a morning walking safari with a Maasai guide?
The tented camp is exclusive, with a maximum of 12 guests at any given time. The tents were all built sustainably, with thatched roofs, lava rocks and traditional Masai decor.
But there's no sacrifice in luxury, including hot and cold running water, flush toilet, brass taps, massive log beds, and a verandah providing stunning views for a sundowner at the end of the day. Read Reviews and Check Rates
READ MORE: Animals in Kenya (Guide to 40 Species of Kenyan Wildlife)

6. Three Camel Lodge (Mongolia)
If Mongolia isn't on your travel bucket list, this ultra-traditional eco lodge (which National Geographic Traveler named one of the World's Best Ecolodges in 2013) should be.
Set against the dramatic backdrop of the Gobi Altai mountains, the lodge offers 35 authentic gers– the yurt-style tents favored by Mongolia's nomads– made from circular wooden frames covered in thick felts and canvas.
The interior features hand-carved furniture, wool carpets, camel-hair blankets and wood-burning stoves. The main building, from its wooden peg construction to its hand-molded roofing tiles, was designed like an ancient Buddhist temple.
With a focus on environmental and cultural preservation, the lodge is a reflection of its unspoiled natural surroundings on the Mongolian steppes.
Available activities include helping paleontologists excavate the Flaming Cliffs, home visits with local nomads, and throat-singing performances at the lodge. Or you can just immerse yourself in the beauty of your surroundings, watching spectacular sunsets over the great Gobi Desert.
READ MORE: How to Experience Traditional Mongolian Culture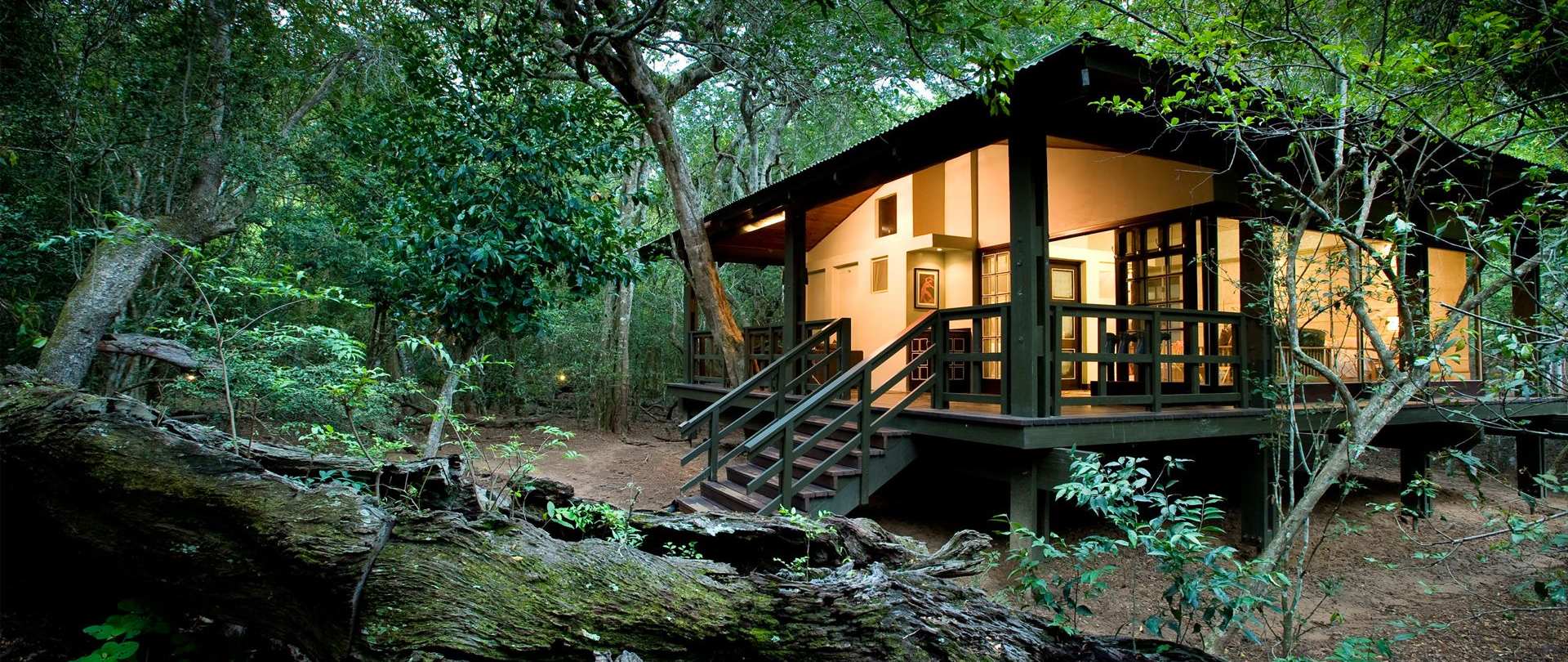 Considered one of the world's first eco lodges, Phinda is part of a 170-square-kilometer private game reserve in KwaZulu-Natal (the heart of Zulu territory).
Praised by National Geographic for its blend of sophisticated luxury and environmental consciousness, the remote resort was also a seminal part of the life-changing experience in South Africa that inspired me to start Green Global Travel.
Their 16 rooms (which are spread far apart in order to increase each guest's sense of seclusion) offer a delightful immersion in "Zulu zen."
The floor-to-ceiling glass windows make guests feel at one with the surrounding forest, as well as providing opportunities to view wildlife that, during my visit, included a spiral-horned antelope called a Nyala, a Black-backed Jackal, and an entire family of Warthogs within a dozen feet of the back patio.
The activities are endless, including exceptional morning and sunset game drives in the private reserve, walking safaris, tracking endangered Black Rhino on foot, touring the rehab/breeding facility of the Endangered Wild Cats Project, and Scuba diving in the India Ocean's Sodwana Bay, which is considered among the world's top dive sites. Read Reviews and Check Rates.
READ MORE: Zulu Memories from KwaZulu Natal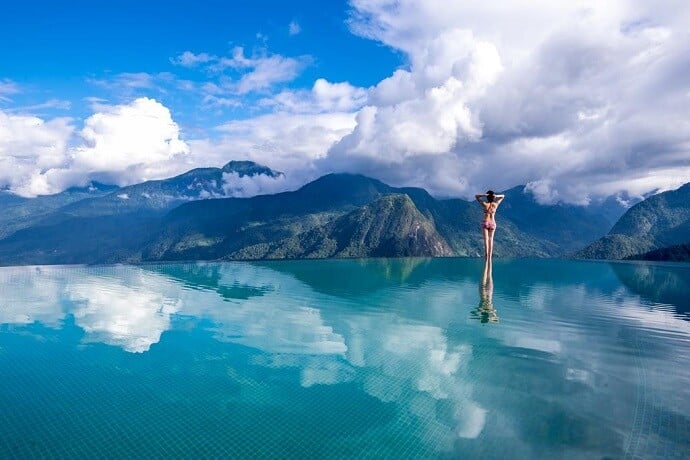 Located in the Sapa Valley of north Vietnam, Topas Ecolodge (another of National Geographic's certified Unique Lodges) has sustainability as the core foundation upon which its reputation was built.
The remote Sapa eco lodge is set high in the hills, overlooking the valleys of Hoang Lien National Park. The 33 chalet-style granite bungalows don't have TV or Wifi. But with your own expansive balcony overlooking stunning mountain tops and pastoral rice-terraced valleys, you won't miss technology one bit.
The lodge's blissful infinity pool is heated by an eco-friendly system which uses 85% less energy than regular pools. If you're looking for further relaxation, be sure to check out their spa, which specializes in traditional Red Dao herbal baths.
This Vietnam eco lodge has also preserved traditional Tay stilt houses, which now contain a restaurant and lounge that serves locally produced, pesticide-free products. In addition, Topas Ecolodge has its own chicken farm and grows organic vegetables behind the restaurant.
To reduce waste, all food leftovers are given to local farmers to feed their livestock, and cans and boxes are given to the local people to reuse in their households.
Being located in the middle of the mountains has its advantages. Just outside the property, you'll find lots of adventurous hiking trails and mountain biking trails. But, of course, spending the day in the heated infinity pool is awesome if that's more your speed. Read Reviews and Check Rates.
READ MORE: The 20 Most Unusual Hotels in the World
Best Eco Resorts in the World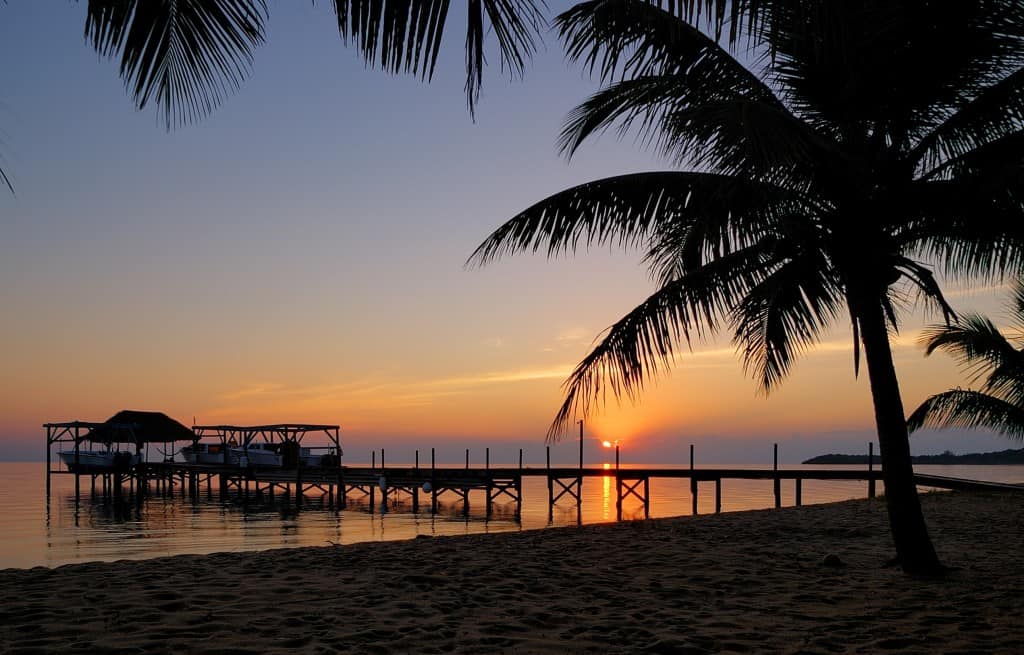 This Green Globe-certified eco resort set on the picturesque Caribbean coast was named Belize's Hotel of the Year in 2009.
Located just minutes from Hopkins Village, with the MesoAmerican reef system right offshore and the Maya Mountains nearby, it's a perfect location for nature-lovers and adventurers alike.
Hamanasi is part of a pilot project supported by Conservation International, using the Caribbean Association of Sustainable Tourism's methodology.
Their sustainable initiatives include composting, rainwater collection, eco-friendly cleansers, louvered windows and ceiling fans to minimize AC usage, extensive recycling and hiring over 90% of staff from local communities. They've also set aside 10 pristine acres as a nature reserve.
The ecotourism activities the resort offers are endless. But our favorites included a guided hike through Cockscomb Basin Wildlife Sanctuary, Scuba diving the Belize Barrier Reef, and taking Garifuna drumming lessons in Hopkins Village. Read Reviews and Check Rates
READ MORE: The 16 Best Mayan Ruins to Explore

Another one of NatGeo's Unique Lodges, Nimmo Bay is tucked away in the old growth wilderness of British Columbia's Great Bear Rainforest. It couldn't be more remote: Surrounded by majestic mountains, pristine forest, glistening fjords and tumbling waterfalls, it's accessible only by helicopter or floatplane.
Widely considered one of the first true eco lodges in the world, Nimmo Bay has been owned and operated by Deborah and Craig Murray since the early 1980s.
Originally known as a hotspot for heli-fishing, the eco resort has become a bucket-list destination for adventure-seekers (drawn by hiking, fly fishing, and kayaking) and wildlife aficionados (Orcas, Bears, Humpback Whales, Salmon, Sea Lions) alike.
Thanks to a 5,000-foot waterfall originating atop Mount Stephens, their hydropower turbine creates enough energy to run the entire lodge off-grid.
They also source the majority of the ingredients served in their restaurant locally and have a partnership with the area's First Nation communities, through which they use indigenous guides and offer educational cultural activities.
The waterside wooden chalets, cedar hot tubs, waterfall plunge pool, floating dock with fire pit, and cruises on the Mackenzie Sound are nothing to sneeze at, either. Read Reviews and Check Rates
READ MORE: Why Responsible Travel Matters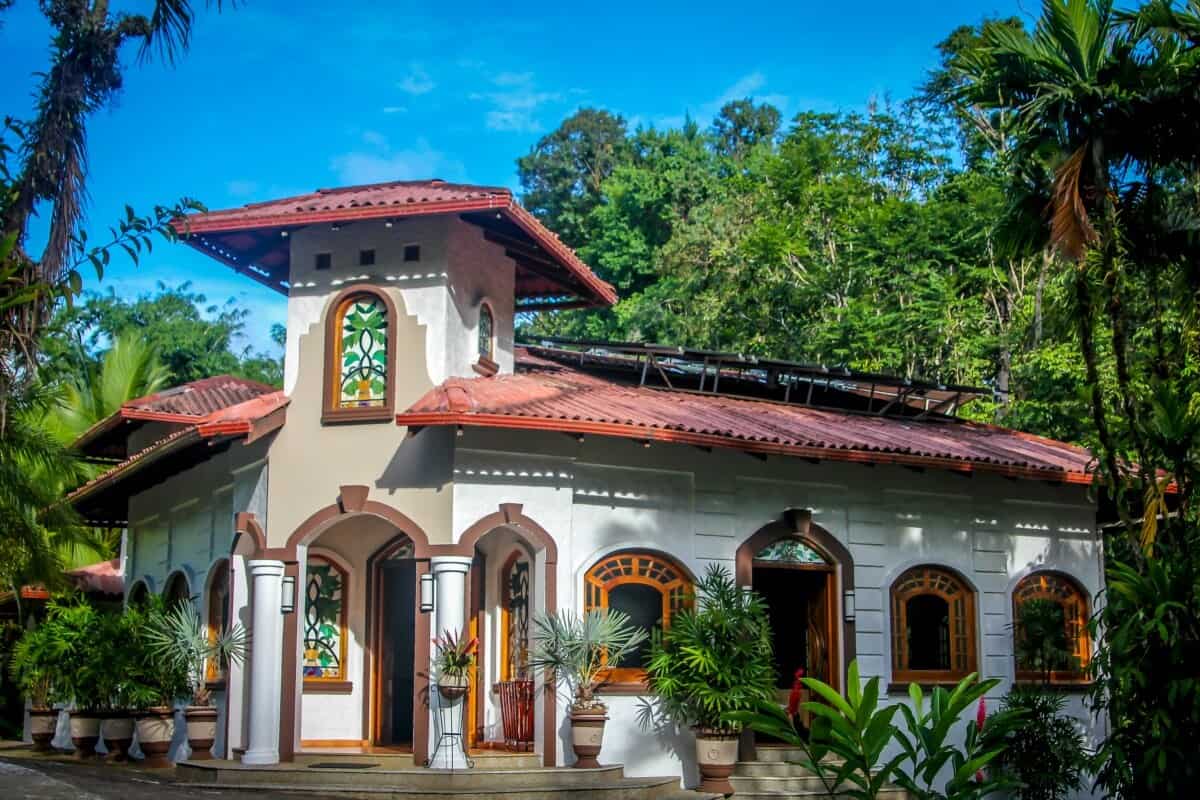 Casa Corcovado Jungle Lodge is as close as you can get to staying in Corcovado National Park without camping. It's also one of a very few Costa Rican eco resorts to have earned the 5-Leaf rating from the country's Certification For Sustainable Tourism.
The resort is located on a pristine 170-acre nature preserve two hours by boat from the nearest town. However, don't let the remoteness of this sustainable eco lodge fool you into thinking that it's missing any of the amenities you expect from upscale resorts.
There's a full-size swimming pool as well as a smaller, hidden pool fed by a natural spring. There's also a beautiful Spanish Hacienda-style restaurant with a waterfall in the center; an outdoor bar/lounge; and a margarita bar offering exceptional views of the sun setting over nearby Caño Island.
Before you set off with your guide for hiking Corcovado National Park, stop by the guide house to get outfitted with weather-appropriate gear.
The resort's sustainability initiatives include a solar electric system using photovoltaic panels, a hybrid solar convection for creating hot water, an electric (rather than gas-powered) generator, an hydroelectric "Pelton Wheel" turbine for water conservation, and a wastewater management approach that includes nine septic tank systems.
Casa Corcovado Jungle Lodge's staff are all local Ticos who live on the property. They also financed the building of a recycling center in Sierpe, where hotels and homes in the area can recycle materials. All proceeds benefit the local high school. Read Reviews & Check Rates.
READ MORE: Ecotourism in Costa Rica: The Ultimate Eco Travel Guide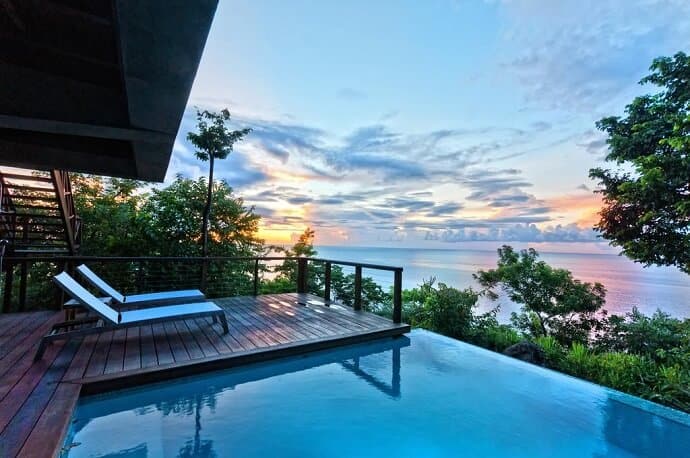 Located on the northwest coast of the Caribbean island of Dominica and previously featured in Travel+Leisure, Secret Bay is a 5-star eco resort with six sustainable luxury villas.
Composed entirely of sustainably-sourced tropical hardwoods, these villas offer the perfect secluded getaway to relax in the beauty of nature.
The Dominica resort is situated high on a cliff overlooking the ocean. Guests can enjoy the lushly landscaped tropical garden (which boasts 20 different species of birds) or savor the ocean views from the comfort of their private plunge pool.
The clear teal blue water just below the resort is filled with a diverse array of marine life and colorful coral. Secret Bay offers complimentary swimming and snorkeling gear as well as kayaks and stand-up paddle boards.
For beach lovers, Tibay Bay Beach can be reached in as little as two minutes by car, and there is a sea cave nearby that is perfect for exploring. Syndicate Nature Reserve and a popular scuba diving spot can also be found within a 15-minute drive of Secret Bay. Read Reviews and Check Rates.
READ MORE: Exploring Dominica's Kalinago Territory

Located in Playa del Carmen, this truly sustainable all-inclusive eco resort sits in the middle of 326 acres of tropical rainforests, where three rivers (tres rios) meet the Caribbean Sea. Here you'll find three distinct ecosystems– jungle, mangrove forest, and coastal dunes.
The 273-room eco resort offers six different restaurants serving everything from Mexican and Italian to Japanese and an international buffet. Almost all of the fruits and vegetables served are sourced from the resort's 2,500-acre organic farm.
There's a spa and more than a half-dozen bars, as well as a French bakery and café. The resort also features two huge swimming pools, including one for adults only. On the beach, king-sized cabana beds offer shade, intimacy, and exceptional views of the brilliant blue waters.
Hacienda Tres Rios was built to be sustainable. Roads and buildings were elevated on pillars to allow water from the surrounding mangroves to flow uninterrupted beneath the resort. In addition, all of the water used at the resort comes from two reverse osmosis desalination plants, and rainwater catchment systems line the roof of every building on the property.
All grey water is used for the gardens and plant nursery. Approximately 60% of the resort's waste is recycled. Aluminum, glass, and plastic are separated and sent to local recycling facilities, while organic material from the restaurant kitchens are composted for use at the plant nursery.
But what makes Hacienda Tres Rios truly unique is the Tres Rios Nature Park, which is home to 10 cenotes (natural freshwater sinkholes), 120 species of plants, and 131 species of animals. In addition to biking and kayaking tours, you can snorkel the clear waters of the Rio Selva, a natural lazy river that allows you to float from Cenote Aguila to the Caribbean Sea. Read Reviews & Check Rates.
READ MORE: Top 20 Things to do in Cancun (for Nature & History Lovers)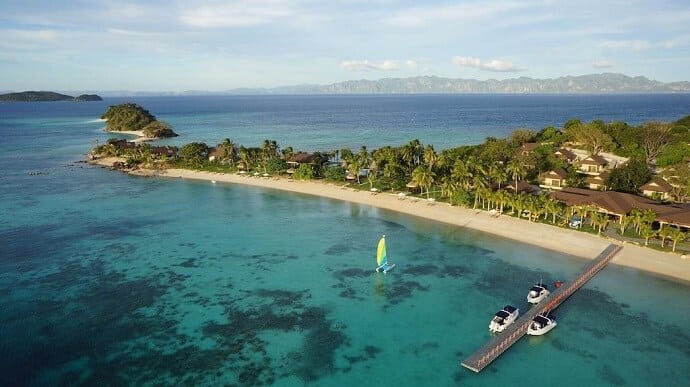 This 5-star luxury Coron eco resort is a sanctuary for Giant Clams and Sea Turtles. Located on the Malaroyroy Peninsula of Bulalacao Island in northern Palawan, Two Seasons Coron Island Resort & Spa has 42 beautiful bungalows between two beaches (one for sunrise and one for sunset).
The resort's amenities include a world-class spa with panoramic views of the sea and mangrove forest, a house reef bustling with marine life, lush tropical gardens, transparent kayaks, HydroBOB submersible scooters, Scuba diving courses, and much more.
Since this tropical paradise is far removed from the nearest town, the resort must be 100% self-sustaining. To that end, they use solar panels to heat water and have a desalination plant which can produce over 21,oo0 gallons of fresh water in a day.
Two Seasons' other sustainable initiatives include a sewage treatment plant that produces grey water to be used in the bathrooms for flushing, and a separate system wherein solid waste is discharged on a drying bed and used as fertilizer.
It's a 100% zero waste resort: You'll be hard pressed to find a more sustainable eco lodge in Coron, or any other part of Palawan. Read Reviews and Check Rates
READ MORE: Top 15 Things to do in Coron, Palawan
Best Eco Hotels in the World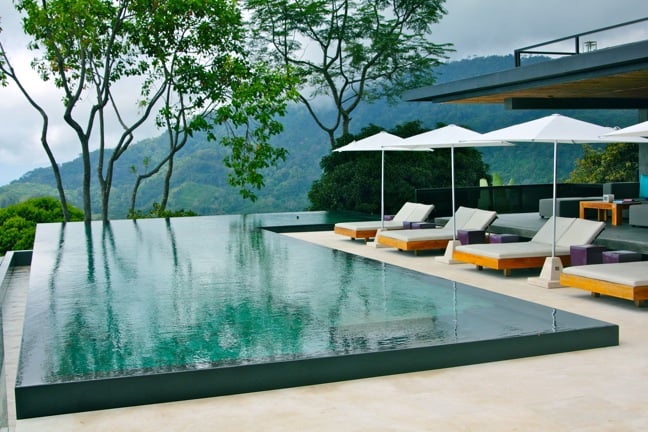 Situated high in the hills of Uvita above the pristine waters of Marino Ballena National Park, you'll find a 6-room luxury eco hotel created by married partners Martin Wells (who was born in Costa Rica to American parents) and Alejandra Umana (a local native).
The gorgeous rooms are incredibly spacious, with natural wood headboards, comfy king-sized beds, overstuffed couches, massive bathrooms, and an expansive private balcony that overlooks the ocean.
If someone didn't tell you, you probably wouldn't realize that this luxury eco hotel was built to be sustainable. Umana, a biologist, is the mastermind behind Kurá Design Villas' sustainable initiatives.
The L-shaped infinity pool overlooking the jungle is filled with salinated water (no chlorine), and the treated septic water is used for irrigation on the lushly landscaped local plants. Much of the delicious food served in the hotel's restaurant comes from a hydroponic garden next to the hotel.
In the rooms, there are biodegradable soaps, LED lighting powered by photovoltaic solar panels (which also heat the water), and recycling bins. In other words, Kura Design Villas balances luxury and sustainability exquisitely. Read Reviews & Check Rates.
READ MORE: Kurá Design Villas, Costa Rica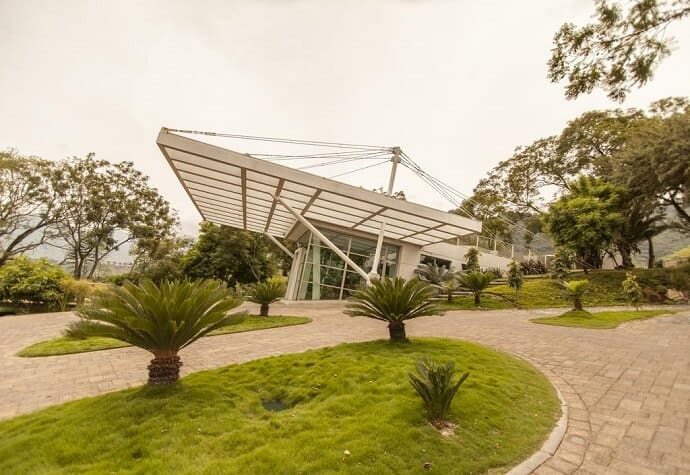 Though it's just 30 minutes from Guatemala's capital city, the 19-room Kawilal Hotel feels like a world away. With the dramatic Pacaya Volcano in the background, this sustainable eco hotel offers the healing thermal waters of Santa Teresita to soothe sore muscles and improve circulation.
Kawilal Hotel is the first hotel in Central America with LEED-NC Gold certification. The eco hotel is built into the hillside with green (grassy) roofs and is oriented to catch evening breezes for natural cooling- no air conditioning needed! Guests can also enjoy the exclusive spa, restaurant, swimming pool, and jacuzzi.
As a guest of Kawilal Hotel, you can enjoy various activities in Santa Teresita and the Kawilal Spa, which is located at the bottom of the hill. There you will find thermal pools, massage and body treatments, hot saunas, and restaurants.
Be sure to take time to enjoy the Thermal Circuit, with water heated by the volcano. This therapy starts with a 10-minute dip in a steaming 105 ° F pool, with beautiful views of the volcano. Then you cool off by going into a 75 ° F pool (be prepared for shrieks and shivers) for 10 minutes.
You'll rejoice as you walk into the 98.6 ° F warm pool for what seems like a short 10 minutes. The final 87.8 ° F pool will leave you feeling refreshed and relaxed after your final 10 minute treatment. Read Reviews and Check Rates.
READ MORE: 40 Things You Should Know Before Traveling to Guatemala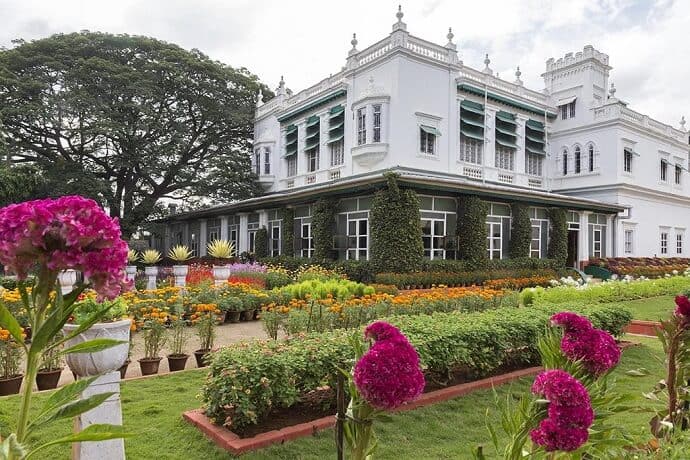 Located in southwest India outside the city of Mysore, you'll find a Chittaranjan Palace that was saved from demolition and restored as a lovely eco hotel. The beautiful gardens that surround the palace have won first prize in the Mysore Horticultural Society's Best Garden category for over ten years running.
In addition to the 31 uniquely themed (Writer's Room, Bollywood Suite, Princess Room, etc) rooms, guests can choose to relax in several drawing rooms decorated with antique furniture, one of many libraries, or sit outside on one of the lovely verandas.
The Green Hotel restaurant serves vegetarian and non-vegetarian food. Be sure to save room for the baked goods by a French-trained chef, which you'll find at the women-run Malgudi Coffee Shop.
The hotel's sustainability initiatives include using solar energy and recycled water for the garden. The work of award-winning local craftsmen decorate the hotel, and all profits are distributed to charitable and environmental projects in India. Read Reviews and Check Rates.
READ MORE: 50 Fascinating Facts About Indian Culture (by Region)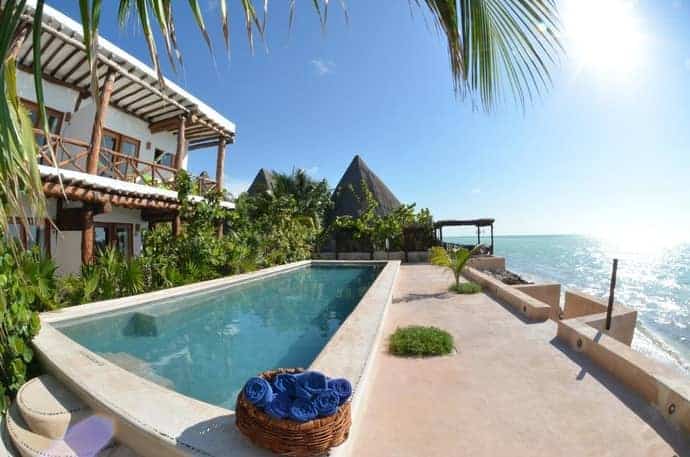 Located on Isla Holbox, the island gem of Mexico's Yucatan Peninsula, Las Nubes de Holbox is a beautiful beachfront eco hotel nestled between a picturesque sandbar and the Yum Balam Nature Reserve.
Undisturbed beaches, mangroves, birds, and marine life are the main attractions on the island. And while Las Nubes de Holbox is just a short 20-minute walk from town (or a 5-minute golf cart taxi ride), the hotel's unique location at the end of the island gives guests a sense of serene seclusion.
Traditional Mexican decor is used to accent the 28 rooms (ours was filled with Frida Kahlo art), and each accommodation features air-conditioning and a balcony. The eco hotel also offers ocean views, a spa, paddle boats, bikes, and kayaks that guests can use.
Locally-sourced ingredients is the foundation for all of the dishes at their excellent El Sabor de las Nubes restaurant, where everything is made fresh from scratch. For stunning sunset views, be sure to enjoy a cocktail on the top story's bar and lounge.
For stargazing, be sure to climb the stairs to the rooftop deck that connects all of the buildings in the hotel complex. And keep an eye out for the resident Raccoons and Iguanas. Read Reviews and Check Rates.
READ MORE: The 15 Best Isla Holbox Hotels & Resorts (Mexico)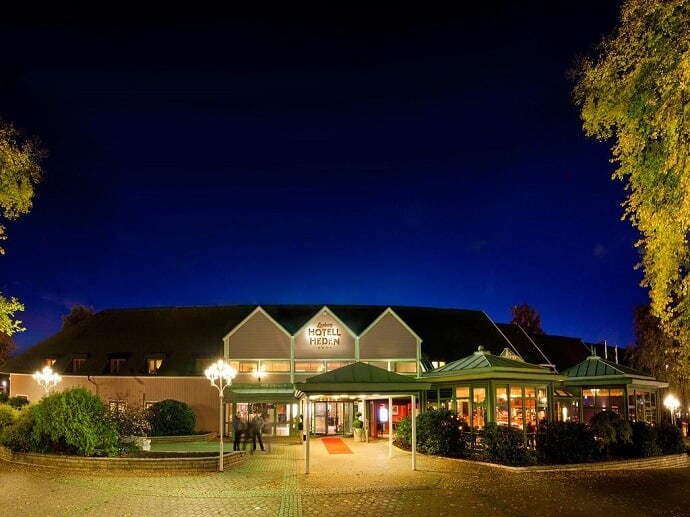 Hotell Liseberg Heden is a cozy 4-star home away from home right in the heart of Gothenburg, Sweden, on the lushest corner of bustling Heden Square. Three beautiful courtyards are at the centerpiece of this 179-room eco hotel.
The rooms are homey and comfortable and practically furnished with contemporary Scandinavian designs. In addition, there are conference facilities and a restaurant serving vegan and organic dishes as well as locally produced beers and organic wines.
In 1995, Hotell Liseberg Heden was the first business in the city of Gothenburg to gain environmental certification. It recently achieved the highest level in TripAdvisor's GreenLeaders programme, which recognizes the quality of a hotel or resort's green practices.
The hotel's electricity is 100% renewable and comes from their own wind turbine. The hotel staff's uniforms are make from over 50% recycled polyester from bottles and packaging.
If you're traveling to Gothenburg (perhaps to visit the Volvo factory) and are looking for a conveniently located, eco-friendly hotel, Hotell Liseberg Heden is a great value. Read Reviews and Check Rates.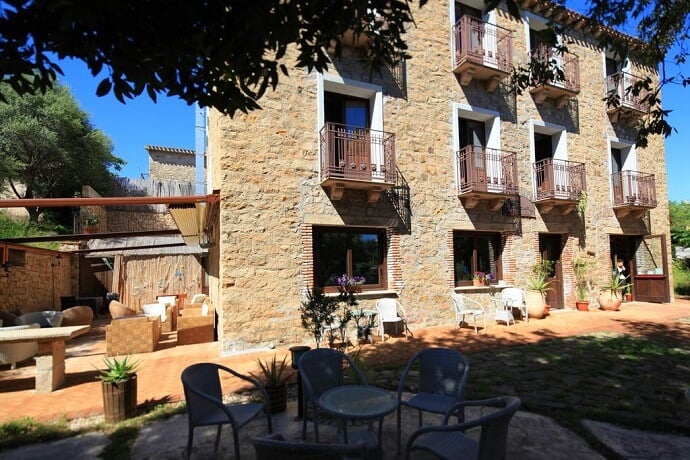 Located about 150 feet from the water's edge, this former granary from the early 1800s has been recently renovated into a luxury 12-room eco hotel on the beautiful island of Sardinia, Italy.
Nascar, which is named for an 11th century temple, is a lovely little coastal village that makes the perfect base for hiking the Selvaggio Blu (Wild Blue), a famous trekking route in Sardinia's Baunei district.
Awarded the prestigious European ECCO-labEL for a sustainable management style respecting nature, all of the furnishings are hand-crafted by local artists and use local materials.
Each room is decorated with a unique theme. and most have balconies to enjoy the sea breeze. Local Sardinian dishes are served in the bar/restaurant. Massage services, tennis courts, a playground, and complimentary beach towels, sun beds, and beach umbrellas are all available to guests.
There's a marina close by that offers boat trips to local coves and beaches. And the hotel staff will be happy to help you set up wine and nature tours at the 24-hour reception desk.
READ MORE: The Best Eco-Friendly European Islands (World Travel Bucket List)
The co-founder of Green Global Travel and Green Travel Media, Bret Love is a journalist/editor with 21 years of experience. He's been published in over 100 print publications, including the Atlanta Journal-Constitution, National Geographic, Rolling Stone and Yahoo Travel. He's an in-demand speaker at travel conferences, covering topics ranging from branding and content marketing to responsible travel and how DMOs can work with bloggers. He's also made a name for himself as a content and influencer marketing strategist, advising companies such as Discover Corps and International Expeditions.