There is very little in this world that captures my attention like the African bush. I've joked with my friends that I am addicted, but I only half jest.
When I'm there, I feel totally at ease and fully present. When I am away, there's always a nagging desire to return.
Not too long ago I indulged my habit in both the Timbavati Game Reserve of South Africa and Kenya's Amboseli National Park— two very different, but equally stunning locations —during a two-week photographic safari.
Timbavati is known for its leopards and dense, rugged terrain, while in Amboseli, elephants are the heroes along with its wide-open plains and lush marshes.
Combined together in one epic journey, I experienced an unforgettable adventure that did nothing to quell my love of the bush. Instead, it only fueled the fire…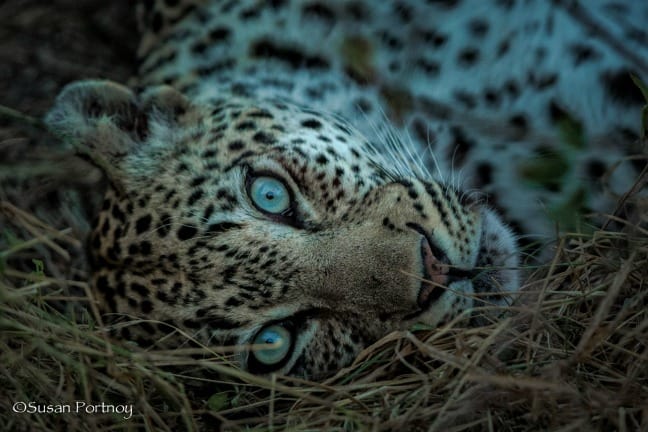 Rockfig Jr.—named for the tree under which her mother was born—is an extraordinary leopard with aquamarine eyes. We came upon her after she fed on an impala, relaxing in the grass before digging in again. ~ Timbavati Game Reserve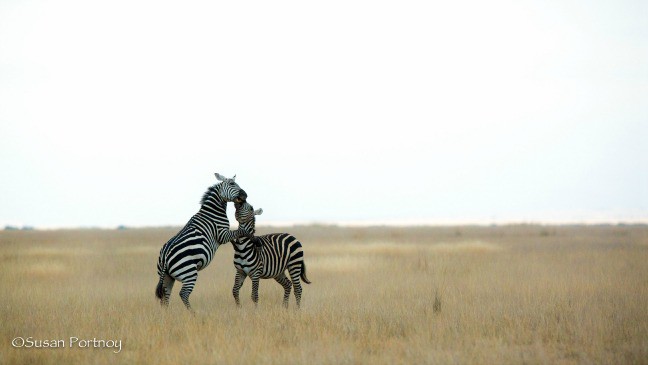 Two zebras joust: A playful interaction I saw almost daily during my visit. ~ Amboseli National Park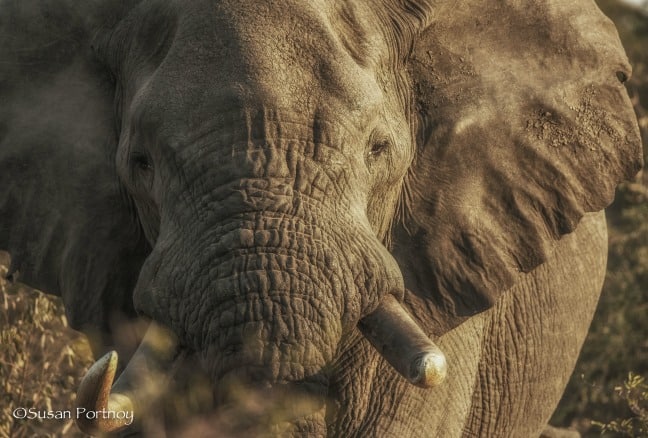 A magnificent bull elephant with impressive tusks. This handsome devil I'm pretty sure had modeled before. He stayed near our vehicle and provided us with a variety of wonderful poses. ~ Timbavati Game Reserve
Two male buffalos horn-wrestle in slow motion. Whether it was a true quest for dominance or simply a way to cut the boredom I'll never know, but they fought for nearly an hour. ~ Timbavati Game Reserve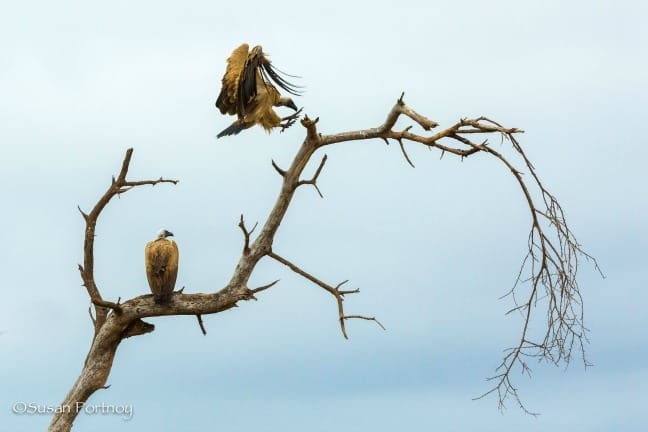 Vultures are far from beautiful in my opinion, but it's amazing how you can find something to love in everything. In flight, a vulture is quite elegant. I loved the curve of his body as he flew from one limb to the other. ~ Amboseli National Park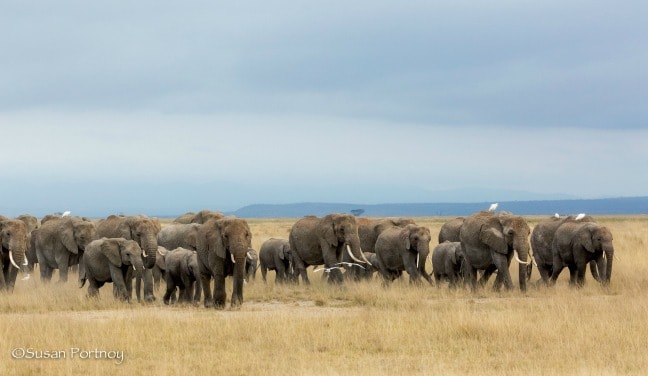 It's early morning and a large herd of elephants walks toward a marsh in the distance. Their sheer size and number contrasted against the simplicity of the landscape had me spellbound.  ~ Amboseli National Park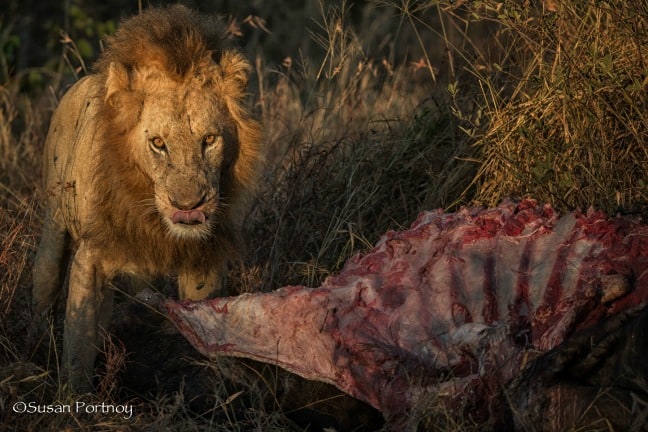 One of four lions in a coalition, this male continued to eat his fill of a buffalo carcass while his companions lounged lazily in the grass nearby. ~ Timbavati Game Reserve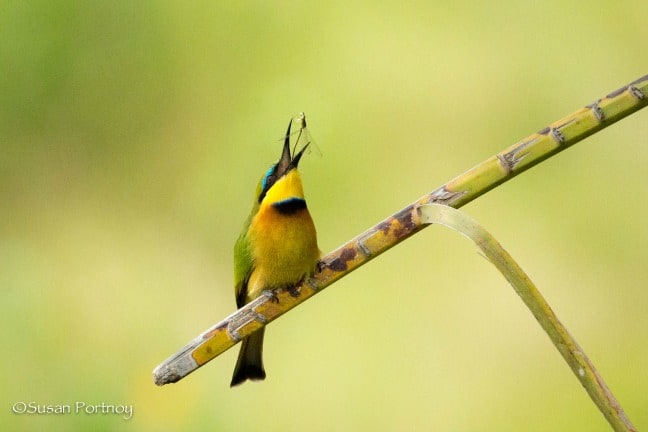 A colorful little bee-eater gobbles up a dragonfly for a midday snack. ~ Timbavati Game Reserve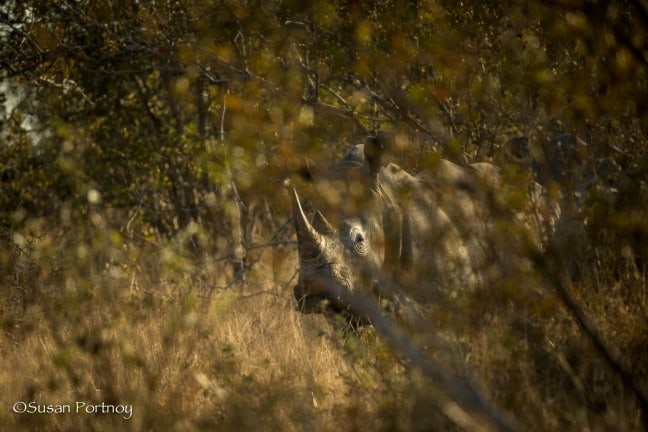 Though I have many photos of rhinos out in the open, I felt this image best captured their timid personality and their preference for thickets. For such big, prehistoric-looking creatures, their elusive nature seems at odds with their powerful physique. ~ Timbavati Game Reserve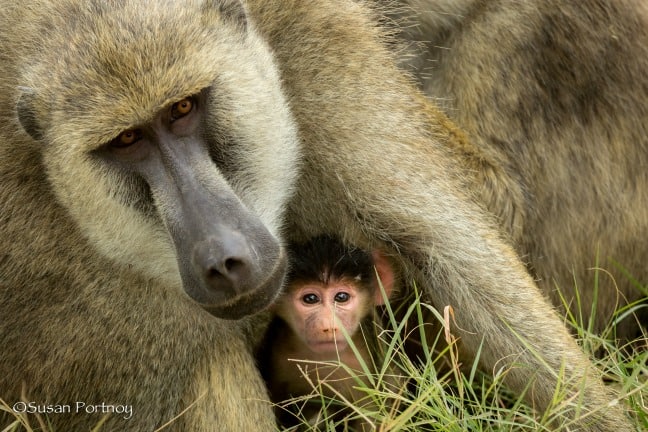 A baby baboon that was fascinated by us inspired an equally curious adult to check out our jeep. ~ Amboseli National Park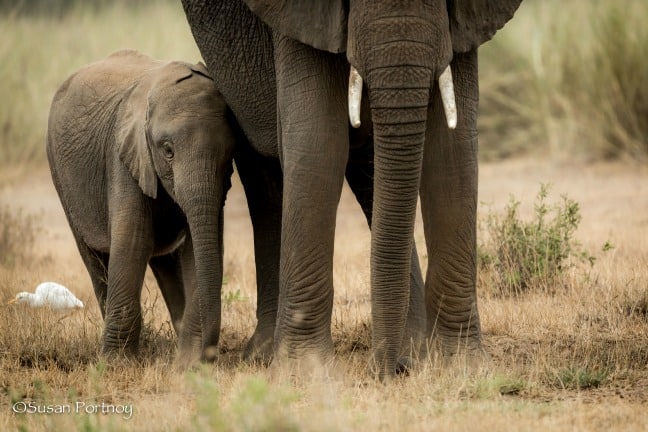 Everyone needs a little love and affection. This baby elephant takes a break from grazing to lean on his mother's leg for a little comfort. Her response? A little lean back. ~ Amboseli National Park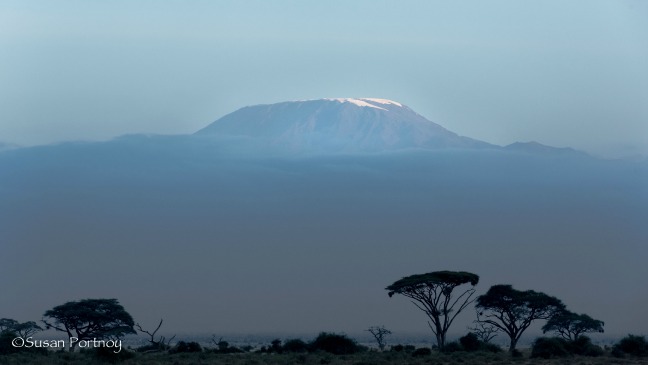 Mount Kilimanjaro teased us with a glimpse of its majestic heights at twilight one evening. For the rest of our visit, unfortunately, it was shrouded in clouds. ~ Amboseli National Park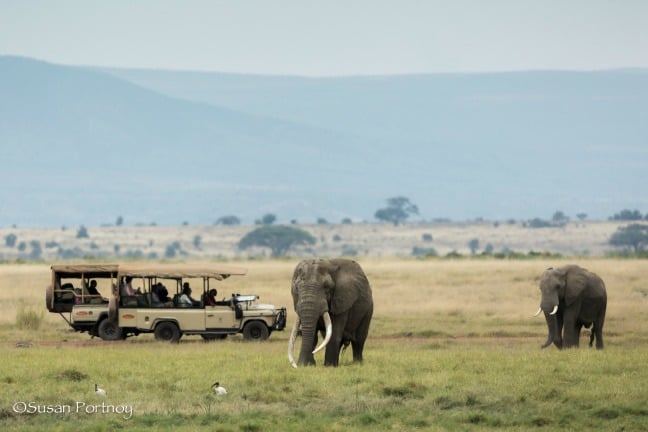 Seeing a Big Tusker like this one in the foreground is a rarity nowadays day due to the rise in poaching. I felt privileged to view such a magnificent creature, and I hope he has many years ahead of him. ~ Amboseli National Park
The realities of life. Part of an impala face hangs from the lips of a hungry hyena– one of many in a pack that stole a kill from an unlucky leopard. ~ Timbavati Game Reserve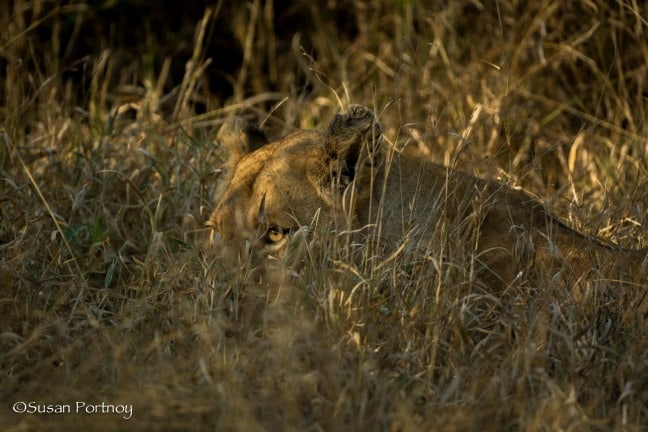 The predator awaits… Ok, maybe that's a bit dramatic. While lions do hunt using the element of surprise, this lovely female was actually gnawing on an impala kill hidden by the grass. ~ Timbavati Game Reserve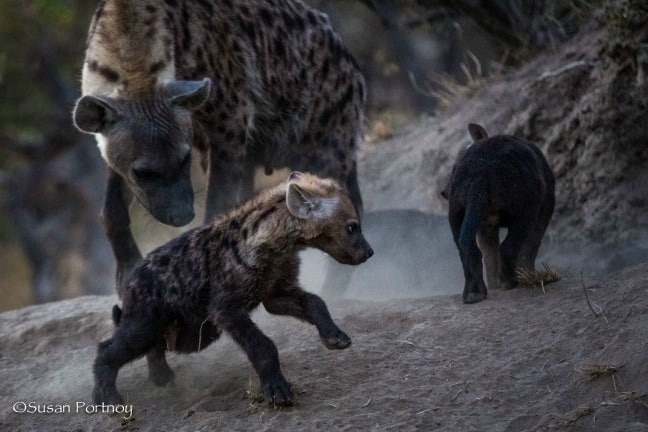 A morning romp with the kids. Hyena pups are some of the cutest babies on the planet. ~ Timbavati Game Reserve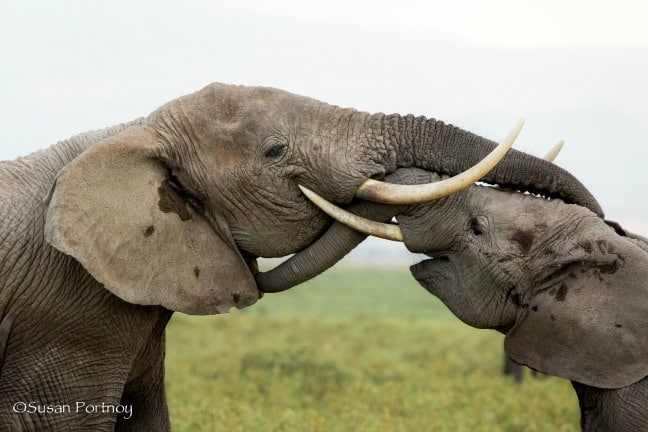 Two juvenile elephants enjoy a moment of play. ~ Amboseli National Park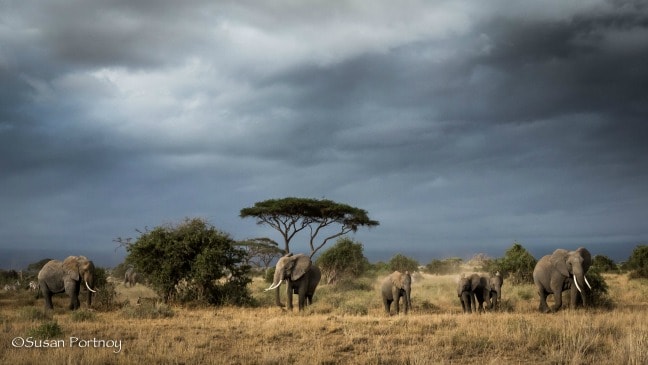 An epic sky after a light rain made for an unbelievable backdrop of intense and moody colors. Add a herd of elephants, and the tableau looks as if it was brought to life from a painting. ~ Amboseli National Park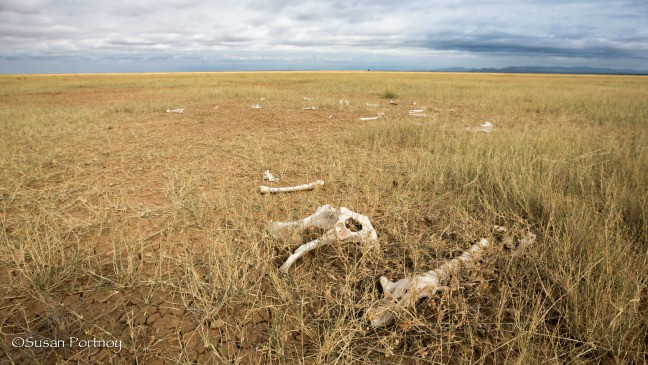 Scattered bones litter the dried and cracked remains of Lake Amboseli. ~ Amboseli National Park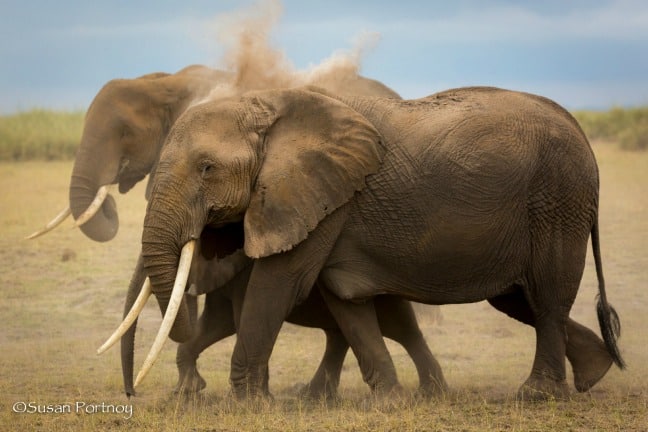 Two elephant cows dust themselves with soil to protect themselves from biting insects and the harsh rays of the sun. ~ Amboseli National Park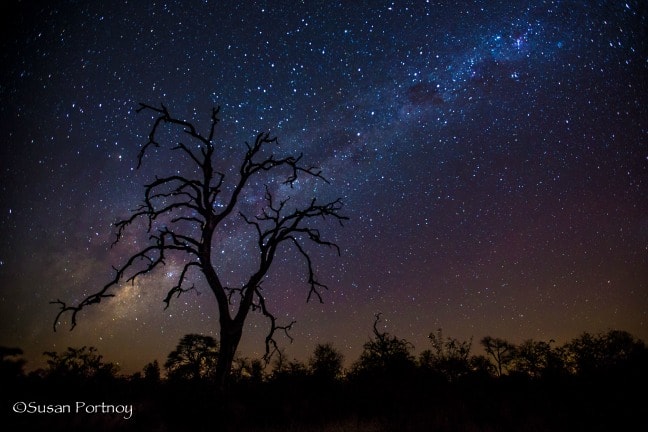 An ethereal Milky Way over South Africa is juxtaposed to a fabulous (though very Tim Burton-esque) tree in the foreground. ~ Timbavati Game Reserve  –All text and photos by Susan Portnoy 
BIO: Susan Portnoy is a communications and public relations consultant who shares her adventures as The Insatiable Traveler. If you love eye-catching nature/wildlife photography, you'll definitely want to follow her journeys on Facebook and Twitter.)
If you enjoyed our Photo Essay on Amboseli National Park & Timbavati Game Reserve, you might also like:
SOUTH AFRICA: Kruger National Park

SOUTH AFRICA: Zulu Memories