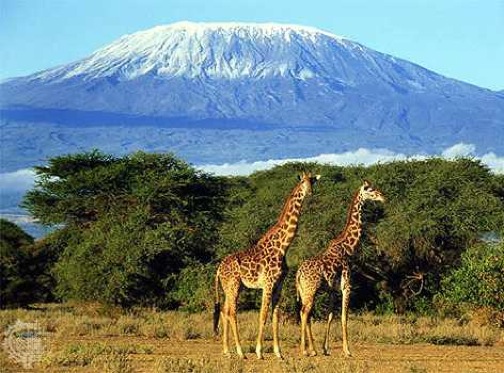 CLIMBING MT KILIMANJARO, TANZANIA
The summit was quiet. Perhaps the quietest place I have ever been in my life.
It was summer, and the temperature was creeping around -5° F. Was it serenity I was experiencing, or something else? I wasn't really sure what was happening: It was almost as if I was in shock. Staring into the distance, surrounded by glaciers, I could see clearly until the horizon disappeared. The summit of Mt. Kilimanjaro, the rooftop of Africa, was easily the apex of this vacation and one of the most important and enjoyable moments of my life.
For many months beforehand I'd been working every shift at two jobs to pay for bits and pieces of the 31-day trip. I used the walls of my loft apartment as literal canvas, covering my living room from top to bottom with Swahili words, numbers, and often-used phrases. I knew I wasn't getting my deposit back.
After months of planning, I boarded a British Airways flight from Atlanta to Dar Es Salaam, Tanzania, and then made my way north to Kilimanjaro. Looking back on the trek, one of the first adjustments I'd make would be the flight: My $1100 economy plus round trip ticket was a steal, but I wish I'd flown fly from Dar Es Salaam to Kili in lieu of the 10-hour, 100º school bus ride.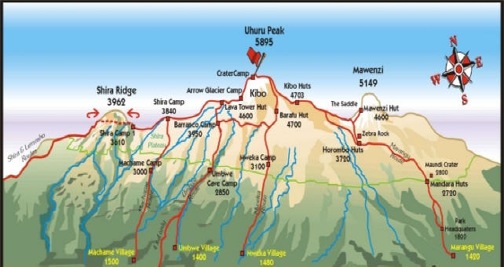 If I was just there to attempt to climb the legendary mountain, I could've flown into Kilimanjaro International Airport, which is located just south of the giant. Truth be told, after spotting the summit from over 5 hours away, I was already second guessing what I was doing there in the first place. What? Me, climb that?!
I finally arrived in Moshi, where my hotel was located. I'd booked my climb and other journeys with Zara Tanzania Adventure, which was founded by local native Zainab Ansell, who has been organizing treks and safaris on and around Kilimanjaro or nearly 25 years. Focusing on the enjoyment and comfort of their customers, the entire staff practices sustainable tourism, contributing a substantial percentage of their income to local schools and charities. Zara's global memberships include Sustainable Travel International, Tanzania Association of Tour Operators, International Air Transport Association and the Adventure Travel Trade Association, just to name a few.
The night before the slow climb began, they booked me in the Springlands Hotel in Moshi, located at the base of Kili. Built in a turn-of-the-century Dutch building, the hotel boasts comfortable rooms and a beautiful courtyard complete with outdoor family-style dining area and swimming pool. Springlands also had a small equipment building stocked with all of our trekking needs. I had only brought a day-pack with me for the 3.5 weeks I was spending in East Africa, so here I rented trekking poles, sleeping bag, jacket, toboggan, windbreakers, warm socks, insulated trousers and a pillow.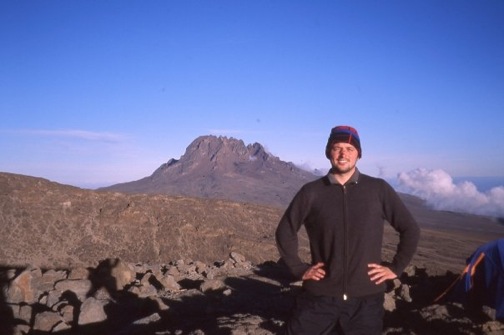 My master guide was Joseph, a Tanzanian from Moshi, who had such noticeable determination and intestinal fortitude that he may have even scared the mountain at times. He was always cracking jokes and playing cards, simultaneously making sure you walked at a snail's pace so your body could acclimatize to the altitude. His constant reminder of "Pole, pole" (Swahili for "Slow, slow") made sure you stayed slow and steady.
I'd heard of other guides bribing climbers to say they were able to summit the peak, even when they didn't– guides are rewarded for the percentage of people who made it to the top– but Joseph was too prideful, showing equal respect to his climbers and crew. I decided I couldn't let him down, no matter how sick I might feel. This determination was later put to the test.
During our 5th day on the mountain, I began to feel like I had been on the spinning teacup ride at a C-rate carnival in an abandoned parking lot. My mood lifted a bit when we got to enjoy the fabled snows of Kilimanjaro, but every minute grew worse as we made our way through a valley that resembled Jurassic Park. I took time to savor the scenery I knew I'd probably never have the chance to see again, but my body felt like an alien was trying to push its way out of me for the next day and a half.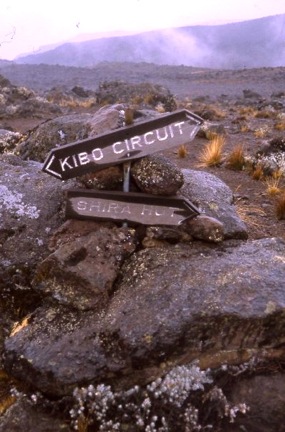 When leaving the final encampment, Camp Barafu, you wake up and leave for the final ascent at midnight. It takes about 7 hours to reach the rim of the volcano crater on top of Kili, and during the last hour I felt my body shutting down. I had a throbbing headache, was short of breath and felt like I was on the verge of blacking out on the final push to the top of the ridge.
Thankfully, once we peaked and stood at the volcano's edge, my second wind kicked in. We all hugged in a circle and were suddenly singing Joseph's words of wisdom, "Pole! Pole!" in the style of that "Ole Ole, Ole Ole" song often played at soccer matches. All of us were singing– Joseph, my travel partner Lee, and the assistants. As we came to our senses, they pointed to the final summit of Uhuru Peak. It was a grueling, yet glorious 45-minute hike to our destination, walking between the bowels of a dormant volcano and massive glaciers.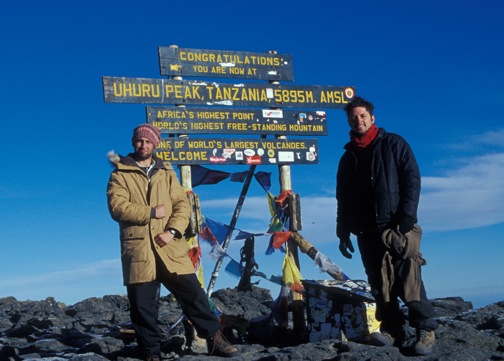 Finally, there I stood at the weathered wooden sign that I'd seen hundreds of photos of while preparing for my trip. I threw my arms around the sign and kissed the ground. In a slight daze, I handed Joseph my camera and asked Lee if he was ready.
He'd already forgotten the pact we had made weeks beforehand, but I immediately began shedding the layers of clothing I'd been wearing for over 5 days. After a couple of seconds, Lee did as well. Standing there in sub-freezing weather were two pale Americans, completely naked. Once again we all shared a gut-busting laugh. After the shenanigans and photos, I took about 20 minutes for myself, not saying a word and savoring the moment.
Thanks to the expertise of Joseph and his team, Lee and I were two of the three people who made the summit that day (out of 17 total). During our descent, I couldn't wait for the remainder of my journeys with Zara, including a safari on the Serengeti, a trip to Ngorongoro Crater, hunting with actual Bushmen and a visit to Zanzibar. If climbing Mt. Kilimanjaro was any indicator, I knew I was in for a treat. –text and photos by Bryan Akers, map courtesy Wikipedia via Creative Commons
If you enjoyed reading Climbing Mt Kilimanjaro, you might also like:
South Africa Safari, Pt 2
South Africa- Zulu Memories
10 Unbelievable Mountains For Your World Travel Bucket List