I took my first trip to Costa Rica back in 1997. Back then the Central American country was still just emerging as a world-renowned ecotourism hotspot. I was just emerging as a professional journalist/editor, and it was my first trip abroad as an adult.
As a nature lover, I was blown away by all the things to do in Costa Rica.
From the beautiful beaches of Playa Tambor and the dramatic scenery of the Arenal area to the remarkably rich biodiversity of the Monteverde Cloud Forest, it was like no place I'd ever been before.
My first action-packed visit to Costa Rica lasted just 10 days.
So I only had a chance to explore a few of the country's 27 national parks, 58 wildlife refuges, 32 protected zones, 15 wetland areas, 11 forest reserves, and 8 biological reserves. But it was more than enough time to fall in love with the country's countless natural attractions.
I couldn't believe how many incredible Costa Rican animals we saw along the way. There were bushes filled with massive iguanas, rivers lined with creepy crocodiles, and trees bustling with four types of monkeys and two kinds of sloths.
We fell in love with the cute, curious white-nosed coati. And we saw more different species of butterflies, frogs, and hummingbirds than we could keep track of.
READ MORE: The 15 Best Places to Stay in Costa Rica
Equally enthralling was the warm, welcoming spirit of the locals, who are affectionately referred to as ticos (or ticas, in the feminine form).
Widely considered some of the happiest people on the planet, they're known for their pura vida philosophy. Ticos love good food, good friends, and savoring the beauty of the world above all else.
I've returned to Costa Rica numerous times in the 20+ years since my first visit. I've been  privileged to explore the country from the playas of the Pacific coast to the Caribbean beaches of Tortuguero National Park (where Green Global Travel was born).
Best of all, I've had an opportunity to share my passion for Costa Rica with my wife and my daughter. Our love of the country runs so deep, the red-eyed tree frog and hummingbird in our logo was a tribute to its formative influence on this website.
What follows are 20 of our favorite things to do in Costa Rica for nature and history lovers. To make our guide easier to use, we've broken it down by geographical region, and included tips on where to stay near our favorite attractions: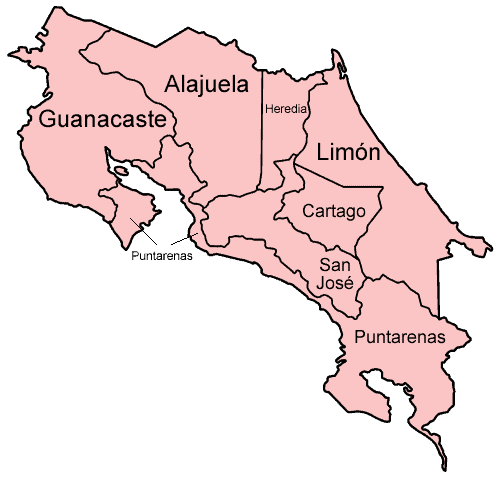 COSTA RICA DESTINATIONS
THINGS TO DO IN GUANACASTE
SEE THE RINCÓN DE LA VIEJA VOLCANO
Located 17 miles north of Liberia, Rincón de la Vieja National Park is named after its main attraction– a 6217-foot cinder volcano with nine craters.
The Senduro Encantado hiking trail cuts through lowlands and into cloud forest, allowing visitors to spot abundant flora and fauna. Along the way you can see some of the 300 bird species that have been spotted within the park, along with howler and spider monkeys.
It also connects with the Pailas Circuit trail, which passes sulphuric hot springs as well as mud pits. The Pailas trail is six miles long, leading to the top of the volcano. Hikers can relax in the pools, which are naturally heated, before cooling off in the stream.
For those in the mood for swimming, the Sendero Congreja trail leads to several cascading waterfalls and cool lagoons.
The eastern side of Rincón de la Vieja does not have a dry season, making the area relatively humid all year.
READ MORE: Ecotourism in Costa Rica: The Ultimate Eco Travel Guide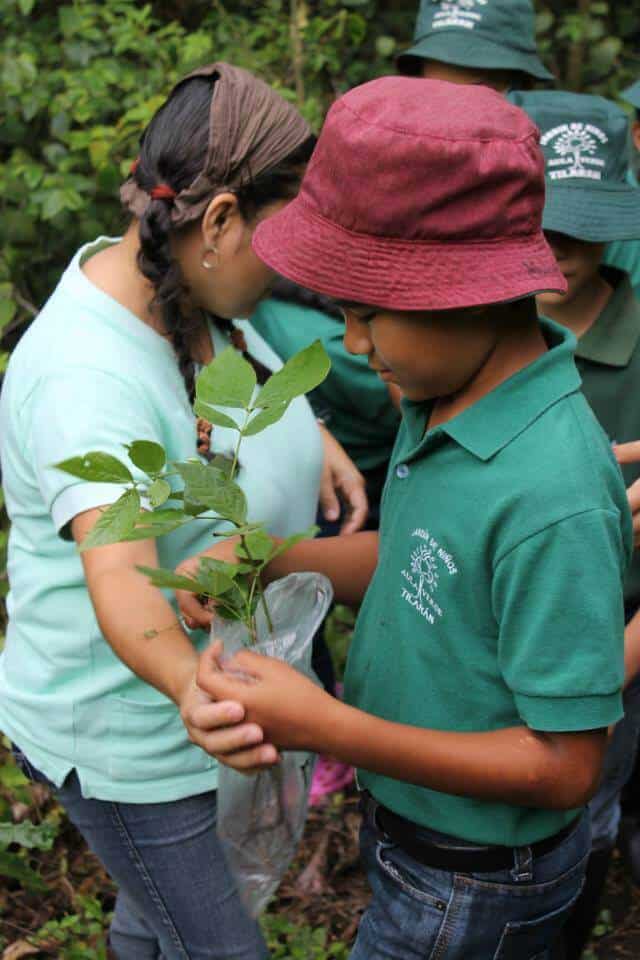 SPEAK FOR THE TREES (BY PLANTING THEM)
One of the biggest environmental issues facing coastal communities all around the world is deforestation. Tree loss and climate change are contributing to increased beach erosion rates, increased ocean runoff, and habitat loss for many of Costa Rica's iconic species.
By connecting with local NGOs such as La Reserva Forest Foundation, travelers have a chance to help out with community reforestation projects by collecting seeds, planting them in a nursery, maintaining the trees and even planting them in key areas.
La Reserva has planted more than 100,000 trees and also accept monetary donations for those who cannot physically go out and help plant the trees.
Planting trees reduces the amount of carbon dioxide in the air, which ultimately reduces the warming of the planet and makes the Earth cleaner for future generations. Not only is getting their hands dirty good for kids, but in this case it's great for the environment as well.
READ MORE: The Meaning of the Lorax (10 Eco-Lessons )
HOTELS NEAR RINCÓN DE LA VIEJA VOLCANO

Blue River Resort & Hot Springs – Located on the north side of the scenic Rincon de la Vieja volcano in a tropical rainforest with natural mineral green hot spring pools and botanical gardens, Blue River's luxury cabanas are landscaped with rain-forest foliage, flowers and waterfalls. Rooms feature large terraces with views of the volcano and the lush green rain forest. Check Rates or Read Reviews

Compare Rates for Hotels in GUANACASTE

 
THINGS TO DO IN ALAJUELA AND HEREDIA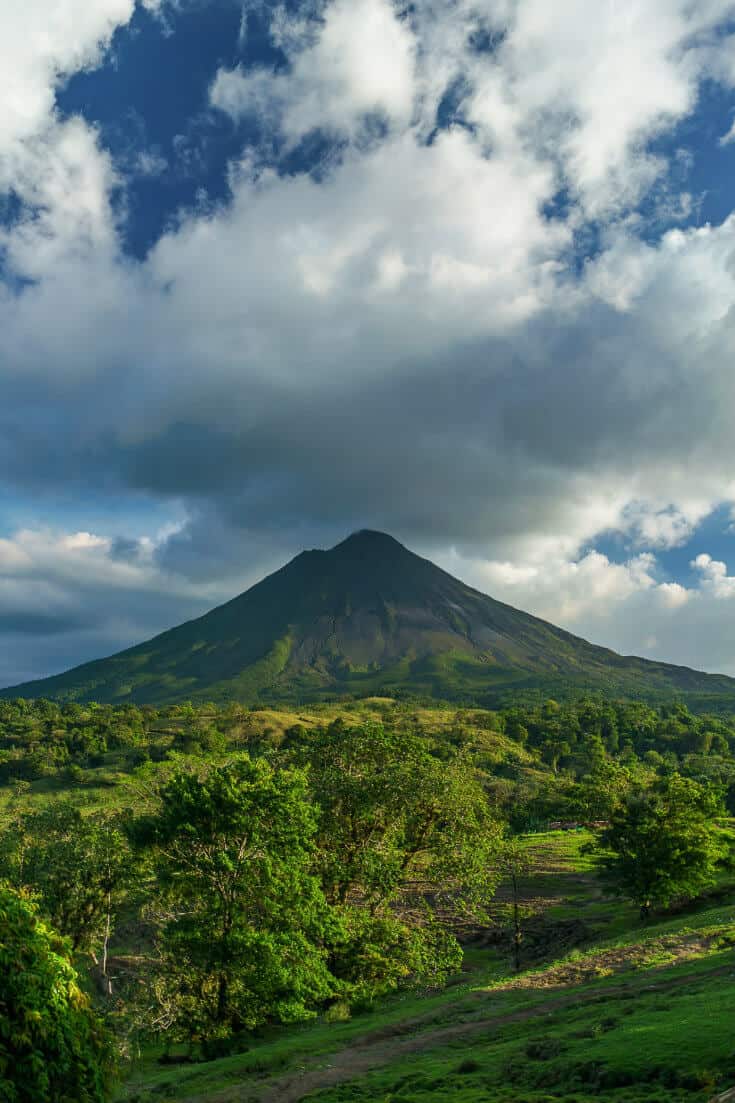 EXPLORE ARENAL VOLCANO NATIONAL PARK
One of the most active volcanoes in the world until 2010, the 5,480-foot Arenal Volcano dominates the landscape of northwestern Costa Rica. Located near the tiny town of La Fortuna, the volcano erupted for the first time in 1968, but has been dormant for years.
Still, the area remains a popular ecotourism destination thanks to Lake Arenal, the La Fortuna Waterfall, and various hot springs. Lake Arenal, located at the base of the volcano, contributes to the economy of Costa Rica and is responsible for around 12% of Costa Rica's hydroelectric energy.
Lava tracts can be seen from one of the four trails in the park, along with various plant and animal species, including monkeys, sloths, beautiful tropical birds, and palms. Even now, park rangers are always on the lookout for potential volcanic activity.
And of course the mountain still looms ominously over the verdant landscape, like a sleeping giant just waiting for the opportune moment to re-awaken.
READ MORE: The Top 10 Volcanoes in the World (World Travel Bucket List)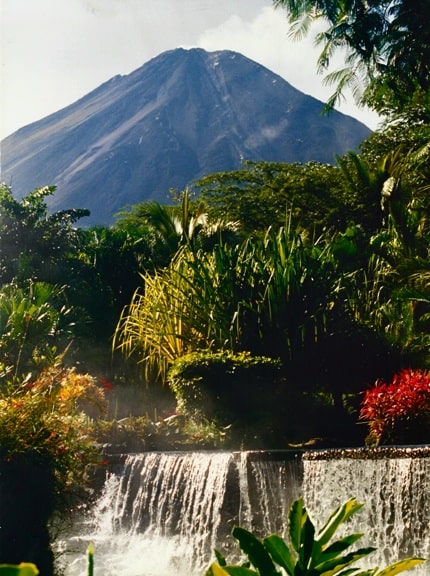 SOAK YOUR CARES AWAY AT TABACÓN HOT SPRINGS
Long, hot days of outdoor recreation in Costa Rica can be exhausting. At the end of the day, it feels incredible to soothe your aching bones in these naturally-heated thermal springs. The fact that they're surrounded by lushly landscaped gardens offering a picturesque view of Arenal Volcano doesn't hurt either.
Coming from five different spring sources, the water is naturally heated and mineralized through the volcano. The strongest stream flows over a sculpted waterfall, which provides a wonderfully intense hydraulic shoulder/back/neck massage.
There's also an impressive spa here that offers professional massages and mud masks. For those who want to cool down after resting in the hot springs, there is a cool spring and a pool nearby to further your relaxation.
Several resorts provide access to these relaxing hot springs, such as the Tabacon Grand Spa Thermal Resort and the Tabacon Resort & Hot Springs, which is  carbon-neutral. These resorts combine the best of luxury with ecotourism, enabling travelers to relax after a long day of adventuring and exploring without harming the environment.
READ MORE: What Is An Eco Lodge? (Top 10 Eco Lodges in the World)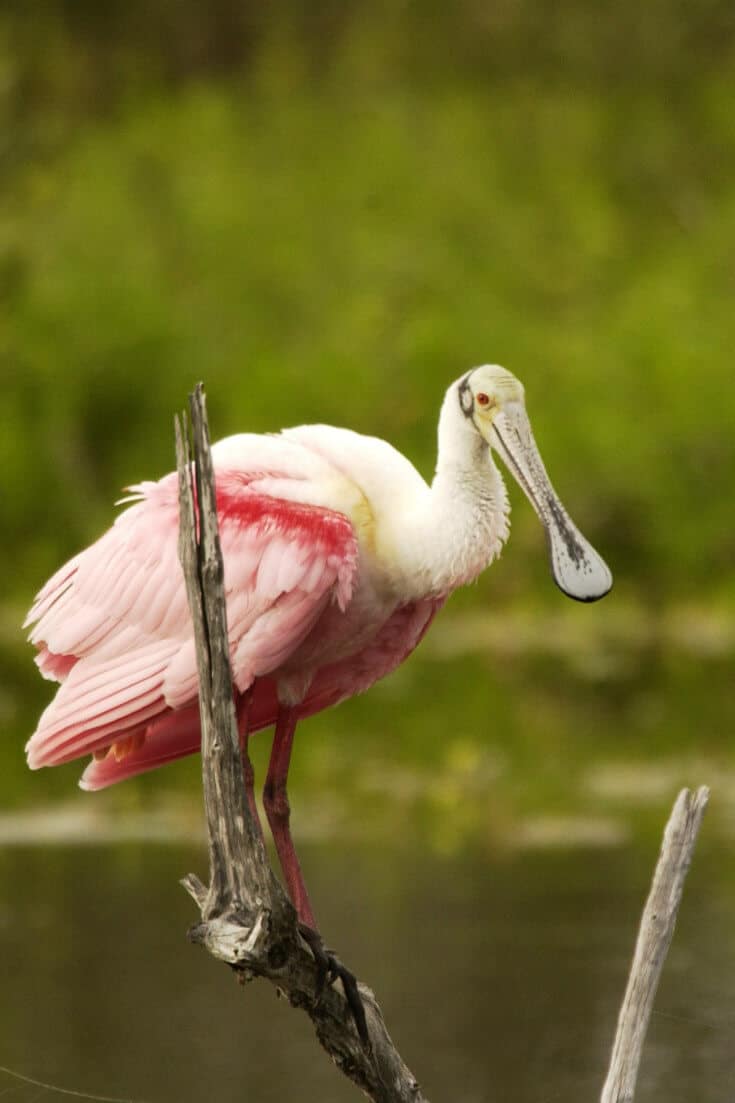 Roseate Spoonbill via pixabay
BOATING THROUGH CAÑO NEGRO NATIONAL WILDLIFE
If you've ever dreamed of taking a trip down the Amazon River, a boat ride through this vast network of marshes and rivers located 62 miles north of La Fortuna is an affordable alternative. Located in northern Costa Rica, the area is a popular day-trip excursion.
Eagle-eyed guides will point out caiman and crocodiles lurking in the water, lizards and monkeys scurrying along the shore, and abundant bird life in the trees (including jabiru storks, herons, egrets and roseate spoonbills).
This area is considered especially important for these migratory bird species. Many of the animals and plants in Caño Negro can't be found anywhere else in Costa Rica, such as the "living fossil" called the Gaspar fish. This fish can breathe air when it's out of the water and existed back in prehistoric times.
Other animals found in the area include several species of big cats (jaguars, ocelots, etc.) and reptiles, including many snake species.
Read More: 40 Amazing Costa Rican Animals (Photo Gallery)

VOLUNTEER WITH A WILDLIFE RESCUE NGO
Perhaps the best thing about taking your family to Costa Rica is the opportunity to not just learn about wildlife conservation, but to get involved in it.
From Kids Saving the Rainforest in Quepos to Alturas Wildlife Sanctuary in Dominical, Costa Rica offers numerous opportunities for animal lovers to volunteer. In the process, they get personal experience that reinforces the importance of protecting the country's precious flora and fauna.
The mission of one rescue center, the Costa Rica Animal Rescue Center, sums up the importance of aiding wounded or orphaned wildlife: "Rescue. Rehabilitation. Release."
Working hands-on with animals while traveling through conservation-focused countries like Costa Rica makes the trip even more memorable, benefitting both the traveler and the local wildlife alike.
Hopefully they share the joy of that experience with friends and family back home, and encourage others to help preserve this precious planet we all love to travel.
READ MORE: How To Volunteer with Responsible Organizations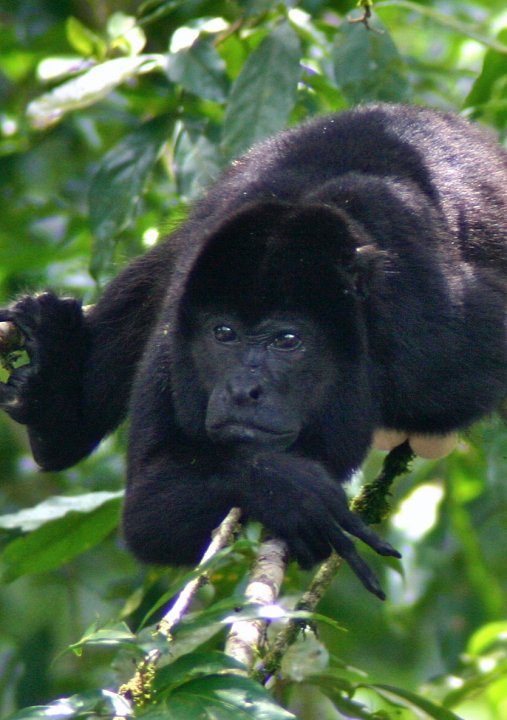 TOUR TIRIMBINA BIOLOGICAL RESERVE
Located about 2 hours by car from San Jose, Tirimbina Biological Reserve is one of the most educational experiences of ecotourism in Costa Rica. It's got a prime location in Sarapiquí, between the forests and rivers of Costa Rica's northern region.
The reserve offers educational and research opportunities for scientists and travelers alike. Their guided walks through more than five miles of hiking trails offer a wealth of information about the region's remarkably diverse flora and fauna, subtly emphasizing conservation and sustainability.
Their massive suspension bridge, which takes you over raging rapids and through the forest canopy, reinforces the message beautifully. You'll get exceptional views of howler monkeys moving through the treetops, sloths taking afternoon naps, and myriad birds and insects.
Another suspension bridge gives travelers a view of the canopy, an often unexplored part of the rainforest. And for those with a sweet tooth, the reserve also offers a chocolate tour, where you can taste cacao beans and learn all about the chocolate-making process.
READ MORE: The History of Chocolate (How Chocolate is Made)
HOTELS IN ALAJUELA & HEREDIA

Leaves and Lizards Retreat (Arenal Volcano) -This rustic retreat offers stunning panoramic views of Arenal and the surrounding mountains. Choose from cozy cabins, spacious villas, and the one-of-a-kind Hobbit House, all of which feature quaint, eco-friendly decor. The property is a working farm, with horseback riding, yoga, and a farm-to-table restaurant on-site.  Check Rates or Read Reviews

Tabacon Grand Spa Thermal Resort (La Fortuna) – This family-friendly resort in La Fortuna offers a full-service spa, relaxing hot springs on-site, and tour packages to nearby attractions such as Arenal Volcano and Arenal Natura Ecological Park. The resort participates in the Sustainable Tourism Education Program (STEP), and is a member of the Leading Hotels of the World. Check Rates or Read Reviews

La Quinta de Sarapiqui (La Virgen) –Located on 10 acres near Tirimbina Biological Reserve, this rustic eco-lodge is a nature-lover's haven. Their spacious, thatched-roof bungalows all have porches with hammocks and rocking chairs. Walking trails lead to ponds, a butterfly garden, and a frog habitat. Massages and local tours are also available.  Check Rates or Read Reviews
THINGS TO DO IN LIMON (CARIBBEAN COSTA RICA)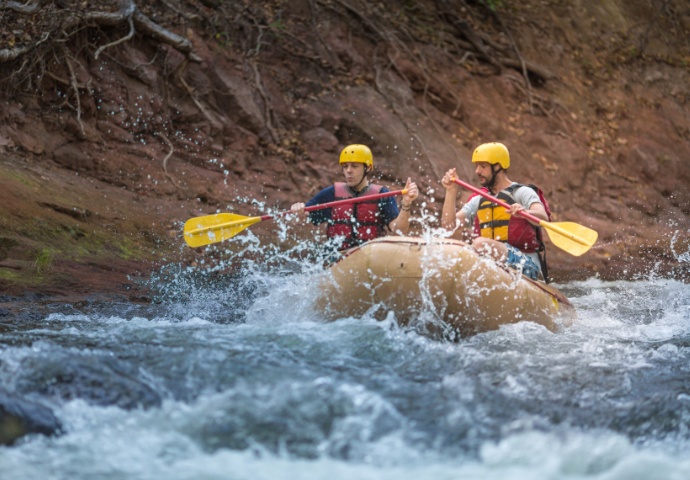 RAFTING THE RIO PACUARE
One of Costa Rica's great environmental victories came in 2005. That's when the plan from a state-owned electricity agency to build a hydroelectric dam on the Pacuare River was rejected due to concerns about pollution and potential impacts on the local ecology.
Now, whitewater rafting on the 67-mile river has become one of the most popular things to do in Costa Rica. The Rio Pacuare is situated next to the Talamanca Mountain Range, and surrounded by dense forests.
The river is warm-water, flowing through spectacular canyons and gorges. You'll see the 105-foot tall Huacas Falls as well as several other waterfalls along the way. This family-friendly adventure activity often affords excellent views of animals such as howler monkeys, sloths, and a broad variety of tropical birds.
Whether you're an experienced rafter or a novice, there are guided raft trips for people of every experience level. Even in its dry season, the Rio Pacuare is fit for whitewater rafting, offering a thrilling adventure for travelers.
READ MORE: 10 Best Canoe Trips (For Your World Travel Bucket List)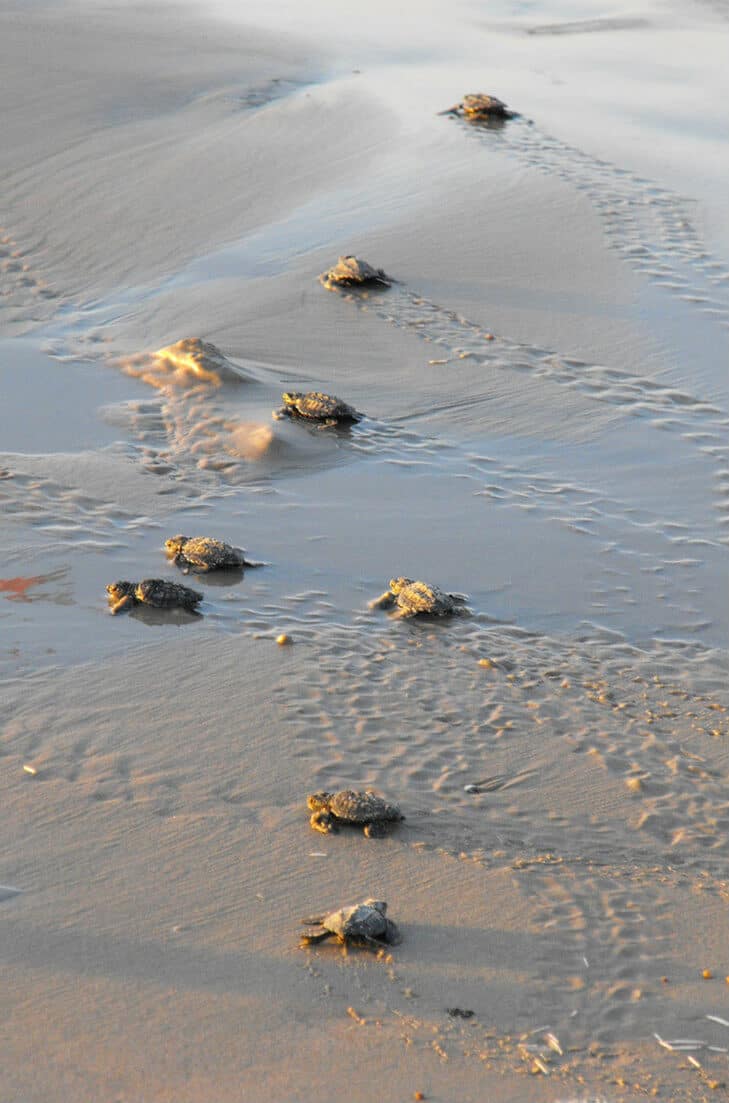 SAVE SEA TURTLES
Costa Rica is one of the world's most important places for Sea Turtle conservation. The country's beaches provide vital nesting grounds for four different species– Green Sea Turtles, Hawksbills, Leatherbacks, and Olive Ridleys.
All of these except the Leatherback annually return to the same beach on which they were hatched to lay their own eggs. So it's simple science to know when and where to see the sea turtles, but much harder to protect them from poaching and other dangers.
Because of various problems like climate change and human intervention, leatherback sea turtles are at risk, and research is being done to prevent further damage to the species. Local NGOs such as La Tortuga Feliz give volunteer travelers a chance to get involved hands-on in sea turtle conservation initiatives.
Located on the Caribbean coast approximately one kilometer north of where the Rio Pacuare enters the sea, the organization offers activities such as searching for sea turtle nests, moving eggs to safety, and releasing baby sea turtles during peak season.
Having experienced many of these things for ourselves with sea turtle rescue and conservation projects around the world, we can assure you that it's a heartwarming memory you'll never forget!
READ MORE: Sea Turtle Giving Birth in Dominica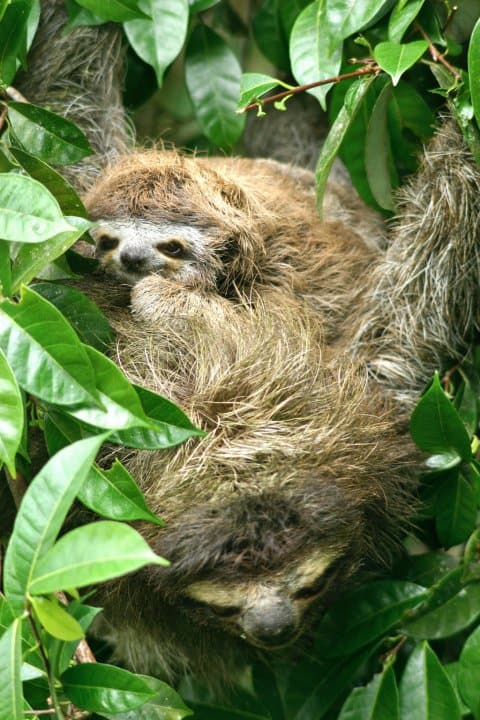 VISIT REMOTE TORTUGUERO NATIONAL PARK
Located on the Caribbean coast, this pristine 77,000-acre protected area is a poster child for Costa Rica's ecotourism efforts. Tortuguero was declared a national park in 1970, and a staggering 99% of the land is protected.
Accessible only by boat or plane, Tortuguero National Park boasts 11 different habitats within its boundaries, including beaches, lagoons, mangroves, rainforest, and swamps. The best way to explore it is by boat, due to the dense network of canals, creeks and lagoons.
Tortuguero is most famous for its sea turtle nesting beaches. With a hired guide (available at most resorts in the area), you can visit the beaches at night. This is the best time to see Green, Hawksbill, Leatherback, and Loggerhead sea turtles nesting and laying their eggs.
The park's canals feel a little like a miniature Amazon, providing up-close sightings of caiman, crocodiles, river otters, and Roseate Spoonbills. Scan the trees and you're likely to find monkeys, sloths, iguanas, toucans, and more.
A visit to Tortuguero truly offers travelers some of the best wildlife encounters Costa Rica has to offer.
READ MORE: Tortuguero National Park (Lessons in Conservation) 
HOTELS IN TORTUGUERO

Mawamba Lodge (Tortuguero) – Nestled between the Caribbean and canals of Tortuguero National Park, Mawamba is where the idea for GGT was born. There are no roads, and the river feels like a mini-Amazon. From boat rides through wildlife-rich canals to nighttime hikes to see nesting Sea Turtles, it's a perfect place to see how ecotourism and conservation connect.  Check Rates or Read Reviews

Tortuga Lodge & Gardens – Featured in National Geographics Tours of a Lifetime, the lodge offers rustic elegance with river views. It is quiet, and laid back with no background music to distract from the natural sounds around you. The Costa Rican restaurant serves very good traditional creative cuisine. Check Rates or Read Reviews
THINGS TO DO IN PUNTARENAS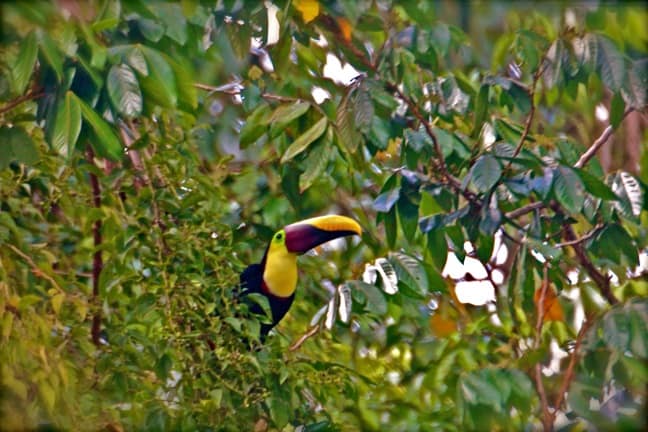 CANOPY WALK IN MONTEVERDE CLOUD FOREST RESERVE 
Visiting Monteverde Cloud Forest Reserve is one of the most popular things to do in Costa Rica, attracting more than 70,000 visitors each year.
You don't even have to venture into the reserve to see why: Just check out the dozens of hummingbirds flitting around the gift shop, or the adorable coatis hoping for handouts (which you should NEVER give them) near the picnic area.
With six ecological zones, the reserve boasts extraordinary biodiversity, containing around 100 mammal species, 120 reptilian and amphibian species, and 400 bird species. It also has a Nature Center, butterfly gardens, frog pond, serpentarium, and an array of hiking trails.
The hiking trails vary in length from 300 feet across the suspended bridge to the popular Cloud Forest Trail (Sendero Bosque Nuboso) at 1.2 miles. So there's a trail for every type of hiker, providing a variety of beautiful views.
Their canopy tours are world-renowned, providing tree-top views of butterflies and birds such as the rare resplendent quetzal as well as capuchin, howler, and spider monkeys.
On top of that, 100% of the private reserve's entrance fees go toward further research and educational programs in the area.
READ MORE: 10 Simple Wildlife Photography Tips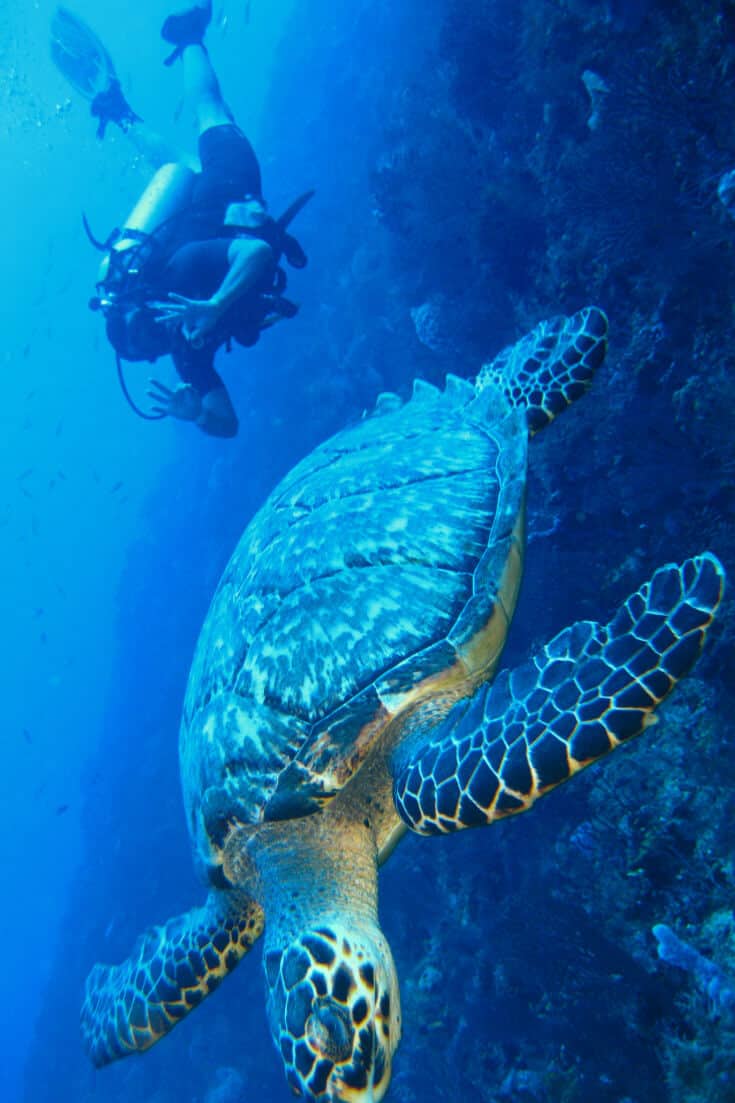 GO SCUBA DIVING OFF CAÑO ISLAND
Located off the coast of the Osa Peninsula, Caño Island became a biological reserve in 1978. Among the island's towering evergreens, the Diquís tribe's hand-carved stone spheres have baffled archaeologists for years.
Caño Island is considered one of the world's best Scuba diving spots: It's surrounded by five platforms of coral reefs. Divers have the chance to see eels, lobsters, sharks, sea turtles, and possibly cetaceans during the winter.
Peak diving season is January-June due to whales and dolphins drawn by the warm waters of the tropical climate. There are many diving hotspots just off the island's beach, providing a unique experience that, for us, included massive schools of fish.
Coral Garden is a shallow dive and showcases a beautiful view of the coral reefs, while numerous sharks can be seen from Bajo del Diablo Deep, the deepest dive in the area.
Since the island is protected, fishing within three miles and collecting shells is not allowed. But the stunning views make the 45-minute boat ride from the mainland worthwhile.
READ MORE: Scuba Diving Caño Island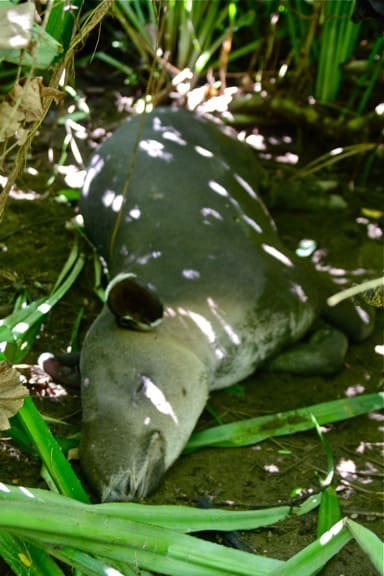 HIKING IN CORCOVADO NATIONAL PARK
Described by National Geographic as "the most biologically intense place on earth," Corcovado National Park was created in 1975 and is the largest in Costa Rica. Located on the Osa Peninsula in the southern part of the country, it's a haven for birdwatchers, hikers, campers, and wildlife photographers alike.
There are 13 different ecosystems here, with extensive trails through highland cloud forest, mangrove swamps, lowland rain forests, and sandy beaches.
Corcovado is packed with wildlife, including four monkey species, sloths, anteaters, poison dart frogs, and more. There are some endangered plant and animal species as well, and the eye-catching scarlet macaw can be found (if you're lucky).
The park is also home to rare species such as the Baird's Tapir, jaguars, and Harpy Eagles, with whales, dolphins, and other marine mammals often seen offshore. Travelers can follow one of the many hiking trails and stay at one of the campsites within the park, or travel by boat from several nearby eco lodges.
READ MORE: Corcovado National Park (A Journey Into Remote Costa Rica)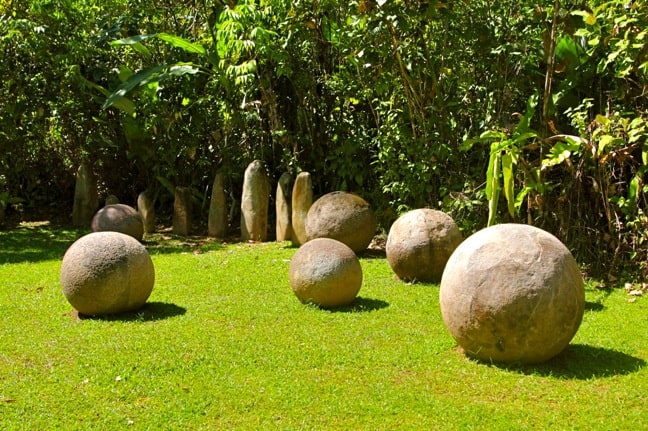 MARVEL AT MASSIVE STONE SPHERES
For sheer mystery, you simply must see the stone spheres of Costa Rica at Archaeological Zone Finca 6, an incredible UNESCO World Heritage Site in Palmar Sur. The massive man-made stone balls found there are perfectly spherical and range in weight up to 16 tons!
These mysterious balls have attracted a lot of attention from archaeologists, astrologists and mystics alike.
No one is quite sure how old these spheres are (some estimates put them at about 2300 years), how they were made, or what purpose they served. But some studies suggest they were an important part of Costa Rica's Precolumbian Diquís culture for over 1000 years.
There are an estimated 300 stone balls scattered around Costa Rica. Scientific research is currently being done on the materials used to make the stones in order to find out more about how the spheres came to be.
Whatever their origin, these giant stone spheres are an incredible sight that can't be missed when you visit Costa Rica.
READ MORE: Stone Spheres of Costa Rica (Visiting Finca 6 Archeological Site)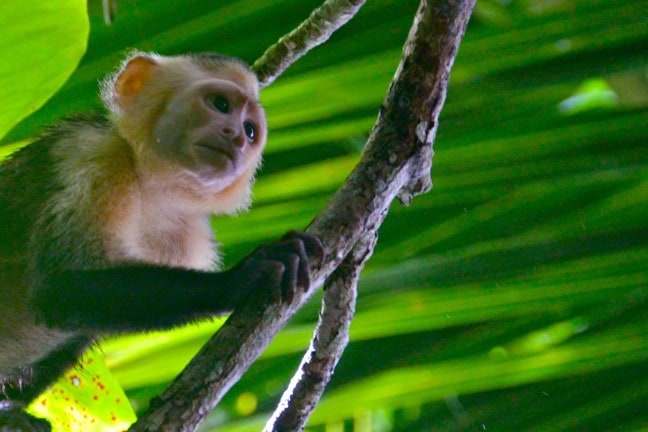 MONKEY AROUND IN MANUEL ANTONIO NATIONAL PARK
Ranked among the world's most beautiful national parks by Forbes, Manuel Antonio annually attracts around 150,000 visitors. They're drawn by its beautiful beaches and hiking trails through primary forest, secondary forest, mangrove swamps, and lagoons.
Despite being smaller than many other national parks in Costa Rica, Manuel Antonio boasts 184 species of birds and 109 species of mammals. The most frequently sighted of these are the monkeys.
But beware: They've become so habituated, they're renowned for stealing food and other items (cameras and sunglasses are especially popular)! This park is also responsible for protecting 12 other islands that are home to many different species of birds.
These animals and many more can be observed on one of the various types of tours available in Manuel Antonio, including hiking, mountain biking, and Segway tours.
Besides monkey-watching, travelers can visit the local feria, or farmers market, where you can look through the fresh, local produce while further immersing yourself in local culture and interacting with the residents of Manuel Antonio.
READ MORE: The Problem With Animal Selfies (Ego Over Responsibility)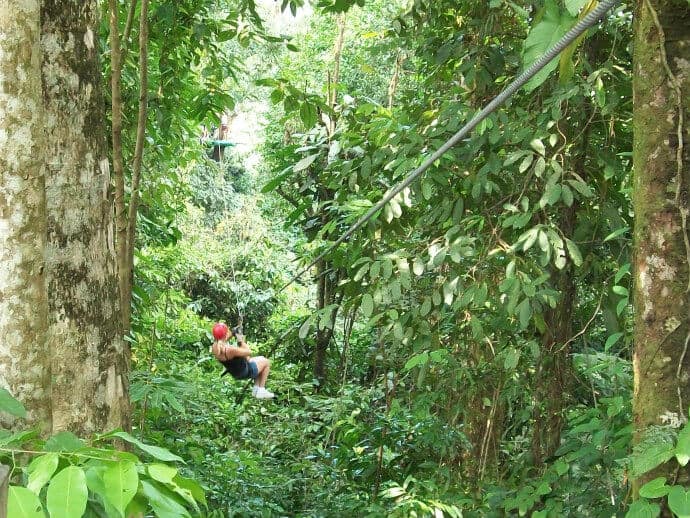 TAKE A RAINFOREST CANOPY TOUR
With forested areas comprising around 2,391,000 hectares (46.8% of the total land area), nearly two-thirds of Costa Rica's remaining rainforests are protected by a government project that pays landowners for preservation.
There's no better way to see them than through canopy tours– whether via aerial tram, hanging bridges, or zipline– in places such as Manuel Antonio, Monteverde, and Sarapiqui.
Manuel Antonio provides the family-friendly Titi Canopy Tour, with 12 zipline cables and 22 platforms showing beautiful views of the jungle and wildlife.
Monteverde has the lengthy Sky Trek tour, comprising of ziplines, bridges, and trails with views of the rainforest and mountains.
In Sarapiqui, the Pozo Azul Zipline Canopy Tour takes you through a canyon connected by 12 cables and 17 platforms.
For those visitors who are short on time, there is even a one minute-long zipline tour in the Central Valley. No matter the length of time you have in the country, there is a canopy tour with stunning views for every Costa Rica traveler.
READ MORE: The Biggest Forests in the World (World Travel Bucket List)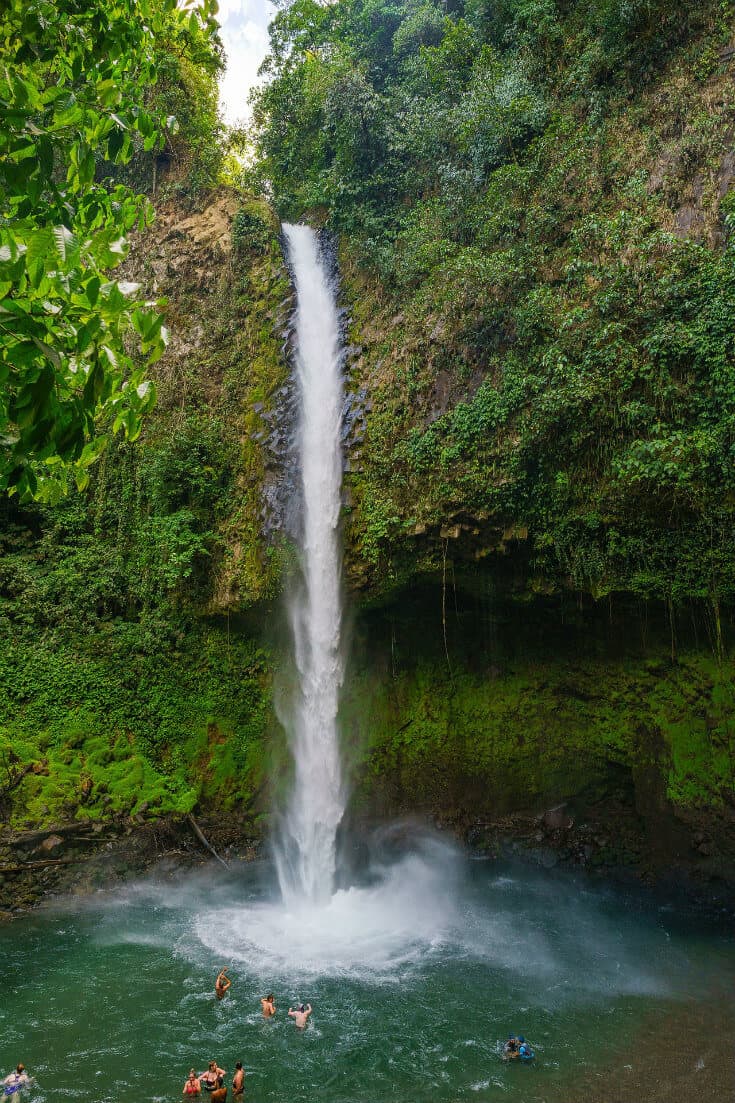 PLAY ON PLAYA MONTEZUMA
This former hippie haven on the west coast's Nicoya Peninsula is one of the country's most distinctive beach towns.
There are miles of little-frequented white sand beaches. There are gorgeous blue Pacific waters and abundant wildlife. The sort of majestic waterfalls you only see in the movies make it a budget traveler's dream. And nearby Cabo Blanco Nature Preserve is the country's oldest conservation area.
On Saturday mornings you can visit the farmer's market, where locals and travelers alike can shop for fresh foods and locally-made artwork. The charm of the tiny town is evident in the community's quaint wooden houses.
One noteworthy beach worth visiting is Playa Grande, which is surrounded by other beaches and jungle. There are lots of waterfalls and small pools nearby, formed by the rivers running through the region.
Various activities such as canopy tours, snorkeling, surfing, and yoga are available in Montezuma. But hiking along the coastline provides picturesque views at a low cost.
READ MORE: The World's Most Colorful Beaches (World Travel Bucket List)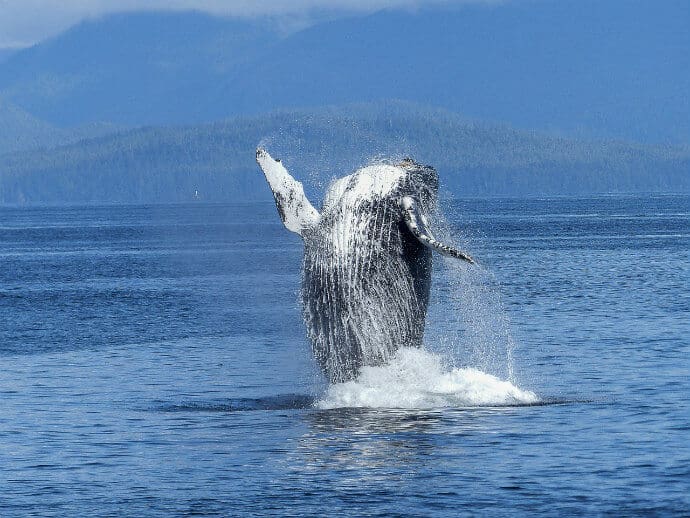 WHALE WATCHING IN BALLENA MARINE NATIONAL PARK
Ballena Marine National Park, one of the newest parks in Costa Rica, is widely considered among the best places in the Americas for whale-watching. This is primarily due to the fact that both Northern and Southern Humpback Whales migrate through this area annually between July and October.
Becoming a national park in 1989, the area is home to around 85 native species and 70 different species of fish.
Along with the whales, the tombolo– a whale's tail formation made of rock and sand– is one of the park's most popular attractions. There are also many different species of dolphins found in these fertile waters.
The park also offers four beautiful beaches (around 8.7 miles of sand), a small estuary, snorkeling Central America's largest coral reef on the Pacific Ocean, Scuba diving, and small swimming holes where you can relax after a long day of adventures.
Other activities include horseback riding or traveling by boat to other small islands nearby.
READ MORE: Protecting Whales & Dolphins in Costa Rica
HOTELS IN PUNTARENAS

Hotel Belmar (Monteverde) – A pioneer of ecotourism, Hotel Belmar was the second hotel ever built in the cloud forest. It's newly renovated with sustainability initiatives earning 5-Leaf recognition from CRTI. Chalet rooms put guests in the heart of the forest, with a spa, farm-to-table food, and nature hikes. Check Rates.

Tango Mar (Tambor) – Located on the Nicoya Peninsula, this beachfront boutique hotel offers a remote romantic getaway with nature and luxury. Amenities include restaurant, spa, several pools, and an uncrowded, picturesque beach. Families can rent out their spacious villas with views of the Pacific's crashing waves.

Kurá Design Villas (Uvita) – Located high in the hills above Uvita, this posh boutique hotel offers upscale design, traditional cultural influences, and a wealth of sustainability initiatives. There's an excellent restaurant on-site, and a gorgeous L-shaped infinity pool affording exceptional views of Ballena Marine National Park.  Check Rates

READ MORE: Our Review of Kura Design Villas

Casa Corcovado Jungle Lodge (Osa Peninsula) – With no roads, no airport, and the nearest town two hours away, Corcovado National Park is REALLY "away from it all." Located on its border, this eco-lodge is as close as you can get to Corcovado without sleeping in a tent. It's also one of the few hotels awarded "Five Leaves" for sustainability by the Costa Rican Tourism Institute.  Check Rates

READ MORE: Our Review of Casa Corcovado
THINGS TO DO IN SAN JOSE
LEARN ABOUT HISTORY AT SAN JOSE'S MUSEUMS
To learn more about the history of Costa Rica, be sure to drop in to see San Jose's impressive archaeological museums.
The best of the bunch include the Gold Museum, the Jade Museum and the National Museum. The latter offers an exceptional overview of the nation's history, running from deep pre-historic times to La Entrada and on to present day.
The Gold Museum features more than 2,600 impressive archaeological artifacts, as well as a section on the history of Costa Rica's currency. Precious green gems rule at the Jade Museum, where you'll also find other artifacts ranging from ceramics to carved wooden pieces and much more. The National Museum is home to several exhibits including historical artifacts, artwork, and more.
Other museums in the area include the Museum of Costa Rican Art and the Costa Rican Center of Science and Culture. With so many different exhibits and wonders to see, there is a museum for just about every type of traveler in San Jose.
READ MORE: Caribbean and Latin American Art: History & Travel Guide
HOTELS IN SAN JOSE

Hotel Parque del Lago (San Jose) – Located 20 minutes from the airport, this boutique hotel makes a great base for exploring San Jose. They've earned a 3-Leaf rating for sustainability, and the ICONOS Restaurant was among our favorite in Costa Rica. Best of all, it's next to the Parque Metropolitano La Sabana, the city's "Central Park"– 72-acre urban forest with a lake. Check Rates or Read Reviews

Hotel Grano de Oro San Jose – Originally a tropical Victorian home,  this upscale boutique-style hotel is close to the Mercado Central, Museum of Costa Rican Art, Spirogyra Butterfly Garden, National Theater & Gold Museum. Features include an on-site gourmet restaurant, free parking and free Wi-Fi. In addition to supporting Casa Luz, a home for adolescent mothers and their children, the owners teach their employees about environmental stewardship and have them plant trees.
Check Rates or Read Reviews
THINGS TO DO IN CARTAGO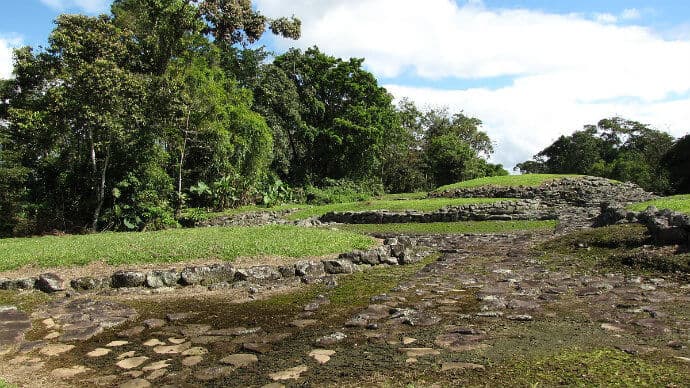 WANDER ANCIENT RUINS AT EL GUAYABO
East of San Jose you'll find El Guayabo National Monument, the largest archaeological site in the country. Covering some 540 acres, these ancient ruins lie on a plateau on the southern flank of Volcan Turrialba.
At one time upwards of 5,000 people may have lived in Guayabo, which had plumbing and an engineered municipal water supply, whose channels were lined with stones and sand to filter their drinking water.
At the center of the town was a cluster of tapered wooden structures topping elevated rock platforms, and capped with massive conical roofs that may have towered over 100 feet into the sky.Carbon dating suggests that Guayabo was probably built around 1000 BC and was occupied until around 1400AD, at which point it was mysteriously abandoned.
From Guayabo, you can easily reach the stunning Orosi Valley and Las Ruinas de Ujarrás, a colonial church site built around and over an ancient village.
Restoration of the ruins and education about them has been a focus of the monument.  Learning more about the area's history can help travelers understand what life might have been like in Costa Rica before the arrival of Christopher Columbus changed Latin America forever. –by Bret Love, with additional reporting by Anika Chaturvedi
READ MORE: The 16 Best Mayan Ruins to Explore
HOTELS IN CARTAGO

Hotel Guayabo Lodge – Charming family run eco lodge on the slopes of the active Turrialba Volcano. Enjoy the fresh mountain air, beautiful gardens full of birds and plant species unique to the area on your way to the beaches of the Caribbean, the South Pacific and the Tortuguero area. There are 26 modern rooms and in-house dining options include a restaurant. Guayabo de Turrialba and Guayabo National Monument are only an easy car ride from the hotel. Check Rates or Read Reviews
Are you Traveling to Costa Rica?
Check out the following services we use!
DollarFlightClub or Airfarewatchdog to find a cheap plane tickets.
Booking.com or Agoda to find a hotel deals.
Viator for a stellar day tour. 
Lonely Planet for Travel Guides. 
World Nomads for Travel Insurance
Rental Cars.com for Car Rentals.
TrustedHousesitters we've found great pet sitters to watch our house and love on our two dogs!
Looking for essential Travel Gear? Check out these great options!
The Best Travel Clothes for Women & Men
The Best Travel Shoes
Cool Camping Gear
The Best Backpacks for Travelers