Your choice of travel clothes don't seem all that important until you find yourself in remote places with no access to laundry services.
Traveling with carry-on luggage only and combining business conferences with ecotourism adventures just complicates matters even more.
Traveling together for 9 years now, we've gotten much smarter about what travel clothing we pack. We even created an informal Travel Packing Checklist, which changes depending on the type of climate(s) we're traveling to.
Technology changes constantly and new fashion innovations help make our lives much easier, so our travel wear list is ever-evolving.
What follows is our epic guide divided into the best travel clothes for women and the best travel clothing for men with reviews for the travel clothing brands we wear most often.
READ MORE: The Best Carry-On Luggage
Click on the links below to jump to the section you want to explore!
BEST TRAVEL CLOTHES FOR WOMEN
One of the hardest decisions for ladies who travel carry on-only is what to wear on a plane. Since we always travel light, it's important for us to choose perfect travel outfits for long flights, which we can also wear once we're in our final destination.
Mary evaluates her airplane outfits very pragmatically ever since our 15-hour flight to a romantic overwater bungalow in Tahiti, which resulted in a not-so-pleasant and very unromantic infection.
In her eyes, the best travel outfits for planes include layers that you can easily remove/add, are comfortable, and, most importantly, let your lady parts breath.
Here is Mary's personal travel outfit formula:
Base Layer- Either wear cotton underwear, bike shorts (which she has strategically altered to let more air circulate), or go au natural.
First Layer- Leggings or bike shorts and tank top.
Second Layer- Long dress or skirt.
Outer Layer- Light sweater, scarf, or jacket (depending on season), which can also be rolled up for use as a travel pillow.
With this combination, she wears several outfits at once, which can be altered at any time to suit the temperature outside or in the plane.
According to Mary, the most important aspect of choosing what to wear on a plane is your shoes. We usually find ourselves running through terminals to catch connecting flights, or hauling our bags up lots of stairs.
Because of this and our limited packing space, she usually wears her bulkier shoes on the plane. Cute sneakers are ideal, and are easily hidden beneath a long dress.
READ MORE: 50 of the Best Travel Shoes
Best Travel Dress
Royal Robbins offers the perfect stylish travel clothes for any woman on the go. The 52-year-old adventure apparel company is also dedicated to social responsibility, being bluedesign partners and encouraging less waste through their Rewear program.
Their elegant Geneva Ponte black travel dress has a casual fit, yet is extremely flattering to the figure. It has ¾ sleeves and its length hits just around the knees. Made from 4-way stretch fabric, this travel dress is wrinkle-free, so it's fine to wear straight from your suitcase.
Mary likes the fit of the Geneva Ponte so much that it has become her go-to business attire for the travel conferences where we often speak and teach. She especially likes packing a travel dress with pockets in order to hold her business cards, phone, and lipstick.
Our hunt for the best travel dress for Mary led us to the sassy Spice Ruu-Muu from Nuu-Muu along with the more classic black travel dress, the X-Dress.
We discovered this Bellingham, Washington-based company last year and love their fun, flirty line of dresses made for "exercise-and-everything-else."
It's form-flattering blend of polyester and 4-way stretch spandex makes it perfect to wear over shorts for yoga, SUP, hiking, biking and other forms of exercise. They offer two A-line styles; Classic with Keyhole Neckline or Scoop Neck.
Both styles give you the option of selecting a dress with pockets which are located on the lower back for carrying essentials.
But it's also cute enough to wear alone or paired with jeans or leggings for a night on the town. Mary thinks it's the best travel dress for summer.
We've been fans of Toad & Co's ethos– which includes partnerships with Conservation Alliance, the National Park Foundation, and Planet Access Company– for years.
But their line of eco-friendly clothes gives us another reason to love the California brand.
Inspired by the Hindu word "shakti" which means "divine feminine energy," their soft organic cotton Shakti Dress will flow with you through markets, festivals and food truck stops.
Good for hot climates, this travel dress (with pockets!) has a v-neck back for additional ventilation while still providing coverage for your bra straps.
Aventura's cute, cozy Joni Dress is available in four space-dyed patterns of 100% organic cotton jersey.
This travel dress is great because you can easily dress it up for dinner or wear it strolling through local markets. We found that it runs a little big, so you may want to try a size smaller than you usually wear.
For every garment purchased, the company feeds one person for one day through regional food banks.
Finding travel clothes for women that are both fashionable AND eco-friendly can be a challenge. So we were excited to discover Stonewear Designs, an apparel brand inspired by the rock climbing culture of Boulder, Colorado.
The entire line including the lovely and supportive Lyra dress is made from sustainable fabrics (using recycled plastic bottles, wood cellulose, etc.).
With a flattering fit, this summer travel dress will make you look as good as you feel.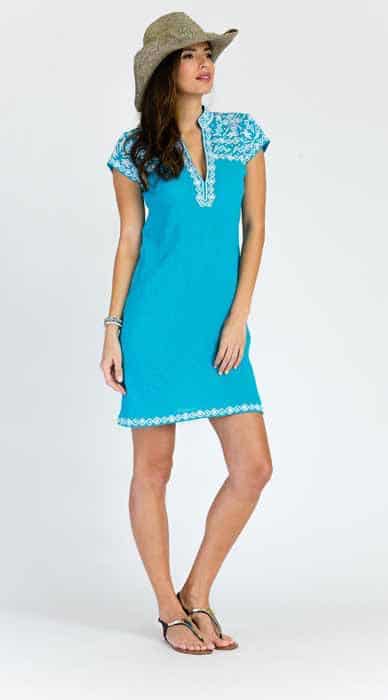 Sulu Collection
California-born, Bombay-bred designer Sulu Grant pays tribute to her Indian heritage with the Sulu Collection of travel dresses for summer. They work equally well on a beautiful beach or metropolitan streets.
Perfect for hot humid temperatures, the airy crinkle cotton of the Brandy Dress make it perfect for resort wear– comfy enough for a day on the beach but with detailed embroidery that dazzles at dinnertime.
Mary adds a thin white belt to give the dress a bit more structure for the evening.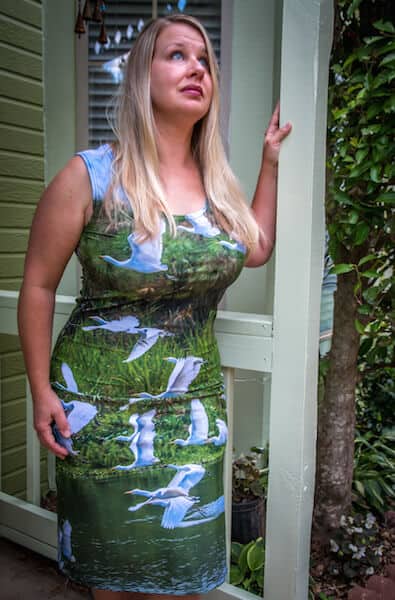 Bags of Love Design Your Own Bodycon Dress
We've been looking for a green dress that accentuates Mary's curves for over two years now, but hadn't found one she loves.
Fortunately, the folks at London's Bags of Love offered us an opportunity to create our own stylish travel clothes!
The company specializes in custom designed products, with over 450 different items to choose from. Their sleeveless lycra bodycon dress, with its shapely cut and sexy split legs, proved the perfect fit for Mary's comely curves.
For the image we went with a photo from Rwanda, of Egrets taking flight in Akagera National Park. Doesn't it look stunning on her?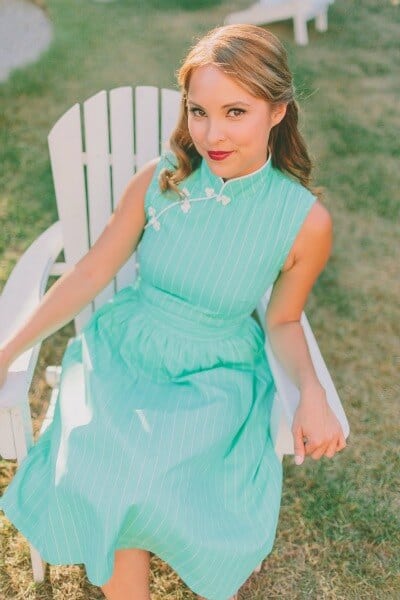 Happy Yellow Dress- The Wanderer
Mary and I both have a thing for retro clothing styles (as anyone who has seen my extensive collection of Guayaberas can attest).
So we're enamored with Happy Yellow Dress, a vintage-inspired women's clothing line launched by British Columbia-bred designer Debbie Yam. We love the entire line, but our favorite dress is The Wanderer.
We dig everything about it: The light blue and vertical white-striped fabric, the cinched waist and full skirt, the traditional cheongsam collar and fun frog closures. It's an adorable fashion flashback with a flattering '50s-style silhouette.
One of the things Mary especially likes is a travel dress with pockets. Most of the dresses you'll find on Happy Yellow Dress have side seam pockets for holding sunglasses, credit cards, etc.
READ MORE: The Ultimate Beach Vacation Packing List
The Best Travel Pants for Women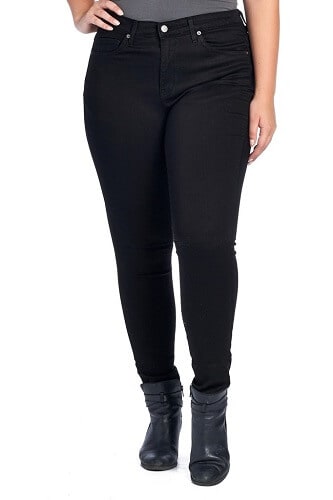 Aviator USA was founded by former Macy's art director Colby Kane. An avid traveler, Kane wanted to create fashionable yet affordable travel jeans that could be locally made in Los Angeles.
Once you experience the soft, glove-like fit of their Aviator Comfort Skinny Jean, you'll make them your go-to travel pants. Mary was concerned her curves might be a bit much for the skinny-cut style, but the stretch fabric perfectly forms to her shape and didn't stretch out after long days of travel.
They're great for everything from touring cities to climbing Mayan Ruins. Strategically placed pockets help you keep your valuables close. The back pocket zips closed so you can keep your ID, credit cards, and cash secure, and the deep front pockets are large enough to hold your phone.
Craghoppers is one of our favorite clothing brands for their classic styles and rugged durability.
We like them even more now that they've recently partnered with National Geographic to launch a full line of adventure clothing. Some of the proceeds from the line benefit the society's ongoing efforts in supporting the health and diversity of our planet.
Their NosiLife Insect Shield line, which provides up to 90% protection from mosquitoes and other biting insects, includes the Pro Lite Pants. These ultra-lightweight travel pants are flattering to the figure, and designed to dry quickly for ultimate wash-n-wear convenience.
Founded by the pioneering rock climber who was famous for several first ascents in Yosemite, Royal Robbins has been a leading outdoor apparel company for more than 50 years now.
Their Classic Zip 'n' Go convertible pants feature zip-off legs, a zippered side pocket, and a quick-drying, wrinkle-resistant fabric that's perfect for the rigors of adventure travel.
The 3-Ply Laundered Supplex fabric feels soft like cotton, and it's odor-resistant so you can wash it less. They're great for destinations where doing laundry is limited to sinks and showers, such as the Galapagos Islands and Antarctica.
You can't go wrong with Mountain Khaki apparel, which we have been wearing for years. They really know how to make travel clothes designed for the adventurous and outgoing.
Their Sadie Skinny Chino pants are the perfect travel pants for the independent woman. They pair really well with boots and flats, or can be spruced up with heels for a fancier night on the town.
Made from 98% cotton and 2% spandex twill for stretch, these pants are both comfy and versatile. The mid-rise and skinny leg make the pants stylish and feminine as well.
Prana is another clothing line we've both loved for years, often wearing their clothes for long hikes near our home and travel adventures abroad.
Mary thought Prana's water-resistant Halle Pants were especially helpful when hiking through the wet forests of Rwanda to see the endangered mountain gorillas.
We also love the company's commitment to sustainability, offering Fair Trade-certified clothes; using recycled down, polyester, and wool; and giving back to non-profit organizations such as Outdoor Outreach, which helps underprivileged kids connect with nature.
Now that Mary's starting new yoga and aerobics classes, Prana's activewear will get even more use.
She loves the fitted leg and green, blue, and purple pattern of their Chetan Capris, which are made from hemp and organic cotton.
Our love of Elephants has only grown in the years since we helped lead a blogger-driven fundraiser for Thailand's Elephant Nature Park.
So it's no surprise we love these cool, casual pants, whose bohemian chic style was inspired by traditional Thai prints.
But the thing we love most is the fact that 50 cents to $1 from every pair you purchase is donated to low-income students in Thailand.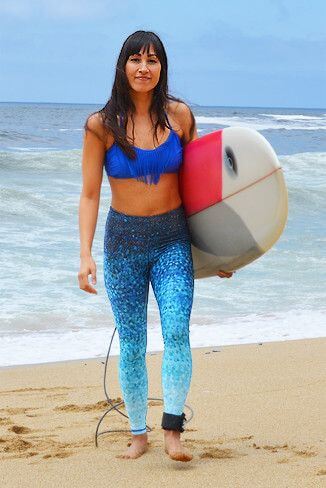 OKIINO Azul Scales Leggings
Inspired by a surfing trip to Mexico, where friends Angeline Kung and Robyn Tosik wound up getting badly sunburnt, OKIINO specializes in leggings made specifically for water sports.
Normal leggings aren't ideal for surfing and Scuba diving. But OKIINO's leggings offer compression/body shaping, moisture wicking, quick drying, and UPF 50+ (the highest available).
Designs such as the Azul Scales are also hip and fashionable enough to be worn on dry land. Best of all, the line is sustainably made and gives back to your choice of NGOs, including 5 Gyres, Surf For Life, or the Skin Cancer Foundation.
READ MORE: The Ultimate Beach Vacation Packing List
Best Travel Shirts for Women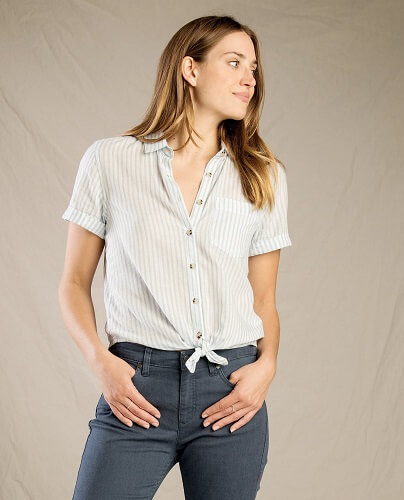 Toad & Co's Indigo-For-It Shirt
Sporty and stylish, the organic cotton Indigo-for-it shirt is a great example of Toad&Co's "trail to tavern" women's travel clothes.
For a more casual look, you can roll up the sleeves and tie it in the front. When you're ready for dinner, just tuck the shirt in for a completely different look.
The Indigo they use is made from an eco-friendly process that cuts back water, energy, and C02 outputs. The lightweight travel shirt is great for hot climates and provides good ventilation so that you can stay cool on your adventures.
Mountain Khaki's Two Oceans Tunic shirt is a classy and stylish shirt made for all-day wear. The tunic is made from 100% cotton, so it's extremely soft and breathable.
The relaxed fit, roll-tab sleeves, and side seam split make this women's travel shirt comfortable to wear, whether during long travel days or as your new favorite comfy weekend shirt.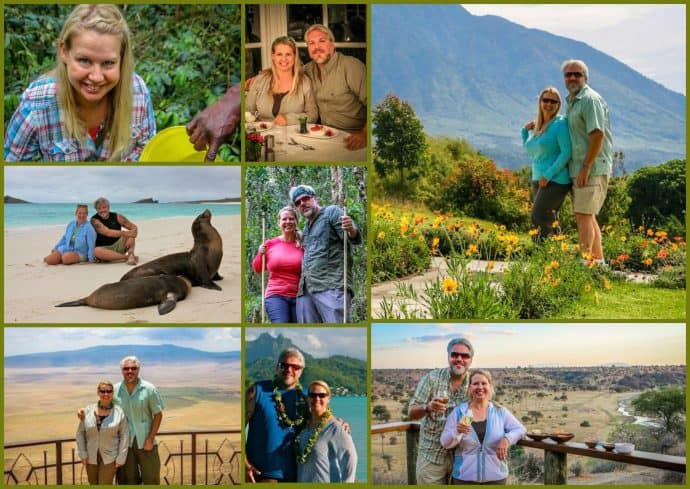 As much as I love nature and wildlife, mosquitoes are where I draw the line. And with the Zika virus, dengue fever, and malaria all caused by the pesky critters, we were extra cautious about loading up on Insect Shield clothing for our trips to South Africa and Kenya with my daughter.
We first experienced the benefits of Insect Shield technology back in 2010, when we wore the BugsAway line from Exofficio during our trip to Cancun.
The lightweight travel clothes proved remarkably comfortable, moisture-wicking, and water/stain resistant, plus it's treated with an odorless Insect Shield that repels bugs for 70+ washings.
The line has expanded quite a bit since then, and we now take their Damselfly and Ziwa Convertible Pants, Lumen and Hakuna shirts, and even their quick-drying Give-N-Go underwear with us everywhere we travel.
I love it when we discover new easy-care travel clothes that solve problems with science I do not understand. That's the case with Ably Apparel, which nearly tripled its Kickstarter goal with 46 days to go.
Their revolutionary travel t-shirts use an eco-friendly technology called Filium, which makes natural fabrics repel liquids, stains, and odors.
This makes their shirts water-resistant and odor-resistant: Your sweat simply evaporates! For active travelers who are trying to pack light, it's a simple shirt you can wear over and over again.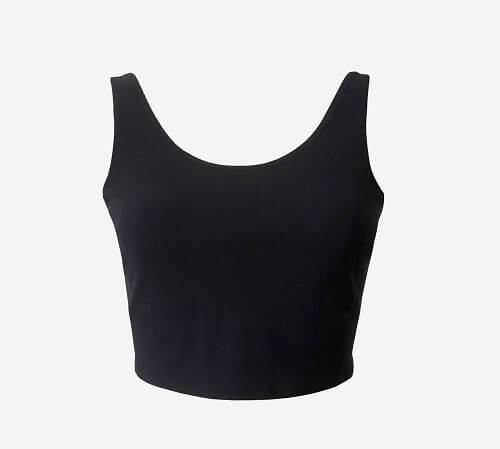 Epoque Evolution Flux Top
From lounging in your hotel and taking a yoga class to swimming under picturesque waterfalls, the flux top from Epoque Evolution will support you and keep you comfy.
It is a little on the pricey side, but considering the quality and multifunctionality it is not a bad deal. It's a bra, a top, and a bikini all-in-one, allowing you to save space in your luggage without sacrificing versatility in your traveling clothes.
This crop-like top can be worn underneath clothing, as a sort of sports bra. Mary had her doubts about any travel top claiming to offer bust support, but the Epoque Evolution Flux Top is so well constructed that it provides both coverage and support for an F-cup chest!
The top is moisture-wicking, so sweat doesn't stick to it and it can be worn for many days without developing an odor. It's also quick to dry and has UPF 50 protection, so you can sit in the sun after a great swim.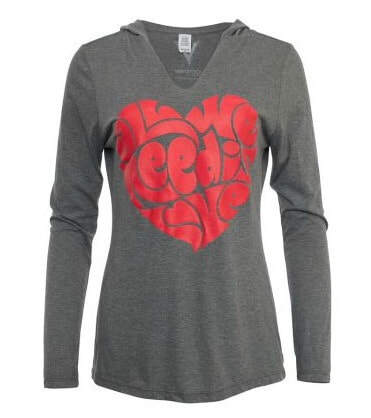 Vibration Apparel All We Need Is Love T-shirt Hoodie
This cute and cozy hoodie bears one of our favorite Beatles-inspired quotes. It is a cotton/poly blend t-shirt fabric via Live Your Life Gear, with a handy hood for chilly days and nights.
But it's the message (which we actually have on our wall at home) that makes this one of Mary's favorite shirts. Because who couldn't use a little more love in their life?
We also like that the brand gives back by partnering with Samaritans365, an NGO that creates programs to teach children the importance of kindness.
READ MORE: The 125 Best Gifts For Travelers
Best Travel Sweaters
This warm, yet lightweight sweater from Bjorn Daehlie is perfect for travel. Not only does it fit neatly into a bag without taking up too much space, but it will also keep you toasty in cooler conditions.
Made from 50% wool, this sweater is temperature-regulating, making it great for outdoor activities. While they may not be ideal for extreme cold, they're great for hiking and camping during the spring, fall, and early winter months.
They are available in both Men's and Women's styles, and in neutral colors. The generous fit is accommodating for movement, and the half zip allows you to let in some air should it get a little too warm for your taste.
Carve Designs is a fashion range created for women, by women.
The company is a member of the Sustainable Apparel Coalition, and works hard to use fabrics that are organic and sustainable. They are also involved in giving back to their community, and work with an organization that takes young cancer fighters on surfing trips.
Their Silo Sweater is a gorgeous, longer-length sweater made from 100% washable Merino Wool. If you know Merino, you know that means it's as soft as it is fashionable.
The funnel neck, dolman sleeves, and rounded hem make this sweater perfect for most casual occasions, and it looks great with both leggings and jeans.
The Rose Hood from Kari Traa, the skiwear line created by the Olympic champion freestyle skier of the same name, is great for keeping warm on days with a slight chill. Or you can wear it for what it was designed for– to be a base layer for colder climates.
Coming from a range that makes functional women's travel clothes, the design is classy and flatters the female shape. It's made from 100% Merino wool, and has flexible 4-way stretch.
The attached hood is lightweight and thin, adding protective warmth for your head without creating too much bulk around your neck. This Rose Hood base layer is breathable and naturally odor resistant, which is helpful when you're wearing it for active sports and outdoor adventures.

Kora Xenolith Sweater
Kora founder Michael Kleinwort came up with the idea of using yak wool to make travel clothes during a winter trek in the remote mountains of the Eastern Himalayas.
Lightweight and insulated with Polartec Alpha, the Xenolith sweater is the ideal performance mid-layer for skiing, hiking, and climbing in cold conditions.
It's designed to be breathable and allows the body to move freely and naturally while keeping active on cold mountains. The Xenolith is also quick-drying, and the inside of the sweater is made to stay dry and insulated even when it gets wet on the outside.
The sweater boasts an inner zip to keep your small valuables safe, as well as thumb holes and a half-zip to let air in. It also packs down easily, fitting into bags and suitcases without bulk, making it a fantastic piece of clothing for travel.
READ MORE: 60+ Cool Camping Gear Reviews
Best Women's Travel Jacket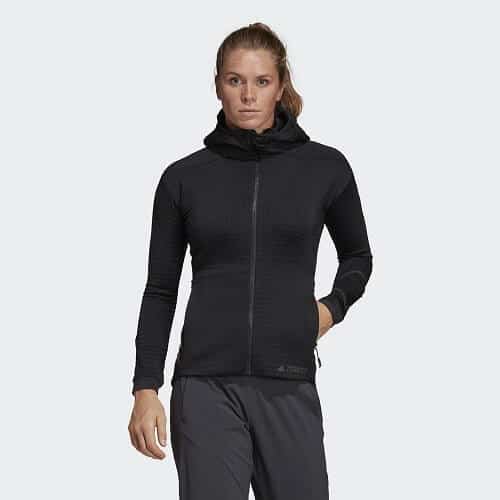 Finally, a soft, warm top that won't shed as much as fleece is known to do. The women's Power Air Fleece top from Adidas Outdoor uses Polartec® Power Air technology to stop the fleece from shedding as much (5 times less, to be exact).
The top itself is insulated and able to keep you warm in cooler conditions, and can work as a thin base layer for more extreme cold conditions. It's designed with individual air pockets, which help the top to retain heat.
It also has two side zip pockets, a full front zip, a hood for extra warmth, and a lower back hem. It is lightweight and easily packable. These features work together to make the top a great piece of travel-friendly clothing.
Available in both men's and women's styles, the Mountain Khakis Swagger Jacket is designed to withstand the intense weather of the mountains, but looks good enough to sport on city streets.
The water repellent cotton/nylon blend exterior is stylish, with a curve-hugging fit, quilted stitching and field-inspired slotted buttons.
The jacket's excellent warmth comes courtesy of the Primaloft Silver insulation, a synthetic alternative to down that was originally developed for the U.S. Army.
In short, it's sleek, snug and sure to keep you safe from the cold.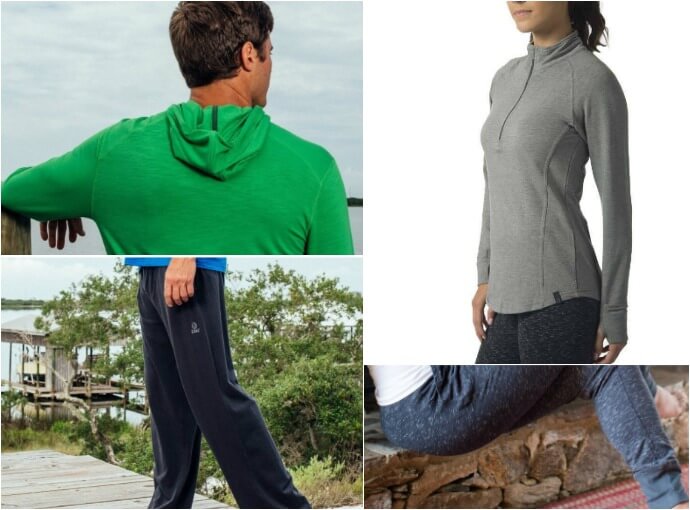 As our lifestyle has gotten increasingly active, we've become big fans of the New Orleans-based Tasc Performance clothing line.
The company offers an alternative to active wear made from polyester, which is usually chemically treated, irritates skin, and retains odors.
Tasc's exclusive BamCo fabric finishing process instead uses the Moso timber bamboo plant, which grows quickly and sustainably (no water or pesticides) and is responsibly managed (FSC Certified).
You can really feel the difference in their clothes. Mary loves the plush, semi-fitted Northstar II Fleece 1/2-Zip to keep her snug and cozy up top.
The women's Logan Jacket from New England's Charles River Apparel is another versatile piece that works great over microfleece base layers.
Featured in Oprah Magazine, the jacket offers an attractive balance between fashion and function.
The shell is durable and water resistant, fully lined with nylon to ensure protection from the elements.
The hip-length hem provides a bit of extra coverage, and the interior drawstring allows you to adjust the waist for a flattering fit.
There's also a hood that can be zipped off or on for inclement weather.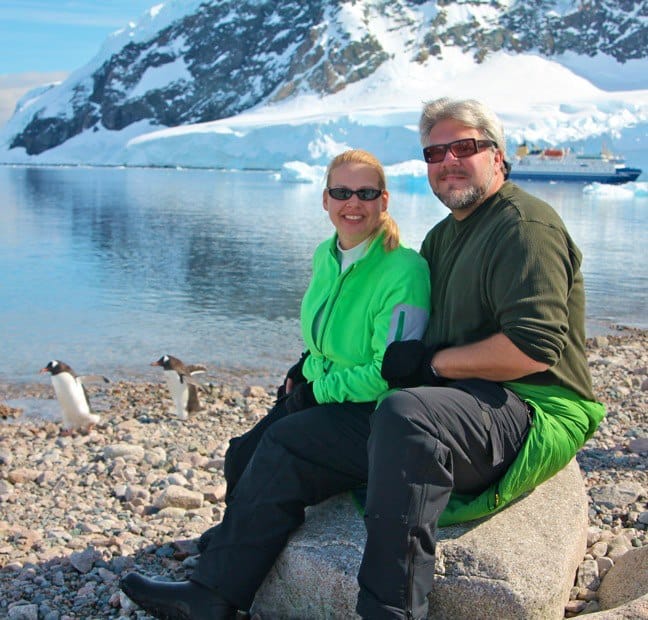 We wore clothing from Eddie Bauer every single day of our 16-day trip to Chilean Patagonia and Antarctica in 2012.
It's a testament to the line that those jackets you see in the photo above have traveled all around the world with us over the past seven years, and they're still in great condition.
Co-created by some of the world's best mountain and ski guides, the entire line is lightweight, fashionably cool, and more comfy than a cup of hot cocoa by a roaring ski lodge fireplace. They also pack down wonderfully, without the bulk you might expect.
Travel Clothing to Keep You Warm
Royal Robbins' Highland travel scarf is the perfect accessory, not just for their Geneva dress (as seen in the best travel dress section above), but any outfit.
The Merino blend makes gives it lightweight warmth, and it's also naturally odor-resistant. It has five buttons and buttonholes on opposite sides, allowing for six different styling options.
It can be worn as a regular scarf, an infinity scarf, poncho-like wrap, a half-wrap with two sleeves, or button up all the buttons to make it into a full-on cardigan.
Available in soft natural heather or dark grey and blended with neutral hues, the scarf is designed to add warmth and style to all your dresses and tops.
Stylish, functional and exceptionally warm, these Obermeyer Regulator gloves are made for the lady who loves being outdoors in cold climates.
Great for snow sports and other activities, and there's a pair for every personality: They're available in black, white, a pretty floral design, and a more playful leopard print.
Constructed with HydroBlock Sport 10k/10k and featuring 170g of synthetic insulation, these gloves are waterproof, yet still breathable. The gloves are made from 100% polyester plain weave, and have full grain leather palms.
The inside fleece is so soft, your hands will always stay comfy and warm while wearing them. Additional features include an adjustable cuff, stretchy inter-finger panels, a safety leash, and even a soft wipe for those cold, red noses.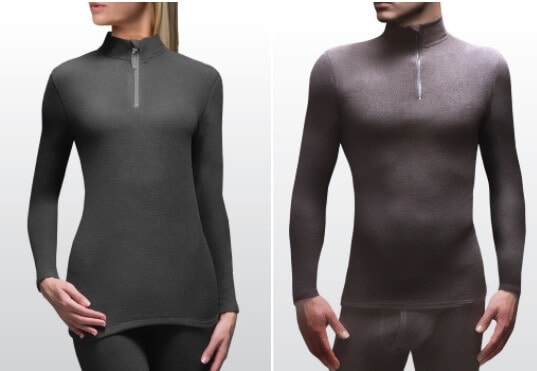 Heat Holders is best-known for the self-proclaimed "World's Warmest Sock," which we can attest are the toastiest things ever to coddle our toes.
But apparently they also boast an array of other offerings, from thermal underwear to hats and gloves. We recently got a chance to try out their Microfleece Base Layers, which are available for men and women.
They're arguably the coziest and most comfortable we've ever worn, with a multi-directional stretch knit fabric and an excellent warmth-to-weight ratio.
They also breathe very well, allowing moisture to escape so your skin stays dry and warm all day long.
Everyone in our family is fond of headwear, whether it's hairbands and bandannas in summer or hats and headbands in winter.
Skida– a family-owned Vermont company featured in Outside's 2017 Buyer's Guide– makes nothing but headwear.
Their So Leafy Nordic Headband for men and Deja Vu Nordic Headband for women are awesome for outdoor adventure.
They're made with MAX-Dri Moisture management technology and lined with soft Polartec micro-fleece, wicking moisture to ensure your head stays warm and dry.
Their Tealy Dan Alpine Hat and Lavender Honey Tour (a neck warmer/headband hybrid) are great for staying warm when you're not active, with vividly colorful prints that brighten up the gloomiest of days.
BEST TRAVEL CLOTHING FOR MEN
For many men– and especially this 6'3″, built-like-a-linebacker man– the "What to wear on a plane?" question boils down to comfort. You'll see this theme throughout our reviews of the best travel clothing for men.
My travel outfits for long flights are simple. My travel shirt of choice is always lightweight, moisture wicking, and doesn't show pit stains. I pair it with comfortable pants that are loose enough to roll up (or zip off) if it gets too hot on the plane.
Shoes are also a big consideration for airplane outfits. I want something that I can wear with everything else I packed. But I also want the ability to easily slide them on and off while I'm seated in the very tight airplane seat space.
Best Travel Suit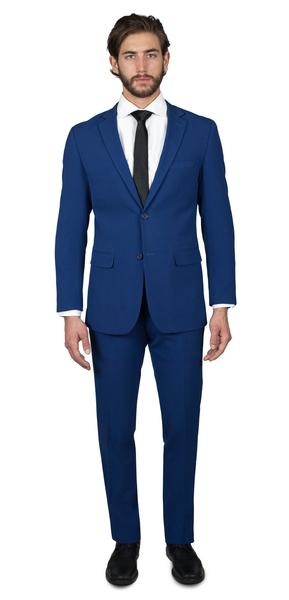 I bought my first suit to impress Mary on our New Year's Eve date back in 2008. I've rarely worn it since, because I'm not really a suit-and-tie guy.
But Alain Dupetit could turn me into a convert. His stylish 2-button StretchTech Suit uses a moisture-wicking TR (Tetron/Rayon) fabric with the same 4-way stretch technology as high-performance sportswear.
It's extremely lightweight, comfortable, wrinkle-free, and fits me like a glove despite the fact that we ordered it online. It's also a ridiculously affordable travel suit.
With seven different colors to choose from, I may even order a second one.
Men's Travel Shirts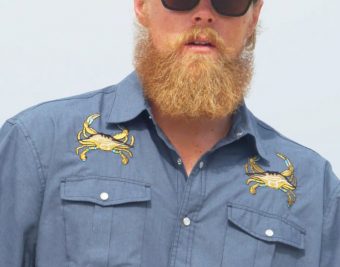 If you've ever seen me at a travel conference, chances are you've seen me rocking this southern-born, Texas-based brand.
Inspired by the founders' love of the great outdoors, the entire Howler Brothers line straddles the between dressy casual and comfortably sporty.
I now own four of their Gaucho Snapshirts, with the latest addition paying tribute to my astrological sign (Cancer's crab).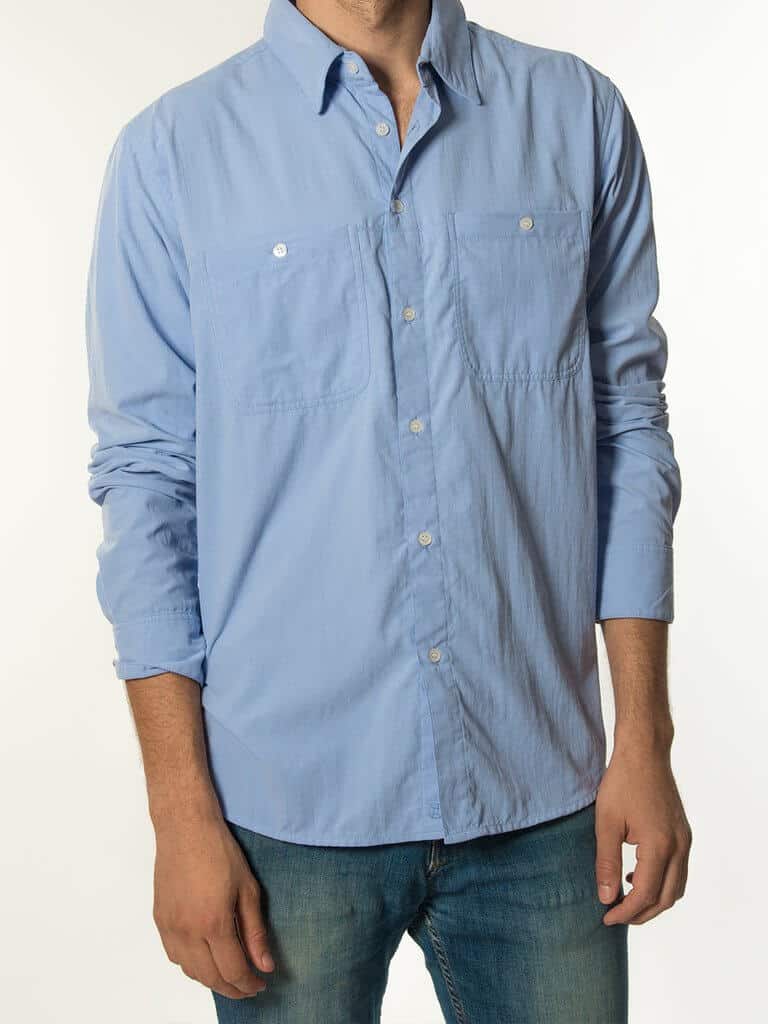 Clothing Arts' Pickpocket-Proof Travel Shirt
In the last few years we've spoken at travel conferences in Cancun, the Dominican Republic, and the Philippines, all of which were unbearably hot and humid.
Finding business clothes for tropical destinations isn't easy, especially when you need to wear those same clothes for traveling around the region. Clothing Arts' latest line offers a great balance between professional and casual.
Their Pickpocket-Proof Travel Shirt can be tucked in and paired with a tie for dressy affairs, or untucked with rolled-up sleeves for outdoor adventures. The baby-soft button down also features two hidden pockets for securing valuables.
Mountain Khakis also has a fashionable and functional men's apparel, bringing their top-quality designs into the traveling guy's suitcase.
The passport EC which comes in both short-sleeves and long-sleeves is great for guys who travel for business, or just need to look smart.
The shirt has a safety inner pocket, is made from 100% polyester and has a classic fit. It's also UPF 3+, meaning it blocks 97% of UVB rays.
Packing comfortable travel clothes is an important factor in any adventure. Ably Apparel has become my favorite travel t-shirt, especially for wearing on long airplane rides.
Ably makes easy care travel clothes for both men and women that are water-resistant, odor-resistant, and quick-drying. They can be worn for longer periods of time without needing to be washed, which great when you're basically living out of a suitcase.
The style of the short-sleeve Bradley T-shirt is timeless. It comes in 5 plain colors, with a crew neck collar, front chest pocket, tailored fit, and straight hem. They are made from 100% premium cotton, keeping them comfortable and soft.
Spread awareness for Wildlife protection with these cool shirts from The Mountain. Protect- The Endangered Species Collection by The Mountain is a range of apparel that generates funds for the protection of endangered species.
These tees come in unisex adult and kid's styles and feature one of two graphics. Sport either the striking image of a leopard's face, with the words "Stop Extinction" above it, or the graceful picture of an elephant seemingly walking across the left half of the shirt, with the same words in front of the animal.
The T-shirts are soft, made from a tri-blend of 70% Cotton, 15% Polyester, 15% Rayon and feature a relaxed fit. For every purchase, The Mountain will donate a portion of the proceeds to Panthera.
Best Men's Travel Vest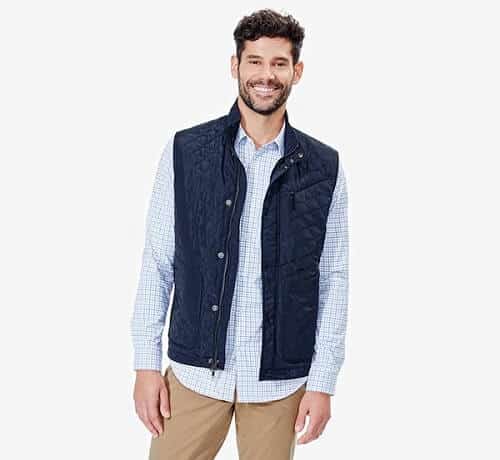 Bluffworks' Horizon Quilted vest is warm, lightweight and compact enough to be worn on a plane and then protect you from rain and wind when you get on the ground.
The outside polyester shell is water-repellant, quick-drying and breathable. Inside, is 100g PrimaLoft® synthetic insulation which is made of 60% post-consumer recycled material.
There are 7 pockets, including hidden ones for small valuables. The full zipper and double-snap stand collar keep the wind out, and the cord zipper pulls on the pockets for easy use while wearing gloves.
This vest is also machine-washable and the open armholes give the wearer a greater range of movement.
The Real Deal Brazil's 10-pocket Conquista Vest creates a great Indiana Jones style that's perfect for outdoor adventurers.
This rugged vest is particularly good for photographers, fishermen, or any avid outdoorsman. There is a handy D ring for clipping on gear, as well as a front zippered closure.
The large back is perfect for attaching patches from the US National Parks or from your other travel adventures.
READ MORE: The 40 Best Backpacks For Travelers
Best Men's Travel Pants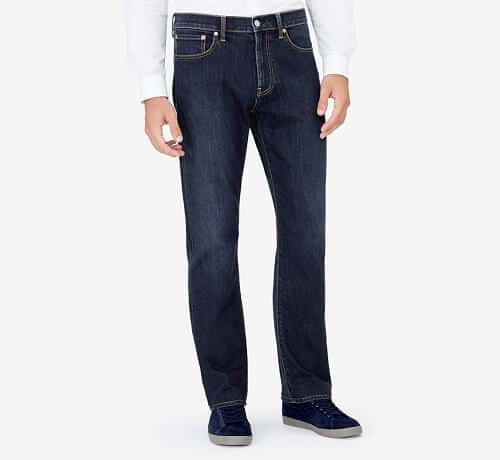 Bluffworks are great at designing travel clothing for men. Their comfortable clothes ares perfect for the traveler – made to be easy to care for, versatile and durable.
Whether you looking for travel clothes for Europe, for a bike tour of Taipei, or for partying in New Orleans, these travel jeans will move with you and keep you looking great.
Designed with authentic denim features, such as rivets, and orange and yellow thread dual-stitching, Bluffwords Departure jeans are uniquely lightweight (11 oz vs 14 oz for traditional jeans) and Coolmax polyester makes them feel cool on the body.
The two hidden, zippered, water-resistant pockets (sewn below the back waistband) are extremely useful for carrying credit cards and ID.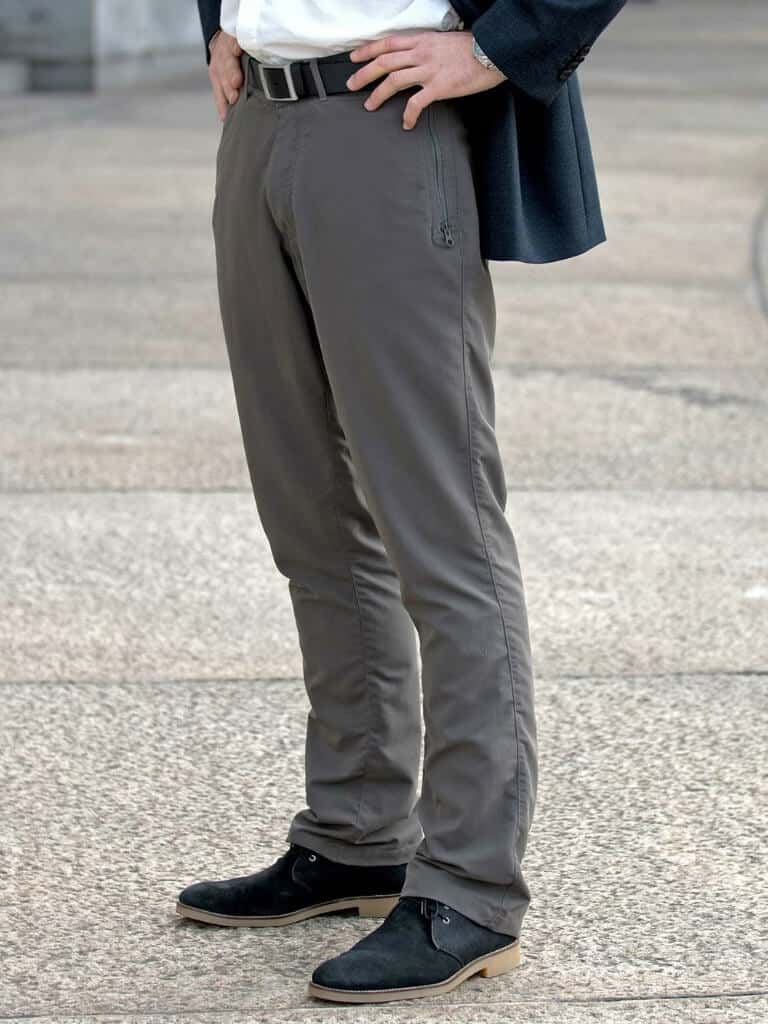 Clothing Arts Business Traveler Pants
Dubbed "the CIA version of Khakis" by Forbes, their Business Traveler Pants are perfect for road warriors who spend hours traveling and end their day with business meetings and dinner.
The lightweight pants are made of 100% Nature-Like™ Nylon, but have the look & comfortable feel of Cotton.
There are 9 Total Pockets (2 Triple secure & 5 Double Secure) to hold your credit cards and smart phone. Addition features we love include that the travel pants are stain resistant, water resistant, wrinkle resistant and quick dry.
Any safari-loving, outdoors enthusiast traveler should own a pair of these Craghoppers men's NosiLife Mercier trousers. They are perfect for bush adventures, hiking trails, and even the urban streets.
With a tailored fit, UV protection and Insect shield to repel insect bites, these trousers are a must-have for travel-loving guys. Arguably, they are the best travel pants for hot weather.
They also have a wash & wear function, so no need to find an ironing service on your travels.
Mountain Khakis men's equatorial convertible trousers are great for any kind of journey. They convert easily from long pants to shorts, with just a zip to do up and undo.
These super stretchy men's travel pants have a high-density weave making them abrasion-resistant, they are also UPF 50+, quick-drying and water-resistant.
The pants are light and compact when folded, making them easily packable.
Best Men's Travel Jacket
The Craghoppers men's Davenport jacket works for all traveling occasions and warmer temperatures.
Featuring Solar Shield, insect repellant and wash & wear functions, this jacket is perfect in hot climates as well – thanks to the antibacterial actions which keeps odors at bay and helps the wearer feel fresh all day.
With 21 pockets and special security features like RFID protection for your credit cards, you will have peace of mind as well as plenty of storage space.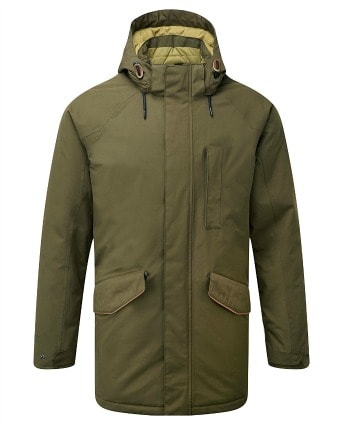 It's hard to find fashionable winter coats that withstand the elements without making you look like the Michelin Man.
Craghopper's Nat Geo 250 comes in both men's and women's sizes and offers a sleek urban design, with an adjustable waist and zip-off hood.
The waterproof AquaDry exterior hides an insulating baffled lining, hot pockets, and hidden storage for keeping valuables safe. It was the perfect coat to wear in January in New York City when I spoke at the New York Times Travel Show on Sustainable Tourism.
Big Agnes' Shovelhead is an ultralight ski jacket, but with an athletic fit and slimming vertical stitching. The water repellent shell is filled with 700-fill Downtek, providing exceptional warmth without the heavy bulk.
The hood comes with a handy adjustable drawcord and visor to shield you from unexpected storms.
Wear it on it's own while hiking or or pair it with another layer when you're playing extra long the snow.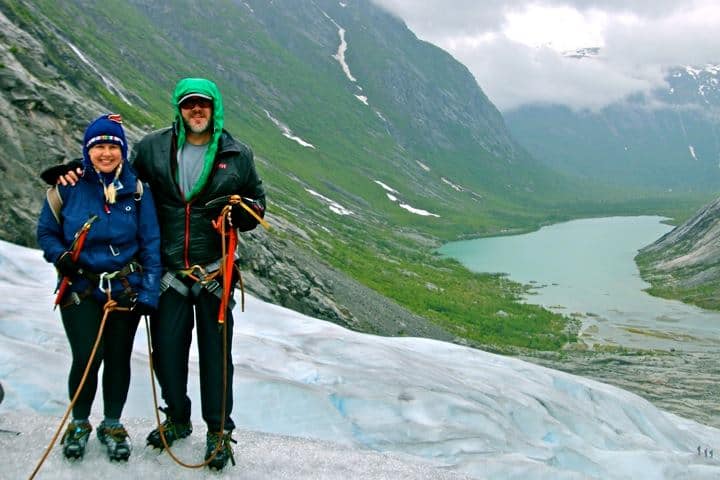 In the interest of full disclosure, the Oslo-based Helly Hansen co-sponsored our 2014 road trip through the fjords of Norway.
We wore their clothes and outerwear almost exclusively on that trip. They performed exceptionally well while climbing Jostedalsbreen glacier during incredibly foul weather that ranged from a foggy drizzle to pelting hail.
Their breathable, waterproof Loke Pants and PrimaLoft-insulated H2 Flow Jacket have also become staple travel wear for our cold climate adventures.
Other Travel Wear
The Real Deal Brazil is a North Carolina-based company owes much of its success to Woody Harrelson.
While filming Zombieland in 2009, he saw their Brazil Tarp Hat– which is made from recycled canvas tarps used on Brazilian cargo trucks– on a cameraman's head one day.
He loved its rugged style so much, he had the costume department buy some for his character to wear in the film. The rest, as they say, is history.
The hats are easily shaped thanks to wires recycled from old truck tires, allowing you to customize your look.
These CEP Compression recovery socks are great for guys who have just completed strenuous sporting events, such as a marathon, or for someone who is recovering from a recent injury.
They also work great for reducing swollen ankles during very long flights. You can wear them throughout the flight to increase circulation in your legs and prevent swelling and clotting.
Using 20-30 mmHg graduated compression, they improve circulation in the legs, helping them to recover faster and relieving pain and swelling. They are made with medical-grade technology, scientifically proven to work.
The socks are made from high-tech synthetic fibers which prevent odor-causing bacteria and provide moisture-wicking properties. They also have padded cushioning in the heel and Achilles. This provides complete support, meaning the socks can be worn all day while working, traveling or at home. –Bret Love & Mary Gabbett