[Updated 12/15/2022] Did you know that more people celebrate New Years around the world than any other holiday? But, of course, that doesn't mean that we all have the same New Year Traditions.
How I celebrate the New Year– watching the NYC countdown on television, kissing at midnight, champagne toasts, and fireworks– may be relatively commonplace in the United States. But New Year customs vary widely in different cultures around the world.
Each country seems to have its own unique New Years celebrations, with different customs for ensuring health, wealth, happiness, and luck in the coming year.
As we learn more about the various New Years celebrations around the world, we may discover strange cultural twists that seem foreign to us.
But these unique variations in the way people celebrate the New Year are part of what makes exploring the world so great.
So let's take a look at some of the more interesting New Year traditions around the world and see how people will be ringing in the next year. Who knows? Maybe we can find something fun along the way to adopt into our own New Year celebrations.
READ MORE: 90 Christmas Traditions Around the World
Ways to Celebrate New Year Traditions Guide
Celebrate the New Year At Home
New Year's Eve Food Traditions
Which Country Celebrates New Years First?
Traditional New Year's Clothing
New Year's Festivals Around the World
New Year Traditions for Good Luck
Shared New Year's Eve Traditions Around the World

New Year's Song: Auld Lang Syne
New Year's Resolutions
New Year's Fireworks
New Year's Champagne
New Year's Kiss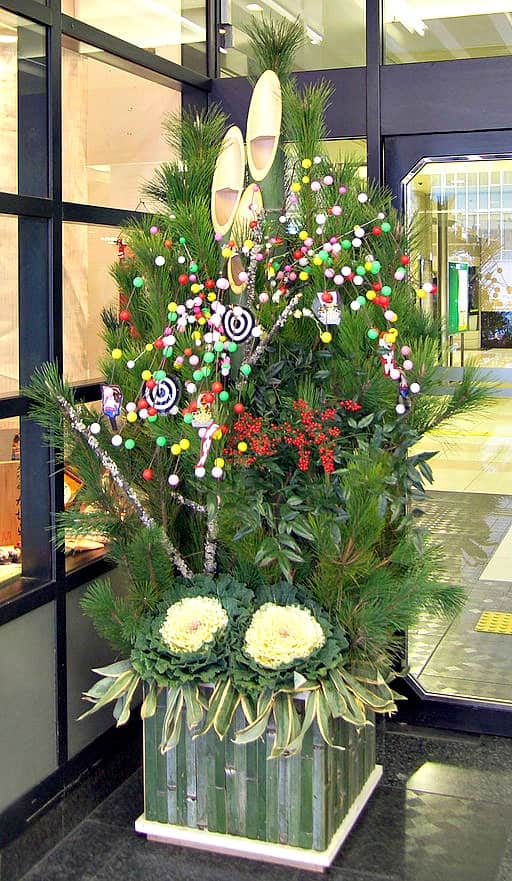 1. How to Celebrate the New Year at Home
The home plays an important role in many countries' New Year's traditions, which can involve everything from intense cleaning sessions to inviting special guests. Regardless of how it's done, home is where many people celebrate New Year's Eve and Day.
Argentina: Speaking of throwing things out the window… In Argentina on New Year's Day, after everyone has shredded old documents and paper, the scraps are thrown out the window like confetti. It's customary for everything to be shredded, symbolizing leaving the past behind.
China: To symbolize happiness and good luck in the New Year, Chinese celebrants paint their front doors red. In general, red colors New Years Eve in China, with red packets of money for children, red rackets for married couples, and red lanterns.
Denmark: As a sign of friendship, people save their old dishes in order to break them on each other's front doors. Residents will allow these broken dishes to pile up in order to show who has the most friends.
England: For good fortune in the newly arrived year, Brits believe the first guest to enter through the front door should be a young, dark-headed male bearing gifts such as bread (to be full), salt (to be wealthy) and coal (to stay warm).
Iran: Instead of Jack jumping over a candlestick, the people of Iran celebrate the Persian New Year, Nowruz, by jumping over bonfires in people's backyards. This is seen as a symbol of purification, overcoming challenges of the previous year and preparing you for the year to come.
Italy: You've heard the old saying, "out with the old, in with the new"? In Italy, some people throw old decor out their windows to signify a fresh start for the new year. But it's generally soft items, such as cushions or pillows, so there's no need to worry about falling couches!
Japan: Oshogatsu is celebrated with family, which both cleans and decorates the entire house together. Then natural decorations such as pine branches, plum blossoms, and bamboo play a special role in preparing for the New Year celebration.
Mexico: If you're looking for odd New Years cultural traditions around the world, Mexican tradition suggests throwing water out the window and opening the front door to ensure that the old can depart quickly. This is similar to the way Japanese people clean their homes to rid the house of last year's bad spirits.
Puerto Rico: In addition to cleaning their homes as the Japanese do, Puerto Ricans clean everything— the car, the garden, and even the streets. They also have a practice of throwing buckets of water out the window in order to do away with the bad juju of last year.
South Africa: Some South Africans—particularly those in the neighborhood of Hillbrow in Johannesburg— take cleaning house for the new year to an entirely new level. Throwing old furniture and appliances (think fridges!) from the windows of tall buildings somehow helps to make the new year bright. It's actually a very serious health hazard there!
READ MORE: 20 Fun Christmas Eve Traditions Around the World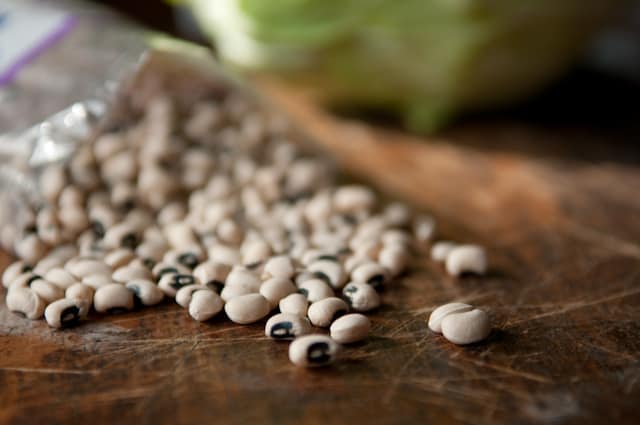 2. Celebrate with New Year's Eve Food Traditions
Food traditions of countries are used to celebrate the New Year around the world. In many countries, eating the right thing has a strong influence on the next year's outlook.
Many of these New Year's food traditions are delicious, but they don't necessarily make a lot of logical sense…
Austria: The New Year's food traditions in Austria come two-fold. First, there's finding a lucky charm that has been hidden inside a suckling pig. Then it's onto a dessert of peppermint ice cream, which somehow represents economic windfalls in the coming year.
Brazil: Lentils are the alimentos do dia for Brazilian New Year's celebrations. The legume can come in different forms, such as soup, to help with finances in the New Year. Then, before midnight, New Year traditions in Brazil say people should also eat seven raisins (because why not?!).
Estonia: How Estonians make it to midnight on New Year's Eve awake is a mystery. They should be in a food coma! Tradition dictates that the holiday should be celebrated with a lucky number of meals, with either seven, nine, or twelve trips to the table. However many meals you choose, you're said to have the strength of that many men (or women).
France: The French are known for their weird food preferences. On New Year's Eve, edible opulence steals the show in the form of le reveillion de la Saint-Sylvestre. Partiers will feast for hours on foie gros, goose or turkey, oysters, and of course plenty of champagne. The top-flight fare is meant to signify wealth in the year to come.
Greece: Onions have symbolized unity, fertility, and regrowth for hundreds of years in Greece. On New Year's Day, many Greek families hang onions in their homes in hopes of attracting those aspects in the new year.
Haiti: January 1st is actually Haiti's Independence Day, so they celebrate enjoying homemade pumpkin soup, or soup joumou. This was once considered a delicacy that the enslaved people were not allowed to have, but now they share and swap different soup recipes for everyone to enjoy.
Spain: A challenge in speed-eating, Spain's New Year's food tradition requires that people eat 12 grapes at midnight on New Year's Eve– one for each time the clock chimes. Otherwise, the new year's superstition suggests that you'll miss out on extra good luck for the coming year!
Switzerland: In a strange cultural twist, the Swiss don't actually eat their New Year's treat. Instead, they simply drop whipped cream on the floor and leave it there. Obviously, that means richness in the coming year, right?
USA – Louisiana: The New Year's food tradition I grew up with is eating Cajun-style black-eyed peas and cabbage, with the promise that it will deliver health and wealth over the next 12 months. Even after 12 years of living and working abroad, I've never stopped celebrating the New Year with the dish!
READ MORE: 40 Fascinating Christmas Traditions in Mexico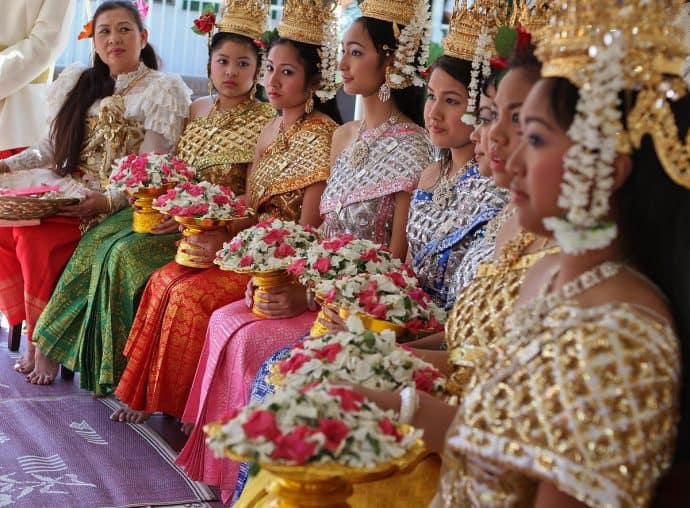 3. Which Country Celebrates New Year's First?
Despite the Gregorian calendar being globally recognized, many countries follow different timetables. So some cultures observe New Year's on a different day! As weird as it may sound, there's some debate as to which is the first country to celebrate the New Year.
Bali: Many east Asian cultures use the lunar calendar to determine New Year's Day. But some parts of Indonesia use a special Saka Calendar, which puts the holiday on a different date than China's lunar system. It's typically more of a somber affair, used primarily as a day of rest rather than celebration.
Cambodia: Another country that celebrates a New Year in April, Cambodia has a 3-day long holiday that is dictated by the end of their harvest season. It follows the same lunar calendar as India, in which the New Year begins when the sun enters the sign of Aries.
Egypt: In Egypt, the New Year's Day celebration changes according to the moon. But, unlike other countries that go the lunar route, here the festivities do not begin until a crescent moon is sighted!
India: While January first is certainly celebrated there, the New Year celebration in India actually has many different dates. Rongali Bihu is the most popular: It's celebrated in mid-April, on the first day of the Hindu solar calendar. But the specific day of celebration changes from region to region.
Israel: The Jewish holiday of Rosh Hashana brings in the New Year in early autumn, as does the Islamic New Year (usually in late September). Many Orthodox Christians in Israel celebrate New Year's on the first of September.
Samoa: There are 39 time zones in the world. Based on the International Date Line, the islands of Samoa and Kiribati are the first places on Earth to reach the Gregorian calendar's new year on January 1st.
As for the last country to celebrate the New Year? Though not technically a country, that would be the U.S. territories of Baker Island and Howland Island, two uninhabited wildlife refuges located about halfway between Hawaii and Australia.
READ MORE: 20 Exotic Islands For Your World Travel Bucket List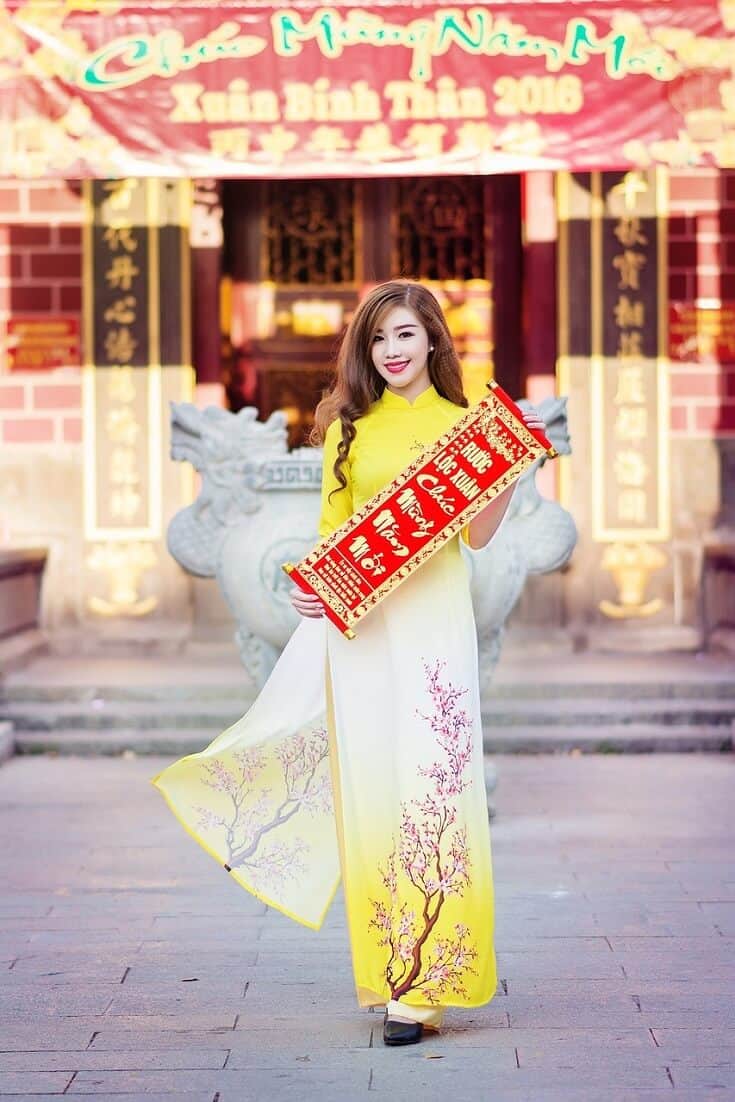 4. Traditional New Year's Clothing
Many cultures choose to practice New Year rituals of getting dressed up in whimsical or dapper fashions. Most of these New Year's clothing choices are wrought with meaning, and occasionally they're good for a laugh or two as well.
Brazil: Taking the idea of lucky New Year's underpants even further, in Brazil, Ecuador, Bolivia, and Venezuela, the color of underwear helps to determine the wearer's specific successes for next year. Red brings love, yellow brings money, green brings luck, and so on. Local markets will be festooned with colored underpants leading up to the New Year.
Italy: Like the Vietnamese, Italians wear new clothes to ring in the New Year. As with the Russians, it's a time for presents, with each gift (things like honey, gold, money, and lamps) symbolizing something specific for the receiver. The gifts are serious business!
Japan- In Japan, some people trade out their normal Western-style clothing for the traditional kimono on New Year's Day. Then they visit shrines or temples to pray for good health and happiness in the upcoming year.
Philippines: For New Year's in the Philippines, round is all the rage. People eat round foods, carry coins in their pockets, and wear clothing with nlots of polka dots. The round shape symbolizes money, and is believed to boost your finances for the new year.
Russia: In a throwback to the Soviet era, most of Russia (except for Russian Orthodox Christians) celebrates something similar to Christmas at New Year's. Grandfather Frost (not Santa Claus!) visits at midnight to leave presents while the kids aren't looking. Christmas was actually banned in Russia during Soviet times, so New Year's took its place!
Turkey: In Turkey, wearing red underwear at midnight on New Year's Eve is crucial to bring good luck in the coming year. For that matter, this tradition is also observed in other countries, including Italy, Spain, and Mexico. Red is traditionally a lucky color at this time of year. Who knows how the underwear in particular became important?
Vietnam: The Vietnamese wear brand new clothes to bring in the New Year with a fresh start. These clothes are not the modern Western styles that most people wear in their daily life, but rather a traditional outfit called ao dai, featuring a long gown worn with trousers.
READ MORE: What Is Ecotourism? (The History & Principles of Responsible Travel)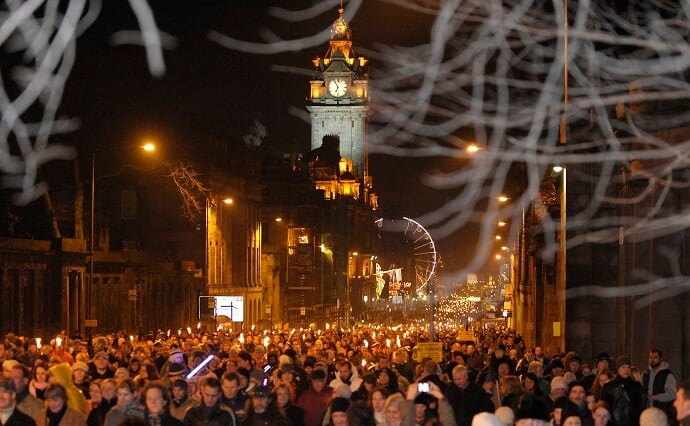 5. New Year's Festivals Around the World
Some of the world's New Year's traditions have an air of seriousness about them. They're tied up in ancient religious rituals. They've been created by lawful decrees.
Or maybe they just involve impressively huge fires in public spaces. Regardless, it's important to recognize why we celebrate the New Year the way we do.
Australia: Sydney Harbour hosts one of the biggest New Year's Eve celebrations in the world. It's mid-summer in the southern hemisphere, and thousands of people gather around the Opera House in anticipation. An aerial show and water display kick off the celebration at 6pm. A family-friendly fireworks show starts at 9pm, while the main attraction– the Harbour Light Parade– is at midnight.
Belarus: In Belarus, New Year's is included as a part of a 13-day cultural festival known as Kaliady. Kaliady originates from the old pagan recognition of the winter solstice. It was only later that the Orthodox Christians added the celebration of Christmas (on January 7). Kaliady has customary foods in three ritual dinners, trick-or-treating, caroling, and more.
Netherlands: Amsterdam hosts one of the world's largest street parties on New Year's Eve. If you attend, buy some oliebollen (oily balls) to eat at midnight. Tradition holds that eating these deep fried dough balls will ward off evil spirits in the New Year. Dam Square (the craziest), Rembrandtplein, Nieuwmarkt, and Leidseplein host unofficial street parties with music, fireworks and beer tents. Amsterdam's celebration is not for the casual partier: Some attendees have likened it to a war zone!
Scotland: Celebrating Hogmanay, which denotes the last day of the year, is a big deal in Scotland.So much so that it often overshadows Christmas. Christmas was outlawed by the Church of Scotland for nearly four centuries, until 1958. Though the holiday has regained its popularity, the New Year Festival of Hogmanay still holds a sacred place in Scottish hearts.
United States: Each year, hundreds of thousands of people flock to New York City to see the Big Apple drop at midnight. This New Year's Eve tradition actually began as a replacement for fireworks, which had been banned in New York. In addition to watching balls drop, in other US cities you can watch peaches, giant walleye, and other locally relevant symbols lowered as the clock strikes midnight.
READ MORE: 20 Best Festivals in the World (for Your World Travel Bucket List)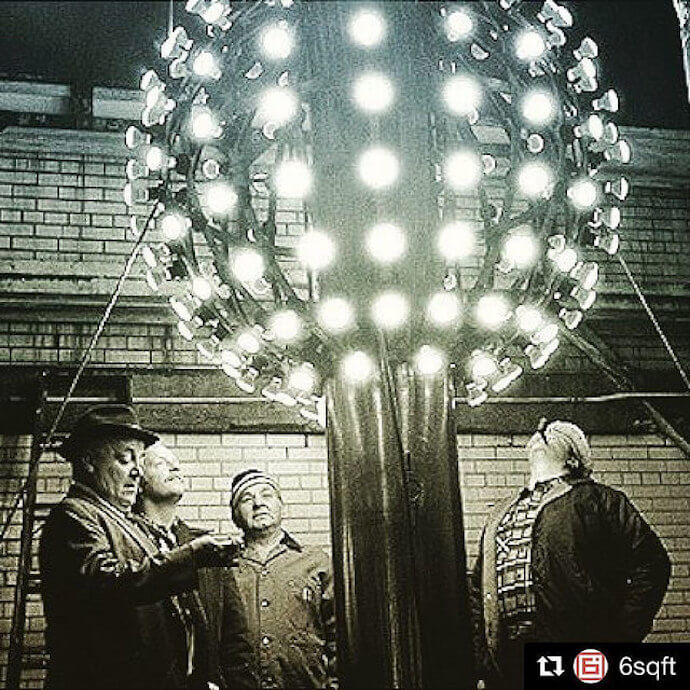 6. New Year Traditions for Good Luck
One of my favorite things about New Year's good luck rituals is that not all of them seem completely sane. Many of the customs from around the world we've already learned about on this list probably seem a bit off-the-wall.
Here are a few New Years good luck traditions that seemingly come out of nowhere, but remain integral pieces of some countries' annual New Year customs.
Czech Republic– A New Year tradition from the Czech Republic suggests that apples can help foretell the future. By cutting an apple in half and seeing how the seeds are placed, people believe you can predict how the year will go. If the seeds form a cross it's considered a bad omen, but if they make a star it means good luck is coming your way!
Belgium: In Belgium, Walloon and Flemish farmers rise early on New Year's Day and promptly head out the stables to wish the cows (and other domesticated animals) a happy New Year. Though the origins of this tradition are unknown, the same thing is also practiced in Romania.
Chile: In the small town of Tulca, Chile, it is tradition to spend the last night of the year at a sleepover at the cemetery. Locals believe that the souls of dearly departed friends and family come to hang around on the night of New Year's Eve. So they make fires, bring food and drink, and decorate their loved ones' graves for some ghostly quality time.
Colombia: One of Colombians' favorite ways to celebrate the New Year is to carry an empty suitcase around the block. The tradition is meant to bring celebrants a year of travel (which hopefully will involve a little more packing).
Denmark: Many of the world's New Year's traditions revolve around the stroke of midnight: fireworks blasting off, the ball dropping, kissing a loved one, toasting with champagne, etc. In Denmark, people jump off of their chairs in unison at midnight. This symbolizes jumping forward into the new year and leaving bad things behind.
Ecuador: In Ecuador, los años viejos (the old years) is a beloved part of how to celebrate the New Year. People construct large scarecrows of those they don't like and set them alight at midnight in order to burn away the ills of last year. Building the scarecrow is a family activity. While it's mostly done for fun and laughs, controlling the bevy of fires is sometimes a serious undertaking.
Finland: Going to a fortune-teller can either be a fun or harrowing experience. But one Nordic New Year tradition involves reading the future for yourself. Finnish people melt tin horseshoes, pour the molten metal into cold water, and use the resulting solid to gain insight into the coming year. Its shape and shadow supposedly tell all, and a broken piece of tin is considered a sure sign of bad luck.
Romania: In Romania, people will save up their money for the New Year celebration… but not for spending on the party. Instead, they believe that if you put money under your rug before midnight, it will guarantee you to have a prosperous year ahead.
Japan: In Japan, Joya no Kane is a Buddhist ritual that takes place at midnight on New Year's Eve. It involves ringing a bell exactly 108 times. Buddhists believe that we humans are entrapped by 108 different desires that keep us suffering. The chimes symbolize purification from the accumulation of these passions over the previous year.
Panama: Panama has a similar "viejo" tradition to the one in Ecuador. Only here the effigies are called muñecos. Rather than simply setting them on fire, the dolls are typically stuffed with fireworks in order to really get the festivities cranking.
Turkey: In Turkey, once the bell strikes midnight on New Year's Eve, it's customary to sprinkle salt on your doorstep. It's said that this brings peace and good luck to the home or business.
READ MORE: 7 Harmful Traditional Practices Tourists Shouldn't Support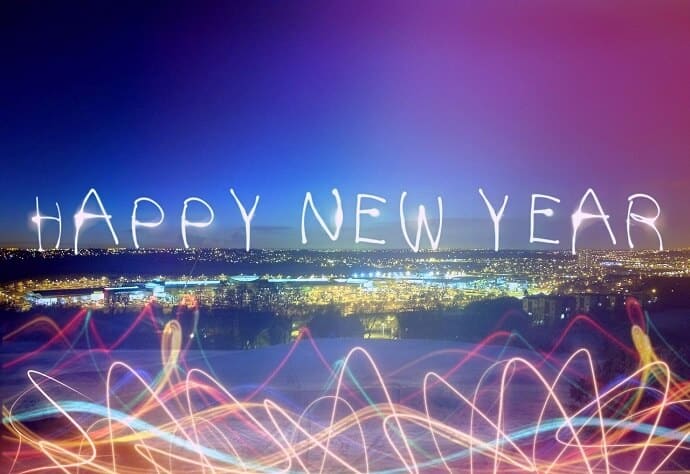 7. Shared New Year's Eve Traditions Around the World
And then there are the New Year's traditions that are celebrated by people all around the world. These shared customs are part of what makes the New Year one of the planet's most popular holidays.
Here's a look at some of the many traditions that transcend time zones, borders, and cultures…
a. Singing the New Year Song, "Auld Lang Syne"
Singing "Auld Lang Syne" at midnight is done throughout the English-speaking world and beyond.
The traditional Scottish folk song was transcribed (not written) by beloved poet Robert Burns in 1783. The literal Auld Land Syne translation is "old long since," which really means, "days gone by."
After that, it became a common song of celebration—for weddings, graduations, funerals, etc.—throughout Scotland. In the nearly two and a half centuries since, "Auld Lang Syne" has become the most popular New Year's song in the world.
The tradition of singing it at midnight on New Year's Eve was popularized by a Canadian band, Guy Lombardo and the Royal Canadians.
The band, which came from a part of Ontario settled by Scots, often covered the song, partially to promote one of the sponsors of their radio show, Robert Burns Cigars.
In 1928 the band got a chance to do a New Year's Eve show and closed their set with "Auld Lang Syne." It became the show's closing number for nearly 50 years, the remainder of Lombardo's life.
READ MORE: 25 Biggest Forests in the World (For Your World Travel Bucket List)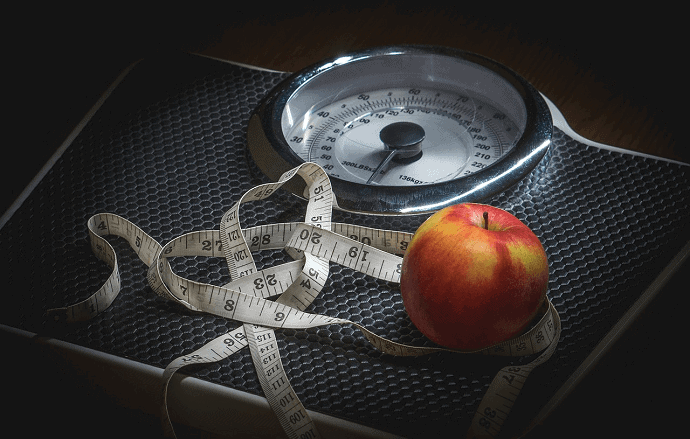 b. New Year's Resolutions
People have been making New Year's resolutions for literally thousands of years, dating back to the ancient times of the Mesopotamians.
The tradition began as part of a 12-day New Year Festival (which was celebrated in March) called Akitu, during which citizens of Babylonia would swear an oath to the sitting king or allegiance to a new one.
The Romans did a similar thing, also in March, devoting themselves to the Emperor.
In the mid-1700s, the Methodist Church used the New Year to encourage its members to renew their commitments to God.
Nowadays, most resolutions are neither oaths to kingdoms or religious tradition. Instead, they're generally commitments to make some effort towards self-improvement.
Unfortunately, studies show that– while nearly half the US population annually makes resolutions– less than 10% of them are kept.
Here are some of the top New Year's Resolutions:
Exercise more / Get in shape
Lose weight
Get organized
Learn a new skill or hobby
Live life to the fullest
Save more money / spend less money
Quit smoking
Spend more time with family and friends
Drink less
Eat more at home
Floss
Look at cell phone less
Reduce stress
Get more sleep
Travel more
READ MORE: 50+ Pieces of Advice I Would Include in a Letter To My Younger Self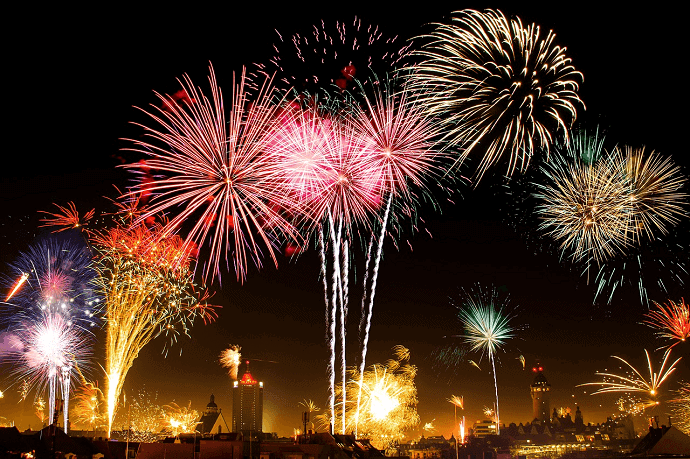 c. New Year's Fireworks
Invented in ancient China, fireworks were originally made from dried bamboo stalks. When thrown in a roaring fire, they would emit loud bangs.
These were later filled with gunpowder (which was also a Chinese invention) to enhance the explosive effect. Finally, the bamboo was replaced by paper (another Chinese invention).
Around the 12th century, gunpowder and fireworks gradually worked their way over to Europe. Some historical accounts credit the Mongols, while others believe they were invented independently.
Since the beginning, fireworks have been used to scare away evil spirits and enemies. Because the holiday is often associated with starting anew, fireworks have long been a part of New Year celebrations, setting up partygoers for a positive year to come.
Today, the tradition of setting off fireworks as part of New Year celebrations in pretty much a staple all around the world.
READ MORE: 25 Tallest Mountains in the World by Continent (World Travel Bucket List)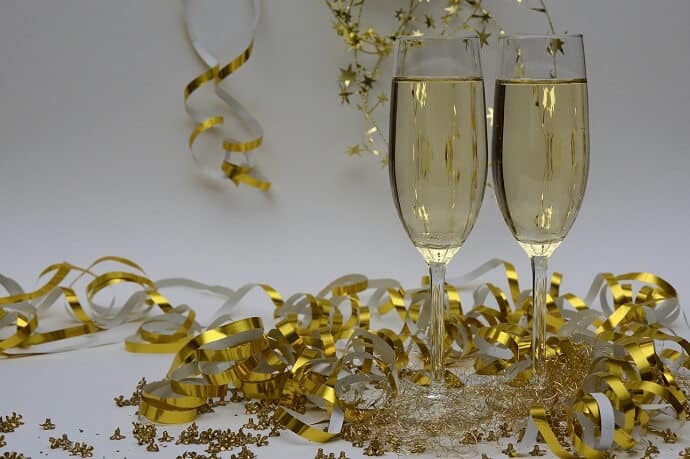 d. New Year's Champagne
Champagne, some people claim, was originally an English invention as opposed to a French one. The Brits developed the technology to bottle carbonated drinks in the late 1500s.
Using techniques translated from making cider, they began to make sparkling wines (of which Champagne is one variety). This invention also required creating stronger glass bottles that could withstand the pressure built up inside by the fermented drink.
Later, Champagne became the popular drink of choice for celebrations by the royal courts of Europe.
It eventually became a worldwide phenomenon in the late 1800s, when the price began to drop and producers started marketing the drink to common folks. While commoners couldn't afford it for their daily table wine, it was affordable enough for special occasions.
It became especially popular for New Year's celebrations because opening the bottle produced a firework-like POP, and the beverage flowed out in a display of abundance.
READ MORE: Hawaiian Mythology (intro to Hawaiian Gods, Goddesses and Legends)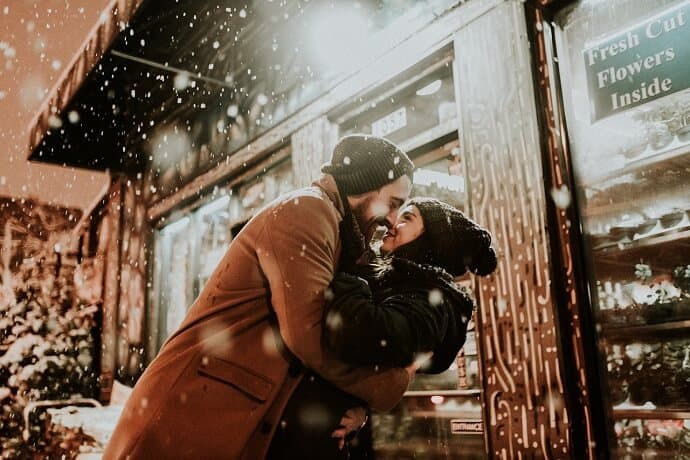 e. New Year's Kiss
The tradition of sharing a New Year's Eve kiss at the stroke of midnight has been featured in countless classic movies, from The Godfather II to When Harry Met Sally. The custom is now a part of most modern New Year's celebrations.
Amazingly, the practice has been around for millennia, beginning with the Roman festival of Saturnalia. Lots of meaning has been attributed to the kiss over the years. In Roman times, it was more an act of basic debauchery.
German and English folklore cited that the first person you encountered in the New Year (and how that encounter went) would set the tone for the rest of the year. Attendees of masked balls in Europe used it as an act of purification after removing their masks.
These days, it's widely believed that failing to share a midnight kiss on New Year's Eve foretells a year of romantic loneliness.
However (and wherever) you may celebrate the New Year, most people around the world embrace and honor the passage of time with mixtures of reverence and revelry. It's yet another thing that shows just how similar, yet unique, our planet's diverse array of cultures are.
We value analogous things and celebrate in our own ways. But we all love to share these moments we hold sacred.
We should all remember and relish the customs and traditions that unite us this New Year's. At a moment when division and dissidence seems inevitable, we still have each other.
Happy 2023, everyone! –by Jonathon Engels, with additional reporting by Samantha Dickens
Looking to Celebrate the New Year Around The World?
Check out the following services we use!
DollarFlightClub or Airfarewatchdog to find a cheap plane tickets.
Omio for affordable European Train Tickets.
Booking.com or Agoda to find a hotel deals.
Viator for a stellar day tour.
Lonely Planet for Travel Guides.
World Nomads for Travel Insurance.
AutoEurope for European Car Rentals
or Rental Cars.com.
TrustedHousesitters we've found great pet sitters to watch our house and love on our two dogs!
Looking for essential Travel Gear? Check out these great options!
The Best Travel Clothes for Women & Men
The Best Vegan Boots for Women & Men

The Best Backpacks for Travelers
Plastic Free Products for Travelers
Best Camping Tents for Families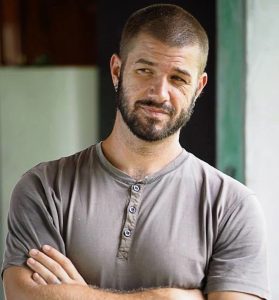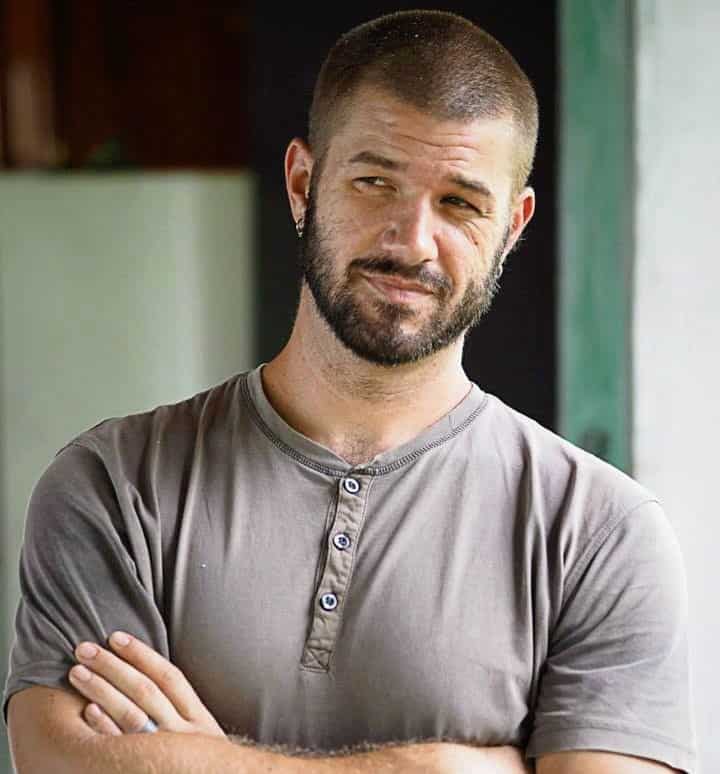 Jonathon Engels is a traveler, writer & teacher who's been living abroad as an expat since 2005. He's worked in nearly a dozen countries, and visited many others in between. He's currently on a slow travel trip from Central America to Patagonia, volunteering his way throughout the journey. He's a regular contributor to One Green Planet as well as Permaculture News, which focus on helping to keep the world green and clean. He's also the founder of The NGO List, a compilation of grassroots NGOs seeking international volunteers.