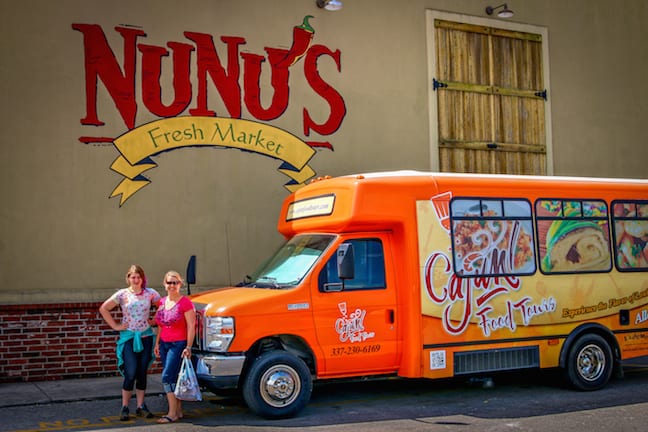 Cajun Food Tours in Lafayette, Louisiana
One of the main reasons Mary and I work so well together as both romantic and business partners is that we had a lot of things in common long before we met.
Both of us have a deep-seated passion for immersing ourselves in other cultures, and did so through art, music and food long before we had the means to travel the world. Both of us have Acadian (or French-Canadian) blood on our maternal side– her mother's maiden name was Coté, while mine was Beaudet. And though serendipity never led to our meeting at the time, both of us used to frequent a killer Cajun restaurant across the street from Emory University, which Mary attended.
Given our mutual love of cuisine and culture, I suppose it's odd that we'd never done a food tour until we got to Lafayette, in the heart of Louisiana's Cajun country. Lafayette was recently deemed "the tastiest town in the South" by Southern Living magazine. And our day with Marie Ducote Comeaux– the veteran Louisiana history teacher who founded Cajun Food Tours in 2012– offered an incredible overview of the rich culinary traditions of Acadian culture.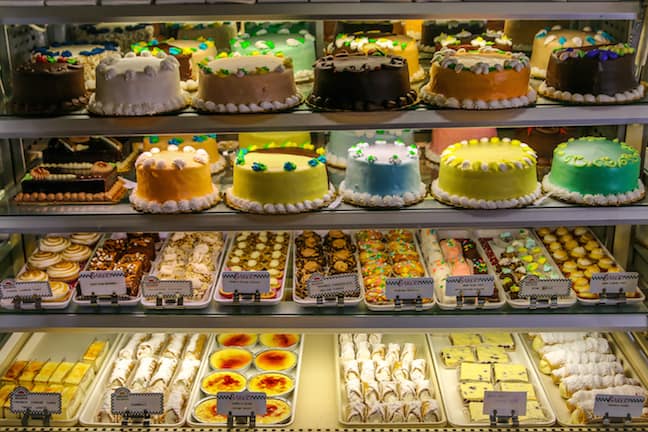 Currently ranked the #1 tourist attraction in Lafayette, Marie's Cajun Food Tours typically last three to four hours and make six to seven stops, tasting a broad variety of samples along the way. The restaurants visited change from day to day, but we began our morning tour at Poupart's Bakery and Bistro, the only authentic French bakery in Acadiana.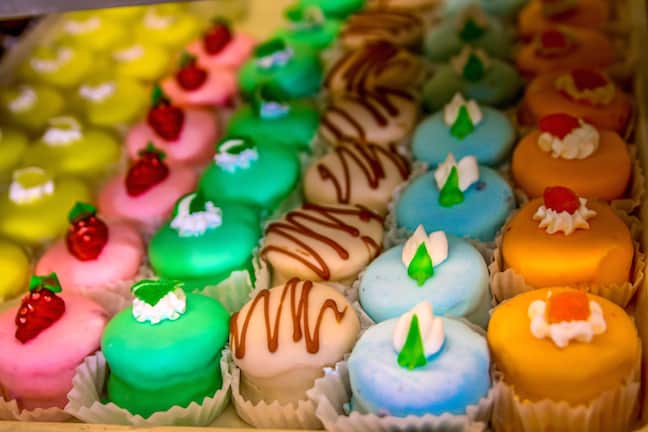 Established back in 1967, Poupart's feels like the sort of friendly little village bakery you might find somewhere in the French countryside. The sumptuous sights and smells of fresh-baked pastries, Old World breads, strong French press coffee and decadent cakes greet you the moment you walk in the door, with a colorful display of sweets that practically beg for naughty, diet-defeating indulgence.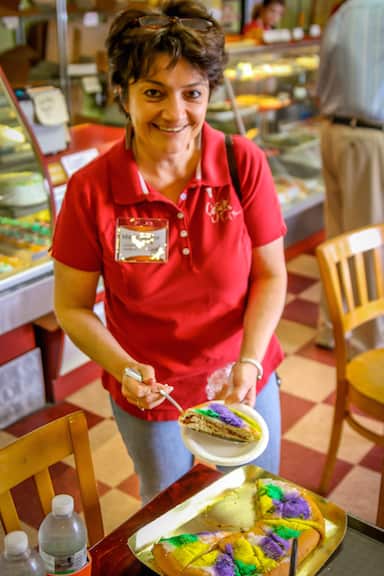 Although we visited Lafayette several months after Mardi Gras, Marie had arranged for Poupart's to create a special treat just for our tour group– a delicious King Cake topped with purple, gold and green sugar. Taking its name from the three kings of the Bible, King Cake is traditionally part of pre-Lenten celebrations throughout Europe, Quebec and parts of the U.S., and is typically consumed regularly between the twelfth day of Christmas and Mardi Gras/Carnival.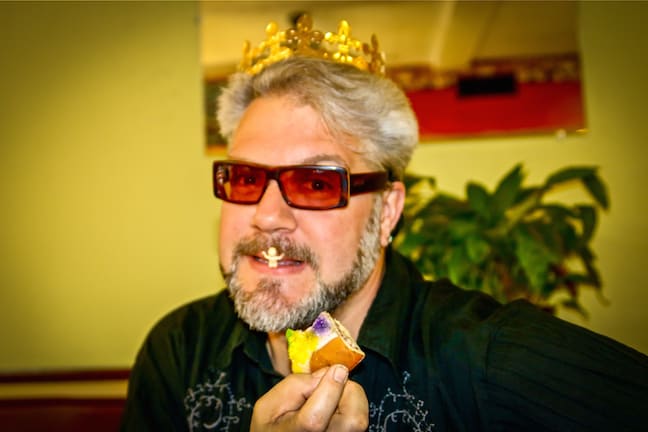 King Cake started several decades ago as a simple French bread dough topped with sugar, with a bean inside it. But these days it's typically a circle-shaped iced Danish filled with cinnamon, with a plastic baby (representing Baby Jesus) hidden within. The person who finds it is blessed with prosperity, and is responsible for buying the next King Cake and throwing the next party. As you can see above, there will be a Mardi Gras shindig at our house sometime in February!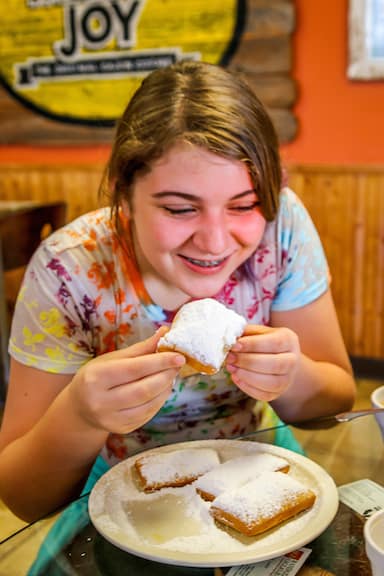 Most of our group had their sweet tooth fully satiated by the time we moved to our second stop, T-Coon's, billed as a Zydeco restaurant because it combines elements of Cajun and Creole cooking. But my daughter had a hankering for Beignets, the French-style fritter made of deep-fried choux paste. They're primarily associated with New Orleans, but T-Coon's owner David Billeaud (a 6th-generation Acadian) serves up some of the best we've had, piping hot and topped with a heaping pile of powdered sugar. It seemed somehow appropriate that Alex wolfed them down with the "Joy" sign right behind her.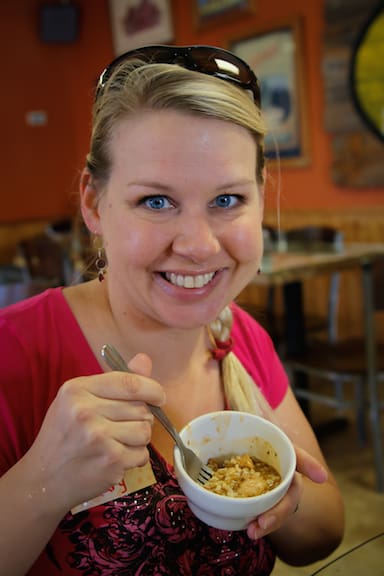 Meanwhile, Mary and I swapped sweet for savory, digging into a steaming bowl of Catfish Courtbouillon. This deceptively simple stew starts with the roux– the base for the mother sauces of classical French cooking– which is made from equal parts flour and, in Cajun and Creole cooking, bacon fat. The roux is the key to Billeaud's flavorful tomato sauce reduction, which he uses to poach catfish, crawfish and shrimp, and then serves it over rice with just the right amount of spice.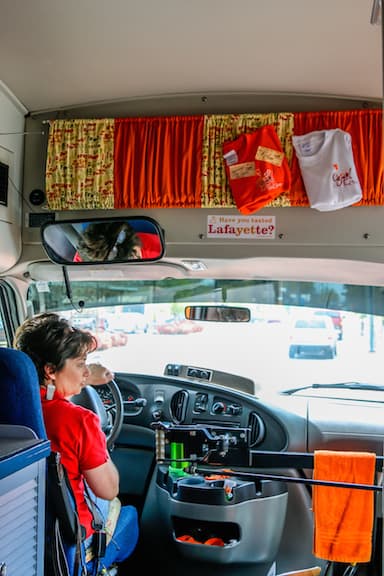 Leaving T-Coon's, we made our way 10 miles south to thetown of Youngsville (population 9,944). Along the way, Marie told us about her inspiration for starting Cajun Food Tours and regaled us with stories of Cajun culture. Jokes about "Boudreaux and Thibodeaux" abounded, including one where she recalled passing by her friend Boudreaux's house several times one day to see him hanging out, doing nothing in the middle of his cornfield. "Boudreaux," she said, "I've been coming by here all day and you haven't moved a muscle! What's wrong with you?!" And Boudreaux responds, "Well, I heard if you wanna succeed in business, you've gotta be out standing in your field!" Trust me, it's MUCH funnier with a Cajun accent…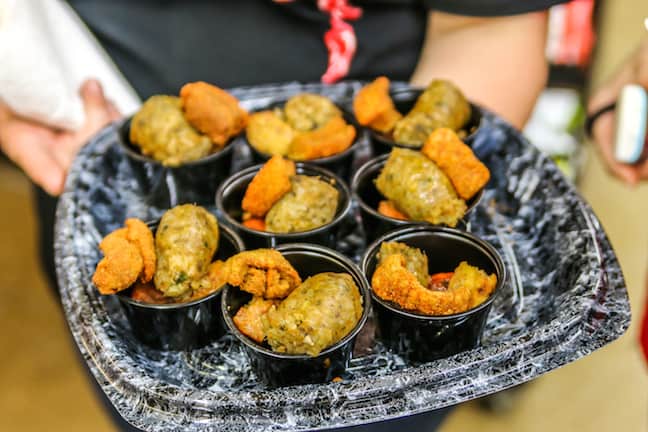 At Nunu's Fresh Market, we got a chance to try the Holy Grail of Cajun cooking: Boudin. Though this sausage comes in a variety of styles, the Cajun version is made from a mixture of pork meat (including the liver and heart) and rice dressing stuffed into a casing and then simmered, braised or grilled. This is the kind of local delicacy people travel hundreds of miles to sample, and Nunu's is considered one of the best. We tried to convince a number of Lafayette chefs to let us share their recipe, but they're more closely guarded than Fort Knox. So instead we bought 5 pounds of the stuff to bring home with us!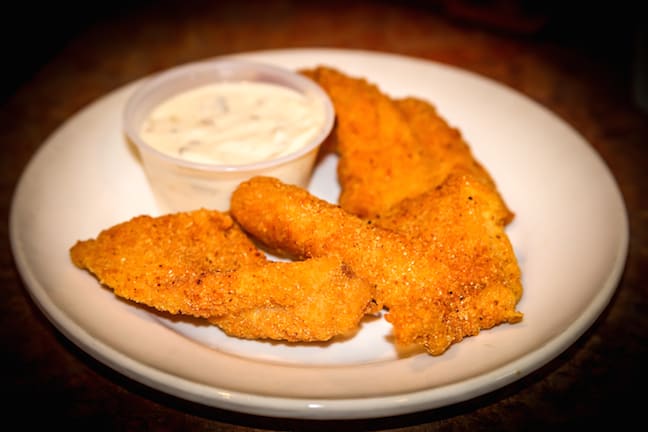 Youngsville's Hook'd Up, a typical bar and grill, was the least distinctive place we visited during our day with Cajun Food Tours. But it did offer a chance for the grownups to have a drink and sample the fresh, tender Fried Catfish. Cajuns have historically been most at home near the water, living off the land (i.e. fishing and trapping) and harvesting what was cheap and readily available. Catfish, crawfish, shrimp and alligator remain steady staples of the Cajun diet today.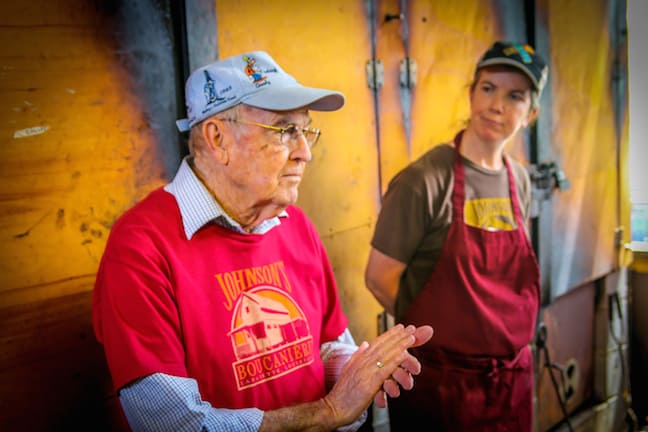 One of our last tour stops back in Lafayette, Johnson's Boucanerie was started by chef Lori Walls as an homage to the iconic Johnson's Grocery, which her family ran in nearby Eunice for over 60 years. Their traditional Cajun recipes for BBQ, boudin and smoked meats live on in her menu (including whole Smoked Brisket), which has made Johnson's a local hotspot for lunch and takeout.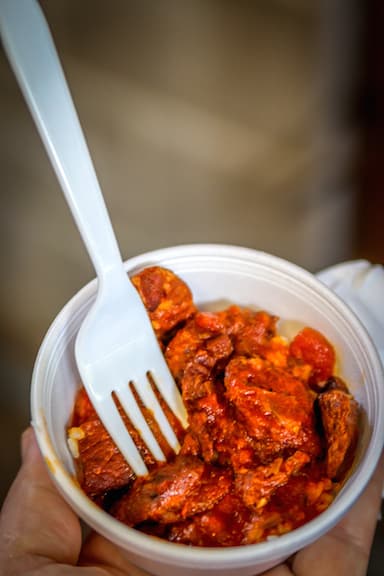 We were delighted to get a tour of their smokehouse, where endless platters of meat and beans were stacked in fire-heated smokers, the pungent scents nearly causing us to salivate in anticipation. It's difficult to describe the importance of barbecued meats to non-Southerners, but, as a native Georgia boy, BBQ was as much a part of my family's culinary traditions as marinara is to the Italians. Suffice it to say that the Smoked Brisket and Sausage & Tasso Sauce Piquante we sampled was so incredible, we wound up buying a quart of the Johnsons' tangy sauce to bring home with us.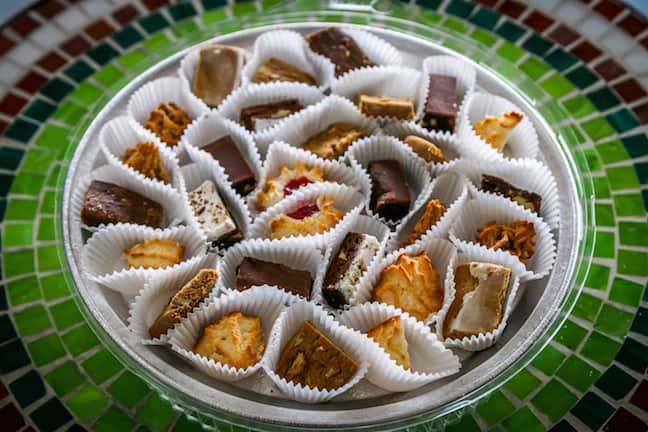 We wound down our day much as it had begun– with sweets, this time at Keller's Bakery. Its one of the oldest businesses in downtown Lafayette, opened by Fenwick and Eleanor Keller in 1929. Eighty-five years later, the shop is till run by their son Kenneth, who maintains the culinary traditions started by his ancestors in the Alsace region of France long before they came to America in the 1760s. Their pies, pastries and cakes were so delectable, we took a Rum Cake for the road.
At the end of the day, our tummies were deeply satisfied without feeling over-stuffed, and our imaginations stimulated by the rich diversity of Cajun cuisine we had sampled. Marie Comeaux's Cajun Food Tours were easily the highlight of our time in Lafayette, and we wound up trying other amazing restaurants (including The French Press and Prejean's) at her suggestion.
The only complaint was that the experience left us wondering why in the heck we'd never done a food tour before. –Bret Love; photos by Bret Love & Mary Gabbett
If you enjoyed our story on Lafayette's Cajun Food Tours, you might also like:
LOUISIANA: Mardi Gras Indians on Super Sunday
LOUISIANA: New Orleans Historic Voodoo Museum

INTERVIEW: Ben Jaffe on Preservation Hall & New Orleans Jazz History