[Updated 12/02/22] Like most kids who grew up in the US, I became fascinated with Santa Claus from a very early age.
From his fuzzy red suit and his long white hair and beard to the reindeer who pulled his sleigh, this jolly old elf who distributed presents to kids all around the world was a larger-than-life legend.
But unlike other children, I never really grew out of my interest in St. Nick. Always the inquisitive kid, I had so many questions: Who was Santa Claus? Where did he come from? How did he get to be so beloved by children all around the world?
Raised in the Episcopal Church, I became particularly fascinated with the history of Santa Claus.
In particular, the origin of Santa in the Catholic Saint Nicholas, the 4th century Greek bishop who was known for his charitable gift-giving and countless miracles.
The older I got, and the more I learned about Santa, the more I came to treasure the Christmas spirit he represented and the importance of keeping it in our hearts all year round.
This year, as my 17-year-old daughter celebrates her last holiday at home before heading off to college, will be an extra special season for us.
So, in addition to our annual holiday traditions (including reading The Night Before Christmas and How the Grinch Stole Christmas), we'll be sharing these 55 fascinating facts about Santa's 1600-year history and honoring St. Nicholas' legacy of charitable giving.
Here at Green Global Travel, we like to put an emphasis on the green aspect by finding lots of little ways to make life more sustainable.
Of course one of the most important aspects of this mission is reducing waste. With Christmas fast approaching, we want to help by providing ways to reduce waste created by this increasingly commercialized holiday.
"Reduce, Reuse, Recycle," has been a popular mantra of the environmentally conscious movement since the 1970s.
This popular phrase is a literal order of priorities in terms of how we can live a more eco-friendly lifestyle.
To reduce your carbon footprint, you should first try to reduce the waste you produce. This can be done by purchasing less stuff.
Next you should try to reuse what you have already bought once its initial purpose has run its course. This is what we will be focusing on in this article.
Recycling should generally be used only as a last resort, because it still produces more waste than reducing and reusing.
Recycled Christmas cards crafts are a great way to reuse a common holiday-related waste product.
Some 2 billion Christmas cards are sent each year in the U.S. alone, and the vast majority of these end up in the dump.
It's also a really fun Christmas craft for kids, not to mention an excellent way to teach young ones about the importance of lower our consumption and waste by reusing what we can!
READ MORE: 35 Recycled Christmas Decorations & DIY Christmas Crafts to Make
History & Names for Santa Claus Around the World Guide
The Story of St Nicholas
Other Names for Santa Around the World
History of Santa Around the World

Odin, Sleipnir
Sinterklaas (Dutch Santa Claus)
Father Christmas (British Santa Claus)
Christkindl or "Kris Kringle" (German Santa Claus)
Père Noël (French Santa Claus)

History of Santa Claus in America
The Coca-Cola Santa Claus Connection
Miscellaneous Santa Facts
Questions about Santa
READ MORE: 25 Fun Christmas Eve Traditions Around the World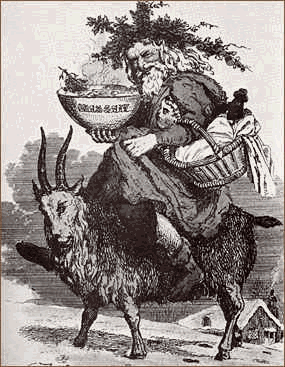 THE STORY OF ST NICHOLAS
1. Saint Nicholas was a Greek Christian bishop born sometime around 280 A.D. (approximately 1738 years ago) near Myra in Lycia, a province of the Byzantine Anatolia (now located in Turkey).
He was famous for his generous and anonymous gifts to the poor. He once helped three impoverished daughters of a local Christian with dowries (dropping a sack of gold through their window each night) so that they wouldn't have to become prostitutes.
2. Given his birthplace, the real St Nicholas likely looked very different from the image of Santa Claus most people know today.
He almost certainly had an oil skin tone, brown eyes, and grey/silver hair. When scientists reconstructed his face using forensic technology, they discovered that the future saint had a badly broken nose.
They surmised that he had received the injury during the persecution of Christians under the rule of Emperor Diocletian, who famously divided the Roman Empire.
3. The saint is also commonly known as Nicholas the Wonderworker, due to the many miracles attributed to his intercession.
These include tales of him calming stormy seas, chopping down a tree that was possessed by a demon, and saving three innocent soldiers from being put to death.
4. In 1087, the Italian city of Bari mounted an expedition to locate the tomb of the Christian Saint and procure his remains in order to attract tourism to the area.
The reliquary of St Nicholas was desecrated by Italian sailors and the spoils were taken to Bari, where they are kept to this day.
5. St. Nicholas has been the world's most popular non-Biblical saint for centuries. Led by Erik the Red and later his son, newly converted Christian Leif Eriksson, the Vikings were the first Europeans to arrive in the New World.
In 1126 they built a cathedral dedicated to Nicholas, who is the patron saint of sailors, merchants, students, and more.
Christopher Columbus named a port in Haiti for St. Nicholas in 1492, and the Spanish also named the St. Nicholas Ferry settlement (now Jacksonville, Florida) after him.
READ MORE: 25 Symbols of Christmas: History & Meaning of Christmas Decorations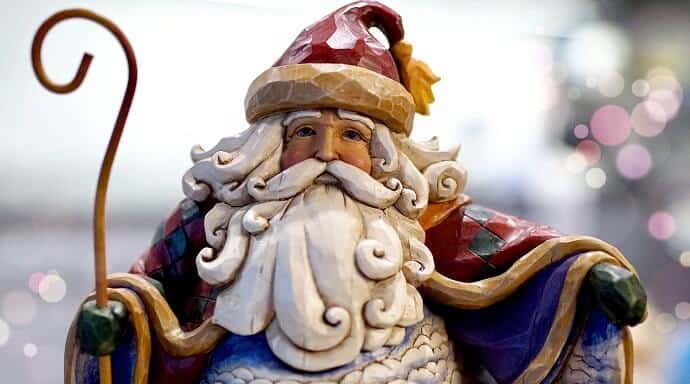 OTHER NAMES FOR SANTA CLAUS AROUND THE WORLD
Belgium- Pere Noel
Brazil- Papai Noel
Canada- Santa Claus
Chile- Viejo Pascuero ("Old Man Christmas")
China- Dun Che Lao Ren ("Christmas Old Man")
Czech Republic- Svatý Mikuláš
England– Father Christmas
Finland- Joulupukki
France- Pere Noel
Germany- Saint Nikolaus & Weihnachtsmann ("Christmas Man")
Hawaii- Kanakaloka
Holland- De Kertsman
Hungary- Mikulas (St. Nicholas) & Tel-apo (Winter Grandfather)
India- Santa Claus & Baba
Italy- Babbo Natale
Japan- Hoteiosho (a god or priest who bears gifts)
Lithuania– Kaledu Senelis
Netherlands- Kerstman & Sinter Klaas
Norway- Julenissen ("Christmas gnome")
Peru– Papa Noel
Poland- Swiety Mikolaj (St. Nicholas)
Russia- Ded Moroz ("Grandfather Frost")
Spain– El Nino Jesus
Sweden- Jultomten ("Christmas brownie")
United Kingdom- Father Christmas.
HISTORY OF SANTA AROUND THE WORLD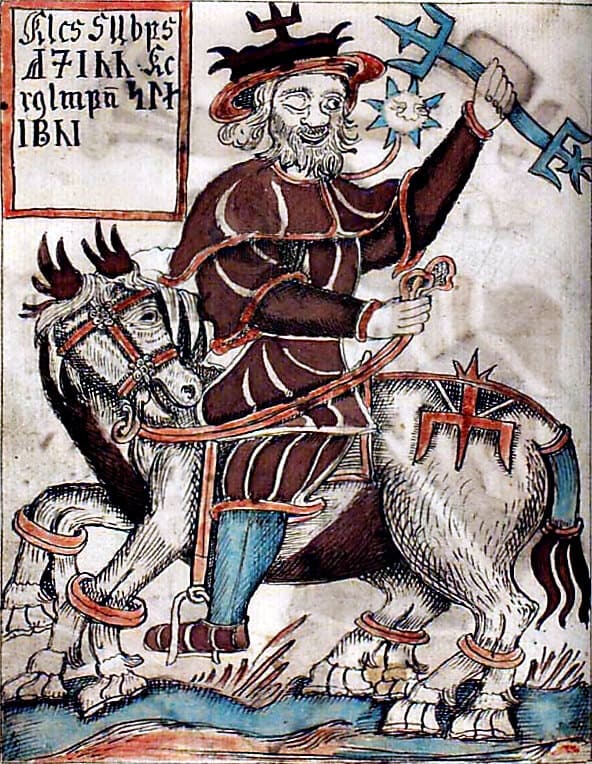 Odin, Sleipnir & the Yule Goat (Scandinavian Santa)
6. Numerous parallels have been drawn between Santa Claus and Odin, a major god of the Germanic peoples prior to their Christianization.
According to legend, Odin kept two ravens that would listen at people's chimneys to find out who was good or bad.
During the Germanic holiday of Yule, he led a great hunting party through the sky, riding an eight-legged horse named Sleipnir that could leap great distances (sound like Santa Claus's reindeer?).
7. Odin was referred to by many names in Skaldic poetry, including Langbarðr ("long beard") and Jólnir ("Yule figure").
According to some traditions, children would place their boots near the chimney, filling them with carrots, straw, or sugar for Sleipnir to eat.
Odin would then reward those children for their kindness by replacing Sleipnir's food with gifts or candy! Eventually, the use of Christmas stockings began to replace boots.
8. In other countries, the figure of St. Nicholas was blended with local pagan folklore. In Nordic countries such as Sweden and Norway, the original bringer of gifts at Christmastime was the Yule Goat.
9. In the 1840s, an elf in Nordic folklore called "Tomte" or "Nisse"– a short, bearded man dressed in gray clothes and a red hat– started to deliver the Christmas presents in Denmark.
This new version of the folkloric creature was obviously inspired by the Santa Claus traditions that were gradually spreading to Scandinavia.
10. By the end of the 19th century this tradition had also spread to Norway and Sweden, replacing the Yule Goat entirely.
Even though the tradition of the Yule Goat as a bringer of presents is now gone, a straw goat is still a very common Christmas decoration in all of Scandinavia.
READ MORE: 90 Christmas Traditions Around the World (with Fun Facts)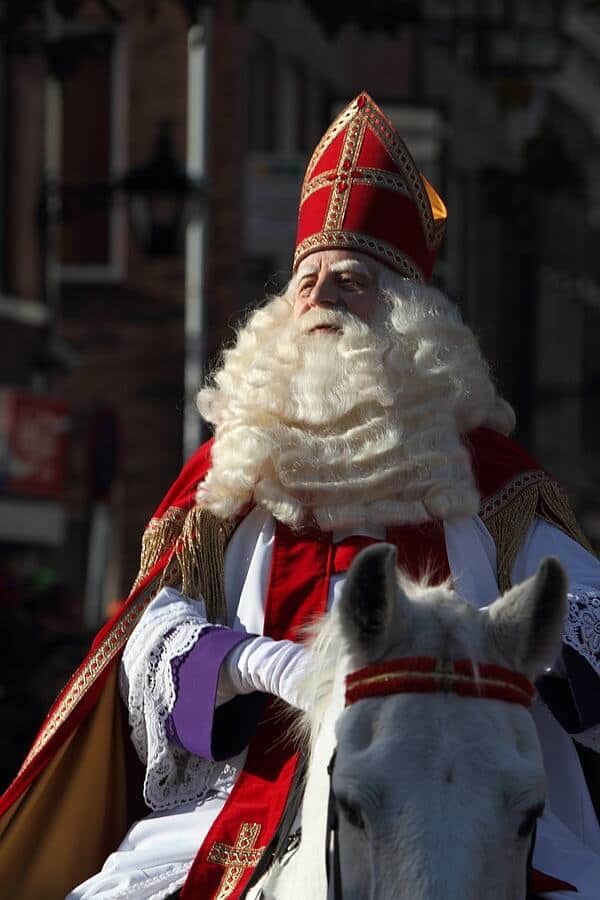 Sinterklaas (Dutch Santa Claus)
11. In the Netherlands and Belgium, presents are delivered by Sinterklaas (another name for Santa), who is often called De Goede Sint ("The Good Saint") and De Goedheiligman ("The Good Holy Man").
His feast, known as Sinterklaasfest, dates back to the Middle Ages and originally combined philanthropy to the poor with parties of Carnival-style excess.
The feast takes place on December 6, and eventually came to be celebrated in many countries around the world.
12. Most of the iconic imagery we associate with Santa Claus actually started with Sinterklaas, who was a blend of pagan and Christian traditions.
Like St. Nicholas, he's elderly, with long white hair and a full beard. He wears a long red cape over a white bishop's vestment, carrying a ceremonial shepherd's staff.
Just as Odin rode Sleipnir, Sinterklaas rides a white horse. Where Odin's ravens told him whether kids were naughty or nice, Sinterklaas' helpers do the same. He keeps his checklist in a big, red book he carries with him.
13. In the Dutch tradition, Sinterklaas has helpers commonly known as Zwarte Piet ("Black Peter") in Dutch.
Popularized by an 1850 book written by Amsterdam-based teacher Jan Schenkman, the character is said to be black because he's a Moor from Spain.
People portraying Zwarte Piet typically wear blackface make-up, colorful clothes from the Renaissance era, curly-haired wigs, red lipstick, and earrings.
This has led to controversy, with critics calling it an offensive racial stereotype reminiscent of the Dutch colonial era.
14. Schenkman's book, Sint-Nicolaas en zijn knecht ("Saint Nicholas and his Servant"), is also credited with introducing what would become traditional Dutch images of Sinterklaas.
These included scenes of him delivering presents by going down the chimney, riding over the roofs of houses on a horse, and arriving from Spain by steamboat.
Today, the Dutch holiday season traditionally begins in mid-November, when Sinterklaas arrives by steamboat at a designated port, then parades through the streets on his horse.
15. Some 26% of the Dutch population gives presents on both Sinterklaas Day and Christmas Day. In Belgium, presents are given to children only, but to almost all of them, on Sinterklaas Day.
On Christmas Day, everybody receives presents, but often without the help of Sinterklaas.
READ MORE: The 25 Best Places to Spend Christmas in Europe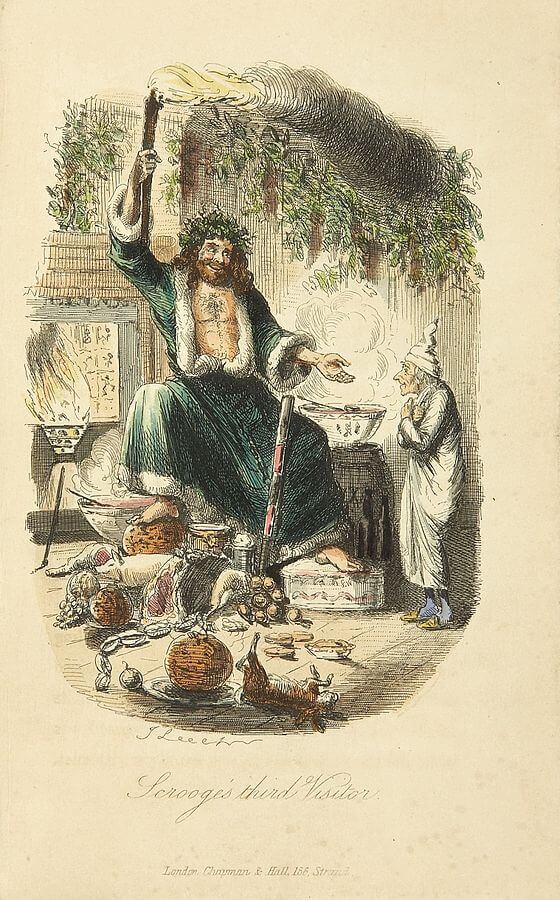 Father Christmas (British Santa Claus)
16. The figure later known as Father Christmas first appeared in Christmas his Masque, a 1616 play written by Ben Jonson.
In the festive production, "Old Christmas" was portrayed as a jolly, well-nourished, bearded man dressed in a fur-lined robe.
He personified the spirit of good cheer at Christmas. He was accompanied by his 10 children, whose names included Wassail, Carol, Misrule, and Minced-Pie.
17. Father Christmas was considered controversial in those pre-reformation days after the English Civil War.
The government, which was controlled by Puritans, wanted to abolish Christmas and its traditional customs because they considered it a Catholic holiday.
Supporters of King Charles adopted Father Christmas as a symbol of their cause because he represented bountiful feasting and good cheer. It wasn't until Victorian times that he started being associated with giving gifts to children.
18. Father Christmas first became known outside the UK as "the Ghost of Christmas Present" in Charles Dickens's A Christmas Carol.
In that holiday classic, he was portrayed as a large, genial man who takes Ebenezer Scrooge through the bustling streets of London on Christmas morning, sprinkling the essence of the holiday onto the happy populace.
The book, which depicts Scrooge reluctant to give Bob Cratchit coal for the fire, is also thought to have inspired the "lump of coal for naughty kids" tradition.
19. When Father Christmas first began showing up in illustrations, he wore many different colored robes, including green, purple, blue, and brown, among others.
It wasn't until the late 1800s that it first became popular to depict Santa Claus wearing a red suit.
20. By the early 1800s, pre-modern representations such as the historic St. Nicholas and the Dutch Sinterklaas had merged with the British Father Christmas to create the character now known as Santa Claus.
Father Christmas is now considered to be one of the other names for Santa Claus as they are now considered to be the same person. The British leave out beer or sherry for him rather than milk on Christmas Eve.
READ MORE: 10 Best Environmental Charities for Holiday Donations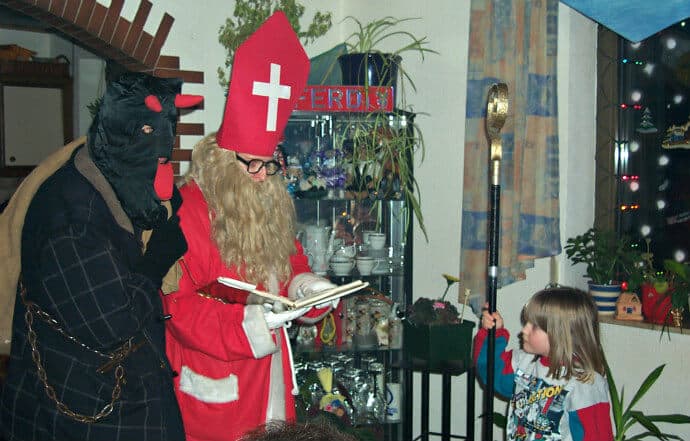 Christkindl or "Kris Kringle" (German Santa Claus)
21. The German Santa Claus was nearly eliminated for centuries by Martin Luther, the 16th German professor of theology who played a major role in the Protestant Reformation.
With his native land divided between Protestants and Catholics, Luther wanted to rid Christmas of all its Catholic customs.
To replace St. Nicholas, he introduced das Christkindl, an angelic Christ Child who would bring gifts to good girls and boys.
Eventually this figure was replaced by der Weihnachtsmann (Father Christmas) in Protestant regions and in the U.S., where Christkindl mutated into "Kris Kringle." Ironically, Christkindl is still popular in the Catholic region of Bavaria.
22. There are actually dozens of different names for Santa Claus in Germany. The four most popular Santa names are Weihnachtsmann, Klaus, Nickel, and Niglo, each of which is more popular in a different region of the country.
Locally, there are countless names of santa claus, with most more commonly associated with December 6 (Niklolaustag, or St. Nicholas Day) than Christmas Eve or Christmas Day.
23. When St. Nicholas arrives, he's not accompanied by jolly little elves. In Germany, his companions are more malevolent characters, with different names in different regions.
They're known as Aschenmann, Bartl, Boozenickel, Hans Trapp, Klaubauf, Belsnickel/Pelznickel, Ruhklas, and Knecht Ruprecht, and all of them are pretty darn frightening.
Collectively known as the Nikolaus-Begleiter (Nicholas Companions), these sinister souls reflect the twisted darkness of the Grimm Brothers fairy tales, which were based on ancient Germanic folklore.
24. The most famous of these St. Nicholas companions is Krampus, a half-goat, half-demon creature with a hideous face, horns, fangs, and a long, pointed tongue.
Legend in the Alpine countries holds that Krampus comes to punish the naughty children. Some versions of the traditional folklore suggest he'll swat them with birch branches, while others involve a sack for taking them to Hell.
He traditionally appears during festivals on Krampusnacht (December 5), the night before the feast of St. Nicholas.
25. As early as 1555, St. Nicholas brought German children gifts on December 6, which was the only "Christmas" gift-giving time during the Middle Age.
Now, on the night of December 5 or 6, a man dressed as der Heilige Nikolaus (who resembles a bishop and carries a staff) goes from house to house in small communities in Austria and the Catholic regions of Germany in order to bring small gifts to the children.
READ MORE: German Christmas Cookies – Lebkuchen Recipe (aka German Gingerbread)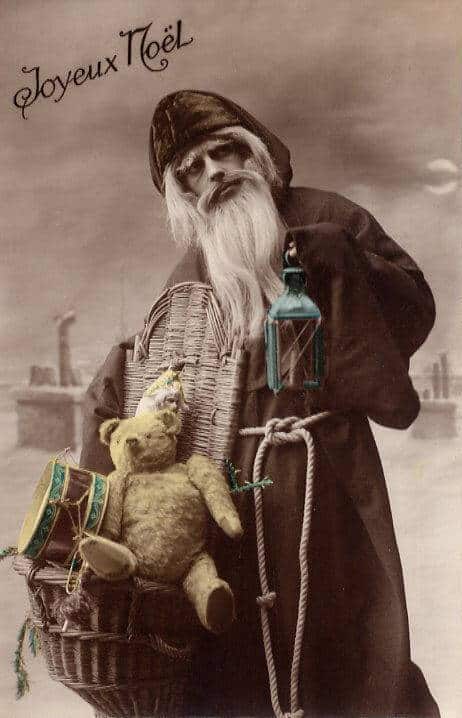 Père Noël (French Santa Claus)
26. Known as Pére Noël, the French Santa Claus has a keen sense of style. Instead of the traditional red hat with a white pom pom on top, Père Noël has a fur-lined hood built right into his cloak, which is also trimmed with white fur.
Not only does this (presumably fake) fur cloak make the French Santa more fashionable, it's also more practical when flying across the night sky at light speed!
27. In the period leading up to Christmas, French children write letters to Père Noël (another name for Santa) in class at school, asking him for certain presents.
A fun fact is that, in 1962, a law was passed in France decreeing that all letters written to Santa would be responded to with a postcard so that when a class writes letters, each pupil gets a response.
28. In the Franche-Comté region of eastern France, on the border with Switzerland, Père Noël is not nearly as popular as la Tante Arie (Aunt Arie).
She is said to be the reincarnated form of Henriette de Montbéliard, the Countess of the County of Montbéliard.
This fanciful fairy is said to always be accompanied by her donkey, Marion, and to reward good children with gifts and naughty children with nothing but a boot filled with twigs.
She's also believed to perform miracles for virtuous, hardworking, charitable people.
29. Instead of leaving milk and cookies out for Santa in France on Christmas Eve, the children leave carrots and other French delicacies for Père Noël's flying donkey, Gui (the French word for mistletoe).
Apparently the French really have a thing for Christmas donkeys!
30. There are no presents under the tree for French kids on Christmas Day. Instead, Père Noël brings toys after the evening Mass on Christmas Eve.
Well, the good children get presents from Père Noël. But naughty children may instead encounter Le Père Fouettard ("the father whipper"), a nasty bad guy in black robes who– as his name implies– whips children who don't behave.
READ MORE: Real Christmas Tree vs Fake Christmas Tree: Which is Better for the Environment?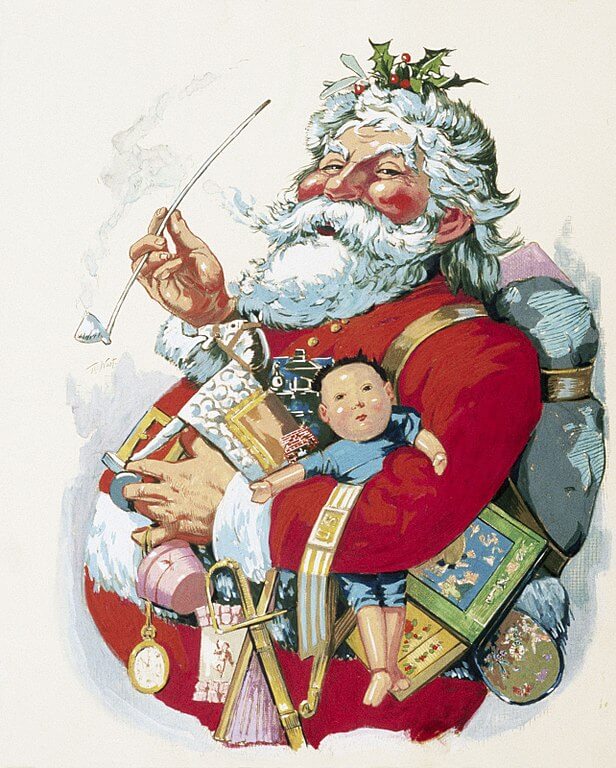 HISTORY OF SANTA CLAUS IN AMERICA
31. If you love Santa Claus but don't like immigrants, consider yourself a hypocrite.
It was Dutch immigrants who originally brought the legend of Saint Nicholas (who was known to them as Sinterklaas) with them to New Amsterdam, which we now know as New York City.
They also brought the Christmas traditions of their homeland, which included giving gifts and sweets to children on December 6, the day of his feast.
32. In Washington Irving's satirical story History of New York(1809), Sinterklaas was Americanized into the name "Santa Claus."
This name for St. Nicholas was first used in the American press in 1773. But by then the character had lost his bishop's apparel.
He was instead pictured as a big-bellied Dutch sailor with a pipe and a green winter coat. Irving's story may also be the first time Santa was depicted as sliding down a chimney to deliver presents.
33. John Pintard, who founded the New York Historical Society in 1804, also deserves his fair share of credit for making jolly old St. Nick more popular in the US.
It was he who launched the society's first annual St. Nicholas anniversary dinner on December 6, 1910. To honor the occasion, he commissioned artist Alexander Anderson to create the first known American image of the saint.
The portrait pictures Santa leaving treats in children's stockings hanging by a fireplace. The accompanying poem reads, "Saint Nicholas, my dear good friend! To serve you ever was my end, If you will, now, me something give, I'll serve you ever while I live."
34. Many of our current ideas of what Santa Claus looks like came after the publication of the poem "A Visit From St. Nicholas" in the Troy, New York Sentinel on December 23, 1823.
Initially published anonymously, the famous poem– which is better known today as "Twas The Night Before Christmas"– was later attributed to Clement Clarke Moore.
Modern details originally established in this poem included riding in a sleigh that lands on the rooftop, having 8 reindeer, and carrying a bag full of toys.
35. One of the first artists to define Santa Claus's modern-day image was Thomas Nast, a German-born cartoonist of the 19th century.
Nast was best known as a political cartoonist, particularly for his pro-Union work during the Civil War and creating the Republican Party's iconic elephant.
But in 1863 he created his most enduring work, when his famous illustration of "Merry Old Santa Claus" appeared in Harper's Weekly.
The story that Santa lives at the North Pole may have been a Thomas Nast creation. His 1866 collage of engravings titled Santa Claus and His Works included the caption, "Santa Clausville, N.P."
READ MORE: The 20 Best Places to Spend Christmas in the USA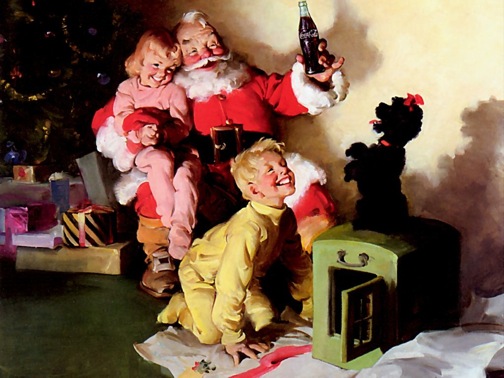 THE COCA-COLA SANTA CLAUS CONNECTION
36. Early illustrations of Santa Claus often pictured him as a stern, commanding disciplinarian holding a birch rod.
The image of the jolly old elf we know and love today was created by artist Haddon Sundblom for Coca-Cola advertisements, which debuted in The Saturday Evening Post in 1931.
The popularity of Sundblom's images spawned urban legends that Santa Claus was invented by the Coca-Cola Company, or that Santa wears red and white because they're the colors used to promote the Coca-Cola brand.
37. Coca-Cola was not the first soft drink company to utilize a modern image of Santa Claus in its advertising.
White Rock Beverages used Santa to sell mineral water in 1915, and then in advertisements for its ginger ale in 1923.
Coca-Cola first used Santa for its Christmas ads in the 1920s, but they were not nearly as popular as Sundblom's Coca-Cola Santa Claus.
38. Sundblom's early paintings of Santa Claus were actually based on a live model– his buddy Lou Prentiss, a retired salesman.
After he passed away, Sundblom began using himself as a model, painting while looking into a mirror. This led to a huge hullabaloo one year, when Santa's belt was backwards!
He also used other real people as models for his paintings, with the children based on his neighbors and a poodle in a 1964 painting belonging to his neighborhood florist.
39. In 1942 Sundblom introduced a new friend for his Coca-Cola Santa, known as "Sprite Boy."
The character, who appeared in Coke's Christmas ads for nearly two decades, was named for the fact that he was a sprite (another name for an elf). The company didn't actually introduce the Sprite beverage until the 1960s.
40. Sundblom's Coca-Cola Santa Claus became one of the 20th century's most successful ad campaigns.
His indelible images were used in magazines, store displays, billboards, posters, calendars, and plush dolls, many of which are valuable collectibles today.
He created his final Santa painting in 1964, but his art went on to be exhibited at the Louvre, the Royal Ontario Museum, and many more famous museums around the world.
Many of Sundblom's original paintings can now be seen at the World of Coca-Cola in Atlanta, Georgia.
READ MORE: Atlanta Christmas Events: 50 Things to do for Christmas in Georgia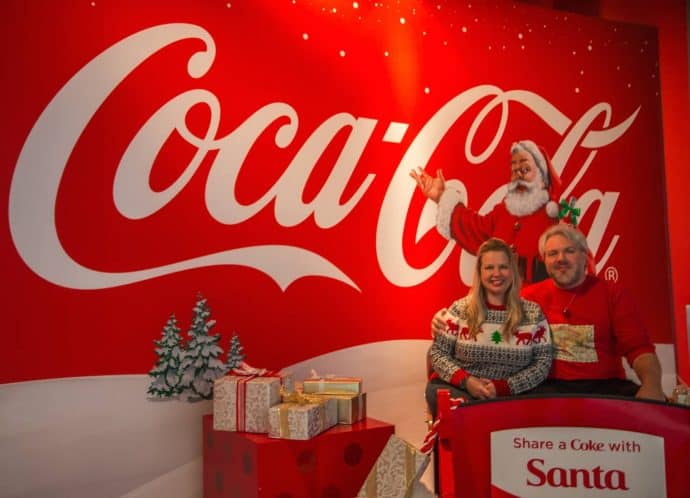 MISCELLANEOUS SANTA FACTS
41. During the Protestant Reformation, St. Nicholas was relegated to being Jesus' sidekick, and looked nothing like the Santa Claus of today.
In Germany he was known as Ru-laus (Rough Nicholas), Aschenklas (Ashy Nicholas), or Pelznickel (Furry Nicholas).
Protestants also turned the Devil into St. Nick's helper in an attempt to demonize the Catholic saint, hoping their faithful flock would associate Santa with hellfire and damnation.
42. Although Santa/St. Nicholas has been celebrated for over 1,000 years now, Mrs. Claus didn't get a single mention until the 1849 publication of A Christmas Legend, a short story by James Rees.
She was later popularized by Katherine Lee Bates's 1889 poem "Goody Santa Claus on a Sleigh Ride" (the term "Goody" was short for "Goodwife," or "Mrs.").
43. Spanish children widely prefer the Three Kings (a.k.a. Three Wise Men) over Santa Claus when it comes to Christmastime gift-givers.
In Spain, kids write letters to Los Reyes Magos– Melchior, Caspar, and Balthazar– who bring the children gifts either the night before, or on the morning of, the Epiphany (January 6).
The children usually leave a drink for each of the Three Kings, as well as some food and drink for their camels.
44. During Joseph Stalin's reign in Russia (1924-1953), he attempted to eradicate Santa Claus and Christmas altogether in favor of a more secular "Winter Festival.
Russians commonly believe that an elderly woman named Babouschka purposely gave the wise men bad directions to Bethlehem so that they couldn't find Jesus.
Now, Babouschka visits Russian children on January 5, leaving gifts at their bedsides in the hope that one of them is the baby Jesus and she will be forgiven.
45. Introduced in 1823 in The Night Before Christmas, Santa's reindeer names were originally named Dasher, Dancer, Prancer, Vixen, Comet, Cupid, Dunder and Blixem. Dunder and Blixem were later changed to Donner and Blitzen.
Rudolph, the Red-Nosed Reindeer didn't come along until 1939, when Robert L. May created the character in a book for the Montgomery Ward department store.
46. In the Czech Republic, Santa comes on December 5, which is known as St. Nicholas Eve and considered a separate holiday from Christmas.
That night, he normally arrives accompanied by one or more angels and devils. After asking the children if they've been naughty or nice, he asks them to sing a song or recite a poem.
If they've been good, he gives them a basket of presents, often containing chocolate and fruit. If they've been bad, the devil might give them a lump of coal.
READ MORE: 40 Fascinating Christmas Traditions in Mexico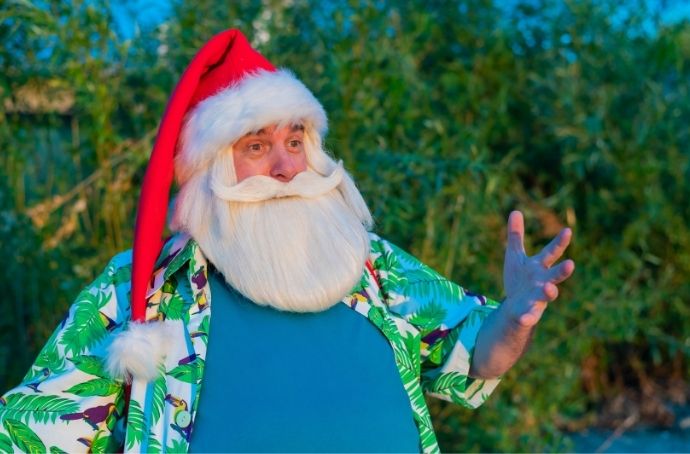 47. Naturally the Hawaiian Christmas holiday has a tropical theme. Hawaiian Santa Claus and his elves wear aloha shirts instead of fur-trimmed suits.
Some households import real Christmas trees from the mainland, while other decorate palm trees with lights and ornaments and use outrigger canoes and dolphins to resemble Santa's sleigh and reindeer.
The most popular Christmas dinner is a community or family luau, complete with roast pig and colorful Christmas leis.
48. The popular department store Santa tradition dates back nearly 130 years. The first one was Massachusetts entrepreneur James Edgar, who took on the role back in 1890.
Edgar, who owned a small dry goods store in Brockton, Massachusetts, came up with the idea of dressing up in a Santa Claus costume as a marketing tool.
Children from all over the state came to see him. The tradition of kids getting their picture taken with Santa dates back to at least 1918.
49. Countless kids around the world send letters to Santa Claus each Christmas season. The three countries that send the most letters are France (1.7 million), Canada (1.35 million), and the United States (just over a million).
So where do all these letters to Santa ultimately go? In the United States, they're sent to Santa Claus, Indiana!
50. In Norway and Denmark, children usually leave rice pudding for Santa. Swedish children do the same, along with a hot cup of coffee to help him have the energy he needs to keep delivering presents all night long.
READ MORE: The Best Food Gifts From Around the World (The Ultimate Gourmet Guide)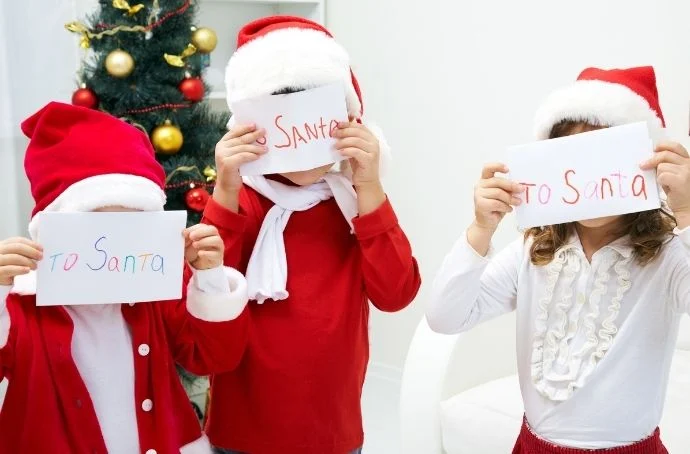 51. When traveling through Iceland, Santa can look forward to a traditional Icelandic bread known as laufabrauð. In Australia, Ireland, and Britain, he is often left a glass of beer or sherry for extra Christmas cheer!
52. While most people recognize Santa's home as being the North Pole, there's actually a town in southwestern Indiana that could give the North Pole a run for its money.
Fittingly named Santa Claus, the town is proclaimed as "America's Christmas Hometown." And it's suitably filled with Christmas-themed attractions.
There are a ton of famous locations in Santa Claus, IN, such as the 1880 Santa Claus Church, the Santa Claus Post Office (where all letters to Santa in the U.S. are sent), and a 22-foot-tall statue of jolly ol' St. Nick.
You can also find Santa himself visiting the cheerful town during the holiday season.
53. In 1927, Santa received his airplane pilot's license from then-Assistant Secretary of Commerce for Aeronautics, William P. MacCracken.
Also in the photo (which can be found in the U.S. Library of Congress) is Clarence M. Young, the Director of Aeronautics for the Department of Commerce.
While visiting to get his license, Santa was also given official airway maps to help him navigate the skies on Christmas Eve, along with the assurance that there would be lights illuminating the sky to help him see at night.
54. On the night before Christmas, many eager kids look to NORAD to track Santa's whereabouts in the hopes that he will soon be at their house. Interestingly enough, this modern-day Christmas tradition began with an accident.
A young child accidentally called the unlisted phone number of the Continental Air Defense Command (CONAD) in 1955, believing she was calling Santa after seeing a listing in a local newspaper.
The commander on duty realized the mistake, but promised the young child that CONAD would help guide Santa on his travels.
From there, the tradition went on to NORAD when it was formed in 1958. Every year since, millions of families have tuned in to the NORAD Santa Tracker to keep tabs on the jolly old elf as he sets out on his Christmas gift-giving journey.
55. Santa Claus is an incredibly popular character that has been featured in hundreds of songs, movies, and TV shows.
He even made his way into the Marvel Universe in the 1991 holiday special, The X-Men Meet Santa Claus.
There we learned that Santa has more magical powers than we originally thought, and is actually one of the most powerful mutants in the world (according to Cerebro, Professor X's m utant-detecting device).
The comic book explains that Santa has special abilities including immortality, weather manipulation, telepathy, immunity to the cold and heat, and gravity manipulation, among other powers.
56. With over 2.1 billion children and an average of 2.5 children per household, Santa must make 842 million stops in 32 hours on Christmas Eve.
His round-the-world trip takes him some 218 million miles, with toys estimated to weigh in at over 400,000 tons.
Assuming all of the households he visits leave out two cookies for Santa on Christmas Eve, he consumes around 374 billion calories, 33,000 tons of sugar, and 151,000 tons of fat in one night!
Hope Santa has a good personal trainer in the off-season… –Bret Love
READ MORE: Countries That Don't Celebrate Christmas
COMMON QUESTIONS ABOUT SANTA