With international travel at an all-time low, camping, hiking, and other forms of outdoor recreation have never been more popular.
America's state parks, national parks, and national forests are seeing record-breaking numbers as more and more people turn to nature for their socially-distanced exercise and family time.
So while the travel industry on the whole may be struggling, business is booming for outdoor gear that makes exploring nature more enjoyable.
Check out our guide to some of the year's best gifts for campers, hikers, and nature lovers, from tents, sleeping bags, and backpacks to hiking shoes, trail cameras, and more!
READ MORE: The 125 Best Gifts for Travelers
BEST GIFTS FOR CAMPERS

Kammok Mantis All-in-One Hammock Tent
When it comes to weight and ease of portability, it's hard to beat a hammock tent. The Kammok Mantis weighs just 2 lbs 8.5 ounces with the rainfly, or a mere 1 lb 11.8 ounces without it! But that doesn't mean giving up protection.
The Mantis All-in-One comes with everything you need to withstand the elements, including the rain fly (made from Patagium™ 15D nylon diamond ripstop), a removable mesh bug net, integrated structural ridgeline, and more.
You can also buy a Mantis Winter Barrier separately, allowing you to conserve heat and ventilate with built-in steam vents when the weather turns cold.
It's a great gift for a camper, offering 4-season flexibility and omni-directional flat lay, with everything they need (including straps, stakes, roll-top stuff sack, and more) included.
READ MORE: The 15 Best Camping Tents for Families
Mountain Hardwear Lamina Eco AF & Kelty Women's Galactic 30 Sleeping Bag
When I was a boy, camping and hiking the North Georgia Mountains with my family, your options for sleeping bags were pretty limited.
But these days there's a different bag tailor-made for just about any size, sex, or season, with new technological advancements every year. And 2020 brought some great camping gift ideas.
Take the Lamina Eco AF Sleeping Bag from Mountain Hardwear, the most eco-friendly bag we've seen. It's un-dyed (to reduce water usage); made with recycled shell, lining, insulation, and trims; yet still lightweight, durable, water repellant, and amazingly warm (rated 15F/-9C).
The Galactic 30 from Kelty is a more budget-friendly sleeping bag, sized to fit a woman's smaller frame (up to 5'8″). Rated to 30F/-1C, it weighs just 2 lbs, 8 oz and packs down into its own 15 x 7.5″ stuff sack for easy portability on the trail.
READ MORE: The Best Backcountry Camping Gear for 2020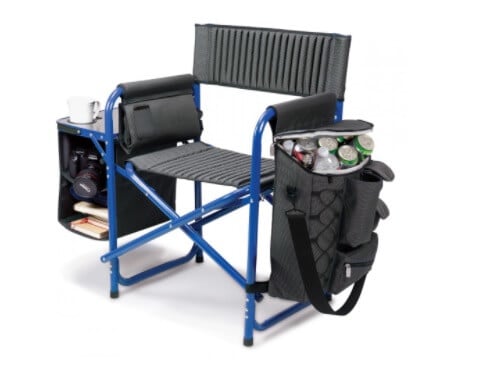 Picnic Time Fusion

Backpack

Chair

w/Side Table & Cooler

We tend to spend a lot of time on our pontoon boat at the lake, where space concerns make multi-purpose items incredibly beneficial.

Anyone who likes camping, fishing, RV travel, and other forms of outdoor recreation should love the Fusion Backpack Chair from Picnic Time, which can be folded up and carried like a backpack.

This killer aluminum-frame chair is ultra-comfy thanks to ribbed padding in the seat and backrest. But what makes it cool are the tray table with accordion-style shelves, detachable 24-can cooler, cell phone pocket, and other unique features.

It's really more like an outdoor throne than camp chair, but at 13+ pounds it's best recommended for beaches and campsites where you can park close by.

READ MORE: Best Beach Gear & Lake Essentials for Summer Staycations
Shower Toga w/Simple Shower & Scrubba Stealth Pack
One of the biggest problems with camping in 2020 is that many state parks and campgrounds have closed their restrooms, making it difficult to get clean after a long day on the trail.
Funded on Shark Tank, the one-size-fits-all Shower Toga solves this problem by offering privacy for changing, showering, and getting dressed in public.
Made from coated nylon, the so-simple-it's-genius product can be purchased with a Simple Shower attachment that connects to any 2-liter bottle. After you're done, the toga can also be used to store your dirty, wet clothes to keep your car/campsite clean.
The Scrubba Stealth Pack is a similarly cool creation, functioning as a portable shower, washing machine, and compression dry bag. Weighing 1 pound with straps attached, it holds 21 liters of water, with an internal washboard that provides a machine-quality wash in a matter of minutes.
Both would make innovative presents for the campers in your life.
Selk'bag Original 6G & Poler Outdoor Stuff Reversible Napsack
We first wrote about Selk'bag– the somewhat bizarro brand of sleeping bags that you wear like clothing– way back in 2013.
Their new Original 6G offers an upgrade on their core concept, providing improved mobility and warmth. It's a unique camping gift for people who want to savor the cozy comfort of a sleeping bag all day long.
The Reversible Napsack from Poler works with a similar concept (including the built-in pockets). But where the Selk'bag has defined arms and legs, the Napsack simply has zippers to put your arms through and a cinch at the bottom.
So the Original 6G is a better gift for camping, because it provides all-over warmth in cold climates (including an adjustable hood and removable booties). But the Napsack offers great adaptability and 10 reversible color/pattern combos.
READ MORE: 20+ Camping Tips & Tricks for Responsible Travelers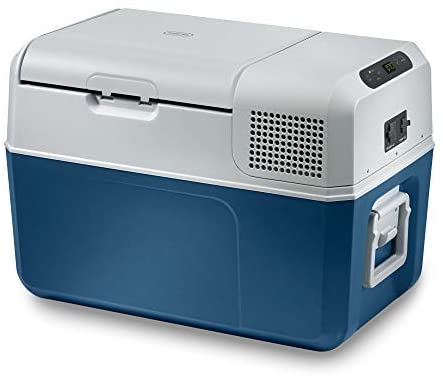 Mobicool MCF32 Cooler
As great as the advances in camping essentials such as tents and sleeping bags have been over the years, the technology of coolers is light-years ahead of where it was a few decades ago.
The Mobicool MCF32 Cooler renders the need for ice (which always seems to melt and infiltrate our food packaging) a thing of the past.
Available on Amazon, the MCF32 combines the power of a refrigerator with the portability of a cooler. Its compressor technology allows you to freeze foods down to 12ºF using AC power at home, or DC power in your vehicle.
Best of all, it weighs just 25 pounds, and allows 50% more capacity than traditional ice chests of the same size. With 31 liters of space, it can hold nearly seven 6-packs! But, at around $250, it is one of the more expensive camping gifts on this list.
READ MORE: The Best Food Gifts From Around the World
Klymit Versa Luxe Camping Blanket & Coalatree Puffy Kachula Adventure Blanket
As a big guy with Scottish ancestry, I tend to burn hot even when the weather gets cold. Truth be told, I've never really found a sleeping bag I love.
But blankets offer a nice alternative, and are great gift ideas for campers who tend to enjoy exploring relatively warm climates.
The Versa Luxe Camping Blanket from Klymit is an innovative option, with cozy high-loft fleece inside and soft polyester ripstop outside. With corner snaps, a cinch cord, and foot box, it has lots of sleeping bag-ish qualities. You can also store the blanket in the foot box to create a comfy pillow!
Billed as the "multi-tool of blankets," the Puffy Kachula Adventure Blanket from Coalatree is also like having a pillow, cold weather poncho, and sleep sack all in one. We love the fact that it's water- and spill-resistant, and is warm and snuggly enough to provide 3-season camping comfort.
READ MORE: Tracing My Clan McKinnon Roots in Scottish Islands & Highlands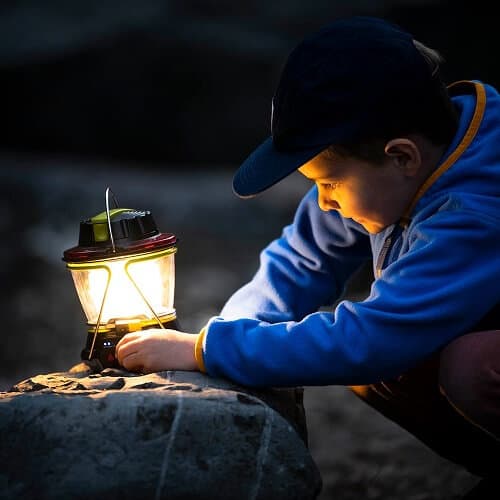 Goal Zero Lighthouse 600
After losing power for days due to severe storms, we can attest to the fact that solar-powered chargers/lights are the best camping gifts you can use around the house in case of emergency.
The Lighthouse 600 from Goal Zero is a great example: You can recharge it via any USB port, via the sun with a solar panel (sold separately), or via the built-in hand crank.
An improvement on their original Lighthouse lantern, the 600's features include a built-in handle, collapsible legs, and a rechargeable 5200 mAh lithium battery that can power your smartphones and small USB devices.
But it also provides a whopping 600 lumens of multi-directional, adjustable LED light, which comes in real handy whether you're camping or dealing with natural disasters.
READ MORE: How to Reduce Your Carbon Footprint With Carbon Offsets & More
BEST GIFTS FOR HIKERS

Men's HOKA ONE ONE TenNine Hike GTX
With hiking growing more popular than ever, we're seeing more and more people in our Facebook groups asking about the best hiking shoes for men and women.
HOKA ONE ONE has emerged as one of our favorite brands in the last few years, thanks to their innovative designs, advanced shoe technology, and sustainable initiatives.
The TenNine Hike GTX, which they describe as "part hovercraft and part hiking boot," uses HUBBLE heel geometry and a Vibram Megagrip outsole with Litebase construction to create a supremely comfortable, durable, and water repellant shoe.
But it's also impressively eco-friendly. It's got a unique, recycled GORE-TEX fabric, as well as recycled polyester in the collar, heel pull, laces, and vamp webbing.
READ MORE: The Most Comfortable Walking & Hiking Shoes for Men

Women's Salomon Vaya Mid GTX
Made to balance the comfort of a shoe with the ankle support of a boot, the Vaya Mid GTX from Salomon was designed specifically with women in mind.
Female hikers will love that the construction of the shoe– which has a soft collar and Sensiflex technology– was adapted for the form of a woman's foot, with higher ankle support for added stability on rocky or uneven ground.
The sturdy mesh upper, Contagrip outsole, and waterproof Gore-Tex membrane offer great protection for your entire foot.
And of course we love the Green Gables/Spruce Stone color combo!
READ MORE: The Most Comfortable Walking & Hiking Shoes for Women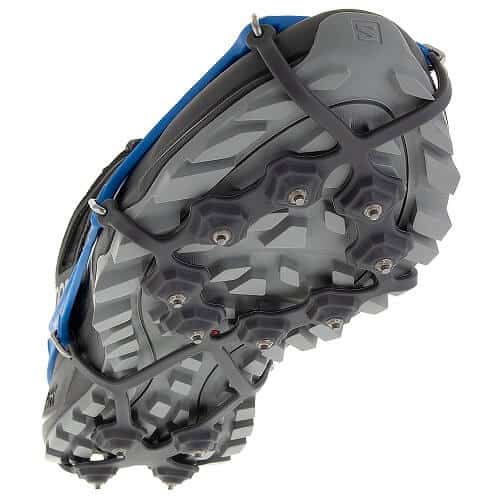 Kahtoola
Exospikes
Growing up in Georgia, we rarely saw serious snow. So I learned the importance of traction during winter in Yellowstone National Park, after busting my butt on a slick patch of ice.
By the time we took our epic Fjords of Norway road trip in 2014, a pair of YakTrax were always tucked away in my daypack, just in case.
These Exospikes from Kahtoola are very similar, slipping over sneakers or hiking boots with ease to provide excellent traction on slippery surfaces.
It's one of the best gifts for hikers who love exploring snowy, icy, or muddy locales, ensuring they'll keep their feet on the ground even when the roads and trails get treacherous.
Six Moon Designs DayBreaker & T3 Gear 3-Day Hydration Backpack
A good daypack is one of the best gift ideas for hikers on your list because it's something they can use every time they hit the trail.
You ideally want something light enough that it won't weigh them down on longer treks, yet large enough to haul drinks, food, a jacket, and any gear they may need for a day on the trail.
The Daybreaker Daypack from Six Moon Designs weighs just 20 oz and offers 25 liters of storage, with a durable 210D Microgrid Ripstop Nylon exterior. It has lots of storage options, including a lid pocket, 3 outside stretch pockets, inside pocket, and hydration sleeve.
While the Daybreaker's a good gift for casual hikers, the 3-day Hydration Backpack from T3 is better for serious adventurers. Made with rugged 500D Cordura and great weight distribution, it includes an internal hydration sleeve, drinking tube ports, and tons of pockets for organization.
READ MORE: The 30 Best Hiking Backpacks & Daypacks for 2020
Frontiersman Bear Attack Deterrent & Sabre Pepper Gel
Looking for unique hiking gifts for the adventurers in your life? Give the gift of safety, which can be a serious concern on remote backcountry trails.
Although bear attacks are incredibly rare (around 40 each year in the entire world), we've had bear encounters in North Carolina, the north Georgia mountains, Alaska, etc.
Frontiersman Bear Attack Deterrent from Sabre is the strongest spray you can buy, with 2% major capsaicinoid irritants designed to stop attackers in their tracks. Coming with its own handy holster, the spray has a 35-foot range and contains up to 1.84 ounces per burst!
Of course, bears aren't the only potential dangers hikers may encounter on the trail. Sabre Red's Tactical Pepper Gel w/Belt Holster is used by the NYPD and US Marshals, offering maximum heat and stopping power. The 1.8 oz bottle holds 18 bursts of self-defense power, with an 18-foot range.
READ MORE: Polar Bears Photo Gallery From Churchill, Manitoba

Leki Makalu Lite Cor-Tec Trekking Poles
We've done incredible hikes all around the world, from trekking to see Mountain Gorillas in Rwanda and Guanacos in Patagonia to climbing the Nigardsbreen Glacier in Norway and exploring Costa Rica's Corcovado National Park.
But it wasn't until we started hiking regularly to see our local North Georgia waterfalls that we realized the importance of trekking poles on steep, slippery surfaces.
These Leki Makalu Lite Cor-Tec Trekking Poles make great gifts for hikers, with a hollow-core AERGON grip made from feather-light ground cork.
The rounded top is excellent for palming on steep terrain, and the slight angle of the grip design keeps the wrist in a neutral position for better planting on uneven ground.
Your hiking friends will also love the SpeedLock Plus mechanism, which makes length adjustments quick and easy even when wearing gloves.
READ MORE: The Best Hiking Trails For Your World Travel Bucket List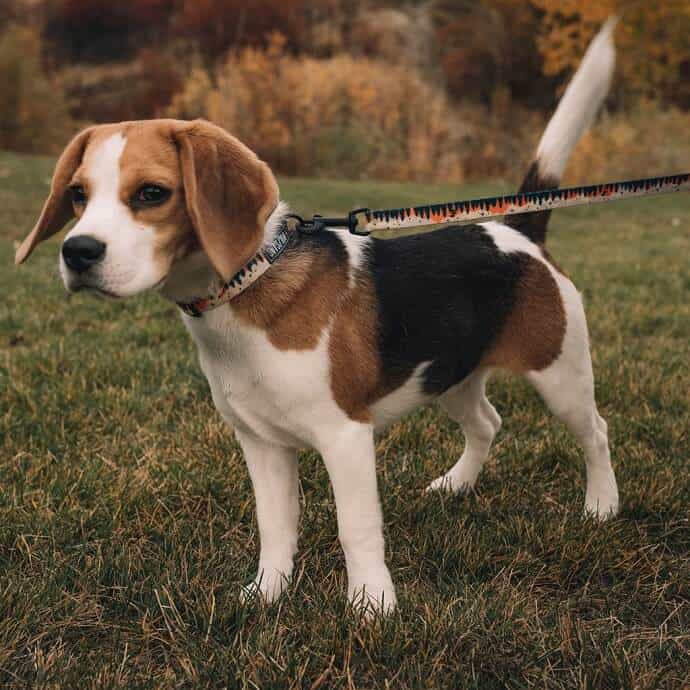 Wolfgang Man & Beast Collar, Leash & Harness
The major upside of not being able to do any international travel this year is that it has allowed us to spend more time exploring with our dogs, Huckleberry and Boo-Boo (a.k.a. Buddy).
From visiting state parks here in Georgia to our recent Blue Ridge Parkway road trip in North Carolina, we've spent more time adventuring in the wilderness with our boys than ever before.
So we adored these attractive collar, leash, and harness combos from Wolfgang Man & Beast, which come in a colorful array of nature-themed designs (Yeti, Quetzal, Wildflower, etc).
Our favorite– the Overland design pictured above– is a vibrant tribute to the mountains, rivers and forests we love to explore with our dogs. It's a good gift for hikers on your list who also adore man's best friend. Check out Wolfgang Collars and Leashes Collection.
READ MORE: Top 20 National Forests in America For Hiking & Camping

Orca Walker Tote
Another awesome aspect of our local travel focus this year has been the increased frequency of our picnics in the great outdoors.
Since we're not willing to eat in restaurants right now, our day trips always include at least one or two meals next to lakes, rivers, or waterfalls. This Walker Tote softside cooler from ORCA is a wonderful way to keep your lunch and drinks cool during your hike.
Made with the same durable construction as whitewater rafts, with thick insulated inner walls, the waterproof cooler is designed to keep iced food cold for days.
Measuring 15 X 9.5 X 15.25″, it's large enough to hold up to 50 pounds. But the padded shoulder strap makes it a comfortable carry, and the water resistant front pocket offers a dry storage area.
READ MORE: The 15 Best Waterfalls in Kauai, Hawaii

Aqua Research H2gO Purifier
If you're seeking unique gift ideas for hikers and backcountry trekkers, look no further than the H2gO Purifier from the Albuquerque-based Aqua Research.
The portable water treatment device was originally developed to provide clean water to developing nations, producing chlorine using just common table salt and solar power. And because salt is the only ingredient, the cost of using it comes out to about 50¢ per year.
The H2gO Purifier weighs just 3.8 ounces and fits in your pocket, and can treat anywhere from a liter to 5 gallons of water in a matter of seconds.
With a lifetime capacity of 24,000 gallons of water, it allows explorers to treat water from backcountry rivers and streams easily. In our opinion, it's one of those cool gadgets for hikers that most people have probably never even heard of!
READ MORE: How to Save Water: 15 Water Conservation Methods
Baffin Women's Chloe Boots & Men's Zone Boots
Founded in Stoney Creek, Canada in 1979, Baffin specializes in high-tech footwear and apparel designed to perform well in the brutally cold conditions of the Great White North.
The fur-trimmed Chloe Boot for women is a great example. With a temperature rating of -40ºF, they boast a 7-layer inner system whose ultra-soft Thermaplush liner feels like snuggling your feet in the coziest blanket ever. The stylish waterproof boots also feature an Arctic Rubber Shell, EVA Midsole and Polar Rubber Outsole that provide excellent traction even in slippery, snowy conditions.
The men's Zone hiking boots are rated to -4ºF, with a waterproof bootie that ensures your feet stay dry and warm when you're hiking, snowshoeing, etc. They're fairly lightweight, but rugged, with a fixed frost plate, EVA midsole and durable Polar Rubber Outsole. Their form-fitting design feels great, but the snugness may warrant considering ordering a size up.
READ MORE: Why the 7 Principles of Leave No Trace Matter Now More Then Ever
BEST GIFTS FOR NATURE LOVERS

Creative XP Glassraven 4G Trail Camera
It was just a few years ago, on a trip with my daughter to South Africa's Kruger National Park area, that I had my first experience with using a trail camera.
As part of a voluntourism experience, we helped change out memory cards from camera traps in a private conservation area. At the end of the trip we saw photos of Hippos, Giraffes, Gazelles, and all sorts of other wildlife that had explored the area at night.
The Glassraven 4G Trail Camera from Creative XP is an excellent gift for wildlife watchers. Its wide-angle lens records crystal clear 12 MP photos and 1080p videos, including a high-def Night Vision mode that has a 65-foot range.
Our favorite feature is the built-in Wi-fi that allows the device to instantly send photos and videos to any US-based phone or email account. It also comes with a SIMHERO card, which gives your recipient 500 free photos and a 32 GB SD card. Green Global Travel Readers get a special 10% coupon with code "GREENTRAVEL".
READ MORE: My Life-Changing Experience in South Africa

Bushnell Power View 2 Binoculars
My late grandmother, who was a HUGE influence on the work we do with GGT today, was not much for camping or hiking.
But she was one of the biggest nature lovers I've ever known, with a deep passion for birds in particular. Her house was surrounded by bird feeders, and she even had a speaker in her kitchen where she could listen to their birdsongs all day long.
Binoculars like the Power View 2 from Bushnell make great gifts for nature lovers. They're surprisingly affordable, with six models ranging from $27 to $74.
All of them offer a sturdy aluminum alloy chassis, brushed metal exterior, ergonomically designed grips, and excellent magnification. Whether you're on safari in Kenya and Tanzania or just watching birds in your backyard, these binoculars bring wildlife closer and clearer into focus.
READ MORE: The 25 Best National Parks in Africa for Wildlife Safaris
200 Bird Songs From Around the World & The Backyard Birdsong Guide For Eastern and Central North America
My bird-loving Granny would've adored these two audio-enhanced field guides.
Both were created in partnership with the Cornell Lab of Ornithology, and both make it easier for amateurs to identify bird species by their distinctive songs.
Author Les Beletsky's 200 Bird Songs From Around the World is great for avid world travelers. It uses full-color illustrations, descriptions, and audio recordings to introduce readers to 200 species from six different continents (each of which gets its own chapter).
Available from The Wild Center, the Backyard Birdsong Guide for Eastern and Central North America is more regionally focused. It features audio-visual intros to 75 North American species, from Red-winged Blackbirds and Eastern Bluebirds to Woodpeckers and Common Yellowthroats.
READ MORE: 25 Spectacular Species of Galapagos Birds You Can See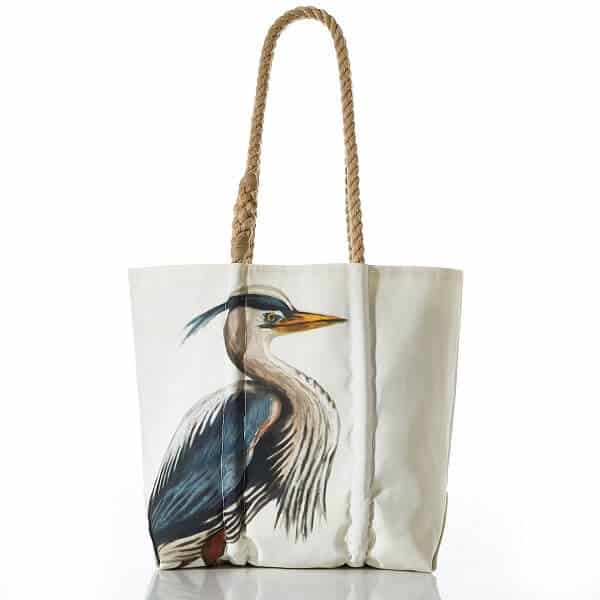 Sea Bags Great Blue Heron Tote
Continuing with our "great gifts for bird watchers" theme, we love this Great Blue Heron tote from Sea Bags for three reasons.
First, the Great Blue Heron is one of our favorite birds in the world, which we see often. They're a common sight, feeding in the shallows, when we take our boat out on Lake Allatoona.
Second, we love Sea Bags' eco-friendly ethos. All of their unique products are made from recycled sail cloth, so they reduce waste and make for incredibly durable bags.
Lastly, just look at it! It's a beautiful image of a beautiful bird, making this beautiful bag one of our favorite nature gifts we've seen this year.
READ MORE: Going Green: 60 Earth Day Tips You Can Use Every Day
Great Florida Birding & Wildlife Trail T-Shirts
Though we tend to visit Florida (specifically Sanibel Island) almost every year, we had no idea that Pensacola is home to 10 locations on the Great Florida Birding and Wildlife Trail.
Who knew that Pensacola– which is located between Gulf Islands National Seashore and Perdido Key (the USA's longest stretch of protected seashore)– was such a haven for birdwatchers?
These colorful t-shirts from the Great Florida Birding & Wildlife Trail Store make a great gift for the birdwatchers on your gift list.
These clever designs (and a half-dozen others) are available in 10-12 colors and sizes ranging from XS to 4XL. And all proceeds support GFBWT program improvements as well as bird and wildlife conservation across Florida.
Swiftwick National Park Socks
Our love of national parks had led to amazing experiences all around the world, but we have a special place in our hearts for the U.S. National Parks.
While we often wear that love on our sleeves, this new collection of socks from Swiftwick offers great gift ideas for nature lovers to wear on their feet!
The colorful collection currently includes six of the most popular parks in America, from Grand Canyon and Zion to Yellowstone and Yosemite.
But my favorite is the Great Smoky Mountains National Park socks, whose hazy hilltop sunset reminds me of our recent adventures in the Blue Ridge Mountains!
Dometic Quattro Milano Chair & Footrest
If you're looking for cool gifts for nature lovers, check out the snazzy Quattro Milano Chair & Footrest from
Dometic
.
With its polished aluminum frame and durable SoftMesh fabric, this sleek chair looks well suited to poolside lounging at a posh eco-lodge.
But with seven different backrest positions and an optional matching footrest (sold separately), it offers a luxurious feeling of kicked-back comfort that's perfect for watching birds and other wildlife from the comfort on your own backyard.
Weighing 10 pounds and measuring 37.8″ x 24″ x 3.5″ when collapsed, it's also impressively portable for such a substantial lounger.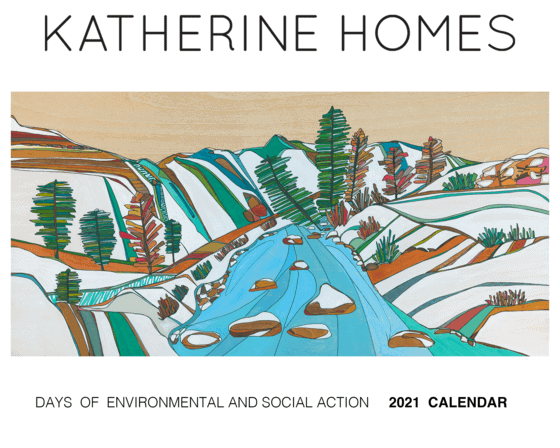 Days of Environmental & Social Action 2021 Calendar
Even in this digital era, getting a new calendar we can write our daily accomplishments in is one of our favorite New Year traditions.
We love this calendar created by artist Katherine Homes for a number of reasons. First off, Homes' artwork is a joyously colorful celebration of nature's beauty, from wildlife such as Hawks and Wolves to vibrant Autumn and Winter landscapes.
Also, the calendar includes 140 days of environmental and social actions each of us can take to do our part in making the world a better place. And they're made with soy-based inks and biodegradable recycled paper certified by the Forest Stewardship Council.
To top it all off, a portion of proceeds from these great gifts for outdoor lovers go to excellent NGOs such as 1% For the Planet, Center for Biological Diversity, etc. –by Bret Love