It's an old cliché that you can tell a lot about a man by the shoes that he wears.
But it's not just an old wives' tale. A recent study by researchers at the University of Kansas has revealed that people can predict the personality traits of strangers with a striking 90% accuracy based solely on their shoes!
Not only do the shoes we choose broadcast info about our salary, background, and even sexual preferences. But when it comes to outdoor activity, they're actually among the hiking essentials that are crucial to our physical well-being.
A great pair of men's shoes can aid in our support and stability as we hike, walk, or run. And shoes that fit properly can help align your ankles, feet, knees, hips, and back to correct your gait and even improve your posture.
This month we tested nearly 40 pairs of the latest models to create this list of the 30 Best Hiking, Running, & Walking Shoes for Men in 2021.
Read on, and maybe you'll find your next favorite pair!
READ MORE: The 30 Best Women's Hiking, Running, & Walking Shoes for 2021
MEN'S HIKING SHOES & BOOTSDecathlon Forclaz Trek 100 Flexible Leather Hiking Boots
Looking for a waterproof men's hiking boot that doesn't break the bank? At less than half the price of some boots on this list, the Forclaz Trek 100 Hiking Boots from Decathlon are great for backpackers on a budget.
They're tested to be waterproof on 9-mile walks in water reaching to the mid-upper, with a durable rubber sole that improves grip and traction on even the most slippery terrain.
Their innovative EvoFit technology ensures they remain secure on your feet, using a four-way stretch fabric and flexible sole to make them more comfortable and a leather upper and stoneguard for strength and durability.
Note that the Forclaz Trek 100 is designed more for day hikes than for epic multi-day treks. But for easy to moderate trails, it's a hardy hiking shoe considering the price.
READ MORE: The 25 Most Comfortable Walking & Hiking Shoes for Men

Hoka One One Kaha Low GTX
Hoka One One seemed to emerge fairly quickly in recent years as one of the most beloved shoe brands in the outdoor apparel industry.
It's easy to see why, as their lines typically offer a nice balance between the sporty style of a great sneaker and the rugged durability you find in the best hiking boots.
The Kaha LowGTX is yet another great example: Named after the Māori word for strength and support, these relatively lightweight shoes offer awesome Vibram Megagrip traction with 5mm multi-directional lugs, an EVA top layer for plush comfort, and rubberized foam for supreme cushioning.
And with the GORE-TEX bootie, the shoe is designed to keep your feet dry no matter had bad the weather may get.
READ MORE: The 30 Most Comfortable Walking Shoes & Hiking Shoes for Women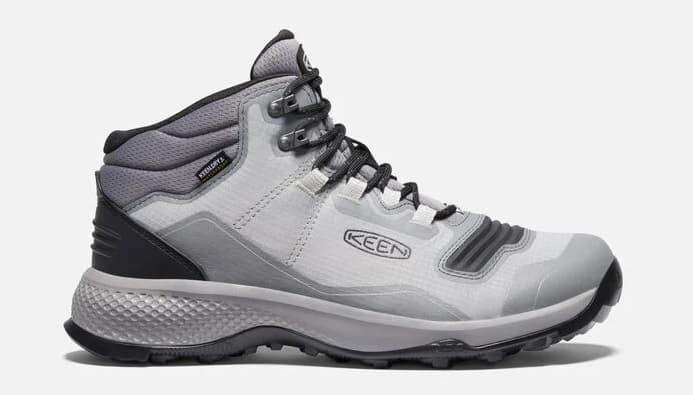 KEEN Tempo Flex Mid WP
We've been wearing KEEN watershoes for nearly a decade now, so it's no surprise that we would highly recommend their hiking shoes as well.
The Temp Flex Mid WP is another sneaker/hiking boot hybrid, offering a style that's just as flexible as their "Bellows Flex" design feature.
This ensures a more contoured fit that allows the shoes to flex with less stress on your feet, and it's been tested to ensure at least a million flexes without cracking or weakening.
Other great features include excellent ankle support, light weight, waterproofing, and superior comfort to most men's hiking boots.
READ MORE: Kayaking & Hiking the Dolomites in Italy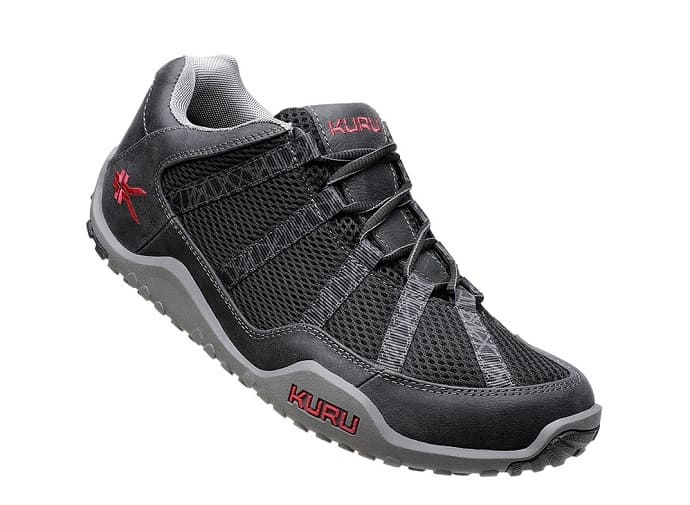 Kuru Chicane
More of a traditional trail hiking shoe, the Chicane was the first shoe the folks at KURU ever made, and remains the brand's most popular line by far.
Thankfully the classic design has been updated a bit over the years, with numerous improvements.
Designed more for light hiking than serious technical challenges, the Chicane fits the natural curves of your foot, with a curved, asymmetrical tongue that makes it easier to adjust the fit. Moisture-wicking liners ensure your feet stay dry.
Made from synthetic and nubuck leather uppers, with a non-marking rubber outsole, the shoe's roomy toe box and excellent arch support is great for anyone suffering from flat feet, Plantar Fasciitis, and other foot problems.
READ MORE: The 30 Best Hiking Backpacks & Daypacks
Forsake Banks
According to recent reports, the COVID-19 pandemic caused an explosion of interest in day-hiking. Nearly 58 million people going for a hike at least once in 2020, and that trend looks like to continue throughout 2021.
The low-top Banks Shoes from Forsake are perfect for new or occasional hikers, as they boast a skater-style design that works just as well in urban environments as they do on the trail.
As slick as they may look, they're also built for performance, with a snug fit, breathable mesh upper, a cushioning sole, and a lug pattern that provides excellent traction on slippery or uneven surfaces.
We also love that the waterproof-grade full grain leather (which resists moisture absorption and water damage) comes from the Leather Working Group, which emphasizes responsible sourcing and sustainability.
READ MORE: 40 Green Travel Tips (The Ultimate Guide to Sustainable Travel)

Sanuk Chiba Journey
Founded in 1997, this Southern California-based brand was founded with sun and surf in mind. So Sanuk (the Thai word for "fun") has always focused more on flip-flops and sandals than traditional shoes.
The Chiba Journey is their first-ever "adventure shoe." The vegan boot is designed to be as eco-friendly as it is weather-proof, made with 100% plant-based Yulex rubber and neoprene.
In terms of style, the unisex Chiba Journey is not nearly as eye-catching as some of the Grateful Dead-loving brand's other shoes, which tend towards the hippiefied side of the fashion spectrum.
But it's an intriguing hiking shoe/water shoe hybrid, and we love that Sanuk partners with the Surfrider Foundation to protect clean water, reduce plastic pollution, and defend coastlines from offshore drilling.
READ MORE: The Best Beach Gear & Lake Essentials for Summer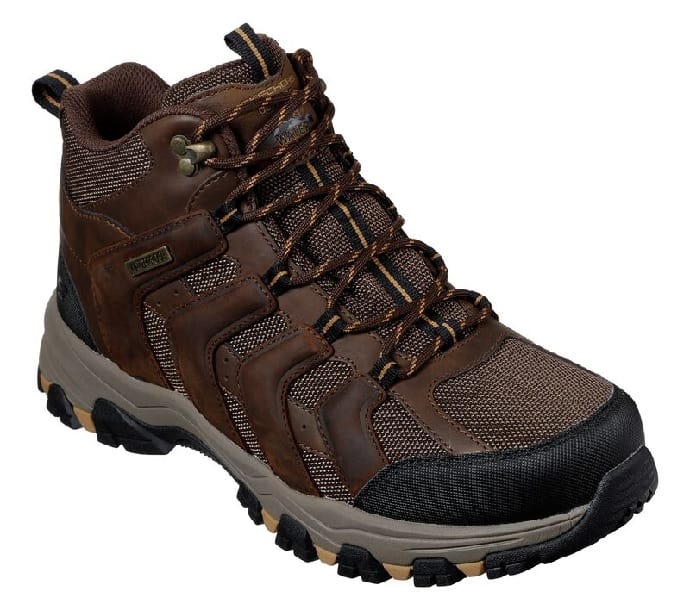 Skechers Relaxed Fit: Selmen – Relodge
If you're looking for a more traditional men's hiking boot with a roomy fit for the toe and forefoot, check out the Selmen – Relodge from Skechers.
Made from waterproof leather, a synthetic and mesh upper, and a super-soft Air-Cooled Memory Foam insole, these ankle-length boots combine classic Skechers comfort with a rugged sturdiness that's built to last.
The seam-sealed construction is virtually guaranteed to protect your feet from the elements, and the flexible rubber, high traction lug outsole provides excellent grip no matter what terrain you choose to explore.
We also love the overall approach to design: These boots will look just as great back at the lodge as they perform out on the trail!
READ MORE: What is an Eco Lodge? (The Top 20 Eco Resorts & Hotels in the World)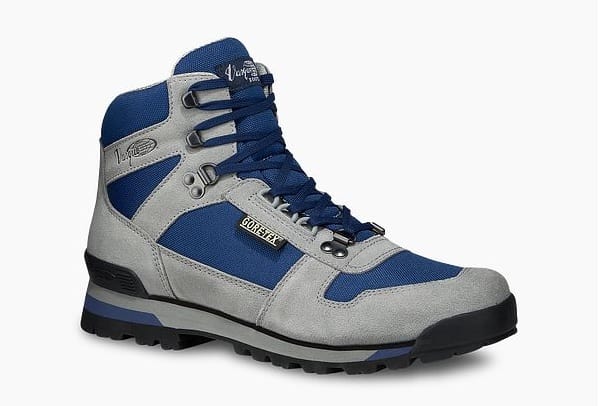 Vasque Clarion '88 GTX
If you're the sort of man who cares just as much about fashion as he does function, you'll love the retro-hip Clarion '88 GTX hiking boots from Vasque.
The Clarion was the epitome of style and versatility when it first debuted back in 1988, but the line was retired more than 20 years ago. Thanks to an array of calls, letters, emails, and social media posts, these new boots are a throwback to that iconic era of outdoor exploration.
The suede and fabric upper is a stitch-for-stitch replace of the original, as are the oversized GORE-TEX tag and the color options. But there are also modern design elements, including a Vibram Winkler outsole and a die-cut EVA midsole.
All in all, this fashion flashback is one of our favorite men's hiking boots of 2021.
READ MORE: 50 Great Hiking Quotes to Inspire Your Adventures
MEN'S RUNNING SHOES

Eddie Bauer Hypertrail Low
Eddie Bauer was one of the first outdoor brands we ever worked with, as they were the clothing sponsor of our mind-blowing trip to Antarctica and Chilean Patagonia.
It's a testament to the brand's timeless style and durability that we still wear the pants and jackets we got back in 2012 today, nearly a decade later.
They may not be the first name you think of when it comes to men's running shoes, but their Hypertrail Low is a stylish sneaker that offers an array of technical features.
The breathable, moisture-wicking upper, supportive midsole Trailfork shank, InsoFit cushioning EVA Footbed, and SpeedPitch outsole offer improved mobility, arch support, traction, and cushioning comfort.
READ MORE: 30 Antarctic Animals You Can See on an Antarctica Cruise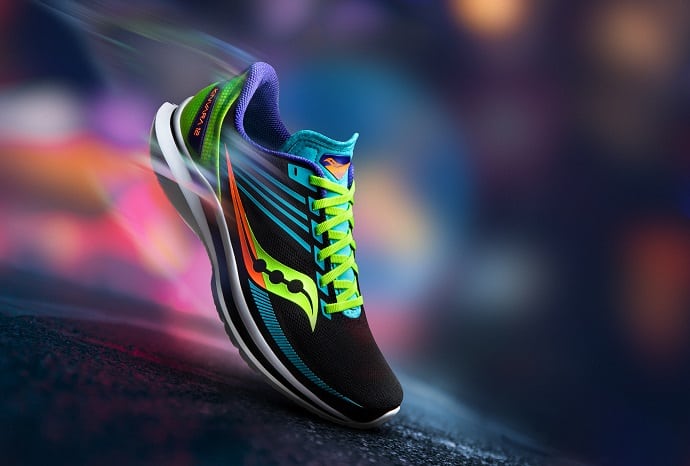 Saucony Kinvara 12
If you're looking for men's running shoes that are light and fast without sacrificing technical features, the Kinvara 12 from Saucony offers an impressive upgrade on the previous model.
Coming in at just 7.5 oz, these colorful sneakers have a breathable, adaptable mesh upper that offers just enough structural support to feel sturdy without weighing you down.
This model boasts improved ground contact, which eases the transition from landing to takeoff and gives you more power and speed.
We also love the PWRRUN cushioning, which gives the shoes an impressively responsive feel that's especially welcome when you're tackling inclines.
READ MORE: The 20 Best Mountains in the World Travel Bucket List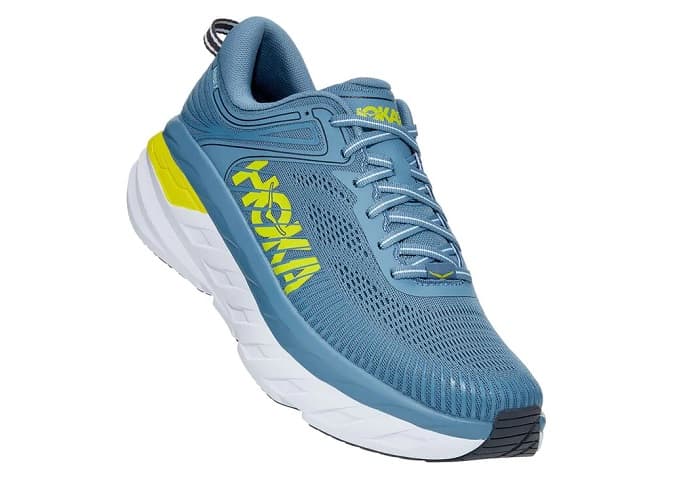 Hoka One One Bondi 7
We divide our shoe reviews into categories for the sake of organization, but in reality we as professional travelers need our footwear to serve multiple purposes.
We may wear the same pair of shoes all day, whether we're hiking in the mountains of the Czech Republic, doing a city walking tour in Prague, or dining out on the town later that night.
So while the American Podiatric Medical Association-approved Bondi 7 from Hoka One One may be designed for runners, what we love about it is how cushy the ultra-soft memory foam collar and signature Meta-Rocker sole are.
Though it has the same full EVA midsole and breathable mesh upper as its predecessor, this shoe's excellent comfort enhancements make it my favorite new shoe for all-day wear.
READ MORE: Weekend in Prague: The Best Things to Do in 3 Days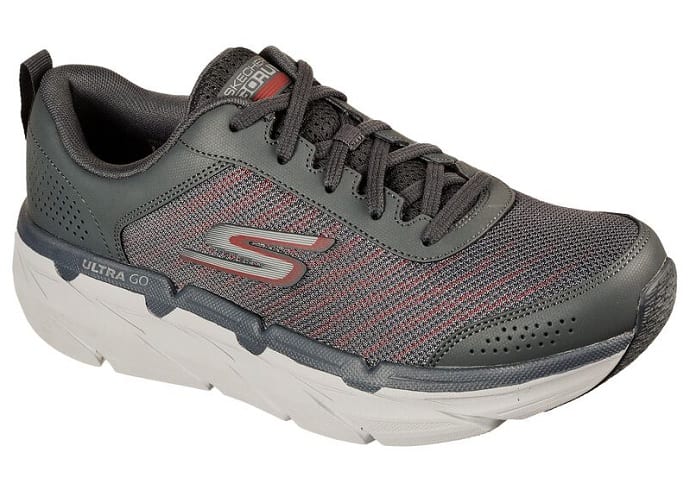 Skechers Max Cushioning Premier – Paragon
The
Skechers
Max Cushioning Premier – Paragon is another versatile shoe that was ostensibly designed for running, but whose supreme comfort makes it appropriate for just about any day-to-day task.
That comfort starts with responsive ULTRA GO cushioning, a highly breathable Ortholite comfort foam insole layer, and a removable air-cooled Goga Mat insole (which allows you to customize the fit).
The design also includes a breathable mesh upper, forefoot flex grooves that allow for more flexibility as you move, and a lightweight and flexible outsole that provides excellent traction on uneven or slippery surfaces.
Though I personally prefer the design style of the Bondi 7 shoes, both of these sneakers rank among the most comfortable shoes we've ever tested.

Speedlion Water Repellent Lightweight Running Shoes
To be honest, I'm torn in my feelings about these water repellant, lightweight running shoes from new Texas-based brand Speedlion Athletics.
On the one hand, they've got an incredibly unique design unlike any shoes I've ever seen. From the bootie-style one-piece construction and wave-like structure (for added stability) to the branded strip running down the center of the shoe, these things are definitely eye-catching.
They're among the lightest running shoes we've ever tested, with a minimalist approach fans of Xero Shoes might like.
But with virtually no technical features and no track record as a brand, it's tough to tell whether their long-term durability will measure up to an MSRP of nearly $110.
READ MORE: The Connection Between Walking With Lions & Canned Lion Hunting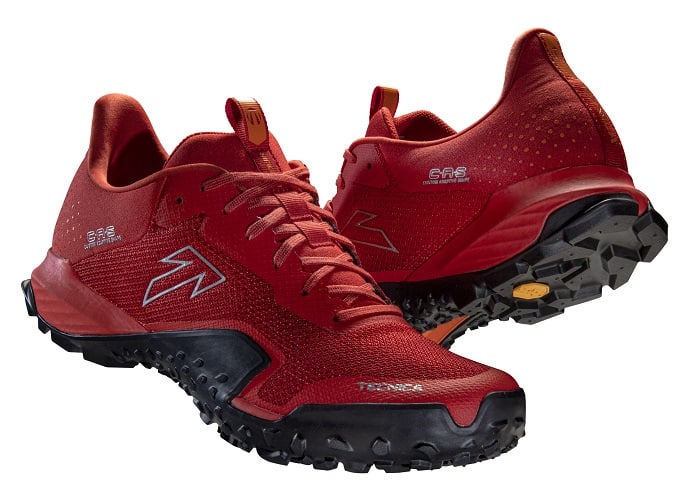 Tecnica's MAGMA
The new MAGMA shoes from Tecnica, on the other hand, offer tons of technical features designed to make them an excellent choice for "All-Mountain" activities.
These versatile shoes offer the light weight and breathability of a trail running shoe, the advanced stability of an approach shoe, and the foot protection of a sturdy hiking shoe.
The snug fit afforded by the upper and foot bed, combined with the optional Custom Adaptive Shape system, makes these shoes fit like a glove designed for your feet alone.
They're also very comfortable, with a Vibram Litebase and Megagrip compound rubber outsole that provide exceptional grip and traction on hills and technical traverses.
READ MORE: The 25 Tallest Mountains in the World (By Continent)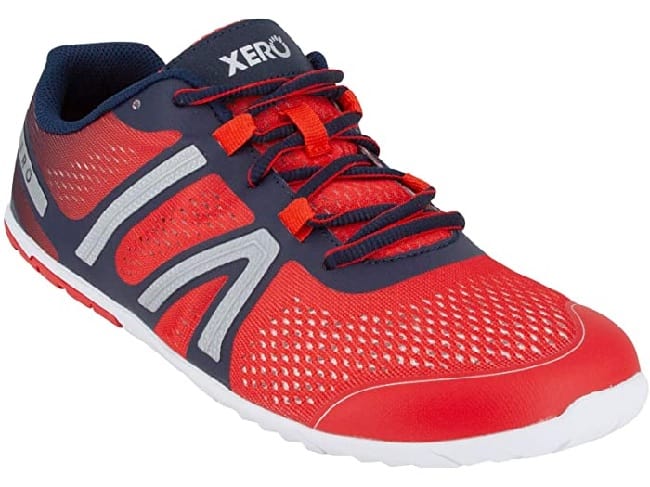 Xero Shoes HFS
If minimal running shoes are more your speed, look no further than the HFS from Xero Shoes.
The notoriously cheeky brand offers no detailed explanation for the name, but we suspect it has something to do with the "Highly Flexible Sole" of this men's running shoe, which is incredibly lightweight (under 7 oz) and moisture-wicking.
It's more rugged than the Speed Force (their lightest shoe), with a grippy, 5.5mm, tire tread-style sole and hidden huarache-inspired midfoot and instep straps.
Note that the HFS runs small, so the manufacturer recommends choosing 1/2 size larger than your usual shoe size.
READ MORE: The Best Backpacking Gear for 2021 (35+ Product Reviews)
MEN'S WALKING SHOES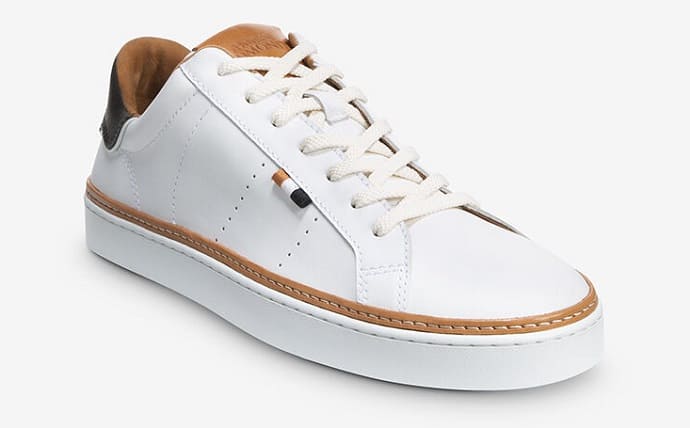 Allen Edmonds Alpha Lace-Up Sneaker
If you're the sort of guy who's less interested in the technical aspects of a show than you are in how they actually look and feel on your feet, these snazzy lace-up sneakers from Allen Edmonds may be perfect for you.
In terms of fashion I'd give the Alpha sneakers a 10 out of 10: From the contrast details on the heel, tongue, and tag to the soft milled leather interior lining, these shoes are totally on point!
But they're also extremely well-made, with cemented construction, a molded rubber sport outsole, and removable FlyForm insole (for absorbing shock to the feet).
The relaxed, roomy fit is definitely not designed for any sort of athletic use. But the shoes are comfortable enough to wear all day, and stylish enough to make you look like a rock star for wearing them.
READ MORE: The Best Gifts For Campers, Hikers & Nature Lovers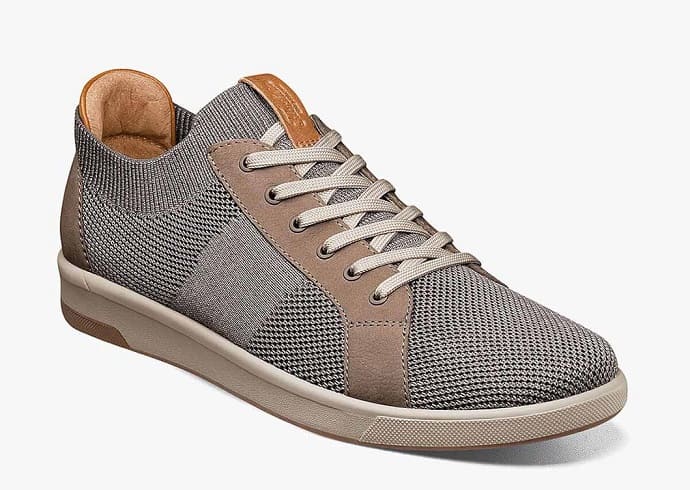 Florsheim CROSSOVER Knit Lace To Toe Sneaker
I've got to admit that Florsheim's new CROSSOVER Knit Lace to Toe Sneaker is totally my style.
They're made from an extremely lightweight engineered knit material that's flexible and breathable, with a stretch bootie construction that makes them really easy to put on and take off.
The SupaCush EVA Midsole (the same kind used in many athletic sneakers) offers all-day comfort, and the Flexsole technology makes them feel broken in from the moment you take them out of the box.
Add in the soft full grain leather upper details, and you have a sleek, modern shoe that can dress up or down for the streets or a night on the town.
READ MORE: NYC Christmas Window Displays Walking Tour

KEEN Highland Arway
For a brand once best known for their sandals and water shoes, KEEN has expanded its offerings to include an impressive array of options over the years.
Wool sneakers are a perfect example of the sort of thing you wouldn't have expected from Portland-based brand 5 to 10 years ago, and yet that's precisely what the Highland Arway shoes are.
These hybrid sneakers are made with 50% recycled wool, but they're surprisingly light and breathable, with rugged construction and high-rebound cushioning in the soles.
Some customers have complained about overly roomy toe boxes and ankle chafing, but we had no issues with the former and wearing thick socks ensured no problem with the latter.
READ MORE: Tracing My Clan MacKinnon Roots in the Scottish Islands & Highlands

Kuru Men's Atom Sneakers
Kuru makes great walking shoes for travel, and their Atom athletic sneakers are a perfect example.
Made from light, breathable mesh, the shoes have a slim, high-performance fit that offers excellent arch support.
Their thick KURUCLOUD EVA midsole makes it feel like you're walking on air, which is great for people with Plantar Fasciitis, fallen arches, and other foot problems.
The layered upper has a padded heel collar and heat-molded exoskeleton to hold your feet securely in place, while the rubber KUROSOLE helps to improve your overall alignment and posture.
Another hybrid shoe style, the Kaori from MBT is like a mashup of an athletic sneaker and a stylish boat shoe.
Made for fitness walking and daily wear, the Kaori features an upper made from a blend of breathable canvas and synthetic PU, a removable mesh footbed for breathability and customized fit, and a high abrasion rubber outsole.
It also features MBT's Level 2 Rocker sole, whose prominent curve provides extra cushioning for each step as well as enhancing support and propelling your forward motion.
Though the heel-to-toe rolling action of their trademark PivotAxis Technology may take a little getting used to, it's amazing for anyone looking to turn their daily walks into full-blown exercise.
READ MORE: Mountain Gorilla Trekking in Rwanda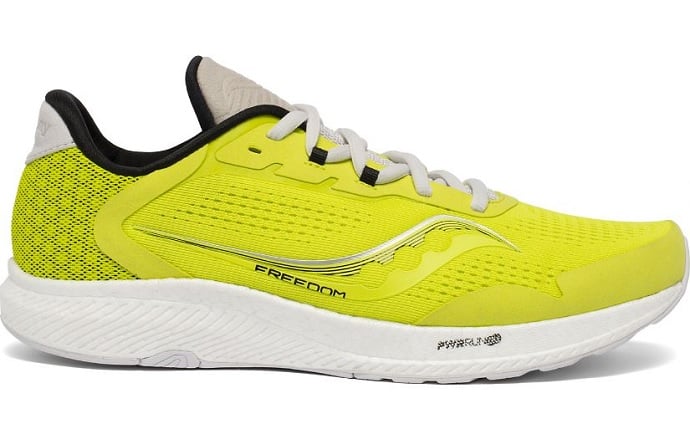 Saucony Freedom 4
Ostensibly designed for running and other athletic endeavors, the Freedom 4 from Saucony is comfortable enough to be your new go-to everyday shoe.
This new iteration has been updated with energy efficient PWRRUN PB cushioning, which gives them an exceptionally springy feel that can't help but add pep to your every step.
The high-performance technology is also designed to improve lateral motion, which makes these ultralight (7.5 oz) shoes a great fit for people who are always on the move.
We also dig the stylish design, from the suede tongue and debossed logos to textural details and the hidden reflective element in the heel.
READ MORE: Top 20 National Forests in America For Hiking & Camping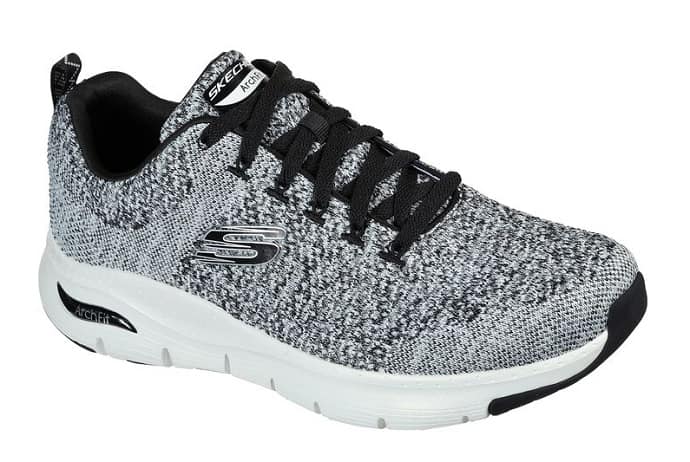 Skechers Arch Fit- Paradyme
True to its name, the Arch Fit- Paradyme from
Skechers
was designed for people who need extra arch support.
Their podiatrist-designed shape was developed with 20 years of data and 120,000 unweighted foot scans. And the removable ArchFit insole works to mold your foot in a way that reduces shock and improves the dispersion of weight.
What I like most about them is that they don't look like traditional support shoes.
With an athletic-style engineered mesh upper, 1.5-inch heel and flexible rubber outsole, they're sporty and stylish enough for everyday wear.
Suavs The Zilker
These stylish walking shoes from Suavs are vegan-friendly, sustainably knitted from a super soft, breathable knit.
The Zilker also boasts a removable, washable polyfoam insole that's covered with microfiber terry cloth for moisture absorption.
The flexible, non-slip rubber sole provides great traction, even in inclement weather.
These are especially comfortable walking shoes for travel, as they can easily be packed flat or rolled up to fit inside your carryon luggage.
READ MORE: The Best Carryon Luggage for Travelers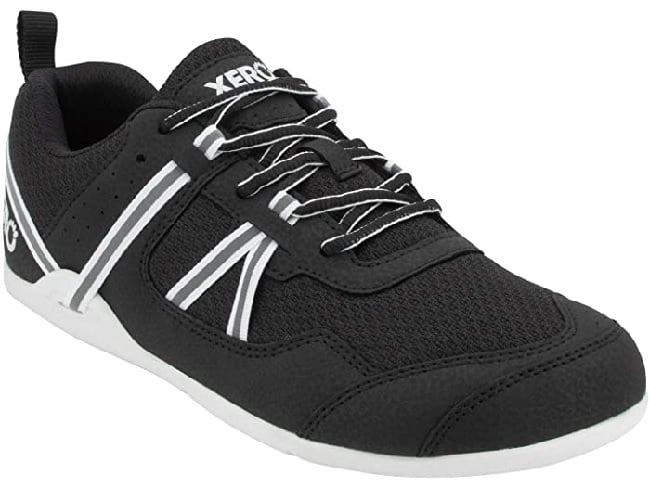 Xero Shoes Prio
As mentioned above, the Prio is the lightest offering from Xero Shoes, the experts in minimalist footwear.
Weighing in at around 7.6 ounces each, these shoes use the same 5.5mm FeelTrue rubber outsole as their Z-Trek Sandal, with an optional 2mm insole giving you control over how much of that "barefoot feel" you want.
The Huarache-inspired reflective heel and straps at the instep ensure that your feet feel protected, while at the same time leaving room for your toes to move.
Like all of Xero Shoes' models, the Prio is made from 100% vegan-friendly materials.
READ MORE: The 50 Best Travel Shoes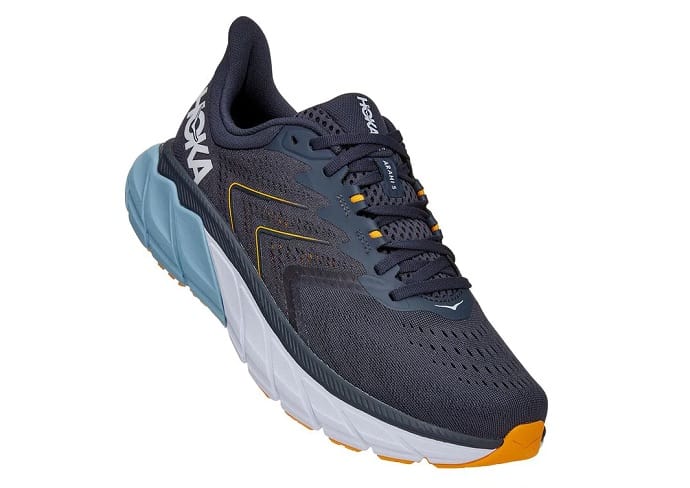 Hoka One One Arahi 5
The Arahi 5 may be my favorite new shoes from Hoka One One this year, for the simple reason that they somehow managed to minimize the weight (around 9.7 oz) without sacrificing any of the cushioning support.
The fit has also been dramatically improved from previous iterations, with an ultralight foam upper, breathable mesh at the front, and structured, engineered mesh at the heel for added stability.
I also loved the pull tab (which makes putting them on and taking them off a breeze), as well as the refined collar that was designed to alleviate pressure on the Achilles tendon.
Great for walking, running, and just about everything in between, this is arguably the sweetest support shoe I've tested in years. –by Bret Love