Finding good comfortable walking shoes for women can be difficult, especially for those of us who travel with carryon luggage only.
Mary learned the importance of choosing comfortable walking shoes the hard way during our weekend in Prague, when she twisted her ankle on the cobblestone streets during a walking tour.
The best walking shoes for travel should not only be comfortable, but also lightweight, stable, supportive, and versatile.
Particularly on trips like our 3 weeks in Ireland and Scotland, where we went from conferences and cities to rocky mountain trails.
So here we've assembled a list of 30 of the most comfortable walking shoes for women, from sneakers and fashionable walking shoes to more rugged waterproof hiking shoes.
READ MORE: The 50 Best Travel Shoes for Women & Men
COMFORTABLE WALKING SHOES GUIDE
FASHIONABLE WALKING SHOES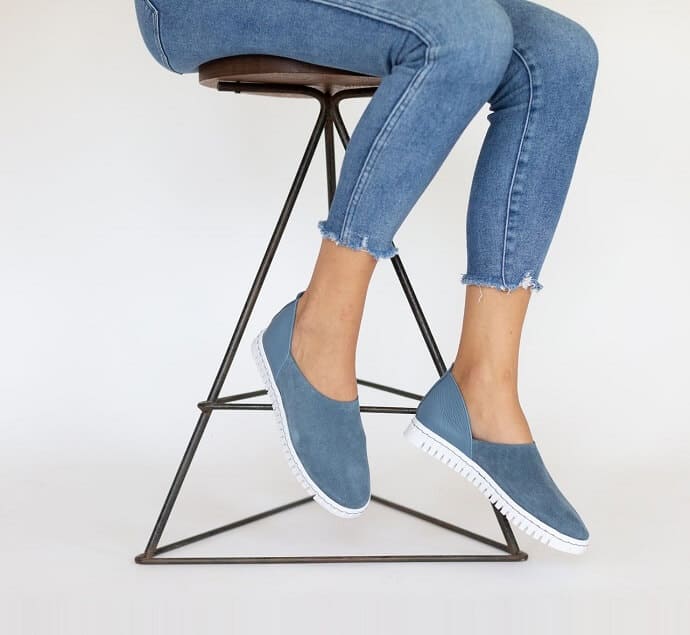 ASHBURY SKIES BENDY
Named one of Fodor's top stylish travel shoes, Ashbury Skies' Bendy balances the fashionable appeal of flats with the cushioning of the most comfortable sneakers.
These denim blue suede shoes pair an upper sourced in Italy with a footbed made from eco foam that conforms to your foot.
The flexible outsole makes these simple-but-elegant shoes feel as functional as they are fashionable.
Though not good for vegans, the Bendy is more eco-friendly than many shoes because it's handmade in California (lower shipping footprint), has a stitched construction (as opposed to toxic glues), and uses just five components (vs 30 in most sneakers).
READ MORE: The Best Travel Clothes for Women & Men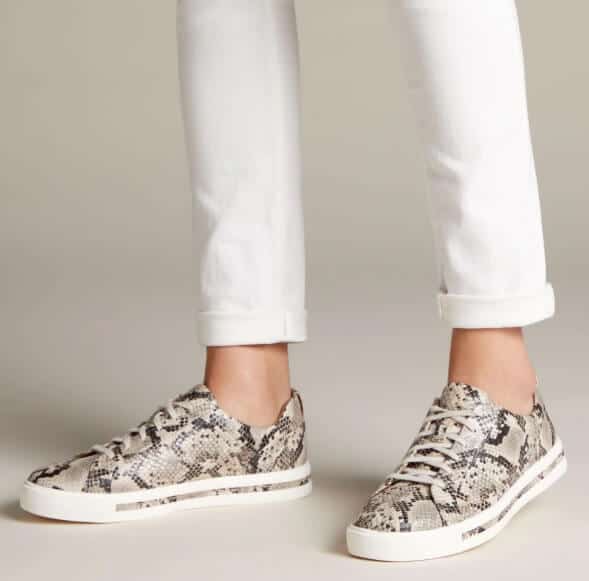 CLARKS UN MAUI LACE
Available in 8 different colors (including a gorgeous faux snakeskin), Clarks' Un Maui Lace are stylish and comfy shoes that offer an upscale twist on the athleisure trend.
Perfect for city walking tours, these snazzy sneakers combine stitched leather uppers, soft and breathable leather lining, and a lightweight, flexible sole made from EVA and rubber.
But the best thing about the sole is what you can't see: Clarks' Cushion Plus technology is designed for comfort, providing anatomically targeted support that reduces strain on your feet and joints.
READ MORE: Haunted New Orleans History Walking Tour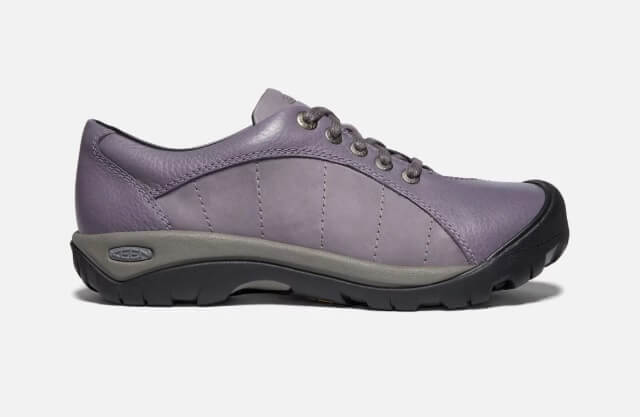 KEEN PRESIDIO
Check Price on Amazon Check Price on Keen
Offering a modern-day take on the classic oxford, Keen's Presidio is a sporty shoe that's tough enough for just about any adventure you care to throw at it.
They're arguably the best waterproof walking shoes for women we've tested.
The durable nubuck leather upper is available in a broad array of colors (including numerous shades of blue, green, and red) to complement any outfit.
Its noteworthy features include a removable metatomical footbed for arch support, Keen's patented toe protection, a rubber outsole for improved traction, and Cleansport NXT™ for natural odor control.
READ MORE: The 35 Best Daypacks for Travel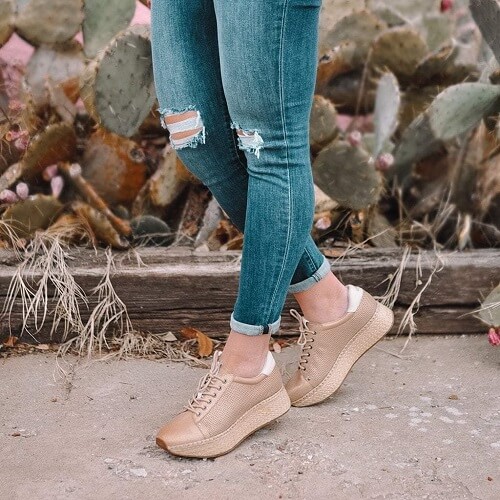 OTBT MERIDIAN SNEAKERS
What do you get when you combine the stylish comfort of an espadrille with sporty leather and a brushed metallic finish?
In our opinion, you get the most stylish and best cushioned walking shoes, all in one unique package!
OTBT (Off The Beaten Track) is billed as the "ultimate travel shoe," and their Meridian Sneakers put perforated leather uppers with cotton laces atop a memory foam padded footbed and 1.97-inch flatforms.
Available in two colors (Dove Grey and New Gold), these are arguably the most fashionable walking shoes we've tested in years.
READ MORE: Best Gifts for Travelers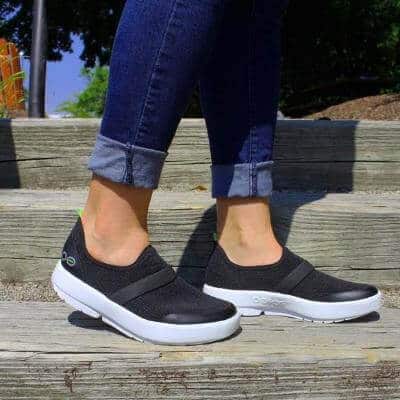 OOFOS OOMG LOW SHOE
Check Price on Amazon Check Price on OOFOS [
To be honest, we're somewhat divided in our opinions of the OOFOS line.
While we both agree that they make some of the most comfortable walking shoes for women on the market, Bret believes their style doesn't quite measure up to their substance.
But Mary insists their women's OOmg are good shoes for walking all day, thanks in large part to the unique OOfoam™ technology, which absorbs 37% more impact than traditional footwear foam to reduce stress on your feet, knees, and back.
She also likes the lightweight, minimalist construction and breathable 4-way stretch fabric, which enables a greater range of motion than most hiking shoes.
Not to mention the fact that OOFOS donates a portion of each purchase to breast cancer research!
READ MORE: 20 Best Festivals in the World (For Your World Travel Bucket List)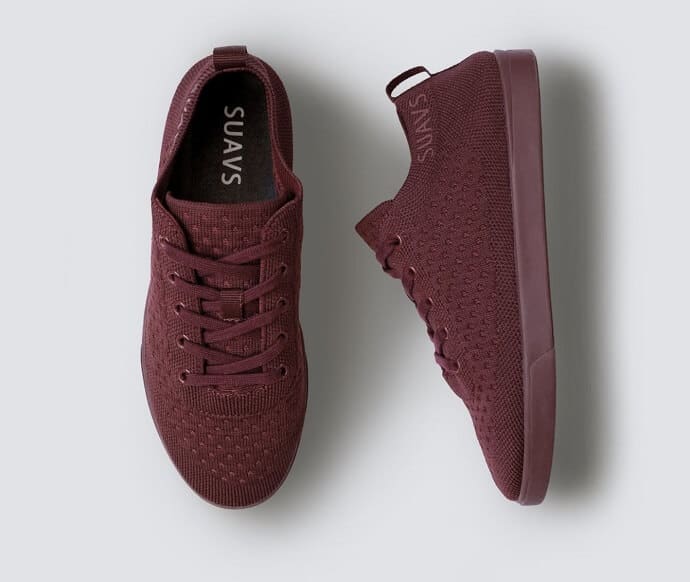 SUAVS ZILKER
Available in five cool colors (olive green and vino are our faves), these stylish walking shoes from Suavs are vegan friendly, sustainably knitted from a super soft, breathable knit.
The Zilker also boasts a removable, washable polyfoam insole that's covered with microfiber terry cloth for moisture absorption. The flexible, non-slip rubber sole provides great traction even in inclement weather.
These are especially comfortable walking shoes for women when traveling and can be packed flat or rolled up to fit inside your carryon luggage.
READ MORE: The 20 Best Vegan Boots for Women & Men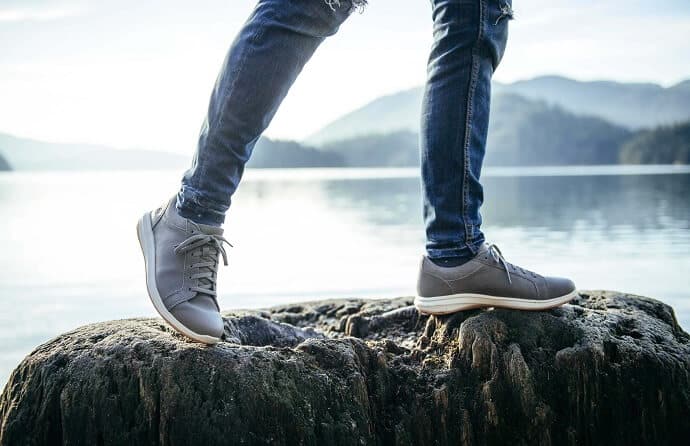 SUPERFEET NEWBERRY LOW FX
A favorite footwear brand for more than 40 years, Superfeet is best-known for their supportive, sculpted insoles.
They're designed to "cradle your heels and hug your arches," helping to disperse impact lessen the strain on your feet, knees, and back.
Their Newberry Low FX sneakers are some of the best waterproof walking shoes for women, with a waterproof leather upper, oiled suede accent panels, and lay-flat laces that give the shoes a streamlined sporty appeal.
True to the Superfeet brand, they're also crazy comfortable shoes for women, with cushioned padding at the heel and sides, a cozy microsuede tongue, a lightweight EVA midsole, and premium supportive insoles made with a podiatrist's attention to detail.
READ MORE: The 20 Best Cultural Festivals Around the World
TWISTED X SLIP-ON DRIVING MOC
These Twisted X driving moccasins for women are both fantastically stylish and exceptionally comfortable shoes for women.
They're very similar to the mens' version we reviewed back in 2018, which Bret still ranks among the best shoes for walking all day.
This classic pair of slip-on walking shoes has a compression-molded EVA midsole that makes the most of Twisted X's patented CellStretch® technology, which activates 100 pressure points for maximum comfort.
The cushy outsole is made from a blend of 20% rice husk and 80% rubber. There's also a removable, moisture-wicking, antibacterial, and machine washable footbed.
READ MORE: 30 Awesome Plastic Free Products (for Plastic Free July & Beyond)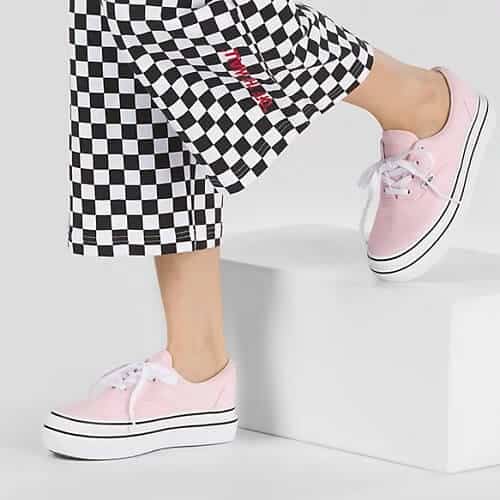 VANS SUPER COMFYCUSH ERA
Vans shoes have been iconic in the skater/surf scene since we were kids in the '70s/'80s. So it's incredible to see them still so popular with my daughter's post-millennial generation today.
The Super ComfyCush Era updates that classic style with a platform shoe.
Features include a double foam/rubber outsole for comfort and grip, improved arch support, moisture-wicking lining, and better tongue stabilization in the newly constructed canvas uppers.
Available in black or "Blushing Bride" pink, these are some of the best stylish walking shoes we've seen this year.
READ MORE: 50+ Pieces of Advice I Would Include in a Letter To My Younger Self
Best Walking Sneakers for Women

ARIAT FUSE H20
It can be difficult to find waterproof shoes for women that feel as good as they look. But the Fuse H2O sneaker from Ariat offers the same comfort of their popular original model, updated to keep your feet dry in even the wettest conditions.
That protection comes courtesy of a breathable mesh upper with waterproof bootie construction, as well as welted thermoplastic polyurethane panels and a removable insole.
The EVA midsole helps with absorbing shock and cushioning your feet from impact, while the rubber outsole and forefoot flex grooves help add traction.
It's slightly heavier than the original Fuse, but still great shoes for long distance walking.
READ MORE: What is an Eco Lodge? The Top 20 Eco Resorts & Eco Hotels in the World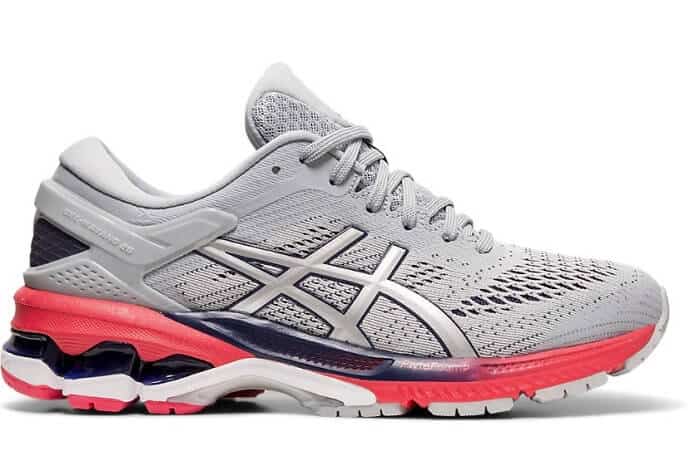 ASICS GEL-KAYANO 26
Though it's more of a running shoe than a walking shoe, the women's Gel-Kayano 26 from Asics makes our list due to its exceptional GEL technology.
In terms of comfort and shock absorption, these rank among the best shoes for long distance walking.
Available in 12 color combos, these ultra-light (thanks to FLYTEFOAM Propel technology) shoes are made to go the distance.
The EVA sock-liner makes you feel as bouncy as a Kangaroo, while a contoured midsole adds control over stability as you move.
Other fantastic features of these great long distance walking shoes include an AHAR (ASICS High Abrasion Rubber) outsole for added durability, and a DuoMax system that enhances support and reduces the risk of flat feet or bunions.
READ MORE: The 20 Best Things to Do in Kauai, Hawaii (For Nature Lovers)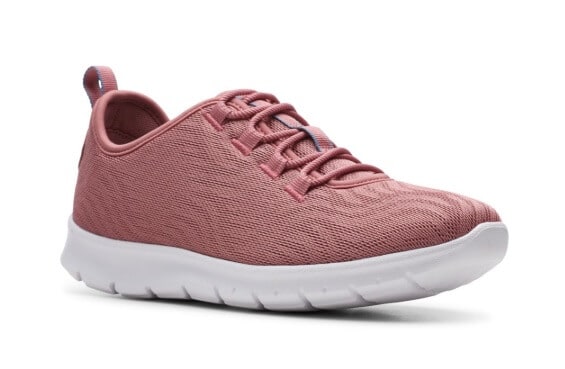 CLARKS STEP ALLENA GO
Another great women's walking shoe option from Clarks, the Step Allena Go is part of their Cloudsteppers collection.
The line is designed for ultimate comfort, with high-rebound Ortholite foam inlay helping to cushion every step you take.
Available in three colors, these light, flexible shoes combine the convenience of a casual slip-on with the athletic look of sneakers.
Mary loves them in Mauve, which contrasts nicely with the white EVA sole. She also loves the Cushion Soft foam layers, which really help to put a spring into your step as you walk.
READ MORE: NYC Christmas Window Displays: A Free Walking Tour in New York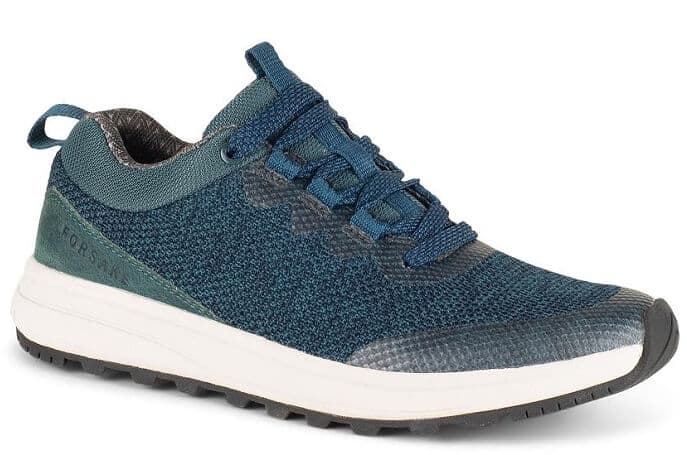 FORSAKE MAYA
Check Price on Amazon Check Price on Forsake
One of our favorite brands we met at Outdoor Retailer in 2018, Forsake offers stylish shoes that are equally appropriate for wandering ancient cities like Prague or exploring hiking trails in the Blue Ridge Mountains.
Exhibit A: The Maya sneaker, which is designed to be comfortable shoes for women all day long.
The upper combines lightweight, breathable VentureKnit nylon with waterproof-grade full grain leather that resists moisture.
On the inside you'll find moisture-wicking mesh lining that keeps your feet cool even when the weather's warm.
And underneath there's a compression EVA midsole for comfort and a Peak-to-Pavement outsole that grips the ground no matter the terrain.
READ MORE: The 15 Best Kauai Waterfalls (and How to Get to Them)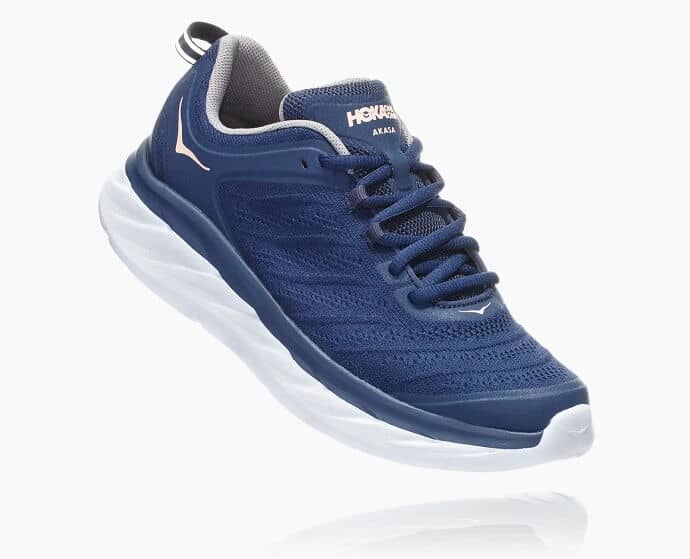 HOKA ONE ONE AKASA
Emerging as one of our favorite shoe brands of 2019, Hoka One One is another line that tends to make snazzy sneakers that work for both walking and running.
The Akasa, which comes in three color combinations, is arguably better for walking, and is a favorite among nurses and others who have to stand on their feet all day.
It provides balanced, plush cushioning and a flexible upper, but lacks the stability features that runners who overpronate tend to prefer.
Still, in terms of comfort, appearance, and arch support, it's an excellent shoe. And like all Hoka One Ones, they come with a 30-day trial offer, with free shipping and no-questions-asked returns.
READ MORE: 20 Best Caribbean Islands to Visit (If You Love Nature & Hate Crowds)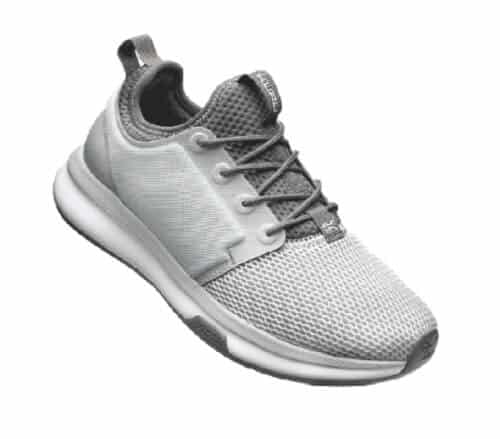 KURU ATOM
A new-to-us brand for 2020, Kuru makes great walking shoes for travel, and their Atom slip-on athletic sneakers (which come in six color combos) are a perfect example.
Made from light, breathable mesh, the shoes have a slim, high-performance fit that offers incredible arch support.
Their thick KURUCLOUD EVA midsole gives it a feeling like walking on air, which is great for people with Plantar Fasciitis, fallen arches, etc.
The layered upper has a padded heel collar and heat-molded exoskeleton to hold your feet securely in place, while the rubber KUROSOLE helps to improve your overall alignment and posture.
Use special promo code "greenglobaltravel" on KURU's site to get a 10% discount off the purchase price of any product!
READ MORE: The 7 Safest Countries in the Middle East For Americans to Visit
LOWA WALKER GTX
Available for both men and women, the Walker GTX from Lowa are sturdy waterproof hiking shoes with a hefty price tag (MSRP $220).
But with attractive Nubuck Leather uppers and GORE-TEX lining, you definitely get what you pay for.
Weighing around 15 ounces per shoe, these are fairly lightweight considering their durable construction, which includes Lowa's speed-hiking outsole and a DuraPU outsole with DynaPU shock absorbing zones.
Bold and breathable, with a streamlined design that looks just as good in the city as it feels on the trail this is an early contender for the best waterproof shoes of 2020.
READ MORE: Top 20 National Forests in America for Camping & Hiking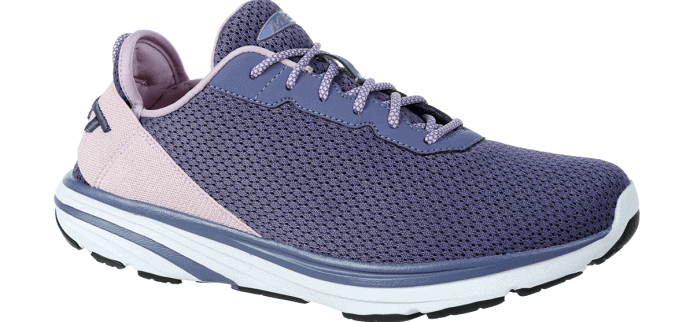 MBT GADI
Another new-to-us brand this year, Switzerland's MBT creates "physiological footwear" designed with the benefits of health, wellness, and staying on the move in mind.
To that end, all of their shoes have unique, 5-component curved soles with varying levels of "rock" to them (ranging from high to recovery).
They include a contoured insole, engineered shank, midsole with pivot axis, MBT's SensorTechnology, and an enhanced traction outsole for better ground-grip as you walk.
This unique construction makes the Gadis some of the best walking sneakers for women we've tested, with an ultra-lightweight profile, low rocker level, and cushioning, breathable, moisture-wicking Ortholite insoles.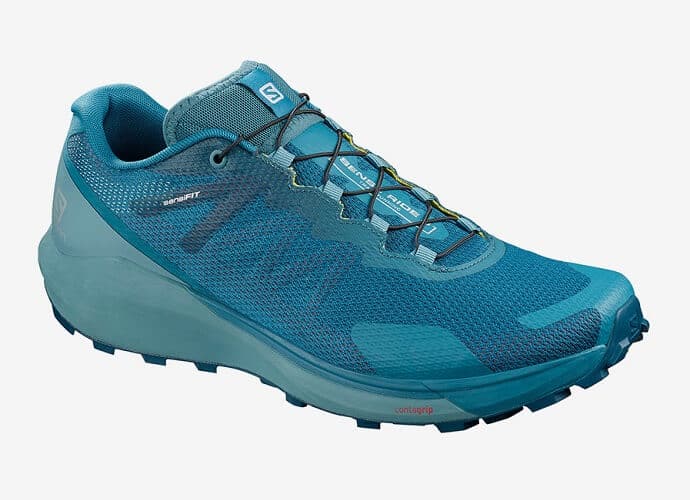 SALOMON SENSE RIDE 3
The Sense Ride 3 from Salomon is a stylish sneaker that's available in men's and women's sizes. It's technically made for runners, but it works wonderfully for walkers as well.
These shoes are designed to tackle roads or trails, with unique features such as anti-debris mesh, a Profile film filter to protect your feet from rocks and other sharp objects on the trail, and an extra-grippy Contagrip outsole for added traction on wet or uneven surfaces.
They're also extremely comfortable shoes for women, with a soft upper and an Optivibe midsole that helps reduce vibration on impact.
READ MORE: The 10 Best North Georgia State Parks for Hiking & Camping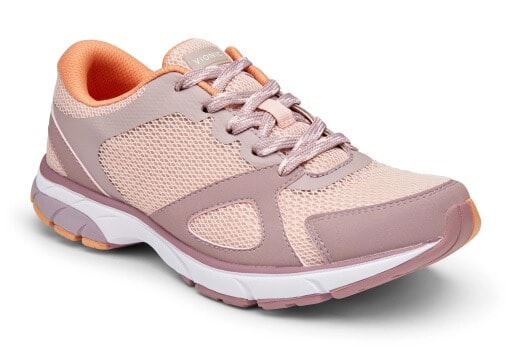 VIONIC TOKYO SNEAKER
Much like Superfeet, Vionic specializes in shoes that provide orthotic comfort.
Many of their products boast a seal of approval from the American Podiatric Medical Association (APMA), which certifies that they're beneficial in promoting foot health.
Available in 5 colors, the Tokyo sneaker is the most lightweight and comfortable shoe they offer, but it doesn't compromise one iota on stability or flexibility.
They feature Advanced Motion System (AMS) technology, combining a removable, podiatrist-designed orthotic with a cushioned outsole and a lightweight, breathable upper.
If you need extra arch support of have other foot issues, they're arguably among the most comfortable women's walking shoes on the market.
Best Hiking Shoes for Women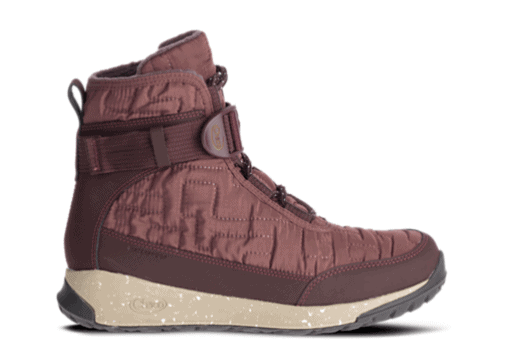 CHACOS BOREALIS QUILT
It's tough finding good hiking shoes for women to wear in winter. Most are bulky and/or boring, without much in the way of style for when you're not on the trail.
But the Borealis Quilt from Chacos offers an intriguing combination of fashion and function.
The water-resistant nylon upper boasts a custom-embossed quilted pattern with seam-sealed waterproof construction.
The coffee-based charcoal fleece lining is waterproof and insulated, keeping odor out and your body heat in, so your feet stay cozy all day long.
The biomechanically designed LUVSEAT dual density EVA midsole is made from 10% recycled content, and the 3 mm diamond lugs offer excellent traction on snow and ice.
For cold weather wear, they're among the best waterproof hiking shoes for women.
READ MORE: The Best Hiking Trails in the World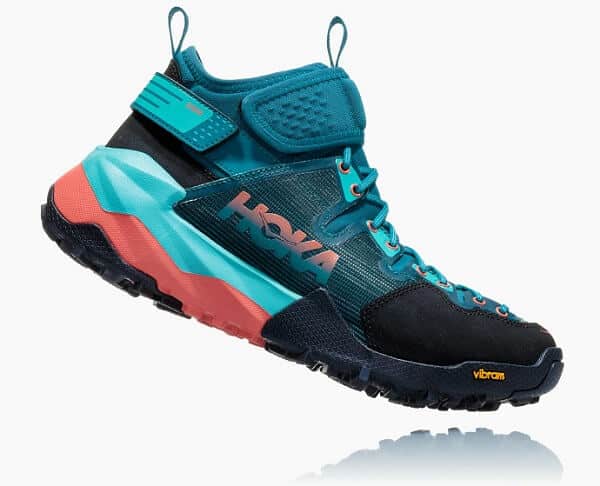 HOKA ONE ONE ARKALI
Easily the most colorful women's hiking shoes we've tested lately, the Hoka One One Arkali comes in a Dragonfly/Aqua Haze combo that dazzles with varying hues of blues and salmon pink.
But don't let the flashy looks fool you: This is a great technical shoe that is versatile enough to handle everything from hiking and biking to advanced class 2 and 3 terrain.
They've even gotten rave reviews from people who wore them on 500-mile treks through the Pyrenees and the Camino de Santiago!
What we love most is that they can be work loose for casual outings or tightened (via Velcro ankle strap) for support during intense action.
With a roomy toe box, enhanced traction, and grippy Vibram soles, they're great shoes for all your outdoor adventures.
READ MORE: 60 Cool Camping Gear Reviews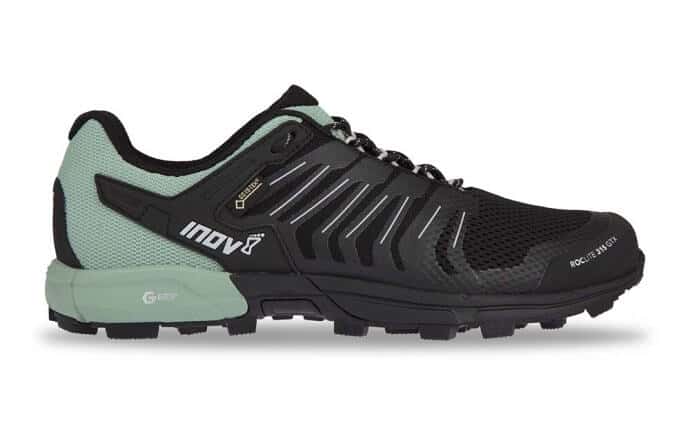 INOV8 ROCLITE 315 GTX
Founded in 2003 in the Lake District of England, inov-8 creates shoes, clothing, and other gear primarily for trail runners, fitness fiends, and hikers with a boundary-pushing thirst for adventure.
The brand is best-known for hiking shoes made with a patent-pending graphene technology, which gives them an exceptional grip even in wet, rugged, uneven terrain.
The Roclite 315 GTX is a great example, featuring a G-GRIP outsole with claw-shaped cleats, each of which has a wide contact area for unparalleled stability.
Available in 3 colors, with GORE-TEX protection from the elements, 6 mm lugs, and a midsole that provides 10% better shock absorption and 15% better energy return, it's a great hiking shoe for whatever challengers your trek may bring.
READ MORE: Kayaking & Hiking the Dolomites in Italy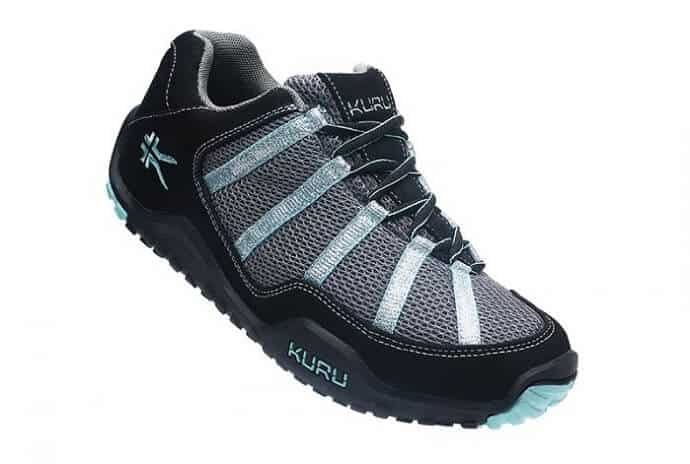 KURU CHICANE
More what we think of as traditional women's trail hiking shoes, the Chicane was the first shoe KURU ever made, and remains the brand's most popular line. Thankfully it's been updated over the years with improvements.
Designed more for light hiking than serious technical challenges, the Chicane is designed to fit the natural curves of your foot, with a curved, asymmetrical tongue that makes it easier to adjust the fit.
Moisture-wicking liners ensure your feet stay dry.
Made from synthetic and nubuck leather uppers, with a non-marking rubber outsole, the shoe's roomy toe box and excellent arch support is great for anyone suffering from bunions, flat feet, heel pain, Plantar Fasciitis, and other foot problems.
Use special promo code "greenglobaltravel" on KURU's site to get a 10% discount off the purchase price of any product!
READ MORE: The 15 Best Camping Tents for Families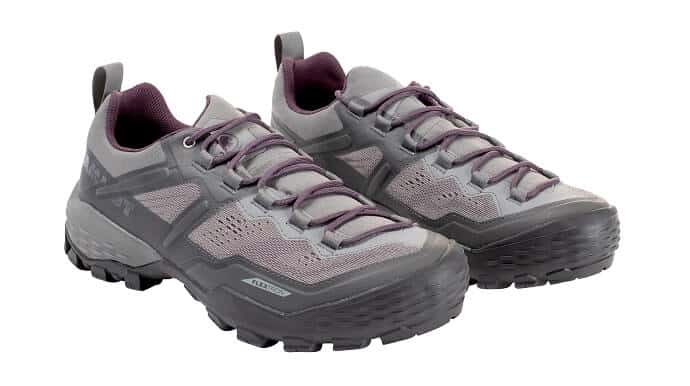 MAMMUT DUCAN LOW GTX
Available in 6 different color combinations for women, the Ducan Low GTX from MAMMUT is all about technological enhancements for serious hiking and long-distance trekking. The fact that they also look great is merely a bonus!
Innovative features include a Flextron spring-steel sole that enhances stability and protects your feet from deflection.
Then there's the Georganic 3D Technology used in creating a Vibram sole, which is tailored to create a perfect fit for serious support on uneven terrain.
With GORE-TEX extended comfort lining and elastic tongue and double-layered engineered mesh uppers, these are some seriously sturdy shoes designed to take whatever your travels may dish out.
READ MORE: Hiking Corcovado National Park, Costa Rica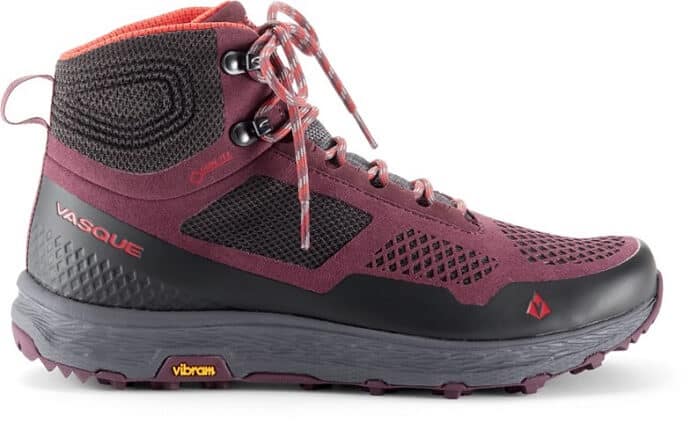 VASQUE BREEZE LT MID GTX
Vasque's Breeze GTX comes in a variety of different heights (low, mid, and high) and colors. But all of them offer lightweight (around 11 ounces per shoe), comfortable construction.
The ankle-height Breeze LT Mid GTX starts with uppers made from abrasion-resistant microfiber mesh that's built for flexibility and speed.
Waterproof GORE-TEX construction ensures maximum comfort on long hikes, as do moisture-wicking materials in the lining.
The Vasque-exclusive outsoles are also excellent, combining Vibram Megagrip with Vibram Lightbase technology for sure footing on uneven surfaces and a 25% reduction in overall weight.
When you add the high-rebound footbeds and EnduraLast EVA midsoles, this is one of our top picks for the best hiking shoes for women. –by Bret Love & Mary Gabbett