New Orleans may be best known for its lively culture– swinging jazz, the colorful costumes of Mardi Gras Indians, delectable Creole and Cajun cuisine. But the city has a notorious dark side as well– Haunted New Orleans is best explored in the shadows of the night.
Voodoo, colonial occupation, the Civil War, pirates, slavery, and an "anything goes" attitude towards excessive behavior have all led to a dark, twisted history that continues to haunt New Orleans today making it the most haunted city in America and a New Orleans Ghost Tour a must-do.
In his book Haunted Houses, paranormal expert Richard Winer wrote, "Take 100 of the most enthusiastic ghost hunters and ask them to name America's Most Haunted City. Most will spring to their feet yelling, 'New Orleans!'"
We didn't understand why until we took a New Orleans Haunted History Ghost Tour of the most haunted places in New Orleans, learning more about the haunted stories that color the city's dark underbelly.
According to our New Orleans tour guide, Denise Augustine, the city earned its title as "America's Most Haunted City" partly because of its proximity to the Mississippi River. "Spirits are energy," she says, "and energy is magnetized by water."
That proximity also caused the city's struggle against Yellow Fever, as well as its longtime occupation by French, Spanish and Union Army forces. As a result, New Orleans has dozens of history-based tales of murder, tragedy, sinners and saints.
From the mysterious massacre of the Sultan's House and the Civil War spirits said to haunt the Beauregard-Keyes House to the Witch of the French Opera House and Voodoo queen Marie Laveau's grave at St. Louis Cemetery, each of them is worthy of fireside storytelling.
Here are a few of our favorite New Orleans ghost stories…
READ MORE: Treme, New Orleans: Birthplace of American Culture
HAUNTED PLACES IN NEW ORLEANS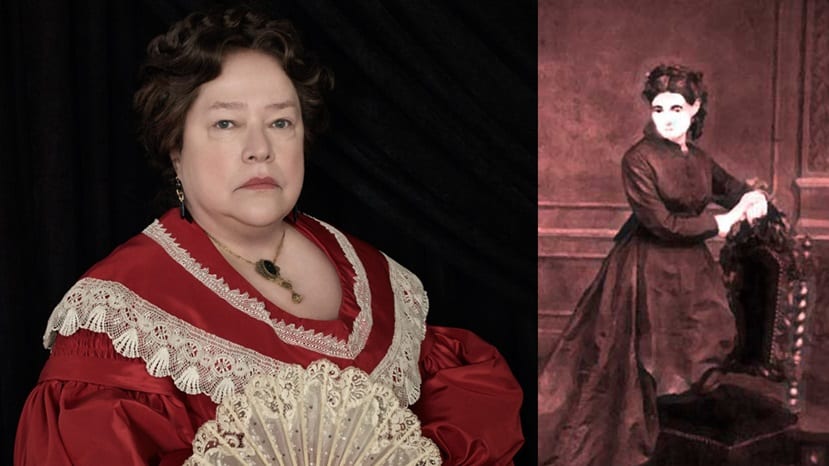 MADAME DELPHINE LALAURIE – 1140 Royal Street
One of the most famous tales of haunted New Orleans was made famous in recent years by American Horror Story: Coven. Masterfully portrayed by Kathy Bates, Madame Marie Delphine Lalaurie was a socialite serial killer known for the brutal, inhumane torture and murder of her slaves.
In 1832 she built a 3-story mansion at 1140 Royal Street, with attached slave quarters. In public she was polite to black people, but rumors swirled about private abuses.
Neighbors claimed to have seen a 12-year-old slave fall to her death from the roof of the mansion while trying to avoid Lalaurie's whip. Her offense? Hitting a snag while brushing Lalaurie's hair. This led to an investigation that found the Lalauries guilty of cruelty, losing nine slaves as a result.
Lalaurie kept her elderly cook chained to the stove, which led to an 1834 house fire (set as a suicide attempt to avoid punishment).
When bystanders were refused access to rescue those in the slave quarters, they broke the doors down and found "seven slaves… horribly mutilated… suspended by the neck, with their limbs apparently stretched and torn from one extremity to the other."
When word got out of these horrific acts, an angry mob demolished the Lalaurie residence. Further investigation found slave bodies buried in the yard and a condemned well.

Madame Lalaurie escaped to France and her mansion remained in ruin for 50 years. Numerous businesses attempted to open in the prime French Quarter location over the 20th century, but all of them failed and reports that the house was haunted began to spread.
Actor Nicolas Cage bought the macabre property in 2007, but it was foreclosed on two years later. It remains a major New Orleans attraction and is rumored to be the most haunted house in New Orleans.
New Orleans American Horror Story Unauthorized Walking Tour offers a great 2hr for American Horror Story fans
READ MORE: Charmed at New Orleans' Historic Voodoo Museum

THE OCTOROON MISTRESS – 734 Royal
Street
This one's for those who like their ghost stories with a heaping dose of tragic romance.
The tale of the Octoroon Mistress takes place in the 1850s, at a time when fair-skinned black people of mixed racial heritage were known as quadroons or octoroons (or "freed blacks").
They were often very educated and wealthy, with light-skinned females considered highly desirable among Creole men.
According to local legend, a beautiful octoroon named Julie met her rich, handsome French lover at a masked ball.
Though relationships between Creoles and octoroons were officially prohibited, masked balls were a notorious pick-up spot for men to meet mistresses, whom they would put up in houses around New Orleans with their own money and servants.
Julie fell madly in love with her paramour, but to him she was nothing more than a torrid affair. She pressured him to marry her, but he refused, citing the laws against it. One night, after she begged to become his bride, he told her that he was going to play cards with some friends.
To test her love, he told her to strip nude and wait out on the rooftop for him to come home, thinking there's no way she'd go through with it in such chilly winter weather. Of course she did.
When the Frenchman returned home, she was nowhere to be found, until he checked the roof and saw her naked and frozen stiff in a corner.
Some locals suggest that her lover, full of remorse, fell into deep depression and died a few months later. And Julie is said to haunt her home at 734 Royal St, appearing to be pacing on the rooftop or walking the house's floors as if awaiting her lover's return.
READ MORE: The Best Mardi Gras Balls, Parades, and Parties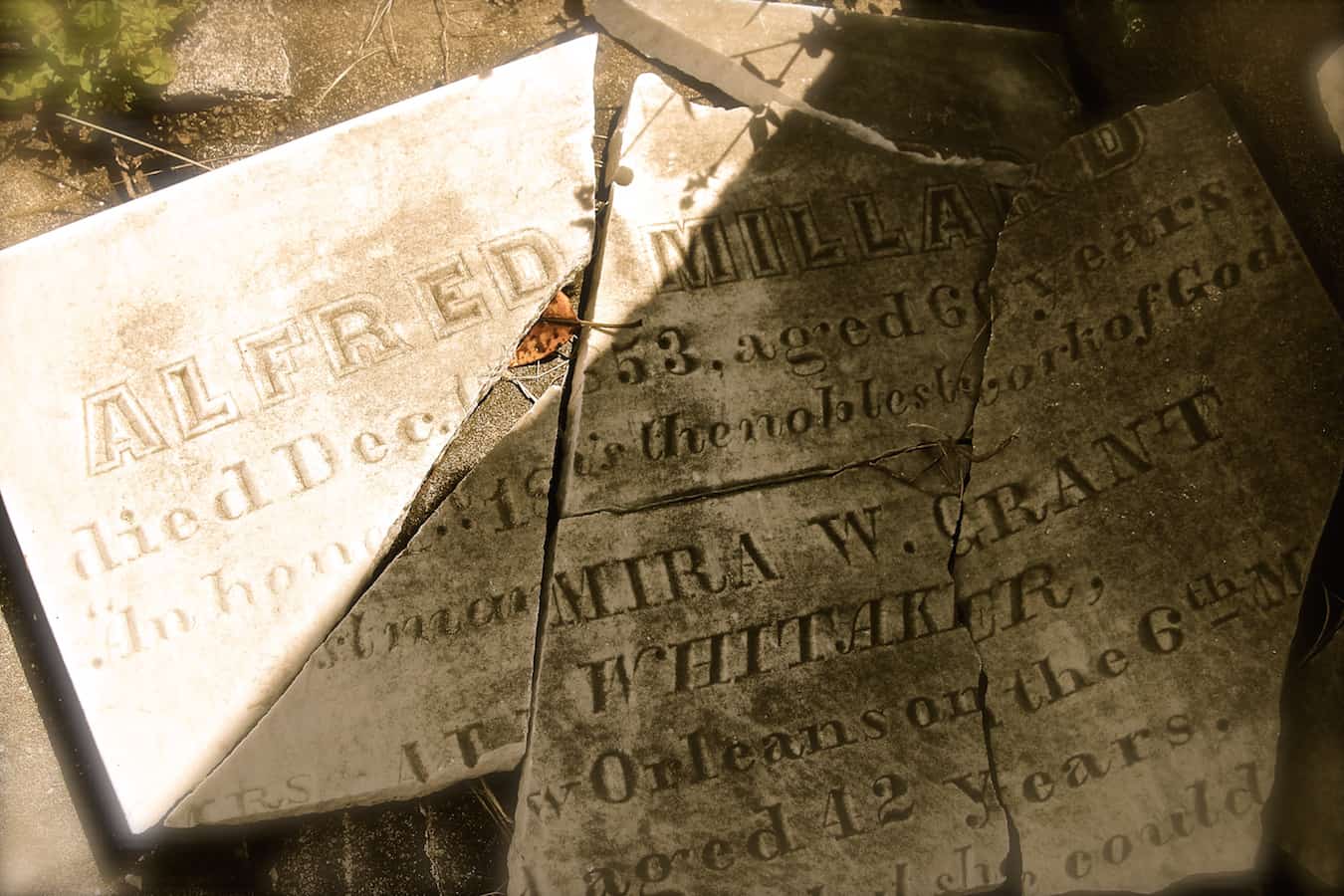 THE GHOST OF PERE DAGOBERT – St. Louis Cathedral Alley
In 1762 French King Louis XV gave Louisiana to his cousin, Spain's King Charles III, but nobody bothered to tell local residents. Two years later, a ship arrived bearing Spanish soldiers, a new Spanish Governor and a priest from the Spanish Inquisition.
To quote Denise Augustine, New Orleans was "not Inquisition-ready. We had bad habits: We practiced voodoo, we drank, we gambled, we over-indulged in food and use of the F-word."
So five leading members of the community (thinking they were being invaded) got soldiers together and attacked the new arrivals, sending them back to Spain.
Two years later, 42 ships arrived with a new Governor, Don Alejandro O'Reilly, an Irishman close to the Spanish crown.
He marched into Jackson Square (then the Place d'Armes), replaced the French flag with the Spanish flag, shot the five men who'd started the revolution, hung them in the square outside St. Louis Cathedral and forbade locals from burying the rotting corpses.
French priest Pere Dagobert begged fellow Catholic O'Reilly to let them perform mass and bury the dead, but the Governor threatened to hang him in the square as well. The community prayed for a miracle, and was rewarded when torrential rains and heavy fog descended on the city.
Led by the black-robed Dagobert, who sang the "Kyrie" for distraction, the bodies of the slain were recovered under the Spanish soldiers' noses and buried in unmarked graves in St. Louis Cemetery #1.
According to legend, you can occasionally hear Dagobert's voice singing the Kyrie echoing through the alley outside St. Louis Cathedral after the church is closed for the night.
Many people have seen lights move from window to window, and some have reported seeing Dagobert's ghost kneeling in prayer on the church's altar steps when it rains.
READ MORE: Mardi Gras Indians Celebrate Super Sunday in New Orleans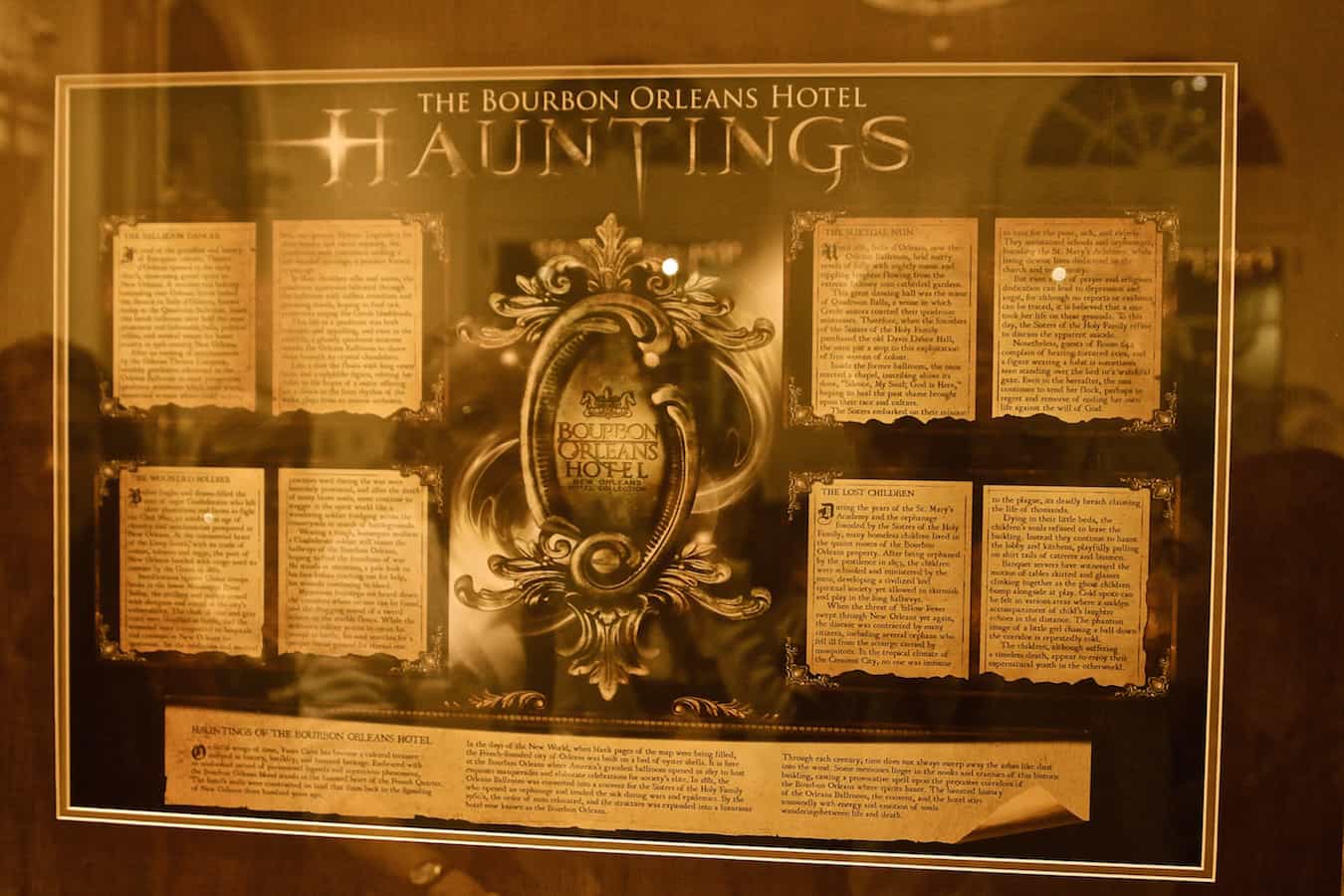 THE HAUNTED HOTEL – 717 Orleans
Street
You can't walk a block in the French Quarter with a history buff like Denise Augustine without hearing some riveting tale about dark deeds. But the Bourbon Orleans Hotel deserves special mention for being one of the most haunted hotels in New Orleans.
The building dates back to 1817, when entrepreneur opened the Orleans Ballroom, a hotspot on the New Orleans social scene for masquerade balls and Quadroon balls.
In 1881 the building was sold to the Sisters of the Holy Family, which converted it into a convent, orphanage and school.
It was here that the oldest African-American order of nuns cared for victims of the vicious Yellow Fever outbreak that killed thousands of people in the late 1890s.
Among the many ghost stories that surround the hotel today, there have been reports of a wounded Confederate soldier standing at attention on the third and sixth floors; a beautiful, mysterious Quadroon dancer floating sadly beneath the ballroom's chandeliers; a nun who committed suicide said to be seen and heard crying mournfully in room 644; and orphaned children who died from Yellow Fever playing friskily in the hallways, lobby and kitchen.
Ultimately, it doesn't matter whether you believe in the supernatural or not. Walking the shadowy alleyways of the French Quarter at night, away from the drunken revelers of Bourbon Street, you view a completely different side of a haunted New Orleans that most visitors don't normally see.
For some, these Southern gothic tales of hauntings and horrors might put a depressing damper on their Mardi Gras parade. But for us they were a revelatory glimpse of the dark history that makes the distinctive character of New Orleans so unique.
READ MORE: The Best Oysters in New Orleans
HAUNTED NEW ORLEANS GHOST STORIES

THE AXEMAN OF NEW ORLEANS
New Orleans' greatest unsolved mystery is also thought to be a factor in the city's historic fascination with jazz music. The Axeman of New Orleans was a serial killer known to be active in the city from 1918-1919, but some historians believe the axe murderer may have claimed myriad victims as early as 1911.
With at least 12 known victims, the Axeman's modus operandi was consistent: He'd carefully chisel open the back door of a home, attack one or more victims with their own axe or a straight razor (mostly Italian-Americans, suggesting the murders were racially motivated), and never stole anything.
He published a letter in the Times-Picayune in 1919, saying he'd kill again on March 19, but would spare anyone in a place where a jazz band was playing.
That night the city's dance halls were filled to capacity, and bands played jazz at house parties all around town. As a result, no one was killed, and jazz music's popularity expanded beyond the red light district of Storyville.
The Axeman was never caught or identified, and his crime spree ended mysteriously in October of 1919. Because the victims were mostly grocers or bakers, some historians believe the murders may have been Mafia hits carried out by Frank "Doc" Mumphrey (a.k.a. Joseph Monfre), who moved to Los Angeles in 1920.
He was shot and killed in 1921 by Esther Albano, the widow of murder victim Michele "Mike" Pepitone, who claimed that Humphrey was, in fact, the Axeman. –Bret Love; photos by Bret Love & Mary Gabbett
For more stories like the Axemand of New Orleans, check out Sinister Criminal Intentions, a gripping adults-only tour for fans of grisly true crime stories.
READ MORE: Preservation Hall Jazz Band & New Orleans
BEST GHOST TOUR IN NEW ORLEANS
We think the best ghost tour in New Orleans for history buffs like us is the 2 hr New Orleans Haunted History Ghost Tour, but here are some other great New Orleans ghost tours you might like:
Looking for French Quarter hotels? Check out these great places to stay in New Orleans!
Bienville House Hotel
French Market Inn
Hotel Provincial
Hotel Maison de Ville
Andrew Jackson Hotel French Quarter
Looking for essential Travel Gear? Check out these great options!
The Best Travel Clothes for Women & Men & The Best Travel Shoes
Looking to book your next trip? Check out the following services we use!
DollarFlightClub or Airfarewatchdog to find a cheap plane tickets.
Booking.com to find a hotel deals.
Lonely Planet for a New Orleans Pocket Guide with Map.
World Nomads for Travel Insurance
TrustedHousesitters we've found great pet sitters to watch our house and love on our two dogs!