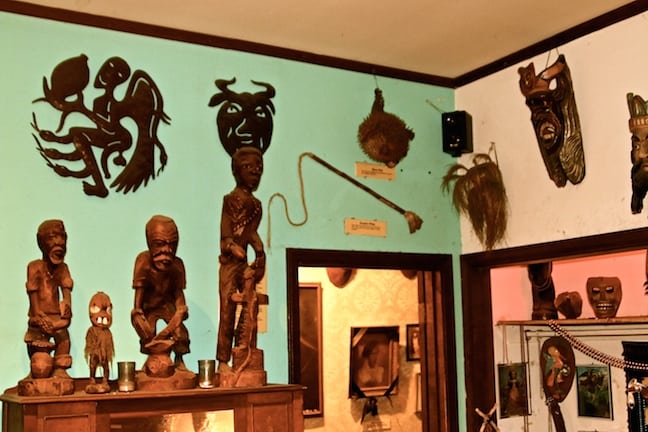 Charmed By The New Orleans Historic Voodoo Museum
If you're fascinated by Zombie lore, but your primary source of information about them is The Walking Dead, the New Orleans Historic Voodoo Museum is a must-see. This is perhaps the only place outside of Haiti where you'll find an expert on the subject of Voodoo– owner Jerry Gandolfo– willing to tell you how to make your own human zombie.
His explanation is full of fascinating details, involving poison extracted from a blowfish and put into someone's shoe, where it's absorbed into the sweat glands and induces a catatonic state similar to death. Later, the victim is given an antidote and powerful hallucinogens, making them appear to rise from the dead.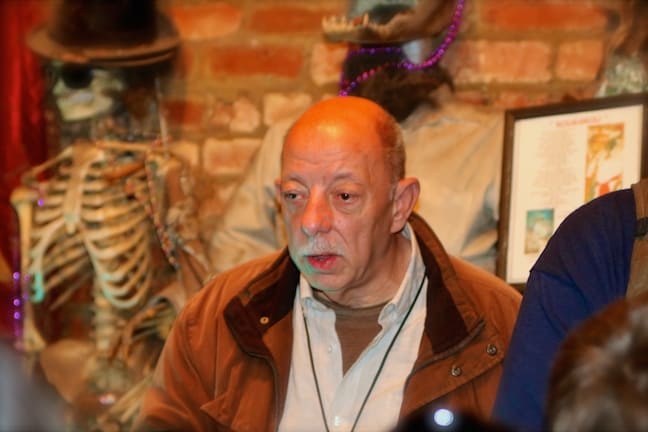 Gandolfo, a practicing Catholic from a Creole family who took over as caretaker of the Museum a few years after his older brother– "Voodoo Charlie"– passed away, clearly relishes sharing these stories of the supernatural (or superstition, depending on your view). The 61-year-old former insurance man, who leads many of the museum's tours, typically has a tired, hangdog look about him, but gets a gleam in his eyes and the hint of a sly smile whenever he uses storytelling to toy with visitors' expectations.
And while skeptics may scorn the New Orleans Historic Voodoo Museum's hodgepodge collection of voodoo dolls, African masks, gris-gris (or talismans), dusty historic portraits of "voodoo queens" and human skulls as kitschy, for others it's a loving paean to an ancient African religion dating back hundreds of years.

THE ORIGINS OF VOODOO/VODUN
Voodoo (a.k.a. vudu, vodun, vodou or vaudoux) is a term used to encompass the traditional religions of coastal West Africa, including the Ewe people of Ghana and Togo, the Fon people of Togo and Benin, and the Yoruba of Nigeria.
These religions center around divine vodun spirits that govern the Earth, ranging in power from major deities that govern the forces of nature to ethnic vodun, which protect certain clans or tribes. There's a Creator known as Nana Buluku, her offspring Mawu and Lisa (the moon and sun), Mawu's child Legba, and dozens of other deities. This hierarchy is strangely similar to that of the saints of Catholicism, with which voodoo traditions are often fused.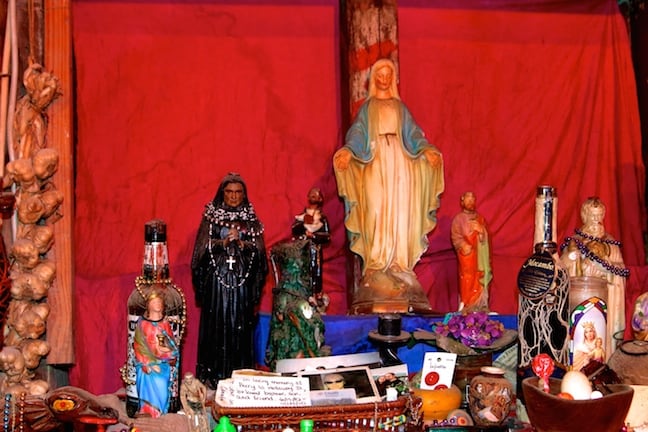 When the slaves were stolen from West Africa and spread throughout the Caribbean and the Americas in the 17th and 18th century, they took their spiritual beliefs (which include a healthy dose of ancestor worship) and their penchant for herbs, potions, charms and amulets with them. In the Dominican Republic, the practice became known as Vudu; in Haiti it was Vodou; and in Louisiana– once the epicenter of the U.S. slave trade– Voodoo was born.
Because enslaved Africans outnumbered European settlers by a ratio of two to one and most slaves were owned by a small subset of wealthy whites, West African culture continued to thrive in New Orleans. After the Embargo Act of 1808 ended the importation of slaves, laws were passed to prevent the separation of slave families, ensuring that these ancient spiritual beliefs were passed down from generation to generation. Over time, African folk traditions merged with the Catholic practices of the French Creole culture, creating many of the "Hoodoo" elements (gris-gris, voodoo dolls, etc) we associate with Voodoo today.

INSIDE THE NEW ORLEANS HISTORIC VOODOO MUSEUM
We learn much of this history from Gandolfo as we tour the tiny French Quarter museum, which is stuffed to the gills with altars, art and artifacts. Several of the most prominent pay tribute to Marie Laveau II, New Orleans' most famous Voodoo Queen.
Like many of the world's polytheistic pagan folk religions, Voodoo is largely matriarchal. Voodoo Queens are revered, typically presiding over ceremonial meetings and sacred rituals and concocting charms and potions for members of their community. Laveau was the most famous Voodoo Queen of all, renowned for her magical powers and influence, which included convincing followers to attend Catholic Mass as a way to hide their true spiritual beliefs. Today, Gandolfo leads daily tours to Laveau's tomb in the nearby St Louis Cemetery No. 1, where devout Voodoo followers still leave offerings and ask for favors.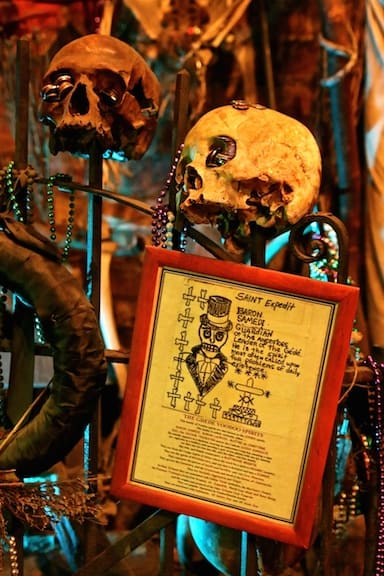 The museum is a great jumping-off point for people whose knowledge of Voodoo primarily comes from classic films such as Angel Heart and TV shows like American Horror Story: Coven (in which Angela Bassett played Marie Laveau). Although most of the displays bear only brief descriptions, there are numerous 8×10 printouts that prove a wealth of information about the historic connections between Louisiana and Africa.
We learned about New Orleans' Skull & Bone Gangs– which appear in the 7th Ward and Tremé every Mardi Gras dressed as skeletons, warning local children of the dangers of drugs and alcohol– and how they and the Mardi Gras Indians are connected to similar secret societies in Africa. We learned about the Rougarou– a cross between a French werewolf, African vampire and Voodoo zombie– and the French Louisiana legend about how the half-man, half-alligator spirit emerges at night to suck blood and steal souls. And of course we learned about Zombies– not the myth, but the "Life After Death" rituals occasionally practiced in Haitian Vodou, as described in the book The Serpent & the Rainbow by ethnobotanist Wade Davis.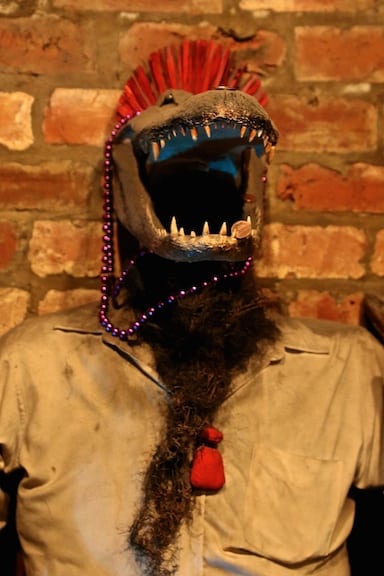 The great thing about the New Orleans Historic Voodoo Museum is that you can view it as a quirky, creepy bit of Louisiana kitsch, or you can approach it– as Gandolfo clearly does– as a loving tribute to a historically significant religion that remains alive and well in Louisiana today (estimates suggest that around 2% of the area's population still observes Voodoo traditions in some form).
As someone who remains open to all the world's spiritual traditions, I paid a visit to Priestess Miriam Chibani of the New Orleans Voodoo Temple at Gandolfo's urging ("She's the real deal," he insisted). I tried to arrange a consultation, telling her that I needed her help due to financial problems we were having at the time. To which she looked me over, laughed, and said, "I need YOUR help!" Puzzled by the weird encounter, I left an offering at the altar, said a prayer for my family, purchased an inexpensive gris-gris bag, and thought nothing more of it.
Six months later, our lives have changed completely, and all for the better. Voodoo? Or sheer power of will? Either way, I'm glad I went. –by Bret Love; photos by Bret Love & Mary Gabbett
If you enjoyed Charmed at the New Orleans Historic Voodoo Museum, you might also like:
LOUISIANA: Treme, New Orleans: Birthplace of American Culture
INTERVIEW: Ben Jaffe on Preservation Hall Jazz Band & New Orleans
LOUISIANA: An Insider's Guide to Mardi Gras in New Orleans
LOUISIANA: Mardi Gras Indians Celebrate Super Sunday in New Orleans
LOUISIANA: Mardi Gras Indians Super Sunday: NOLA's Next Generation
LOUISIANA: Cajun Food Tours in Lafayette