In a world plagued by the rise of mass tourism, finding off-the-beaten-track gems is increasingly hard. Which is precisely what makes the region of Le Marche, Italy one of my favorite places to visit as an Italian citizen.
Most international visitors to Italy tend to stick to the usual Venice/Florence/Rome circuit, where in summer tourists outnumber locals 10 to 1.
As a result, some cities have had to take action to prevent the detrimental effects of overtourism. Florence banned picnics from church steps, and Venice is currently considering the introduction of a visitor caps.
But my native country has so much more to offer visitors besides these immensely popular hotspots. The Le Marche region is located in the center of the country, between the Apennines and the Adriatic Sea. It's been called "the next Tuscany," but still sees relatively few non-Italian tourists.
Le Marche does get busy in summer. But if you visit in the low season (October or May), you'll have pretty villages, stunning beaches, and wonderful nature all for yourself. There are no tacky pavement cafes and few souvenir shops in Le Marche. Instead, you'll be able to stay at farmhouses, eat at family-run restaurants with handwritten menus, and enjoy warm Italian hospitality at all times.
My 7 favorite places to visit in Le Marche, Italy, offer a range of activities that represent the best of what the region has to offer… with next to no tourists in sight!
READ MORE: The Importance of Community Based Tourism in Responsible Travel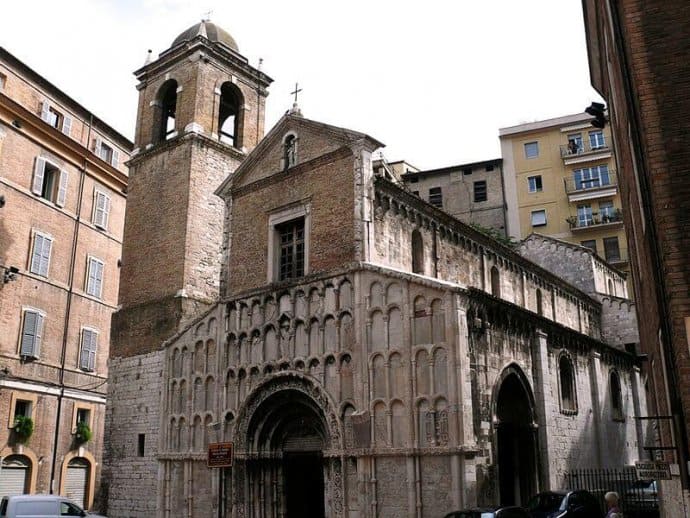 ANCONA
If you're planning to visit Le Marche, you'll likely start in Ancona. This is the regional capital and an important transport hub for those traveling between Italy, Greece and Croatia.
For decades, Ancona was considered a gritty harbor town, good for nothing more than a quick overnight stay between ferries.
But in recent years it has transformed into a delightful place for a stroll between historic palazzos and narrow cobblestone streets.
When lunchtime comes, stop at a local trattoria and order a plate of baccalà all'anconetana. This local delicacy is made with salted cod, potatoes, and tomatoes in olive oil.
If you're after an unusual Ancona activity, you can opt for the Omero Tactile Museum. It was originally conceived for visually-impaired people, but it's open to everyone, and all exhibits can be touched.
READ MORE: Ecotourism in Northern Italy: The Top 5 Attractions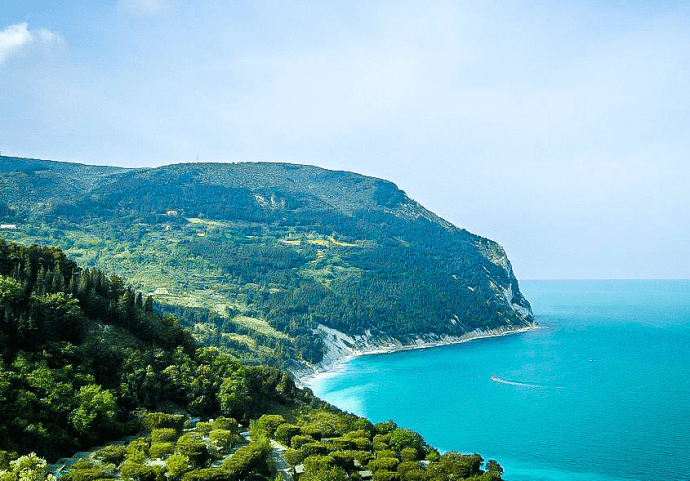 MOUNT CONERO
If you only have time to see one sight in Le Marche, make sure it's Mount Conero. This coastal mountain rises apparently out of nowhere from the low-lying sandy beaches of the Adriatic coast.
Conero is a great destination for sun-seekers and nature lovers alike. The beaches of Sirolo and Numana are famous for their clear waters, while the mountain offers excellent opportunities for hiking, horseback riding, and mountain biking.
One particularly special experience on Mount Conero is the Due Sorelle/Passo del Lupo trail. This 5-hour hike includes a wonderful viewpoint over the "two sisters"– twin rocks emerging from the sea opposite a secluded beach that can only be reached by boat.
If I could rent a house in Le Marche, this would be the perfect area in which to do so.
READ MORE: 10 Best Mountains in the World (World Travel Bucket List)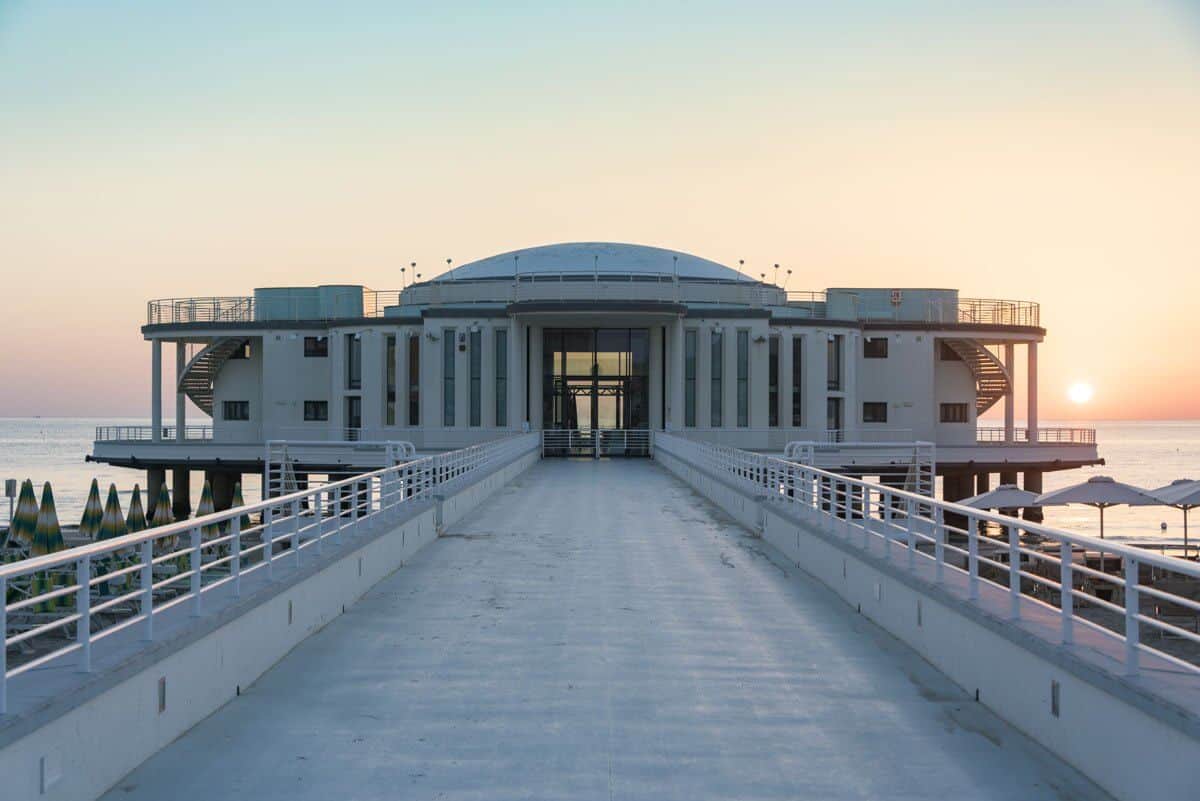 SENIGALLIA
If you're after a pure sun 'n' fun vacation, Senigallia is your best bet in Le Marche.
This coastal town is famous for its soft "velvet beach." It's also known for the Rotonda (pictured above), a round-shaped pavilion built over the water in the 1930s.
But there are many more things to do in Senigallia than meets the eye.
The city's historic center has archaeological sites and Renaissance palazzos to explore, such as the intricate stucco ceilings of the recently restored Palazzetto Baviera.
If you need a quick sweet fix after touring Senigallia, make your way to Gelateria Brunelli. Its chocolate ice cream has recently been declared the best in Italy!
READ MORE: 10 Ancient Archaeological Sites (World Travel Bucket List)

CORINALDO
The Le Marche region is full of those quintessentially Italian villages that visitors love, with medieval walls, cobblestone hills, and sprawling views over the surrounding hills.
Drive inland from Senigallia and you'll end up in Corinaldo, a tiny walled village with bougainvillea cascading from ancient walls and sunflower fields carpeting the hillsides.
Corinaldo is locally known as il paese dei matti (the village of crazy people) due to its bizarre legends and traditions.
One example is the summertime Polenta Festival: It commemorates the tale of a farmer who fell into a well with a sack of maize flour, which turned into polenta when it touched the water.
In any case, Corinaldo makes for a wonderful escape from the bustle of Italy's coast. Especially in summertime, when it's dead quiet and your only companions will be cats wandering the streets!
READ MORE: 20 Best Festivals in the World (World Travel Bucket List)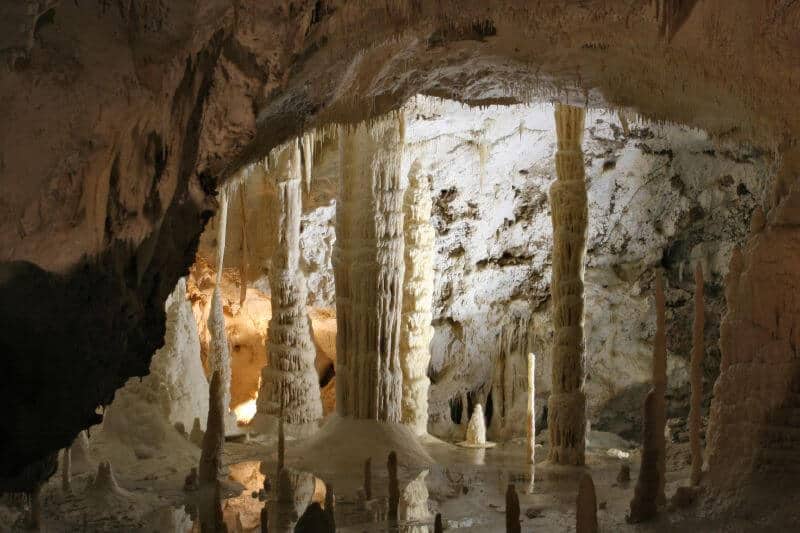 THE FRASASSI CAVES
The Frasassi Caves are perhaps Le Marche's most popular natural attraction. This beautiful karst cave complex was first discovered by chance back in 1971.
The most famous chambers in the Frasassi Caves include the Great Cave of the Wind, which offers 13 kilometers of connected passageways to explore.
There's also the Cave of the Bats (which is inhabited by a large colony) and the Room of the Candles (taking its name from the stalagmite formations therein).
Other sights worth seeing include the White Room (which has bright white calcite formations) and the Room of Infinity. Its irregular, vaguely round shape tricked the first Frasassi Caves visitors, making them believe they were wandering around a never-ending room.
Near the caves there are also two small sanctuaries, the Neoclassical Tempietto Valadier and the tiny Sanctuary of Santa Maria infra Saxa, which was built in the 11th century.
READ MORE: 10 Amazing Caves For Your World Travel Bucket List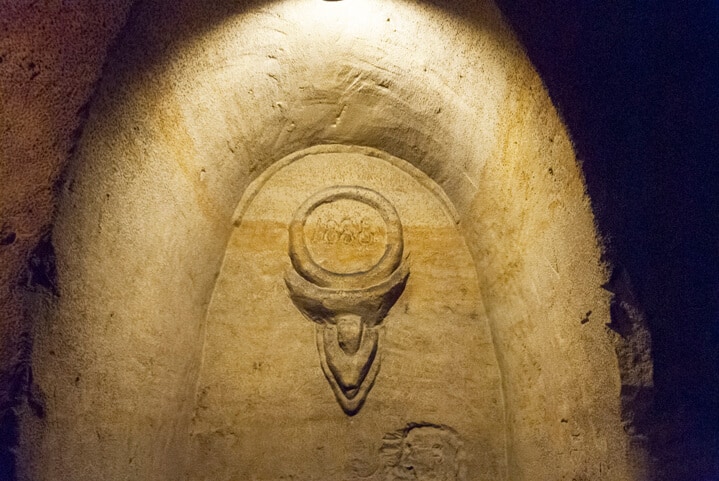 OSIMO
If visiting the Frasassi Caves makes you want to explore below ground even further, head to Osimo for a truly unique underground tour.
At first glance, Osimo looks like many other hilltop towns in Le Marche. There's a quaint historic center, views over the hills, and locals enjoying aperitivo at rooftop bars.
Head to the town tourist office and follow their directions to a staircase. It descends into the bowels of the sandstone hill atop which Osimo stands, into a sacred and mysterious world. The town sits on top of over 9 kilometers of tunnels, which have been excavated since pre-Roman times.
The tunnels of Osimo had a variety of uses, from secret hideouts and wine cellars to a location used for Freemason initiation rites and secluded chapels for medieval monks.
Several sections of these tunnels can be explored via guided tours led by the Osimo tourist office. We recommend the Grotte di Palazzo Campana, with mysterious carvings that include Celtic, Templar, and Rosicrucian symbols.
READ MORE: Rio Secreto, the Yucatan Peninsula's Amazing Underground River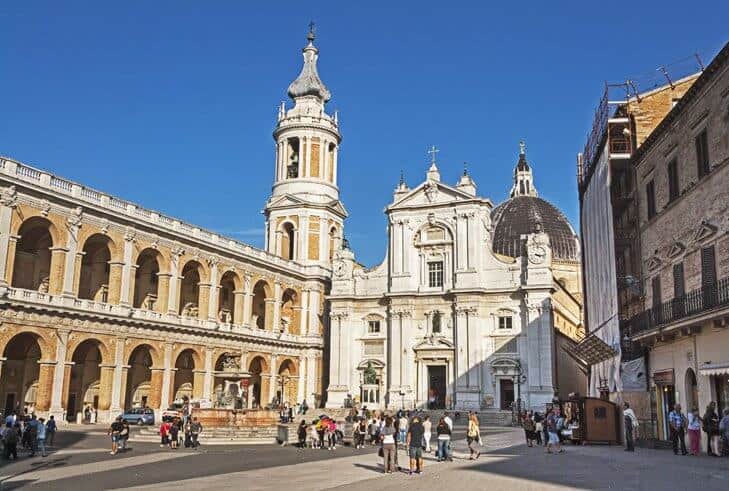 LORETO
This town is most famous for being the location of the Basilica della Santa Casa, one of Italy's most important pilgrimage sites.
The sanctuary is believed to be built around the actual home where the Virgin Mary lived in Nazareth before giving birth to Jesus. It was eventually carried away by angels during the time of Turkish dominion in Palestine.
A visit to "the holy house of Loreto" is an absolute must for religious visitors, and even for non-believers traveling to Le Marche, Italy. The atmosphere of sacredness within is captivating.
The town of Loreto itself is also a delight, with its airy piazzas and panoramic views stretching all the way to the coast and the surrounding hills. –by Margherita Ragg; all photos by Nick Burns unless otherwise noted