Considering the impressive array of wildlife you can see there, the Kruger National Park entrance fee is a mere pittance. During our visit a few weeks ago with Discover Corps, admission to the park for adult international visitors was 280 ZAR (around $20 US), with children under 12 just 140 ZAR.
Kruger played a huge role in my life changing experience in South Africa back in 2000, when I spent a wondrous week exploring both public and private portions of this world-famous game reserve.
But this time around, traveling as part of a tour group with a busy itinerary focused on immersive wildlife conservation activities, we only had one full day to explore the park.
READ MORE: What Is Ecotourism? (The History & Principles of Responsible Travel)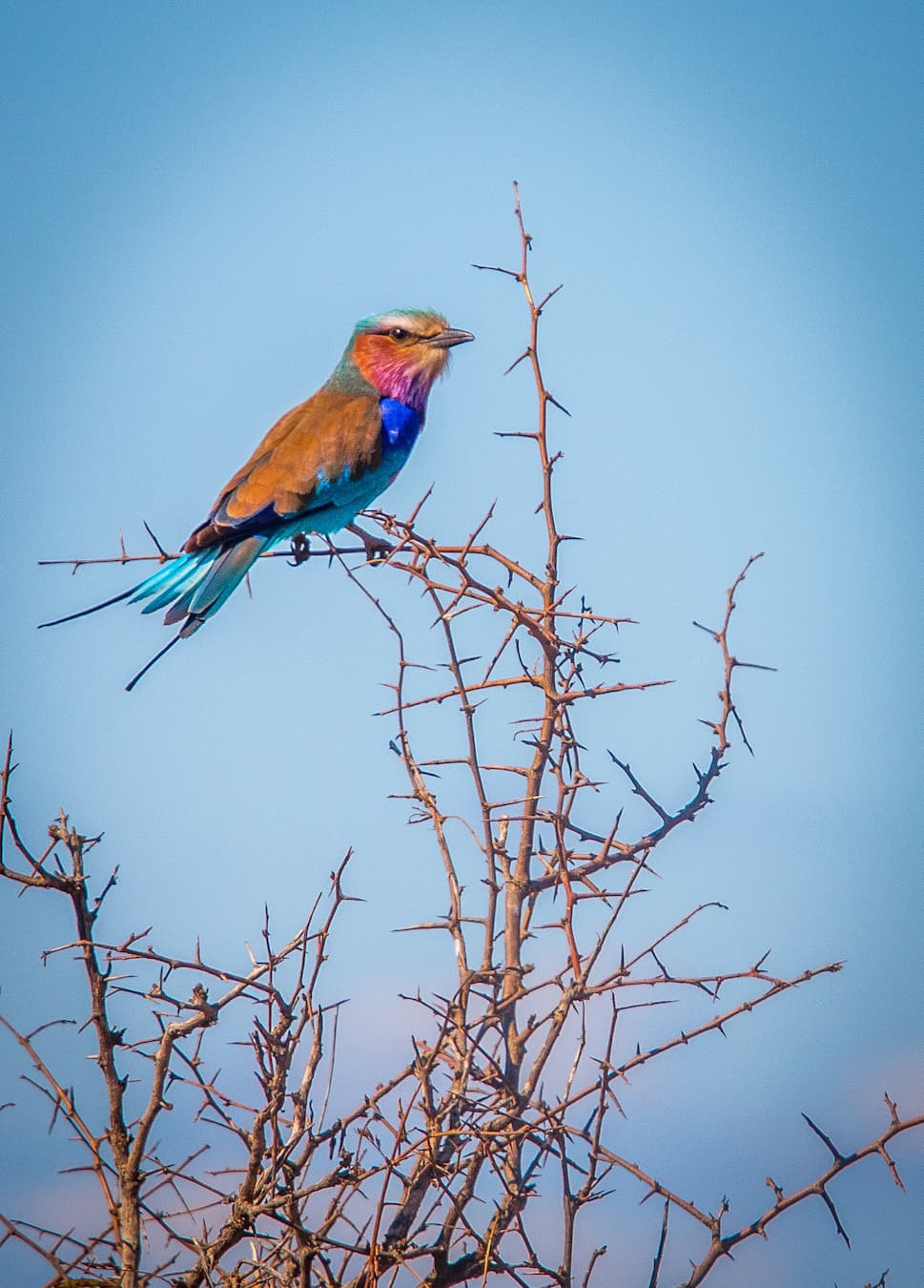 I'll admit that I was concerned going in. How could one 12-hour drive through Kruger National Park's 7,500 square miles possibly measure up against the memorable week that had such a huge impact on my life and career? Confined to a 15-person passenger van, how much wildlife could we possibly see in such a short time?
As it turns out, I shouldn't have worried. We saw nearly 50 different species during our eventful day in the park, including two Leopards, a half-dozen Lions, 14 Giraffes, and too many Elephants, Zebras, Baboons, Birds and Cape Buffalos to count.
Here's a look at some of our favorite wildlife sightings, plus a few tips for getting the most out of your Kruger National Park entrance fee…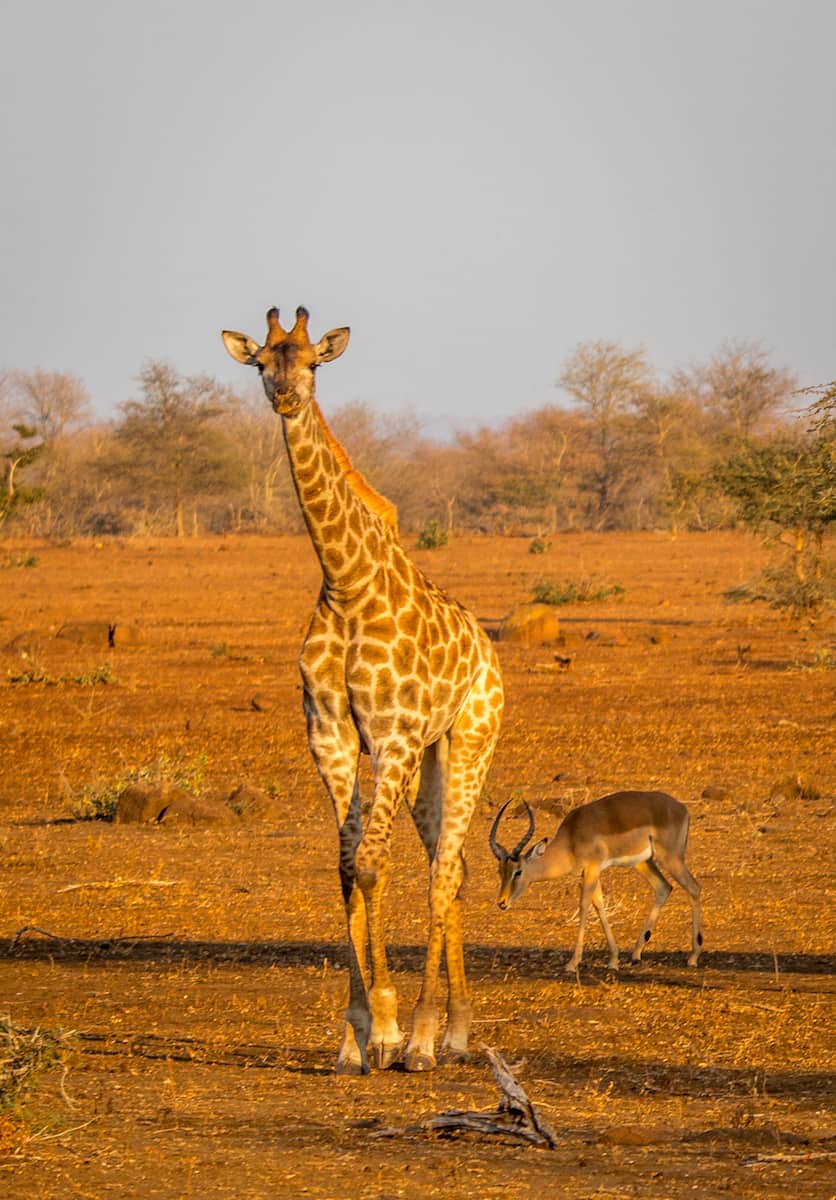 Start Early
The gates of Kruger National Park open at 5:30AM from October through March, and at 6AM from April through September. If you really want to make the most of your time in the park, be among the few early birds who line up outside the gates before they open.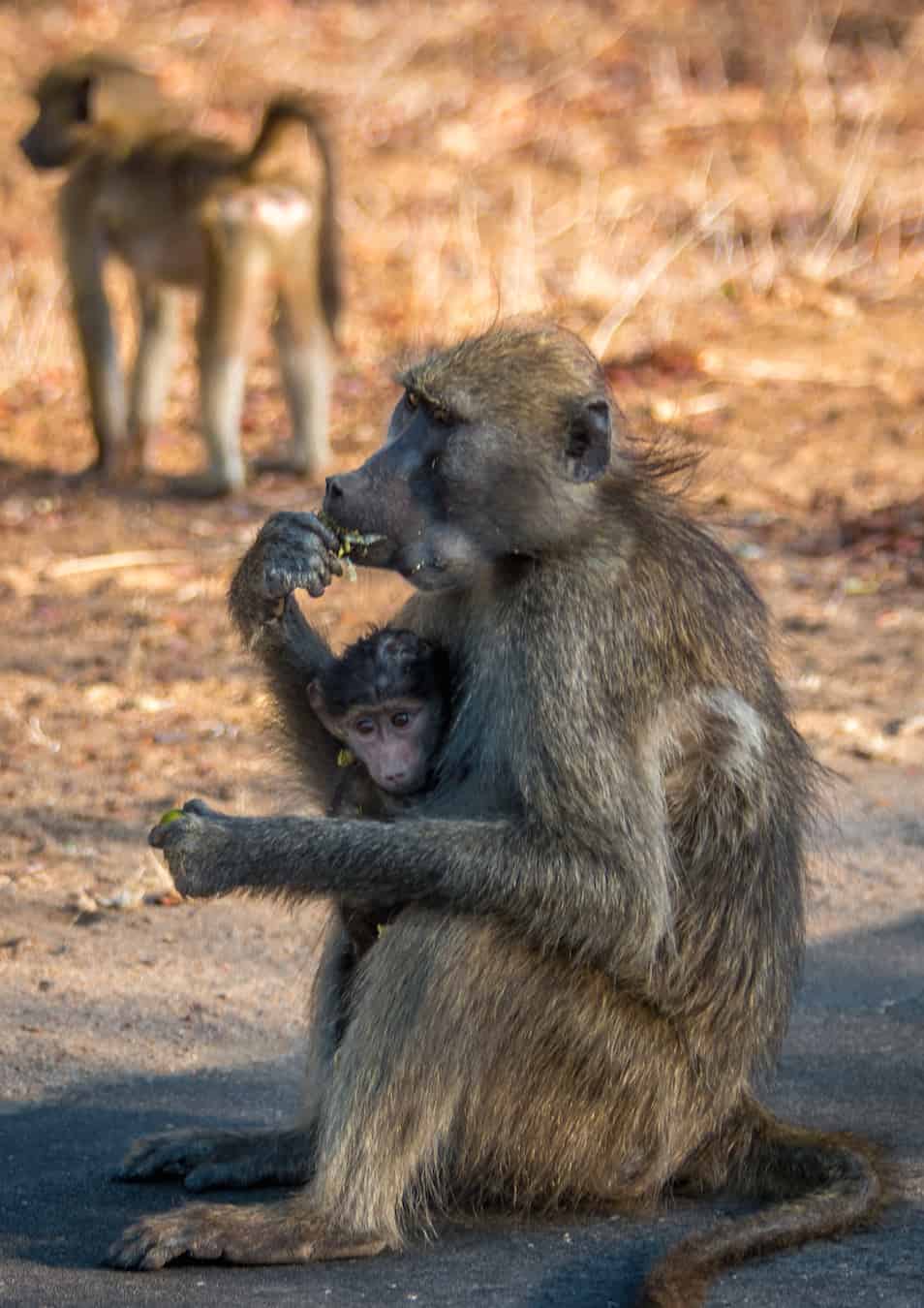 The sun was just creeping up over the horizon as we made our way through the Orpen Gate, with the outside temperatures somewhere in the lower 40s. But still the wildlife sightings came quickly.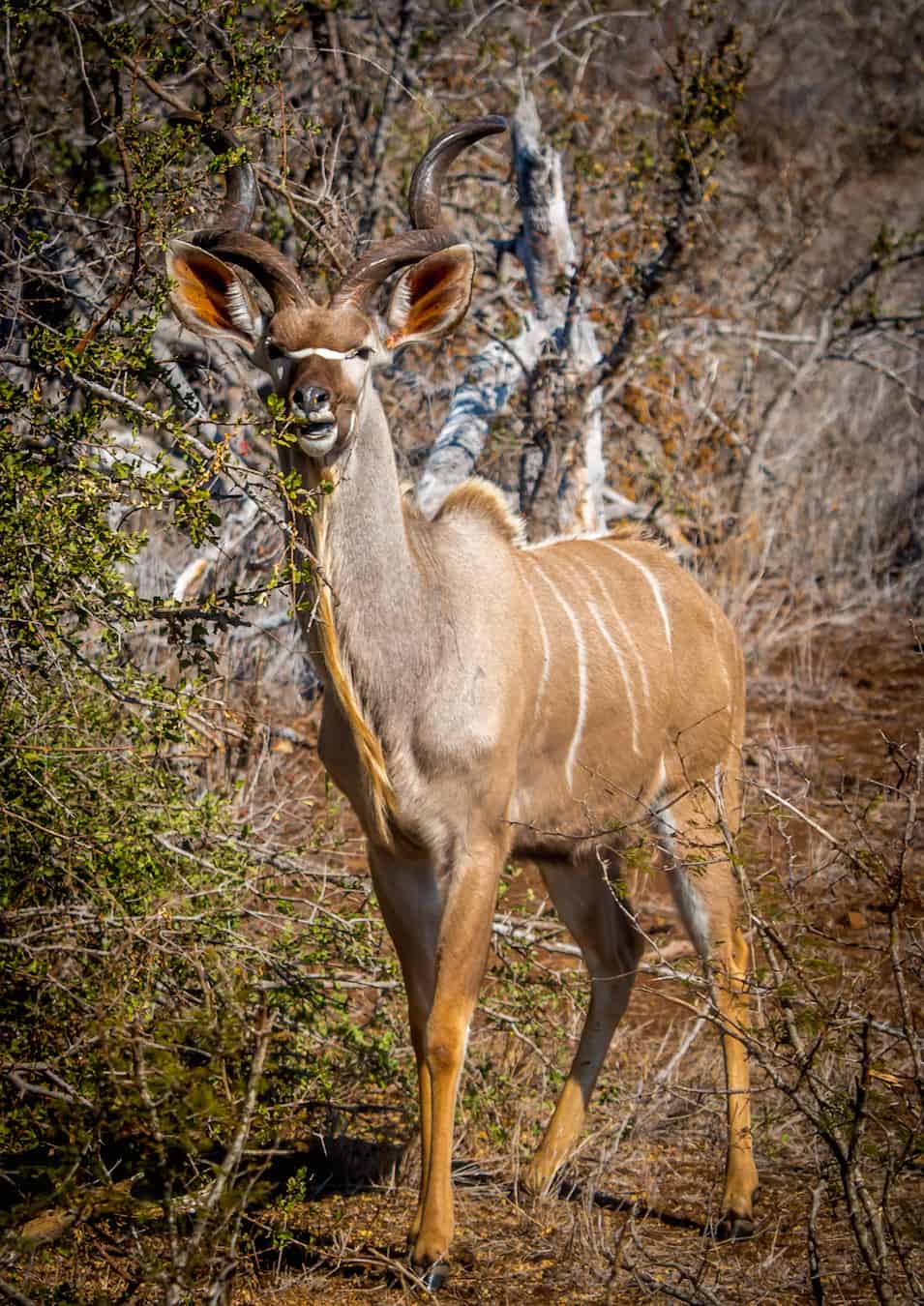 We saw scurrying Guinea Fowl and Bush Chickens, a herd of Kudu feeding on fresh green leaves, and numerous Giraffes, Impalas and Baboons within less than an hour of paying our Kruger National Park entrance fee.
READ MORE: 60 Weird Animals Around The World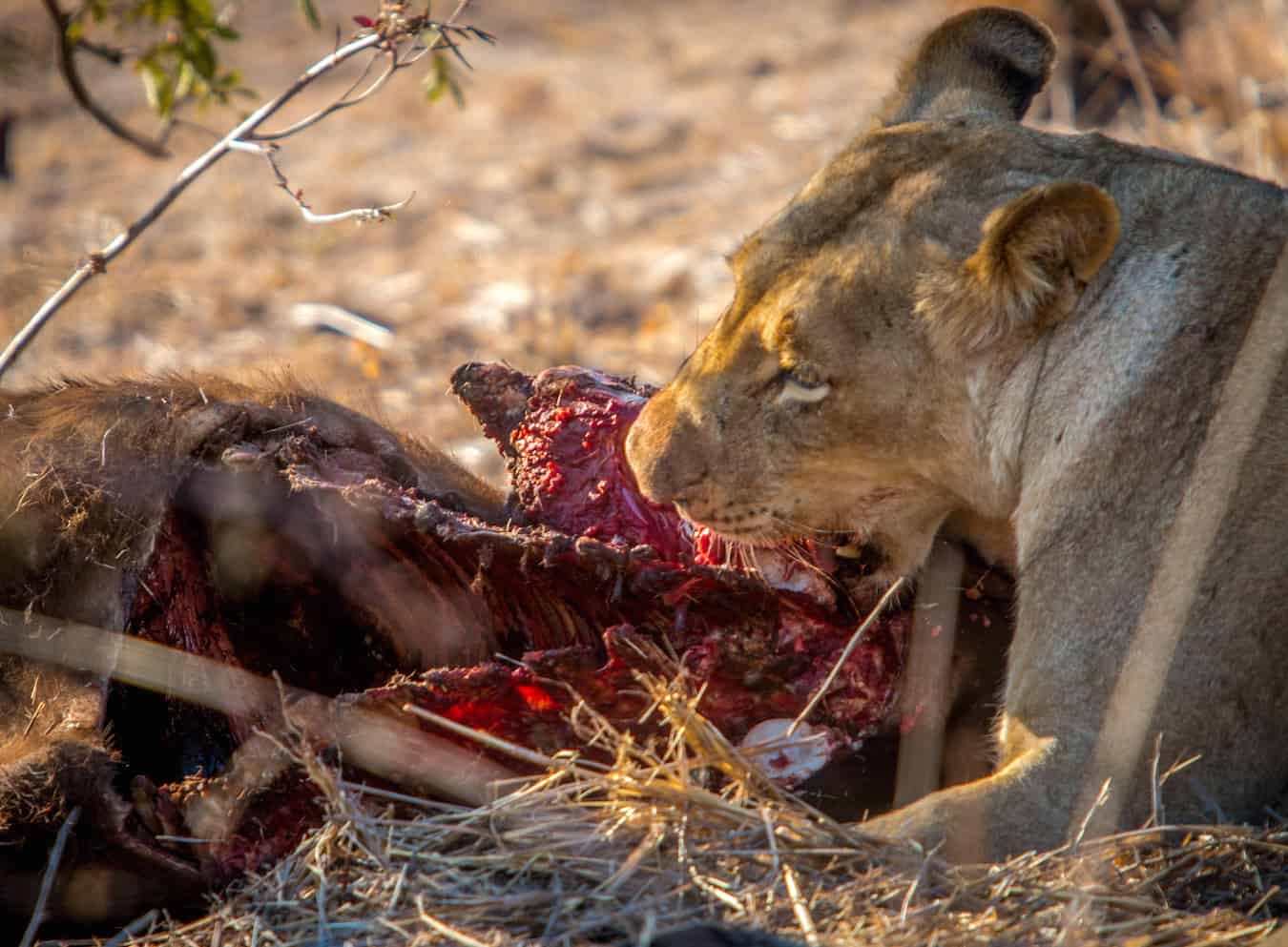 Plan Your Route in Advance
To get the most out of your time in Kruger National Park, it's vital to familiarize yourself with the distances between the park's main gates and camps. This graph will give you a rough idea on driving times, but be sure to leave extra time for breakfast, lunch and bathroom breaks. And remember that the slower you drive, the more likely you are to see wildlife!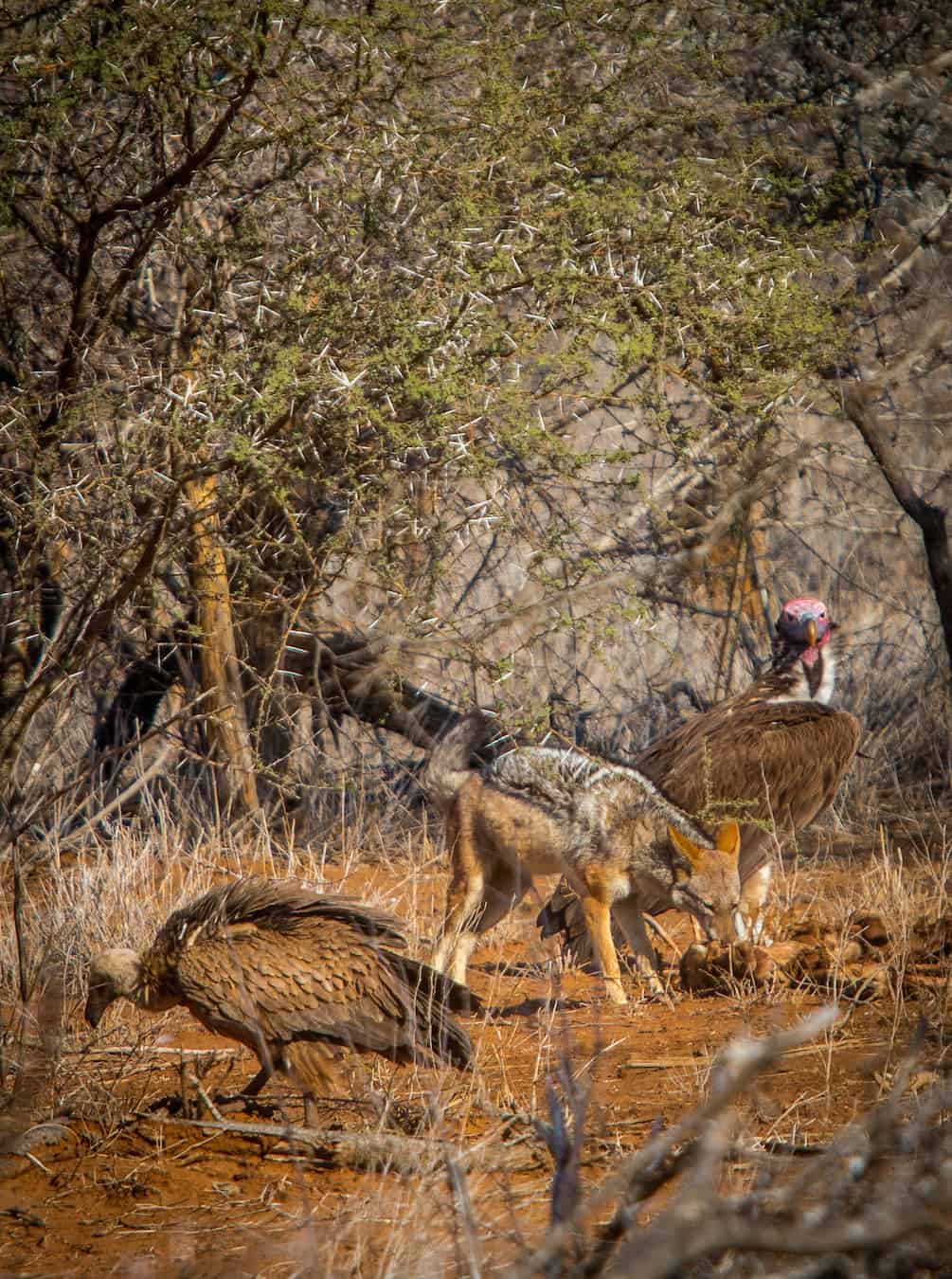 Our guide, Rukiya Camp co-owner Conraad Loubser, wisely chose the mid-southern section of Kruger for our safari drive. Because the sweet grasses of the plains attract many grazing animals, it's a great place to catch the park's predators in action.
We weren't disappointed, getting great sightings of a Lioness feeding on fresh Buffalo right beside the road and a Black Backed Jackal and two species of Vultures sharing some carrion.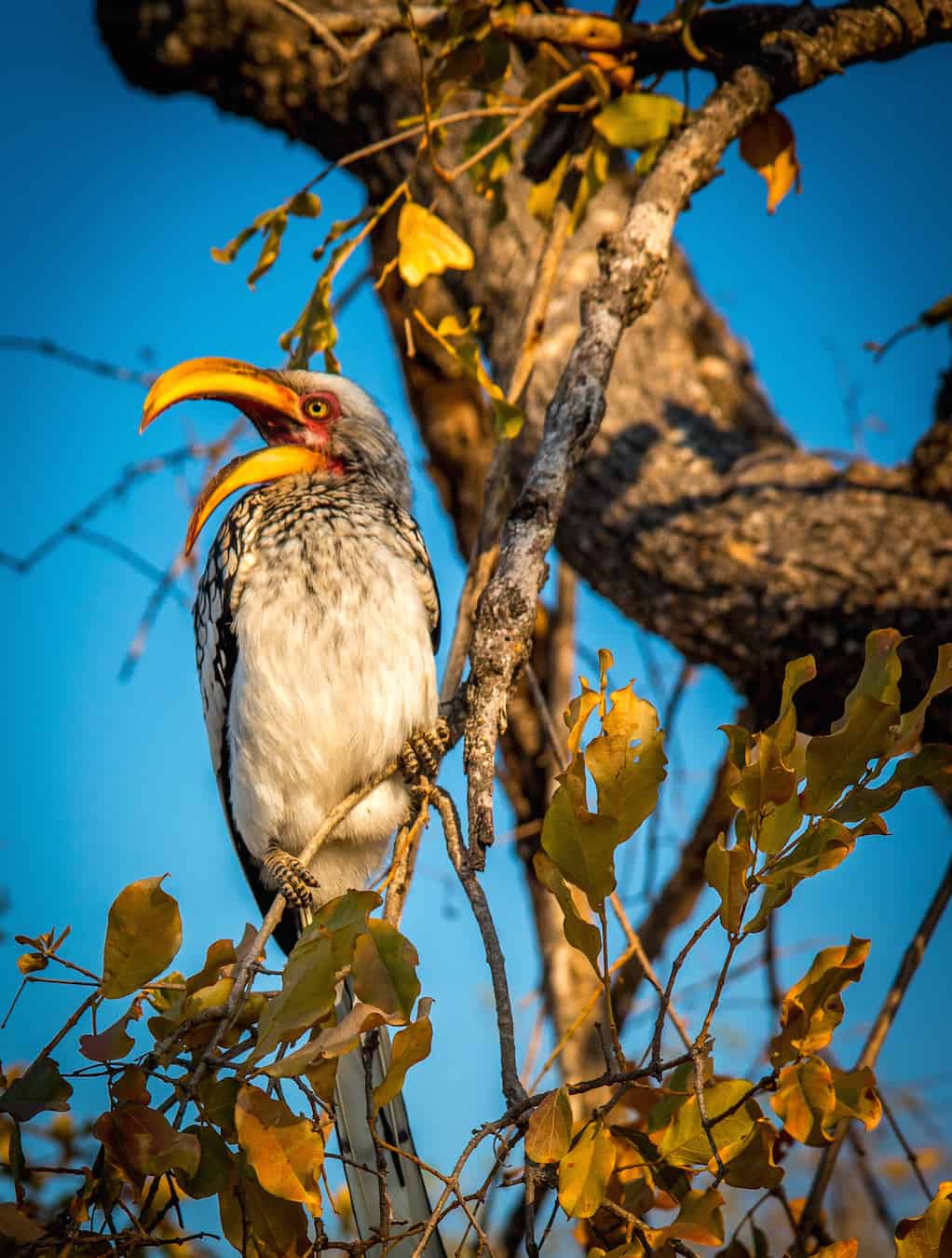 Choose Your Stops Strategically
It's illegal (not to mention extremely dangerous) to get out of your car unless you're in a designated area. The official Kruger National Park maps can guide you to dozens of lookout points, picnic areas and rest camps. There, you can go to the restroom, grab a bite, shop for souvenirs, or simply stretch your legs.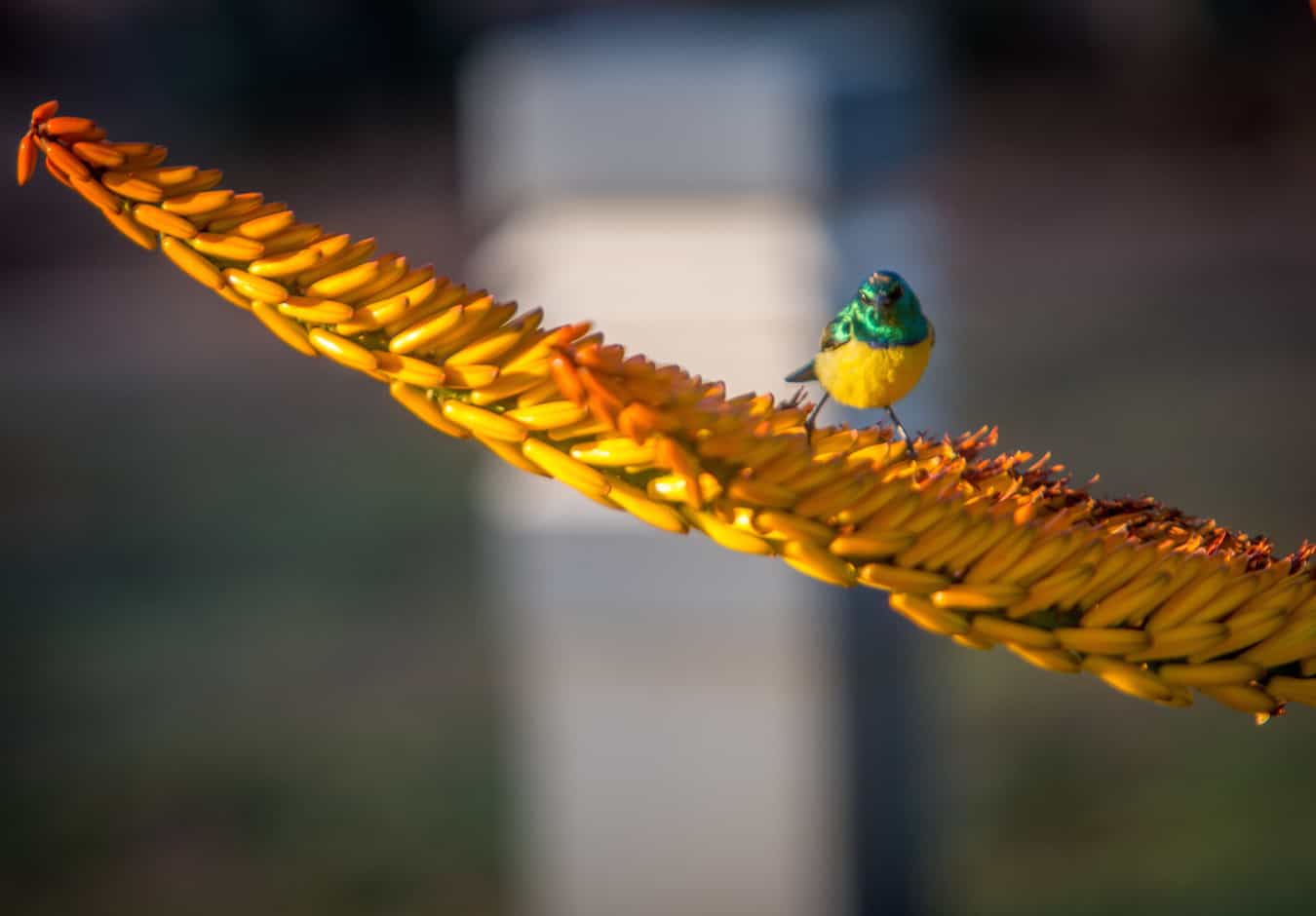 Keep your eyes peeled for wildlife at these stops. During our breakfast break at the scenic Bobbejaan Krans Lookout Point, we were surrounded by Southern Yellow Billed Hornbills.
We also spotted a Honey Badger moving through the brush in the valley below us. At a late afternoon stop, we spotted three different species of beautiful birds feeding among the lush foliage.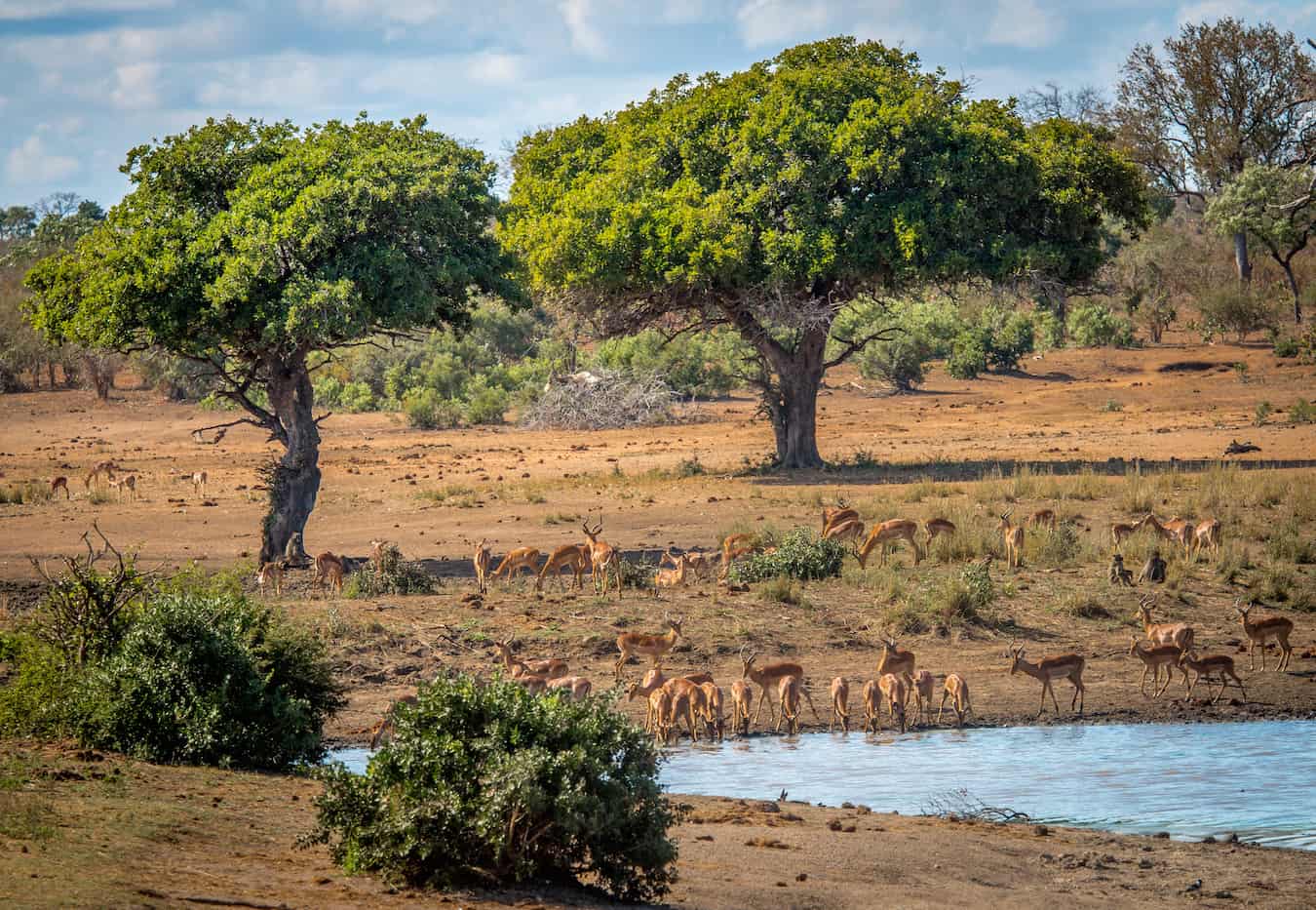 Watch Out for Water
Because South Africa is located in the southern hemisphere, June through October is their winter season. During this time, the climate is remarkably cool and dry, with nighttime temperatures dipping down near the point of freezing.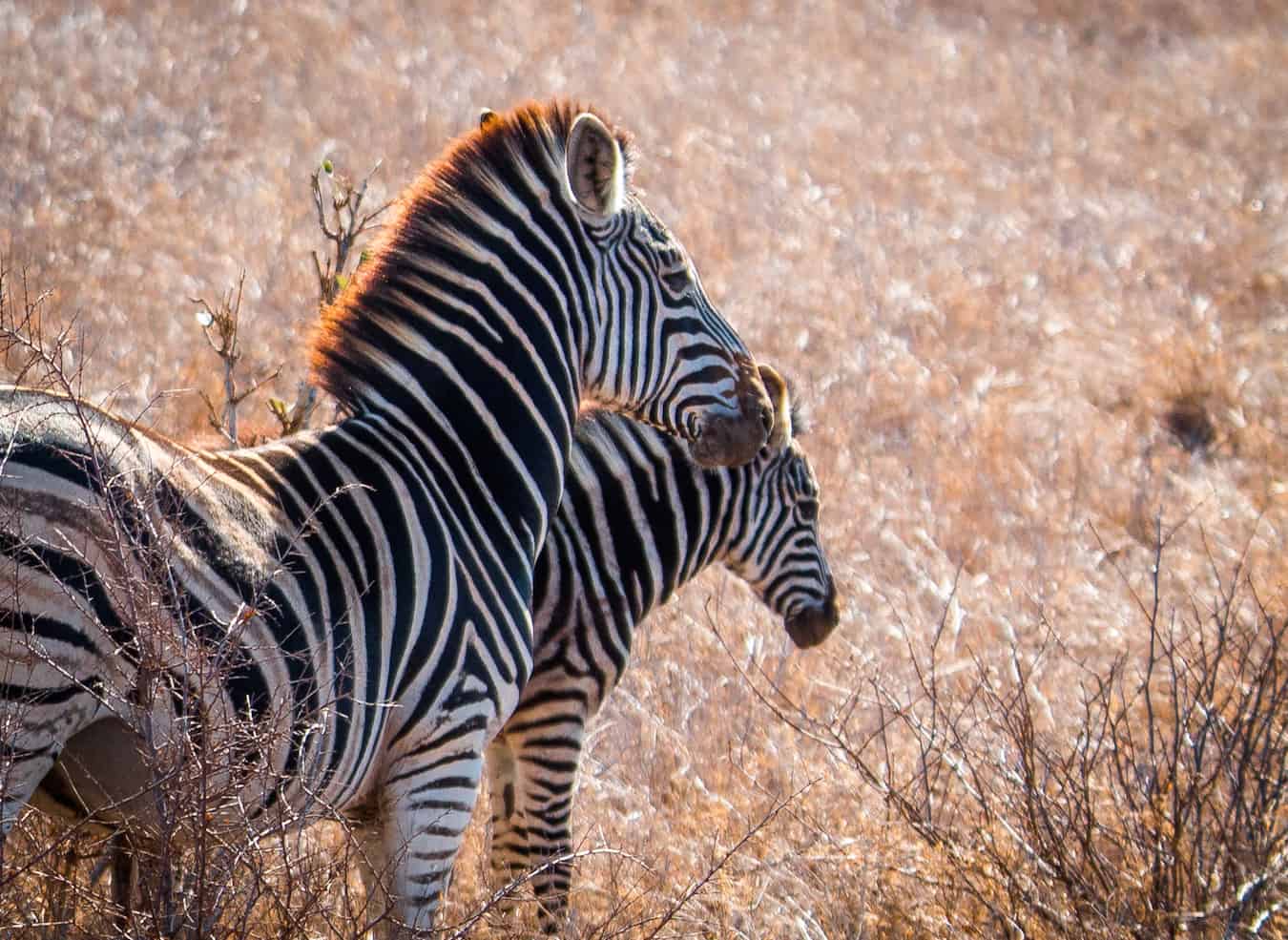 As a result, the rivers and watering holes (which are also clearly marked on all park maps) become a vital source of life for a variety of animals.
Every single watering hole we visited was surrounded with a variety of species, from Kudu, Impala and Bushbucks to Hippos, Giraffes and Zebras.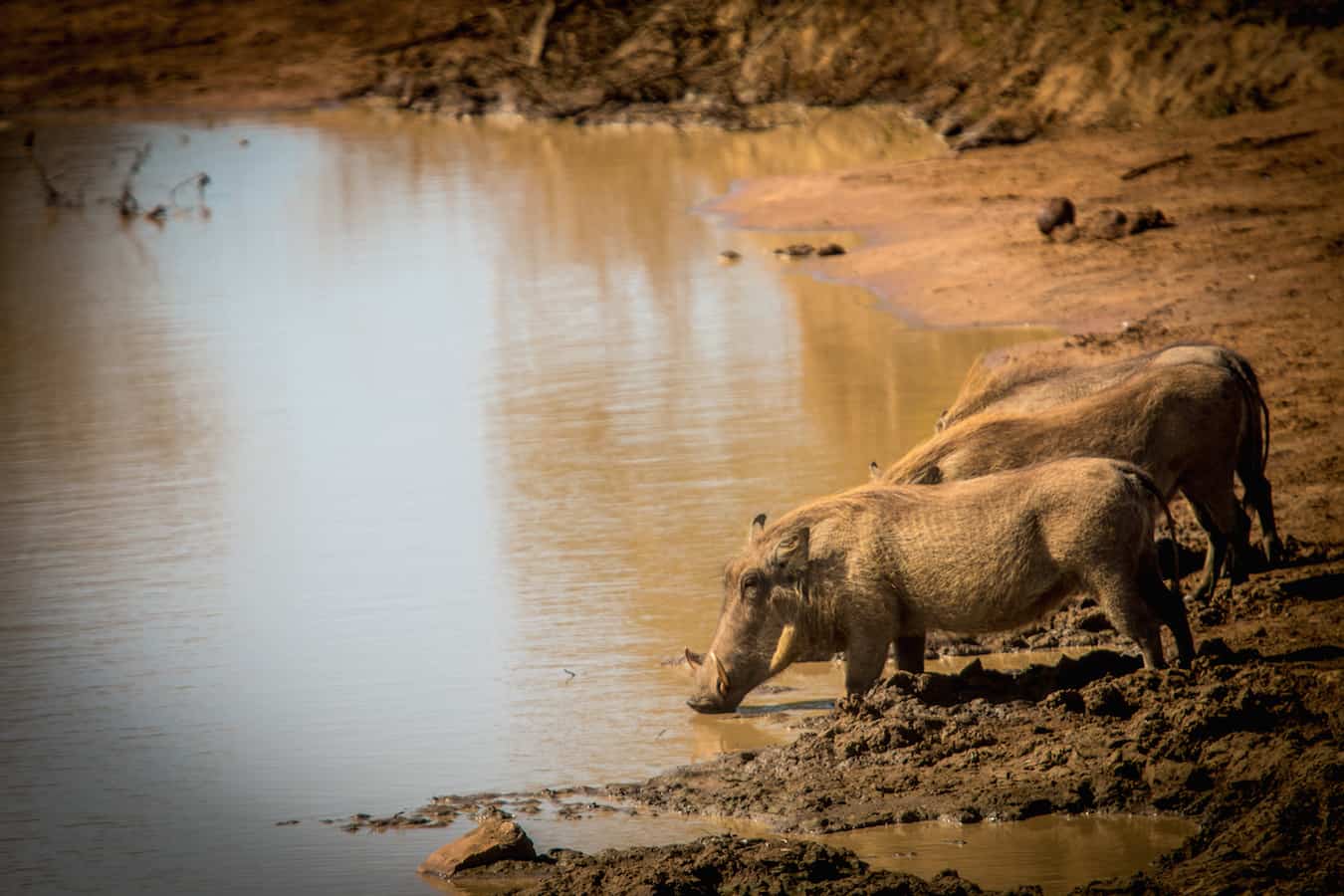 Of course, tourists aren't the only ones who look for wildlife at watering holes. Hungry predators know that their prey will eventually need to drink. They'll often lurk nearby, waiting for an opportunity to feast.
We saw plenty of Nile Crocodiles sunning themselves on the shoreline, and have previously seen Lions and Leopards raptly watching for their chance to pounce.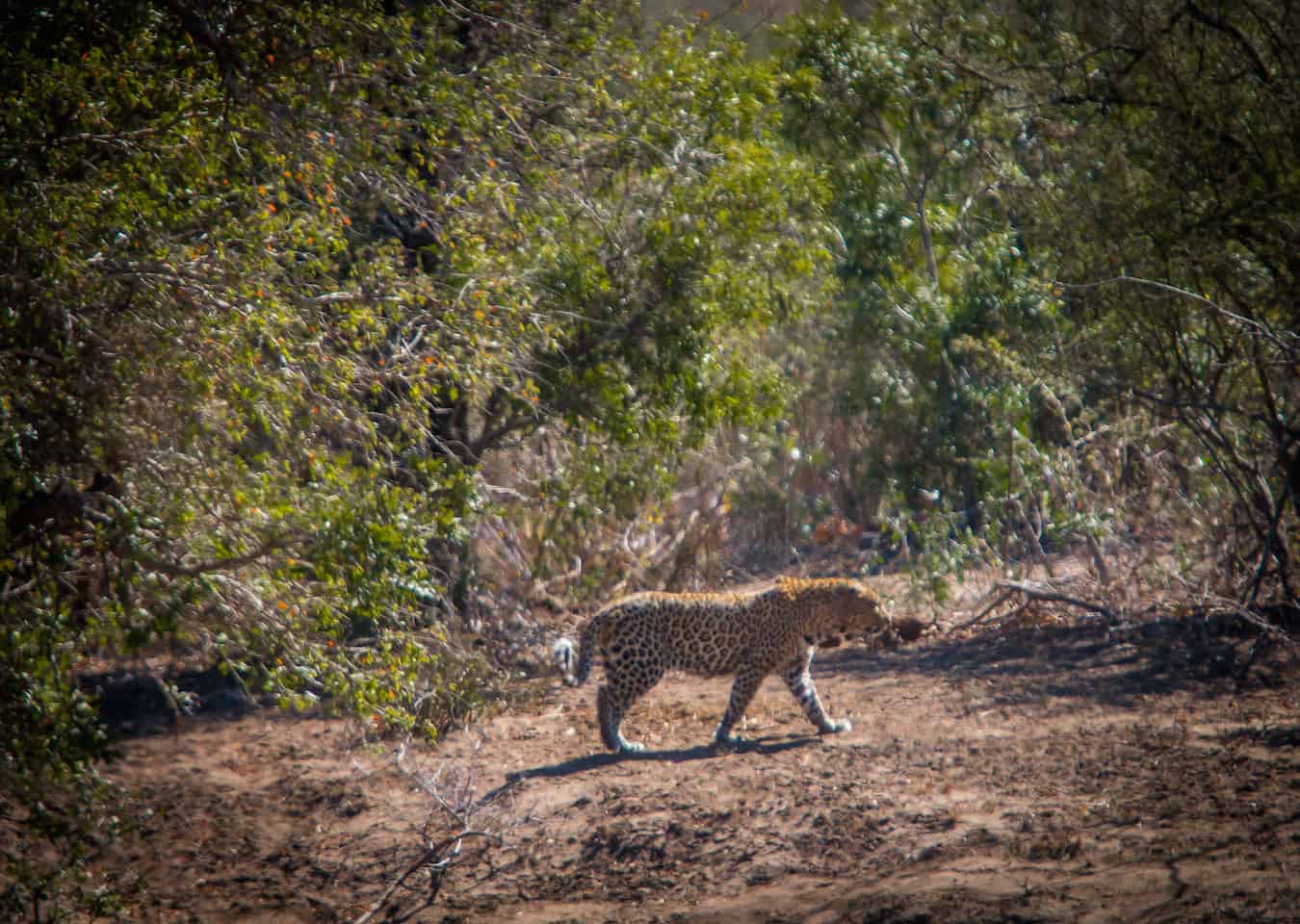 Follow the Herd
If you see one car stopped alongside the road in Kruger National Park, they could just be looking at their map or having a quick snack.
But if you see two or more vehicles stopping in the same place, chances are good that there's something worth seeing. Of course, what they're looking at may not always be obvious at first glance.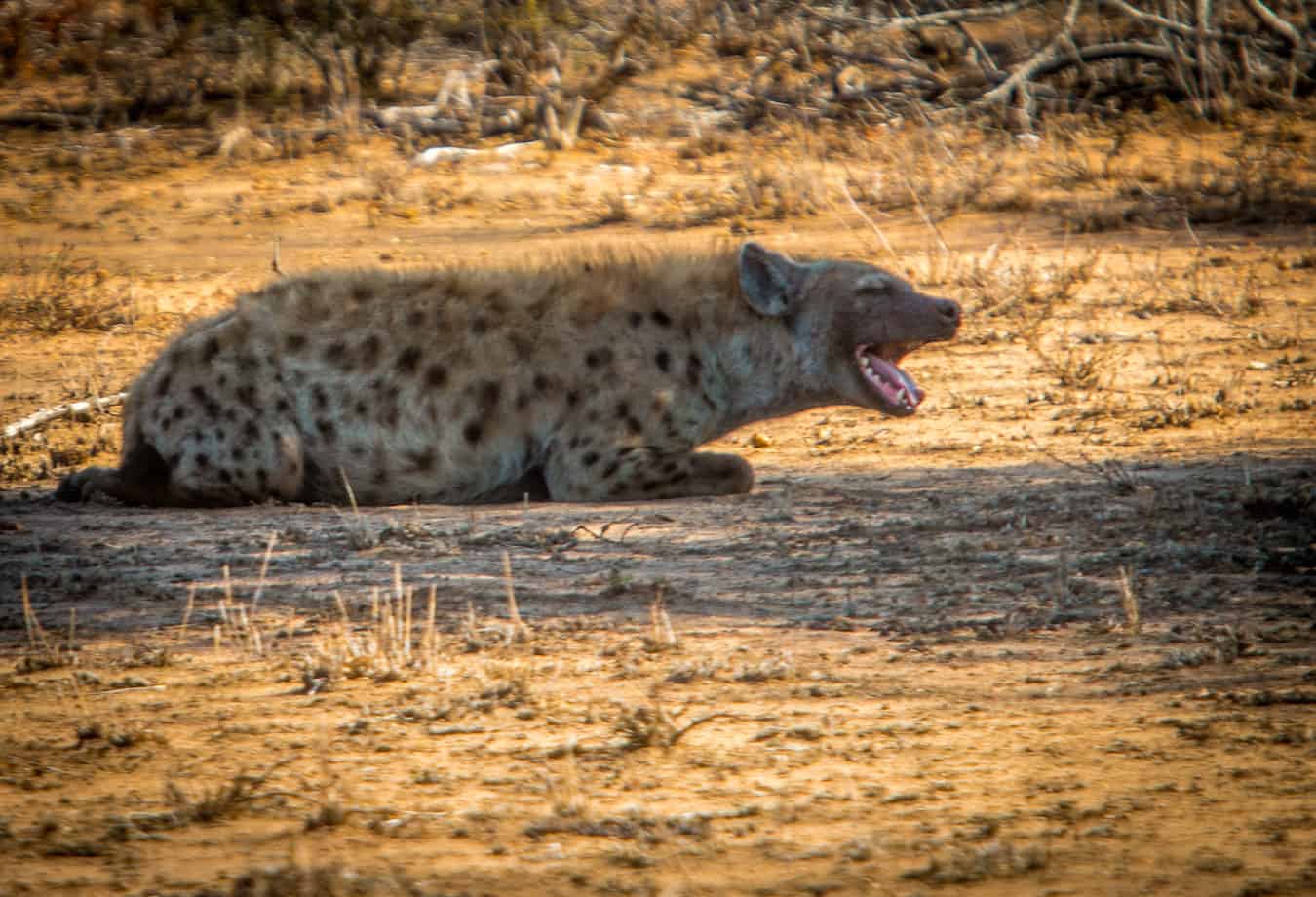 Our group of 15 people included several with binoculars and long-range lenses. Yet it took us 15 minutes of scanning a ridge 75 feet from the road before one person saw a hint of movement in the shadows.
I asked Conraad to back the van up 30 feet to get an angle on a clearing in the trees, and just seconds later we saw the male Leopard pictured above come out in the open.
We were shocked to see another, smaller Leopard run down the hill and up the dry riverbed in broad daylight!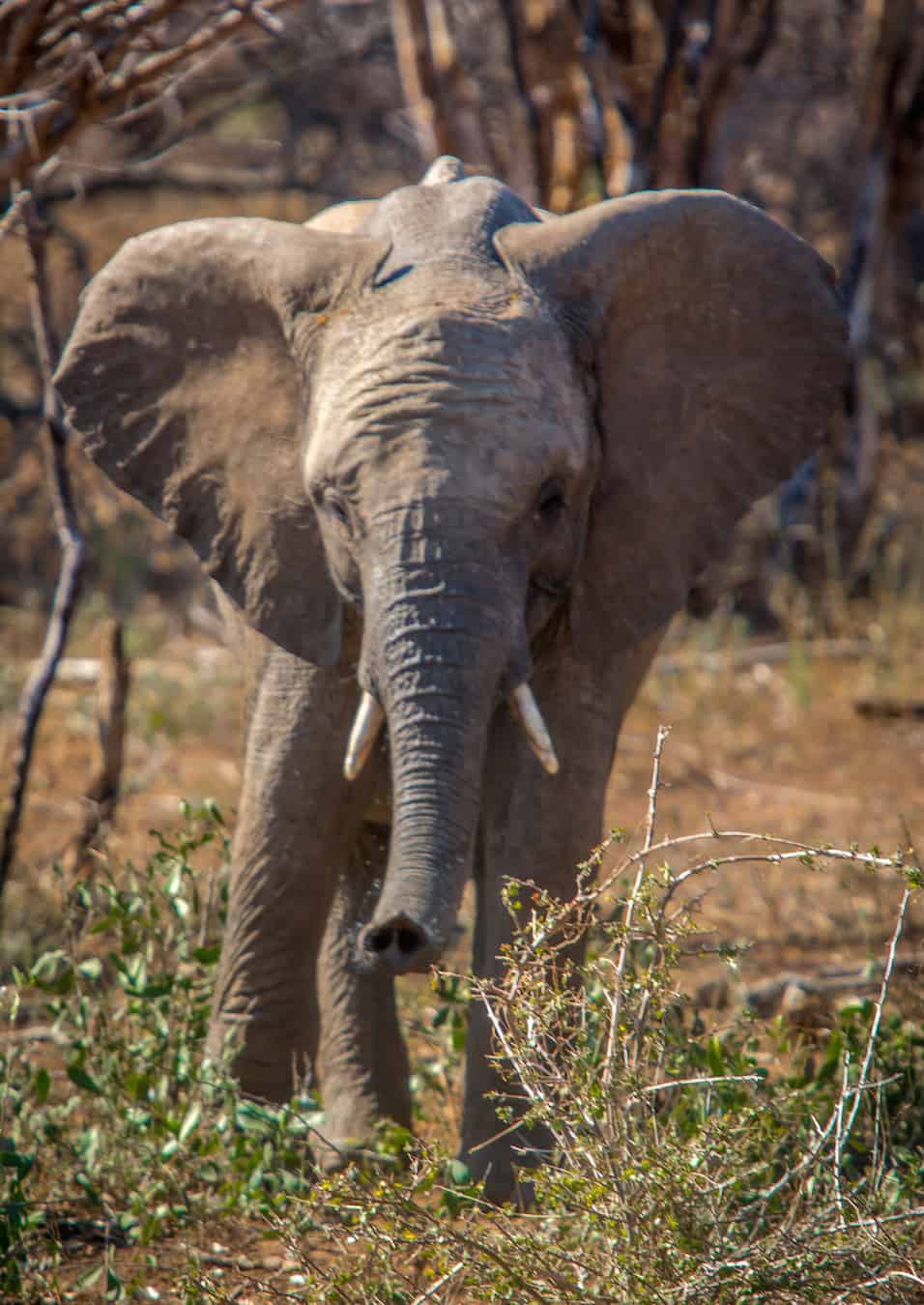 Be Patient
Unlike in private game reserves, it's illegal to drive off the road inside Kruger National Park.
You'll be surprised at the amount of wildlife you'll be able to spot along the road as you drive through the park. But a little patience (and understanding of animal behavior) goes a long way towards getting the most out of your time in Kruger.
READ MORE: 50 Interesting Facts About Elephants (for World Elephant Day)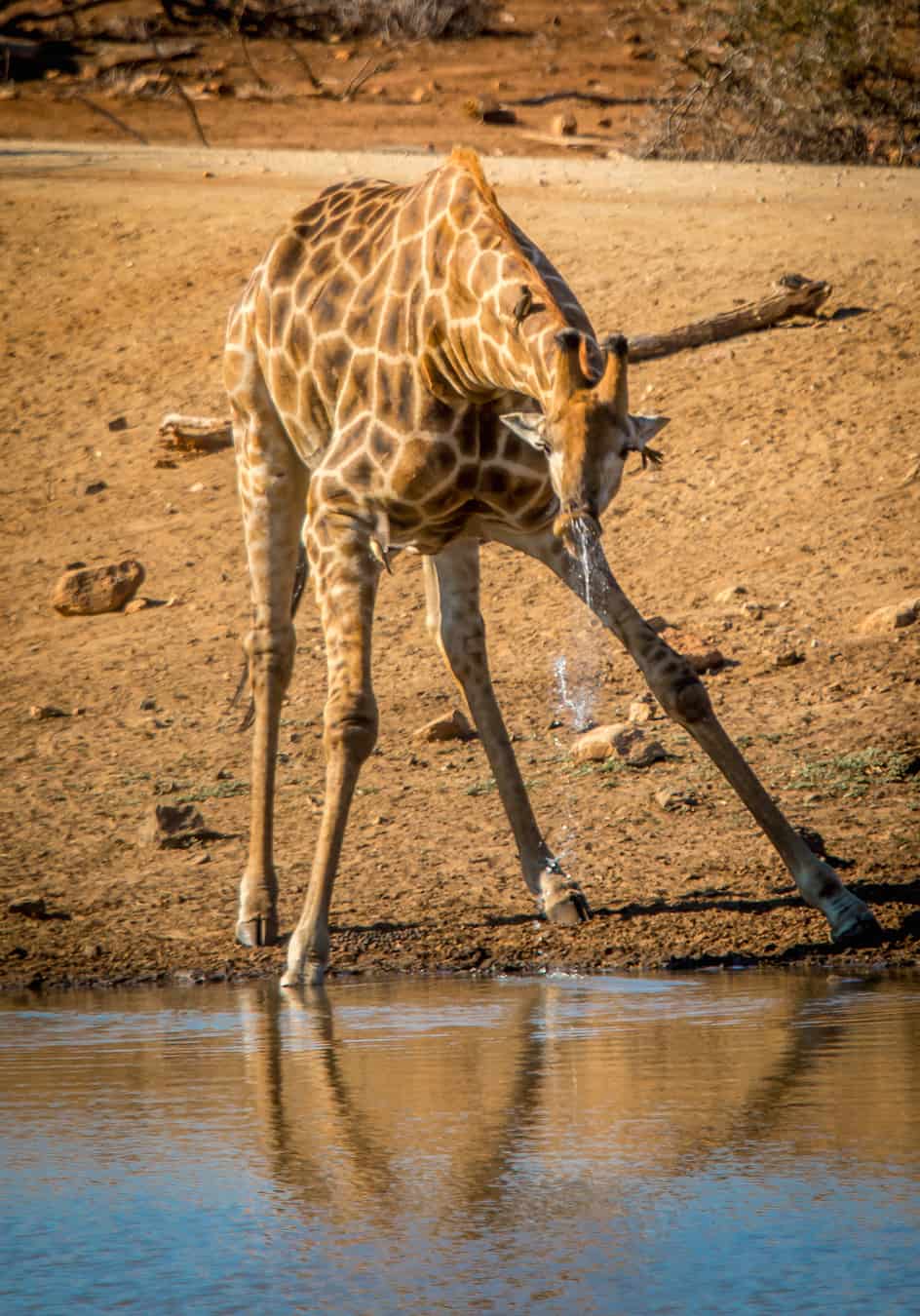 At one point we saw a Giraffe making his way across the road towards a watering hole. Conraad drove around the corner just in time for us to watch him bend down awkwardly to take a drink.
Later we saw a huge family of Elephants by the road: I could tell from the matriarch's behavior that she wanted to cross. I asked Conraad to back up, and within minutes we watched 20-30 Elephants crossing the road file right in front of us!
READ MORE: 50 Fascinating Facts About Giraffes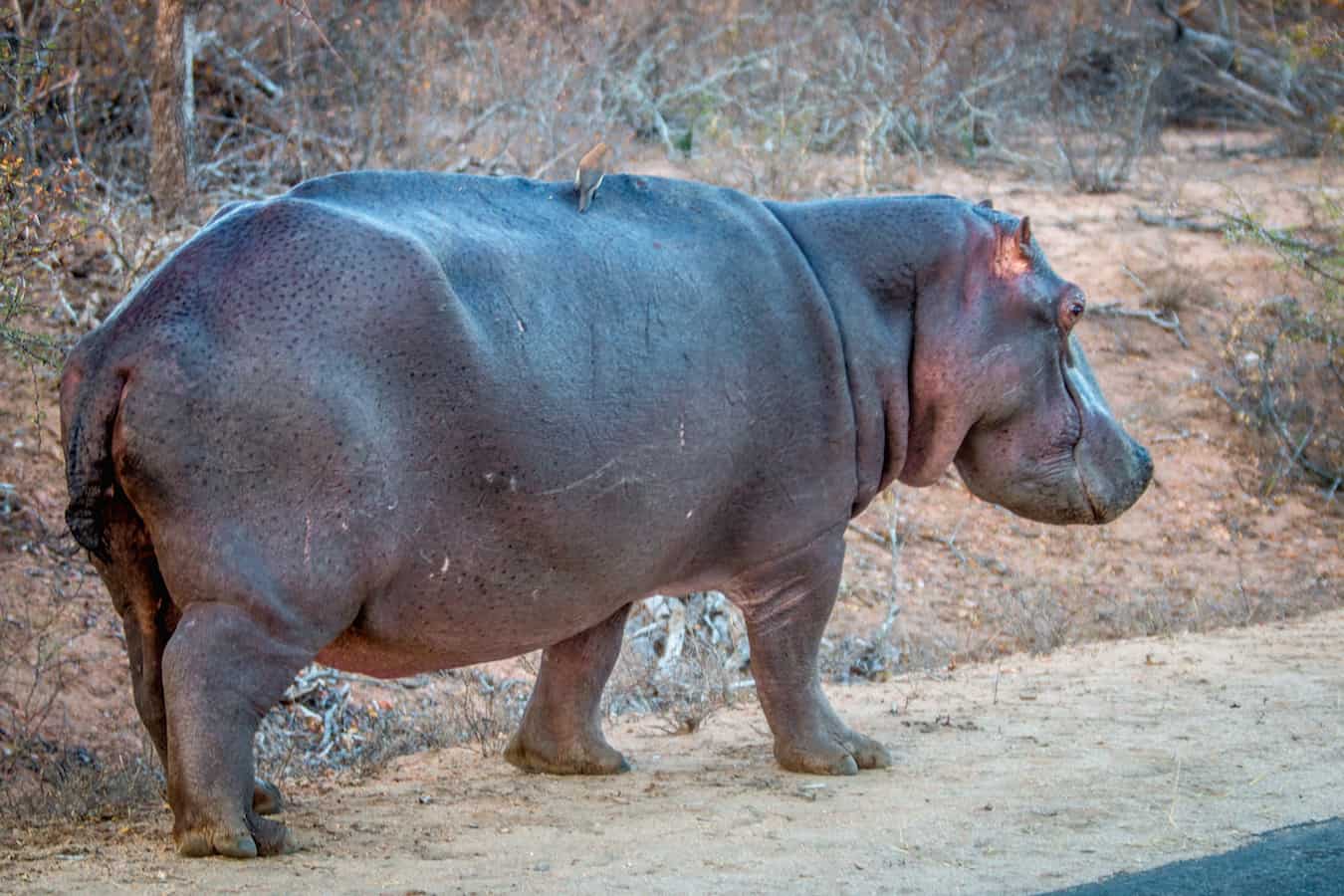 Keep An Eye On the Clock
The gates of Kruger National Park close 5:30PM from May-July, 6PM March-April and August-October, and 6:30PM November-February. Leaving late will get you a heavy fine, ranging from $36 to $72 per person. Make sure you leave enough time to get to the nearest gate.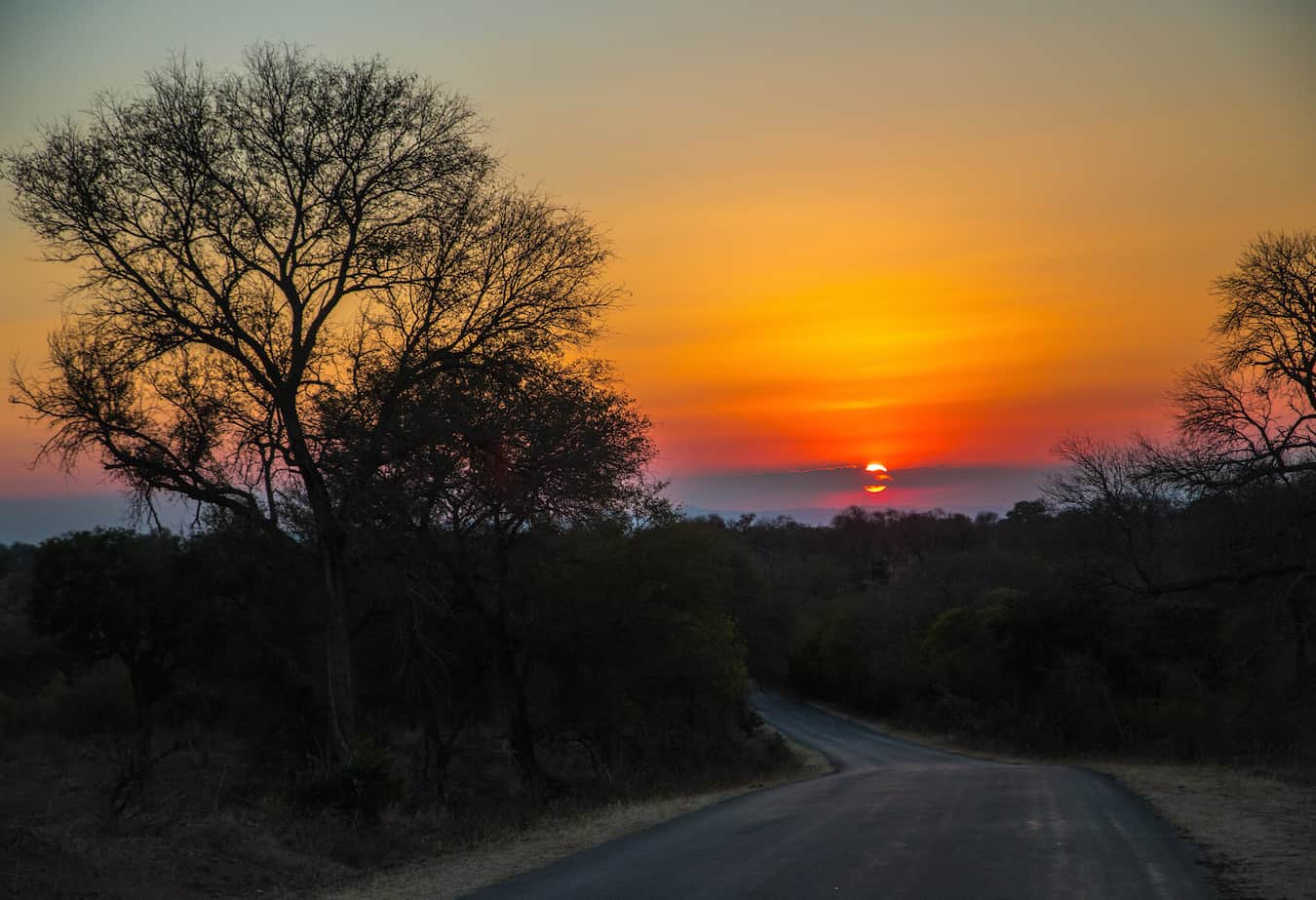 Conraad was a pro, so we arrived at our gate with 10 minutes to spare. But not before our final wildlife sighting– a huge Hippo who ran across the road right behind our van.
As we stopped for one last photo of the stunning sunset, I was filled with emotion. Our 12-hour whirlwind tour had been very different from my first experience in Kruger. But the chance to introduce my 14-year-old daughter to this place that changed my life was truly extraordinary.
Now that she's fallen in love with South Africa, I know we'll return for a longer visit someday. And of course we'll be experts in making the most of our Kruger National Park entrance fee… –Bret Love
READ MORE: Inspirational Animal Rights Activists (15 Female Heroes)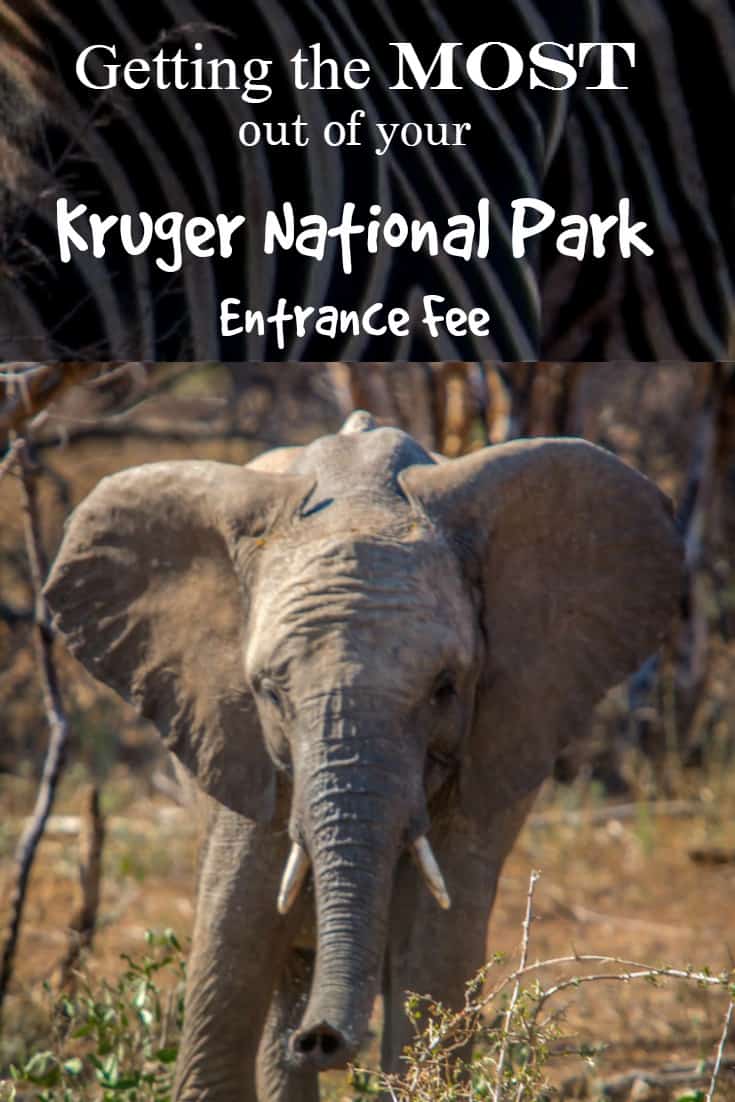 Our South Africa trip was sponsored by Discover Corps. But we will never compromise our obligation to our readers. Our opinions remain our own.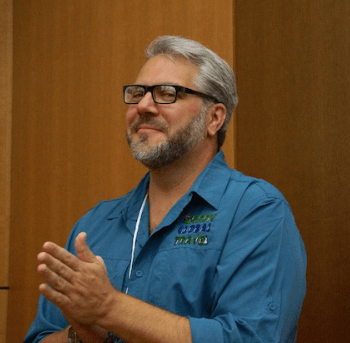 The co-founder of Green Global Travel and Green Travel Media, Bret Love is a journalist/editor with 21 years of experience. He's been published in over 100 publications, including the Atlanta Journal-Constitution, National Geographic and Rolling Stone. He's an in-demand speaker at travel conferences, covering topics ranging from branding and content marketing to responsible travel and how DMOs can work with bloggers. He's also a prominent content, social media, and influencer marketing strategist, advising companies such as Discover Corps and International Expeditions.
If you enjoyed our post on getting the most for your Kruger National Park Entrance Fee, you might also like:
My Life Changing Experience in South Africa
My South African Wildlife Conservation Experience: A Tour Diary
A Week in Kruger National Park
Zulu Memories from South Africa
Interview with South African Legend Johnny Clegg, "The White Zulu"
Ladysmith Black Mambazo Interview