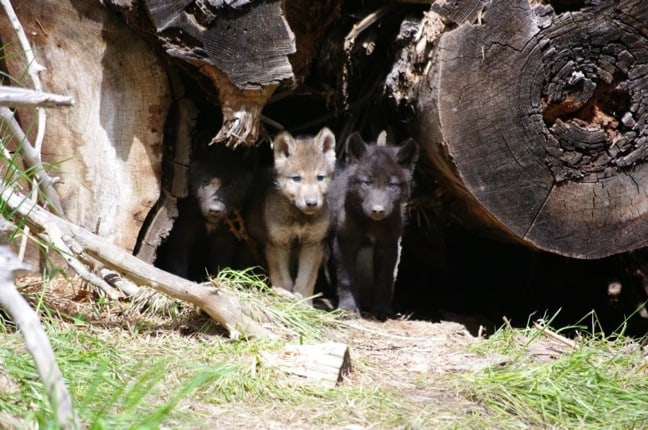 Defenders Of Wildlife Wolf Expert Suzanne Stone
On U.S. Fish & Wildlife Service Ending Protection for Wolves
Human-wolf relations have changed a lot over the course of America's history, from the spiritual reverence of early Native American indians to the fear-based reactions of European settlers that resulted in hundreds of thousands of wolves being killed.
On the verge of extinction, wolves were one of the first animals protected under the U.S. Endangered Species Act, and a wolf reintroduction program under the Clinton Administration in the mid-'90s brought the majestic predator back to Yellowstone National Park for the first time in decades. But with the U.S. Fish & Wildlife Service lifting protection for wolves in Wyoming two weeks ago, the future of the species in the American west is currently in serious jeopardy.
We spoke with wolf conservation expert Suzanne Stone, from the non-profit Defenders Of Wildlife, to find out why the USFWS changed its previous ruling on wolves, why humans continually demonize the species, and what's currently being done to protect them.
How did you get involved in wolf conservation?
In 1991, my first task as a college intern for the interagency team was to interview people on both sides of the wolf issue. Wolves were eradicated nearly 60 years prior, and few residents were old enough to remember them in the region. Despite this, many people still considered them "devil dogs," and assured me that no one wanted them back. I couldn't understand how the same person could love their dogs and not appreciate the wolf, the ancestor of all dogs. My professors chided me for "majoring in all things wolf," and that has been my life's work since.
How did you get involved with Defenders of Wildlife?
Former Defenders Vice President Bob Ferris hired me after he complained that he was tired of tripping over me. He claims that he had some of the same ideas for projects in the region, but I beat him to a few of them. Jokingly, I told him he could fix this problem by hiring me. He called a few months later and asked if I would seriously consider a job working for him. That was 13 years ago. I'd long admired their pragmatic, entrepreneurial approach: They saw a problem and found a clever way to fix it. They were also the only group to help us when I went to Washington, DC with Michael Blake, the author of Dances with Wolves, to fight against a bad bill that would've stopped the recovery of wolves in Idaho and Yellowstone National Park. But that's a whole other story…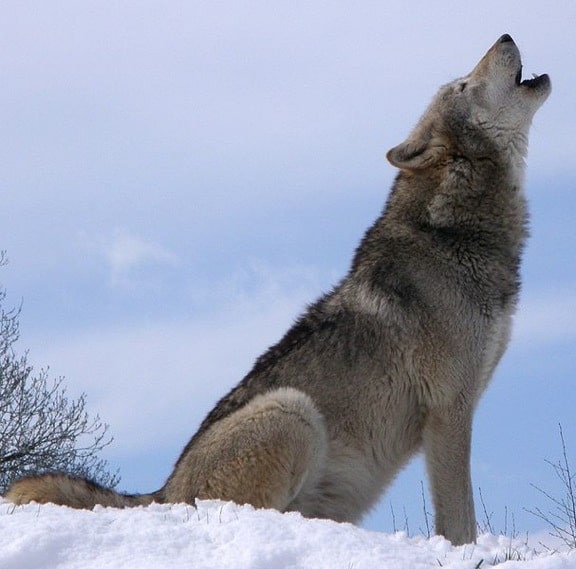 From Little Red Riding Hood to the Liam Neeson film, The Grey, it seems like humans have always demonized wolves.
Twenty five years ago I believed people were just unfamiliar with wolves, and would change their attitudes once they learned that the scary myths weren't true. But The Grey is a good example that shows humans are still trying to use wolves to frighten themselves in the most unrealistic ways. Wolves are typically afraid of people, and for good reason. Check the scoreboard: Humans won the us-versus-wolves fight a long time ago! In the west, no species has been more persecuted. When humanity is allowed to express its darkest nature through prejudice, fear and hate, these are always targeted at innocent victims. During the wolf eradication efforts, people burned wolves at the stake, wrapped their pups in barbed wire and hung them, and other horrors. It wasn't a simple matter of exterminating a critter; it was a violent campaign to destroy the last wolf from the landscape. And they were almost successful. For generations, the wolf was simply a one-dimensional character in scary movies and fairy tales.
Why do you think humans have this need to turn wolves into the boogeyman?
I'm still searching for that answer. Perhaps we know we're missing the one thing that wolves have never lost: true wildness. Wolves today are no different than they were 10,000 years ago. If you look into the eyes of a wild wolf, there is something there more powerful than many humans can accept.
You've been working in wolf restoration programs since the late '80s, serving as a member of the 1995/1996 wolf reintroduction team. Can you talk about why that program was so important for wolf conservation?
As Europeans were settling the west, in our country's rush to destroy wolves, few people stopped to question if the species was important to our ecosystems. Generations later, in the 1960s, a new appreciation for nature swept through the country. This led to the creation of the federal Endangered Species Act. Wolves were one of the first species listed under the ESA, but were almost entirely gone by then. We brought 66 wolves from Canada, and released 35 in Idaho and 31 in Yellowstone. Within a decade, scientists began recording evidence that wolves do play a crucial but unique role in maintaining healthy ecosystems. We're seeing the benefits wolves bring by helping disperse deer and elk herds away from wetlands and meadows. As a result, new trees and bushes are thriving in places where they haven't since wolves were eradicated. This provides new habitat for songbirds, beaver, fish and other species. Wolves also provide important food resources for grizzly, eagle and other scavengers.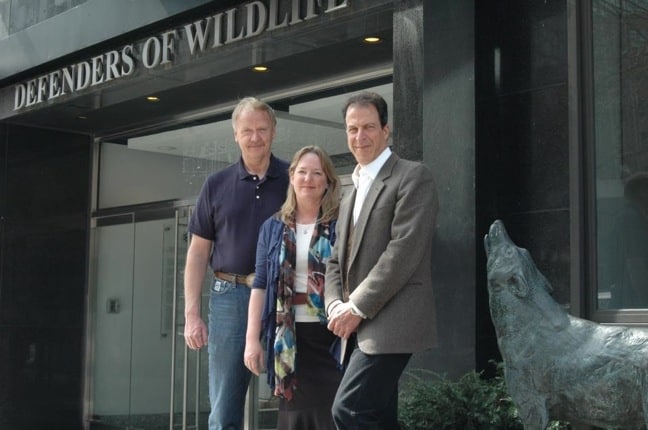 On Labor Day weekend the U.S. Fish & Wildlife Service announced they're lifting federal endangered species protection for wolves in Wyoming. What's their motivation?
They've openly complained that they're tired of dealing with wolf conflicts, and the agency essentially flip-flopped by approving the state wolf plan they originally rejected the first time Wyoming proposed it. At the time they rejected it, the Service explained that the proposed predator zone that covers nearly 90% of the state would violate the Endangered Species Act. Later, a federal judge tossed out the Wyoming plan for the same reason. In the predator zone, wolves can be killed by anyone at any time. What's changed is the politics surrounding wolves. The Clinton administration brought wolves back, but the Obama administration is allowing states to start eradicating them again under a plan that protects fewer than 500 wolves in the entire 6-state region. I don't understand why, but it's clearly politically driven.
My daughter and I went to Yellowstone, primarily to see wolves in the wild. Have any studies been done on the economic impact ecotourism has on Wyoming? It seems to me that the wolves bring in a LOT more tourism dollars than they cost ranchers in terms of livestock losses.
You're right. The return of wolves has increased tourism revenue to our region more than $35 million annually, above and beyond the costs associated with their occasional predation on livestock. Wolves are also a year-round attraction, which has helped motel and restaurant owners tremendously. Many of those businesses once closed down during the winter. Now, winter is a popular season for Yellowstone wolf watchers, so they can stay open year-round.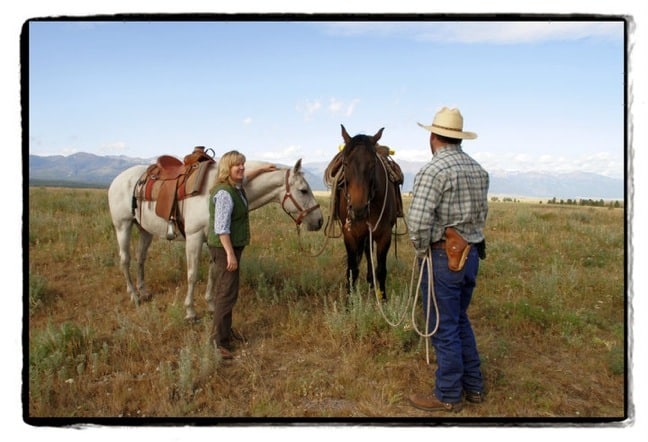 When Defenders of Wildlife learns that wolves will soon be shot on sight in Wyoming, what can the organization do to help stop the slaughter?
Unfortunately, we're prohibited from taking legal action for the first 30 days because we're required to give the federal government a 60-day notice that we intend to litigate. The last time the government removed federal protections for wolves in Wyoming, all known wolves in the predator zone were killed. It was heartbreaking. One man I'd never met before called me to boast that he'd personally chased a wolf for 30 miles on a snowmobile before the exhausted animal collapsed and he shot it. I hope that the federal courts will once again throw out the administration's delisting rule and restore protection for wolves before we lose them all… but we have no guarantees.
You specialize in non-lethal techniques for reducing wolf/human conflicts. What solutions do you see for the problems in Wyoming, and similar wildlife conflicts around the world?
Defenders and others have proven that livestock losses can be reduced to near-zero levels with good deterrents and a little cooperation. Our Wood River Wolf Project in central Idaho is a good example: We've managed the project for five years in the Sawtooth National Forest, where wolves and more than 10,000 sheep coexist from June through September. So far this year we've lost four sheep in one incident, and used non-lethal tools like high beam flashlights and air-horns to prevent further losses. Non-lethal methods are effective if used correctly, and cheaper than most traditional lethal control efforts (helicopters, sharpshooters, etc). Most of our regional residents are tired of the never-ending conflicts over wolves, so they're ready to find solutions and move on. We have a lot of details about these methods on the Defenders of Wildlife site.
Where do you hope to see wolf conservation efforts in 3-4 years, on the 20th anniversary of the wolf reintroduction program?
I hope to see a day when the future of wolves is secure– when they're not being pushed back toward becoming endangered again. I hope to see a local politician say publicly that wolves should be managed like other native species, and that we all need to get past the fairy tales and scare tactics to find a way to make it work. I hope to see a day when "Crying Wolf" is not a more popular sport than baseball in the region, and to see more people agreeing to work together to fix the problems. That may take longer than 3-4 years, but I still believe that people are able to change the world in powerful ways. Whether that's for good or ill is up to us… –Bret Love
If you enjoyed our interview with Defenders Of Wildlife Wolf Conservation Expert Suzanne Stone, you might also like:
INTERVIEW: Jill Robinson Fights To Save Wildlife Via Animals Asia Foundation
INTERVIEW: Dian Fossey Gorilla Fund CEO Tara Stoinski
INTERVIEW: Primatologist Jane Goodall
INTERVIEW: Jeff Corwin Interview
INTERVIEW: Lek Chailert of Elephant Nature Park & Save Elephant Foundation