This weekend marked the 12th anniversary of the first date Mary and I ever went on. And November 1 marked the 10th anniversary of the day we launched Green Global Travel.
To commemorate both occasions, I surprised her with a series of 12 personalized greeting cards from Tellinga.
Recently named our pick for Best Holiday Gift of 2020, Tellinga allows you to tell your own personal story in a meaningful way via artfully designed postcards.
All you have to do is choose the number of cards you want, upload photos of the people/places you want depicted in them, and provide a description of the story you want to tell in as much detail as you want.
Tellinga then assigns your story to one of their talented artists, who create a personalized series of 1 to 12 hand-drawn, greeting card-sized postcards. Measuring 5.5″ x 8.5″, these customized cards arrive in digital form via email and snail mail every 3 to 4 days.
What follows are the highlights of our last 12 years of travel and adventure, along with the storybook-style cards Houston-based artist Paul Gruber created for us.
If you'd like to give a great, uber-personal gift to someone you love, follow this link to save 10% off all their greeting cards, books & gifts using the code TELLINGA:
https://bit.ly/Tellinga
.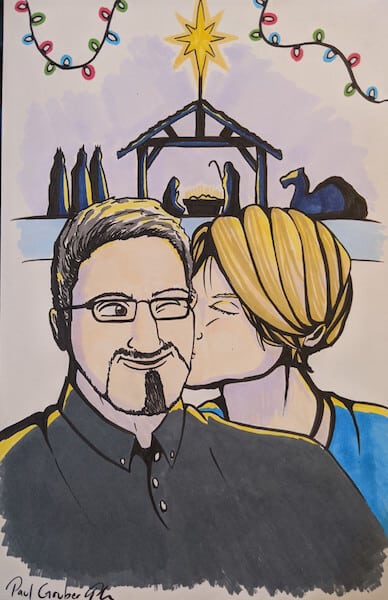 2008- Christmas in Love
Mary and I met for the first time during the first week of December in 2008.
I was going through a really tough time as a divorced dad, with a series of dating disasters that left me fed up with looking for love. Mary was just re-entering the dating world after 3 months of separation and an impending divorce.
My friend Stefanie, who attended the same church Mary did, knew I was depressed and urged me to go to a Christmas party their 20s/30s social group was having at Mary's house.
Little did we know when we met at Mary's party that we would soon fall in love, travel the world together, build several successful businesses, and live/work side-by-side, 24/7/365, for the next 12 years!
I honestly had no idea that Mary was interested in me at all until a mutual friend of ours made her own interest in me all too obvious.
When she took me by the hand and introduced me to everyone as "my Facebook boyfriend," Mary looked hurt as she replied, "But I thought you were MY Facebook boyfriend!"
I asked Mary out the next day, and a few weeks later we went on our first date. We were supposed to have dinner and see my favorite Christmas light display in Georgia. But we talked so much at dinner (3+ hours), we missed our window. So we rescheduled a few nights later.
This is the first Tellinga card in the series of 12 I surprised Mary with. It depicts our second date, when she kissed me for the very first time in front of the Live Nativity attraction at Lake Lanier Islands' Magical Nights of Lights.
It was a memorable moment, as both of us quickly realized this relationship was very different from anything we'd ever experienced. Visiting Magical Nights of Lights has since become one of our favorite annual Christmas traditions.
READ MORE: Bret & Mary, a Love Story (How Green Global Travel Was Born)
2009- Hawaii's Big Island
Card #2 depicts a magical memory from the first big trip we ever took together– a 4-star all-expense-paid press trip to Hawaii's Big Island in 2009.
We'd only been together 3 months, my beloved Granny had just passed away, and it was our first time being together as a couple 24/7.
We explored the entire island, from a coffee farm in Kona and the Hilo market to Hawai'i Volcanoes National Park and a house with an AMAZING private lagoon on the Pahoa coast.
The trip's highlight was like a tragi-comedy romance. Mary, who was afraid of putting her face in the water back then, had a panic attack while snorkeling Kealakekua Bay.
But when we got to our hotel, I took her by the hand and led her out to a coral reef near a protected beach, where we found ourselves surrounded by HUGE Sea Turtles!
They swam all around us as they fed, and one curious turtle came so close we could've touched it if we'd wanted.
Mary was hooked on snorkeling from that moment on, and just a few years later she conquered her fear of water and became a certified Scuba diver.
Perjaps even more importantly, that trip convinced us that we could live, work and travel together as perfect partners. And we've been doing it ever since!
READ MORE: The 20 Best Things to Do in Kauai, Hawaii For Nature Lovers

2010- Costa Rica & the Birth of GGT
Card #3 is one of my personal favorites, as it perfectly captures a pivotal moment in both our personal & professional lives.
2010 was the year Mary moved in with my daughter and I, after getting laid off from a company she'd managed for 10 years and having a tree fall on her house.
We were trying to figure out our next steps when we went on our first big family press trip, spending 10 days exploring Costa Rica.
After 15 years as a professional writer/editor, I'd been dabbling in blogging on MySpace and Facebook. I'd also had this idea of doing an ecotourism-focused book or magazine ever since my press trips to Costa Rica, Alaska & South Africa in 1998-2000.
It was there, during a tropical storm in the middle of the rainforest of Tortuguero National Park, that we decided to try out this new thing called travel blogging.
We wanted to share our passion for travel, for nature and wildlife, for exploring the wilderness, and realized we had the complementary skill sets that could make it successful.
So the idea for Green Global Travel was born at a pool bar surrounded by Costa Rican animals such as birds, butterflies, and tree frogs in June 2010. And November 1, 2020 marked GGT's 10th anniversary!
READ MORE: The Top 20 Things to Do in Costa Rica For Nature Lovers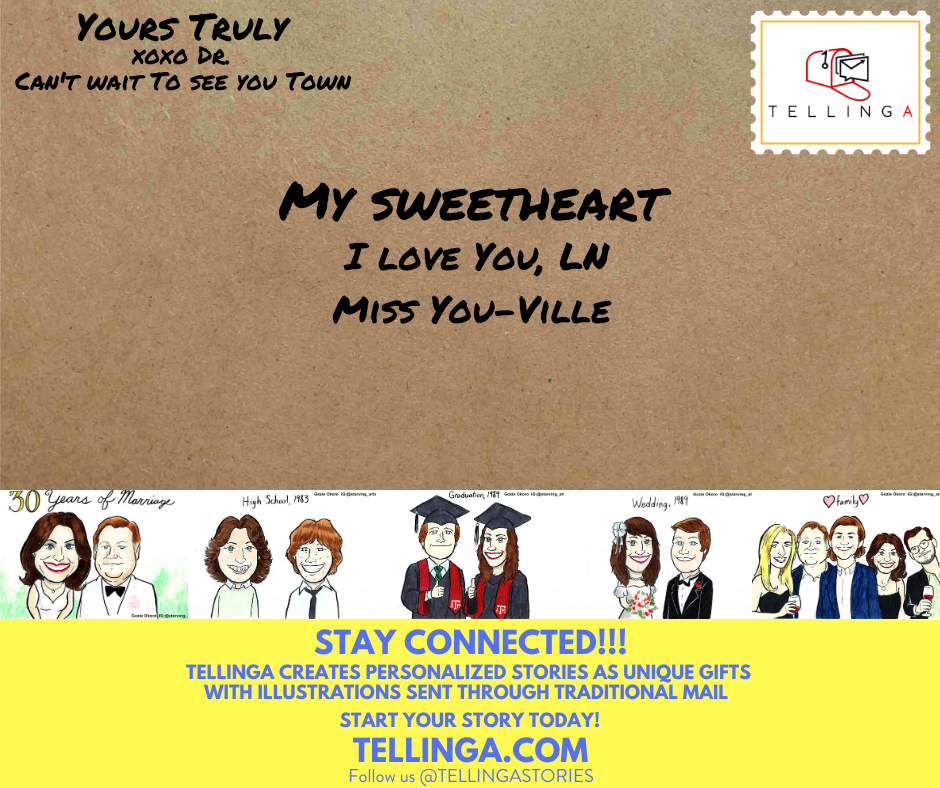 2011- Galapagos Islands
Card #4 captures an incredible moment from our very first Green Global Travel press trip, to the Galapagos Islands in October 2011. But that trip almost didn't happen.
When we launched the site in Nov 2010, "professional travel blogging" wasn't a thing yet. We had no monetization strategy for our little passion project (I'm not sure we believed it would ever turn a profit) and paid for everything via my freelance writing income and Mary's savings.
So when Ecoventura (a local eco-tour operator in Ecuador who offered small ship cruises to the Galapagos) invited us on a group press trip, we initially had to turn it down because we simply couldn't afford the airfare!
Unbeknownst to me, my Uncle Steve (who passed away earlier that year) left me a small inheritance. When my Aunt Terrie told me about it, we reached out to see if there were slots available. Luckily another couple had dropped out, and we booked our flights the next day.
It was an amazing adventure, seeing tons of Galapagos animals and exploring the remote islands on a small eco-friendly yacht with less than 20 passengers.
One of the highlights was the first time we snorkeled with Galapagos Sea Lions off the coast of Santiago Island. There was one in particular who took an interest in me as I swam along beside him. As I twisted and turned to film him, he took it as an invitation to play.
He started swimming faster and faster, zooming all around me like a torpedo, blowing bubbles, and flipping out of the water in his excitement. As Mary watched and laughed, I caught the whole sequence on video.
That video was named one of the Top 11 Travel Videos of 2011 by Matador Network, and our series of "Wildlife of the Galapagos" videos was promoted by World Wildlife Fund.
Within 6 months our blog grew from 7,000 to 40,000+ page views a month, and we were getting calls from all sorts of ecotourism operators wanting us to travel with them in 2012!
READ MORE: 7 Important Life Lessons I Learned in the Galapagos Islands

2012- Cruising Antarctica
Card #5 captures the pinnacle of 2012, our craziest whirlwind of a year. After WWF promoted our videos, we were inundated with offers from the world's most acclaimed ecotourism companies.
We traveled 95+ days that year while juggling the blog, my freelance career, Mary's part-time job, and 50/50 custody of my 11-year-old daughter.
It was an insane year. It started in February with trips to the Peruvian Amazon and Yellowstone National Park, followed by Bermuda, Panama, Dominica, NYC, Jordan, and hanging with Polar Bears on the Arctic tundra in Churchill, Manitoba.
But the cherry on top of the icing on top of the cake of our surprise success was a last-minute invite from Adventure Life to spend a week exploring Chilean Patagonia, followed by 5 incredible days on a small ship cruise in Antarctica.
It was a dream trip I honestly never thought I'd get a chance to experience. Though I love the ocean, I get terribly seasick, so crossing the dreaded Drake Passage was NOT in the cards.
But Adventure Life had a trip where you could fly to Antarctica from Punta Arenas, Chile, so we leapt at their offer. Unfortunately it was still early in the season, and snow/ice on the Antarctic runway prevented us from departing on the intended day.
Things weren't looking much better the next day, so we all piled into a bus and made the 7-hour drive to Argentina. There we boarded an Argentinian Air Force plane, strapped ourselves into jump seats, and passed around 2-liter sodas and cookies the military guys handed us.
Once we finally got to Antarctica, it was everything you'd imagine it would be. Everywhere we looked we saw jaw-dropping landscapes, icebergs, Whales, and HUGE colonies of Penguins.
This card perfectly captures the excitement we felt going ashore for the first time, sitting on rocks as Penguins walked all around us within arm's reach. It was an incredible way to end an extraordinary year!
READ MORE: 30 Antarctic Animals You Can See on an Antarctic Cruise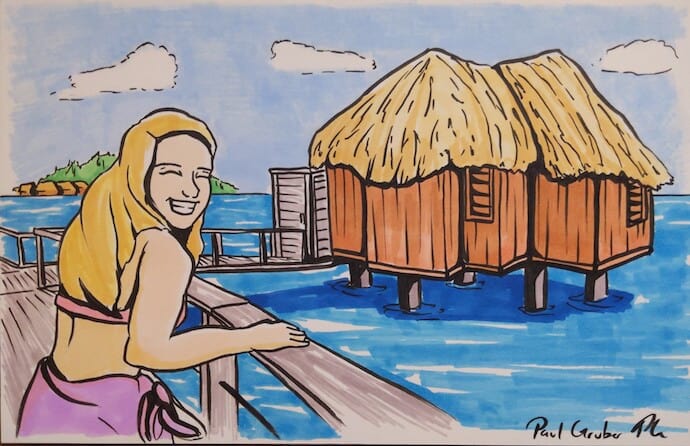 2013- Bora Bora, Tahiti
Our 2013 highlight actually started during our insane 2012, when a PR rep for the Four Seasons Bora Bora reached out to us via email, said he was coming to Atlanta, and asked if we'd be available to meet.
I've been a HUGE Four Seasons fan since the mid-1990s, when I'd frequently stay at their Beverly Hills location while interviewing celebrities for the entertainment magazine I ran. And Bora Bora had been at the top of Mary's world travel bucket list for 20+ years.
So, of course, we said yes!
As it turned out, the resort was interested in promoting the new Rauhatu Marine Sanctuary they'd recently created on their property. They wanted us to visit, interview their lead marine biologist, and explore the exotic islands in partnership with Tahiti Tourism.
The only problem? By that point our travel schedule was COMPLETELY booked for 2012 (since our site made no profit then, we needed time between trips to make enough $$$ to pay the bills).
Fortunately they were fine with postponing the trip until late February/early March 2013, which just so happened to coincide with Mary's birthday!
We spent 10 exquisite days in Tahiti, swimming with sharks, Scuba diving, exploring the mountains and jungles of the interior, and going to luaus.
But the time we spent hanging out together in our massive over-water bungalow at the Four Seasons was a major highlight (especially our torch-lit romantic feast on the beach at sunset).
This card perfectly captures the sheer joy and amazement I remember Mary having for the majority of our 10-day visit, which was the perfect way to wind down the insane 18-month period that really put Green Global Travel on the map.
READ MORE: 21 Tahiti Photos to Fuel Your Exotic Island Fantasies
2014- Athens & The Greek Islands
Card #7 was the first to reduce me to tears, because it took me right back to the emotional moment when the photo on which it was based was taken.
2013-2014 were really difficult years for us– the only time we've ever questioned whether blogging was a sustainable path, career-wise.
Our extensive travels from Oct 2011 to March 2013 had left us in troubling financial shape. Most of our travel expenses were usually covered by our hosts. But there were always additional costs for pet sitters, parking, transportation, food, etc.
With the blog not making any money, print media dying, my freelance work slowing drying up, and Mary's tenants flaking on paying rent, things were looking dire.
But by Sept 2014 everything turned around. International Expeditions (with whom we traveled to the Amazon in 2012) hired us to take over their content marketing. We put together an agency, creative team, website, and proposal in 3 weeks, and that contract ensured we could pay the bills.
Then we got embroiled in a huge controversy (dubbed "Dolphingate") wherein the world's top travel blogger publicly called us out for not boycotting TBEX for offering dolphin tours at their conference in Cancun (which we knew nothing about).
Long story short, we managed to get those tours cancelled AND were invited to host a TBEX Keynote discussion on responsible travel.
But card #7 captures an incredibly personal moment that happened right before the TBEX Athens conference that October (where we gave a standing-room-only talk on How to Build a Better Blogging Brand that some attendees described as "life-changing").
Growing up in a lower middle class neighborhood, I didn't know anyone who traveled internationally except my grandparents.
They're the ones who got me into NatGeo, taught me to appreciate nature, and instilled in me a "work hard, waste nothing" mindset. Their pictures from Mexico, Egypt, Greece, and Hawaii were HUGE inspirations for my travel dreams.
There's a photo I've had for decades of my Granddad descending the steps of the Acropolis of Athens when he was my age. When we went to Greece, we took the photo with us, did our best to recreate it, then took a photo of us holding his photo as I gamely tried to stop sobbing.
The Tellinga artist's depiction of that teary-eyed moment took my breath away, and brought all these vivid memories rushing back to me. I can't even describe the emotions I feel even now, telling you the story.
READ MORE: The Best Places to Visit in Greece in 40 Fantastic Photos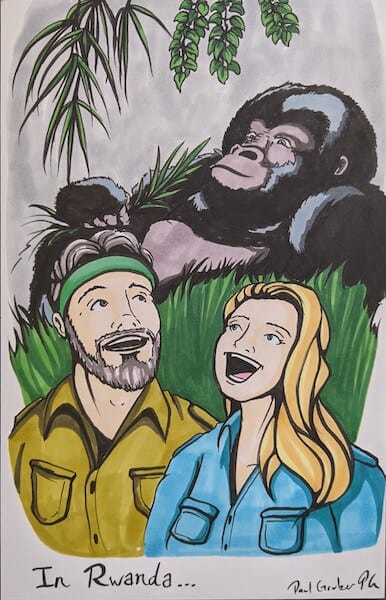 2015- Mountain Gorillas in Rwanda
After 5 years of struggling financially, 2015 was the year things FINALLY started coming together for us in terms of the business. We started the year with one major tour operator client for our content marketing agency, Green Travel Media, and by midsummer we had two.
In the Spring we delivered another standing-room-only session (this one on Responsible Journalism for Bloggers) at TBEX in Costa Brava, Spain, and led our first "Build a Better Blogging Brand" workshop, which nearly sold out.
But card #8 highlights the inarguable crescendo of that blissfully promising year– a 3-week safari in Tanzania and Rwanda that included hiking to see Mountain Gorillas in Rwanda.
A brief backstory: A lot of who I am and the work we do today was influenced by my paternal grandparents, with whom I was extremely close. They travelled the world, and always had National Geographics on the coffee table and PBS' Nature on TV.
Granddad grew up in New Mexico, and they were very into Native American culture. They went out west frequently, visiting an orphanage they supported financially, and always came back with turquoise jewelry, sandstone art, and other Native crafts.
I became very interested in Native American history, and started attending local pow-wows regularly. My first tattoo was taken from a NatGeo cover story on Native American culture and shamanism, and I wrote research papers in college on Native American music and history.
This led to my passion for indigenous tribal cultures around the world, world music and dance, global cuisine… you get the picture.
20+ years later, my grandparents had both passed on, and I'd dedicated my life to writing about these topics (which most of my freelance editors had no interest in). But I did it because I loved it, even thought there was ZERO money in it.
But in 2015 my friend Robert Reid– NatGeo's Digital Nomad– connected me with their Intelligent Travel editor. We bonded over our passion for wildlife conservation and the fact that we'd both lost our fathers, and just like that I became a National Geographic contributor!
Around that time, we reached out to our friends at Adventure Life. I'd been dying to get back to Africa for 15 years, so we partnered with them and a local tour operator, Tanzania Journeys, to arrange an exceptional safari.
But of course East Africa is VERY expensive to fly to, and we wanted to make the most of our trip, so we reached out to the Rwanda tourism board, honestly expecting an outright rejection.
Then I had an idea: The anniversary of the death of primatologist Dian Fossey was coming up, her research had been funded by NatGeo, and she's credited with habituating Rwanda's Gorillas to human presence.
My editor agreed that there was a great story there, and so it was that we found ourselves trekking through the forest of Volcanoes National Park.
We'd heard through another couple at our lodge that one of the rangers at the park, Francois Bigirimana, had worked as Dian Fossey's porter back in the '80s. So our guide, Arthur, managed to get us in Francois' group of 8 hikers, which made the experience all the more entertaining.
Needless to say, the Silverback Gorilla encounter depicted in this Tellinga card was one we will never, ever forget. I only wish my grandparents could have lived long enough to see it…
READ MORE: Mountain Gorilla Trekking in Rwanda (w/Dian Fossey's Porter)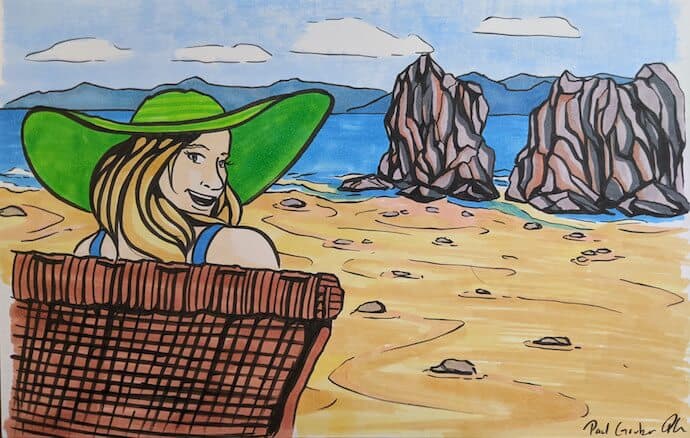 2016- Palawan, Philippines
Card #9 comes from 2016, the first year where it felt like we didn't have to struggle in terms of building our business.
Our agency started the year with two major clients, and had 3 by the end of the year. We were making enough money that I was able to stop freelancing entirely, and even stepped down from my part-time position as Managing Editor of INsite Magazine (a position I'd held since 1996).
GGT still wasn't turning a profit, but we were regularly being featured in NatGeo and other major news outlets. We'd earned the respect of Megan Epler Wood and other ecotourism icons, and were widely considered among the world's top travel blogging couples.
The only drama that year actually came from our personal life: While serving as a line judge for my daughter's volleyball game, I suddenly pulled up short while shagging a ball and felt a snap in my achilles tendon. I immediately knew something was wrong, but was able to walk on it.
The next day I went to the doctor, and my foot and ankle were extremely swollen and bruised.
Because we were leaving for a blogging conference in the Philippines a few days later, my doctor insisted I go to the ER immediately and have it checked for blood clots before I too the 18+ hour flight to Manila. If I had a clot, we'd have to cancel the trip at the last minute.
Fortunately there was no major damage and we were cleared to fly, but I had to get escorted through airports in a wheelchair. It was a pretty hilarious sight, my hulking 250-pound body being pushed around by tiny Asian women, but we enjoyed our early boarding privileges.
Mary and I have a thing where we like to trade off on choose "dream trips," and the Philippines were another of her bucket list destinations. And so it was that we found ourselves exploring the islands of Palawan both before and after the TBEX conference.
My injured foot made hiking fairly difficult, so our itinerary was MUCH less hectic than usual.
We spent lots of time snorkeling, SCUBA diving, and just hanging out on the beach at our resort, Club Paradise. We also got couples massages 4-5 times in 8 days: If you ever get a chance to try a traditional Hilot massage in the Philippines, I highly recommend it!
Card #9 perfectly captures Mary's mood during what felt like a truly laid-back, luxurious tropical vacation– our first since Tahiti in 2013. The photo on which it was based was taken on the resort's hidden beach, where we saw more Monitor Lizards than people.
As much as we miss our crazy wilderness adventures, this is the sort of relaxing trip we crave more than anything right now. Hopefully we'll all be able to to return to paradise in 2021!
READ MORE: The Top 15 Things to Do in Coron, Palawan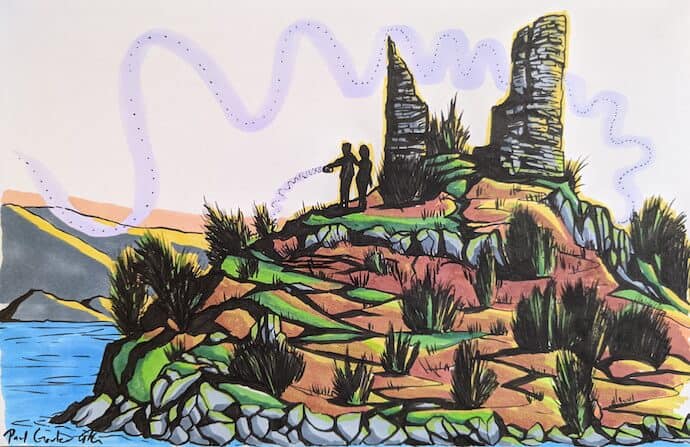 2017- The Scottish Highlands
The second of Paul Gruber's Tellinga cards that reduced me to tears, this ethereal moment was the highlight of our 2017 trip to the Scottish Islands & Highlands to trace my paternal family's ancestral roots.
My interest in Scotland began back in 1993, when I interviewed my grandfather about our family history. It was then I learned that the Loves were a sept of Clan MacKinnon and originated in western Scotland, in Oban and the islands of the Inner Hebrides.
I got a brief taste of Scotland when I spent 48 hours in Edinburgh to interview Sean Connery for his 1999 film, Entrapment. I was gobsmacked at Edinburgh Castle, where I met a tour guide who was the spitting image of my late grandfather.
In recent years I really wanted to learn more about my Scottish ancestry. So I bought books on Clan MacKinnon history, signed up for Ancestry.com, and researched my ancestors' journey from Scotland to Ulster, Ireland, and finally to the Blue Ridge Mountains of North Carolina.
When we were invited to lead a workshop at TBEX Ireland in 2017, I simply had to make my dream of exploring the land of my forefathers come true.
We spent 8 incredible days exploring Scotland, with countless stops significant to Love/ MacKinnon history along the way.
We stayed in Oban, where my Love ancestors lived. We explored Iona Abbey, where MacKinnons served as Abbotts and we saw Love and MacKinnon graves side by side. We visited Clad Donald's Armadale Castle, whose genealogy library had loads on info on their MacKinnon brethren.
Card #10 depicts the most emotional moment of the trip, when I climbed the ruins of Dunakin (a.k.a. Castle Maol), the ancient MacKinnon seat on the Isle of Skye.
It was there that I released my grandparents' ashes as the winds whipped around me, tears streaming down my face as I sang "Amazing Grace" in their cherished memory.
READ MORE: The Top 10 Things to Do on the Isle of Skye, Scotland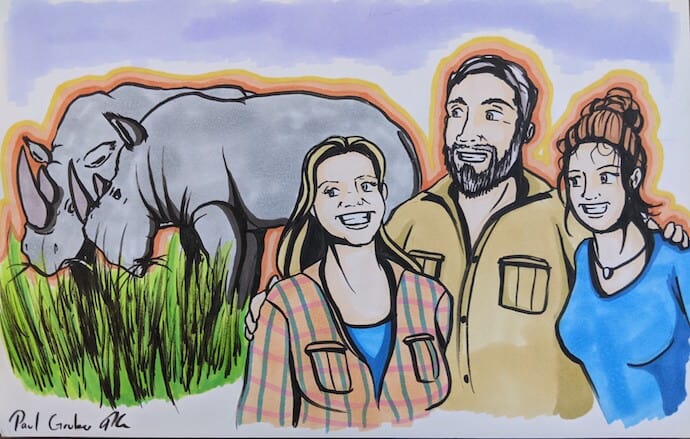 2018- Turning 50 in Kenya
Before I met Mary, the year I turned 40 (2008) was one of the worst. But the year I turned 50 was arguably the best year of my life.
The blog was finally making good money, as was our Green Travel Media agency. By the end of the year, we reached a milestone of getting 600,000 page views in a single month!
Mary and I had found a great work/life balance, and my daughter was a rising Senior who would ultimate graduate with Honors. We finally had money in the bank, and relatively few worries.
In terms of travel, there was a good mix of US and international trips, including Mary's birthday trip to Isla Holbox, Mexico, a daddy/daughter trip to go whitewater rafting in West Virginia, and 10 glorious days exploring Guatemala.
But card #11 depicts the highlight of the greatest trip of my life– a 3-week family safari in Kenya to celebrate my 50th birthday!
Traveling with Gamewatchers Safaris and the Elewana Collection, we explored Nairobi National Park, Lewa Conservancy, Meru National Park, and several Maasai Mara Conservancies (which are owned and managed by the Maasai people).
I could write an entire book about all the incredible experiences we had in Kenya. There were close-up encounters with endangered African animals such as Hyenas, Lions, Hippos, Elephants, Leopards, and more.
We got a behind-the-scenes tour at Jane Goodall's Sweetwater Chimpanzee Sanctuary, watched a family of Rock Hyrax wrestling by our private pool at Elsa's Kopje in Meru, and saw a mother and two young Cheetahs track and kill a Gazelle.
But the highlight of our once-in-a-lifetime safari was a private tour of Ol Pejeta Conservancy. It included going inside the protected area where the last two Northern White Rhinos on the planet reside, and interviewing the rangers sworn to protect them.
When we started this journey a decade ago, I never imagined hanging out with (and being nudged by) hungry, critically endangered Rhinos.
But after 10 long, often difficult years of struggling to get to a place where we weren't always worried about money, it felt like we'd finally "made it." I couldn't imagine any better place, or any better way, to celebrate 50 years on this amazing planet.
READ MORE: Animals in Kenya (Guide to 40 Species of Kenyan Wildlife)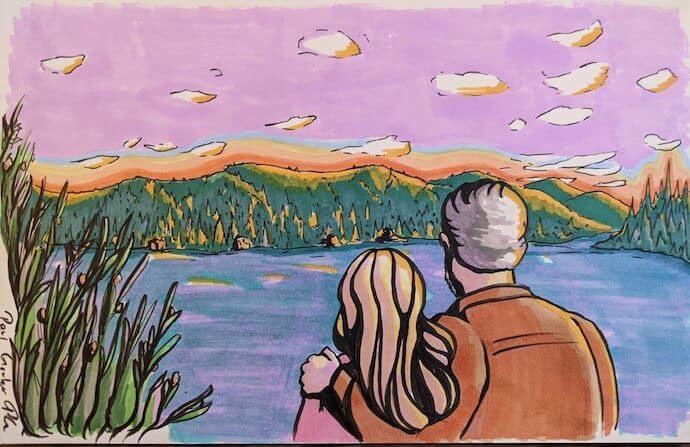 2019-2020 (& Beyond)
Though 2020 has inarguably been a total shitshow for pretty much everyone, for us personally 2019 was arguably even worse.
It started off as another year of astounding growth: We averaged 250,000 page views a month, had two great tour operator clients, and took memorable trips to Kauai (for Mary's birthday) and an Alaska Inside Passage cruise (for my daughter's high school graduation).
But by September the bottom started to fall out of our business.
First there was a corporate buyout and consolidation that left staff and budgets for our two clients slashed. All of our contacts at the company either quit or got laid off, and after 6 years our Green Travel Media contract was not renewed.
Then in November and December Google made major algorithm changes that clearly favored big business (especially its own) over bloggers. Almost every major travel blogger we know lost 50 to 80% of their organic travel overnight, and ad revenue went in the toilet along with it.
By the time the COVID-19 epidemic devastated the travel industry in March 2020, our income had dropped by more than 80%. The fact that we also couldn't travel at all only left us more despondent over the entire turn of events.
But there was a silver lining. We'd been aggressive in putting money aside in 2018-2019, so we did have some savings to rely on. We also sold my old music and movie collectibles on eBay, which brought in a decent side income.
We'd already set up a new regional travel site, Blue Ridge Mountains Travel Guide, because we hoped to buy a home in the mountains of North Georgia or North Carolina. So we launched it in January, and explored the wilderness closer to home while social distancing.
By October 2020, we had finally grown that site's traffic enough that it could start bringing in ad revenue. It was enough to cover our expenses, and turn a small profit as well.
And now, as we look back on the last 12 years of love and exceptional travel adventures, we also look forward to better days to come. To reconnecting with old friends, exploring new cultures, and hopefully finding a home where we can be much closer to Mother Nature.
Card #12 depicts one of my favorite places we've visited in Georgia, Lake Burton, which is surrounded by the Chattahoochee-Oconee National Forest. It perfectly captures where we are now, looking back on where we've been, but staying focused on where we hope to go.
It's the next step in this otherworldly dream that is our life, our love, our partnership. And I simply cannot wait to see where the next 10 years will take us. Here's to a better, brighter future for us all… –by Bret Love; Tellinga artwork by Paul Gruber