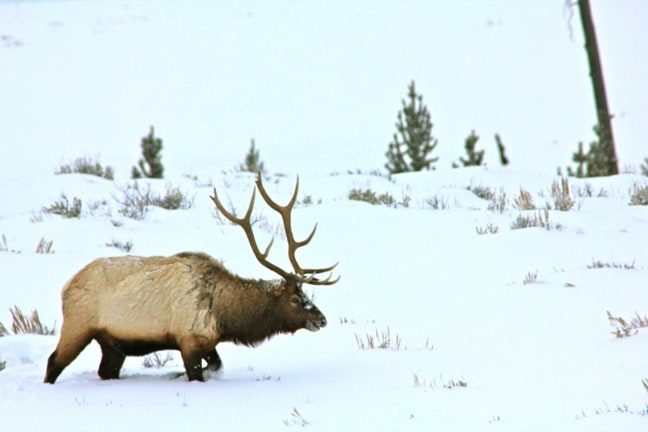 Yellowstone National Park Lamar Valley Photo Gallery
Our second morning on Off The Beaten Path's Winter Wonders Tour of Yellowstone National Park got off to an insanely early start, as we headed out from Mammoth Hot Springs before sunrise and began making our way to the Lamar Valley. The weather conditions were still grey and overcast, with frequent snow flurries, but thankfully it was decidedly less blizzard-like when we reached our first restroom stop. There, we found this handsome bull elk grazing nearby, getting our most wildlife-rich day off to a great start.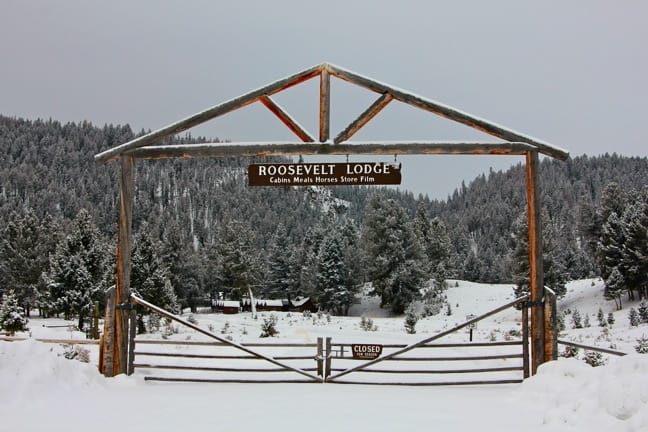 Our second stop, the restrooms in front of the Roosevelt Lodge, really allowed us to soak in the beauty and desolation of the wintry scenery. The park's 2.2 million acres of rugged wilderness felt  vast and almost overwhelming as we sipped our hot chocolate in silence, watching elk graze near the lodge and listening for the sounds of Yellowstone's legendary wolves howling in the distance.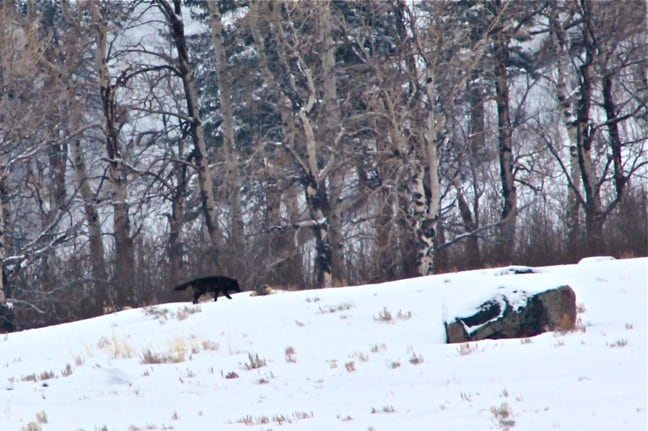 There were very few cars on the road, so when we rounded a curve in the Lamar Valley to find several parked in a pullout, we had an inkling there might be something worth seeing. Yellowstone's Grey Wolf reintroduction program began back in 1995 and has been highly successful, with an estimated 100 wolves in 10 packs occupying the park at the end of 2011. The trio is part of Molly's Pack, currently the dominant group in the park. We watched them from about a 1/2 mile away for over half an hour, and I was fortunate to capture this long-range shot of two grey wolves resting as the black wolf began moving to higher ground. Apparently, Yellowstone attracts "wolf groupies," who spend their entire time in the park tracking these packs for days on end.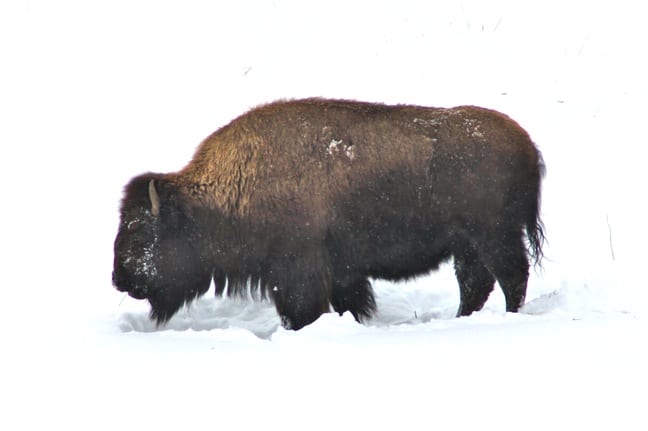 There are around 3,000 bison in Yellowstone and, as our guides joked, by the end of your trip you may feel like you've seen every one. But we never got tired of them, and their distinctive features made them my favorite subjects to photograph. Like wolves, the bison are the subject of intense debate between environmental advocates and local ranchers, who fear wandering herds of bison may infect their livestock with a disease called brucellosis. But Native American tribes revere Yellowstone's bison as pure descendants of the vast herds that once roamed the grasslands of the U.S., and we believe they deserve protection as a national treasure.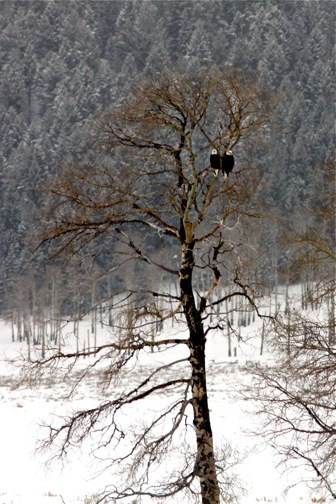 If there was one downside of taking a group tour of Yellowstone National Park, it's that the rapid pace is limiting for avid wildlife photographers such as us. I literally had less than a minute to take shots of this rare sight– a mating pair of bald eagles sitting side by side– so I barely had time to plant by feet and squeeze off a few quick shots with my 400mm lens. Apparently it's more difficult to stop for photo opportunities in the winter, as the icy road we traveled on is a major highway through the park.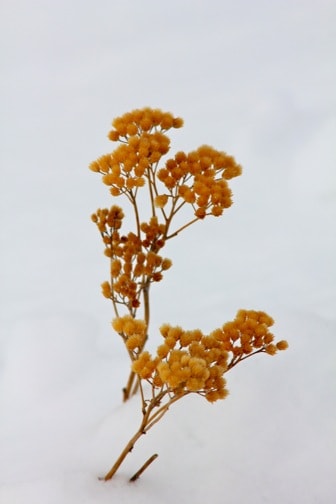 The constant snow, ice, grey skies and muted evergreens not only offered difficult photographic challenges, but it made even the simplest splash of color a rare and welcome sight. I'm not even sure what this little plant was called, but its vivid golden color caught my eye.
Speaking of color, our brief trip outside the park to have lunch at The Bistro in Cooke City, MT offered a welcome change of pace. The tiny, snow-covered town looked like a scene straight out of Northern Exposure, with quaint little restaurants, alpine hotel lodges and quite a few bars, all surrounded by some of the most picturesque mountain scenery you could imagine. Lunch was pretty good, and Alex enjoyed the opportunity to get warm by their roaring fireplace.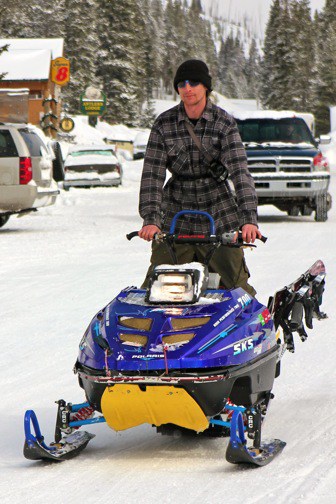 The only thing to spoil the tranquil serenity of Cooke City's setting was what seemed like a whole motorcycle gang's worth of snowmobilers. They were lined up outside the Soda Butte Lodge like a scene out of a snowy Sons Of Anarchy, and the abrasive roar of their engines reminded us of the jet skis that often drive us to distraction at Lake Allatoona. We later heard that snowmobilers had triggered an avalanche in the area right after we left, requiring emergency responders to rescue them.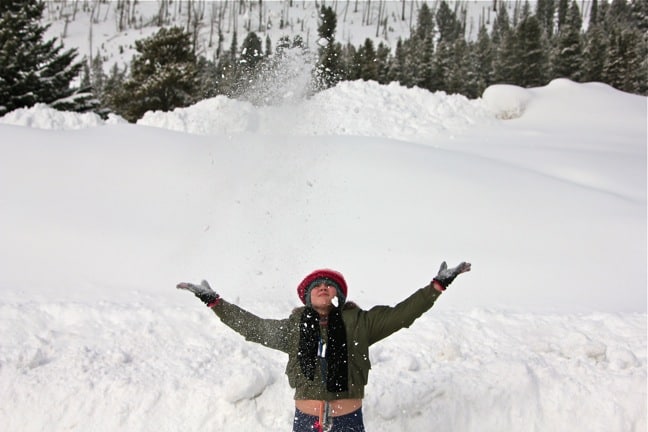 My daughter had had a rough morning, due in large part to her poor choice of shoes (galoshes, rather than her hiking boots), which led to freezing feet. But she quickly recovered after being well-fed and warmed, and took delight in the huge snow banks that lined Cooke City's Main Street. With a little bit of time to explore after lunch, she had great fun plucking massive icicles half her height from nearby buildings, and playing with light powder that coated everything in sight.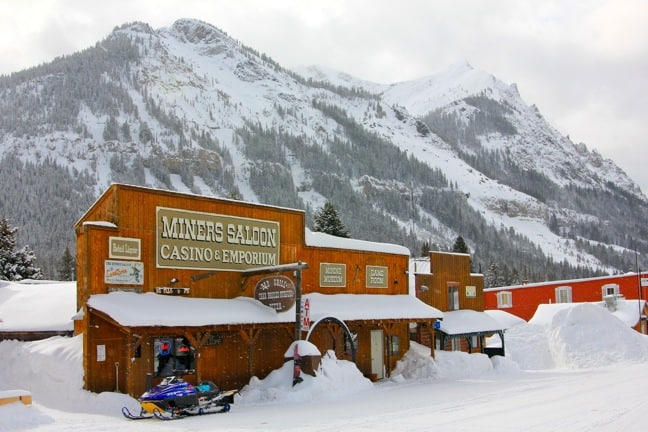 If there's one photo that sums up Cooke City for me, it would be this one of the Miners Saloon, Casino & Emporium. It was a weird, wild, fun little town surrounded by beauty. If I ever return to Yellowstone, I'd definitely stop in Cooke City again.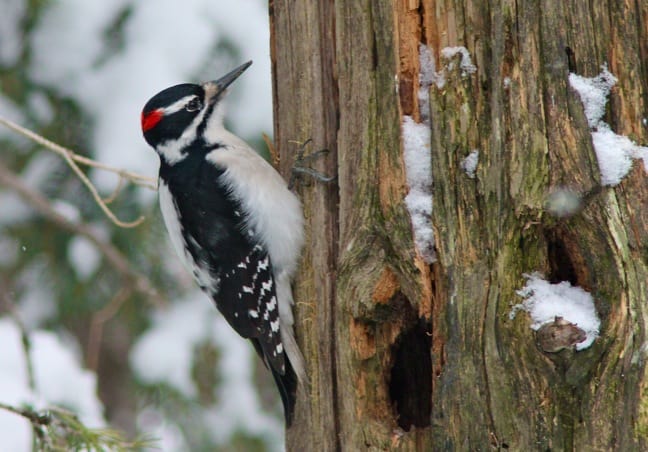 Our last stop before making our way back through the park was at the home/studio of National Geographic Photographer Dan Hartman. Here, Dan and his wife Cindy showed us their gallery of award-winning wildlife photos, gave a slideshow presentation and talked about some of their amazing wildlife encounters over the years. We conducted a brief interview with Dan that we'll post in the near future, but one of our favorite things about visiting his home was the wildlife photo opportunities right outside his window (scenes from the Planet Earth documentary were filmed here).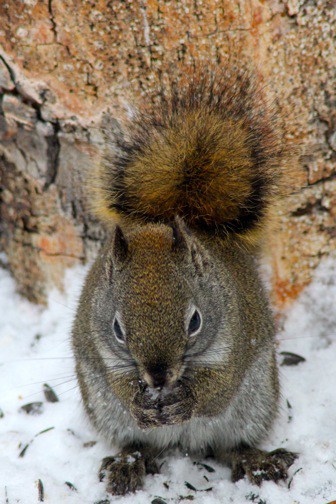 In addition to the woodpecker pictured above, my daughter and I were amused by this remarkably well-fed squirrel who sat right outside the window to Dan Hartman's photo gallery. He seemed content to munch on the variety of seeds and nuts even as dozens of birds flitted and flapped around him, completely undeterred by their presence. I laughed, and couldn't help thinking of Skrat from Ice Age…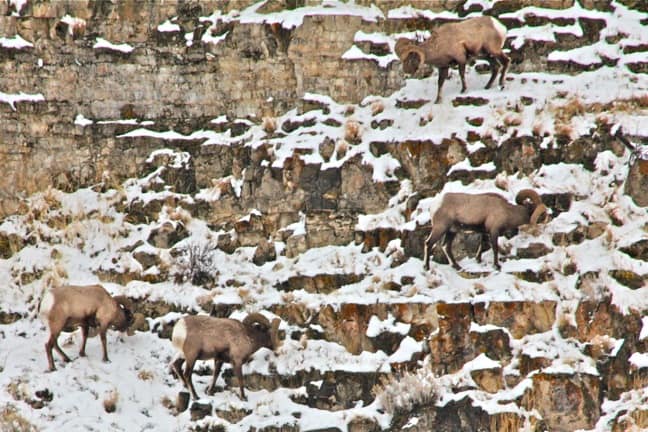 By the time we made our way back into the Lamar Valley, the sun was starting to make a rare appearance just before it sank over the horizon. The "photographers' golden hour" lasted just long enough for me to capture a series of shots of these bighorn sheep grazing in the late afternoon light. It wasn't the first time we'd seen these gorgeous creatures: We'd spotted some from a great distance on our way into Yellowstone on the first day, and had seen a few of this same flock earlier in the day (but much higher in the hills, and in poorer light). So I was delighted to get four of them in frame, with decent illumination!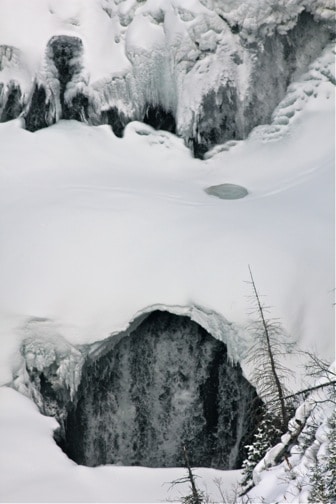 Our last stop was a small waterfall nestled in a hillside near the road. My daughter and I had never seen the volume of snow and ice we saw in Yellowstone, and we'd never seen a waterfall like this. At the top of the photo, you can see the array of crazy icicles formed from the waterfall's spray, which, in places, took on the glassy blue appearance of glacial ice. Combined with the small coyote I spotted right by the road on our way back to the hotel (which was unfortunately not in a spot where we could stop for photos), it made for a lovely end to our second day in Yellowstone. –by Bret Love; photos by Bret & Alex Love
If you enjoyed our Yellowstone National Park Lamar Valley Photo Gallery, you might also like:
Day 1 Photo Gallery: Mammoth Hot Springs
Day 3 Photo Gallery: Roaring Mountain & Grand Canyon
Day 4 Photo Gallery: Upper Geyser Basin
Day 5 Photo Gallery: Lower Geyser Basin