Located in Southeast Asia near Malaysia and Indonesia, the 7,641 Philippines islands are jaw-droppingly gorgeous, with idyllic ocean views, dynamic karst landscapes, and immense biodiversity.
This is the world's fifth largest island nation, covering some 120,000 sqaure miles. So narrowing down our list of the most beautiful places in the Philippines to visit was no easy task.
After, once you get outside of major cities like Manila, mass tourism thankfully hasn't become a huge problem here yet.
There are plenty of off-the-beaten-path points of interest in the Philippines, from traditional villages in remote communities and some of the world's best places to Scuba dive to countless beautiful beaches, lakes, and mountains.
We collaborated with more than a dozen of our blogging friends to assemble this epic Philippines travel guide. So read on as we highlight some of the top tourist destinations in the Philippines by region, including the best places to stay and things to do there.
READ MORE: 30 Exotic Islands For Your World Travel Bucket List
Most Beautiful Places in the Philippines TOC
Bicol Region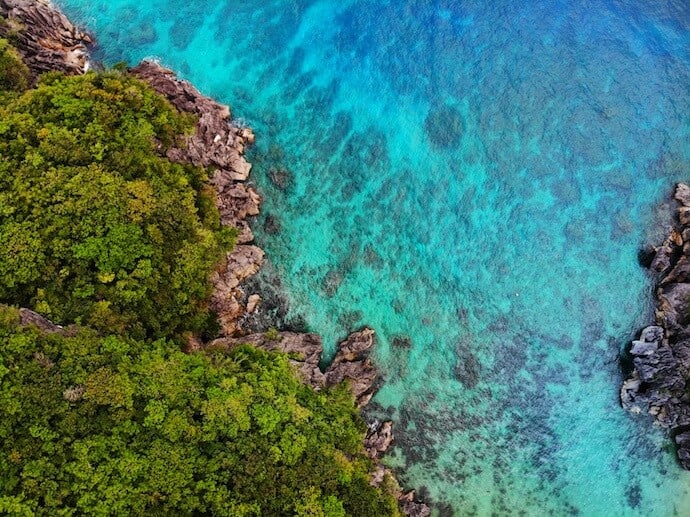 Caramoan Islands (Camarines Sur)
Secluded and largely unexplored, the Caramoan Islands are found in the Bicol region. With their pristine beaches, powdery white sand, abundant marine life, and jagged rock formations, the Caramoan Islands are our pick for the best islands to visit in the Philippines.
From Manila, the journey to get there will take around six hours minimum. This includes an hour-long flight to Legaspi, followed by a 3-hour drive to Sabang Port, and then a 2-hour speed boat ride to Caramoan.
The best way to spend your day is island-hopping from one serene spot to the next on an outrigger canoe. You'll probably only see a few local fishermen, as most of these islands are uninhabited.
Take your masks, snorkels, and a picnic, and make sure to pack your hiking shoes as there will be plenty of opportunities to go ashore and explore some of these remote Philippines vacation spots.
We recommend a stay at Tugawe Cove Resort. Made up of 23 cabanas, the resort has its own private beach and infinity pool, as well as free use of watersports equipment such as paddle boards, kayaks, and snorkelling gear for guests. -Roshni Patel of The Wanderlust Within
READ MORE: The 20 Best Caribbean Islands to Visit (For Nature Lovers)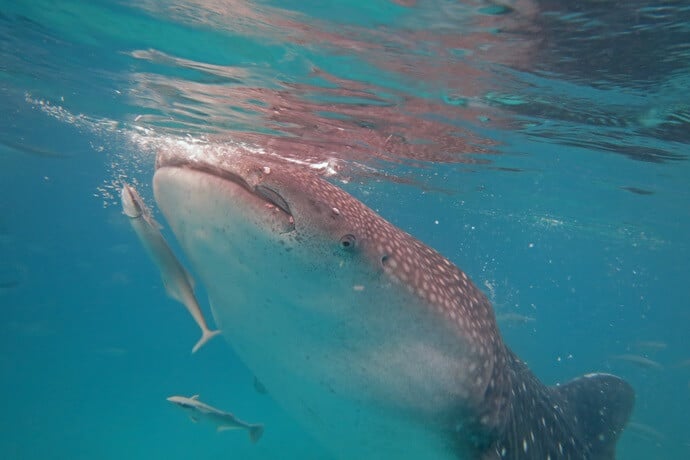 Donsol (Luzon)
Located in the southern part of Luzon in the Bicol Region, Donsol is one of the best places to go in the Philippines for swimming with Whale Sharks, the largest fish in the world. Donsol is a center of sustainable travel, so feeding of the Butanding (Whale Shark in Tagalog) is not allowed.
Between December and May, large numbers of these massive marine animals congregate here naturally. Donsol is also a good place for responsible Scuba diving, with fantastic sightings around famous spots like Manta Bowl and San Miguel Island.
Don't miss Mount Mayon, which is known to be the world's most symmetrical volcano. At 2,421 meters tall, the most active volcano in the country is picture perfect. Day and overnight hiking treks are available for those who wish to climb the volcano.
The Firefly River Tour was one of our favorite things to do in Donsol, and is just a short trike drive away. The inexpensive tour takes you out on a boat at night to watch the fireflies light up the air.
Vitton Resort is a great place to relax for a few days, with a good location and a private beach area.
The easiest way to get to Donsol is to fly from Manila to Legaspi, then take a private or public van from the Legaspi Airport. -Campbell and Alya of Stingy Nomads
READ MORE: Swimming with Whale Sharks in Cancun, Mexico
Central Visayas Region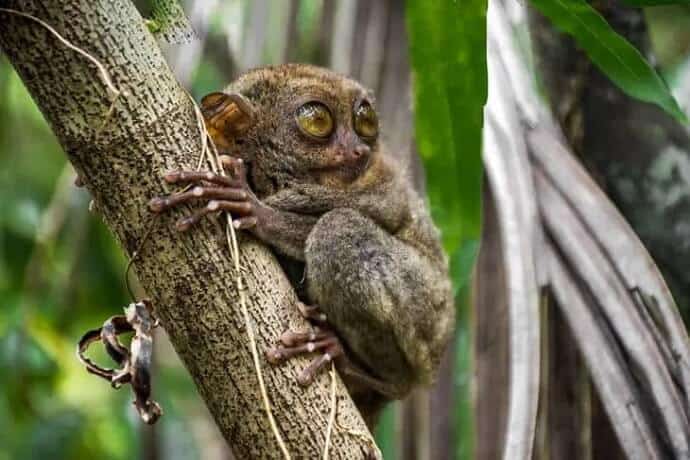 Bohol (Cebu)
Bohol is a lovely island outside Cebu that's known for its beautiful flora and beaches. The unspoiled area is one of the best tourist spots in the Philippines for nature lovers, despite being so close and easy-to-reach from Cebu City by boat.
Bohol is particularly well-known for the Chocolate Hills and for being home to the Philippine Tarsier, which is the smallest primate in the world and an endemic Philippines animal.
The easiest way to get around the island is by tricycle, and in our opinion Bohol offers some of the most beautiful views in the Philippines.
The Loboc River, Can-umantad Falls, and the Hanging Bridge are all popular Philippines tourist attractions. Bohol visitors can also hop on a tricycle to Panglao and Alona Beach, or go snorkeling/diving.
My favorite Bohol resort is Hennan Resort on Alona Beach. It's reasonably priced, yet offers a great quality standard, with all the amenities you need for a wonderful Philippines vacation.
In addition to its white sand and turquoise waters, there are endless possibilities here for day trips to nearby uninhabited islands. -Alexander Waltner of Gourmand Trotter
READ MORE: 70 Cool & Weird Animals Around the World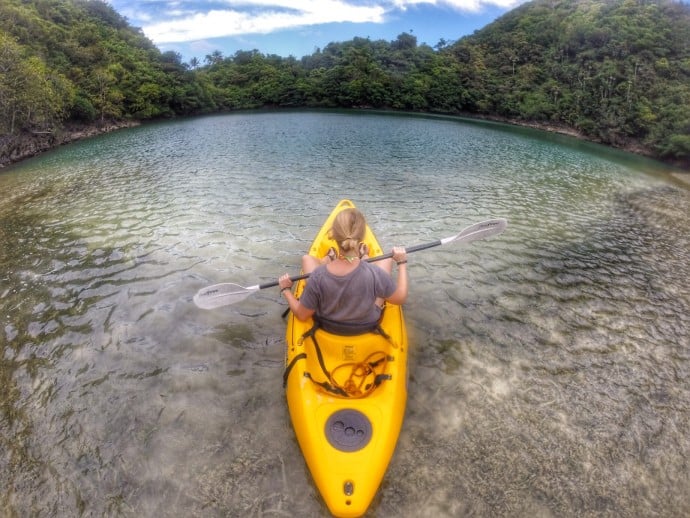 Danjugan
The nature sanctuary of Danjugan is part of a Philippines archipelago that offers a wide array of landscapes and biodiversity. Located just off the coast of Negros Occidental (which is a 4-hour drive south of Bacolod), the unspoiled island is so tiny that it's hard to find on maps.
We love Danjugan because it's an ecotourism paradise where was built sustainably in order to minimize environmental impact.
Everything is run on solar power. All accommodation is either in open-air huts, in which you can fall asleep listening to the sounds of nature, or in cabanas built with local mud. Food is prepared by the villagers of Bulata, a small indigenous community located just across the water.
There are very few other tourists, no wifi or phone reception, no tropical cocktails with umbrellas, and no entertainment in sight other than the stunning sunsets and starry skies.
Danjugan was definitely the highlight of our month-long trip to the Philippines. It wasn't just a beautiful place, but an impressive environmental success story of an island that had been brought back from the brink of environmental destruction and restored to its pristine form. –Margherita Ragg of The Crowded Planet
READ MORE: The Philippine Island Of Danjugan (An Idyllic Escape)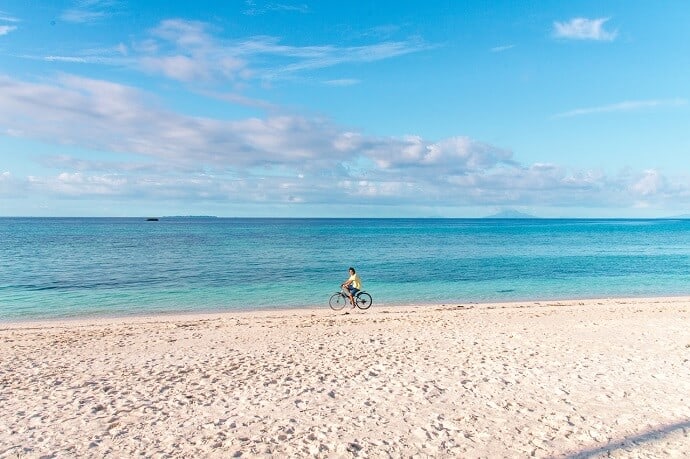 Malapascua Island (Cebu)
If you're heading to Cebu and looking for one of the best islands to visit in the Philippines, don't miss Malapascua Island. Malapascua is known for its perfect white sand beaches, relaxed atmosphere, and excellent snorkeling opportunities.
This place is paradise, not to mention one of the best Philippines vacation spots for Scuba divers.
Advanced divers might even get a chance to spot a Thresher Shark, but you need to be able to dive down to 30 meters.The best time to see them is very early in the morning, when they're hunting for their breakfast. And don't worry: They don't eat humans!
If you're not a certified diver, there are several local dive shops that offer Scuba courses. However, if you only want to relax, Malapascua Island is great place for that, too. Bounty Beach offers perfectly powdered white sand along with many cute resorts and restaurants.
We stayed at Slam's Garden Resort, which is just a minute from the beach and has cozy rooms and a nice pool. If you want to take a day trip, you can visit Kalanggaman Island, which is around 2.5 hours away from Malapascua.
To get to Malapascua from Cebu, you have to take a bus from the North bus terminal to Maya Harbour. There you'll be instructed which boat you should take. The boat leaves approximately every hour, and the last boat leaves at 5.30 PM. -Gigi Milkovic of Beach Addicted
READ MORE: 10 Best Places to Scuba Dive (World Travel Bucket List)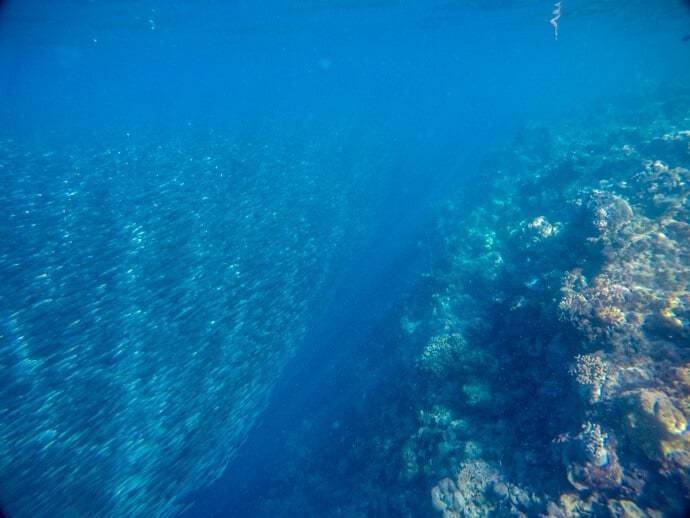 Moalboal (Cebu)
Interested in ecotourism in the Philippines? You shouldn't miss the incredible Sardine run in Moalboal, Cebu. There, millions of Sardines gather just offshore, which is a truly incredible spectacle to witness for snorkelers and divers!
The easiest way to get to Moalboal from Cebu is to fly into Cebu City and take a bus or taxi from there. It's only a couple of hours away, so thankfully it's not too long (or expensive) a trip!
Aside from swimming with the Sardines, there are some other great things to do in Moalboal. One of the most beautiful spots in the Philippines, Kawasan Falls, is located just a 30- to 40-minute drive from Moalboal.
It's also possible to visit other Philippines waterfalls on a day trip, including Aguinid Falls and Tumalog Falls. If you fancy a bit of rest and relaxation, you can spend a day chilling out on the nearby White Beach.
Our favorite accommodations in Moalboal are the Adams View Hotel and Quo Vadis Dive Resort. -Sam and Natalia of Something of Freedom
READ MORE: The World's Most Colorful Beaches for your World Travel Bucket List
Calabrazon Region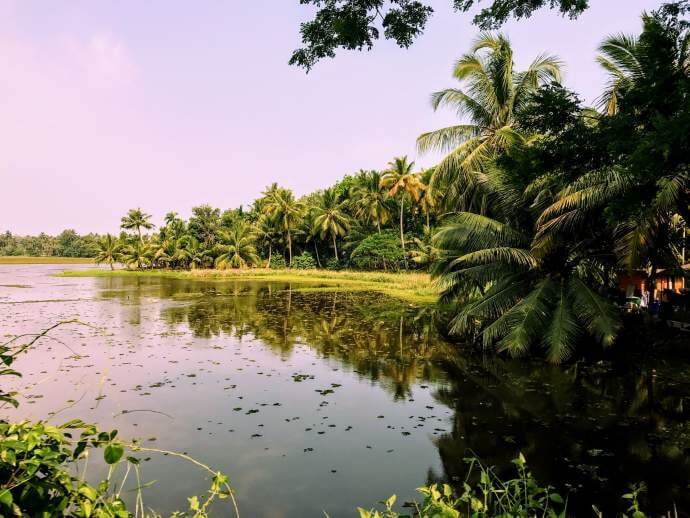 Batangas (Luzon)
Batangas, located in the southwestern part of Luzon in the Calabrazon region, is one of the top destinations in the Philippines for nature lovers. It's also one of the best places to visit near Manila due to its close proximity to the city.
This is one of the best tourist spots in the Philippines for those who enjoy natural scenery, beautiful beaches, and great weather. It's also a great tourist destination for anyone who likes to explore a country without having to book flights or plan far in advance.
The area has a multitude of beautiful beaches, and is most well-known for having excellent diving spots including Anilao in Mabini, and Sombrero Island in Tingloy.
Another highlight is a visit to the dramatic Taal Volcano, which dominates the surrounding landscape. Batangas is also the birthplace of the Tagalog culture, with a number of pilgrimage sites located throughout the region.
Getting to Batangas is simple, involving a transit bus from Plaza Lawton to the main pier. Due to the area's popularity, there are plenty of Batangas accommodations to choose from.
I would recommend staying at one of the many beautiful beachfront resorts in Batangas, such as Club Punta Fuego or Hotel Pontefino. -Rai of A Rai of Light
READ MORE: How Mary Conquered Her Fear of Water & Learned to Love SCUBA
Cordillera Administrative Region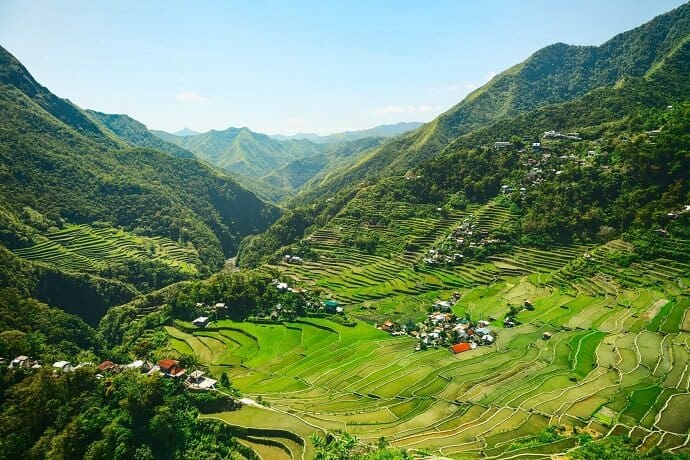 Batad (Ifugao Province)
Most people come to the Ifugao Province to visit Banaue, which is more popular and serves as the jumping off point to Batad. Fortunately, there are still many people who don't know that Batad is the region's real gem.
This remote village of around 1,500 people boasts some of the most stunning landscapes in the Philippines, as well as the famous Batad Rice Terraces, a protected UNESCO World Heritage Site.
This place is so isolated that there is virtually no cellular service, let alone internet access anywhere in the area. There are no roads or motorized vehicles here either.
To get to Batad, you'll need to be dropped off at the Saddle, then do a 15-minute hike down muddy trails into the village. It takes about 1 hour to cover the distance between Banaue and Batad.
Trekking to Tappiyah Falls is one of the most popular things to do in Batad, mostly because it's a relatively easy trek that even moderately fit people can do. The trek takes a couple of hours, with breathtaking views of the lush green surroundings and rice terraces along the way.
The falls are beautiful, but there's a tough climb with some pretty scenery along the way, and varying steepness and curves on the way back. In general, walking the inclines in Batad takes some effort, as traveling from one guesthouse to another involves steep stairs that may leave you breathless.
While a lot of people visit Batad on a day trip from Banaue,you can also stay directly in Batad. Most guesthouses in Batad are identical. And because this is remote, community-based tourism, rooms can be kitschy and usually don't have private bathrooms.
If you prefer nicer accommodations, you might want to return to Banaue on the same day (check out Native Village Inn). Nevertheless, nothing can compare to sitting on the porch of your guesthouse, sipping a frozen beverage with fruit on the rim and soaking in the incredible views.
Consider staying at the Batad Transient House for amazing views overlooking the Batad Rice Terraces. -Ivan of Mind The Travel
READ MORE: What Is An Eco Lodge? (Top 10 Eco-Lodges in the World)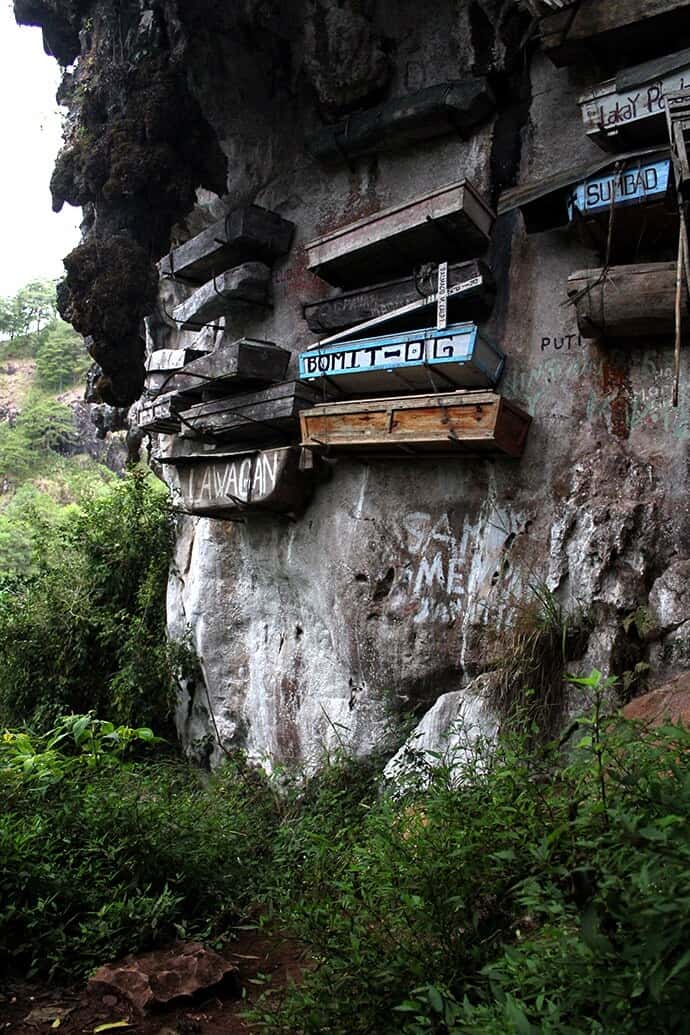 Sagada (Mountain Province)
The top destinations in the Philippines are famous for their tropical climate, gorgeous white sand beaches, and stunning coastlines.
But head up the mountains to the town of Sagada and you'll find a very different type of paradise riddles with caves and a sea of clouds. But the area is most famous for the hanging coffins in Sagada, hundreds of which dangle from the area's jagged cliffs.
To get to Sagada from Manila, you'll need to take a 10 to 12-hour bus ride via Banaue or Baguio. It's a grueling journey, but well worth it.
This is one of the best places in the Philippines to disconnect from everything. The best things to do in Sagada include exploring Echo Valley, spelunking in Sumaguing Cave, going for a swim at Bomod-ok Waterfalls, and standing over a sea of clouds at the Kiltepan Viewpoint.
Sagada is a rural mountain town, so you won't find any luxurious hotels there. I recommend staying at Misty Lodge and Cafe, one of the newer inns in town and home to the best restaurant in Sagada. -JB Macatulad of Will Fly For Food
READ MORE: 10 Famous Underground Caves for Your World Travel Bucket List
Davao Region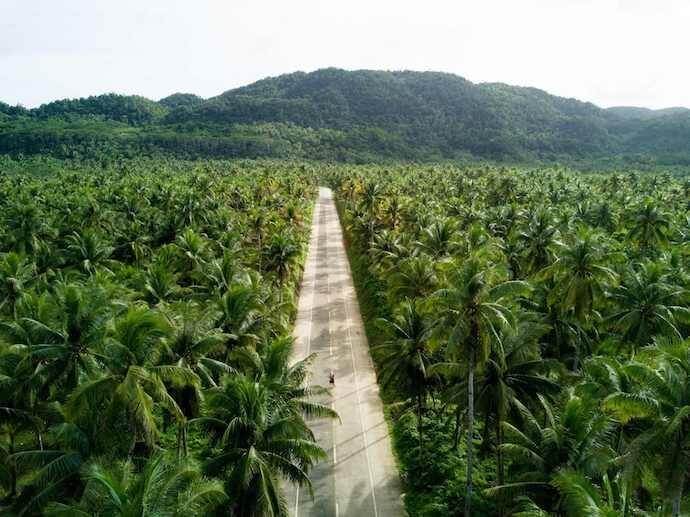 Siargao Island
Covered in lush coconut palms and jaw-dropping raw beauty, the tropical, teardrop-shaped island of Siargao is one of the best tourist places in the Philippines for adventurers and nature lovers.
Located just off the northeast coast of Davao, you can reach Siargao Island with daily 2-hour flights from the Davao, Manila, Cebu, and Clark airports.
The island is best known as the surfing capital of the Philippines. But aside from surfing, there's plenty of other natural wonders to explore dotted all over the island.
It's easy to hire a scooter or tuk-tuk with a driver and go on an Instagram-worthy adventure. Visit the mangrove-covered Sugba Lagoon, the epic tidal Magpupungko Rock Pools and Sohoton Cove for caves and lagoons. For the truly bold, there's also some great places for cliff jumping.
Siargao Island accomodations consist mainly of budget and luxury hostels. But you'll also find hidden gems like the stylish 5-star Kalinaw Resort or the 4-star Sandy Feet Hotel for a comfortable night's sleep. -Milene & Paul of Surf & Unwind
READ MORE: How to Avoid Products with Palm Oil
Eastern Visayas Region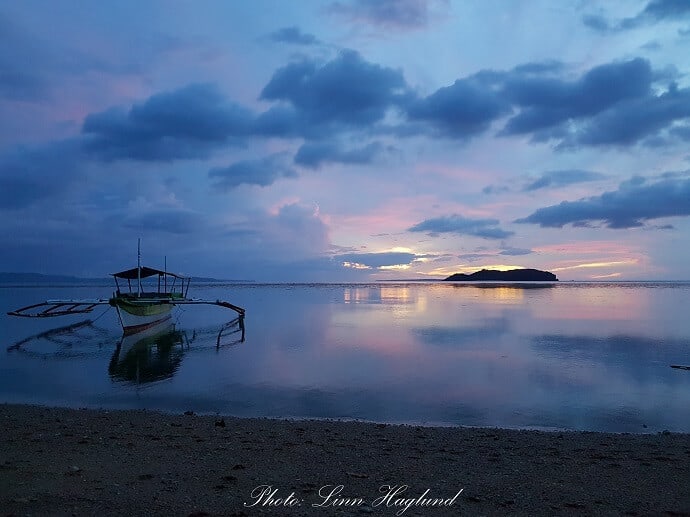 Biliran Island
Biliran Island is a hidden gem in the Eastern Visayas, just off the coast of Leyte. It hasn't yet fallen prey to overtourism, so you can explore the lush jungle and hike to hidden waterfalls that will blow your mind without worrying about crowds.
The most impressive of these is Bagongbong Falls, which I'd rank among the Philippines' most beautiful waterfalls. It's hidden deep in the forest, and not many people walk the half an hour trail to reach it. Ulan-Ulan Falls and Tinago Falls are more popular, and both are incredibly beautiful.
Adventurous travelers should rent a scooter and drive around Biliran Island, riding through rice fields and taking in mesmerizing ocean views. Make sure you go on a day trip to the nearby Sambawan Island for some excellent snorkeling.
You can easily reach Biliran by road from the Tacloban Airport in Leyte, as the islands are connected with a bridge. Stay at Agta Beach Resort, where they rent out scooters and have complimentary plastic free filtered water available for guests. -Linn Haglund of Brainy Backpackers
READ MORE: The World's Biggest Waterfalls Bucket List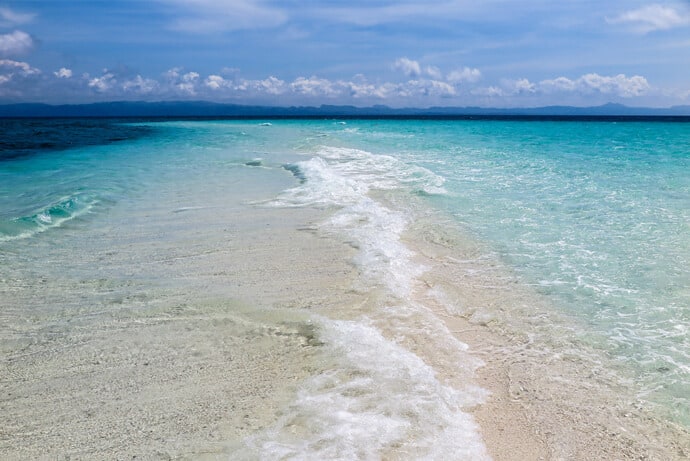 Kalanggaman Island (Leyte Province)
Easily ranking among the most beautiful places in the Philippines I've visited, Kalanggaman Island is really just a spectacular pile of sand about 40 minutes off the coast of the Leyte Province.
There's absolute magic in standing on the sand and looking in all directions at the vast, open sea.
Due to the remoteness of this under-the-radar Philippines destination, the only way to get there is by boat, typically from Palompon.
The official Palompon tourism office (located right by the shore) is the primary operator, sending local pump boats with visitors to Kalanggaman. The numbers of daily visitors are capped, so as not to overwhelm the tiny speck of land. Everyone is given trash bags to haul out their own waste.
The main things to do in Kalanggaman are just to swim, relax on the beach, and walk around admiring the greener heart of the island. Above all, make sure you take time to stroll all the way to the end of the long sandbar. Snorkeling and diving here are great, too.
There are not many accommodation options in Palompon. The most upscale is a new beachfront resort, Sergi's Resort and Hotel. -Veronika Primm of Travel Geekery
READ MORE: 20 Best Small Ship Cruises for Your World Travel Bucket List
Palawan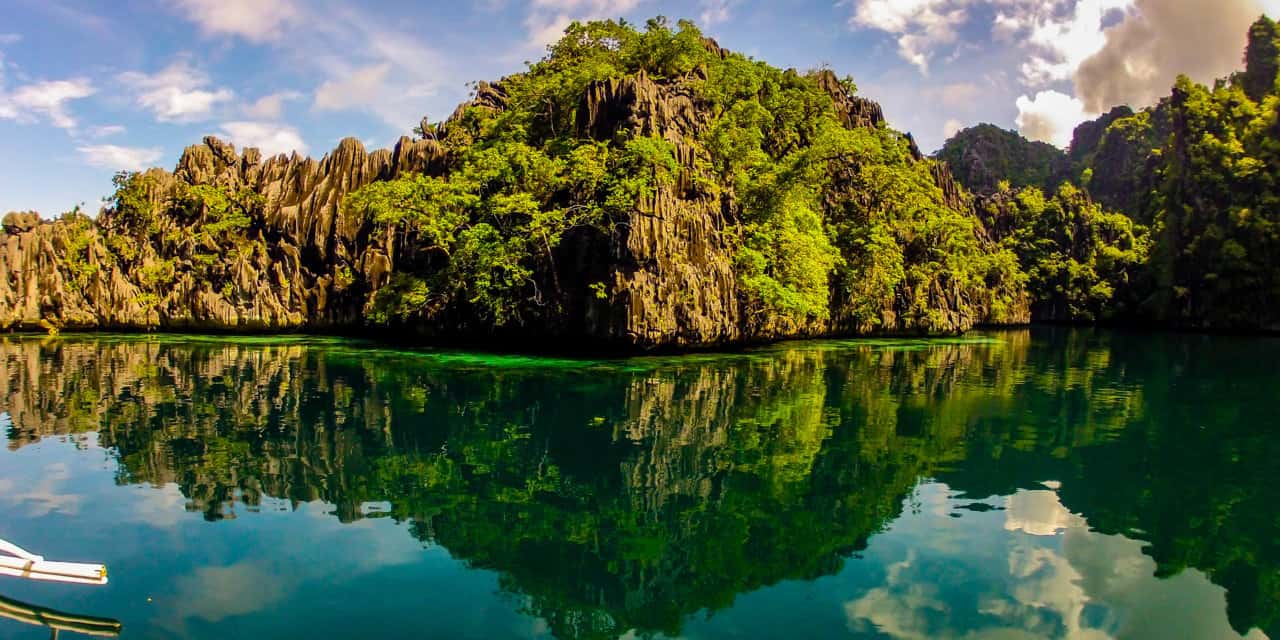 Coron
Mention to Filipinos that you're headed to Coron and watch their eyes light up like a kid on Christmas. That's because this is arguably the most picturesque part of Palawan, which has been voted the Best Island in the World by Travel + Leisure readers several years in a row.
From gorgeous beaches and dramatic karst landscapes to exquisite Scuba diving and all sorts of wildlife, Coron feels like a completely different world from bustling cities like Manila.
Whether it's climbing scenic mountains, swimming in one of Asia's cleanest lakes, soaking in hot springs, or snorkeling with Dugongs (a cousin of the Manatee), there's an endless array of activities available for those who crave adventure.
We stayed at Club Paradise, on a small private island off the coast of Busuanga. They have a dive shop on the property, and the reefs just off shore were teeming with marine life. We saw Black-tipped Reef Sharks, Giant Clams, Sea Turtles, Pufferfish, Moray Eels, and countless tropical fish.
The resort also offers island-hopping tours, where snorkeling and diving within 100 feet of the shore is beyond exceptional. On one dive we saw more than a dozen Sea Turtles, not to mention the famed, freaky Mantis Shrimp.
READ MORE: Top 15 Things To Do In Coron, Palawan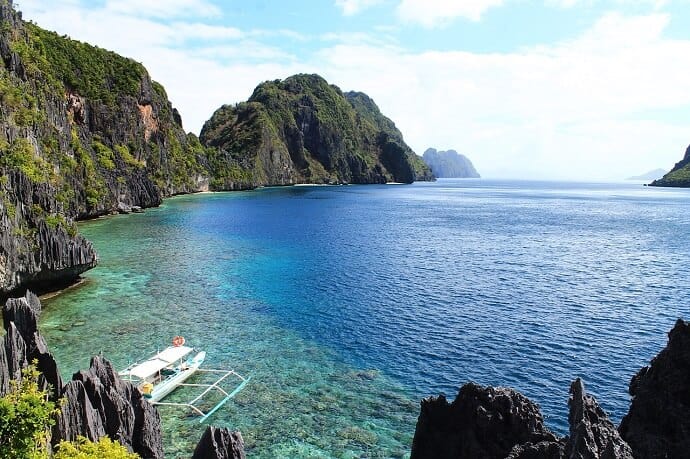 El Nido
El Nido is one of the top Philippines tourist spots, boasting some of the most spectacular scenery we've ever seen. A cluster of 45 small Palawan islands on the tip of the province, the El Nido area has so much to offer.
Many people travel to El Nido to explore the Secret Lagoon and Large Lagoon, both of which are undeniably magical places. Another big draw is the beautiful El Nido beaches, especially Secret Beach and Las Cabanas Beach.
And we can't forget about the El Nido islands: Snake island and Simizu Island are two of our favorites. Both can be visited on day trips in the area, which we highly recommend taking.
There are three ways to get to El Nido– either by air, boat, or land. The easiest and fastest way there is by air, via the Puerto Princesa airline. Getting to El Nido via ferry isn't bad either, but if you're feeling adventurous you can travel to El Nido via an expedition cruise.
For some of the best beach resorts in the Philippines, we recommend the Matinloc Resort or Miniloc Island Resort, both of which featuring overwater bungalow rooms. -Hannah & Adam Lukaszewicz of GettingStamped
READ MORE: The 15 Best Palawan Resorts & Hotels (Philippines)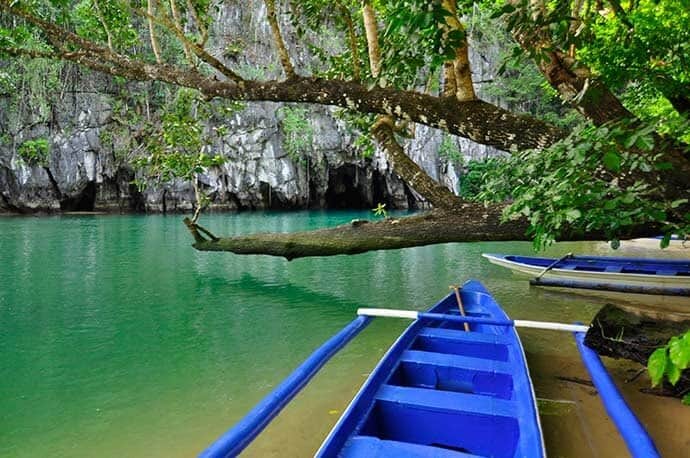 Puerto Princessa
Puerto Princessa is your main port of entry into Palawan. It's home to the famous Underground River, a UNESCO World Heritage Site that is well worth taking a day trip to explore.
The whole region is a nature lover's paradise, with Asian animals and jungles around every corner. You can island hop through Honda Bay, or spend a day relaxing at the Microtel Beach. But whatever you do, be sure to check out the Underground River!
The Microtel is one of the nicest hotels in Puerto Princessa. It's located on a public beach, but most people don't realize it's public, which means you'll likely have it mostly to yourself.
Uncrowded boat tours take you a few kilometers through one of the best destinations in the Philippines, and the audio guides are fantastic. We saw beautiful cave formations, bats, and crystal clear waters on this journey into the underworld.
I wish we'd had more time to explore the surrounding area, because we saw a few troups of monkeys and lizards in the nearby mangrove forests.
Getting around Puerto Princessa can be tricky if you're traveling solo, but trikes and taxis will take you anywhere you need to go. They're quite affordable, but you can always splurge on a more luxury ride. Just ask your hotel and they can set up transportation around the island. -Mike Still of LiveTravelTeach
READ MORE: The Ultimate Beach Vacation Packing List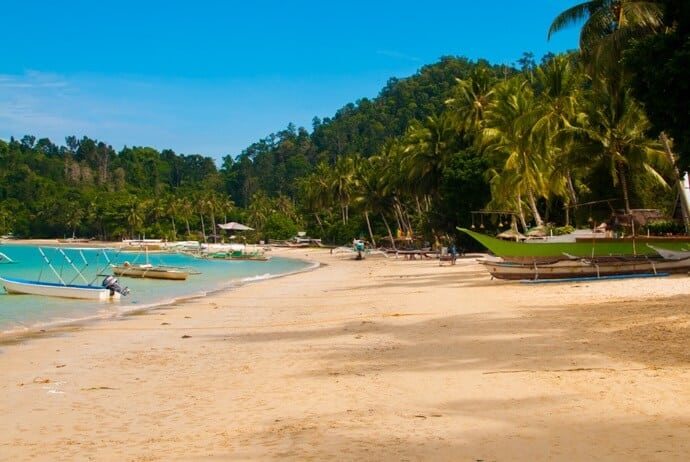 Port Barton
Palawan Island is arguably best known for Coron and El Nido, the gateway to the Bacuit archipelago. However, there's a lesser-known spot that also offers idyllic white-sand beaches and an array of water activities, but with far fewer visitors.
This hidden beauty goes by the name of Port Barton, and it's an ideal travel destination in the Philippines for anyone seeking a quiet place to enjoy the country's alluring natural beauty.
Port Barton is not the easiest place to reach, but that's exactly what keeps it under the radar. Plus, once you're there you'll be rewarded by an unspoiled paradise you may never want to leave.
The little fishing village sits about halfway between El Nido and Puerto Princessa, and can be reached by bus or van from either town. The transportation is often crowded and hot, and some of the roads are pretty rough. But again, it's totally worth the trouble once you get there!
All the best things to do in Port Barton revolve around the beach and ocean, including snorkeling, Scuba diving, and island-hopping tours.
If you want to get out on your own and explore a bit closer to shore, renting a kayak makes for a perfect day. If you'd rather just relax, there's a long, pristine beach dotted with small beach bars and hammocks perfect for whiling away an afternoon.
Most of the Port Barton accommodations are basic, but for something a bit more special there's the Rubin Resort and Santa Claus Hilltop. -Sarah Hughes of Live Dream Discover
READ MORE: Why Palm Oil is Bad for Palawan, Philippines & the Planet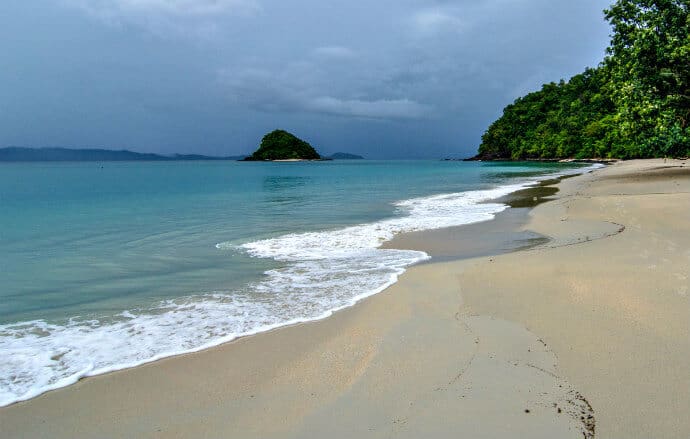 San Vicente
Located about halfway between Puerto Princesa and El Nido, San Vicente generally tends to hide under the radar, in the shadow of Palawan's more internationally-known hotspots.
This low-key beach town is largely devoid of any of the glitzy luxury trappings that earned Palawan the "Best Island in the World" designation from Travel + Leisure several years running.
Instead, this tranquil tropical getaway offers travelers a sense of peace, serenity, and relaxation. But it still boasts the stunning natural beauty for which Palawan has become famous.
You won't find many posh hotels resorts here. But you will find gorgeous waterfalls, some of the most beautiful beaches in the Philippines (especially the 9.1-mile Long Beach), fertile reef systems teeming with marine life, and verdant forests filled with an array of endemic wildlife.
For a great day of adventure, take an island-hopping tour with a local guide. You'll gets lots of opportunities to do some incredible snorkeling, especially near Inaladelan Island, Twin Reef, Starfish Island, and Capsalay Island.
Stay at the highly-rated Sunset Beach Resort in Macatumbalen Beach, or at Tribal Xperience Port Barton, which has two eco lodges on Bunuanguin Beach. Afterwards, you'll understand why some folks are referring to San Vicente as the next big thing in Palawan.
READ MORE: The Top 10 Things to Do in San Vicente, Palawan
Pangasinan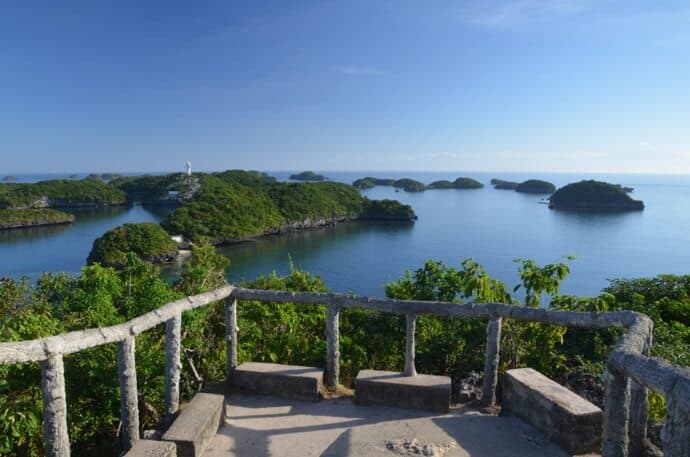 Hundred Islands National Park (Alaminos)
Hundred Islands is argably the most impressive of the Philippines' national parks. There are 123 small islands here, and you can hire a boat to guide you among many of them. Several of these islands rank among the Philippines' most beautiful places.
There is a wide range of things to do in Hundred Islands National Park. So you can visit on a single day trip or choose the overnight boat trip option.
There is a statue of Jesus here (like the larger, more famous one in Brazil), a cave you can jump into and swim at high tide, and a place where you can walk a bridge from one island to another.
You can also enjoy a superb zipline with amazing views on Governor's Island, rent jet skis or kayaks, go snorkeling or do a helmet dive, and visit a bamboo bar (which has a perfect ramp for jumps).
The price of the boat tour depends on its size, ranging from 1400 PHP (for 1-5 people) to 2000 PHP (for 11-15 people) per day. But each tour is customized to your interests, so you decide how much time you spend on each island.
The best places to stay are the Kylah Pension (Transient) House, which has a perfect location directly in the harbor, or the Santorini mini-resort if you're heading to Bolo Beach.
Getting to Alaminos from Manila takes 3 to 4 hours and involves booking direct buses at 12GO. From the bus terminal in Alaminos, you can easily reach the port by tricycle. Just look for the Lucap tricycle terminal. -Matěj Halouska of Czech The World
READ MORE: List of US National Parks By State (An Epic Guide)
Western Visayas Region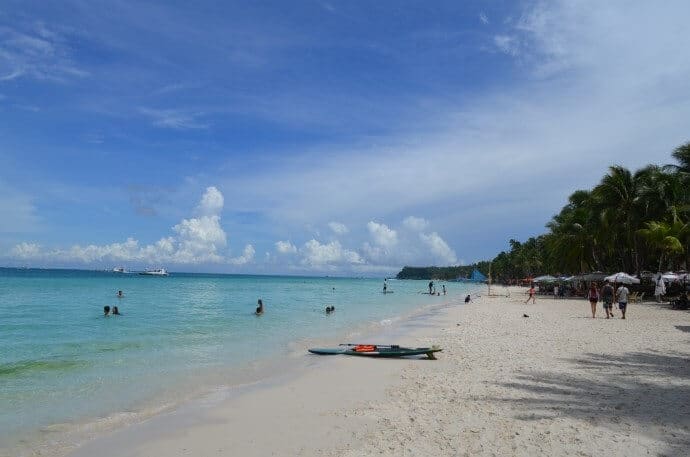 Boracay (Aklan Province)
Tiny Boracay is a one of the most well-known islands in the Philippines, with a total area of just 10 square kilometers.
Boracay is famous for its beautiful 4-km White Beach. It's often mentioned in rankings of the most beautiful beaches in the world, and is considered among the top tourist places in the Philippines.
Due to overtourism, sewage issues, and the imminent threat of an ecological disaster, this once-idyllic paradise was closed to tourists for six months in 2018. Thankfully the island has re-opened, but with visitors limited to 19,200 per day and strict sustainability measures in place.
In Boracay today, you can relax and recharge your batteries, enjoy lazy days on the beach, and watch the beautiful sunsets in paradise.
The most convenient way for getting to Boracay from Manila is to fly low-cost airlines to Kalibo. Take a vehicle to the Caticlan Jetty Port, and then take a boat from Caticlan Jetty Port to the island.
In our opinion, the best places to stay in Boracay are The Lind Boracay hotel and Hue Hotels and Resorts. -Marta and Milosz of Backpackers WRO
READ MORE: Mass Tourism: How Overtourism is Destroying 30+ Destinations
Zamboanga Peninsula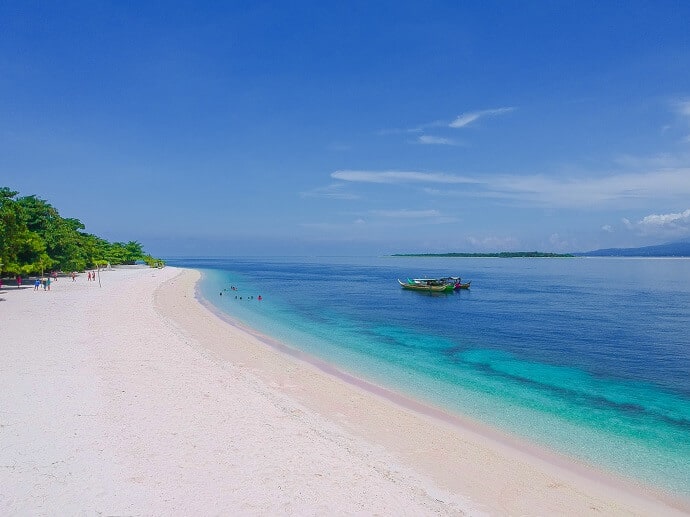 Sta Cruz Island (Zamboanga del Sur)
Mindanao is the second largest island in the Philippines. Some Filipino tourists and foreign visitors believe that traveling to Mindanao isn't safe.
As someone who has traveled through several provinces in Mindanao– including Zamboanga, Cagayan de Oro, and Davao– I feel that exploring these Philippines destinations is safe. There are lots of amazing islands and beaches in this region that you simply must see.
One of the most remarkable places in the Philippines for nature lovers is Sta. Cruz Island in Zamboanga, which is also known as Pink Beach. The best time to visit is the first to second week of October, when the Hermosa Festival is celebrated.
To get to Sta. Cruz Island, you must fly to Zamboanga, then ride a private or public vehicle to Paseo del Mar. From there, you must register and catch a boat heading to Sta. Cruz Island, which takes about 15 minutes.
Aside from the crystal clear water and pink sand, you should also explore the lagoon full of mangrove trees. And before heading back to Paseo del Mar, ask your boatman to bring you to the nearby Little Sta. Cruz Island to stroll the long stretch of sandbar there.
Two of the nicest local hotels to stay in and recharge after the tour are the Ever O Business Hotel and Casa Canelar. –Riza of Rizanoia
READ MORE: 20 Best Festivals in the World for your World Travel Bucket List