Underground caves are mysterious and mesmerizing places to explore.
From marble caves, glow worm caves, and those formed from glacial lagoons, to a cave of crystals, prehistoric rock art and ancient Mayan burial sites, natural caverns come in an incredible range of attractions.
From the Rio Secreto cave in Mexico and Patagonia's Milodon Caves to cave paintings in Spain, each one we've visited during our travels has been more unique and fascinating than the last.
Read on for our guide to the 10 best underground caves in the world to visit, including info on how to get there and what you'll see inside them.
READ MORE: The 10 Best Caves & Caverns in Virginia
10 BEST UNDERGROUND CAVES
ATM Cave or Actun Tunichil Muknal Cave (Belize)
Waitomo Glowworm Caves (New Zealand)
Caves of the Thousand Buddhas, or Mogao Caves (China)
Skaftafell Ice Cave (Iceland)
Patagonia Marble Caves (Chile)
Mountain River Cave, or Hang Son Doong (Vietnam)
Fingal's Cave (Scotland)
Naica Mine or Cave of the Crystals (Mexico)
Chauvet Cave (France)
Hastings Caves (Australia)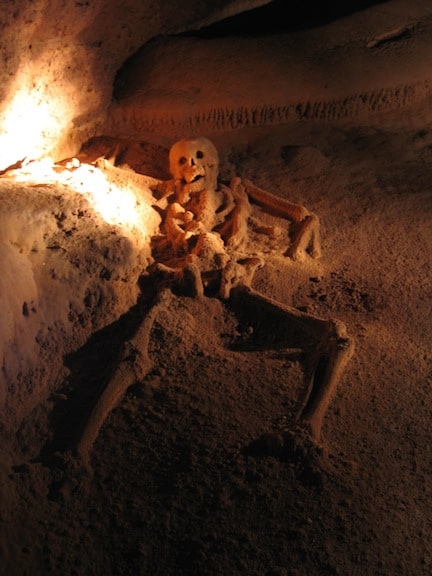 1. ATM Cave or Actun Tunichil Muknal Cave (Belize)
The most famous cave in Belize, this is an experience best reserved for the fit and adventurous. Once a Mayan burial site, the ATM Cave is full of skeletons, pottery and other ceremonial objects left by the Maya. The cave's most famous skeleton, "The Crystal Maiden," features bones cemented into the floor by natural processes, leaving them with a sparkling appearance.
Through tropical rainforest, multiple streams and several different chambers, the 45-minute hike from the cave entrance will have you swimming, climbing and exploring along the way.
The ATM cave is 5 km deep: The deeper into it you trek, the more recent the Mayan activities were, and the more ceramics and pottery of all sizes to be found.
ATM Cave Tips: Note that the inner chambers will require you to take off your shoes so as to not damage the priceless artifacts, and no cameras are allowed.
There also very narrow passageways that can be tight if you're built like a football player. Be sure to wear closed toed shoes and prepare to get wet in cold water. Mary wore a long sleeve T-shirt on top of her bathing suit to keep warm. Touring the ATM Cave is one of the best cave tours we ever took! Get more info on tours and read reviews at: Get Your Guide
READ MORE: The 16 Best Mayan Ruins To Explore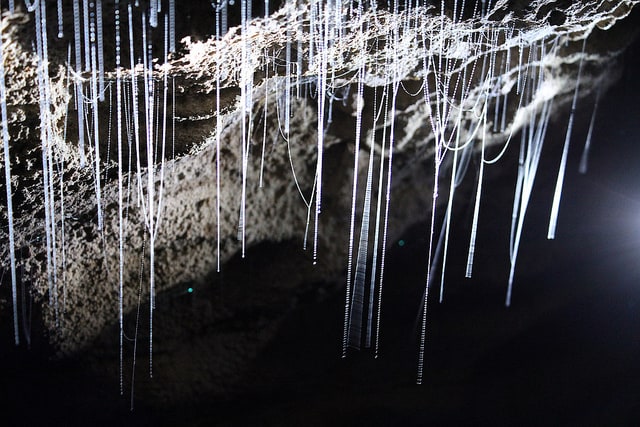 2. Waitomo Glowworm Caves (New Zealand)
Waitomo is famous for its glowworm caves, wherein thousands of magical glowworms illuminate a series of caves with their unmistakable light.
The glow worm, Arachnocampa luminosa, is a unique species only found in New Zealand, and makes these famous caves some of the world's most unique.
Visitors can take a guided tour which explores three different levels of the caves including the catacombs, or opt to take a boat ride under the glowworms and witness a myriad of tiny bright lights dotting the cave ceilings – the lights of a thousand glowworms.
Get more info about guided tours and read reviews at Get Your Guide.
READ MORE: Top 5 Ecotourism Attractions in New Zealand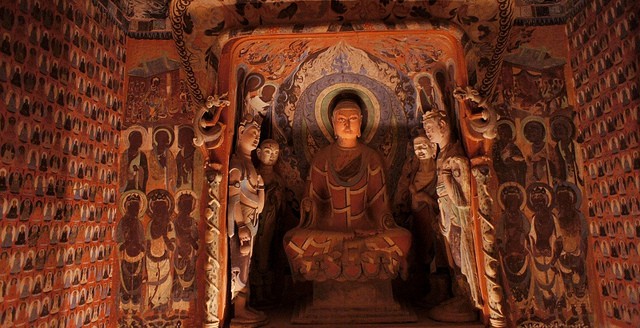 3. Caves of the Thousand Buddhas or Mogao Caves (China)
The Mogao Caves are known as the Caves of the Thousand Buddhas– 492 cave temples near the city of Dunhuang, China, of which 30 are open to the public. These are the most famous Buddhist grottoes in China, carved into the sandstone cliffs of the Singing Sand (Mingsha) Mountains.
Originally dug out in 366 CE as places of Buddhist meditation and worship, the underground caves now contain religious artwork, murals, Buddhist sculptures and stone carvings which span across 10 dynasties, from the 4th to the 14th century.
There are over 2,000 color statues and 45,000 paintings throughout the caves, making this the greatest shrine of Buddhist art treasures in the world. Get more info on tours and read reviews at Get Your Guide.
READ MORE: Top 7 Things to Do in China for Nature Lovers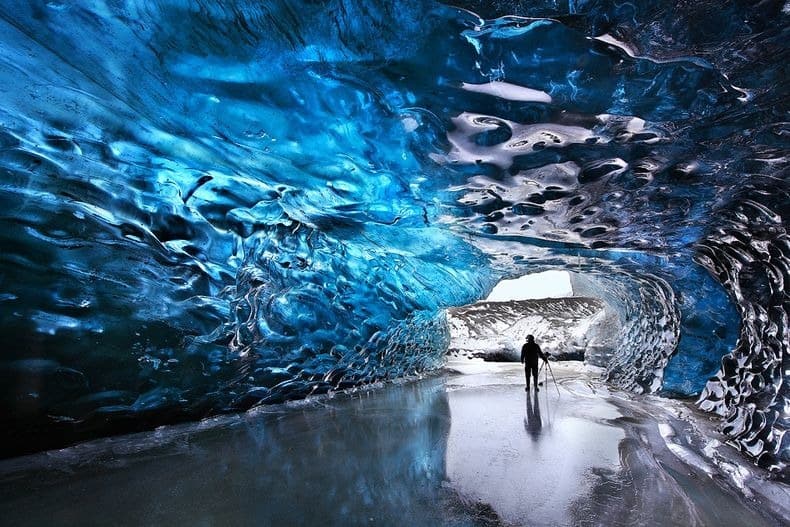 4. Skaftafell Ice Cave (Iceland)
Located on a glacial lagoon on the Svínafellsjökull glacier in Skaftafell, Iceland, Skaftafell Ice Cave is one of the most unique natural wonders in the world. Travelers fortunate enough to step inside the ice cave are transported into a mesmerizing realm of blue glacial ice.
Blue ice is formed from the compression of pure snow, which develops into glacial ice over centuries of extreme pressure. This process eliminates the air originally caught in the ice when the snow fell, leaving very little reflective surface for the light from the sun.
Skaftafell bears more resemblance to an ice tunnel than a cave, and indirect daylight into the cave gives the ice its luminescent blue glow. To get more info on a Skaftafell Ice Cave tour and read reviews, check out Get Your Guide
READ MORE: 10 Incredible Iceland Waterfalls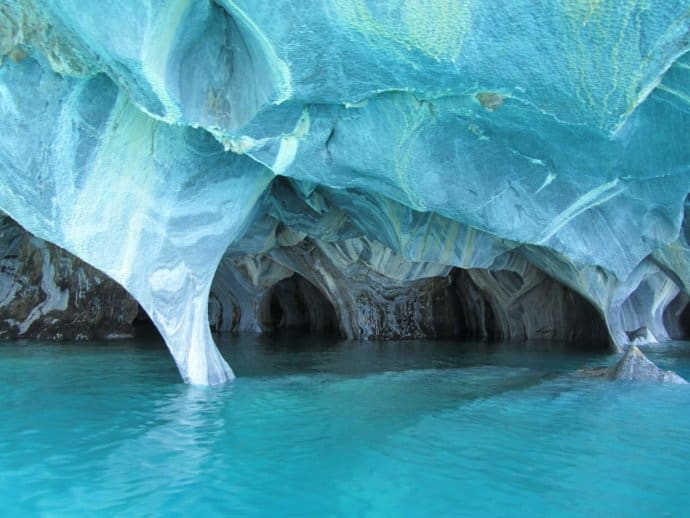 5. Patagonia Marble Caves (Chile)
Arguably the most beautiful caves in the world, the Patagonia Marble Caves of Chile are a 6,000-year-old cave system made of solid marble and surrounded by the glacial Lake General Carrera. These caves are only accessible via boat.
The caves are known for their propensity for constantly changing their appearance. The swirling patterns of the cavern walls are a reflection of the lake's blue waters, which change in shade and intensity depending on the water levels, which are affected by weather and season.
READ MORE: The 20 Best Things to Do in Patagonia (South America)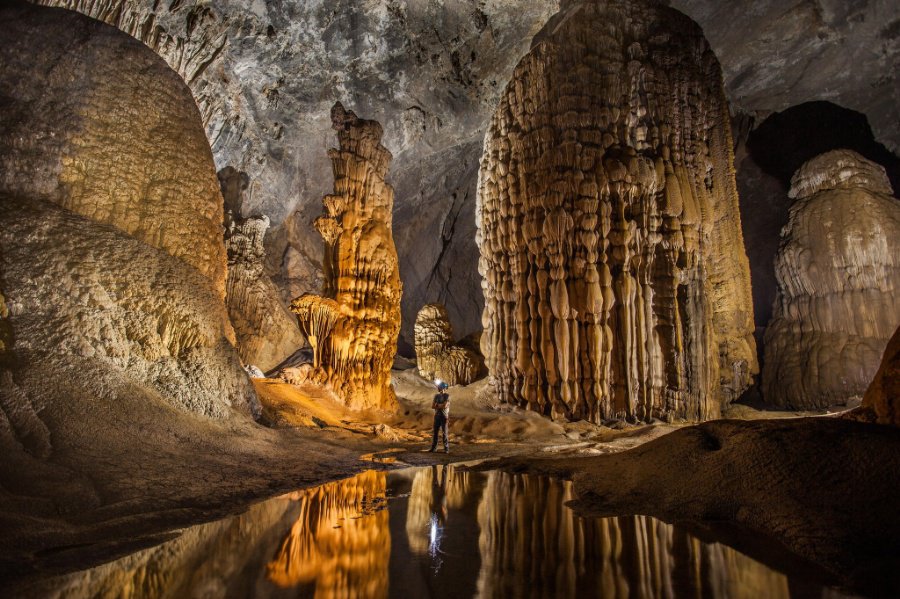 6. Mountain River Cave or Hang Son Doong (Vietnam)
Hang Son Doong Cave (or Mountain River Cave in English) is the largest cave in the world, formed around 2.5 million years ago. Over the years the river water eroded the limestone underneath the mountain, causing the ceiling of the cave to collapse and form what are now huge skylights.
The Vietnam cave has both a jungle and a river found inside of it, and it's large enough to fit a 40-story high skyscraper between its walls! This is a relatively new Vietnamese cave discovery and "trial tours" are just beginning.
READ MORE: 20 Longest Rivers in the World (for Your World Travel Bucket List)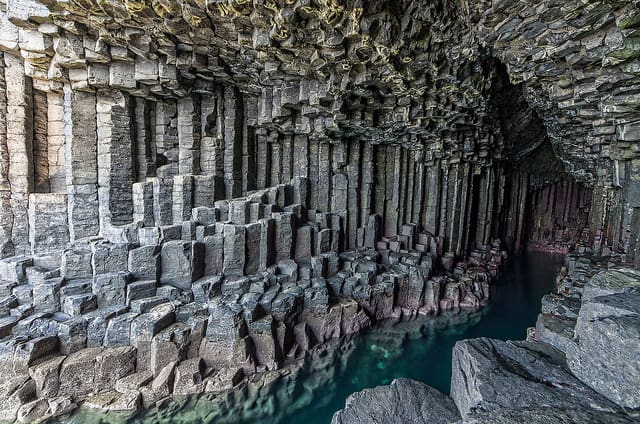 7. Fingal's Cave (Scotland)
At 72 feet tall and 277 feet deep, Fingal's Cave is a sea cave constructed completely of hexagonal basalt columns and pillars (much like the Giant's Causeway in Ireland). Located on Staffa, an uninhabited island in Scotland's Inner Hebrides, the cave is part of a National Nature Reserve.
Named after the hero of an epic Scottish poem by James Macpherson, the cave resembles a cathedral with its naturally arching ceiling. The cave has inspired Celtic legends, and is known as "the Cave of Melody" for the eerie sounds that emanate from within.
We had an opportunity to visit Fingal's Cave on our 5-Day Highlands Tour from Edinburgh, which we highly recommend. Unfortunately, it was high tide and the sea was too rough to get close to the cave. To find out about a Fingal's Cave Tour, check out Get Your Guide.
READ MORE: Top 10 Things To Do on the Isle of Skye (& How To Avoid Crowds)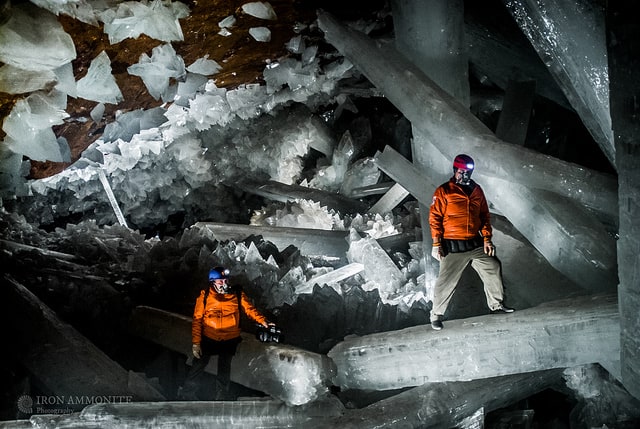 8. Naica Mine or Cave of Crystals (Mexico)
Naica Mine is known as the Cave of Crystals because the main chamber is home to the world's largest crystals on earth. The big crystal measures 39 feet (12m) in length, 13 feet (4m) in diameter and weighs about 55 tons.
The Mexican cave is one of the most beautiful and unique in the world, though it remains relatively unexplored due to its incredibly hot temperatures of up to 136 degrees Fahrenheit (58 degrees Celsius).
Travelers without protection can only withstand 10 minutes in the cave at a time.
READ MORE: Top 20 Things to Do in Cancun (for Nature & History Lovers)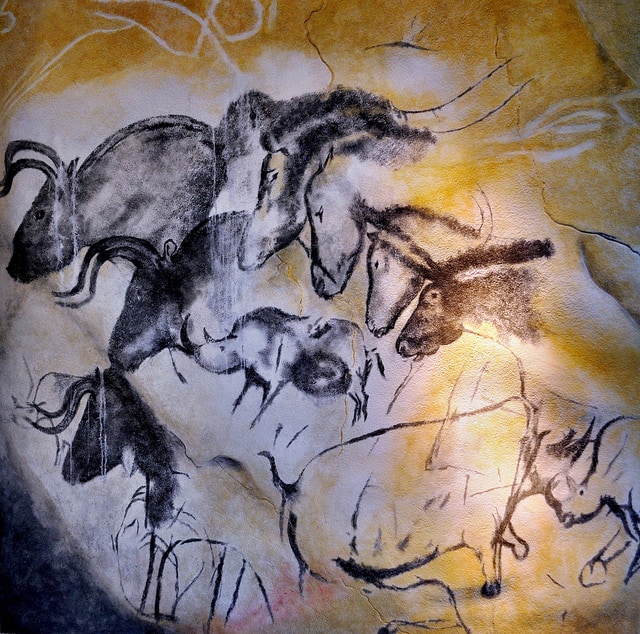 9. Chauvet Cave (France)
Located near the commune of Vallon-Pont-d'Arc on a limestone cliff above the former bed of the Ardèche River in Southern France, the Chauvet Cave is considered one of the world's most significant sites of prehistoric art.
The chauvet cave paintings are of animals– including horses, ibex, mammoth, giant stags, lions, bears and rhinos– which were once native to the region, many of which have never been found in other rock art and most of which are now extinct.
Holding the earliest (over 20,000 years old) and best preserved cave paintings known to man, the cave gained UNESCO World Heritage status in 2014.
READ MORE: 5 Weird Foods the French Consider Delicacies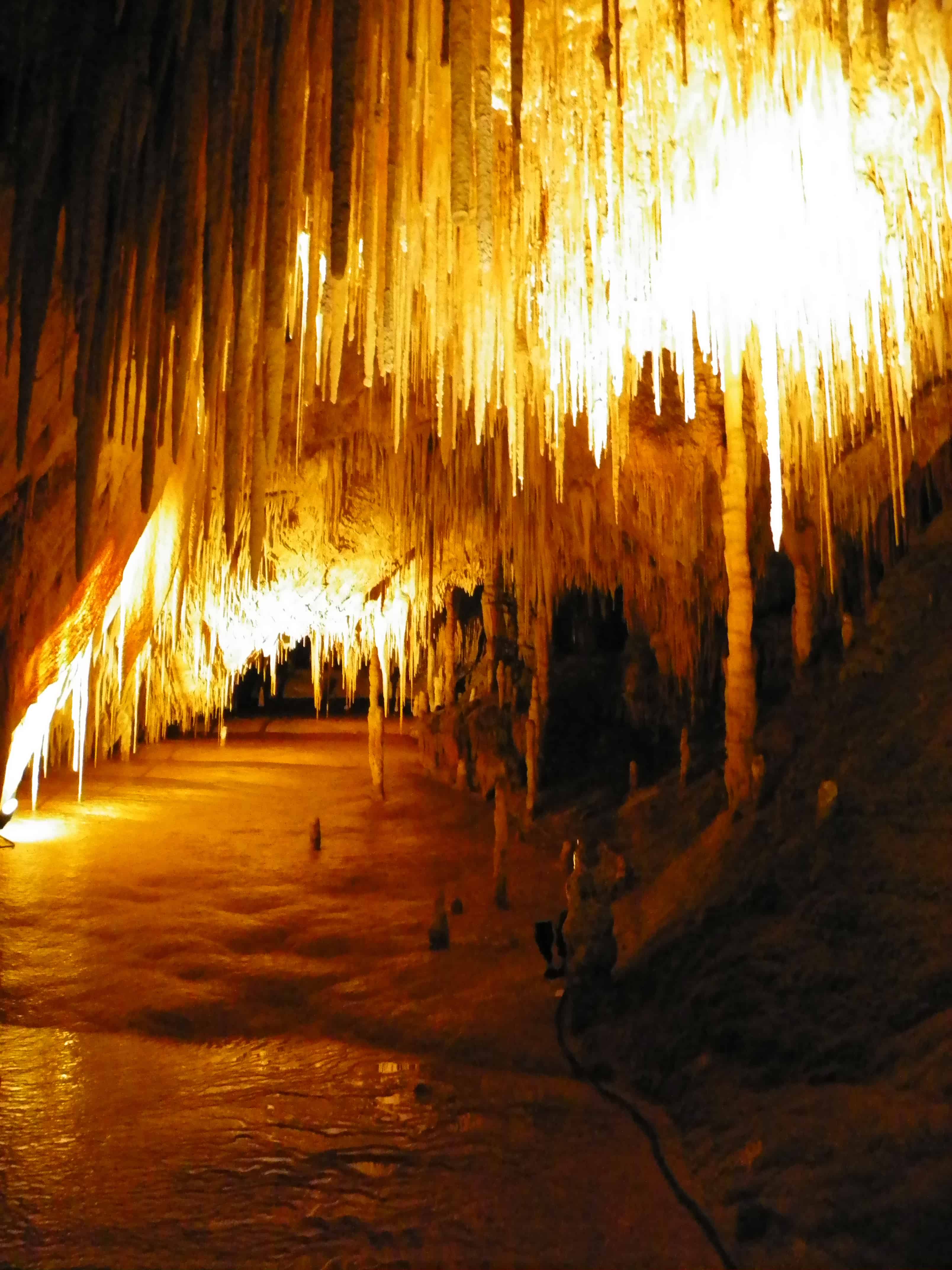 10. Hastings Caves (Australia)
Tasmania's Hastings Caves are home to the largest dolomite cave in Australia open to tourists, with chambers which started forming tens of millions of years ago.
One of the few caves in Australia formed from dolomite rather than limestone, the underground caves are beautifully illuminated throughout, and also home to a number of strange and fascinating animals.
Over 40 species have been discovered within the caves, many of which remain undescribed and are so used to living underground that they are unable to survive on the surface. To read more about Hasting Caves Tours, check out Get Your Guide. –Meg Jerrard
READ MORE: 10 Awesome Australian Road Trips (for Your World Travel Bucket List)
Megan Jerrard is an Australian journalist, and the founder and Senior Editor of Mapping Megan, an award-winning blog bringing you the latest in adventure travel from all over the globe. With the main aim of inspiring others to embark on their own worldwide adventure, Megan and her photographer husband Mike believe travel has the potential to inspire change in people, and in turn inspire change in the world. They embraced travel as a lifestyle in 2007, and are dedicated to documenting their journey through entertaining, candid articles and brilliant photography. Follow their journey on Facebook, Twitter, Google+, YouTube, Pinterest and Instagram.
If you enjoyed our Amazing Caves for Your World Travel Bucket List, you might also like:
10 Ancient Archaeological Sites For Your World Travel Bucket List
10 Great Lakes For Your World Travel Bucket List
10 Wonderful Waterfalls For Your World Travel Bucket List
10 Exotic Islands For Your World Travel Bucket List
20 Best Mountains For Your World Travel Bucket List