With approximately 3.3 million annual visitors, Cancun, Mexico ranks among the most popular travel destinations in North America.
Unfortunately, Cancun's accessible, affordable appeal as a sun/sand/surf travel hotspot has led to a rep as a destination overwhelmed by mass tourism.
But savvy adventurers know that Mexico's Yucatán Peninsula also offers more than its fair share of amazing outdoor attractions that aren't completely overrun by gringos. And most of these gems are located within a 2-hour drive of Cancun's bustling Hotel Zone.
So here's our guide to 20 awesome things to do in Cancun and the Yucatán Peninsula, with a focus activities and attractions that will appeal to nature and history lovers.
CANCUN MUSEUMS
Scuba Dive the Cancun Underwater Museum
Part art exhibit, part marine conservation initiative, the Cancun Underwater Museum was conceived by artist Jason deCaires Taylor as way to combine art and environmental science.
He was hired by the local government, which was looking for a way to allay damage caused by the 150,000 people who swim Mexico's Mesoamerican Reef (the second-largest reef system in the world, after the Great Barrier) every year.
Taylor makes lifelike statues of local people from marine-grade materials, sinks them at depths of 15 to 30 feet, and then grafts coral nubbins on them to create gorgeous artificial reef art.
There are nearly 500 statues in two sections, Salon Manchones and Salon Nizuc, in an area of over 420 sq meters. There are also tentative plans to install several thousand more statues in the years to come.
Salon Nizuc is four meters deep, which is perfect for snorkeling or taking a glass bottom boat tour. If you're certified for Scuba diving, the Salon Manchone (Isla Mujéres) section is more remote and expensive, but ranks among the best dive sites we've ever visited.
READ MORE: Jason deCaires Taylor's Cancun Underwater Museum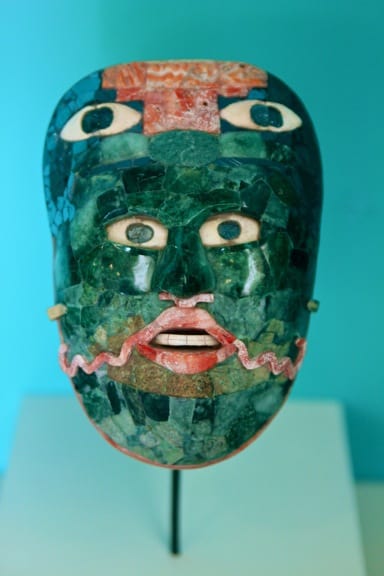 Learn About the History of the Maya People
The Museo Maya de Cancun (a.k.a. Cancun Mayan Museum) opened in 2012 in Cancun's busy Hotel zone, right next to the Omni Hotel. It's a must-see for anyone interested in Mayan history, art, and archaeology.
Spending a couple of hours exploring the museum is a great way to avoid the midday sun and heat. The museum's 55,000-square-foot property includes the well-shaded San Miguelito archaeological site, which is home to 40 ancient Maya structures (including a 26-foot-tall pyramid). We saw numerous iguanas among the ruins during our visit.
Inside the museum you'll find two permanent exhibition halls– one on the archaeology of Cancun and the Yucatán Peninsula (the state of Quintana Roo), and one on Mayan culture. The third hall houses temporary exhibits.
Most of the descriptions are in Spanish, but there are also some in English. There are also two video presentations in Spanish with English subtitles.
Keep in mind that the museum only takes pesos (70 pesos at the entrance), no camera flash is allowed, and backpacks are required to be stored in a locker.
READ MORE: Museo Maya de Cancun (The Mayan Museum of Archaeology)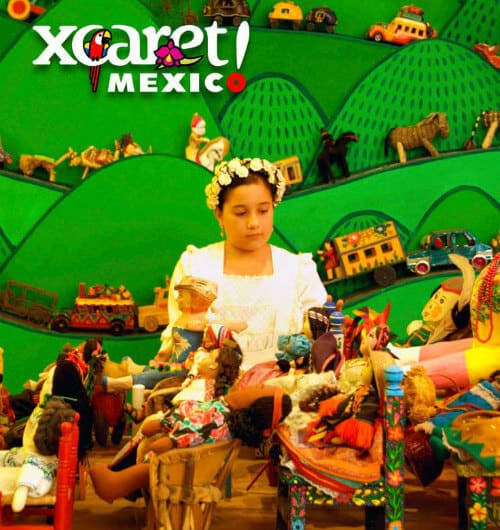 Marvel at the Mexican Folk Art Museum
The Museo de Arte Popular Mexicano (a.k.a. Mexican Folk Art Museum) is another great museum, featuring colorful artwork from numerous different regions of Mexico. You'll find nativity scenes from Oaxaca, intricate arbol de la vida (tree of life) clay sculptures made in Metepec, and much more.
Originally used as a Biblical teaching tool for natives during Mexico's early colonial period, modern-day Tree of Life clay sculptures may include mermaids, Pegasus, roosters, lions, flowers, etc. The intricate craftsmanship you'll find in these imaginative creations has often been passed down in families through several generations.
The museum's Toy Room is always a favorite with children. It includes an impressive display of alebrijes (fantastical wood carvings) that represent mythical animal combinations.
Fans of Disney's movie, Coco, will be familiar with the alebrije known as Pepita– an animal that has the body of a jaguar, eagle's wings and talons, a ram's horns, and an iguana-like tail.
Since this museum is located inside the Xcaret resort/theme park, the only way to visit is by purchasing a day-pass. But if you love Latin American art, it's a must-see!
READ MORE: Cinco De Mayo History: 5 Fascinating Facts
CANCUN ECOTOURISM ATTRACTIONS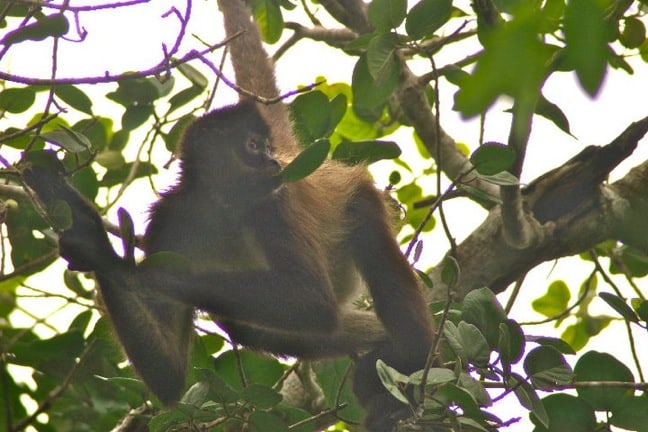 Monkey Around at Punta Laguna Nature Reserve
Founded by Mayan brothers Domingo, Ignacio, and Marco Canul back in the 1950s, this community-run ecotourism attraction located 13 miles northeast of Coba was declared a National Protected Area in 2002.
Its official Mayan name, Otoch Ma'ax Yetel Kooh (the home of the spider monkey and the puma), offers a taste of the wildlife that can be found on its 5367 hectares. You may also see howler monkeys, white tailed deer, the raccoon-like coatis, and numerous tropical bird species during your visit.
The reserve also features several hiking trails, ziplines, rappelling, canoeing, and a small archaeological site whose ruins date back to the Late Preclassic era (300 BC-250 AD).
To access the trails, there is an entry fee of 30 pesos per person. You must be accompanied by a knowledgeable local guide (150 pesos for a group of up to 10 people). Small groups are encouraged so the animals don't get frightened and to minimize the environmental impact.
Close to the entrance is a small Mayan village that allows travelers a peek into indigenous Mexican culture. Be sure to look for the palapa where local women proudly display the beautiful traditional embroidered blouses, bags, handkerchiefs, and bracelets they've made.
READ MORE: Monkeys, Pyramids & Pottery In Mexico's Riviera Maya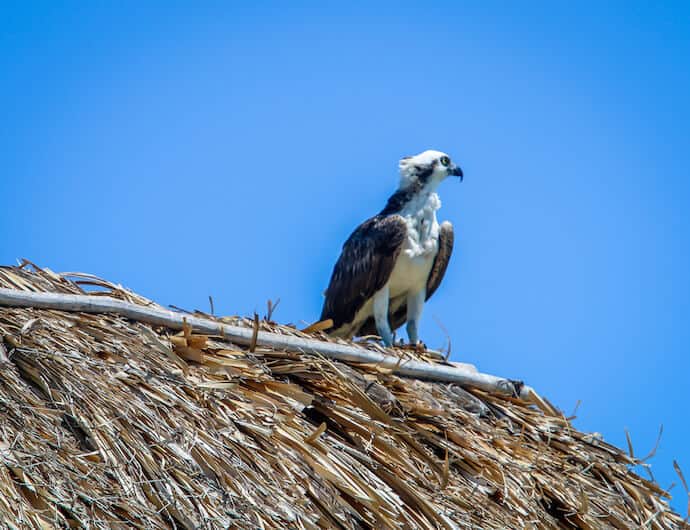 Go Birdwatching on Isla Pájaros (Bird Island)
It takes a two-hour drive and a 20-minute ferry ride to get to Isla Holbox from Cancun. But more and more nature-lovers are being drawn to this sleepy, remote fishing village, and "Bird Island" is one of its main attractions.
Located on the picturesque Yalahau lagoon, the 200-foot-wide island is protected by mangrove swamps, brush and cactus, with just two observation points and walkways. No humans are allowed to walk on the island.
As a result, it's a bird-watcher's paradise that's home to over 150 different species of birds crowding the island's trees and shoreline. The ones we saw during our two visits included double crested cormorants, ducks, reddish and snowy egrets, frigate birds, herons, roseate spoonbills, and rare white pelicans.
All year round you can see mother birds feeding their young in this protected sanctuary. Visit from April to October if you want to see spectacular flamingo sightings near the shore.
If possible, try to plan your visit around sunset, when all of the species fly back to the island to roost for the night.
READ MORE: 20 Best Caribbean Islands to Visit (If You Love Nature/Hate Crowds)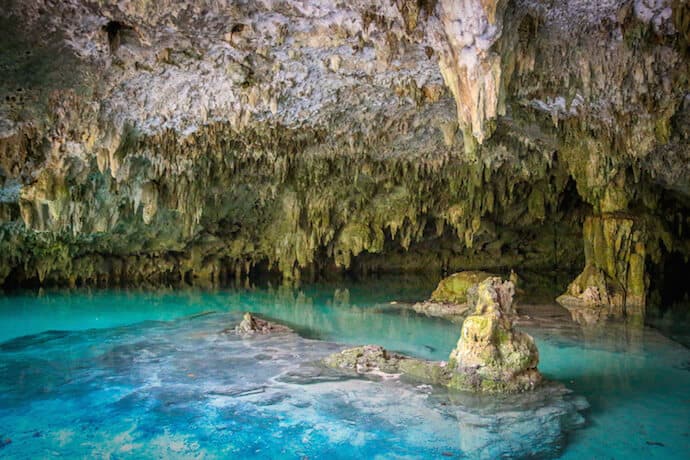 Snorkel Sac Actun, the World's Longest Underwater Cave
In 2018, Sac Actun became the world's largest underwater cave system. The Sac Actun river system, which we first visited in 2010, stretches more than 163 miles. The recent discovery of a link between it and the Dos Ojos system (which is around 52 miles) earned the cave system its new claim to fame.
You might be familiar with the caves, as they've been featured in National Geographic documentaries and the BBC's Planet Earth. And it's easy to see why: The brilliant blue waters and spectacular stalactites and stalagmites are positively otherworldly.
In 2008, divers exploring the Sac Actun system discovered the remains of a mastodon there. They also found a skull belonging to a teenage girl, which could be the oldest evidence of humans living in the Yucatán Peninsula.
The Sac Actun snorkeling tour is refreshingly cool and dark. Wetsuits and a flashlights are available to guests for an extra fee, but not absolutely necessary.
If you want to take videos with an underwater camera, then definitely spend the money to rent your own flashlight. Guides will use their flashlight to point out unique rock formations, tiny fish below, and bat colonies above.
Snorkeling gear is included in the price of admission ($35/pp). While the fee is a little pricer than other cenotes, you won't be disappointed. Sac Actun is a magical place full of enormous caverns. We've never been any other place like it, and if you get there right when they open you might even have the whole place to yourself!
READ MORE: 10 Amazing Caves For Your World Travel Bucket List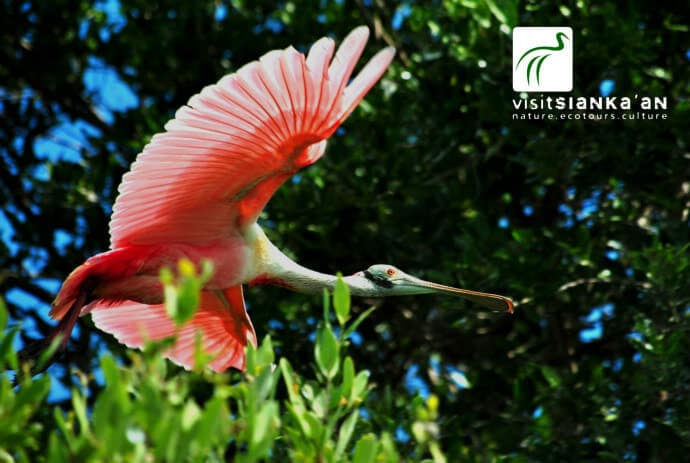 Visit the Sian Ka'an Biosphere
Located about two hours south of Cancun, near the town of Tulum, 780,000-acre Sian Ka'an is the largest protected area in the Yucatán Peninsula.
Sian Ka'an was designated as a Biosphere Reserve in 1986, then became a UNESCO World Heritage Site a year later. With a Mayan name that translates to "origin of the sky," the reserve encompasses land, wetlands, and a portion of the massive Mesoamerican Reef (the world's second largest reef system).
It's one of the most biodiverse regions in Mexico, with 379 species of birds, 328 species of butterflies, and 115 mammal species. These include two species of monkey, two species of crocodile, agouti, white-nosed coati, Baird's tapir, ocelot, puma, and the elusive jaguar.
In the water you'll find around 85 species of coral, four species of sea turtle, manatees, sharks, dolphins, and hundreds of species of fish. The reserve also includes 23 ancient Mayan archaeological sites, including Muyil.
The reserve offer numerous different eco-tours, including Birdwatching at Sunset, Fly-Fishing, the Sian Ka'an Nature Encounter, and a Reef Snorkel & Mayan Canal tour.
Each excursion is limited to no more than six people in order to minimize impact, and they plant trees (in their 150,000 acres of forest) to offset their carbon footprint.
READ MORE: 20 Biggest Forests in the World (For Your World Travel Bucket List)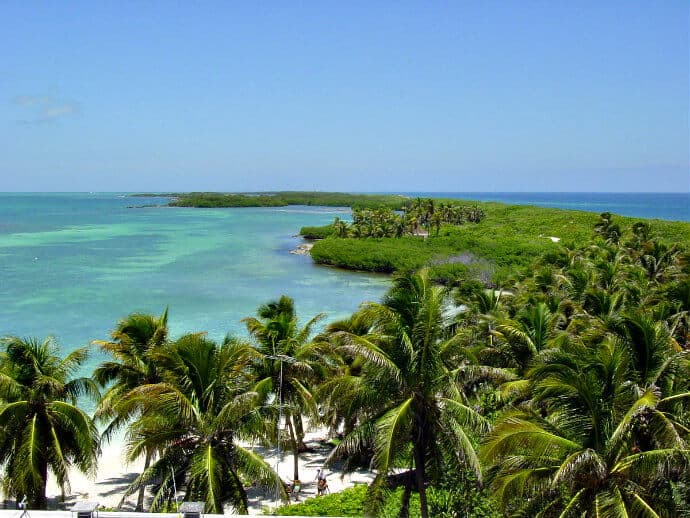 Explore Unspoiled Isla Contoy
Located just over 12 miles east of Cancun, Isla Mujeres ("Isle of Women") has a much slower, island-style pace. The 783-acre Isla Contoy, which is located 18 miles north of that, feels even more remote and unspoiled.
There are a few reasons for the latter characteristic: The island has been protected since 1961, and was declared a national park in 1998. More importantly, there's very little development on Isla Contoy (other than a visitor center and museum), and visitors are limited to just 200 per day.
Approximately 70% of the island is covered by mangroves, which provide protected breeding grounds for over 170 different species of birds. Visit during the winter season and you may see up to 10,000 birds on the island, which is also an important summer nesting site for several species of sea turtles.
There's a 65-foot tall watchtower and two walking paths to explore. But the best way to explore Isla Contoy is a guided walking tour led by one of the resident biologists and/or a boat tour to the prime bird-watching site of the Puerto Viejo lagoon. A significant portion of the proceeds from these tours (and the souvenir shop) support the island's conservation initiatives.
The island also boasts a beautiful beach, palapas for relaxing, and a BBQ grill for your picnicking pleasure. If you get a chance, make your way to the southern side of Isla Contoy to snorkel Ixlache Reef, which marks the beginning of the Mesoamerican Reef system.
READ MORE: The Ultimate Beach Vacation Packing List

Savor Sunset at Hotel Las Nubes (Isla Holbox)
As much as we enjoyed the Cancun attractions featured on this list, one of our favorite activities during our time exploring the Yucatan Peninsula was sitting on the beach of Isla Holbox, doing nothing at all.
Hotel Las Nubes– literally the last resort on the island before you reach its protected Yum Balam Nature Reserve– offers activities ranging from kayaking and kitesurfing to fishing and standup paddleboarding. But it's the perfect place for doing nothing, if R&R is more your thing.
Its beautiful beach boasts more gauze-covered canopy beds than people, with table service from the bar/restaurant. There's also an infinity pool overlooking the water, which seemed to change its brilliant blue-green shades with the time and tides.
A laid-back island paradise during the day, the beach reached maximum wow as the sun began to set. Mellow reggae and other downtempo music forms set the mood as the lights began to change, with the gentle lapping waves matching the beat.
The hotel's resident iguanas rested on rocks, while raccoons, coatis, and egrets came out to feed. Potent Tamarind margaritas whet our own appetites as loving couples strolled hand-in-hand, silhouetted against the sunset. I can't imagine a warmer, richer way to wind down a perfect tropical day.
FAMILY ADVENTURES IN THE YUCATAN PENINSULA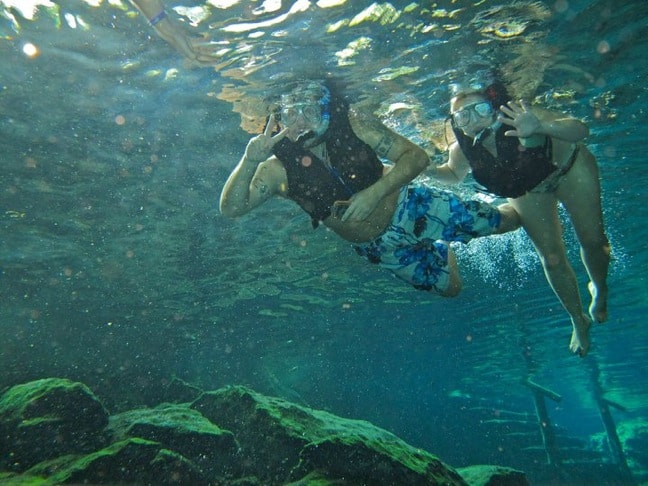 Swim In Cenotes
Cenotes are subterranean sinkholes that were considered sacred by the Mayan people, who used them for sacrificial offerings and believed them to be passageways to the afterlife.
The water of cenotes is generally crystal clear, as it comes from rain water filtered through the ground.Many of the Yucatan Peninsula's ancient civilizations were built around these natural freshwater pools, which continue to be the region's primary source for drinking water.
There are estimated to be around 6,000 different cenotes in the Yucatán Pensinula alone, but not all of them are visible at groun d level. In cases where you can see them, it's often because section of an underground cave's roof have collapsed.
Cenotes such as Dos Ojos (in Tulum), Ik Kil (near Pisté), and the Sacred Cenote of Chichen Itza are also popular swimming spots. Cave divers are attracted to the Sac Actun river system, which stretches well over a hundred miles underground.
READ MORE: Top 10 Ecotourism Adventures in Latin America

Float Down the Rio Selva in Tres Rios Nature Park
You'll find some of the coolest things to do in Cancun in the most unlikely places. Take the Rio Selva, for instance. This natural lazy river is part of the 326-acre Tres Ríos Nature Park at Hacienda Tres Ríos, a surprisingly sustainable all-inclusive resort in Playa del Carmen.
Truth be told, "sustainable all-inclusive" is three words I NEVER thought I'd string together. But Hacienda Tres Ríos ("House of Three Rivers") walks the walk with initiatives that include 504 Solar panels, a massive organic farm, solar-powered heat for water, environmental education programs, and much more.
The Rio Selva was arguably our favorite part of the property. You start by jumping and swimming in the brilliant blue waters of Cenote Aguila (one of 10 cenotes on the property). You can choose to either float or kayak down the slow-moving river, but I heartily recommend the latter.
The narrow river's cool, crystal-clear waters take you through a lush mangrove forest, with schools of fish swimming below you and birds in the trees around you. Rays of sunshine filtered through the canopy create dazzling underwater light displays, so wearing a mask and snorkel for the float are highly recommended.
The 45 minutes it took us to float down the Rio Selva to reach the Caribbean Sea were gorgeous and blissfully tranquil, without a single soul in sight once we left the cenote. It's a great way to spend a few hours that feel a world away from Cancun's hustle and bustle.
READ MORE: What Is Ecotourism? (History & Principles of Responsible Travel)
Go Swimming With Whale Sharks
The waters off the Yucatán Peninsula were the site of the largest gathering of whale sharks ever recorded. More than 400 of them were spotted feeding on spawn from the little tunny (a type of tuna) off the coast of Isla Mujeres in 2011.
There are now around 200 boats in the Cancun area licensed to lead whale shark tours. With each boat carrying two to 10 passengers at a time, that means hundreds of tourists descending on the afuera daily during peak months, which are from June through September.
It takes about two hours by boat to reach the feeding grounds from Isla Holbox. Along the way we saw frolicking dolphins, huge manta rays, and sea turtles swimming along the water's surface. But once you arrive at the afuera, time starts to fly.
After putting on your fins, mask, snorkel, and life vest, you get three chances to swim with the whale sharks. These gentle giants (which can grow up to 35 feet long and weigh 20,000+ pounds) are surprisingly fast, so keeping up with them can prove a bit difficult.
But on my third attempt the whale shark was feeding in a slow, lazy circle. So I got to spend five minutes swimming right alongside him, with my heart pumping wildly in my chest the entire time. It's one of only two moments in my life where an animal encounter made me (a burly 6'3″, 250-pound man) feel small.
Swimming with these massive mammoths is a humbling experience that ultimately provides perspective on the fragile balance between humanity and nature. It's a once-in-a-lifetime experience, and ensures that you'll become passionate about preserving these majestic creatures for the generations of travelers to come.
READ MORE: Swimming with Whale Sharks in Cancun
Swim With Sea Turtles at Akumal Beach
Located approximately 60 miles south of Cancun between Playa del Carmen and Tulum, this tiny resort community's name means "place of the turtles" in the Mayan language.
To understand how Akumal earned its moniker, just hit the relatively secluded white-sand beach at Half Moon Bay. There you'll find exceptional opportunities for swimming with Sea Turtles, small Rays, and a variety of other marine life in the crystal-clear waters right offshore.
You can pay for a guided snorkeling tour, which runs $20-$40 a person. But it's really easy to swim out to the reef and see the turtles from the beach. We brought our own masks and snorkels, but they (and life preservers) can also be rented on the beach.
For a nominal fee, you can also visit the nearby, privately owned Yal-ku Lagoon. There, fresh water and salt water combine to create a nutrient-rich habitat for a colorful array of marine life. Protected from the ocean by limestone rocks, it's a tranquil paradise for snorkelers.
READ MORE: Sea Turtle Conservation in Dominica
MAYAN CULTURE ATTRACTIONS
Take the Coba Mayan Experience Tour
The Coba Mayan Experience was one of our favorite tours we took during our four visits to the Yucatán Peninsula. It offers an excellent opportunity to immerse yourself in the history and culture of the Maya, while at the same time providing economic benefits to the local indigenous community.
The tour starts with a hotel pickup in Cancun (or the surrounding areas) between 12:30 and 2:00PM. Then there's an hour-long drive to reach Coba, with a guided tour of the ancient city. This is one of the largest pre-Hispanic sites in all of Mesoamerica, including an opportunity to climb the region's tallest pyramid.
But that's just the beginning: The tour then heads to a workshop on Mayan pottery, where local children teach you this ancient cultural tradition. You get to keep the pottery you make, and you can purchase beautiful pieces whose proceeds are distributed amongst the local Mayan families.
After that, there's a buffet-style dinner of typical Mayan food (chicken, rice, beans, tortillas, fruit, salad, etc.) in a tower with stunning views of the sunset reflected on a lagoon.
The grand finale takes you into a dry cenote for a theatrical performance like you've never seen. Local Mayan performers act out passages from the most sacred of Mayan books, the Popul Vuh and Chilam Balam. There's live music, traditional costumes, and a thrilling reenactment of a pok ta pok ball game in which mythical twins defeat the lord of the underworld.
It's a memorable way to end an exceptional day exploring the history of the Mayan culture.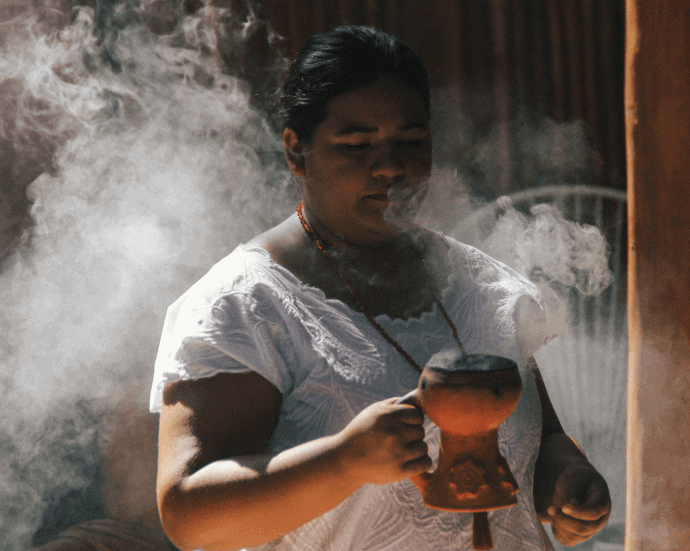 Get a Mayan Massage at Aqua Spa
Ixmol is the Mayan word for medicine woman. Aida Maria Argaez Gasca and her nieces, Tania Esther Argaez Uribe and Karla Ines Argaez Uribe, are all trained in the ancient Ixmol traditions of their ancestors. And that is precisely what makes their holistic spa treatments so unique.
Aqua Spa is located in Casa Las Tortugas, a lovely little boutique hotel on Isla Holbox. The spa feels different from the moment you take off your shoes and step inside. The open space is teeming with good energy, with the fragrant scent of copal (an aromatic tree resin) mixing with that of locally-sourced organic products made with orange, papaya, and honey.
Their "Mayan Ritual" massage was somehow both relaxing and invigorating at the same time. Designed to stimulate the flow of energy throughout your body, it involved a mixture of stress-point pressure and gentle stretching.
As the mesmerizing sounds of traditional pre-Hispanic music took us to la la land, the magical hands of the Uribe sisters kneaded away every single sentient thought in our heads.
The spa offers a traditional healing Cacao Ceremony on the beach once a month (during the New Moon), as well as other seasonal ceremonies (such as seed blessings in Spring). Casa Las Tortugas also occasionally hosts retreats featuring medicine women, shamans, and spiritual guides from around the world.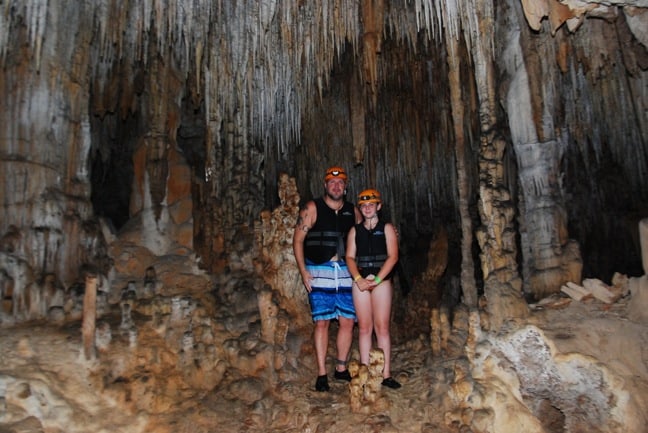 Explore the Underground River of Rio Secreto
This nature reserve, located just 3 miles from the bustling tourist hotspot of Playa del Carmen, is a incredible system of caves carved out over the course 2.5 million years by an underground river.
This remarkable ecotourism attraction remained undiscovered until 2004, when local land owner Don Cleofás Pool stumbled upon it while chasing an iguana he was hunting into a hole in the ground.
During his descent, he discovered a vessel tucked inside the entrance column that has been dated back to the post-Classic period of Mayan history (1000-1697 AD). It is said to be the best-preserved relic from that era ever discovered.
Stretching around eight miles, with 15 natural outlets, Rio Secreto is the longest partially flooded cave on the Yucatán Peninsula. But what makes this place special is the fact that it's semi-sunken, which means that you can hike or float through most of it.
The guided eco-tours are kept small, with different tours going to different sections of the caves to lessen the overall environmental impact. But if you're afraid of the dark, beware: A highlight includes floating in a pitch-black cave, savoring the sounds of the underground.
READ MORE: Exploring Rio Secreto
YUCATAN MAYAN RUINS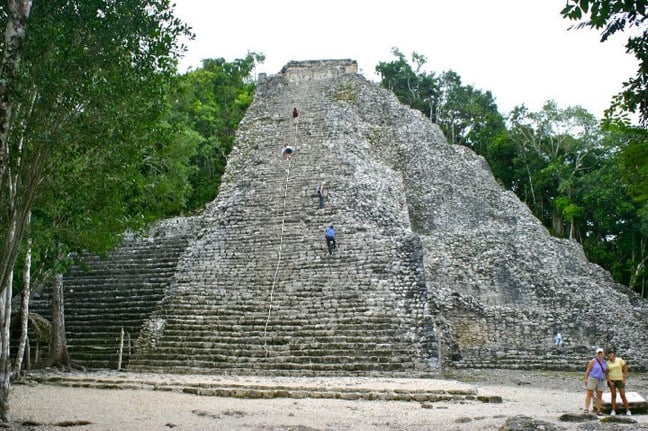 Climb the Nohoch Mul Pyramid at Cobá
Want to immerse yourself in Mayan history, but avoid the big crowds you'll find at Tulum and Chichen Itza? Head to this lesser-known Pre-Columbian site located around two hours southwest of Cancun, which is estimated to have been home to at least 50,000 people by the 7th Century.
The ancient city is expansive enough to make renting bikes a good idea, and archaeologists estimate that approximately 80% of its wonders have still yet to be excavated.
Highlights include two pok ta pok ball courts, countless stelae (sculpted stone monuments) and altars, and ancient roads (known as sacbe) measuring 10 top 30 feet wide. There are also several pyramids, the most impressive of which– Nohoch Mul– is the tallest in the Yucatán Peninsula at 138 feet.
Unlike at Chichen Itza, for stunning views you can still climb the 130 pulse-pounding steps of the pyramid at Cobá. But rumor has it that this won't be the case for much longer due to concerns for preservation and guest safety.
If you do climb it, be aware that the steps are steep, slick, tapered at the edges, and have no guard rails. So take your time, hold onto the sturdy rope at the center, and watch out for the people above you. Trust us, the panoramic view from the top is totally worth the breathless climb!
READ MORE: The 16 Best Mayan Ruins to Explore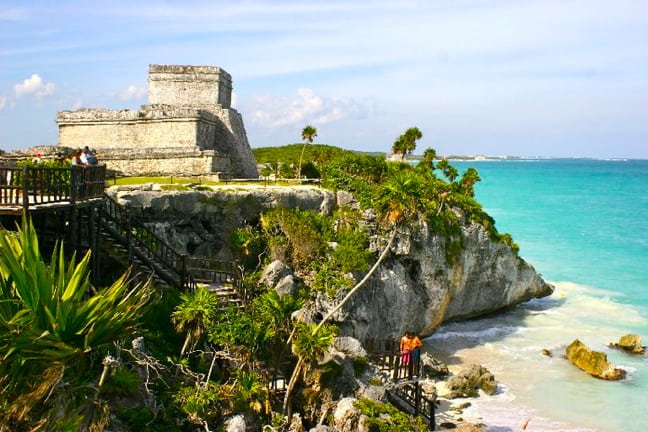 See the Stunning Views at Tulum
After touching down in Cancun during out first visit back in 2010, we made the 90-minute drive to have lunch in Tulum, a sleepy beachside community full of American ex-pats, then headed to the famous pre-Columbian ruins there.
Situated on steep cliffs along the east coast of the Yucatán Peninsula, Tulum is remarkably well-preserved. Scholars believe the site was once used for worship, with architecture resembling that of Chichen Itza, but on a much smaller scale.
The spectacular buildings at the site include the Temple of the Frescoes (which features niched figurines of the Mayan "diving god"), the Temple of the Diving God (which includes an impressive Mixteca-Puebla style mural) and El Castillo (which features a shrine that appears to have been used as a lighthouse-style beacon for incoming canoes).
Set against the rich aqua hues of the Caribbean, it was a stunning introduction to the Riviera Maya. It's less crowded than Chichen Itza, but more tourist-accessible than Cobá.
READ MORE: 10 Ancient Archaeological Sites (for your World Travel Bucket List)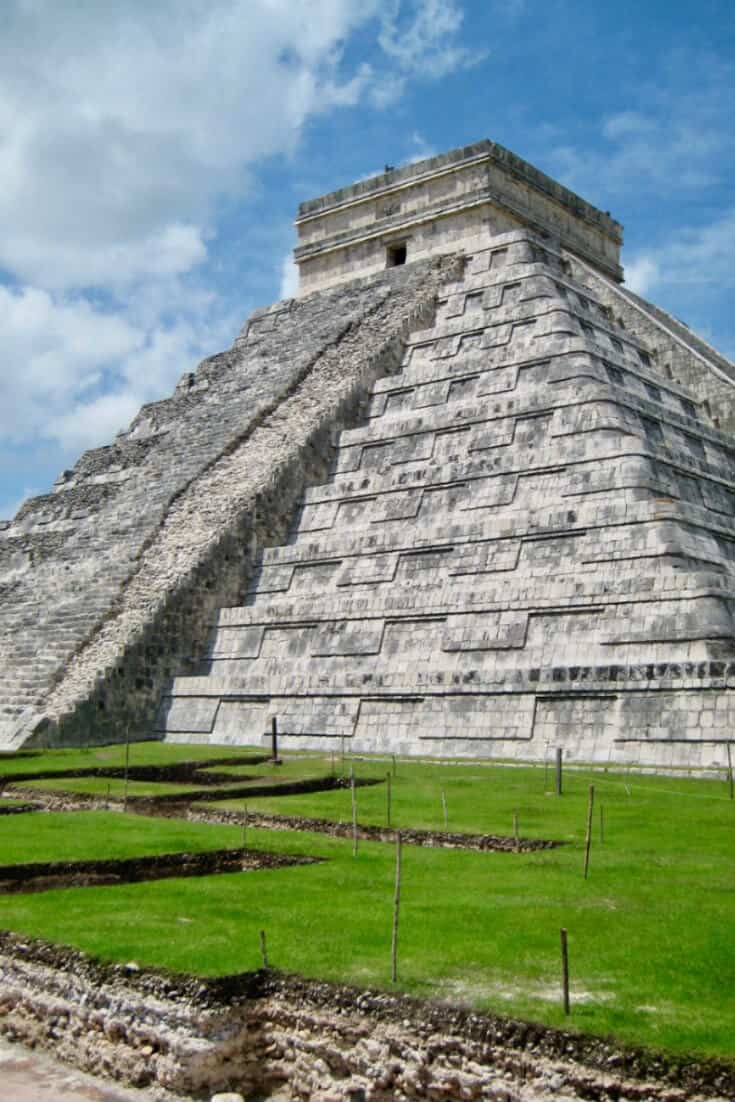 Brave the Crowds at Chichen Itza
Chichen Itza, one of the Yucatán Peninsula's greatest Mayan centers, is truly a marvel to behold. The ancient city, which thrived from around 600 to 1200 AD, was named one of the New 7 Wonders of the World by a popular vote in 2007.
Unfortunately this has led to tourist crowds that increasingly border on overwhelming, with around 8,000 visitors a day during the high season. There's also a gauntlet of touts hawking cheap souvenirs (many of which are made in China) that threaten to ruin the experience.
My advice? Get there early (preferably right when the attraction opens at 8AM) and avoid the touts in the shade near the the 78-foot tall Kukulkan Pyramid (a.k.a. El Castillo). If you must shop for souvenirs, buy ONLY handmade crafts and do it after you've toured the expansive complex.
Getting a tour guide is a good idea if you want to understand the importance of sites such as the Temple of the Warriors, the Wall of the Skulls, and the circular observatory known as El Caracol. And make sure you bring a hat, sunscreen, and plenty of water to protect yourself from the relentless heat.
READ MORE: How Mass Tourism Is Destroying 30+ Destinations Travelers Love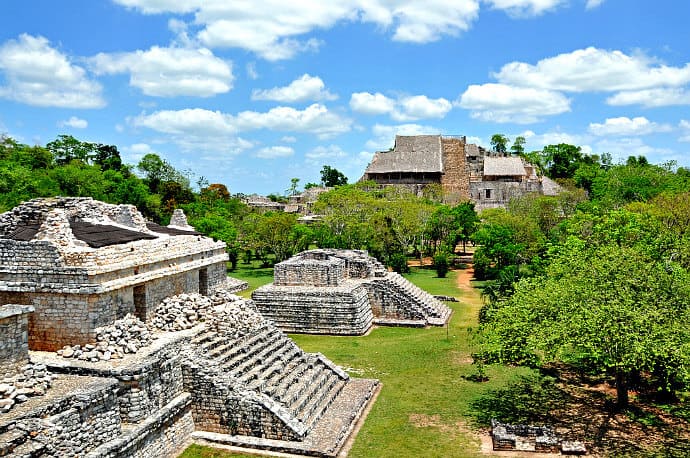 Ek' Balam
Located approximately two hours west of Cancun, 16 miles north of Valladolid, Ek' Balam is a well-preserved example of a northern Mayan city during the Classic period.
The 23.6-acre city (which had its heyday from 770 to 840 AD) is not nearly as expansive as Cobá, and attracts far fewer visitors than Chichen Itza. It's perhaps best known for the great condition of the plaster on the tomb of Ukit Kan Lek Tok', the Mayan king buried in the side of Ek' Balam's largest pyramid.
The ancient site is surrounded by two concentric defensive stone walls, which– at 6.6 feet tall and 9.8 feet wide– were the largest in the Yucatán during the Late Classic era. There are also smaller protective walls that wind their way through the city.
Only the center of Ek' Balam has been excavated thus far. It contains 45 structures, all of which are relatively close together. Highlights include the Oval Palace, mirroring temples known as The Twins, the El Trono temple (with a doorway shaped like a jaguar's mouth), a pok ta pok ball court, and carved stela.
The Acropolis is the largest structure in the city. It is said that, when the sky is completely clear, you can see the temples of Cobá and Chichen Itza in the distance from the top. –Bret Love; photos & videos by Bret Love & Mary Gabbett, unless otherwise noted
WHERE TO STAY IN CANCUN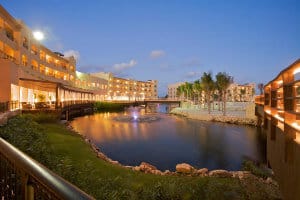 Hacienda Tres Ríos, is a surprisingly sustainable all-inclusive resort in Playa del Carmen, Mexico. The hotel has a genuine lazy river connecting the brilliant blue waters of Cenote Aguila to the Caribbean Sea. Imagine floating in cool, crystal clear waters through a lush mangrove forest, with schools of fish swimming below you and birds in the trees around you. It's a gorgeous, tranquil place, and during our float we didn't see a single other soul once we left the cenote. Bliss! Check Rates or Read Reviews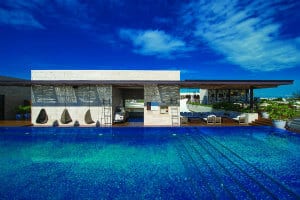 Live Aqua Beach Resort is an adults-only all-inclusive luxury hotel in the heart of Playa del Carmen. It features stunning views of the Caribbean Sea (the beach is just 1,500 feet away), with an outdoor pool and 4 restaurants. This hotel is rated a top value and has earned Cancun's Green Key status. Check Rates or Read Reviews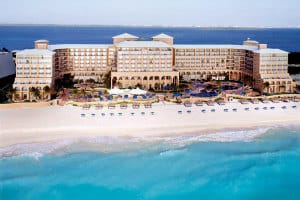 The Ritz-Carlton is a two-time winner of Cancun's Hydro Sustainable Hotel Award for water usage and conservation practices. It offers 5-star accommodation and views of the ocean with luxury amenities such as a private beach. Check Rates or Read Reviews
Compare Hotel Prices around Cancun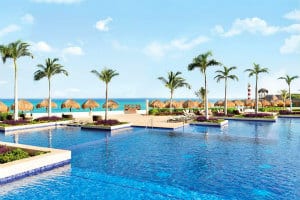 Hyatt Ziva Cancun is a beautiful beachfront all-inclusive, all-ages resort on the Mexico's Yucatan coast. The resort features beautiful suites, 3 infinity pools (including an adults-only pool for guests staying at the adults-only section), beachfront tower and two pristine white sand beaches. The hotel is highly rated and has received Green Globe certification for sustainable operations and management. Check Rates or Read Reviews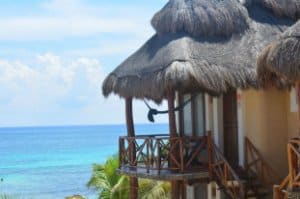 With only 9 rooms, no pool, and few of the other luxuries that lead many travelers to frequent all-inclusives, the Piedra Escondida Hotel may not be everyone's cup of tea. But with its thatched palapa roofs, soothing ocean breezes, stunning sunsets, and a fantastic restaurant serving up fresh local cuisine, for us it was the perfect place to unwind and relax. Check Rates or Read Reviews