We first became fans of environmentally-focused artist Jason deCaires Taylor back in 2013, when we explored his stunning Cancun Underwater Museum (a.k.a. Museo Subacuático de Arte).
As an art exhibit it was incredible, with around 500 statues cast from local residents. The lifelike statues were made from marine grade cement, sand, and micro-silica, and many had colorful coral attached. But it was equally impressive for its environmental impact, created to draw tourist traffic away from the overused MesoAmerican reef.
This week the British-born sculptor unveiled his latest marine conservation masterpiece, the Museo Atlántico, in Lanzarote. Located in Spain's Canary Islands, 78 miles off the coast of Morocco, the 26,909 square foot attraction is the first underwater art museum in Europe.
The permanent exhibition consists of over 300 works in 12 different themed installations, each of which touches on sociopolitical topics related to the exploitation of natural resources and the importance of conservation. Though the style is similar to his work in Mexico, this is the first time Taylor has installed large-scale architectural elements, including a 100-ton, 98-foot long wall.
About Artist Jason deCaires Taylor
While his art is aesthetically exceptional, the work of Jason deCaires Taylor also serves a more practical purpose. Over time, his lifelike sculptures evolve into artificial reefs, encouraging the growth of coral and attracting marine life.
Taylor, an avid Scuba diver who's passionate about preserving marine ecosystems, acknowledged in our 2013 interview that the evolutionary aspect of his art drives his creativity. "Everything on the planet is constantly changing," he said. "We're all subject to time. I like the fact that the works are never really finished. I put them in the ocean and then the collaboration with nature begins."
Once his sculptures are lowered into the sea at depths of 15-30 feet, Taylor grafts coral nubbins onto them. The mesmerizing contrast between organic and synthetic lifeforms reinforces the artist's central theme, illustrating that human interaction with nature can be sustainable and symbiotic.
"I've always been drawn to the sea," Taylor told me. "I've witnessed reefs deteriorating dramatically, and I want to do something about it. Reefs are at the forefront of climate change: They're one of the first ecosystems we could lose. It's a critical problem that needs to be addressed right now."
About Museo Atlántico
The final phase of his new Lanzarote project was officially inaugurated on January 10th with an unusual underwater ceremony. Jason deCaires Taylor and Pedro San Ginés, the president of the island, shared ribbon-cutting duties on the seabed of Las Coloradas bay.
The event began with a message of hope for the future of the planet's oceans: "I hope that the Museo Atlántico of Lanzarote represents an entry point to a different world and promotes a better understanding of our precious marine environment and of how much we depend on it."
The 2-year Museo Atlántico project has already shown benefits to the local marine ecosystem. The first portion, which was installed in February 2016, has already seen traffic from Angel Sharks, Barracuda, Sardines, Octopus, and Butterfly Stingrays in what was once a lifeless seabed.
Mariate Lorenzo, the Canary Islands minister for Tourism, Culture & Sports, seemed hopeful that the exhibit would become a popular ecotourism attraction thanks to its synergy of diverse interests: "Tourism, as it is an obvious attraction for visitors from all over the world; Culture, because the author is currently one of the most relevant figures in the field; and Sports, because it will promote diving, snorkeling, and sailing, all pillars of tourism on the islands beyond sun and beach holidays."
About the Installations at Museo Atlántico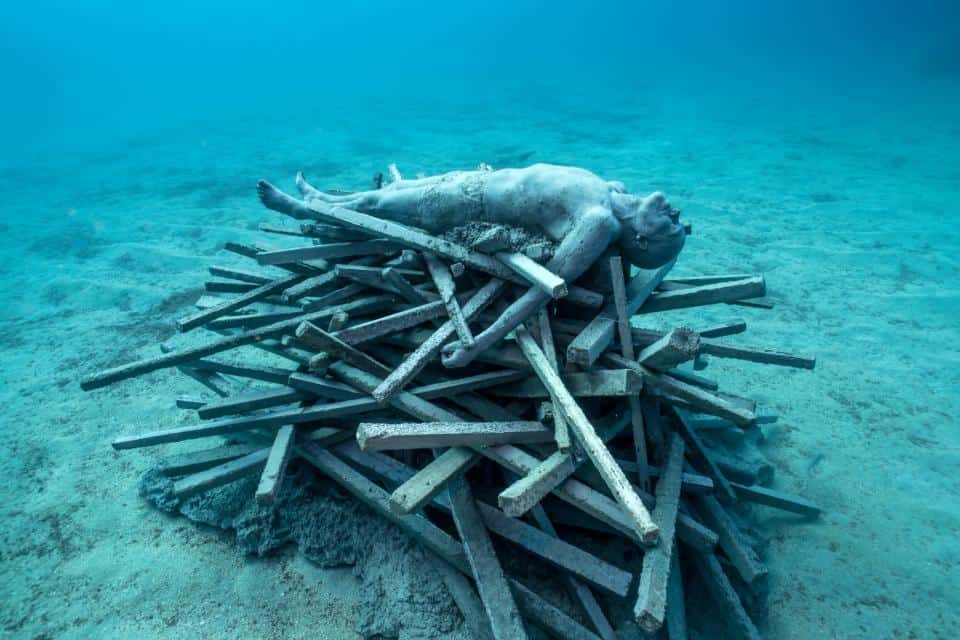 The Immortal
Made from a stack of concrete sticks built to look like a traditional funeral pyre, this sculpture was molded from a local fisherman from the northern Lanzarote island of La Graciosa.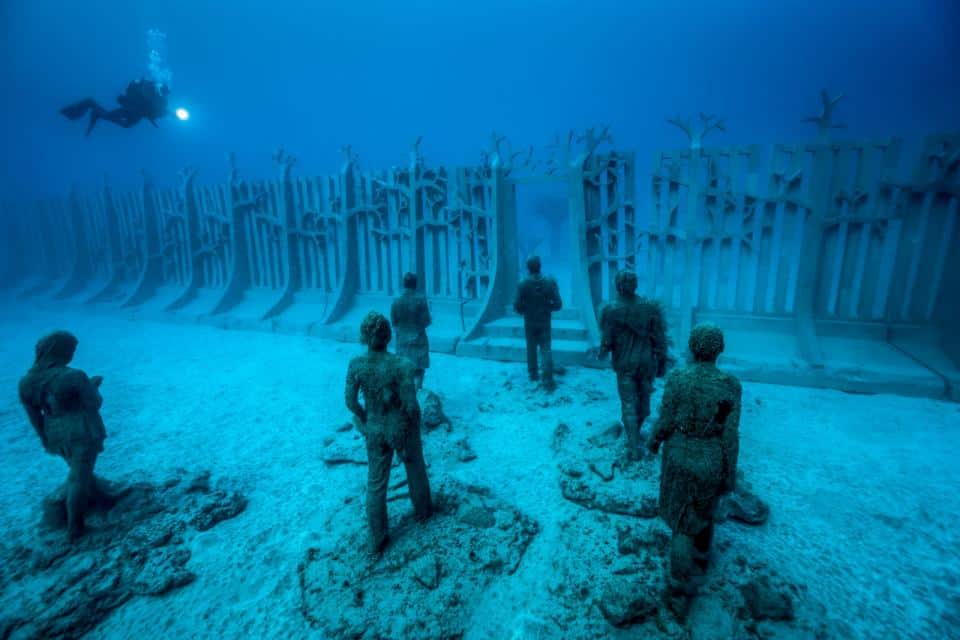 Crossing the Rubicon
A group of 35 figures walk towards a 98-foot long wall, whose single door offers a portal to the Atlantic Ocean. The piece is a monument to the rampant absurdity in the world today: There are myriad ways over and around the dysfunctional barrier.
"Crossing the Rubicon" emphasizes how mankind's notions of territorial boundaries are meaningless to the natural world. In a world gone mad with patriotism and protectionism, this piece reminds us that we are all an integral part of a living, breathing planet. Our oceans, our air, our climate are one, and we must work together to protect them.
According to Jason deCaires Taylor, this work marks 2017 as a pivotal moment. It's a line in the sand signifying that our climate is changing, and we need to take urgent action before it's too late.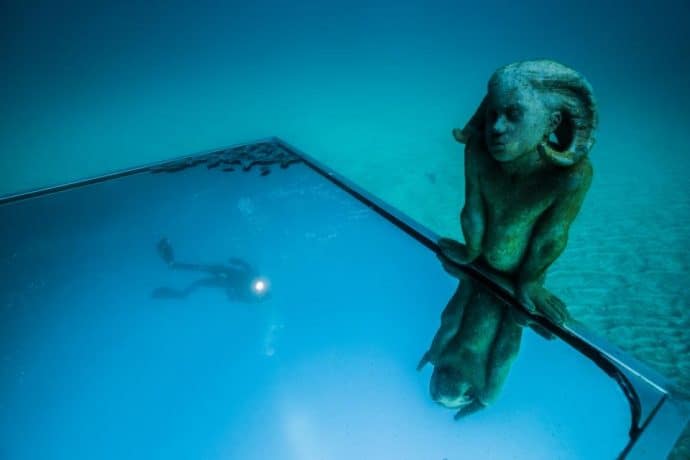 The Portal
This piece depicts a haunting human/animal hybrid gazing down into a large square mirror, which reflects the constantly moving surface of the ocean.
Forming part of an underwater botanical garden, the work is intended to portray water within water, providing a looking glass into another world– the blue world.
The mirror is elevated on a series of cactus forms, which contain small compartments and "living stations" designed to attract Octopus, Sea Urchins and juvenile fish.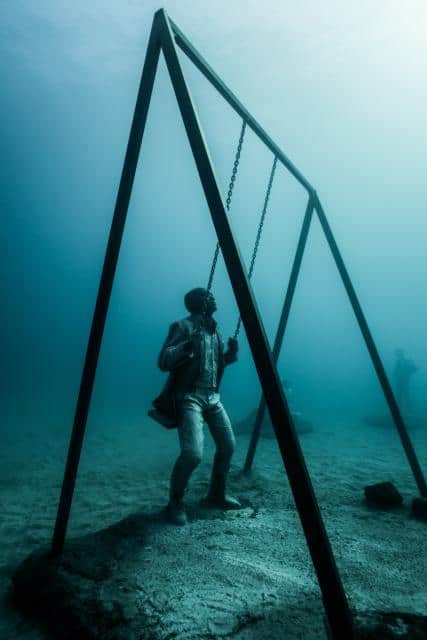 Deregulated
This piece consists of several businessmen in suits taking over a children's playground. Their attitudes as they swing, see-saw, and a ride a play dolphin showcase the arrogance the corporate world seems to have towards the natural world. Like a spoiled child with a disposable plaything.
The see-saw references a petroleum extraction pump, with Taylor making a comment on the control and unregulated use of fossil fuels. The dolphin ride is symbolic of the undue burden our consumption-based society is placing on marine life, and its ultimate collapse if left unchecked.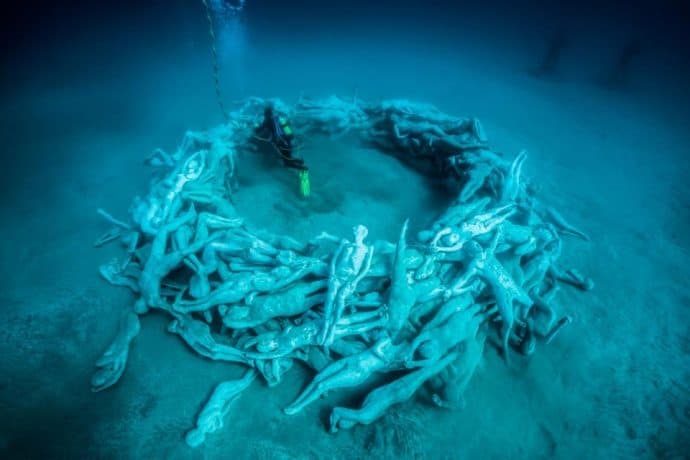 The Human Gyre
The final exhibit at the Museo Atlantico is comprised of over 200 life-size figures in a vast circular formation, or gyre.
Consisting of statues made from models of varying ages and all walks of life, the piece's positioning constructs a complex reef formation for marine species to inhabit. It's also a strikingly poignant image for visitors to reflect upon at the end of their tour.
According to Jason deCaires Taylor, the piece is designed to remind us that all of humanity originally evolved from marine life. And all of us depend on the ocean– for the oxygen we breathe, regulating our climate, and providing nutrition– for our survival as a species. The work symbolizes our naked vulnerability to the power of the ocean, and our fragility in the face of its immense force.
Though we've yet to visit Museo Atlantico, Taylor's stunning images and the ecological ethos behind his work has us eager to explore the Canary Islands for ourselves. We hope it will evolve into a major ecotourism attraction, reminding travelers about the importance of our marine environment and our collective responsibility to protect this fragile ecosystem. –Bret Love; all photos by Jason deCaires Taylor and CACT Lanzarote
If you like it, Pin it!
If you enjoyed our story on the latest exhibit from Jason deCaires Taylor, you might also like:
Jason deCaires Taylor's Stunning Cancun Underwater Museum
Scuba Diving the Belize Barrier Reef
Scuba Diving Caño Island, Costa Rica
10 Best Places to Scuba Dive for Your World Travel Bucket List
How to Choose a Responsible Scuba Diving Operator