Iceland takes your breath away. There's inspiring scenery, extraordinary landscapes and astounding natural wonders seemingly everywhere you look.
Majestic glaciers grind their way through cracked lava fields, gushing geysers explode with a powerful force, glittering ice caps pierce the sky, and wondrous Iceland waterfalls present themselves at every turn.
Putting together a list of the best waterfalls in Iceland is not an easy task. The country is full of so many magnificent falls and each one seems more superb than the last.
There are glacial waterfalls (which originate from melt water from glaciers across the country), golden waterfalls, and waterfalls which plummet through canyons onto black sand beaches. There are Waterfalls of the Gods, "Black Falls," and the largest and most powerful waterfalls in all of Europe.
If there's one thing I can guarantee about your trip to Iceland, it's that you'll leave the country determined to return. Our only regret during our trip was that we had not allocated more time to chasing waterfalls in Iceland.
Thus our list of the best waterfalls in Iceland include into those we visited (1-6) and those we are heading back for an Iceland road trip in the future (7-10).
Iceland Waterfalls Map
10 Best Waterfalls In Iceland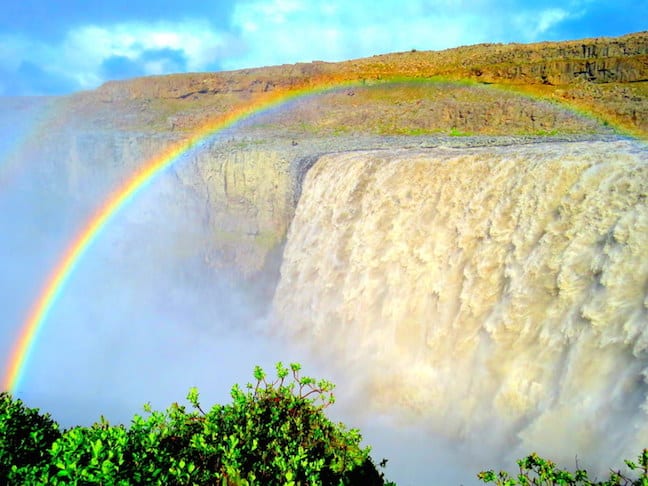 1. Dettifoss Waterfall
The largest, most powerful waterfall in Europe, Dettifoss will blow you away with its sheer volume and size. Ripping through a glacial river and plummeting into an enormous gorge, this is Iceland's version of the Grand Canyon.
The falls are 44 meters in height, 100 meters wide, and have a flow of about 500 cubic meters per second. The ground beneath you trembles as you approach the falls, its beauty belying its tremendous power.
Directions to Dettifoss Waterfall: Travelers can view Dettifoss from both sides of the river, though most approach from the west.
There are two separate roads that lead from the Ring Road to each side of the falls; from Road 1 (the Ring Road), take Road 864 to the East side (32km), or Road 862 to the West (20km).
Note that these roads are not in service during the winter time, and often close during snowy periods.
READ MORE: The 20 Biggest Waterfalls in the World (by Continent)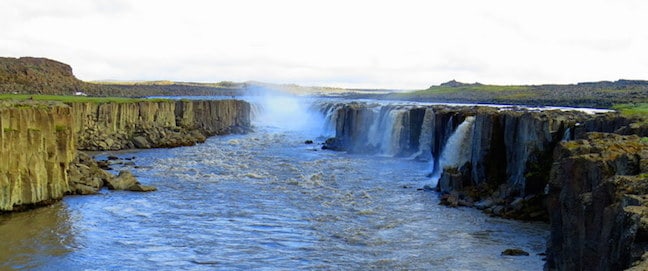 2. Selfoss Waterfall
A stunning waterfall in the shape of a horseshoe, which is located on the same glacial river as the mighty Dettifoss, Selfoss is a potent waterfall.
Though it cannot compete with Dettifoss in terms of size, strength and grandeur, it is truly breathtaking and should not be missed.
Directions to Selfoss Waterfall: Selfoss is accessible via the same trailhead for both its banks as Dettifoss.
READ MORE: 20 Longest Rivers in the World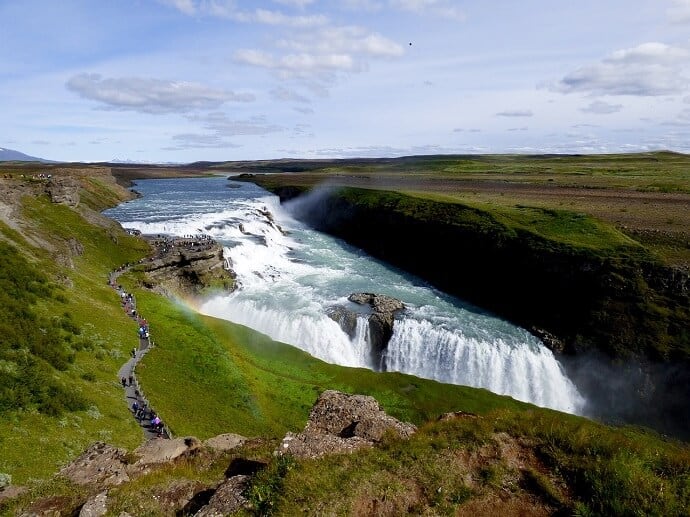 3. Gullfoss Waterfall
One of the most popular tourist attractions in Iceland, Gullfoss is nicknamed the Golden Waterfall, and forms part of the Golden Circle tour.
This iconic Iceland waterfall offers travelers spectacular views, as the water plummets 32 meters in two stages into a rugged canyon with walls up to 70 meters in height. Be prepared to share this waterfall with hoards of tourists, as we did.
Directions to Gullfoss Waterfall: Gullfoss Waterfall forms part of the Golden Circle Tour.
From Reykjavik, drive Road 1 (The Ring Road) about 54 km east to the turnoff, with route 35 on the left.
Follow this route for 68 km to reach the waterfall. Consider stopping at Geysir, another Golden Circle main attraction, along the way.
READ MORE: Top 7 Things To Do in Iceland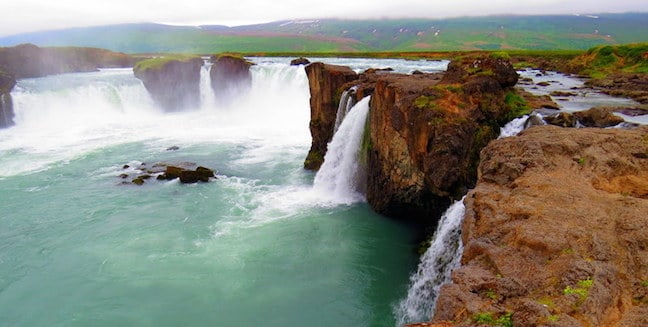 4. Godafoss Waterfall
Known as "Waterfall of the Gods," Godafoss is one of the largest Iceland waterfalls and is closely connected with the country's conversion to Christianity.
At the time, the priest in power as leader of the country was Þorgeir Þorkelsson, and one of his tasks was settling the growing disputes between Christians and those who worshipped the old Nordic gods.
Though he was a heathen priest himself, Þorkelsson decided all of Iceland should be Christian.
Legend has it that he rid Iceland of the heathen gods by throwing their statues into the falls as a symbolic act of conversion. This is how Godafoss originally got its name.
Directions to Godafoss Waterfall: Located close to the road between Akureyri and Mývatn, Godafoss Waterfall is well signposted along the Ring Road.
READ MORE: A Rare Look Inside 900-Year-Old Urnes Stave Church (Norway)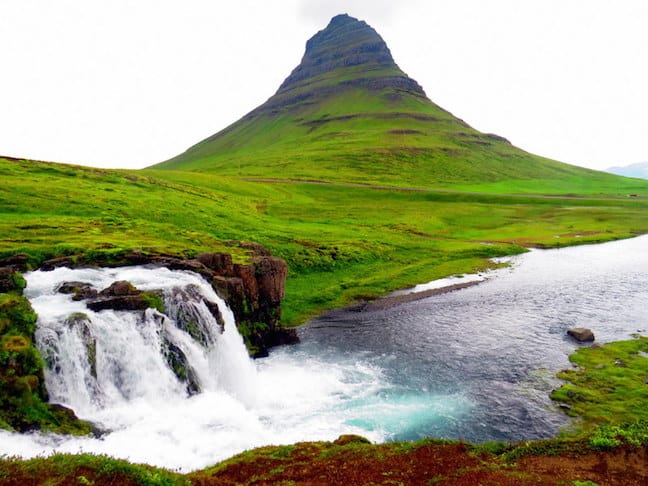 5. Kirkjufellsfoss Waterfall
Kirkjufellsfoss is a small but beautiful Iceland waterfall which overlooks the impressive Mount Kirkjufell on the Snæfellsnes Peninsula.
The mountainous background and the crystal clear water make for a particularly scenic setting, and visitors can walk right up to the cascading water.
Directions to Kirkjufellsfoss Waterfall: Kirkjufellsfoss lies on the main road along Route 54. It is located about 23 km east of Olafsvik at Grundarfjordur on the Snaefellsnes peninsula.
READ MORE: 20 Best Mountains in the World (for Your World Travel Bucket List)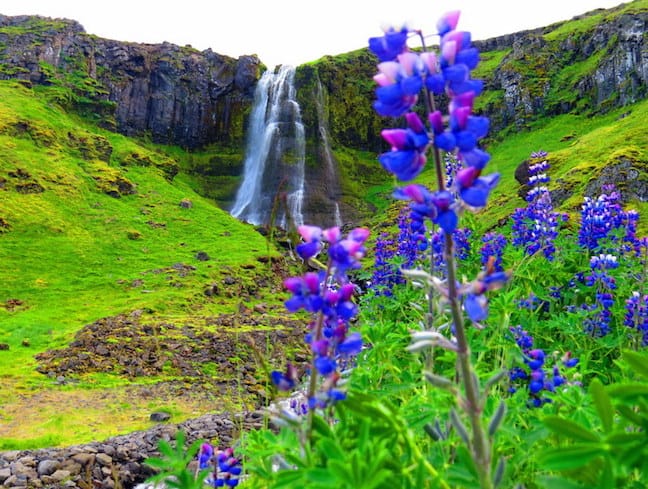 6. Baejarfoss Waterfall
Bæjarfoss is a stunning waterfall overlooking the charming town of Ólafsvík. Its water tumbles gracefully over the side of an intimidatingly rugged cliff face, completely covered in vivid green moss, and surrounded by a field of beautiful purple lupines.
Directions to Baejarfoss Waterfall: From Ólafsvík, walk uphill along Kirkjutun St. The falls are visible from the town, so they're easy to find.
READ MORE: 20 Largest Lakes in the World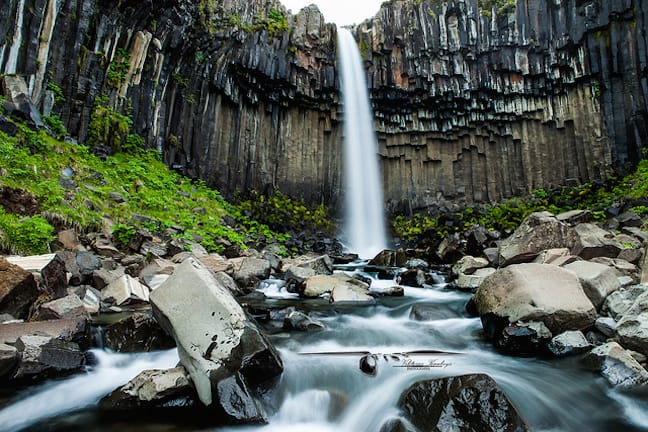 7. Svartifoss Waterfall
Known as the "Black Falls," this striking beauty is located in Skaftafell National Park.
While not as powerful or intimidating as many of the other Iceland falls listed here, Svartifoss surpasses the others in terms of beauty, falling against a contrasting backdrop of pitch black basalt columns.
Directions to Svartifoss Waterfall: Svartifoss Waterfalls are conveniently located only a short distance from the entrance to the National Park.
The National Park is located along the Ring Road, roughly 54 km west of the icebergs at Jökulsárlón.
READ MORE: 10 Eco-Friendly European Islands (for Your World Travel Bucket List)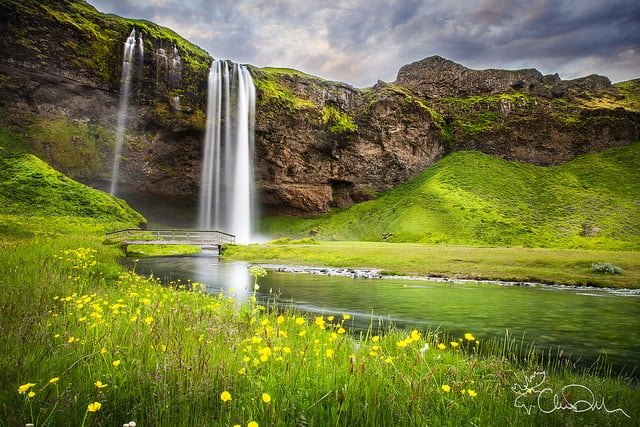 8. Seljalandsfoss Waterfall
At 60 meters tall, Seljalandsfoss is one of the most spectacular waterfalls in Iceland visible from the Ring Road.
Popular with travelers and prominently featured on The Amazing Race 6, the falls are easily viewed from a pedestrian bridge.
Visitors also have access to a path which winds right behind the waterfall, offering photo opportunities from every angle and covering those who take the path in a thick sheet of spray.
Directions to Seljalandsfoss Waterfall: Seljalandsfoss is located 20 minutes west of Skógar, and is visible from the Ring Road.
READ MORE: 25 Most Unusual & Unique Hotels in the World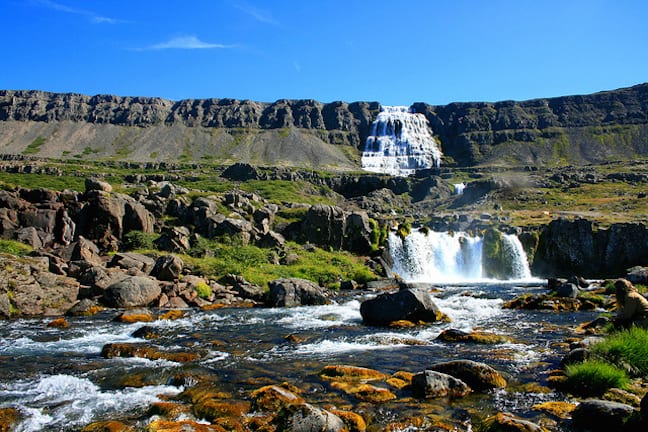 9. Dynjandi Waterfall
Located in the remote West Fjords, it's the unusual shape of Dynjandi (a.k.a. Fjallfoss) that makes it memorable.
Water cascades down 100 meters from the top through various tiers, each with their own name and viewpoint.
The uppermost tier makes for the best photo opportunities, and visitors who climb to the top are met with expansive views of the fjords' beautiful panorama.
Directions to Dynjandi Waterfall: From World of Waterfalls: "From the north end of the ferry from Stykkisholmur at Breidafjördur Bay, drive north on Route 610 for about 500 m then turned right onto Route 62. Follow Route 62 for a little over 5 km to then turn left onto Route 60 (Vestfjarðavegur).
You will go up a wide gully to a small pass before descending towards its junction with the Route 63.
After about 30 km from the Route 62/Route 60 junction (notice this road will go above the stream responsible for Dynjandi as well as another stream over a neighboring waterfall), there will be another signposted turnoff on the left for Dynjandi.
Take this turnoff and follow it downhill for the last 760m to its end at the large car park for the falls. This drive would take roughly an hour."
READ MORE: The Least Visited National Parks in Europe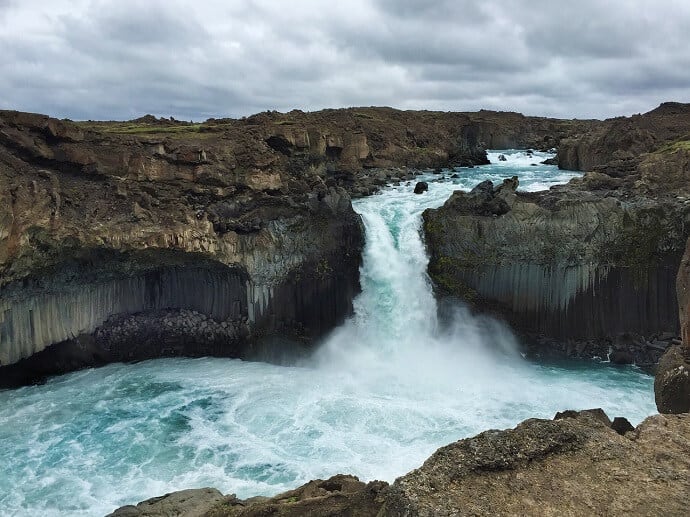 10. Aldeyjarfoss Waterfall
A 20-meter cascade gushes through lava fields and basalt columns… Aldeyjarfoss is a beautiful Iceland waterfall that really captures the essence of the relationship between fire and ice.
The contrast between the powdery blue water and the dark basalt is absolutely stunning– a dream for avid photographers!
Directions to Aldeyjarfoss Waterfall: From Akyreyri drive east on the Ring Road for about 50 km.
Take Route 842 for about 37 km before reaching Sprengisandur Road (F26), which you will take for 4km to the turnoff and car park for Aldeyjarfoss Waterfall. –by Megan Jerrard
READ MORE: Top 10 Volcanoes in the World
IF YOU LIKE IT, PIN IT!
Megan Jerrard is an Australian journalist, and the founder and Senior Editor of Mapping Megan, an award-winning blog bringing you the latest in adventure travel from all over the globe. With the main aim of inspiring others to embark on their own worldwide adventure, Megan and her photographer husband Mike believe travel has the potential to inspire change in people, and in turn inspire change in the world. They embraced travel as a lifestyle in 2007, and are dedicated to documenting their journey through entertaining, candid articles and brilliant photography. Follow their journey on Facebook, Twitter, Google+, YouTube, Pinterest and Instagram.