[Updated 2/23/2022] When you travel the world as much as we do, you begin to realize that most hotels are actually pretty boring and conventional but staying in one of the most unusual & unique hotels in the World can change all that.
From plush pillows and flat screen TVs to mini bars and continental breakfasts, most decent hotel brands basically offer the same amenities.
The only thing that really changes is the view. But every once in a while, you'll visit a unique hotel that truly stands out.
From glamping yurts in Torres del Paine National Park and over-water bungalows in Bora Bora to a Bedouin camp in Wadi Rum and safari tents surrounded by wildlife in Kenya's Maasai Mara, we've been fortunate to stay in quite a few unusual hotels.
We've found that amazing hotels and eco lodges can help to make a good trip great and turn a great trip into a once-in-a-lifetime experience.
While we've traveled a good bit in the 9 years since we started Green Global Travel, there are still TONS of cool hotels left on our bucket list.
There are ice hotels, capsule hotels, hotels in underground caves, underwater hotels, and unusual hotels inside old airplanes, buses, and ships.
So, in order to make this list as all-encompassing as possible, we enlisted 20 travel experts to review the world's most unique hotels based on their personal experiences.
We've broken them down by continental for organizational convenience.
READ MORE: The World's Best Eco Lodges, Eco Resorts & Eco Hotels
UNIQUE HOTELS IN AFRICA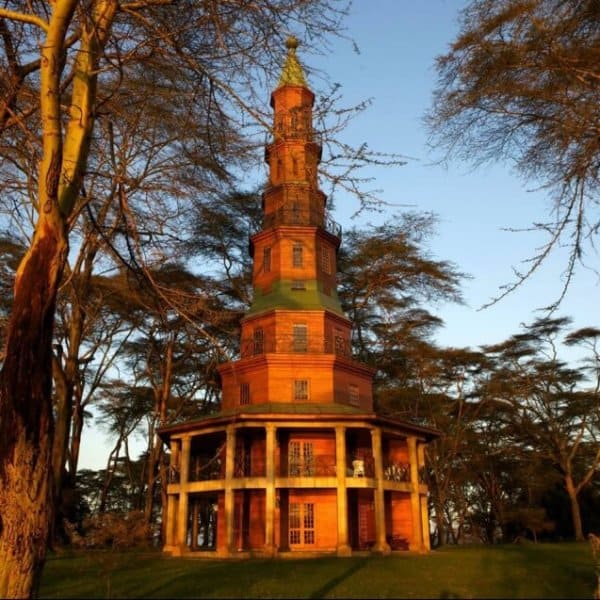 Despite its name, this sanctuary is better known for its screensaver-worthy views of Kenya's Great Rift Valley than its Hippo sightings.
The Hippo House (and its seven stately bedrooms) provides the main accommodations.
But it's Dodo's Tower, and its nine stories of understated elegance, that makes this such an amazing hotel.
The 360° views from the tower are majestic. The classic colonial British décor blends with the natural ambiance wonderfully.
Organically farmed veggies and Indian Ocean-sourced seafood are the basis for the restaurant's four-star cuisine.
But the fact that grazing Giraffes and Zebra saunter by as you savor it all makes Hippo Point truly magical. Read Reviews and Check Rates. –DeMarco Williams
READ MORE: Animals in Kenya: A Guide to 40 Species of Kenyan Wildlife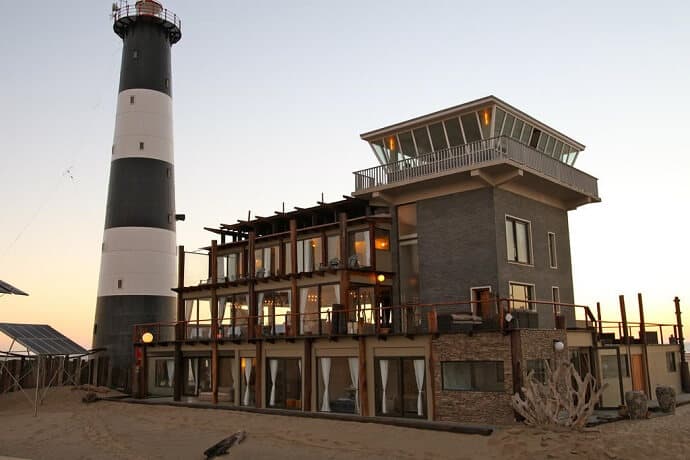 2. Pelican Point Lodge (Walvis Bay, Namibia)
Sometimes a hotel is made unique by virtue of its design, and other times it's more about an unusual location. In the case of Pelican Point Lodge, it's both!
Located in Namibia, one of the safest countries in Africa to visit, the luxury hotel was built inside an old harbor control building situated right beside a classic lighthouse.
All of the rooms were renovated and modernized to include amenities such as en suite bathrooms, free Wifi, and private balconies. There's also a gourmet restaurant on site.
But the real showstopper is the ultra-luxurious Presidential/honeymoon suite on the top floor, which offers spectacular 360º views of the entire Pelican Point peninsula.
Which brings us back to location. Pelican Point Lodge is as remote a romantic hotel as you can imagine, surrounded by nothing but sand and surf.
But it's a great place for wildlife lovers, with huge Seal colonies along the beach and Dolphins, Whales, and other marine life often spotted from the shore. Read Reviews and Check Rates. –Bret Love
READ MORE: The 25 Best National Parks in Africa For Wildlife Safaris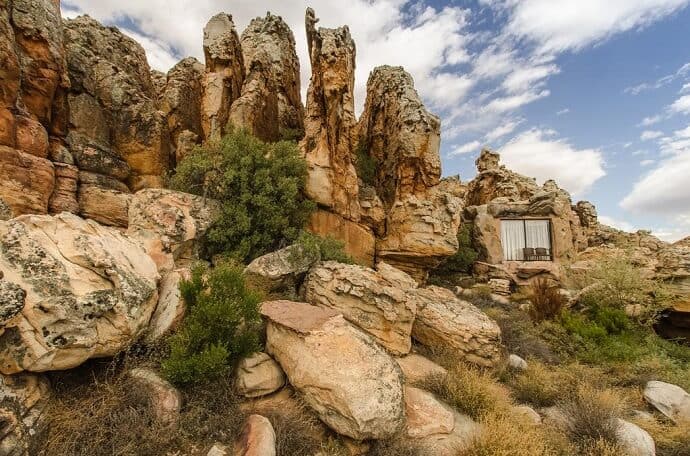 Located in the Cederberg Mountains in South Africa's western cape, Kagga Kamma is both an unusual hotel and a protected nature reserve.
The hotel is built right into the rocks of the reserve's sandstone mountains, so seamlessly that you might not even see them from a distance.
Inside the rooms you'll find all the luxuries you expect from 4-star South African hotel, including plush pillows and beds, fine linens, Wi-Fi, air conditioning, and a gorgeous decor designed to complement the natural surroundings.
The hotel offers 1o Cave Suites (including a Honeymoon Suite) and several spacious Hut Suites, as well as a swimming pool, spa, restaurant and bar, and more.
But if you can afford it, you won't regret a night in their Star & Sky Open-Air Suites, whose remote private locations allow you to sleep beneath the stars in luxury.
The resort offers an array of tours, from hiking, mountain biking, and quad bike safaris to guided excursions to see ancient African rock art and safari game drives.
On the latter, guests have a chance to see cool & weird animals such as the Elephant Shrew as well as Antelopes, Ostrich, Lynx, and the rare Cape Mountain Leopard. Read Reviews and Check Rates. –Bret Love
READ MORE: What is Ecotourism? (The History & Principles of Responsible Travel)
COOL HOTELS IN ASIA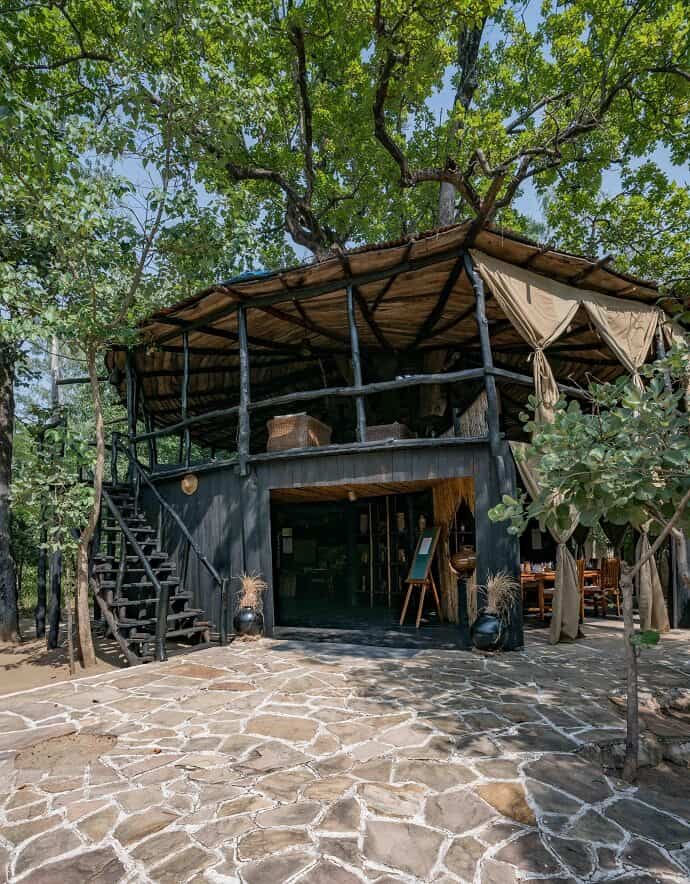 4. Treehouse Hideaway (Bandhavgarh National Park, India)
This eco-lodge is unique not only because it's a luxury treehouse, but also because it's located inside Bandhavgarh National Park in India.
The park is one of the most popular Tiger safari destinations in India and being able to stay inside the Buffer Zone is an incredible experience.
There are good chances to see an array of Indian animals right from your treehouse balcony, or at one of the observation towers throughout the property.
I only saw Tigers during my safari in Bandhavgarh's Core Zone but was told that they've had Tiger and Leopard sightings right there on the lodge's property. Amazing, right?
The Pugdundee Treehouse Hideaway only has 5 private treehouse suites. While the decor is rustic, they offer all the amenities of a luxury accommodation.
Guests enjoy rain-head showers, air-conditioned rooms with a tea & coffee station, and extremely comfortable beds.
Rooms usually come with full board and 1 daily safari. While they do not have a pool or spa on the property, you can use those facilities at their nearby sister property, King's Lodge.
Another point I loved about my stay at the Treehouse Hideaway was that the Pugdundee company takes sustainability very seriously.
They eliminated single use plastic, source their food locally, hire mostly local staff, and offer education about the local environment and sustainability to their guests. Read Reviews and Check Rates. -Maria Haase of India Up Close
READ MORE: 15 Harmful Traditionsl & Cultural Practices Tourists Should Never Support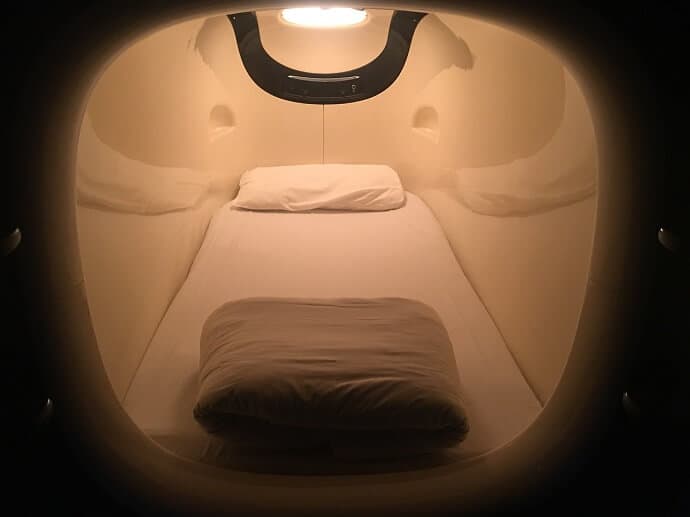 Capsule hotels are high-density, budget-friendly accommodations, mostly in Japan, that were designed for people looking for a clean place to sleep without concern for amenities.
Originally designed as a place where "salarymen" could crash near work between office hours, the concept has since expanded to be somewhat trendy, if still basic.
The idea is to put your things away, get a hot shower, change into something comfortable, and go to sleep.
What I found at the Nine Hours Capsule Hotel was a futuristic looking row of individual pods that held a mattress a little larger than a standard twin bed, high-quality sheets, a white noise generator, recessed LED lighting, and a plug to recharge your electronics.
The experience includes a bath kit that contains travel toiletries such as a razor, toothbrush, toothpaste, bath towel, a pair of slippers, and loungewear for going to the locker room down the hall.
The locker room itself has nice private showers and fancy Japanese-style toilets.
I am a little claustrophobic, and I expected my experience at the Nine Hours Capsule Hotel to feel a bit like trying to rest in a filing cabinet drawer.
But I was surprised to find a compartment large enough to sit up in, and I actually managed to get a decent night's sleep.
The Nine Hour Capsule Hotel is designed to accommodate travelers connecting through Tokyo Narita Airport.
It's best if you have a layover that's too short to go into the city, but too long to stay in the main terminal.
If you're looking to explore the sights of Japan, you'd want to consider something else. But if you're a single traveler wanting a place to rest for a few hours, this could be a perfect fit. Read Reviews and Check Rates. -Jonathan Look Jr. of Life Part 2
READ MORE: Japan Photos: 15 Pictures From a Dream Come True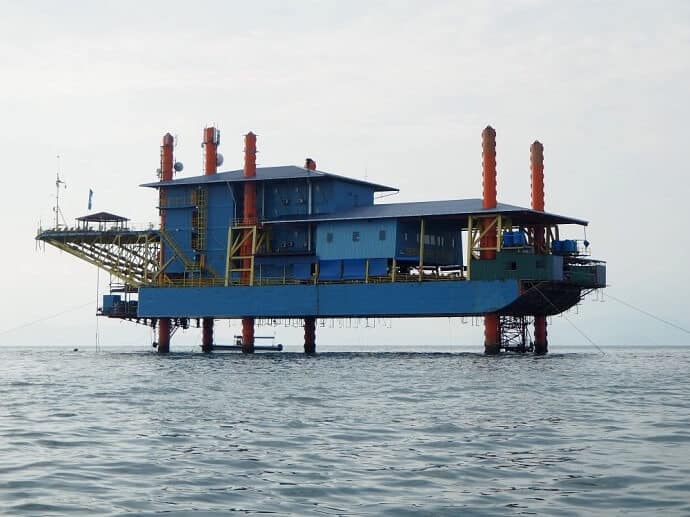 Seaventures Dive Rig is an extremely unusual hotel because it's located in a converted oil rig.
t was moved from another site, where it served as housing for oil rig personnel, and placed near Mabul Island, off Malaysian Borneo's southeastern coast.
The rooms are much like the cabins on a ship, but not a cruise ship. These are more basic, with painted metal walls that show the rivets, presumably unchanged since the oil rig workers lived in them.
The cabins have beds and not much else, but they do include a tiny en-suite bathroom.
The decks, though, are a real treat. The main one spans the whole rig, offering shelter from the sun but open to the sea breezes. At one end is the dive center, since Scuba diving is the whole point of a visit here.
In the center of the main deck is a bar, which gets most active in the evenings. The main deck is also where meals are served, buffet style.
Another deck near the top of the rig is open to the sun, but in the evenings it's cool, comfortable, and perfect for watching the sunset over the ocean.
The area is desirable due to its proximity to Sipadan Island, one of the world's best places to Scuba dive (partly because of the limited availability of permits).
The cool & weird ocean animals and rare sharks around Sipadan are simply stunning. Read Reviews and Check Rates. -Rachel Heller of Rachels Ruminations
READ MORE: 30 Best Exotic Islands for your World Travel Bucket List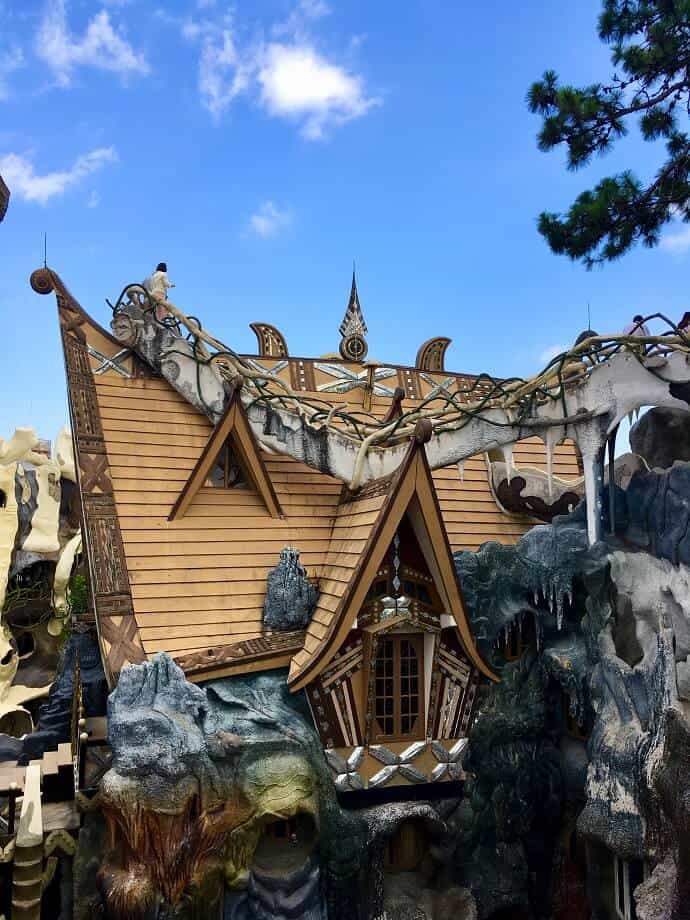 Crazy House or Hang Nga Guest House is a popular, but quirky accommodation in Da Lat, Vietnam.
It was designed by Vietnamese architect Đặng Việt Nga, who admitted it was inspired by Antoni Gaudi, the architect who designed the famous Sagrada Familia in Barcelona.
The building looks like a mix of expressionist influence with a hint of a fairytale coming to life.
The main design resembles a giant tree with caves, branches, spider webs, plants, narrow pathways, and stairs surrounding the building.
It was built by Đặng Việt Nga in 1990 as a way to remind people how caring for nature is important and to incorporate these values into her designs.
Aside from being one of the main tourist attractions in Da Lat, Crazy House is also a popular place to stay.
If you don't mind the crowd that flocks to the guest house during the day, Crazy House offers a unique hotel experience.
The rooms resemble hobbit-like stone caves that are individually themed. From Kangaroos to Bears, each offers a unique design to satisfy your inner child.
The guest house offers the typical services that 3- to 4-star hotels normally offer, including a 24-hour front desk, car hire, room service, tour desk, currency exchange, and luggage storage.
Some of the rooms also have outdoor seating areas that offer a view of the complex. If it gets too cold, the fireplace in the common room is quite handy.
Crazy House also offers arguably the best view in Da Lat: From the top, you can see the entire city.
If you choose to stay, you'll get to experience Crazy House transforming at night into a Disney-like complex because of the amazing lighting.
It's like sleeping inside a work of art! Read Reviews and Check Rates. -Christine Rogador of Ireland Travel Guides
READ MORE: Saving Asian Animals (10 Wildlife Conservation Programs)
AMAZING HOTELS IN EUROPE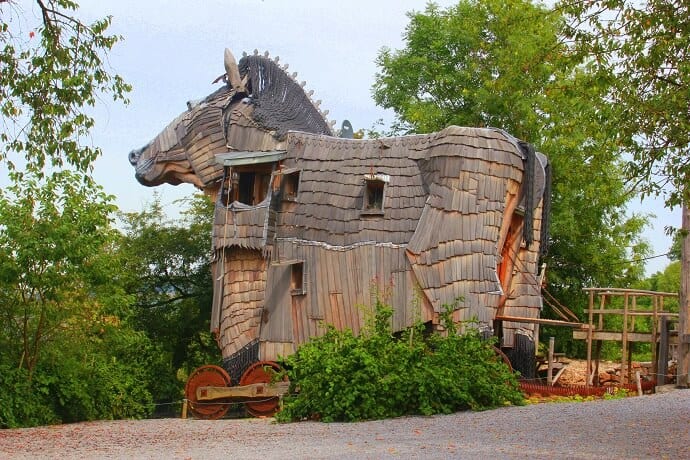 La Balade Des Gnomes, photo by Michelle Barrett
8. La Balade Des Gnomes (Durbuy, Belgium)
The world-renowned La Balade Des Gnomes is located in Durbuy, Belgium, about a 90-minute drive south of Brussels.
You can really only reach this unusual hotel by car, but it's worth the drive, which allows you to take in the lush forests and winding rivers of the Ardennes region.
If you're a fan of unique places to stay, you won't find many more interesting than this quirky accommodation.
Upon entering the hotel grounds, you're immediately drawn into a somewhat bizarre fantasy world.
Each of the 11 rooms has a different theme, which has been carefully designed by the owner. Themes include:
● Macquarie Island, which is in two levels of the main building and includes a "cliff" and the chance to sleep in a sailboat.
● The Latcho Dom Trailer, which is a traditional gypsy trailer with a double bed, toilet, tub, and cooking facilities.
● The Trojan Horse, which is the accommodation this hotel is most famous for. The horse is situated outside the main property, and the entrance is through its back ende! The room includes a bubble bath, shower, one double bed, and two children's beds.
● The Luna Room, which is decorated like the surface of the moon, including the stars in the sky and a bathroom that looks like a spaceship.
Prices range from 125 to 260 euros for two guests. -Michelle Barrett 0f Minimize and Travel
READ MORE: 30 Facts about the Mongolian Horse (a.k.a. Przewalski's Horse or Takhi)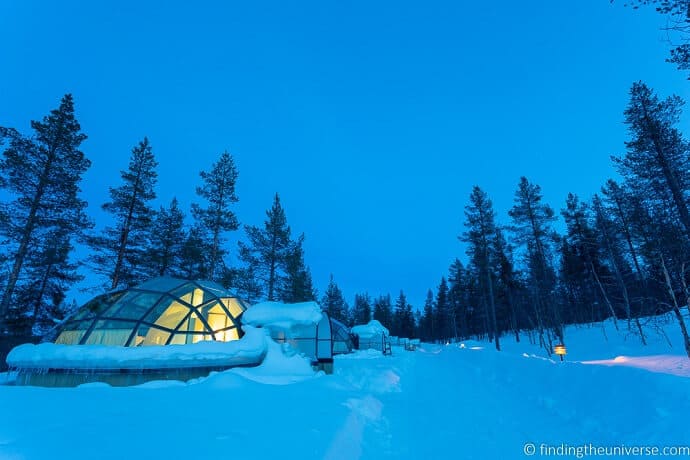 Kakslauttanen by Laurence Norah
If you're looking for unique accommodations, you can't go wrong with a glass igloo hotel!
Kakslauttanen Arctic resort is located well inside the arctic circle, and they were the pioneers of the glass igloo. There are certainly many imitators around the world, but we think the original remains the best!
The resort is spread across two main locations, with the older, cozier part located in the east village. There are around 30 igloos spaced out among the trees here, and this was where I spent a wonderful night.
A glass igloo is the perfect place from which to watch the night sky. And if you visit Finland in winter, it's also where you can get stunning views of the Northern Lights.
It's worth noting that, while the igloos are relatively expensive, they are not what most people would consider luxury.
They're certainly comfortable though, with WiFi, a small toilet (no shower), and electronically powered beds that can be tilted up for optimal northern lights viewing.
There's also a sauna, restaurant, and bar on site, plus you can do a wide variety of winter activities from the resort itself.
This makes it an excellent location for visiting Finland in winter. Read Reviews and Check Rates. -Laurence Norah of Finding the Universe
READ MORE: Arctic Animals: 30 Species of Arctic Birds, Mammals & Whales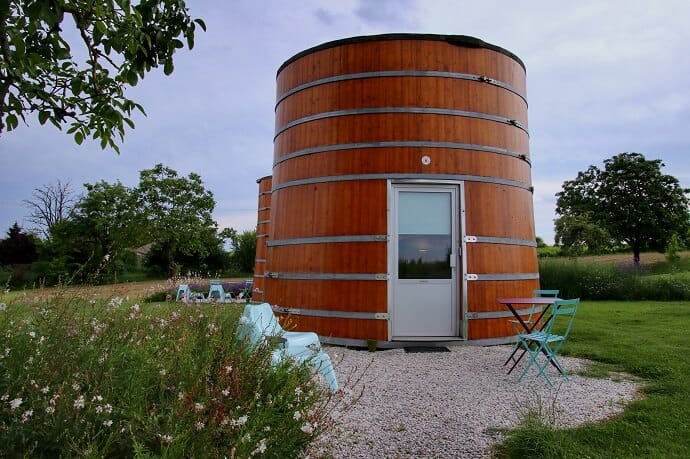 10. Coup 2 Foudre (Saint-Émilion, France)
Have you ever dreamed of waking up surrounded by French vineyards?
If so, one of the best places to stay in Saint-Emilion is in one of two giant wine vats that were converted into amazing accommodations in the famed Bordeaux wine region.
These two vats were never actually used to make the region's world-renowned wine. But they are real wine vats crafted by the prestigious wine barrel and vat maker, Seguin Moreau.
Both of them are big enough to hold the equivalent of 160,000 bottles of wine.
Each of the two wine vats is uniquely decorated, with a queen size bed, ensuite bathroom facilities, and all the creature comforts one could desire (including air conditioning, Wifi, and cable television).
Guests are given a basket filled with artisan products for breakfast and are welcome to visit the estate for a tour and tasting of Château de Bonhoste.
It's a memorable stay in a gorgeous location any vinophile will absolutely love. Read Reviews and Check Rates. -Jennifer & Tim of Luxe Adventure Traveler
READ MORE: Weird Foods the French Consider Delicacies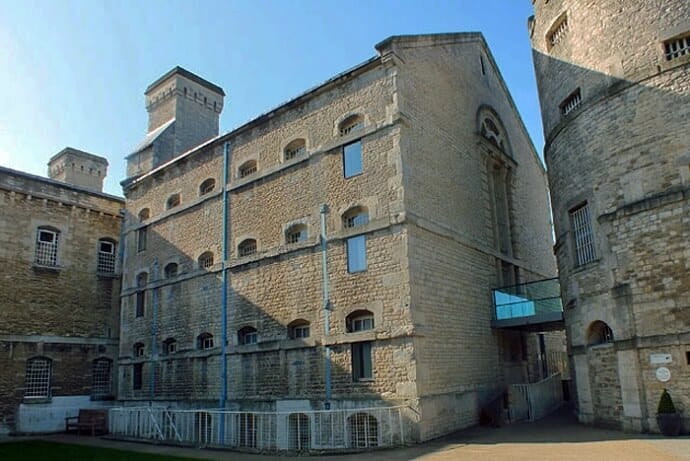 11. Malmaison (Oxford, England)
Located in Oxford, England, Malmaison is (unusual as it may sound) a lovely luxury hotel built inside a former prison.
In fact, the prison doors and central stairwell and landing structure have all been left pretty much intact from when it last operated as a prison in 1996.
Since its conversion to luxury boutique hotel, it's also been used to film the popular BBC series Porridge.
Standard rooms in the prison's former A-Wing were created from two cells combined into one, with bathrooms located in a third cell.
With the original iron doors, vaulted ceilings, and exposed brick walls, these posh rooms are now a far cry from the prison days.
Each boasts a king sized bed, flat screen TV, iPod dock, and Wifi. All of the bathrooms have walk-in showers and rolltop baths, with plenty of fluffy white towels and toiletries marked "Steal Me" as a cheeky nod to the building's former residents.
The interior design vibe is dark and intimate, with "cells" decorated in deep reds, greys and browns. If you prefer a lighter mood, the adjoining "House of Correction" offers warehouse-style suites and duplexes.
Malmaison ("bad house") is located in the Castle Quarter, about 5 minutes from the train station and an easy walk to the City Centre.
Apart from the castle, which dates back to the late 12th century and is well worth exploring, this part of town offers quirky restaurants and bars so you can relax without having to walk too far. Read Reviews and Check Rates. -Fiona Maclean of London-Unattached
READ MORE: 50+ Pieces of Advice I would Include in a Letter to My Younger Self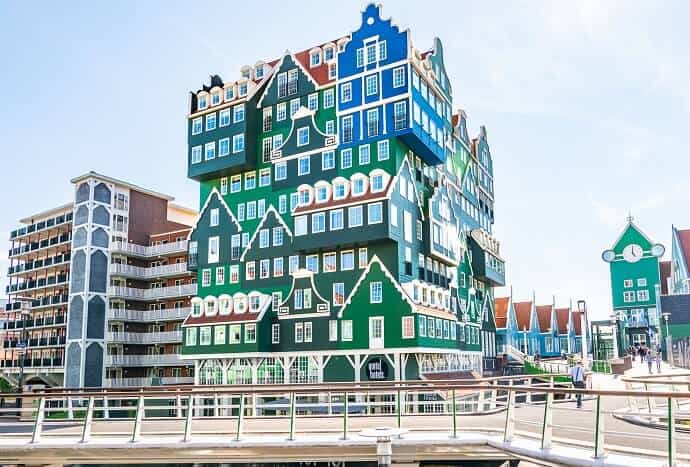 12. Inntel Hotel (Zaandam, Netherlands)
The Inntel Hotel in Zaandam is arguably the coolest hotel in the Netherlands. What makes it so special is the Lego-like architecture, which stands out from the rest of the town.
But its design is well-fitting to the area, as it is basically a stacking of various traditional houses that you can see in the Zaan region.
It's mostly used as a conference hotel, but they welcome all sorts of guests to stay there.
Contrary to what the oddball exterior might lead you to believe, the rooms themselves are quite regular, but modern. The interior design reflects the history of Zaan and some of its most notable pioneers.
Visitors can enjoy the hotel's free Wi-Fi, restaurant, spa, gym, and swimming Pool. It's a great hotel for business, as they have several meeting rooms.
It's quite an interesting place to host a conference, close to the traditional village of Zaanse Schans and the nation's capital in Amsterdam.
Besides Zaanse Schans and Amsterdam, I also recommend strolling around Zaandam itself.
It's a quaint town that offers a colorful mixture of modern society and more traditional houses and shops. Read Reviews and Check Rates. –Alex Waltner of Swedish Nomad
READ MORE: How Mass Tourism is Destroying 30+ Destinations Travelers Love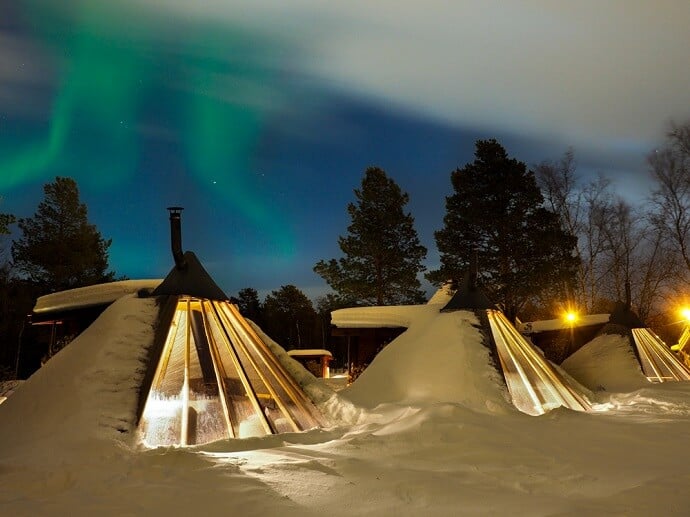 Located more than 200 miles north of the Arctic Circle, Alta, Norway, is known for its Northern Lights and outdoor activities.
If you want to visit Norway in winter, you can combine several of these with a stay at the unique Holmen Husky Lodge.
The lodge is a popular spot for cruise passengers and other day trippers to visit in order to go dog sledding in the Norwegian Arctic.
But it also offers overnight packages that include meals, an evening dogsledding experience, and an overnight stay in a "Tipi Bungalow."
These bungalows have been built to resemble the traditional lavvu tents that the native Sami people live in.
A stay at the Holmen Husky Lodge is basically glamping (a.k.a. luxury camping), but the bungalows are built using modern materials, and come with electric blankets.
All of the Tipi Bungalows are equipped with a bed and woodburning stove, but you have to walk to another building to access the toilets and showers. There's also a lounge and other amenities available to guests, including a sauna and jacuzzi.
While there are no official Northern Lights-watching activities at the Holmen Husky Lodge, it's not unheard of to catch the aurora dancing over your bungalow during the night. Read Reviews and Check Rates. -Amanda Williams of Dangerous Business
READ MORE: Road Trip Through Norway's Joutunheimen Mountains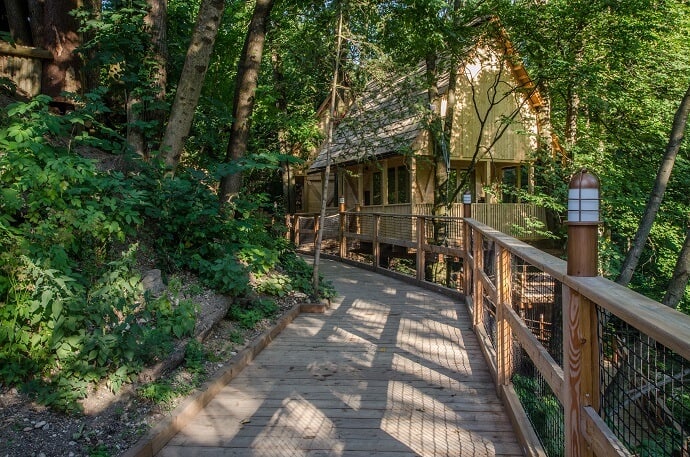 When you're traveling to Lake Bled, Slovenia, you'll be spellbound by glassy waters surrounded by the majestic mountains of the Julian Alps.
You can laze the days away relaxing on the shore, taking a boat ride to the church-topped island, or visiting the castle on top of a cliff.
Just a short drive from the beautiful lake is Garden Village, an eco-resort that features a mixture of treehouses and glamping tents.
Decks and pathways lead you down to a rushing river. A natural pond serves the purpose of a pool, reflecting the turquoise surroundings.
The treehouses each have multiple levels. Adventurous kids can even sleep on a net on the second floor instead of a bed!
The honeymoon lodge, which is located high in the treetops, has a staircase that you can pull up for privacy. The resort's tents are large and luxurious, can be left open to the natural surroundings, and come with wooden hot tubs.
Garden Village takes its sustainability mission seriously. You'll dine on local specialties like venison, chanterelles, and salmon seasoned with lavender.
Most of the produce in the restaurant is grown in gardens on site, including a variety of mints used to make mojitos!
The wastewater here is reused to irrigate the plants. And incredibly, the dining tables are covered with panels of grass.
Have you ever dined with grass beneath your fingertips before? It's a cool experience. Read Reviews and Check Rates. –Kate McCulley of Adventurous Kate
READ MORE: 20 Largest Lakes in the World by Continent (For Your World Travel Bucket List)
UNUSUAL HOTELS IN CENTRAL AMERICA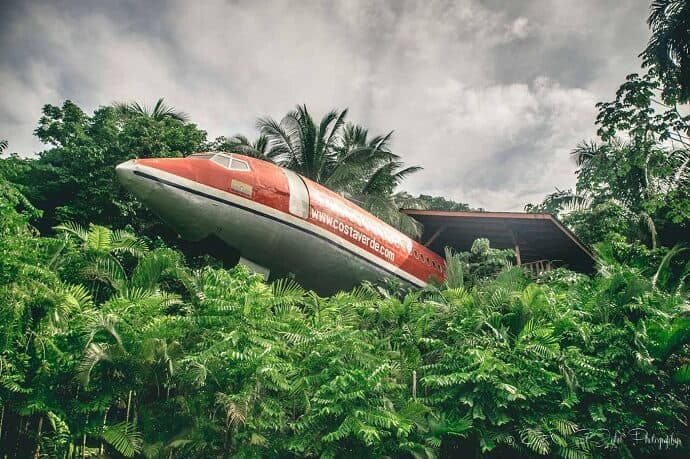 Costa Verde Hotel is located in Manuel Antonio, Costa Rica. There, founder Allan Templeton takes recycling to a whole new level by converting old airframes into unique hotel rooms.
The 727 Fuselage Suite– a beautiful 2-bedroom accommodation– is the original "airplane hotel room" that has brought Costa Verde Hotel much of its fame.
Perched on a 50-foot pedestal just outside of Manuel Antonio National Park, this unique hotel room offers incredible ocean and jungle views from a private airplane wing platform, where various Costa Rica Animals came by for a visit during our stay.
Inside the suite there are two air-conditioned bedrooms, each with a queen sized bed. The suite includes hand-carved teak furnishings, a flat screen TV, and a common kitchenette and dining area.
Each bedroom has an en suite bathroom, but guests in the master bedroom can enjoy the luxury of "doing business" right in the cockpit (which was left untouched during the refurbishment process).
In recent years the Cockpit Cottage– a smaller but equally luxurious King Size bedroom suite– has been added to the Costa Verde Hotel.
This airplane room also comes with an en suite bathroom and offers the same beautiful teak finishes and fittings as the Fuselage Suite. But at about half the price, it's much more affordable for the average traveler.
The national park is the main attraction in the Manuel Antonio area.
But over time we've loved coming to Costa Verde just to enjoy the hotel and its lush grounds and amenities, including a beautiful pool that overlooks the ocean. Read Reviews and Check Rates. -Oksana & Max from Drink Tea & Travel
READ MORE: Ecotourism in Costa Rica: The Ultimate Eco Travel Guide
You can find treehouses all around the world, but what about a hotel room in an old schoolbus? Located in Puerto Viejo, Costa Rica, Tree House Lodge is well known as a bohemian ecotourism haven.
Located on lush tropical grounds right next to the beach, the lodge is considered an eco hotel thanks to cottages made from sustainable materials (which are often recycled).
It also uses solar power to heat the shower water. Yet it maintains the comforts of a great hotel with Wifi, air conditioning, and other amenities.
The latest addition to this cool hotel is an old American school bus the owner used to travel around Panama.
It's a two bedroom unit, with one bedroom in a more traditional setting and the other inside the school bus, along with a kitchenette and water cooler.
There's an outside dining and lounge area if you want to spend time hanging out in the shade.
Tree House Lodge is just down the street from Selvin's Restaurant, if you want to try local Costa Rican food, along with a great convenience store that stocks cold local craft beers. Read Reviews and Check Rates. -Ayngelina Brogan of Bacon is Magic
READ MORE: My Stupid Mistake While Hiking Corcovado National Park, Costa Rica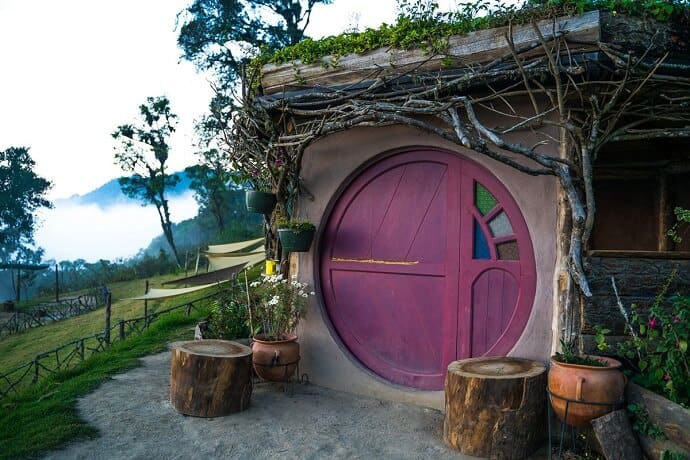 17. Hobbitenango (Antigua, Guatemala)
Hobbitenango, or "The Land of the Hobbit" in the local language, is exactly what it sounds like.
This Hobbit-themed eco-lodge and restaurant are located high up in the mountains of Guatemala. If you've ever been to Hobbiton in New Zealand, the buildings are quite similar.
Hobbitenango offers 2 casitas (small houses) and a campground. The rooms are spacious, yet a bit rustic: Each has its own cute fireplace and private bathroom and shower.
My room had a sauna, but the staff had some difficulty starting it up that night. The bed was extremely comfortable, and felt like I was at home.
Hobbitenango also offers an on-site restaurant along with an extensive bar menu. The main area contains trails that lead off to more secluded portions of the site, for those who want more peace and quiet.
There are hammocks and lookouts that amaze you with views of the stunning landscapes. On the weekends, there are activities for kids such as cornhole, archery, and other festival-style games.
Hobbitenango is the main attraction in the area. People come here from the bustling nearby cities of Antigua and Guatemala City to relax.
Besides the Hobbit-themed lodging, Hobbitenango is a great place to take things slow and easy. Their motto is "disconnect to connect," and there's no internet except for emergency Wi-fi in the restaurant. -Sean Lau of Living Out Lau
READ MORE: 40 Things You Should Know Before Traveling to Guatemala
UNIQUE ACCOMODATIONS IN NORTH AMERICA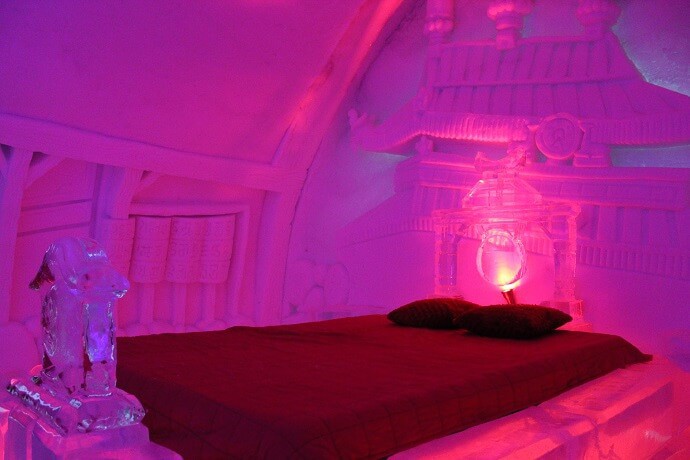 If you're from Canada or going to visit Canada in winter, you might as well make friends with cold, snow, and ice.
And what better way to do that than by staying at the Quebec City Ice Hotel (which is also known as the Hôtel de Glace in French)?
The Ice Hotel is rebuilt every year in a forest 20 minutes outside of Quebec City once enough snow has accumulated, usually in January. It generally lasts until March, when the whole thing starts to melt.
If you have any doubt, the Ice Hotel really is a hotel. There's a parking lot and a heated building where you check in and learn all about the Ice Hotel– who made it, how, and what that year's theme is.
I visited a couple of years back, when the theme was Myths and Legends from Around the World.
After going through the reception building, you enter a picturesque Canadian winter scene like something out of a painting, with the fantasy-like Ice Hotel rising from the snow.
It truly is magical. The year I went, there were 44 guest rooms plus an Ice Bar, Ice Cafe, chapel, and children's slide.
The Ice Bar is very popular. You can have an alcoholic beverage in a glass made from ice, which is more warming than you might imagine.
There's also a spa with a couple of heated buildings for the change room and washrooms for overnight guests.
The rooms are totally made of ice, and they range from basic to ornately carved suites.
The year I was there, there was a suite carved with Easter Island statues, another with images from Tibet, and one called Le Combat de Durga. The décor depends on the theme.
The beds are made of ice, with a thick sleeping bag on a mattress to keep you (somewhat) warm. The staff very strongly suggests that you visit the spa before bed and use the hot tub and sauna to get really warm.
But, truth be told, you do tend to get chilly before the night is over. Read Reviews and Check Rates. -Mariellen Ward of Breathe Dream Go
READ MORE: 15 Ways to Reduce Waste and Move Towards Waste-Free Living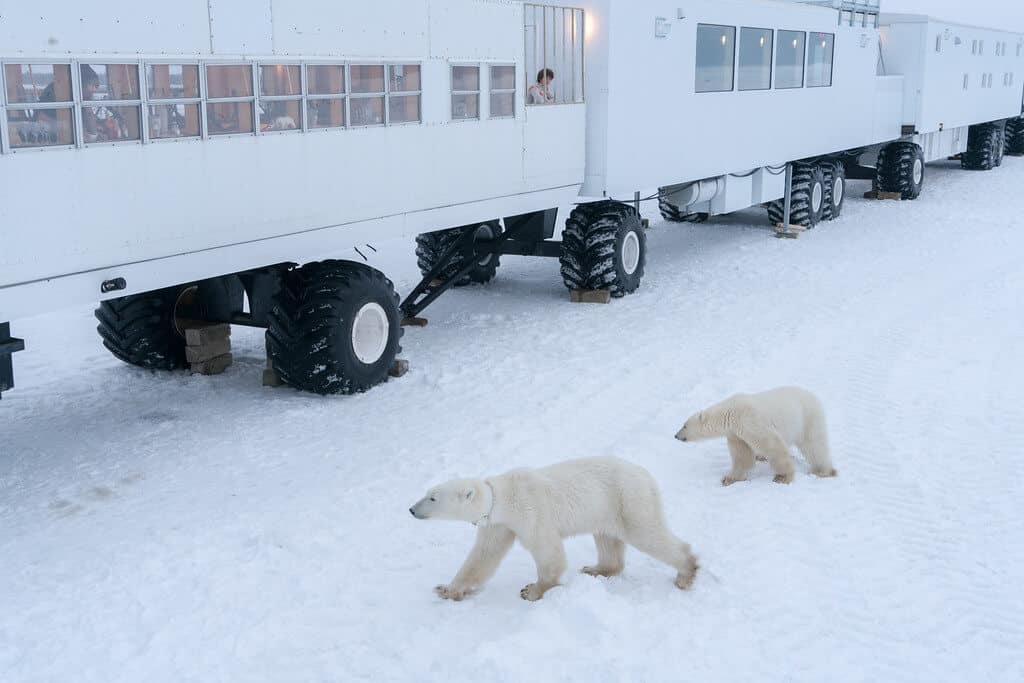 19. Tundra Buggy Lodge (Churchill, Canada)
The Tundra Buggy Lodge is a unique hotel in Churchill, Manitoba that's owned by Frontiers North Adventures.
The lodge is used by guests who go on Polar Bear & Tundra Wildlife viewing tours with the company in October and November, before the ice freezes on Hudson Bay.
The lodge can best be thought of as sleeper and dining cars (much like you would find on a train) merged with a monster truck.
There are 2 sleeping units, a dining unit, a lounge unit, as well as a cooking unit and units for the staff.
Each unit is towed into prime Polar Bear-viewing position using large tundra buggies at the beginning of the season, then hooked together to form the Tundra Buggy Lodge.
By having these unique accommodations on the tundra, guests do not have to spend hours each day driving back and forth from Churchill proper.
Most guests who stay in the lodge will never touch the ground during their stay. They're either in the lodge or inside a tundra buggy the entire time.
Visitors can't go walking because of the danger from Polar Bears, but the lodge and tundra buggies are elevated enough that the bears can't reach the windows and doors.
During the last tour of the season, the Tundra Buggy Lodge is moved into Wapusk National Park.
Wapusk is the largest Polar Bear denning area in the world, and one of the best places to these massive predators. This is the only tour which is authorized to visit the park.
Believe it or not, the Tundra Buggy Lodge has Wifi! Due to a partnership with Polar Bears International and a live video feed they have, the lodge has a 100mb/sec connection, even while off the grid in the middle of a subarctic tundra! -Gary Arndt of Everything Everywhere
READ MORE: Alaskan Animals: 40 Species You Can See During Your Alaksa Vacation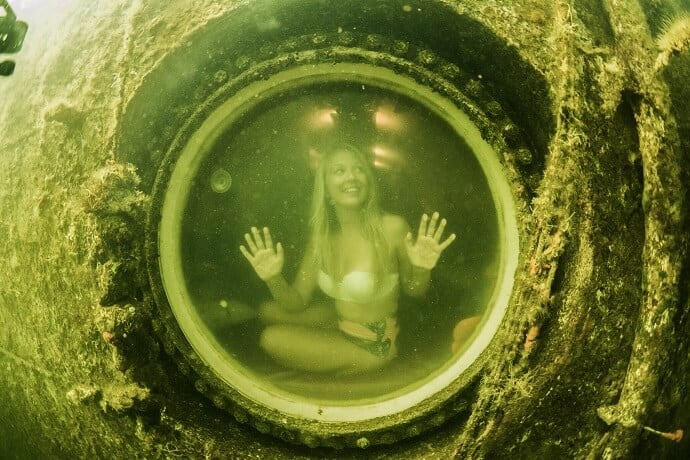 20. Jules Underwater Lodge (Key Largo, USA)
The Jules Underwater Lodge in Key Largo, Florida, has quite the unusual check-in process. You actually have to don Scuba gear to get there!
After a topside orientation from your hosts, you'll be led beneath the surface to the lodge's submerged entrance,– part of a repurposed research station originally stationed off the coast of Puerto Rico.
Inside the kitschy lodge, there are two bedrooms, a full kitchen and living room, warm showers, and wide portholes through which you can view fish.
Leave your toiletries at home: Due to the pressure changes en route to the lodge, anything you bring down with you would be at risk of exploding in your dry bag. Thus shampoo, conditioner, soap, and lotion are generously provided.
Come dinner time, the pizza you ordered back at sea level will arrive in a sealed box, delivered by a Scuba diver.
You can pass the time playing Oceanopoly, digging into 10,000 Leagues Under the Sea, or watching ocean-related documentaries on Netflix (which streams directly to the lodge's TV).
Or you can simply sit back and marvel at the fact that you're warm, cozy, dry, and about to spend the night below sea level.
There's unlimited scuba diving within the Emerald Lagoon during your stay, but don't overlook the unique diving options all along the beautiful islands of the Florida Keys. -Alexandra Baackes of AlexinWanderland
READ MORE: 20 Best Caribbean Islands to Visit (If you Love Nature and Hate Crowds)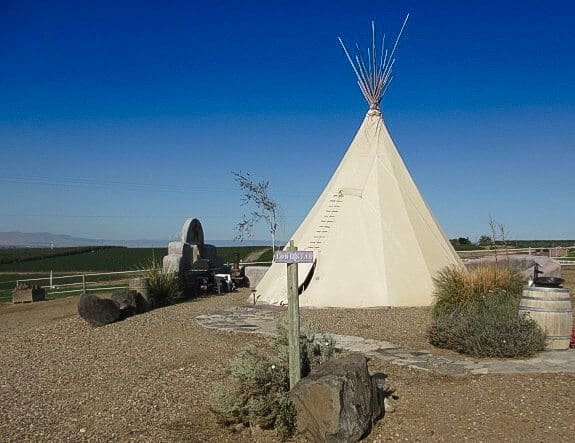 21. Cherry Wood Bed, Breakfast & Barn (Yakima Valley, USA)
Cherry Wood Bed, Breakfast & Barn is set on a working farm in the Yakima Valley of Washington State and offers overnight accommodations in 22-foot teepees.
It's set in the middle of a working farm, and profits from the B&B help support the farm's horse rescue program.
The property is horse- and dog-friendly, and the teepees have a special bed so that your dog can sleep right along with you.
This isn't roughing it! The teepees have most every amenity that you could find in an upscale hotel.
There's attractive lodge-style furniture and decor, magazines to read, games to play, Ralph Lauren robes, slippers, lighting sufficient for reading as well as ambiance, refrigerator, fluffy towels, and privacy.
You even get an electric blanket in case you get a little chilled on those cooler Yakima Valley nights.
In short, you'll have everything you'd have at a luxury hotel, except the bathroom is around the corner and the shower is outdoors and secluded.
Arrive early or stay late and you can make your stay at Cherry Wood an experience that includes wine touring and tasting, an introduction to what's happening on the farm, and a chance to learn more about the horse rescue program. -Mary Jo Manzanares of Traveling with MJ
READ MORE: Top 15 Female Wildlife Conservationists & Animal Rights Activists
Adventure Hotels in South America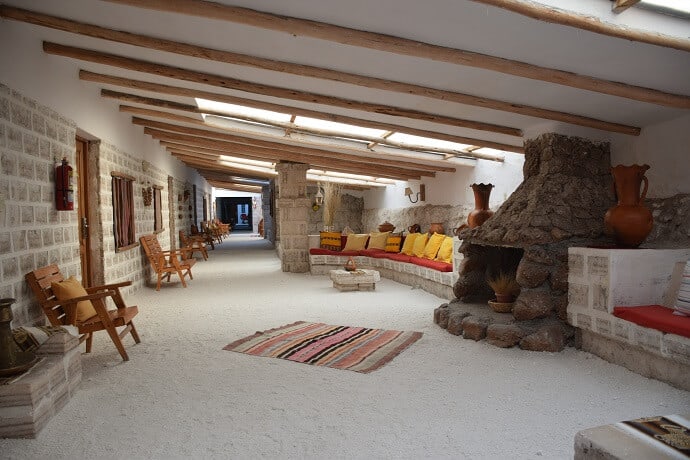 22. Palacio del Sal (Uyuni, Bolivia)
If I told you there's a hotel made entirely out of salt where you can sleep, eat, and enjoy the beauty of nature, would you believe me? Probably not, but it does exist, and you can visit it in Uyuni, Bolivia.
Uyuni is the biggest Salt Flat in the world, and Bolivian locals have known for ages how to use this mineral for construction.
The Palacio de Sal is easily one of the most beautiful hotels made of salt, and the floors, walls, and furniture are all made of it. I even licked one or two walls, just to make sure!
The rooms are extremely beautiful, with comfortable beds and everything you may need for your stay.
The hotel also offers a buffet restaurant for all meals, a spa, common areas with televisions and desks to work on, a game room with pool tables, a gym, and a swimming pool.
They can also help you organize tours through the Salar de Uyuni Salt Flats, which is the area's main attraction.
Visit this giant sea of blindingly white salt at sunrise and sunset for beautiful reflections of the colors of the sky and take a Jeep ride to visit different spots of amazing natural beauty. -Alejandra Werner of Universo Viajero
READ MORE: 40 Green Travel Tips (The Ultimate Guide to Sustainable Travel)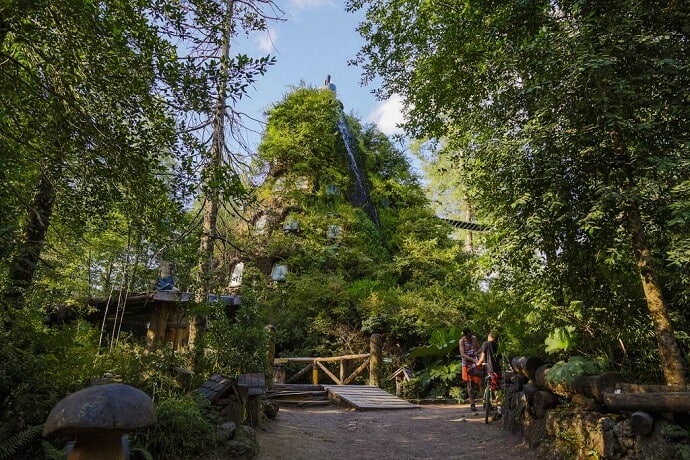 Set in the rainforests of southern Chile, Huilo-Huilo Biological Reserve has over 230 square miles of unrivaled sights and attractions.
But even the continent's largest zip lining system and the world's smallest deer take a back seat to this "Magic Mountain" eco lodge.
Looking like something out of Peter Jackson's wildest dreams, this jaw-dropping volcano-shaped lodge awes guests in every respect. The exterior gasps come courtesy of a waterfall cascading from the roof.
Inside, 13 subtly decorated rooms let the flora and fauna do most of the work, with furniture fashioned from tree trunks.
The rustic rooms also come with en suite bathrooms, free breakfast, free Wifi in public areas, and a cool cafe that offers stunning scenic views via floor-to-ceiling windows.
The reserve also features numerous a children's play area, hiking trails, river rafting, a spa with saunas and a pool, and much more. Read Reviews and Check Rates. –DeMarco Williams
READ MORE: Going Green: 60 Earth Day Tips You Can Use Every Day

Trekkers have been backpacking around the peaks of Patagonia– the mountainous region that straddles parts of Argentina and Chile– for hundreds of years.
Still, we'd be willing to bet that very few hikers have rested in surroundings quite as posh as those at EcoCamp Patagonia, which was one of the world's first prominent eco lodges.
Promoted as sustainable opulence in the middle of the outdoors, the lodge's superior geodesic domes come with a bed, propane heater, and fully equipped bathroom.
If you want to take your post-hike downtime to the next luxurious level, you can splurge on a 300-foot dome suite.
Fashioned after indigenous tribal dwellings, these prime accommodations have a wood-burning stove and an open terrace, from which you can catch the occasional Guanaco encounter. Read Reviews and Check Rates. –DeMarco Williams
READ MORE: The 40 Best Backpacks for Travelers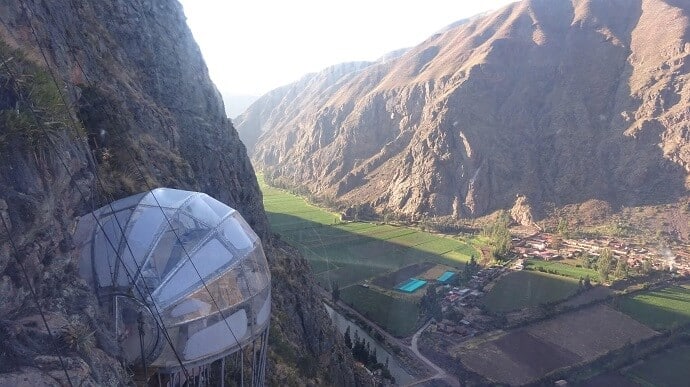 25. Skylodge Adventure Suites (Cusco, Peru)
There aren't many places in the world that allow you to sleep on the side of a sheer mountain cliff. Well, not many where you can stay safe, dry, and in a comfy double bed anyway.
Skylodge Adventure Suites literally takes glamping to new heights.
Located 300 meters (984 feet) up on the side of Peru's Sacred Valley, the hotel's three bedroom pods afford insane views down the valley by day and stellar stargazing at night.
Considering it's inside a plastic pod, you'll be delighted at how big and soft your bed is. In fact, it was the most comfortable bed we encountered during our trip to Peru.
You can completely see through the walls and ceiling, giving superb (if stomach-churning) views.
Even the bathroom has an amazing view. Luckily, it also has curtains to shield you from the outside world. The toilet is NOT a luxury situation, but I will let you discover how that all works for yourself.
Along with the crazy experience of hanging off the face of a cliff in this exhilarating adventure hotel, you'll also be treated to some delicious food for breakfast and dinner.
The guides have to carry this up on their backs, so it is a real treat to get a surprisingly good meal. Expect three courses and a bottle of wine at night.
The exciting experience of climbing up to your pod and zip-wiring back down is another reason to visit Skylodge Adventure Suites.
About 30 minutes down the road is the town of Ollantaytambo. From there you can catch the train up to Aguas Calientes (the most popular base for visiting Machu Picchu), or head in the other direction to visit Cusco. -Rosie Fluskey of Flying Fluskey
If you enjoyed reading The Most Unusual Hotels In The World, you might also like:
10 Most Threatened Rivers in the World
20 Best Festivals in the World
10 Unbelievable Mountains in the World