They're closely related to harbor seals, but are easily distinguishable by their grey coat, white belly and slim physique, which makes them extremely agile swimmers perfectly suited for fishing for octopus, squid and fish in deep water coral beds.
Members of the Phocidae family (meaning they have no external ears and can't rotate their back flippers underneath them), Hawaiian monk seals vary in size from 200-300 pound males to females that can weigh up to 600 pounds and measure 8 feet long.
Though the species' evolutionary history is still up for debate, scientists believe they migrated to Hawaii from the North Atlantic 4-11 million years ago.
READ MORE: Hawaiian Mythology (intro to Hawaiian Gods, Goddesses and Legends)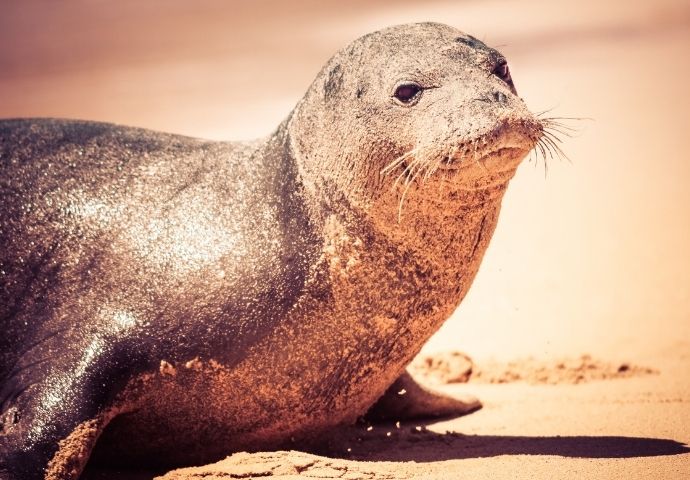 Why are Hawaiian Monk Seals Endangered?
With a population estimated around 1100, the Hawaiian Monk Seal faces so many threats, one wonders if they aren't doomed to go the way of their extinct cousin, the Caribbean Monk Seal.
Hunting by humans for meat, skins and oil in the 19th and 20th centuries nearly wiped them out.
They still face myriad issues ranging from low juvenile survival rate (due to shark attacks, starvation due to reduced prey and getting tangled in marine debris.
In addition, the Hawaiian Monk Seals' habitat is shrinking due to erosion in the Northwest Hawaiian Islands to overfishing of lobsters (one of their favorite foods) and low levels of genetic variability caused by over-hunting in the past.
READ MORE: The 20 Best Things to do in Kauai, Hawaii (For Nature Lovers)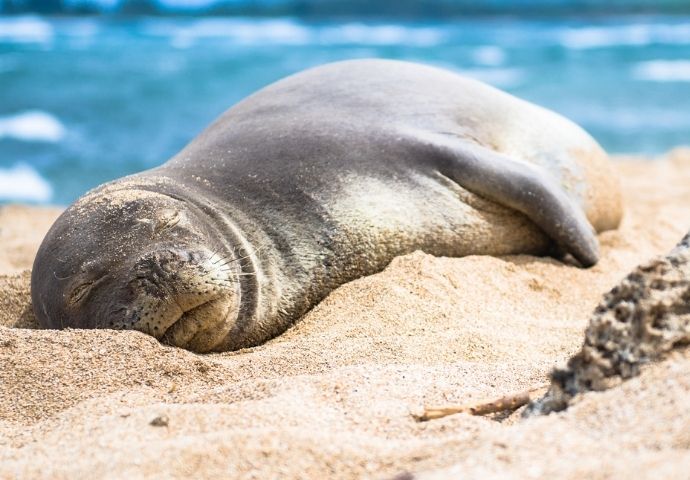 What's Being Done To Save Hawaiian Monk Seals?
Declared an endangered species in 1976, Hawaiian Monk Seals are now protected by the Endangered Species Act and the Marine Mammal Protection Act.

In 2006, Papahānaumokuākea Marine National Monument was created, encompassing 140,000 square miles and including 10 Hawaiian islands and atolls, to protect the marine ecosystem of the area.

In 2008, the seal was declared Hawaii's official State Mammal to help raise public awareness of the species' plight.

The National Oceanic and Atmospheric Administration (NOAA) has funded research on the population's dynamics and health, forming a major network of volunteers to help protect them while they bask on Hawaii's beaches and nurse their young.

And in 2011, NOAA's National Marine Fisheries Service issues a controversial plan to improve protections for the seals, including a de-worming program for juveniles, relocation from the main islands to the Northwestern islands, diet supplements at feeding stations, and even chemical alteration of aggressive seal behaviors.

It may sound excessive, but sometimes it takes aggressive action to save a species… –Bret Love

SPECIES- Hawaiian Monk Seal (Monachus schauinslandi)

CURRENT RANGE- Hawaiian Islands

CURRENT THREAT- Human encroachment, entanglement in fishing nets, low levels of genetic variation

CONSERVATION STATUS- Critically Endangered

WHERE YOU CAN SEE THEM- Laysan, Midway, Pearl and Hermes Atoll, French Frigate Shoals, Lisianski and, occasionally, the beaches of Hawaii's Big Island.

If you enjoyed our story on the Hawaiian Monk Seal, you might also like:

40 Fascinating Facts About the Hawaiian Goose (a.k.a Nene Goose)

35 Beautiful Birds of Hawaii and the Polynesian Triangle

Exploring Polynesian Culture: Food, Music, History & More

The Top 10 Polynesian Islands to Visit in the Polynesian Triangle

Maui Dolphin – Endangered Species Spotlight

The 15 Best Kauai Waterfalls (and How to Get to Them)

30 Cool & Weird Ocean Animals Around the World

70 Cool & Weird Animals Around the World (An Epic Guide)

30 Amazing Galapagos Islands Animals

[Updated 2/23/2022] Known to Hawaii's Polynesian natives as "Ilio-holo-i-ka-uaua," or "dog that runs in rough water," the Hawaiian Monk Seal is one of only two monk seal species left in the world (the other is the Mediterranean Monk Seal).