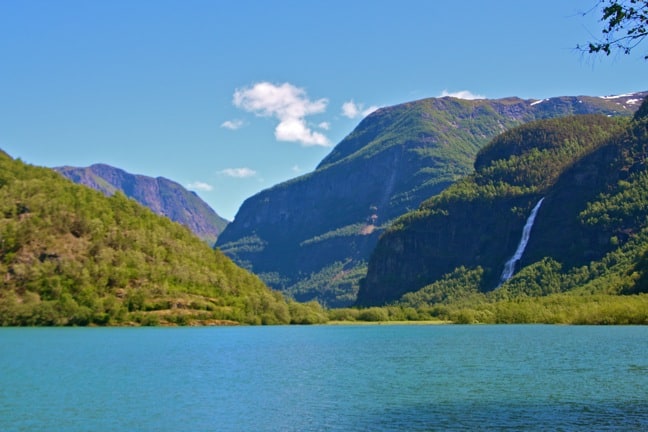 The Land of WOWs
An Amazing Road Trip In Norway's Jotunheimen Mountains
Have you ever seen something so achingly beautiful, the sheer emotional power of the moment literally reduced you to tears? It happened to me a few days ago while driving through the Jotunheimen Mountains on Norway's Sognefjellet National Tourist Route, which takes you through Northern Europe's highest mountain pass. And not just once, but over and over again.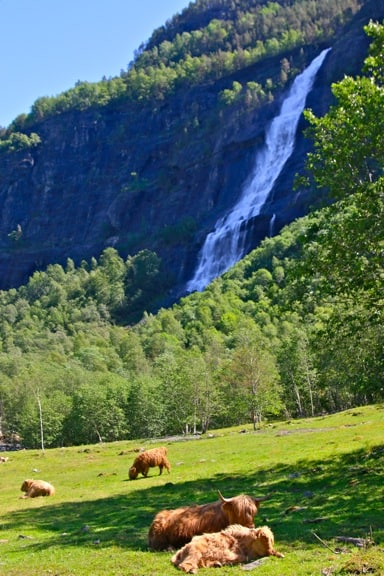 This historic road (a.k.a. County Road 55)– which runs from the pastoral villages of the Sognefjord to the lush landscapes of Bøverdalen valley– has connected the eastern and western regions of Norway for centuries. Our drive began in Guapne, heading east along the fjord towards Skjolden, where Austrian philosopher Ludwig Wittgenstein wrote his influential masterpiece Philosophical Investigations. Surrounded on all sides by majestic mountains, green fields and waterfalls, it's easy to understand why he chose the location to craft his classic.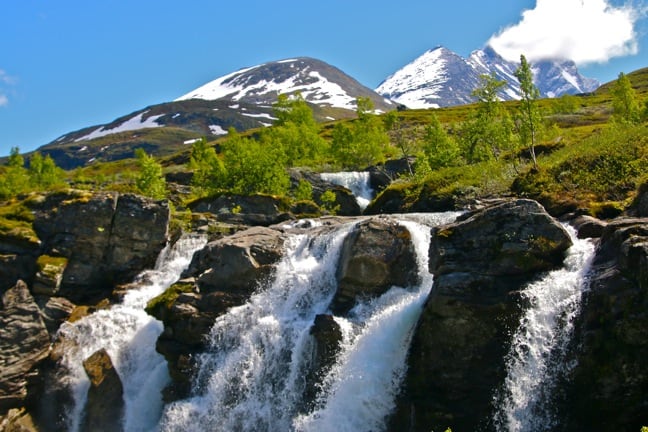 As you keep climbing higher into the mountains– turning sharp corners on switchback after switchback– the waterfalls get closer and closer, as do the snow-capped peaks. And the views only seem to get more breathtaking as you ascend into Jotunheimen (which translates as "The Home of the Giants"), a 3500-sq km region that contains all of the 29 highest mountains in Norway.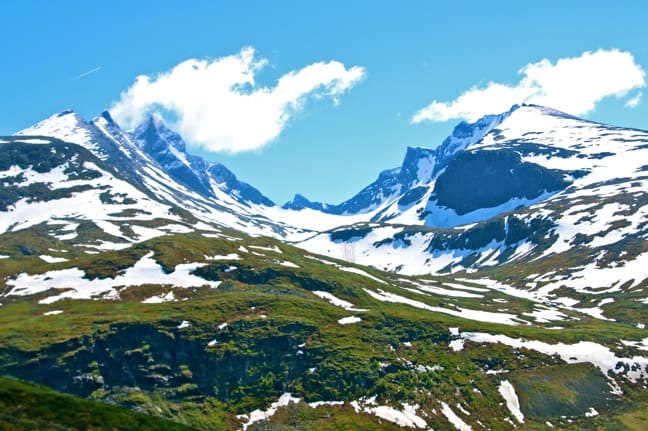 Designed by architect Carl-Viggo Hølmebakk, the Nedre Oscarshaug viewpoint is one of many attractions along the Sognefjell route that practically demand you to stop and spend quiet moments soaking up the scenery. The viewing scope there allows you to identify the mountains of Jotunheimen's Hurrungane range, which has 23 peaks that reach over 2000 meters (6,600 feet). Here, verdant greens provided a striking contrast against the blanket of white, and the summer sun made the mountains seem to shimmer as the snow began to melt.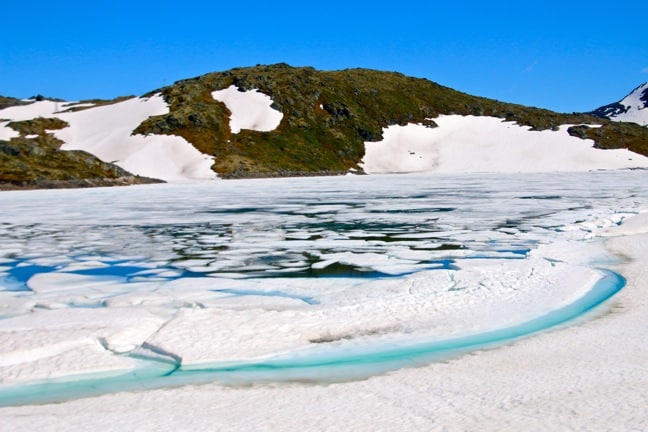 As we got back into the car after 30 minutes at Nedre Oscarshaug, Mary cued up the iPod to one of my favorite albums, Takk, by Icelandic band Sigur Ros. I've always associated the grand dramatic flourishes of the band's moving music with the majestic landscapes of the Nordic countries, and had been talking for weeks about wanting them to be the soundtrack for our road trip. One of the album's best songs, "Glósóli," reached its dynamic crescendo right as we turned a corner and saw the brilliant blues pictured above, and I immediately began to weep.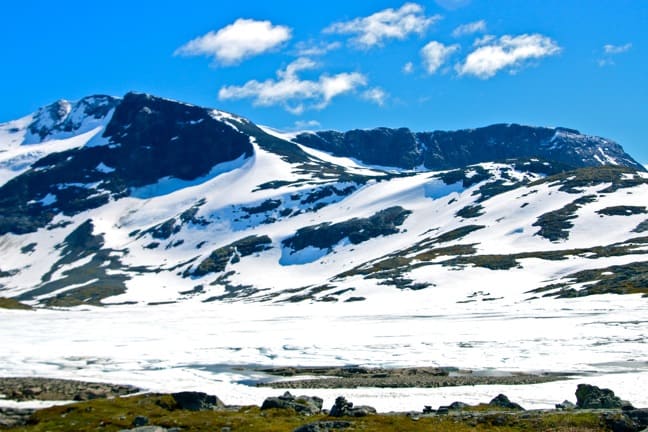 Listening to Takk (released in 2005) brought back vivid memories of the very different life I had 10 years ago. A newly divorced single dad, I was in a torturous, on-again/off-again long distance relationship with a woman in Canada, struggling financially, battling depression and a lack of self-confidence. As we crested that summit in Norway, I was struck hard by the overwhelming realization of how very different my life looks today.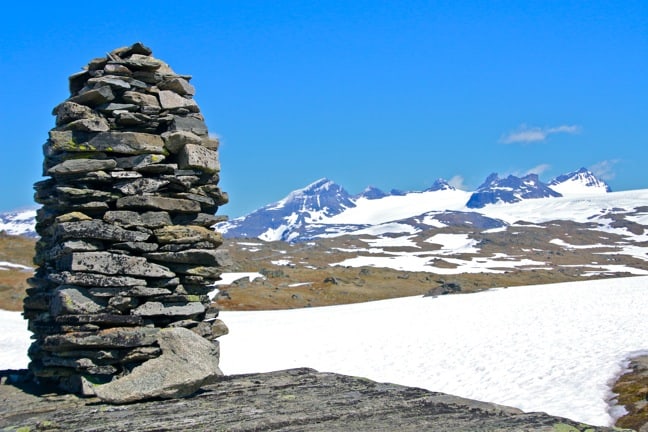 Over the last five years, my world has changed dramatically. I met the love of my life, Mary– the greatest partner I ever could have imagined for myself. My daughter has bloomed from a shy child into an amazing young lady, with a winning personality, excellent grades and aspirations to be a marine biologist. My writing career has also blossomed, transitioning from a 20% to 80% travel focus. And thanks to Green Global Travel, Mary and I get to travel to the world's most amazing ecotourism destinations, making new dreams come true every day.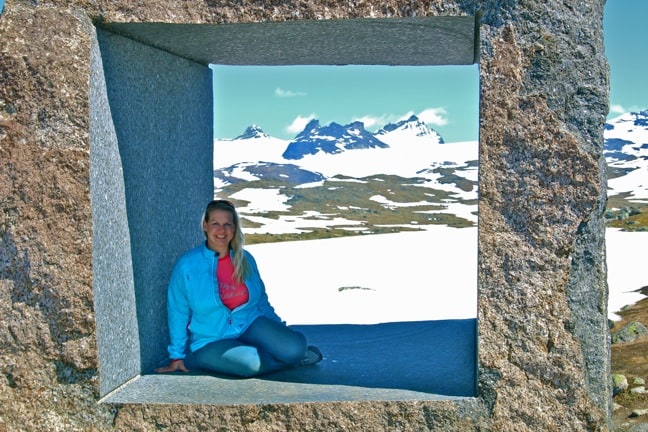 Tears of joy and gratitude continued to stream down my cheeks as we reached the iconic Stone Sculpture of Jotunheimen's Mefjellet rest area (which offers exceptional views of the Fanaråken glacier). Mary held my hand as I whispered quiet words of gratitude for the blessings I've been given, and we savored our brief time alone in this spectacular setting nearly 7,000 feet above sea level.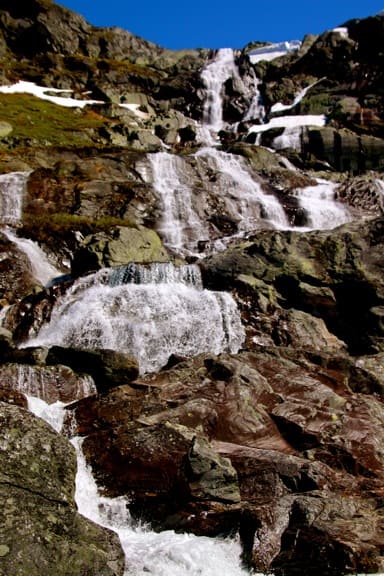 It's difficult to describe the thoughts and feelings that washed over me as we made our gradual descent from the summit. The overwhelming immensity of the landscape fills you with awe and wonder, making you feel very small in comparison. I imagined what it must have been like for the Norwegians who originally traveled this route eons ago, bringing salt and fish from the west and taking butter, tar and pelts the opposite direction. In winter, the snows here get so high that sticks mounted atop stone cairns are the only visible trail marker.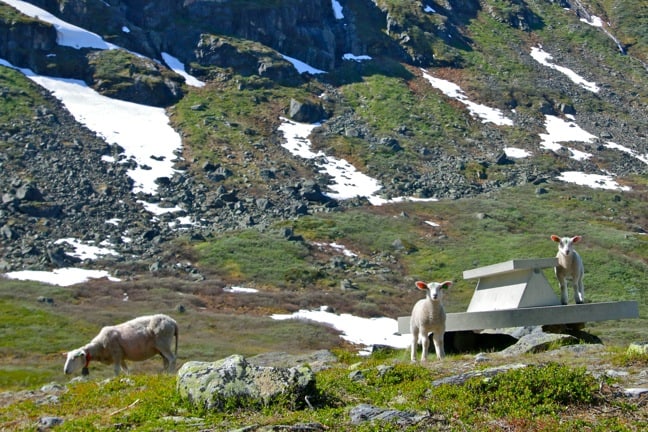 Despite the fact that we drove through Jotunheimen on a bright, sunny day at the beginning of Norway's peak tourist season, we saw few other travelers along the way. In fact, there were more sheep than people– most of them tagged with colorful spray paint on their forehead and allowed to graze freely.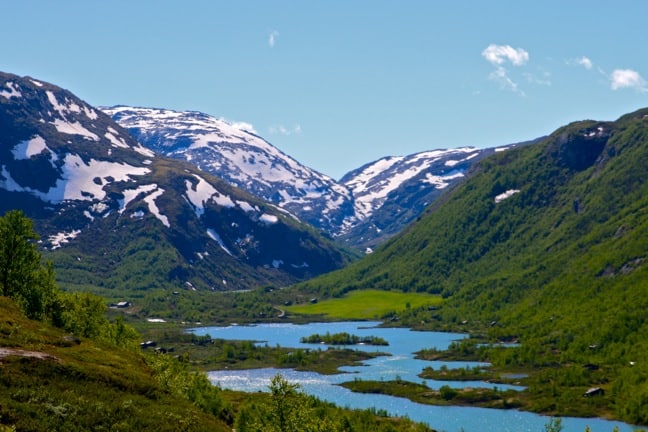 We didn't talk much as we gradually dipped below the line that divided snow-capped mountains from fertile valleys split by tranquil rivers that reflected the brilliant blue sky. It was as if we were both savoring every second of what we later agreed was the single most memorable road trip of our lives. Despite the fact that we'd been driving nearly seven hours and were heading to one of Norway's most acclaimed historic hotels, we didn't want it to end.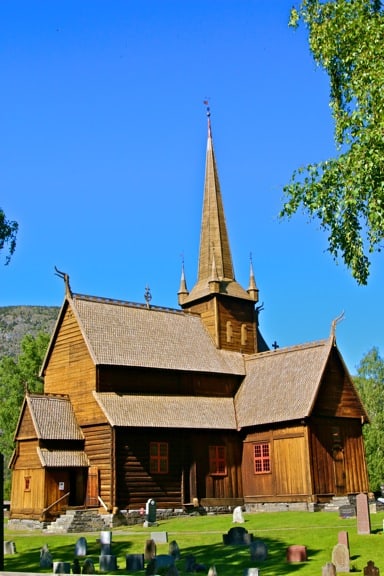 But, of course, like all good things, the Sognefjellet National Tourist Route does come to an end. As we reached the town of Lom, our dream-like reverie was interrupted by a wave of buses packed with tourists from the ships that cruise Norway's gorgeous fjords. We made one last stop at the town's historic Stave Church, which was originally built around 1210 and rebuilt into a cruciform church in the 1600's.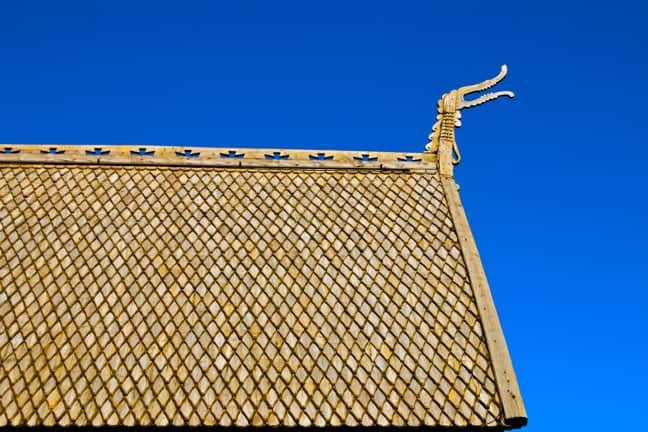 One of several dozen Stave Churches in Norway (the only country in Northern Europe in which these wooden churches from the Middle Ages remain intact), the Lom Stave Church is special because it's among the few that still have the original medieval crest with a dragon head. We had started our day at the Stave Church in Urnes, so it seemed somehow appropriate that we should end our road trip through this "Land of WOWs" at the one in Lom. The drive through Jotunheimen may have only been 108 kilometers, but it gave us awe-inspiring vistas and a day filled with memories that will last a lifetime. –by Bret Love; photos by Bret Love & Mary Gabbett
Our trip was sponsored by Visit Norway, with clothing provided by Helly Hansen and luggage provided by Eagle Creek. But we will never compromise our obligation to our readers. Our opinions remain our own.
If you enjoyed our post on Driving Norway's Jotunheimen Mountains, you might also like:
Top 5 Eco Attractions in Norway
SWEDEN: Cycling Remote South Koster Island
SWEDEN: Touring West Sweden in a Volvo
Top 5 Eco Attractions in Bosnia and Herzegovina
CROATIA: Exploring Plitvice Lakes National Park