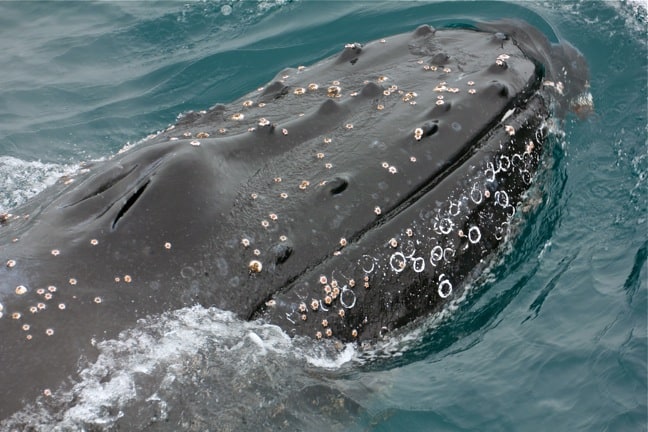 Seeing Whales That Live in Antarctica
A Dream Come True!
I've been fascinated with Whales ever since I was a boy, reading Melville's Moby Dick. But I didn't start dreaming about seeing the whales that live in Antarctica until a few years ago, when I became a diehard fan of the Animal Planet docu-reality series Whale Wars.
Seeing the Sea Shepherd Conservation Society volunteers so passionate about protecting these super-sized cetaceans from Japanese whalers is undeniably infectious. But it becomes much more emotionally resonant when you see these tough environmental activists reduced to child-like awe (and, in some cases, tears) every time they spot a whale breaching within the vicinity of their ship.
When we found out we would be taking a dream ecotourism adventure to the southernmost continent with Adventure Life, we were overwhelmed with a mixture of shock and excitement. Finally, I thought, I'll have a chance to see the whales that live in Antarctica in person!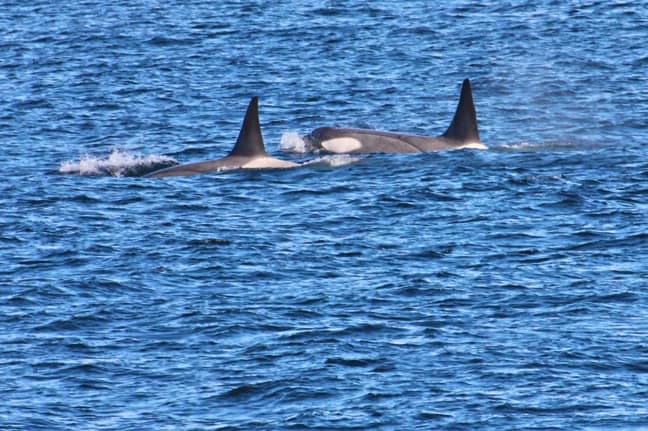 Of course, as any wildlife lover knows, it's not quite that easy. Though we're often extremely fortunate in terms of wildlife sightings on our trips, spotting a given species in the wild is always something of a crapshoot. But, on our second day in Antarctica, as we made our way from Orne Harbour to see the sunset in the Lemaire Channel, we got our first glimpse of Antarctica's whales in action.
It was almost dinner time, so most of the passengers were assembled in the upstairs lounge for drinks and appetizers. We were passing by some intense icebergs, so Mary and I went out on the top deck to shoot photos and video. Suddenly someone spotted a whale in the distance– at least 300-400 yards off our bow– and the crew made an announcement that had everyone bustling with excitement.
It was a whole pod of Antarctic Killer Whales, which are smaller than other Orcas and have grey (or even white) backs and, in some species, yellow-tinged patches.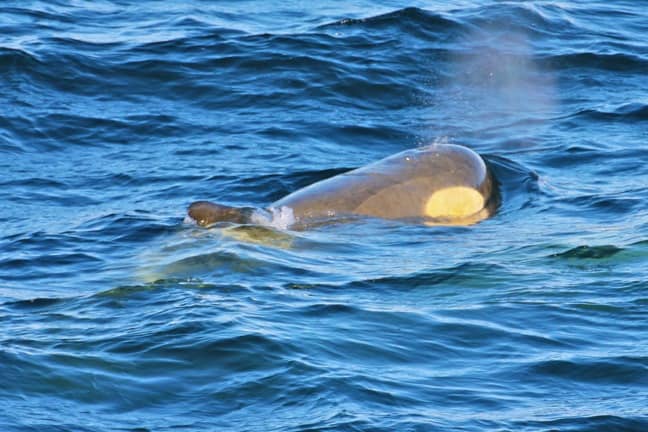 There are an estimated 25,000 Killer Whales in the Antarctic, feeding on everything from Antarctic cod and Penguins to Seals and even Minke Whales. Killer Whales are often referred to as "the wolves of the sea" because they hunt in packs, and since they feed on sharks and even large whales, they're considered apex predators. We never saw what this pod was feeding on, but it was obvious that they were working together.
The adrenaline rush of seeing not one or two, but a whole pod of Killer Whales hunting right next to your boat is indescribable. All 50+ passengers were Ooh-ing and Aaah-ing every time the whales surfaced or dove, with their massive dorsal fins like scythes slashing the sea.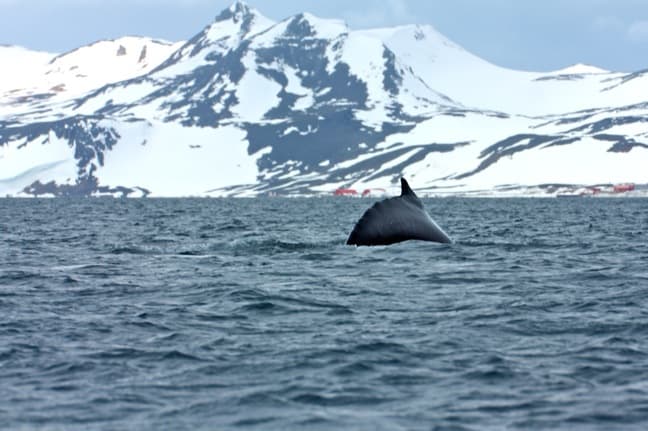 The Antarctica XXI staff kept calling us over the loudspeakers to come down to dinner, but the diehard photographers in the group just laughed it off, thinking they were crazy if they expected us to stop shooting while there were a dozen or so whales in the vicinity! By the time the whales swam off into the distance, we'd watched them for more than half an hour.
Of course, Orcas aren't the only whales that live in Antarctica. There are 15 different species of whales that live there at least part of the year. And our second whale encounter ultimately proved much more impressive– not to mention much, MUCH closer– than the first.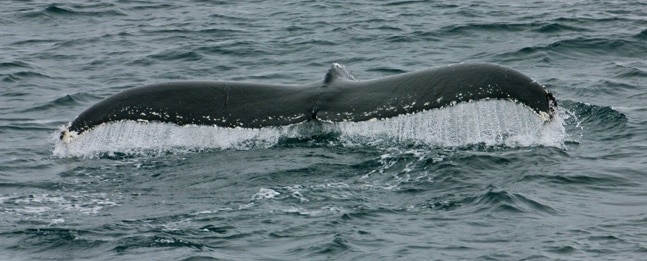 We weren't even supposed to be in Antarctica by that point. But a storm had swept in overnight and prevented the plane that was supposed to take us back to the mainland from landing. A heavy fog had settled in over King George Island, with intermittent snow flurries reminding us that Mother Nature can be especially unpredictable there. So instead we prepared for a shore excursion, waiting for the first group to get back so that we could depart.
As we were getting our snow gear on, a voice came over the speakers alerting us to Humpback Whales spotted off the back of the ship. I literally sprinted down the hall and up two flights of stairs, switching lenses and filters as I went. I saw one while diving in the distance, and thought perhaps I'd arrived too late.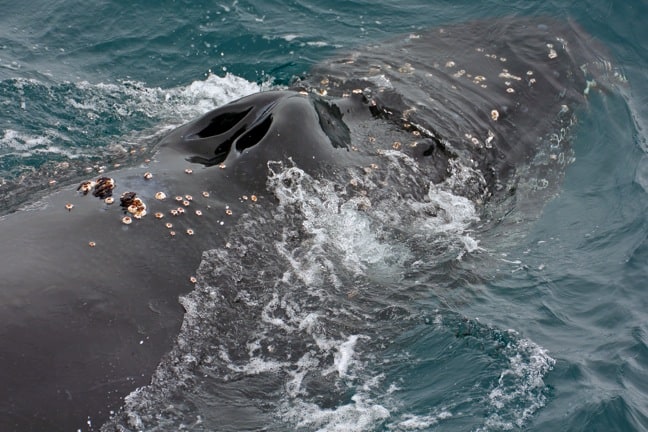 All of a sudden, I heard a sound directly below me– that distinctive sound of a whale breathing through its massive blowhole– and looked down to see the beauty pictured above.
As you can see in the photo at the top of this story, the whale actually swam on its side, and you could tell it was looking up at the dozen or so passengers who had assembled on the top deck. The whole encounter lasted only a few seconds at best, but time seemed to stand still, and I got goosebumps that left me shouting in exultation as the whale dove into the sea.
It was one of the most incredible, overwhelming wildlife experiences of my entire life. But it wasn't over yet.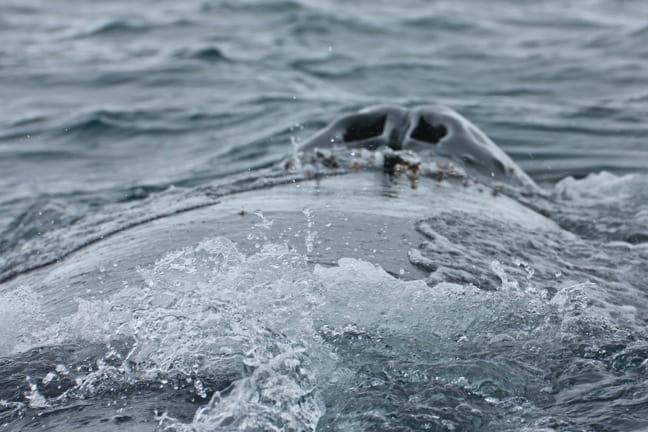 Remember when I said we've always been extremely fortunate in our wildlife encounters? This is a perfect case in point: We rushed down three flights of stairs to meet the Zodiacs that would take us out to the center of the Humpback Whale pod. As luck would have it, of the 8 different guides we could've ridden with, we just so happened to get into the Zodiac of Mariano Curiel, Antarctica XXI's expedition leader.
The best part of riding with the expedition leader is that you're always in in the lead. Therefore, you're always the first to spot whatever there is to be spotted. So, as Mariano urged the other Zodiacs to fall in behind him and headed through the whipping wind and splashing sea spray towards the whales, we had a front row seat to all the action.
Finally we came to a stop, turning our heads in every direction to see Humpback Whales putting on a show. But as the wind picked up the waves, I– sitting in the bow of the boat– got splashed, and cursed as I struggled to wipe the water from my camera lens. Just as I got it clean, this happened…
The Humpback Whale surfaced approximately 3 feet from where we sat. Mary moaned "Oh God!" I'm fairly certain I uttered expletives that can't be shared on a family-friendly site. The fact that there was ANOTHER whale that surfaced less than 20 feet away did not even occur to me until we watched the video. This thing was huge, and it was extremely close… closer than I'd ever been to a whale in more than a half-dozen whale-watching tours.
There are no words to aptly describe how we felt afterward, but my daughter's favorite– "MAGICAL!"– is good enough. The whales swam around us for quite some time, and we were awed in their presence. Seeing them that close, there was no question why the Sea Shepherd volunteers risk life and limb to protect the whales that live in Antarctica. An experience like that will make you want to protect them, too.
In retrospect, we felt incredibly blessed by our encounter. If the weather hadn't delayed our departure, if those whales hadn't come into that harbor at that time, and if we hadn't gotten into Mariano's Zodiac… well, I wouldn't be telling you this story now. The fact that our lives afford us such magnificent moments only serves to make Green Global Travel's mission all the more meaningful to us. It's a memory that will last a lifetime… –Bret Love; photos by Bret Love & Mary Gabbett
If you enjoyed out story about Seeing Whales That Live in Antarctica, you might also like:
How To Get To Antarctica Without Doing the Drake
ANTARCTICA: Taking the Polar Plunge
ANTARCTICA: Penguins Photo Gallery
Top 5 Eco Attractions in Antarctica
ENDANGERED SPECIES SPOTLIGHT: Southern Resident Killer Whales