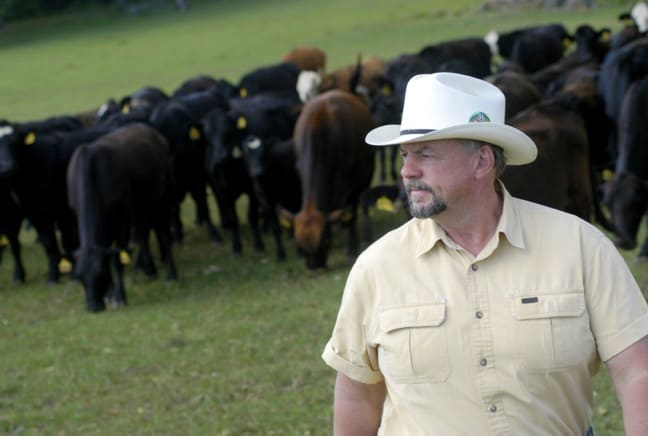 As we learn more about sustainable agriculture and the dangers of genetically modified foods from revealing documentaries like Food, Inc., we are increasingly concerned about where the food we eat comes from.
Our burgeoning curiosity about the locavore movement led us to discover White Oak Pastures, a farm located in our home state of Georgia that focuses on sustainable land stewardship, animal welfare and eco-friendly farming practices. Located in Bluffton, GA, the farm has been in the Harris family since 1866, focusing primarily on grass-fed beef and lamb and free-range poultry. Their motto?

"We take care of the land and the herd, and they take care of us."
Earlier this month at the Take Pride In America celebration in Washington, DC, fourth generation cattleman (and WOP President) Will Harris received an American Treasures award for setting national standards in sustainable farming. Under Harris' watch, the company has become the largest certified organic farm in Georgia; one of only two on-farm, USDA-inspected, grass-fed beef plants in the country; home to the largest solar barn in the Southeast; received a Step 5 rating from the Global Animal Partnership, (their processing plant is also Animal Welfare approved); and made their processing plants zero waste operations, with blood turned into liquid organic fertilizer, bones ground into bone meal, and all eviscerate composted to use as soil amendments for the farm's certified organic pastures.
We recently spoke with Harris about the ongoing changes in the farming industry, the importance of sustainable agriculture and the future he hopes to see.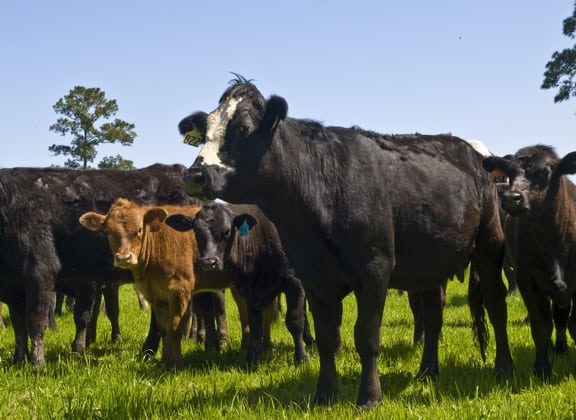 You grew up on the farm, and farming had obviously been your family's focus for many generations. As a teen, was there ever any question in your mind that you'd be a farmer when you grew up?
No, I never wanted to do anything except run this farm. It's a good thing, too. I'm an only child. A dinner table announcement that I was going to move to New York to pursue a career in theater would have been very poorly received.
How would you say the farming industry on the whole has changed most since you were a kid?
During the 1960's, I witnessed the last stages of the industrialization of agriculture that began at the end of WWII. During the 1970s, '80s and '90s I witnessed the heyday of industrial agriculture. Now I have seen the realization, by consumers, of the unintended consequences of this industrialization.
A lot of people don't even want to eat meat these days because of all the hormones used and the mistreatment of animals that seems prevalent in the modern-day meat business. Can you talk about your feeling regarding companies that try to cut corners in order to maximize profits?
I insist on knowing where the meat that I eat comes from. I know too much about meat production.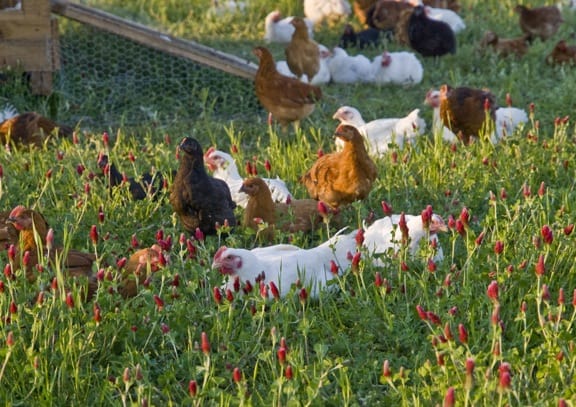 I know you made major changes to White Oak Pastures when you took over from your father as President. Can you talk about some of those changes and why they were important to you?
When my father industrialized our farm, it was to take costs of the production of our meat. There were unintended consequences to these intentional changes. We did not intend to oxidize the organic matter in our soil by using synthetic fertilizers and pesticides. We did not intend to lower our animal welfare standards for our herds. But we did. It took a long time to recognize these damages to our land and herds. Disgust followed recognition. We are now on an improving program of intentionally emulating nature and natural systems.
Other than the obvious ethical benefits of animals that have been raised eating natural grass, can you explain a bit about why it makes the meat taste better?
I'm convinced that there are benefits to slaughtering animals that are in the physical condition that they would be if they were in a natural environment, and not unnaturally obese. I'm also convinced that there are benefits to raising animals in a welfare program in which are not ever frightened to the point of flight or fight.
You guys have the largest solar barn in the Southeastern U.S., and run a zero waste operation. How difficult was that to implement, and what have been the long-term benefits of it?
Not so difficult, just expensive. Doing the right things costs more money. You just have to believe that if you do the right things, you will be rewarded at some level.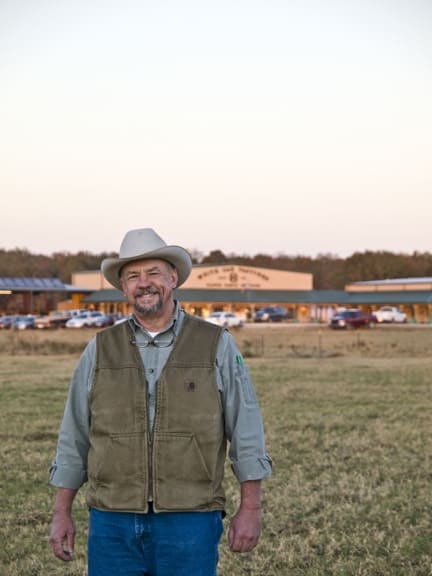 A lot of our readers are animal advocates, and I know you feel strongly about treating your animals with respect. What does White Oak Pastures do to treat animals differently than your average cattle farm?
Our animals never know that people can or will hurt them. They only know that people feed, water, and comfort them. This is up to, and including, the slaughter process.
On July 4 you received the 2012 American Treasures Award from MADE: In America. What does that recognition mean to you personally?
For us, the award is a validation that we are doing the right things. High animal welfare and good environmental stewardship are our core values, and we have been honored [and humbled] to have been chosen to receive a number of awards recognizing this. We feel enormous gratitude for having been given this opportunity to do good work, and the strength to do it. Sustainable farming is important because we only have this one planet.
Do you see any trends suggesting that more farmers and ranchers are starting to follow your lead in sustainable farming?
Sadly, very little. When we began this journey I believed that I was helping to change the way that America was producing food. I now know that I only serve a small number of customers who care about the humane treatment of animals and good land stewardship. This is a nation of big box discount store shoppers. Our niche is growing, but it will always be a small percentage of the overall market.
Where do you hope to see this industry 10 years from now?
Honestly, I would just like for our local, humane, artisanal, sustainable food production system to grow to be as large as it can be. –Bret Love
If you enjoyed reading our interview with Will Harris on Sustainable Agriculture, you might also like:
DIY Aquaponics: The Future of Green Gardening
DIY Backyard Wildlife Habitat
When To Buy Organic (And When It's Not Necessary)