There are many countries in Southeast Asia that are famous for their breathtaking beaches, exotic food, wonderful people and adrenaline-charged sports.
But, for remarkable wildlife, one place leads the pack: Borneo. The third largest island in the world (and the biggest in Asia), Borneo is divided among Malaysia, Brunei and Indonesia.
In Sabah, Borneo– one of the island's 13 states– you'll find a staggering 140-million-year-old rainforest that is one of the oldest in the world.
Nowadays, this state protects six national parks. This includes three terrestrial (Mt. Kinabalu, Crocker Range and Tawau Hills) and three marine parks (Turtle Island, Tunku Abdul Rahman and Pulau Tiga), which provide homes to a huge variety of flora and fauna.
We spent three weeks in Sabah, Borneo and gathered a list of the top places that we would recommend to anyone looking for great ecotourism adventures and stunning nature. Join us and discover Borneo, a new world…
READ MORE: Saving Endangered Asian Animals (Best Wildlife NGOs)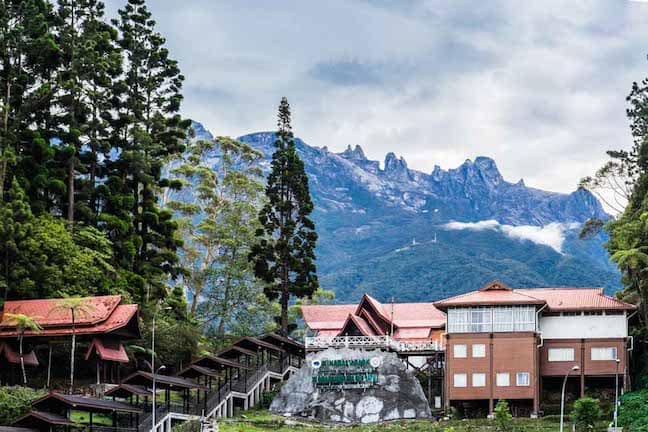 Kinabalu Park is not only Malaysia's first UNESCO World Heritage site, it's also one of Asia's top locations for rich diversity of fauna and flora, providing a home to more than 4,500 different species.
The park is a great place for hikers and tourists of all fitness levels: You can either walk a short trail through the lush forest, hike for 3-4 hours to Layang Layang (2702m), or climb to the top of Kinabalu Mountain (4095m).
The main feature of the park, the majestic Low's Peak, is named after British naturalist Hugh Low, who was the first to reach the summit in 1895. The climb to the peak can be done in 1-3 days, depending on your stamina and budget.
Kinabalu Park is a botanical wonderland, with myriad exotic trees and gorgeous flowering plants. You can easily spot various types of rhododendrons, orchids (about 1200 species!), chestnut trees, figs, mosses, ferns, and the world's largest Rjah Brooke's pitcher plant.
The variety changes immensely as you pass through four different climate zones, from lowland dipterocarp forest and montane oak to coniferous forests, alpine meadow plants and small bushes in the summit area.
If animals are more your thing, you'll be happy to find a rare species of red leaf monkey, amazing insects of different colors and shapes, and a newly discovered species of mouse that we had a great chance to see on our way back from the mountain.
READ MORE: 60 Weird Animals Around the World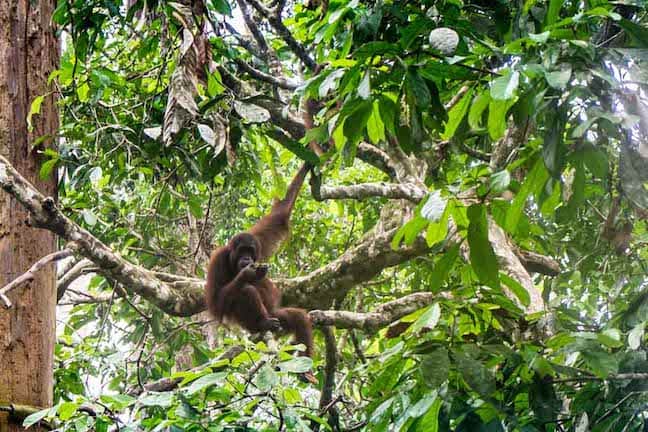 Established in 1964 with the help of the Sabah government, Sepilok is a leading sanctuary in which they rehabilitate injured, displaced and orphaned orangutans.
The rehabilitation process has different stages, and the goal of the final one is to return the orangutans back to the 4294-hectare jungle of the Kabili-Sepilok Forest.
Visitors have a unique chance to see this endangered species either in the wild, when you hike a trail through the reserve (up to 5 km), or during their feeding time on a platform twice a day.
Apart from the "men of the forest" (as they call orangutans in Malaysia), you'll also have the chance to encounter over 200 different species of birds and plants, including some exotic, nocturnal animals only seen during a night walk at the center.
READ MORE: Sepilok Orangutan Rehabilitation Center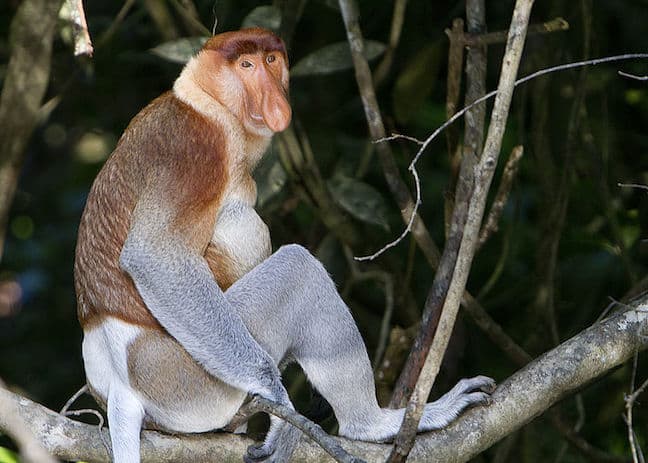 At 560 km, the Kinabatangan is the longest river in Sabah and the second longest one in Malaysia. But what's more impressive is its easy access to wildlife, on the lower Kinabatangan in particular.
The most common way to see animals in their natural habitat is to take an open boat ride or walk the forest trails. Keep in mind that the latter option requires a professional guide.
The brownish-yellow muddy river and its bank are home to amazing proboscis monkeys, orangutans, river sharks, Bornean Pygmy Elephants, red leaf monkeys, crocodiles, macaques and more.
With its oxbow lakes, Kinabatangan is also a magnificent place for bird watching, offering a chance to see hornbills, eagles, kingfishers, broadbills, and other birds.
Unfortunately, the Kinabatangan River area is currently experiencing a harsh time. Various NGOs are working to preserve the area from various different threats, including massive deforestation. Desperate attempts to save the rainforest are being made, as the natural habitat of many wild animals is in rapid decline.
Hopefully, the work of these non-profit organizations will help to solve the human-wildlife conflict and conserve this special place for future generations.
READ MORE: The 20 Biggest Forests in the World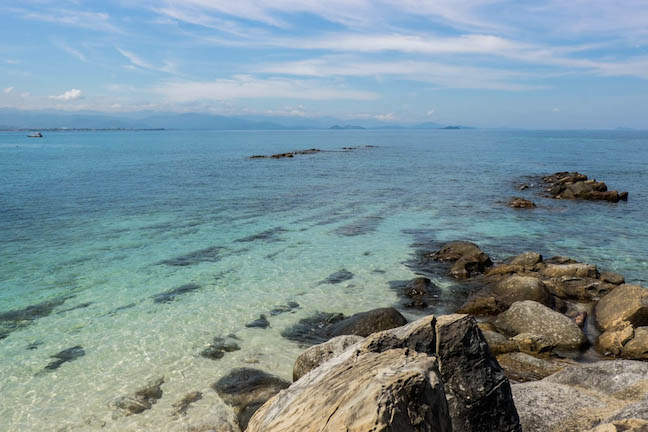 Located just 3 km from Kota Kinabalu, Tunku Abdul Rahman Park is made up of five islands– Gaya, Mamutik, Manukan, Sapi and Sulug.
This astounding marine park is named after Malaysia's first Prime Minister, Tunku Abdul Rahman, and is spread across 50 sq. kilometers.
All the islands are forested and hilly, and on Gaya and Manukan you will find some hiking trails.
In the past, the islands were part of the Crocker Range, but they split apart when the sea level rose after the last Ice Age. What remains are gorgeous white sand beaches, cliffs, caves and the islands' picturesque rocky shores.
TAR park is famous for its marine life and Scuba diving/snorkeling activities, although some areas of the park were severely damaged by fish bombing and are still under recovery.
READ MORE: 20 Exotic Islands For Your World Travel Bucket List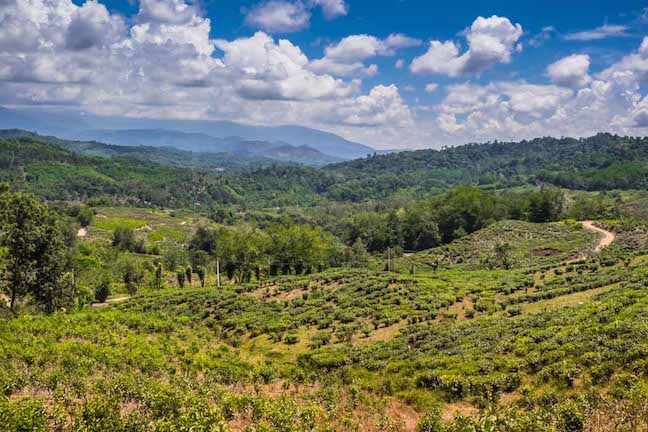 The only organic tea plantation in Borneo that produces high quality, pesticide-free tea, Sabah Tea Garden (near the town of Ranau) offers spectacular scenic views and provides numerous eco-adventures and educational tours of the plantation and tea factory.
There are six stages of the production process and five halls where the tea is withered, rolled, fermented, dried and sorted.
The tea factory is open 24 hours a day, since the Sabah tea factory is the main exporter of tea in the country.
The plantation itself covers 2,500 hectares and is a major spot for agritourism in Sabah. If you want to taste some delicious local dishes, homemade green tea pancakes, and sample different teas for free, Sabah Tea Garden is the perfect place to do it. –text & photos by Ivana Greslikova & Gianni Bianchini unless otherwise noted
READ MORE: Top 10 Things to do in Coron Palawan
BIO: Ivana Greslikova and Gianni Bianchini are the founders of Nomad Is Beautiful, a travel blog focused on responsible tourism, eco-adventures and healthy lifestyles. Follow these digital nomads on their journey on Facebook and Twitter.
If you enjoyed our post on the Top Ecotourism Attractions in Sabah Borneo, you might also like:
MALAYSIA: Sun Bear Conservation Centre
NEPAL: Hiking The Annapurna Circuit
THAILAND: Top 5 National Parks
What is an Eco Lodge? A Guide to "Green" Accommodations
Easy Ecotourism: 10 Simple Steps to More Sustainable Travel
The Benefits of Ecotourism: 20 Travel Bloggers on the Importance of Nature Travel