(The following is a guest post from Margherita & Nick Ragg of adventure & nature travel blog The Crowded Planet. Follow their adventures via Facebook and Twitter. If you're a blogger interested in guest posting on GGT, please email pitches to Editor-In-Chief Bret Love at GreenGlobalTravel@gmail.com.)
In The Land Below the Wind, Agness Keith wrote of the Bornean orangutans that used to visit her garden in order to eat fruit from the trees. The book was written in the 1930s, when the country was still covered in primary rainforest, thick and unexplored, providing habitat for a wealth of wildlife.
It was said that orangutans could cross the whole of Borneo, swinging from one tree branch to another, without ever touching the ground.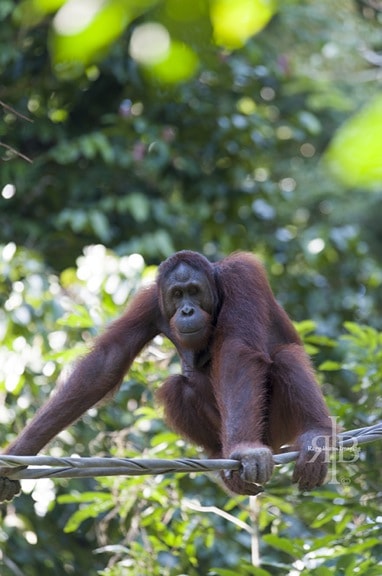 ORANGUTAN FACTS
Orangutans are one of four species of great apes, and found only in Borneo and Sumatra. Their affinity with humans was first recognized by the native people of Borneo, the Dayaks, who named them after the Malay-Indonesian words for man of the forest. Dayaks believed orangutans could talk, but chose not to in order to prevent being enslaved and put to work.
Orangutans spend their entire lives in trees. They're foragers, mainly eating fruit and insects. They sleep in nests built with branches, give birth and die in the trees.
In the '60s, the palm oil boom reached Borneo. Vast tracts of primary rainforest were felled to make way for palm oil plantations. Driving around Borneo today, you see tiny patches of sparsely grown forest sandwiched between sprawling plantations of palms planted in tidy rows.
Now Bornean Orangutans are listed as endangered, while Sumatran Orangutans are critically endangered. Over the course of the 20th century, their numbers dwindled from several hundred thousand to just over 45,000 in Borneo and around 6,000 in Sumatra.
READ MORE: 60 Weird Animals Around the World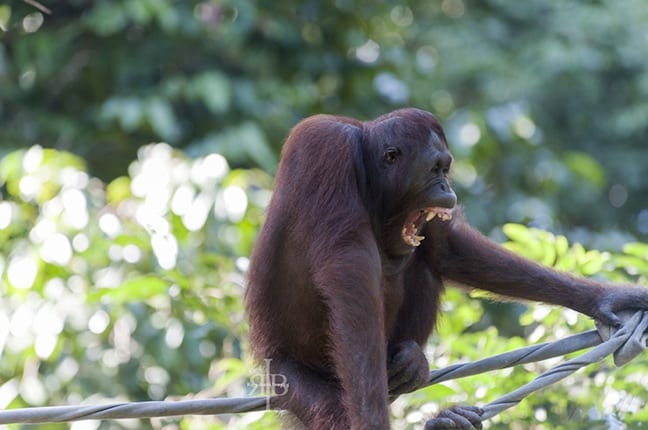 Habitat loss is the main reason. The apes are pushed into ever-decreasing areas of rainforest, making it hard for them to survive. Recently, the Daily Mail published a heartbreaking photo series showing a pregnant orangutan clinging to the last remaining tree while bulldozers made way for a palm oil plantation. It was like a tragic scene cut straight from The Lorax.
Poaching is also a major contributing factor. Despite being strictly forbidden, the orangutan trade is still active in Asia. Orangutan lips were considered a delicacy in Imperial China, and their bones are still used in traditional Chinese medicine today.
The Sepilok Orangutan Rehabilitation Centre was opened in 1964, not far from Agness Keith's home in Sandakan, in the Malaysian state of Sabah. The Centre offers care and rehabilitation for orphaned and injured orangutans, housing around 25 individuals in its nurseries at any time.
READ MORE: 10 Eco Lessons We Can Learn From The Lorax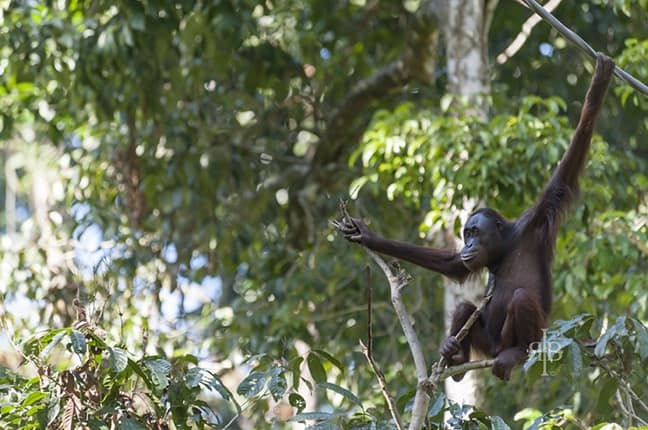 Many orangutans housed at Sepilok are young, and were rescued. Baby orangutans are the main targets of poachers, who sell them into the illegal pet trade or to wildlife parks.
They are mistakenly believed to make great pets because they are docile and sweet when young. But, like humans, they often become more aggressive in their teen years.
Open any Southeast Asian newspaper and chances are there will be an orangutan horror story. There are rescued orangutans addicted to alcohol or cigarettes. There are baby orangutans wrenched by poachers from their mothers' dead bodies.
I've even seen an orangutan for sale in a tiny bamboo cage, when I wandered by mistake into the darkest part of Bangkok's Chatuchak Market.
Unfortunately the orangutans' extraordinary intelligence is also their undoing. Reports claim these apes are capable of abstract thought, and learn new behaviors very easily.
As such, they're often captured and trained to entertain tourists. Last year, orangutans were seized from a wildlife park near Bangkok, where they performed in Muay Thai shows.
READ MORE: 10 Inspirational Animal Rights Activists (Who Happen to be Women)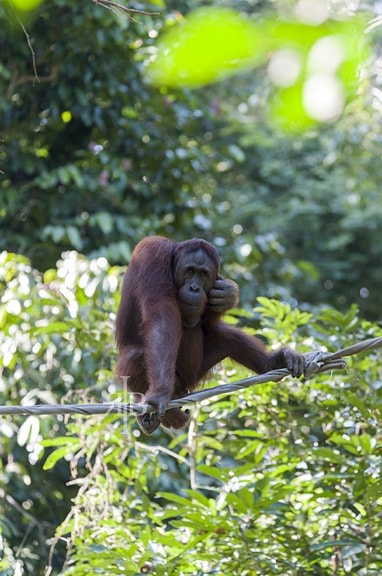 SEPILOK ORANGUTAN REHABILITATION CENTRE
You can't visit the nurseries at Sepilok, as weak orangutans are highly susceptible to human illness. After being nursed back to health, the animals are eventually released back into the wild.
The Centre includes 43 sq km of protected rainforest that is surrounded by palm oil plantations. As a result, most of the orangutans spend the rest of their lives in the area surrounding the Centre, where a total of 60-80 individuals are estimated to live.
Sepilok is among the few forests in the world where you're virtually guaranteed to see orangutans every day. Released orangutans typically return to the Centre's feeding platforms daily at 10 am and 3 pm, with the promise of an easy meal.
One of Sepilok's rangers told us that, in his 20-year career, not a single day has gone past without at least one orangutan turning up there.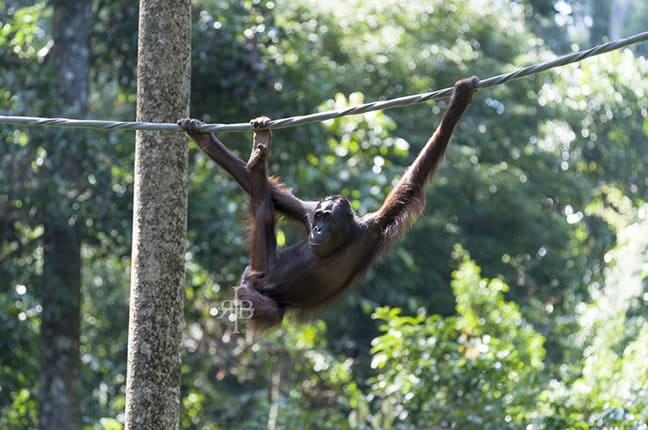 SEPILOK ORANGUTAN REHABILITATION CENTRE TOURS
The feeding platform at Sepilok is reached via a short walk through the forest. When we arrived for our visit one muggy summer afternoon, dozens of eyes were scanning the trees and the ropes connecting the feeding area to the forest.
A ranger arrived and placed buckets of fruit and sugar cane around the platform. First, we heard a muffled noise. Then the ropes started to wobble, and an orangutan covered in shaggy orange-brown fur descended from the rope towards the bucket, right on schedule.
Everyone watched in utter silence as this decided human-like creature peeled a banana and ate it, just as many of us do every day.
A few minutes later, another orangutan arrived. This one was smaller and scruffier, with a shock of hair covering his face. A teenager, I thought. Some Long-Tailed Macaques scurried back and forth in hopes that they'd be getting a meal, too.
The two orangutans spent some time nibbling on fruit from the bucket, surrounded by watchful eyes and camera clicks, before wandering back off into the trees.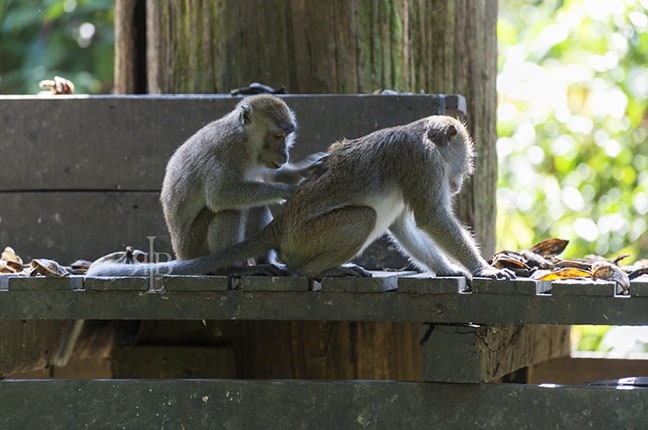 The revenue from the sale of tickets and souvenirs is ultimately invested back into the Sepilok Orangutan conservation project. Caring for orphaned baby orangutans is a tremendous effort, requiring 24 hours of one-on-one contact, just like with human babies.
Before being released back into the forest, orangutans are kept in the Centre for an average of seven years, during which they are taught to feed themselves and, the most important skill for survival, climbing.
A few days after leaving Sepilok, I saw two Bornean Orangutans– a mother and child– on top of a tree in a patch of rainforest along the Kinabatangan River. I wondered how long they were going to survive there.
Not far down-river, I heard the whirr of saws and the thumping of a bulldozer. ­–by Margherita Ragg; photos by Nick Ragg
If you enjoyed our post on Bornean Orangutan Conservation at Sepilok, you might also like:
GO GREEN TIP #112: How to Avoid Products With Palm Oil
ENDANGERED SPECIES SPOTLIGHT: Bornean Orangutan & Sumatran Orangutan
MALAYSIA: The Borneo Sun Bear Conservation Centre
ENDANGERED SPECIES SPOTLIGHT: Sumatran Elephant
INTERVIEW: Lek Chailert, the Elephant Whisperer of Elephant Nature Park, Thailand
ENDANGERED SPECIES SPOTLIGHT: Dhole