Traveling to Japan was a dream come true for me.
It's the first place I ever remember wanting to go when I was little. My grandfather had a maneki neko– those little ceramic cats that swing their paw back and forth. He told me stories about when he bought it in a dusty Tokyo shop in the 1950s, and showed me Japan photos from his scrapbook.
Since then, I've been in love with all things Japan. Unfortunately, I had to postpone visiting the country three times: Once for a family emergency, the second time because of the Fukushima earthquake, and the third time because I'd lost my job and had no money.
This is why my trip to Japan was so special. I'd longed to set foot in the Land of Rising Sun for 25 years, and I savored each and every instant I spent there.
We were in Japan for 3 weeks, visiting between mid-September and early October. To be honest, this is probably the worst time of the year to visit the country. The rainy season was in full swing, and we even got caught in a typhoon!
During our three weeks traveling around Japan we spent most of our time in and around cities, mainly because of the bad weather. We spent one night exploring Tokyo's izakaya (the local version of pubs), and a whole day touring the wonderful Nishiki Market in Kyoto.
Sadly, the bad weather meant prevented us from doing many of the adventure and nature-related activities we had planned, like climbing Mount Fuji and hiking the Japanese Alps. But we still tried to enjoy Japanese nature as much as we could… even if this meant carrying an umbrella!
Enjoy our visual essay on the journey, featuring 15 of our favorite Japan photos. It includes urban nature in Tokyo, Kyoto, and Hiroshima, and some little-known destinations outside the cities: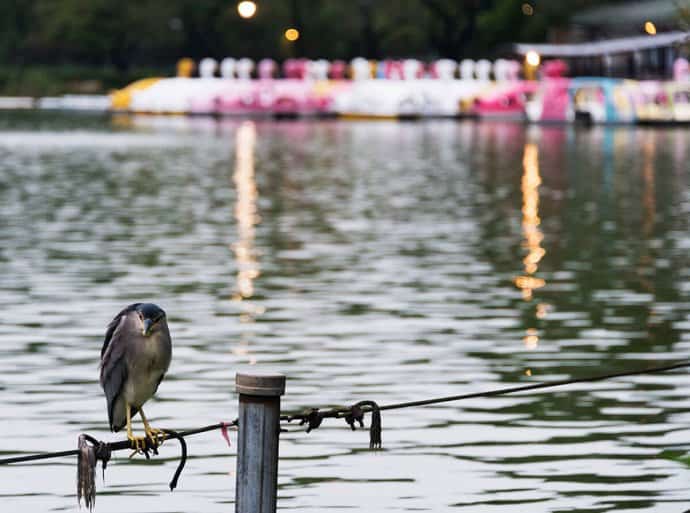 Tokyo is a huge, bustling metropolis that's home to over 20 million people. So at first glance nature seems pretty much non-existent here, hidden behind gleaming high rises and lots of concrete.
Yet there are a few places where it's possible to escape the traffic and immerse yourself in nature without leaving the city. One of these places in Ueno Park, which is located near Asakusa, one of the city's main tourist hotspots.
We visited the park one rainy afternoon, looking for some silence and peace. It looked like this Heron had the same idea as us. Behind the bird you can see rows of colorful, bird-shaped pedal boats. Taking them out on the water is a popular pastime on sunny days.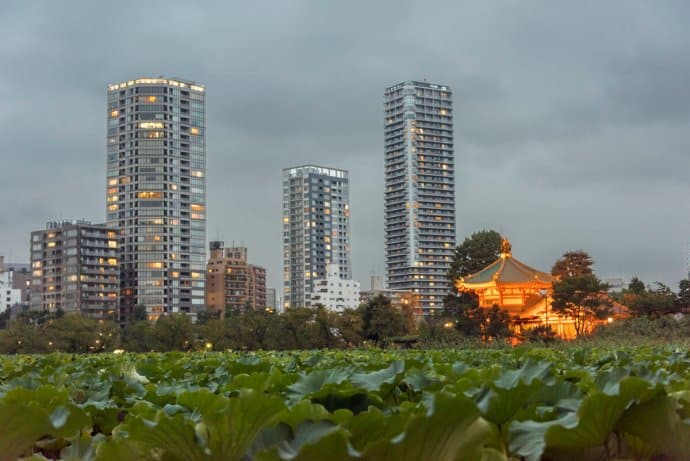 One of our most striking Japan photos, this shot shows the stark contrast between city and nature in Tokyo.
In the background are residential and office buildings that dwarf the Bentendo temple, which was built on an island in the middle of a pond in Ueno Park. The pond is so full of water lilies that it's impossible to see the water, making it look like a mysterious dwarf forest.
Ueno Park was originally part of the grounds of Kaneiji temple, one of the wealthiest in town. The pond represents a Kyoto lake, as Kaneiji was built following the blueprint of a famous temple in Kyoto.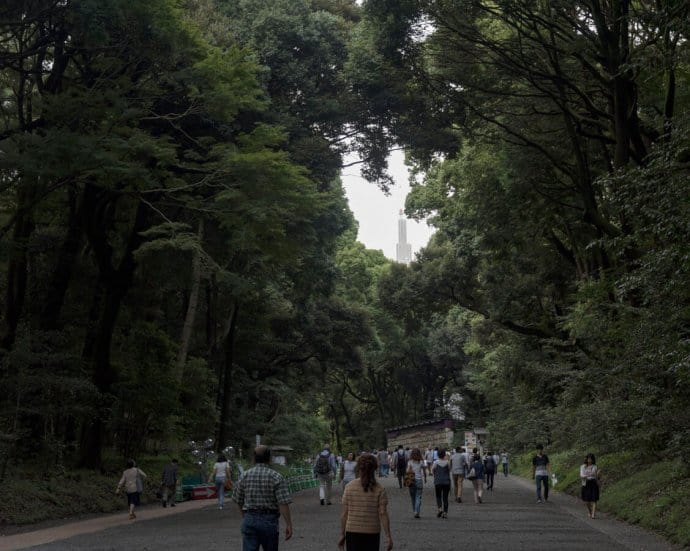 Another place where you can find nature in Tokyo is the Meiji Shrine. It's located in the heart of Shibuya, which one of the busiest parts of Tokyo.
The shrine and nearby Yoyogi Park make up a large forest that will make you forget you're in the heart of the city.
On the weekends, Yoyogi Park is a popular hangout for young Tokyo residents. It's also one of the best places in the city to go to see cosplayers and people playing live music.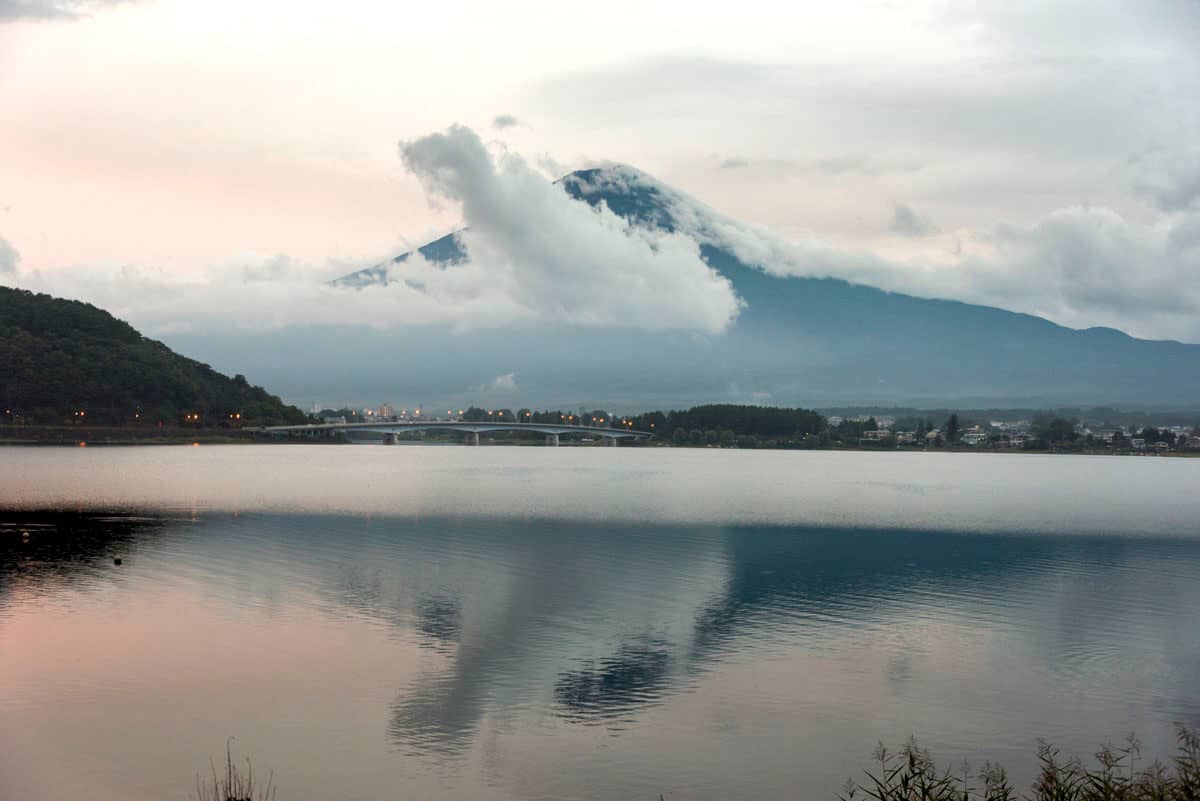 After a week in Tokyo, we headed to Kawaguchiko in the hopes of seeing Mount Fuji.
Sadly, thick, heavy clouds blocked our view for the entire day. We walked up and down the lake promenade, but we could only imagine how the silhouette of Fuji-san would look behind the curtain of clouds.
We'd only planned to spend one night in Kawaguchiko, and rain was forecast for the following day. So we gave up on all hopes to see the mountain. But then I woke up at sunrise and Mount Fuji was there, visible across the lake in all its beauty!
This was easily among the most amazing moments of our time in the country, and one of my favorite Japan photos.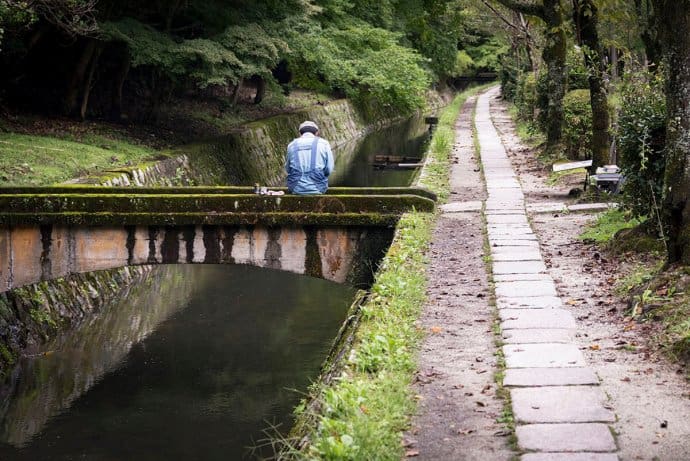 After leaving rainy Tokyo, we tried to find nature in Kyoto. It was much easier, as Kyoto is a smaller city, famous for its temples, and pretty much every temple has a garden.
This photo was taken on the Philosopher's Walk, a mile-long path running parallel to a canal lined with Cherry trees.
It's especially beautiful in Spring, when all the trees are in bloom. But even on an ordinary day it's a beautiful spot to sit and contemplate life.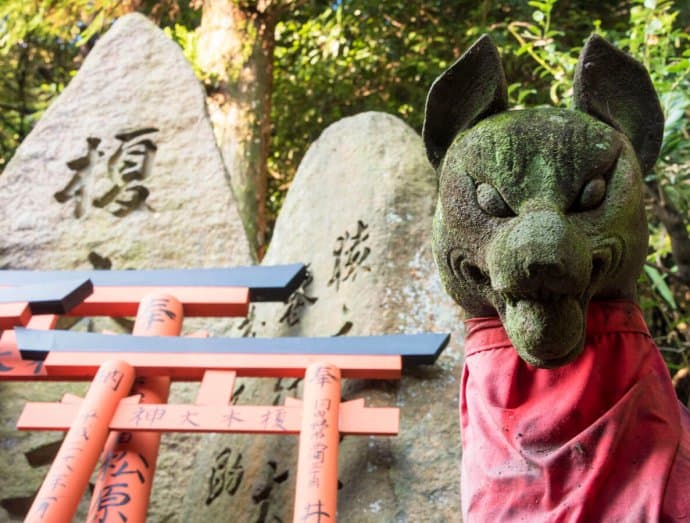 Kyoto's most famous landmark is probably Fushimi Inari, a Shinto shrine famous for its thousands of red torii gates snaking up the mountainside.
The shrine is dedicated to Inari, the god of rice, prosperity, and fertility. Foxes are believed to be Inari's messengers, and so the whole shrine is full of fox statues.
Most visitors to Fushimi Inari stop to take pictures at the beginning of the gates. But we found that if you keep walking 15-20 minutes up the mountain, you'll have the whole place to yourself. We spent the whole day at Fushimi Inari, enjoying the peace and silence of the ancient temple complex.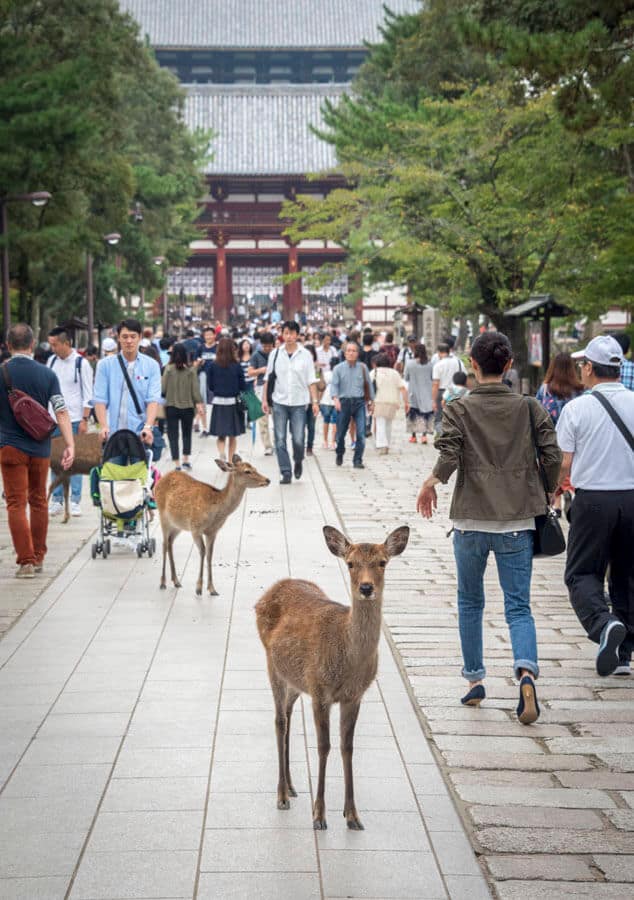 This picture was taken in Nara, a town near Tokyo that was actually Japan's first capital.
There are several impressive temples to explore in Nara. But the town's most famous feature are the 1200 deer that roaming free around Nara Park, where most of the temples are located.
The deer of Nara are all protected, well-fed, and they're used to humans. You may see them crossing the road, and some of them have even learned to bow!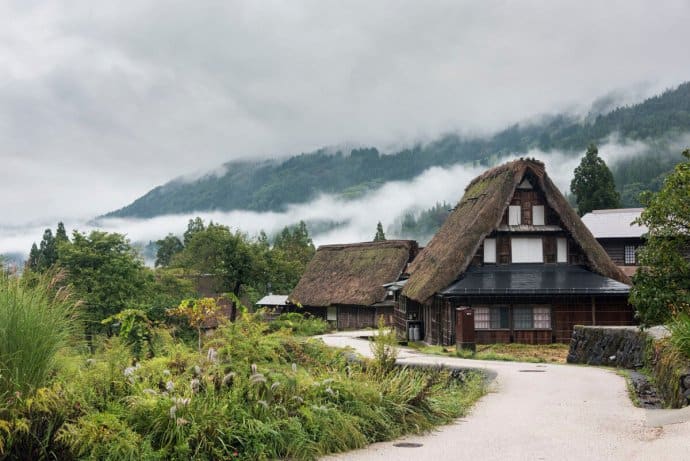 After visiting Tokyo and Kyoto, we traveled to the Japanese Alps for a few days. Our intention was to go hiking there, but the torrential rain put a damper on our plans.
One of our stops was in Ainokura, which is famous for its straw-roofed gassho-zukuri houses. Gassho means "hands joined in prayer," which refers to the shape of the roof pictured above.
We spent a night in a gassho-zukuri house at a minshuku (traditional Japanese inn), as a typhoon raged outside. As a result, this was one of the few decent pictures we managed to take there.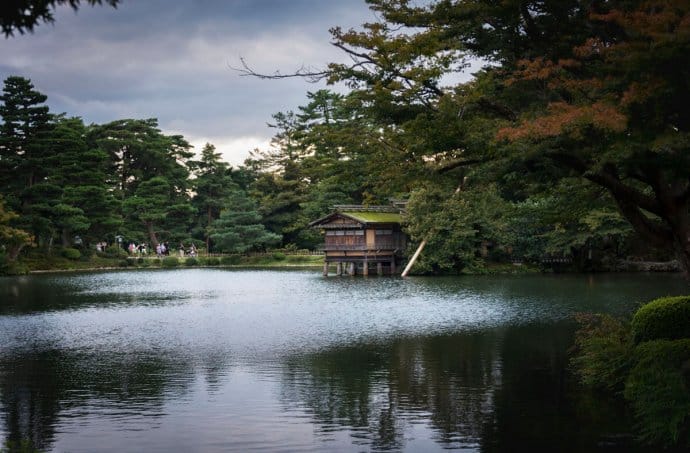 The gardens of Kenroku-en in Kanazawa are considered among the three best examples of Japanese gardens in the entire country. Its ponds and water features are crossed by bridges, teahouses, rock gardens, and beautiful trees.
In Spring the garden is full of Cherry blossoms, and in autumn the foliage of Momiji (Japanese maple) turns a fiery red. We visited at the end of summer, but you can see the Autumn colors beginning to appear on the treetops.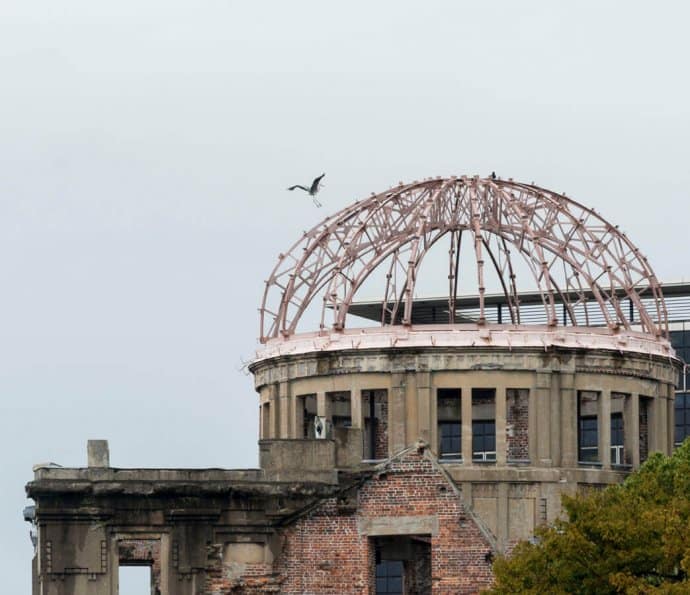 Here you see a Heron about to land on the A-Bomb Dome, a ruined building located just below the point where the bomb exploded in Hiroshima on April 6th, 1945.
Our visit to Hiroshima was incredibly moving, as it gave us a chance to reflect on the atrocities of war. This tragic period in history seems all too relevant now that the world appears to be falling into dark times once again.
We had the privilege of staying at the World Friendship Center, a non-profit organization with the aim of furthering the values of peace and providing a place for people from all over the world to meet and share experiences. We also had the chance to meet a hibakusha, a survivor of the A-Bomb.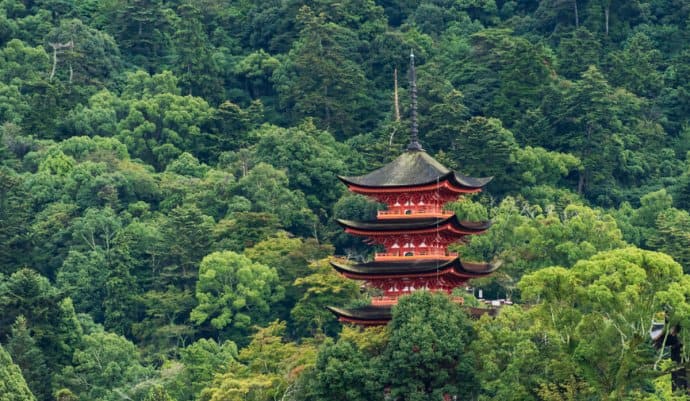 This small island is located near Hiroshima. Its official name is Itsukushima, but everyone knows it as Miyajima, or "Shrine Island."
The island is famous for its beautiful forested paths and for having several shrines and temples. This is a view of Gojunoto, the Five-Storied Pagoda, taken from the ferry as it approaches the island.
Miyajima is also famous for being home to Sika deer,which are similar to the ones we found in Nara.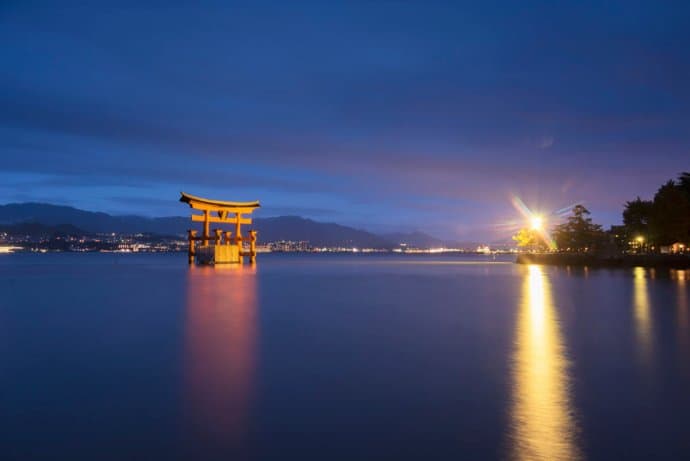 Miyajima's greatest claim to fame is the floating torii gate, which is located at the entrance of Itsukushima shrine– the largest on the island.
At low tide you can access the gate, while the rising tide water surrounds it. It's one of Japan's iconic sights, but it's best experienced at night after the tourists have gone.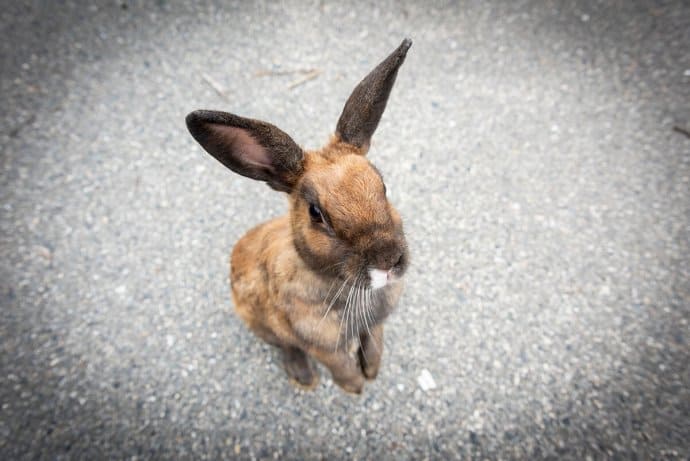 Another popular day trip from Hiroshima is to Okunoshima, an island with a dark past: It was once the location of a secret poison gas factory.
The island is also known as Rabbit Island because it's now home to hundreds of cute Rabbits, the offspring of lab animals who escaped when the factory was decommissioned.
Visiting Okunoshima is an experience that's halfway between cute and creepy. These adorable bunnies are literally everywhere, hopping in the grass. But the ruins of the poison gas factory are a haunting reminder of the island's history.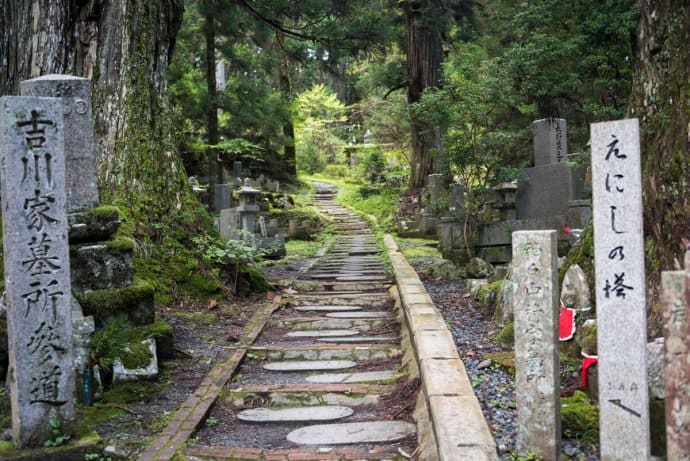 One of my favorite Japan photos, this one came from spending a night on Koyasan. This holy mountain is home to several temples that accommodate tourists.
Koyasan is famous for being the location of a monastery founded 1200 years ago by a priest named Kobo Daishi. It was created for the study of esoteric Buddhism, which is a practice that continues there to this day.
We stayed in a temple called Shojoshin-in, which is located next door to Okunoin Cemetery. It's one of the oldest in Japan, with over 250,000 gravestones.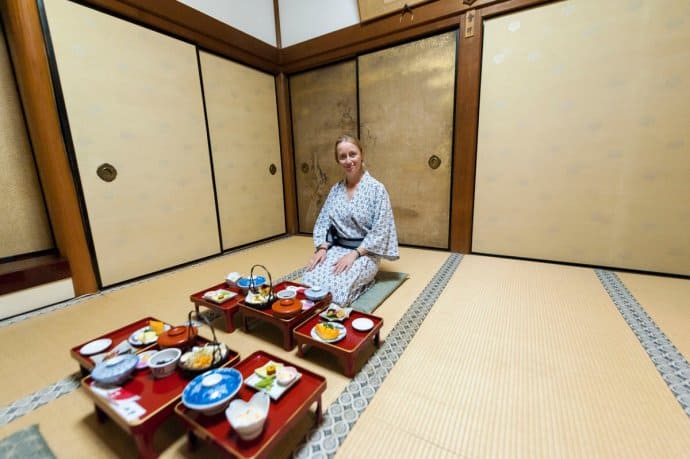 Accommodation at the Shojoshin-in Temple is in Japanese-style rooms and includes a delicious vegetarian dinner and breakfast.
Guests are provided with a yukata– a robe that is traditionally worn indoors.
This is me just about to enjoy dinner… one of the best meals I had during my dream-come-true visit to Japan. –by Margherita Ragg; photos by Nick Burns (except header image, via Pixabay)