You'll see the iconic rock outcroppings of Elsa's Kopje (a.k.a. Mughwango Hill) long before you reach its location near the epicenter of Kenya's Meru National Park, which is located about 220 miles northeast of Nairobi.
The kopje (a South African word for a small hill) is surrounded by approximately 335 square miles of thorny acacia bush, wooded and open grasslands, and dense riverine forests.
Though the pyramid-shaped mound is no more than a few hundred feet tall at its summit, it stands out like a lighthouse beacon against the park's seemingly endless flat landscape.
On our journey to reach Elsa's Kopje after a few magical days at the Lewa Conservancy, we quickly realize that Meru is unlike any other national park we've ever visited.
During our hour-long safari drive into the park, we literally do not see a single other tourist vehicle. There's not a single lodge, campground, restaurant, or gift shop in sight. Clearly mass tourism is not an issue here.
What we do see is a stunning array of wildlife, many of which are endemic to this part of Kenya.
There's the "Northern 5″– the East African Oryx, the long-necked Gerenuk, Grevy's Zebra (which has more and smaller stripes than its popular cousin), Reticulated Giraffe, and Somali Ostrich. There are Cape Buffalo, Common Waterbucks, and around 420 other species of animals.
But none of these attractions are what brought us here to one of the most remote, least touristed national parks in Kenya.
We've come to Meru primarily to visit Elsa's Kopje, which was named after Elsa the Lion in honor of legendary conservationists George and Joy Adamson.
All three were made famous by Born Free, the book Joy wrote about their inspiring lives here in the Kenyan wilderness, and the movie based upon their incredible story.
READ MORE: Animals in Kenya: A Guide to 40+ Species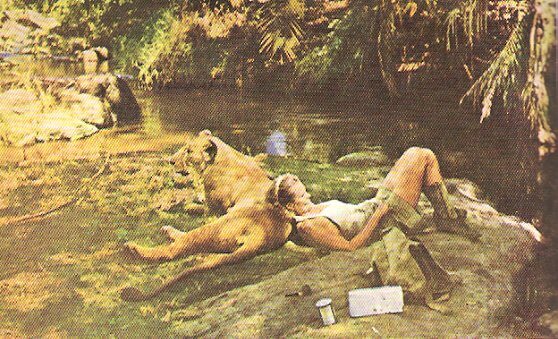 George & Joy Adamson
Meru National Park was established in 1966, the same year Born Free was released in movie theaters. But George and Joy Adamson had been living and working in the area for more than a decade before that.
George Adamson, who was born in India to British parents and moved to Kenya at the age of 19, had joined the country's Game Department in 1938. He eventually rose through the ranks to become the Senior Wildlife Warden of what was then known as the Northern Frontier District.
Friederike Victoria Gessner (better known by her nickname, Joy), had grown up near Vienna, where she earned a degree in music. She moved to Kenya in 1937, married and divorced botanist Peter Bally, and ultimately met George while on safari. They were married in 1944.
The Adamsons' lives were changed forever in 1956. One day while George was out patrolling the bush, he and another game warden were charged by a lioness. George shot the animal in self-defense, only to find out that she was merely protecting her trio of young lion cubs, which were hidden amongst the rocks nearby.
Joy Adamson, who had suffered several miscarriages and was told she could never have children, did her best to raise the cubs while George was working. But they eventually had to send the two biggest cubs to live at a zoo in the Netherlands. The smallest cub, whom they named Elsa, Joy and George would ultimately raise themselves.
This incredible adventure in wildlife rehabilitation became the basis for Born Free, which inspired an entire generation of conservation enthusiasts. Among them were Liz and Stefano Cheli, the co-founders of Cheli & Peacock Safaris, who built the Elsa's Kopje safari lodge in the late 1990s.
"In these days of David Attenborough and Planet Earth," says Liz Cheli, "people forget that most pre-1960s portrayals of wild African animals were as dangerous, savage beasts that had to be killed to save some damsel! Born Free was groundbreaking because it was one of the first films that showed empathy for wild animals. It's a very important milestone in conservation history, and should not be forgotten."
READ MORE: 50 Fascinating Facts about Giraffes
Elsa the Lion
Before she was released into what is now known as Meru National Park, Elsa was hand-reared (primarily by Joy Adamson) from the time she was just four days old. Joy treated the cub like a domesticated pet at first, with many of the hilarious results you might expect from trying to train a rambunctious young lion.
But gradually the Adamsons came to understand that they would need to teach Elsa essential hunting and other skills if she was ever going to survive on her own in the wild. The problem was that, at that point in time in the mid-1950s, nobody had even attempted to rehabilitate an orphaned lion before.
After much trial and error, Elsa gradually developed her natural instincts and was permanently relocated into the wild. But her bond of trust in and affection for George and Joy Adamson was never broken. Within a year of being released, she introduced them to her first litter of three cubs, whose story makes up the bulk of Living Free, the sequel to Born Free.
Sadly, Elsa's life was cut tragically short by a form of babesiosis, a tick-borne blood disease that often infects members of the cat family. She died with her head in George's lap, and was buried in a grave near her favorite river in Meru park. But still her inspirational story lives on today, more than six decades after her death.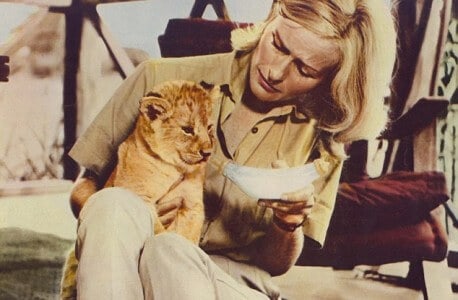 In fact, before Cecil was killed by trophy hunter Walter Palmer in Zimbabwe's Hwange National Park in 2015, Elsa was arguably the most famous lion in the world. Over the last 50 years there have been five books (including Living Free and Forever Free by Joy Adamson) and more than a half-dozen films and television shows based on her life and that of her progeny.
According to Virginia McKenna, who portrayed Joy Adamson in the Born Free film and co-founded the Born Free Foundation with her late husband, Bill Travers (who played George), the world needs real-life stories of love and understanding between humans and animals now more than ever.
"The impact of Elsa's story was extraordinary, and led to a new understanding of non-human animals," she says. "Of course, predators are still killed today. In our shrinking wild environment, lions come into conflict with cattle and goats as they're herded into wild areas to graze. And the hideous scourge of trophy hunting plays its own terrible part. But the balance is that wildlife tourism has increased their protection in game parks such as Meru.
READ MORE: The Walking With Lions/Canned Lion Hunting Connection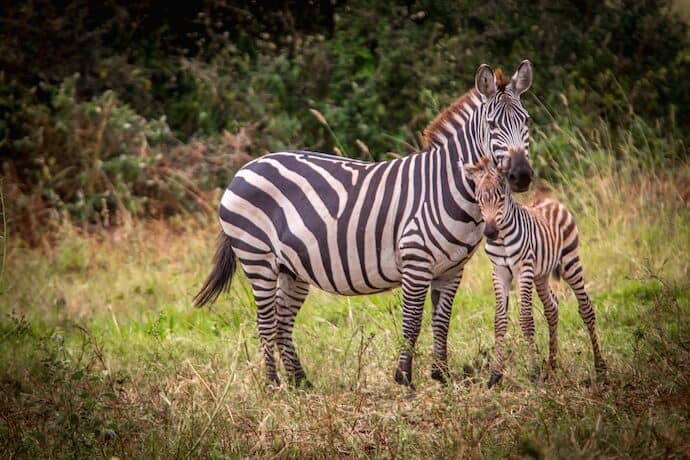 The Rise & Fall of Meru National Park
After the death of Elsa, the Adamsons dealt with their grief in different ways. Joy poured her passion into her books, donating most of the proceeds to animal rights and conservation causes.
George retired from his job as Game Warden to focus on lion conservation (including working with the lions in the Born Free movie). He became known as "Baba ya Simba," or Father of Lions.
Virginia McKenna recalls her friendship with the Adamsons (who were by then living separately) during and after filming warmly, particularly the time they spent together in Meru National Park.
"I was invited by Joy to visit her in Meru when filming was over, and it was an unforgettable experience. She never really recovered from Elsa's death. We bathed in 'Elsa's river,' and walked along the path to 'Elsa's rock,' where she gave birth to her cubs. We sat in silence at her grave. That she wanted to share this with me was deeply touching. I've been back to Meru many times since."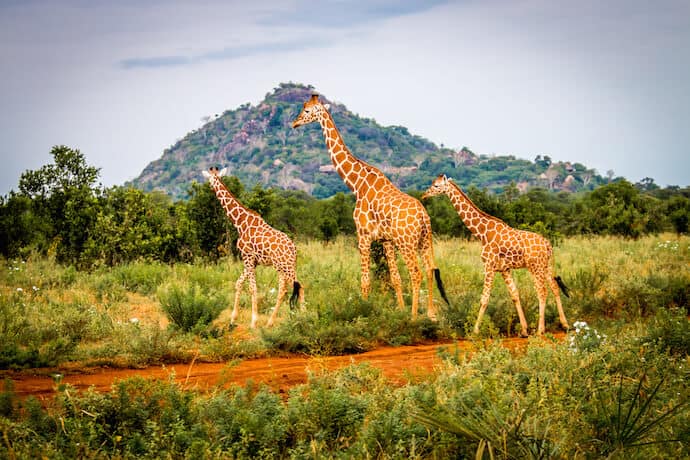 McKenna waxes rhapsodic recalling the park's many fantastic features, from the wildflowers and beautiful birds to endemic species such as the Grevy's Zebra and Reticulated Giraffe. But within a few years of its opening in 1966, Meru National Park's history started taking a dark, disturbing turn.
Shortly after the country achieved independence from Britain, ethnic Somalis in northeast Kenya began fighting for their land to be part of Somalia, in what was known as the Shifta War. Although the war ended in 1967, the region became increasingly unstable.
Militias began poaching Meru's wildlife, particularly elephants and rhinos, in order to satisfy the growing demand for ivory and rhino horn in Asia. Other animals were poached for food by impoverished locals.
By the 1980s, the entire region was like the wild, wild west: Both George and Joy Adamson were ultimately murdered in separate incidents in neighboring national parks.
Meru's infrastructure was ruined: The only safari lodge burned down and roads became impassable. Kenya's Wildlife & Conservation Management Department was underfunded and outgunned, using old rifles against the militias' machine guns.
As a result, most of Meru National Park's big game species– including the Adamsons' beloved lions– were almost completely wiped out.
By the early '90s, Meru National Park was a haunted ghost of its former self. There was even talk in the Kenyan government of de-gazetting the park and turning its fertile land into rice plantations.
READ MORE: Top 10 Tanzania National Parks & Reserves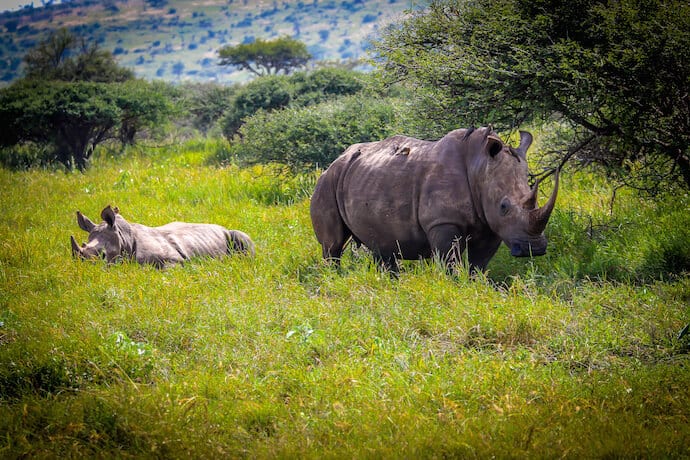 The Rebirth of Meru
Exploring Meru today, with excellent sightings of Elephants, Rhinos, and countless other animals all to yourself, it's hard to imagine this dark period in the park's history.
The rebirth of Meru National Park was largely driven by the work of one man, Richard Leakey, whose father (paleoanthropologist Louis Leakey) gave legends like Jane Goodall and Dian Fossey their early start in primatology.
Richard Leakey, who followed his parents' footsteps into archaeology and paleontology, was named chairman of the newly created Kenya Wildlife Service in 1990. His approach to the poaching problem was aggressive. He created highly trained anti-poaching units authorized to shoot on sight, and insisted national parks should be self-contained ecosystems with no human residents allowed.
Locals (and the corrupt politicians Leakey also set his sights on) weren't happy, but the results spoke for themselves. Impressed with his progress in stopping poachers, the World Bank approved $140 million in grants to the Kenya Wildlife Service. According to Liz Cheli, a good portion of that was used to restore Meru to its former glory.
"When we opened Elsa's Kopje in 1999," she recalls, "Richard Leakey supported us by putting Mark Jenkins– one of his most dynamic Game Wardens– in charge of Meru park. With KWS support, they rehabilitated old roads, airstrips, vehicles, and buildings; retrained all the rangers; started excellent community networks; and built support around the park. This cut down poaching to zero."
Later, the park received an additional donation of $1.25 million from the International Fund for Animal Welfare. These funds helped to further improve the park's basic infrastructure, including providing equipment and vehicles for law enforcement. They also rehabilitated and restocked the park's Rhino conservation area, which now contains around 60 rhinos.
READ MORE: NatGeo's Dereck Joubert on Rhino Conservation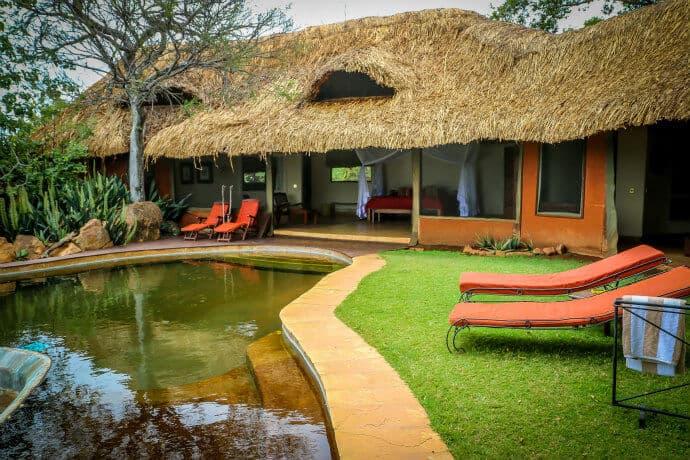 It's easy to see why Stefano Cheli selected Mughwango Hill as the site upon which to build his elegant 5-star safari lodge in 1999. If Meru National Park was the setting for The Lion King, the granite outcroppings above where George Adamson made his camp would be its Pride Rock.
Stefano and Liz had brought many of their clients to stay in Meru on mobile tented safaris. They ultimately decided the hill offered the perfect setting for a boutique lodge, with its cool breezes and breathtaking views of the surrounding landscape.
Stefano designed the picturesque property himself, building cottages in and around the rocks where Elsa and her cubs used to sun themselves and play.
Each room is different, but all are tucked into the natural landscape and use minimal power (Elsa's Kopje earned Kenya's first Eco-rating in 2003).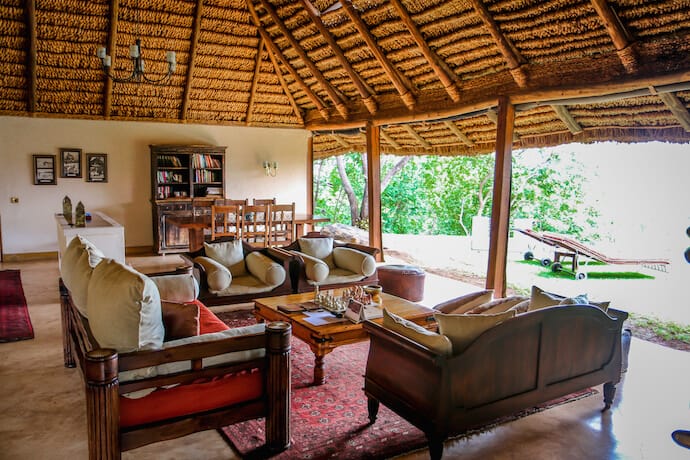 "Building on a small rocky hill is not easy!" Liz Cheli admits with a laugh. "So each room was chosen for its view, and the design was made around the landscape. Meru has a hot, dry climate, so Stefano designed the rooms to be open to the environment. It has a rustic, natural feel in order to blend with the surrounding vegetation, and cooling nyiru-style floors."
Now part of the Elewana Collection of boutique lodges and safari camps in Kenya and Tanzania, Elsa's Kopje feels like a loving tribute to George and Joy Adamson, Elsa, and the history of Meru National Park.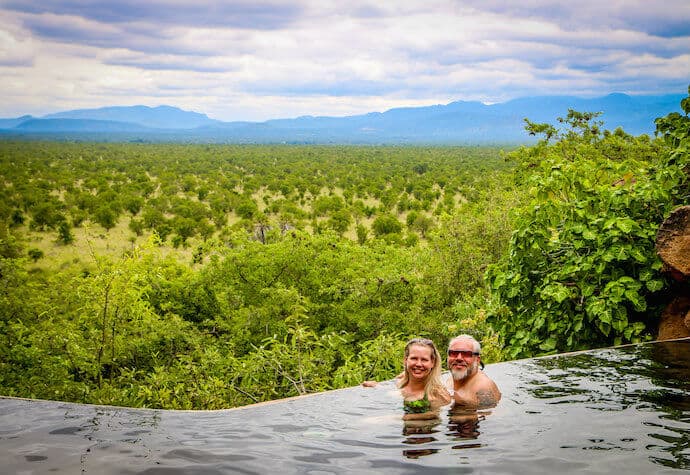 Photos of the couple and their lions adorn the walls of the Private House in which we stayed, with its infinity pool providing stunning scenic views of the park below.
Our pool, garden, and outdoor shower were surrounded by a large group of Hyrax– a cute, cuddly-looking mammal closely related to Elephants and Manatees.
We'd watch their young tackling each other in hilarious wrestling matches outside as we got ready each morning. At night, we'd hear the high, piercing calls of the males, haunting as they echoed in the dark.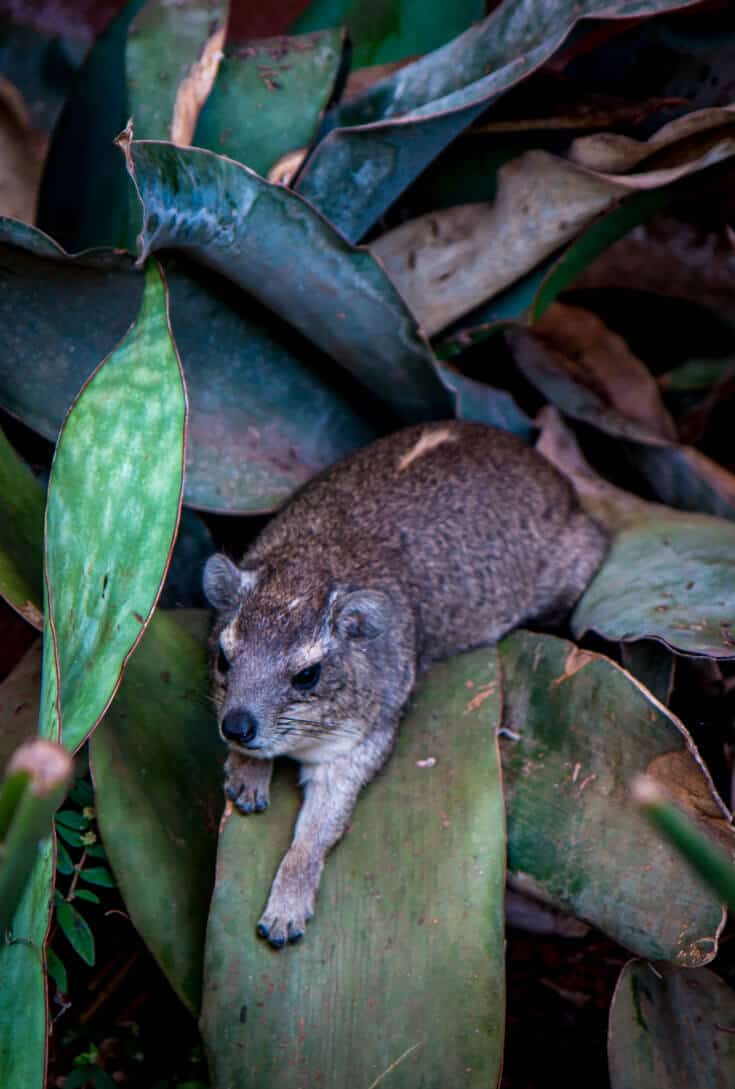 From the Go-Away bird and Von der Decken's hornbill to naughty Vervet Monkeys and a Genet (a cat-like creature related to the Civet), we didn't need to leave the Elsa's Kopje property to watch wildlife.
But when we did go out for morning and evening game drives, we immediately understood why Meru National Park's conservation legacy remains legendary.
READ MORE: Maasai Mara Conservancies & Community-Based Conservation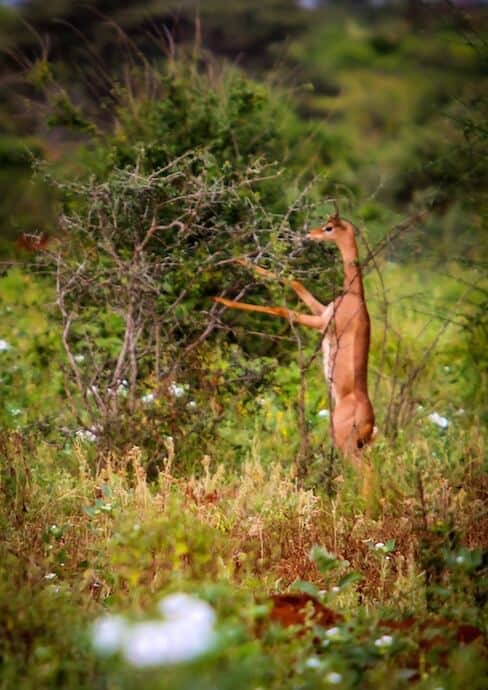 Exploring Meru Park Today
Though we spent just 48 hours in Meru National Park, our safari drives and downtime at Elsa's Kopje (one of the most romantic places we've ever stayed) provided an array of incredible memories.
From the Genet and a Bushbaby in an Acacia tree to a Gerenuk (a.k.a. Giraffe Gazelle) standing on its hind legs in order to feed on the bush's tastiest leaves, we saw quite a few things in Meru that we didn't see in any of the seven other parks and conservancies we visited in Kenya.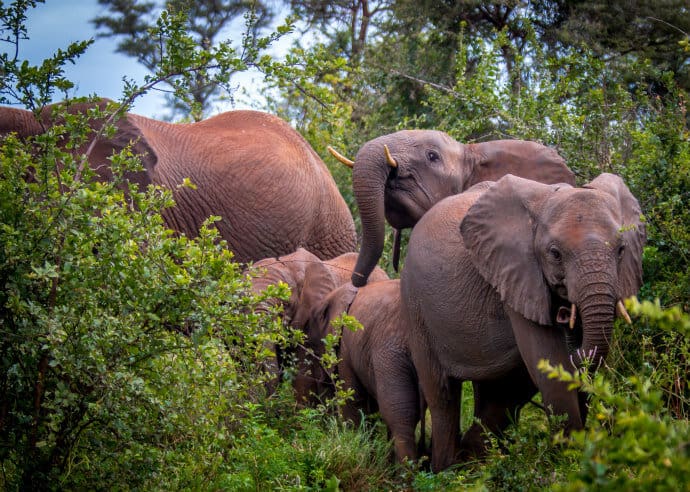 One morning we encountered an entire family of Elephants feeding on bushes right beside the road. So our guide, John, parked the vehicle to provide a perfect view. A young male decided it would be fun to mock-charge us.
He'd hide in the bush, run about 20 feet towards us with his trunk up and ears flapping, only to retreat to his mother's side in an adorable game of peek-a-boo.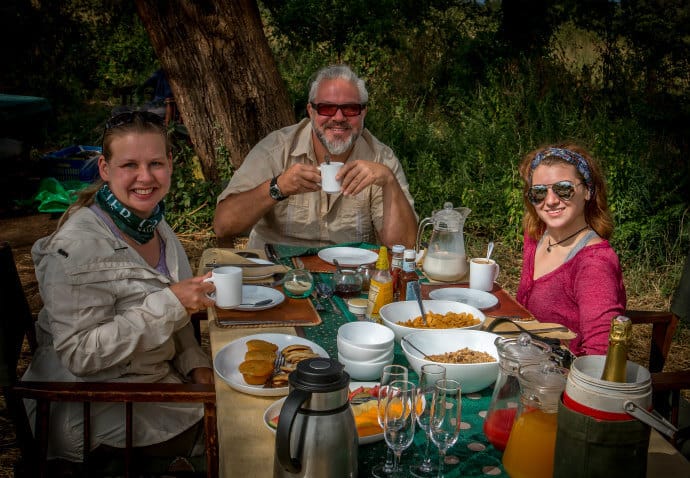 There were daily Sundowners– a classic safari tradition of drinks and snacks at day's end that allows you to savor East Africa's stunning sunsets in style.
And we had an amazing bush breakfast, with three members of the Elsa's Kopje staff setting up a splendid spread that included rich Kenyan coffee, Champagne, fresh muffins, cereal, and eggs made to order.
But if I had to pick one specific memory of our time in Meru National Park that stands out, it would have to be our first evening game drive. Because that's when we saw the lioness.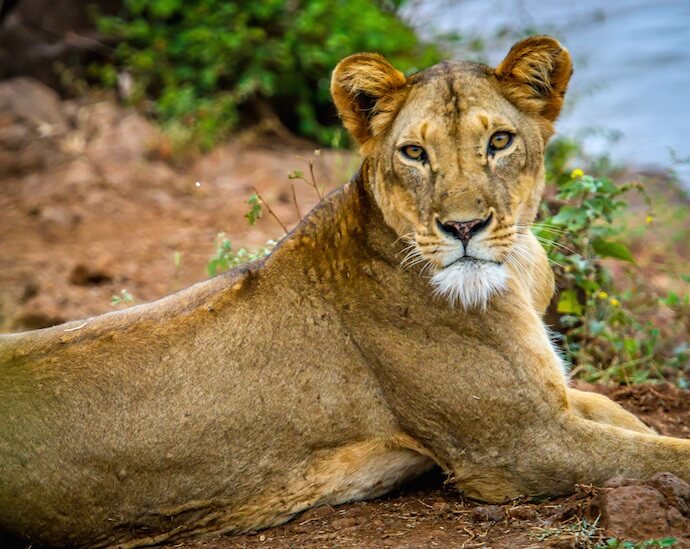 She was about 5 years old– the same age Elsa was when she died in 1961– and John believed that she had recently given birth to a litter of cubs.
This explained why she was sleeping alone, rather than with her pack (a.k.a. Elsa's pack), no more than 20 feet from "Elsa's river." John suggested the cubs were probably hidden somewhere within earshot.
We watched her, silently, for quite some time. Eventually she opened her eyes sleepily, stared at us as our camera shutters clicked, and stretched lazily.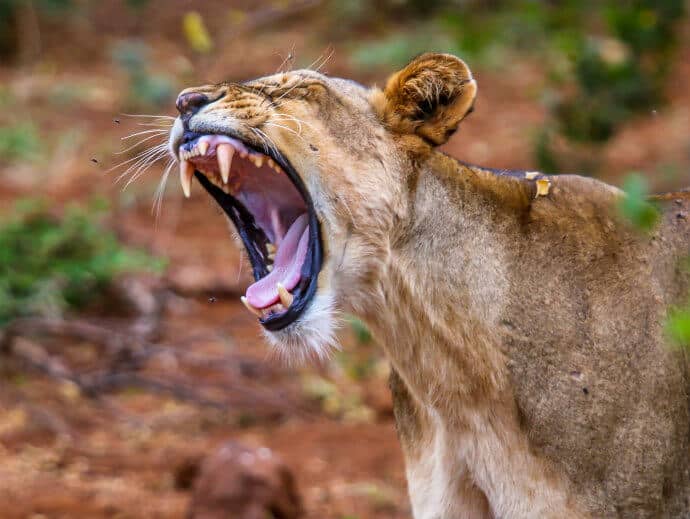 My heart started pounding in my chest as she crossed the road right in front of our vehicle, moved into the brush less than 15 feet away on the opposite side, scanned the horizon, and promptly laid down again.
I'd love to say that we got to see her cubs, or watched the mother bring down a Gazelle with which to feed them. But the simple truth is that she eventually wandered off in search of her next meal, and we had a lovely time watching some zebras from afar as we clinked a toast at sunset.
Life in the bush went on much as it always does, with predators and prey both doing their best to survive in the great circle of life.
But given Meru's near-death in the '90s, the fact that the park's conservation efforts have returned it to the unspoiled beauty of George Adamson's heyday seems nothing short of a minor miracle. –Bret Love; photos by Bret Love & Mary Gabbett unless otherwise noted
MERU NATIONAL PARK FAQ

How do you get to Meru National Park?

The simplest (but most expensive) way to get to Meru is by plane. Air Kenya has daily scheduled flights out of Nairobi's Wilson Airport to one of two airstrips inside the park. You can also organize a private charter from any other park, or Nanyuki.

Driving is also possible. But since the park is around 300 km from Nairobi, it's best if you include Meru with nearby parks (such as Lewa Conservancy, Mount Kenya, and Samburu National Park). Meru has two entrance gates: Merera, the main one, has tarred roads; the Ura gate has some gravel roads that may get muddy during the rainy season.

The best route to the Murera Gate takes you along the Mount Kenya ring road– either the east side if you're coming north from Nairobi, or from the northwest if you're coming from Nyeri and Nayuki.

The town of Maua is also accessible by public transportation. Buses and Matatu shuttles depart numerous times daily from the downtown Nairobi neighborhood known as "Tea Room" (off Accra Road). From Maua, it's possible to arrange for private transport into the park.

How much is the Meru National Park entrance fee?

The Kenya Wildlife Service actually reduced entrance fees for many of its national parks a few years ago, though "premium parks" such as Amboseli and Nakuru remain slightly more expensive.

As of December 2018, Kenyan citizens pay 300 KSH (Kenyan Shillings) per adult and 215 KSH per child. Residents of Kenya without citizenship pay 1,030 KSH per adult and 515 KSH per child.

For non-residents of the country, the entrance fee is $52 for adults and $35 for children.

When is the best time to travel to Meru National Park?

You can visit Meru at any time of year, but the wildlife watching is generally best during the dry season, which lasts from June through September.

The short rains in October and November still offer decent chances of seeing the major wildlife species, but the long rains that last from March to May make it much more difficult.
Our trip to Meru National Park was co-hosted by Cheli & Peacock Safaris & Elewana Collection. But our opinions remain our own, and we'll never compromise the bond of trust with our readers.