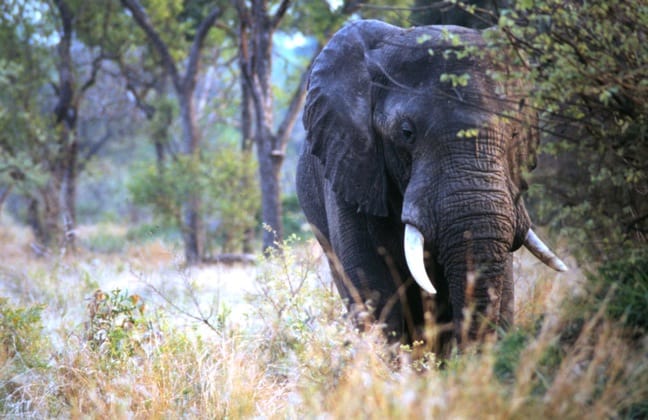 South Africa Safari
Londolozi Private Game Reserve
You can tell how remote your travel destination is by the number of people along for the journey. My flight from Atlanta to Johannesburg had several hundred passengers; from Johannesburg to Skukuza, less than 20; and from Skukuza to my final destination, Londolozi Game Reserve? A grand total of four.
Set in South Africa's legendary Kruger National Park, Londolozi is everything you dream Africa will be– rustic, scenic and totally wild. As we waited to check in, we sat in the open-air restaurant and took in the gorgeous scenery of scrub-laden bushveld dotted with colorful birds and butterflies, a babbling brook and, in the distance, open savannah whose sparse trees made striking profiles against the horizon.
Eventually they showed us to our room, which had all the luxuries you could want, including king size bed, huge bathroom, and an expansive deck featuring a private plunge pool and an incredible view. But we didn't have much time to relax before we were off on our first ever wildlife safari.
We met up with our ranger, Solomon, and our tracker, Eckson, then piled into a Range Rover for an evening game drive. It started off very slowly, with a bird or two here and a camera-averse herd of hippos in a small pond there, and then we drove along for almost an hour without seeing anything.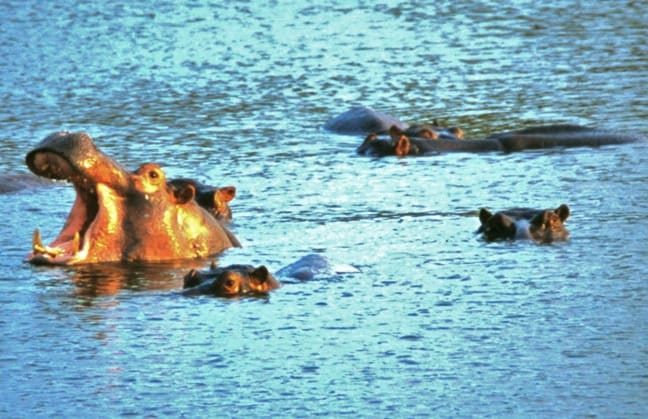 Then we spotted him, a massive elephant feeding in a thicket of trees about 75 feet away, and Solomon wheeled us around to get a better view. After a moment it seemed as if the bull might turn tail and head for the hills, but Solomon shrewdly backed off. Slowly but surely the elephant came closer to get a better look at us– 60 feet, 50 feet, 40 feet, 30 feet– until at last he stood no more than 15 feet from my side of the vehicle, so close that his eye filled my camera's frame.
I stopped shooting, in awe of the majestic creature before me, his trunk lifted in my direction as if to sniff out my intentions. After a moment of sizing each other up, he turned and walked over to the nearest tree, bending it over as if it were a mere matchstick, almost as if to say, "Do you see what I could've done?" I was overwhelmed with emotion.
After a brief stop for a sunset drink we moved on, but other than a giraffe in the distance our wildlife sightings were few. That is, until another ranger alerted Solomon to the presence of a leopard hunting in the shrub nearby. We got there only to find two other Range Rovers had beaten us to the punch, but were eventually left alone to watch the impressive hunter stalking her prey in the fading daylight. After a half-hour or so we made our way back to camp for an incredible torch-lit dinner in a boma under the stars, then back to our rooms to rest up for our first full day in Londolozi.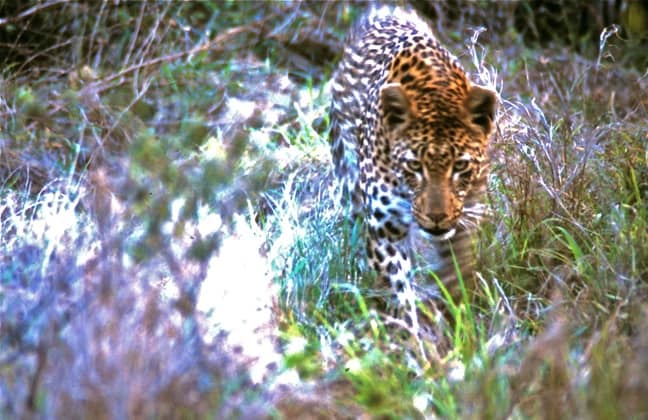 It's been said that Africa has a rhythm all its own. I'm not sure whether it was the length of our days (rising at 5am for breakfast before morning drives, and up most nights until at least 11pm) or the abundance of activities with which we filled them, but time seemed to stand blissfully still there. It's easy to understand the urge some have to stay in this exotic land for the rest of their lives.
It was still mostly dark as we set off at 5:30am, escorted by armed rangers in case of an unexpected animal encounter. Once again the drive started off slowly with a few impala and kudu, and another bull elephant who made for a striking sunrise silhouette. But as the light spread across the open plain, it was like all the animals came out to play.
There were four elegant giraffes grazing on either side of the road, their gangly gorgeousness making them look like Mother Nature's supermodels; a mother rhino and her baby grazing on the lush green growth that comes after the reserve's controlled burns; a herd of skittish zebras; and a the remarkably colorful Bataleur, an eagle-like bird of prey, feasting on the carcass of a small deer.
But the piece de resistance came near the end of our drive, when Solomon followed another ranger's directions to reach a sunny hillside clearing where five young male lions sat serenly sunning themselves, completely oblivious to our presence despite the fact that we couldn't have been more than 20 yards away. Apparently they'd been expelled from the pride by the dominant male, banding together to hunt (and, apparently, groom each other) until they were strong and mature to challenge the alphas for breeding privileges. We were all left spellbound and speechless by the sight of these proud creatures in such a complete state of relaxation, much like overgrown housecats. Really deadly overgrown housecats…
An ill-conceived bush walk in the brutal midday heat left us dehydrated, sunburned and grouchy, but after a 2-hour nap I was raring to go for our final night drive. We met our new ranger, Paul, a chipper lad from Durban with a deep passion for wildlife conservation. When Paul asked us what animals we were hoping to see, we mentioned that we hadn't seen a leopard in the daylight yet, so he immediately made that priority #1, setting off to track a big cat that had been spotted nearby earlier in the day. We crossed numerous roads and channels in search of tracks, finally reaching the spot where the leopard was said to be hiding.
Eventually, after Paul took the vehicle off-road to go all Lewis & Clark into the underbrush (a luxury only private game reserves will allow), we found her, and she strolled nonchalantly beside the Range Rover so closely that we could've bent down and stroked her fur. We followed her from a safe distance as she moseyed over into the open plain, rubbing herself on every tree and marking her territory with spray.
A lone wildebeest nearby took offense at her mere presence and, after the leopard spotted a small giraffe nearby and crouched down in a mock-stalking pose, we found ourselves watching the South African equivalent of a Mexican standoff. After toying with them for a bit, the big cat eventually climbed up into the crotch of a tree, looking cool and comfortable as the gorgeous pink and purple sunset faded into night.
On the way back to camp, after "sundowner" drinks under a ¾ moon, we spotted two massive hyenas silently stalking a herd of impalas who leapt through the brush in a mad dash to escape, then stumbled upon one of the most stunning sights we'd ever seen: A pride of 11 lions sprawled out in a 25-circle that took up the entire road and a substantial portion of each shoulder. It was an amazing ending to a very long and fruitful day, but still merely the beginning of my South African adventures… –text and photos by Bret Love
If you enjoyed reading South Africa Safari- Londolozi Private Game Reserve, you also might like:
South Africa Safari- Phinda Private Game Reserve
South Africa- Zulu Memories
What is an Eco Lodge? A Guide to "Green" Accommodations
Easy Ecotourism: 10 Simple Steps to More Sustainable Travel
The Benefits of Ecotourism: 20 Travel Bloggers on the Importance of Nature Travel
The Beauty of Nature Travel: A Blog Round-Up