When some people hear that we're into ecotourism, they assume we're sleeping in tents, using composting toilets, and volunteering on organic farms.
All these elements are part of the broad spectrum of sustainable travel, but our trips tend to be a more balanced marriage of rugged outdoor adventure by day and eco-luxury comfort by night.
When we DO sleep in tents, it tends to be "glamping" in yurts with king-sized beds, solar-powered ceiling fans/heating, and stunning views of some gorgeous natural attraction.
With Valentine's Day approaching, we thought it would be fun to take a look at some of the most romantic places we've ever stayed, from classic hotspots such as Tahiti and the Caribbean to unconventional accommodations in Chile, South Africa, and even our native Georgia.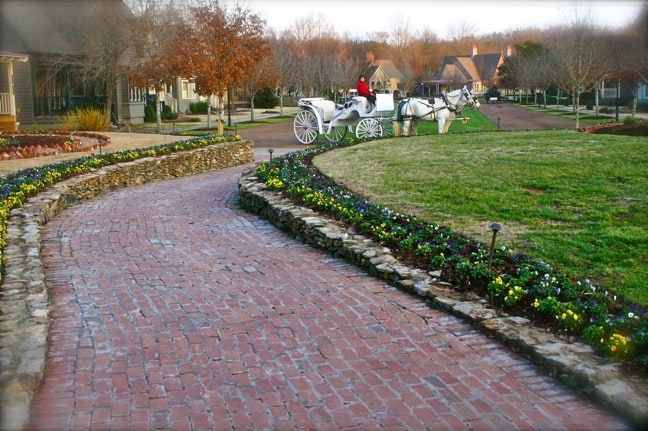 This 1300-acre gem in the foothills of the Blue Ridge mountains was the site of the first trip Mary and I ever took together, in February 2009.
Earning accolades such as Travel & Leisure's "500 World's Best Hotels," Condé Nast's "Top 75 North American Resorts," and Zagat Survey's "Top 50 Small Hotels in the US," Barnsley Gardens Resort includes the recreation of a 19th century pedestrian village, two gourmet restaurants, a European-style spa, and an immaculate English garden.
The ruins of the original Italian manor also come with a tragic true love story from 165 years ago, involving death by consumption, ghosts, and a woman said to be the inspiration for author Margaret Mitchell's Scarlet O'Hara.
Their "Couples Retreat," which includes champagne, roaring fireplaces, and a carriage ride to dinner, proved to be the ultimate Valentine's Day weekend.
READ MORE: Blue Ridge Mountains Travel Guide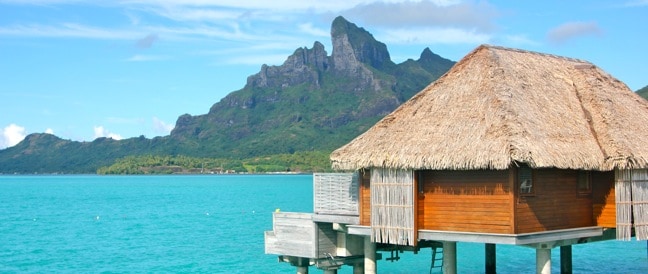 Visiting the Four Seasons Resort Bora Bora is like the personification of "luxury" whispering into your ear with a sultry, seductive breath. Staff members bearing traditional leis greet you at the airport, where you're whisked away on a small yacht that provides picturesque views of Mount Otemanu. Their over-water bungalows are massive (1,080 sq feet) and lushly appointed: Teakwood furnishings and traditional Polynesian artwork? Check. Oversized tub looking out over incredible scenery? Check. Mountain right outside your bedroom window? Check (and mate). They even provide snorkeling gear so you can swim in the water off your private deck. Thanks to room service, we didn't leave our bungalow for the first 24 hours. But the taurumi-style ("health in the hands") couples massage we got from their gorgeous spa made us really glad when we finally did.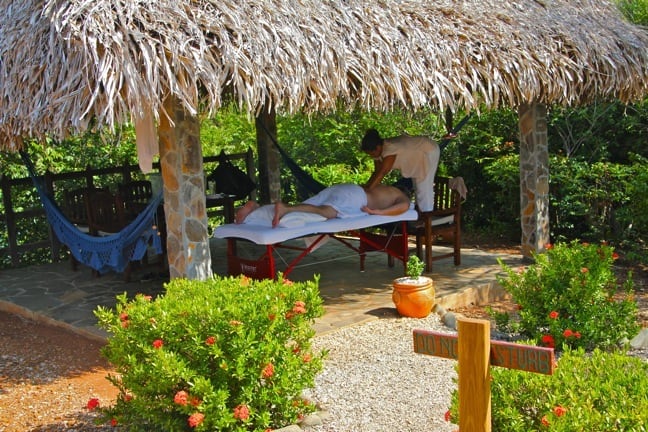 Located 30-40 minutes off Panama's southern coast, Islas Secas Resort is as exclusive as it is remote. Fortunately, our 1-hour private plane flight from Panama City made getting there a breeze. The resort only has seven casitas spread out across the main island and, because our solar-powered Casita Grande was nestled amongst the trees at the top of a hill overlooking the bay, it felt as if we had a slice of paradise all to ourselves. The choices for activities were endless, from fishing the Hannibal Shelf and Scuba diving in Coiba National Park to getting rejuvenating massages in the palapa of our casita and spending a day alone on our own private island. With top-notch cuisine and "Wow!!"-worthy sunset views, this was one of our most romantic trips ever.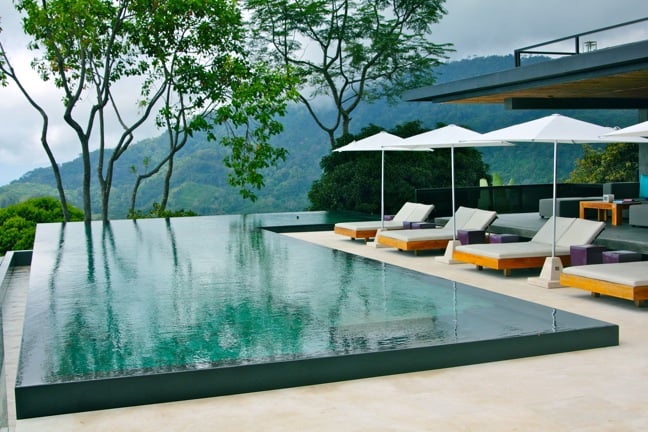 KURA DESIGN VILLAS

(Costa Rica)

Whatever you expect to find in terms of lodging in Costa Rica, Kura Design Villas isn't it. Set high on a hillside overlooking Marino Bellena National Park and the town of Uvita, the 6-room resort is sleek, sensual and sexy, earning a place among the Best New Hotels of 2013 from Condé Nast Traveler. From the gorgeous rooftop infinity pool, restaurant and lounge area to solar-powered rooms decorated in earthy slate, teak and bamboo, the place is an architectural designer's dream come true. But our favorite feature was the massive private balcony, where cushy chairs and a 2-person hammock allowed us to lounge and watch the gorgeous sunset, with the sounds of cicadas, toucans and howler monkeys echoing through the hills around us.

READ MORE: Review of Kura Design Villas: Eco Luxury in Uvita, Costa Rica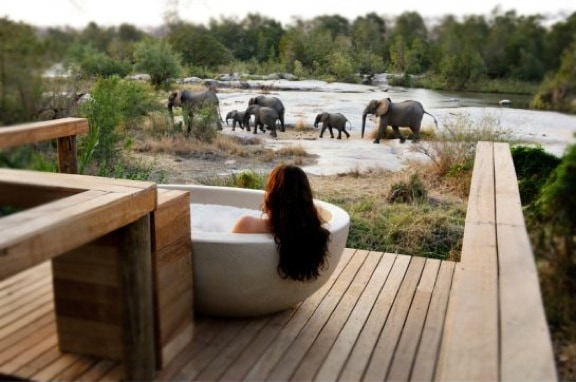 Just how much did I love this private game reserve on the fringe of Kruger National Park? So much so that, if my child had been a boy, I wanted to name him Londolozi (Zulu for "protector of all living things"). I've written before about how this remarkable resort influenced my interest in/understanding of ecotourism. But I neglected to mention how posh the place is, from the remarkable twice-daily safari drives and memorable "sundowners" (sunset picnics involving stiff drinks and finger foods) to romantic dinners in the torch-lit boma. But the gigantic rooms themselves are also a huge draw, with private porches offering exceptional views of the South African savannah and the cornucopia of wildlife that inhabits it.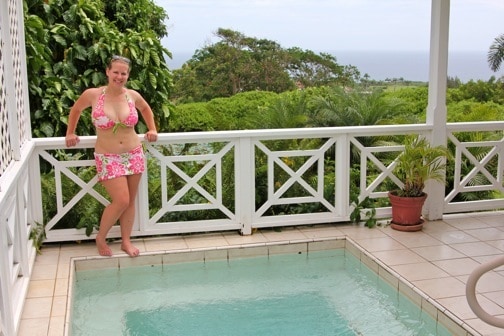 Set between the lush green rainforest of majestic Mount Liamuiga and the aquamarine waters of the Caribbean, Ottley's Plantation Inn offers a languid, luxurious taste of St. Kitts' rich history. Originally built as a sugar plantation in the early 1700s, the property was transformed by its current owners, who turned the Great House into a gorgeous two-story inn, used the ruins of the old sugar cane processing plant as the foundation for their open-air restaurant, and added dozens of delightful cottages that match the colonial-era architectural style. We spent most of our time relaxing in a private plunge pool, watching hummingbirds flitting amongst the flowers of a noni tree, egrets hunting for fish in a lilypad-laden pond, and the ubiquitous yellow and black birds known as bananaquit singing all around us. Sounds like paradise, right?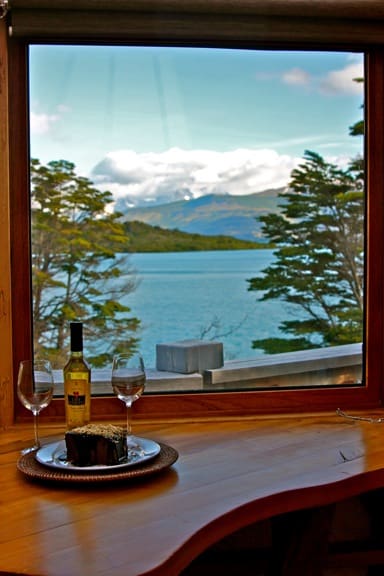 Most people wouldn't think of a yurt as luxurious. But then again, most people haven't been to Patagonia Camp, located just a few miles from Torres Del Paine National Park on the shores of Lake Toro. These small luxury tents offer solar-powered heating, locally handcrafted textiles, domed ceilings that allow you to stargaze from your king-sized bed, and private terraces affording exceptional views of the tranquil blue-water lake and the iconic Paine Massif. The lodge-style dining room is also worthy of note, serving up breakfast, lunch and gourmet 4-course dinners that will prove beyond a shadow of a doubt that it's possible to "camp" without roughing it.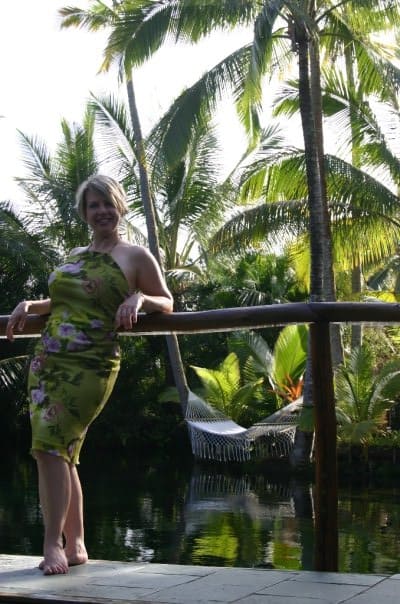 SHANGRI'LA (Hawaii's Big Island)
Unlike the other romantic places on this list, Shangri'La is not a hotel or resort: It's a house. It's also the most amazing house we've ever seen. Located on the Kapoho Coast of Hawaii's Big Island and surrounded by lush greenery on all sides, it's really more like your own private village, with the kitchen, library/den, and multiple bedrooms, each in their own separate thatched-roof buildings. The outdoor showers and over-water hammock were among our favorite features, as was the volcano-fed lagoon, which was warm and filled with colorful tropical fish. We fell in love upon arrival, stripped off our clothes, cancelled all our plans, and spent two days doing nothing but swimming and relaxing on the king-sized day bed on the island in the lagoon's center.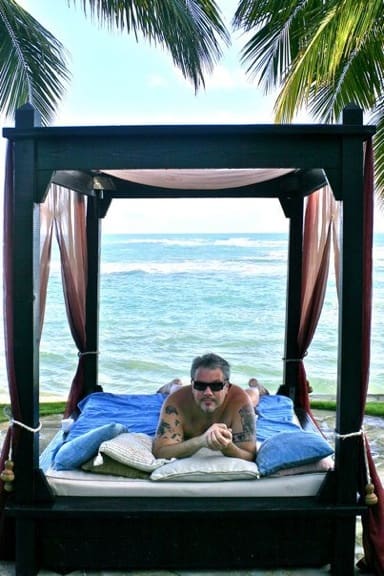 Compared to some of the other places on this list, Velero Beach Resort feels more like a comfortable condo than a fancy-shmancy boutique resort. But there's something about the place that made us feel instantly at home. It's one of the few places we've ever stayed where we were perfectly content to relax all day, moving from the non-chlorinated infinity pool to the cozy beachside cabanas, which afforded terrific views of the kiteboarding and windsurfing for which the sleepy beach town of Cabarete is known (not to mention some pretty amazing sunsets). There are two restaurants on the small property as well, including an intimate garden restaurant called Toma Da Luna, where we had the best seafood paella we'd ever tasted.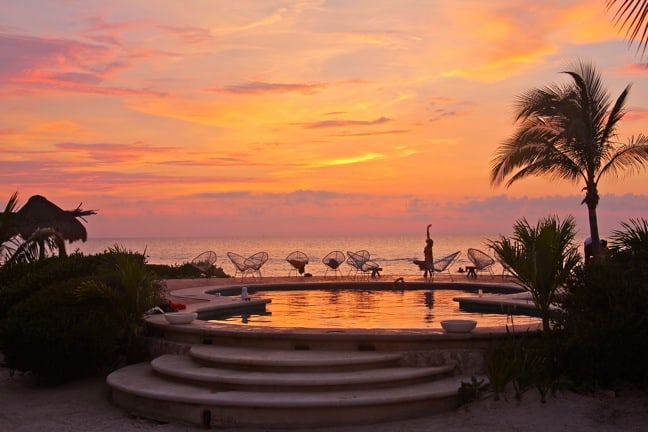 VILLAS FLAMINGOS

(Mexico)
This charming ecotourism village on Isla Holbox proves the old adage about "Location, location, location." Tucked away on a remote section of the island right next to the 154,000-hectare Yum Balam Biosphere Reserve, Villas Flamingos is the definition of "getting away from it all." The quaint villas are incredibly cozy, with eco-friendly bathrooms, small sitting areas, and a hammock on the private terrace. We loved the "Iguana Condo" set-up of the infinity pool, where the resident lizards would sun themselves as guests swam, drank margaritas, or snoozed in shaded beachfront palapas. With the gorgeous Caribbean water (and sunsets), a bird sanctuary nearby, and swimming with whale sharks just an hour or two away by boat, it was truly a tropical paradise for nature-lovers like us. –Bret Love; photos by Bret Love & Mary Gabbett unless otherwise noted
Disclaimer: Green Global Travel uses affiliate links within our articles.

When you check prices, read reviews, or book your stay via our links, we receive a small commission that helps us keep cranking out awesome content. Thanks in advance for your continued support!
If you enjoyed reading about the Most Romantic Places We've Ever Stayed, you might also like:
SOUTH AFRICA: Londolozi Game Reserve Safari
GEORGIA: Barnsley Gardens, A Southern Gothic Love Story
COSTA RICA: Casa Corcovado Jungle Lodge
MEXICO: Piedra Escondida Hotel, Tulum
JORDAN: Captain's Desert Camp, Wadi Rum
DOMINICA: Rosalie Bay Resort
The Best Coffee in the World: A Gourmet's Guide
What is an Eco Lodge? A Guide to "Green" Accommodations
Easy Ecotourism: 10 Simple Steps to More Sustainable Travel
The Benefits of Ecotourism: 20 Travel Bloggers on the Importance of Nature Travel
The Beauty of Nature Travel: A Blog Round-Up