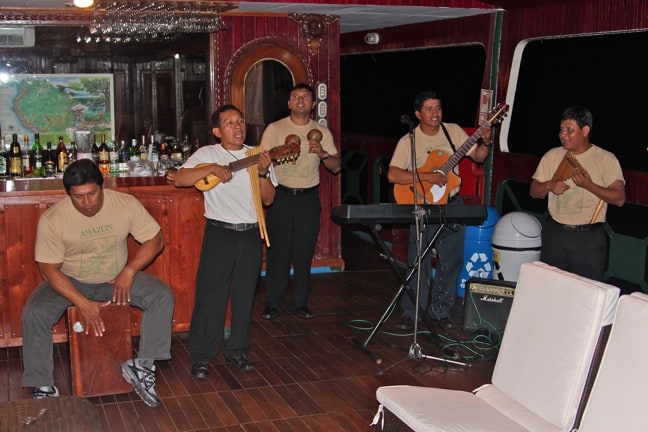 Every night we cruised down the Peruvian Amazon with International Expeditions, our naturalist guides and members of the ship's crew got together to perform a 30-minute concert during the cocktail hour before dinner. It become one of our favorite parts of the trip: Each day the band's name would change to reflect something we'd seen or done that day (i.e. Johnny & the Howler Monkeys, Bret & the Ghost Wasps, etc.), and every night the Peruvian music they played was a little different. On our final night I personally requested that they play a set of traditional Peruvian folk songs, and the results– as you'll see in this video– were pretty darn electric. Though they'd started out with the tranquil Andean folk song "El Cóndor Pasa," the band gradually built to a fevered pitch, and all of the workers on the Iquitos dock stopped to crowd around the Aquamarina to listen. By the end, everyone in our group was dancing, people on neighboring boats were clapping, and the musicians were clearly having a blast. Add a few Frozen Pisco Sours, and it was one helluva party to celebrate the end of our last day on the mighty Amazon. –Bret Love
Check out International Expeditions for planning your own Amazon River Cruise. Mention Green Global Travel and receive $250 off per person, combinable with any other published IE discount. Right now that includes free international and in-country airfare from Miami.
You might also like:
VIDEO: Amazon River Cruise Highlights
Photo Gallery: Piranha, Iguana & Hotter Than A Sauna
Photo Gallery: Parakeets, Punk-Rock Birds & Pimp Monkeys
Photo Gallery: 3-Toed Sloth, Toucan Sam and the Elusive Pink Amazon River Dolphin
Photo Gallery: Up Close & Personal with one of the Amazon's Most Endangered Species
Photo Gallery: Visiting a Shaman, Peruvian beauty & the cutest kids you've ever seen!