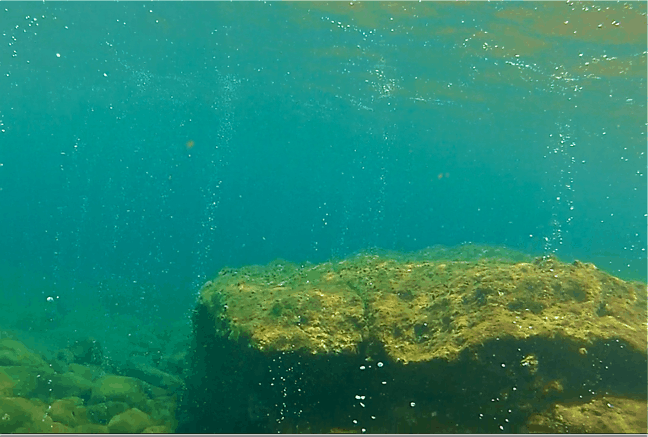 On our last day in Dominica, we made our way from Rosalie Bay Resort to Champagne Reef, a signature dive site along the island's western shore.
The site is named for the volcanic gasses that constantly seep through the ocean floor, creating amazing bubbles that make it seem as if you're swimming in a glass of champagne.
READ MORE: Dominica- Cabrits National Park/Indian River
The reef basically comes right up to the shore, so after slipping on our flippers, masks and snorkels we carefully eased into the water, which stays a cozy 90 degrees or so thanks to the volcanic gasses.
It feels a little like being in a hot tub, albeit a hot tub filled with aquatic life, including this friendly boxfish and hundreds of not-so-friendly sea urchins and jellyfish.
READ MORE: Dominica- Kalinago Territory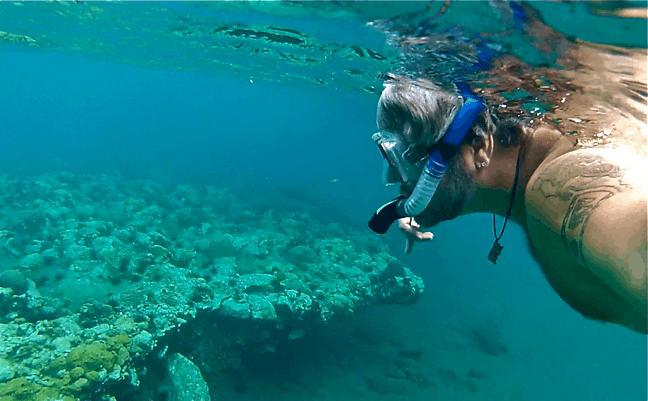 As had happened when we visited the Emerald Pool, we found that the few tourists who were at Champagne Reef when we arrived left within 10 minutes or so.
For nearly 45 minutes, we had the place all to ourselves! It was really beautiful, with crystal clear waters (most less then 20 feet deep), lots of different reef formations to explore, and tons of intriguing critters to see.
READ MORE: Dominica- Sea Turtle Conservation
We've been snorkeling dozens of times during our travels, but I've never seen as many eels as we saw at Champagne Reef.
There must have been at least a half-dozen of them with an area just a few hundred square feet, and though they stuck near the rocks for the most part, they were surprisingly easy to spot.
I swam down to shoot this guy with our GoPro in about 12 feet of water, and loved his spotted pattern.
READ MORE: DOMINICA – Whales, Waterfalls & Mountains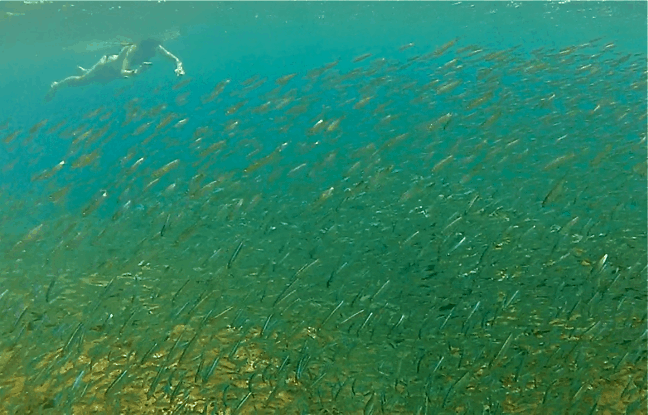 After nearly an hour in which we'd seen everything from parrotfish and puffers to barracudas and squid, we decided it was time to grab a bite to eat before heading to our next stop.
But, right before we did, we saw this HUGE school of fish that reminded us of a scene from Finding Nemo.
It was fascinating to watch them moving hither and yon in complete unison, almost as if controlled by a hive mind. Hopefully we can share some video of this soon…
In all our travels, we'd never been to a country that seemed to take more pride in its national identity.
There were signs everywhere, even in remote areas, about protecting native wildlife species, protecting the island's natural beauty and valuing its cultural identity.
As I was taking a photo of this "Buy Dominican, Buy Quality" sign, a schoolboy wandered into the shot, and I quickly adjusted my camera to capture him checking out the bench.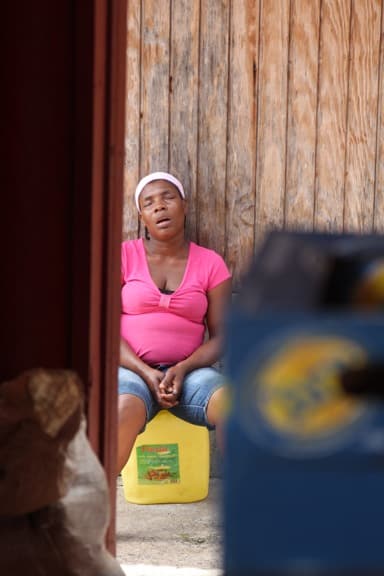 We stopped for lunch at a tiny typical cafe located right on the Bay in Rouseau, where locals came for a quick bite, there was no menu to speak of (fish or chicken were our choices, and both were delicious), schoolchildren frolicked and teased one another under a massive tree outside, and the ocean breeze more than made up for the lack of A/C.
As I waited for them to deliver my surprisingly delicious sea grass juice, I snapped a quick candid of this employee taking a midday siesta just outside the kitchen. Our guide, Oris, found this hysterical.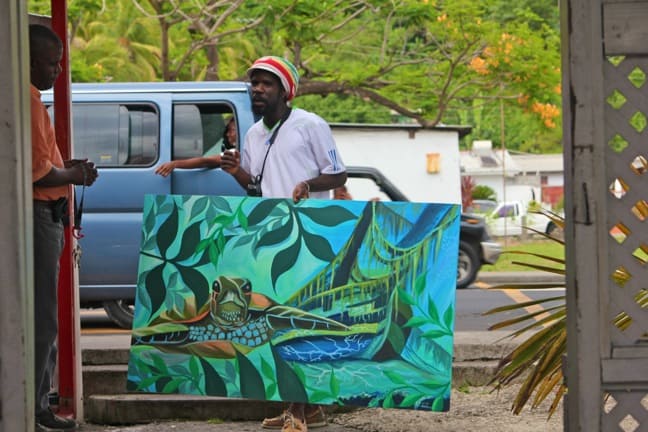 It was a colorful place full of distinctively Dominican flavor, both in terms of the food and the clientele. One guy, who'd clearly fallen on hard times, convinced his old friend Oris to buy him lunch.
This rasta was offering his awesome sea turtle painting for sale at a remarkably affordable price, but at this point we'd spent most of our souvenir budget at the Kalinago Barana Aute and, more importantly, had no place to put it (either in our luggage or our house).
Still, we loved it, so we took a photo!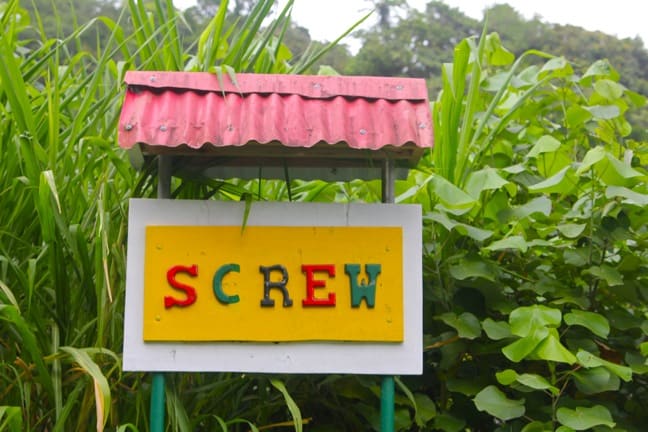 We had no idea what to expect as we made our way to Screw's Sulphur Spa, which is tucked back deep in the hills of Wotten Waven near Morne Trois Pitons National Park. But I, with my sophomoric sense of humor, found their signs pretty hilarious.
As we climbed the steep, winding streets, I gathered that the business was rasta-owned (the sign saying "Irie Mon, Screw" tipped me off).
But beyond that we had honestly no clue what we'd see when we got there.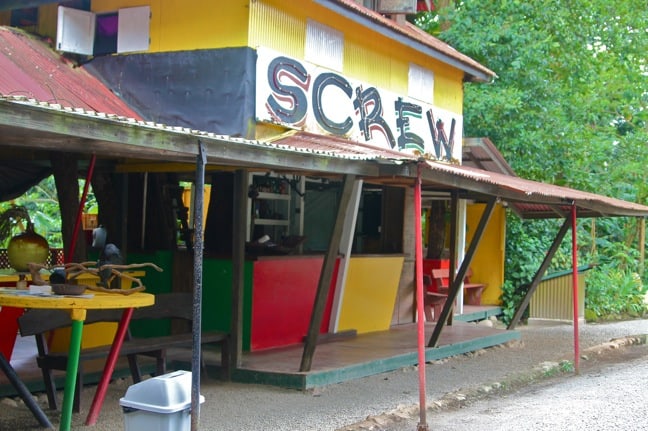 What we ultimately found when we got there was much cooler than I had imagined.
The entrance was painted the traditional rasta colors of red, black and green ("The Red's for the blood and the black's for the man/ The green is the color that stands for the land," as the old Jungle Brothers song says), with a fresh juice bar on one side and a small collection of African art scattered around.
Deep roots reggae music pulsed from the sound system, but other than the beautiful woman who pointed us down the stairs to the changing area, there was not another soul in sight.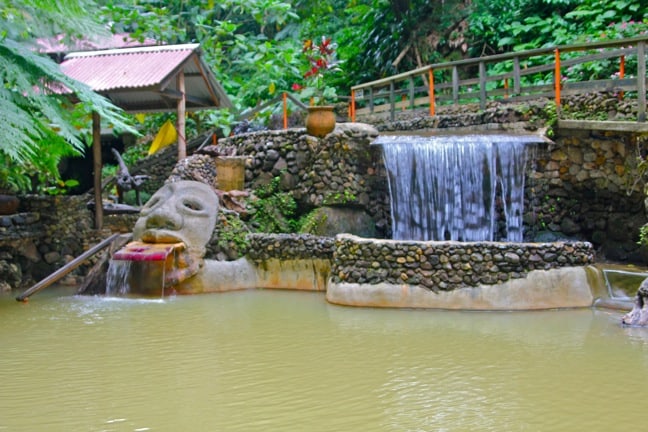 Even when we got down to the pools, we totally had the place to ourselves.
The owner, Screw, had spent years constructing the pools to fit into their natural surroundings, with tropical plants that added splashes of color to the jungle setting.
The water, which was fed by a natural hot springs, started off on the verge of scalding, then each of the three larger pools got successively cooler, with the last one closer to body temperature.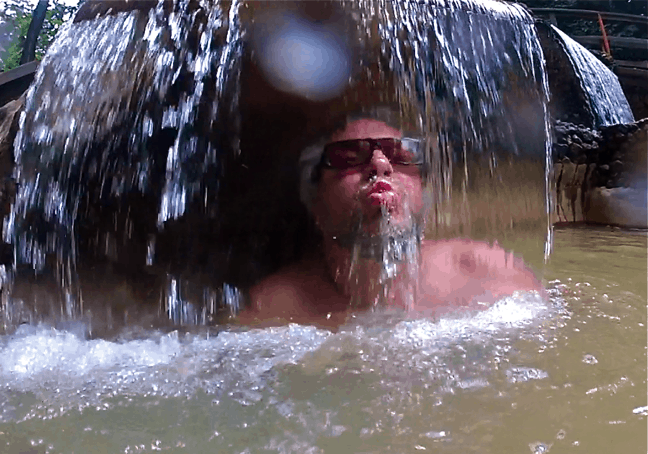 After 5 days of running ourselves ragged in an attempt to see everything Dominica had to offer, it was a great change of pace to have some time to just relax, sooth our aching muscles in the hot springs waterfall, and have some playful quality time together.
Whenever Mary turns the camera on me, my inner ham comes out, and I had fun making silly faces at her through the waterfall.
Not so much fun was the aftertaste, which reeked of sulphur from the volcano-fed spring. ACK!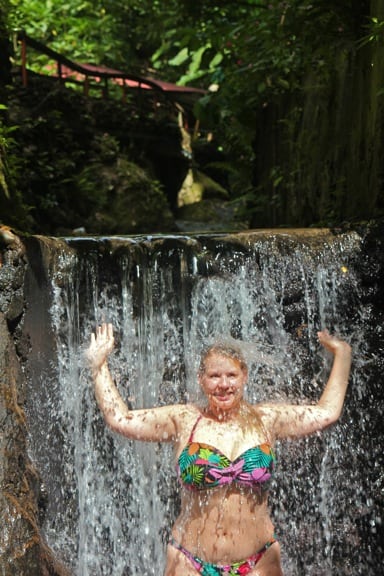 At the end of the circuit, Screw's thankfully had a pool fed by a freshwater spring that gave us a chance to cool down after getting all hot and bothered.
Better still, we stumbled upon this somewhat hidden spring-fed waterfall, which gave us a chance to rinse off the sulphur smell (which wasn't offensively strong, but still…) before changing back into our clothes for dinner.
In the end, Screw's Sulphur Spa wound up being one of our favorite Dominica attractions– the kind of off-the-beaten-path spot that, if you mention it to locals, you'll be met with a big grin and a look that says you've discovered a great local gem.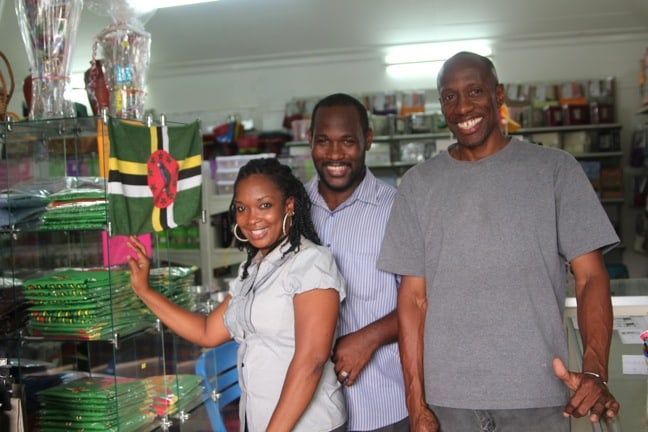 With time to kill before our last dinner in Dominica, we headed back to Rouseau to pick up a few last-minute souvenirs.
I collect t-shirts bearing the flags of places I've been, so we wandered into a shop called Jay D's after seeing Dominica's flag (which features the endangered national bird, the Sisserou Parrot) flying outside.
We ended up getting into a long conversation with the employees, who gave us great insight on the struggles facing Dominica.
One of the biggest problems is the influx of Chinese investment. China's government cuts deals with Dominica's government to invest in their economy in exchange for relaxed immigration laws for its citizens.
The new residents open up businesses selling Chinese goods at prices the locals can't compete with, and it winds up driving local shops out of business.
Suddenly, the "Buy Dominican" sign above made more sense. Everyone we spoke to was excited when they heard we were from America, and urged us to encourage more Americans to travel there.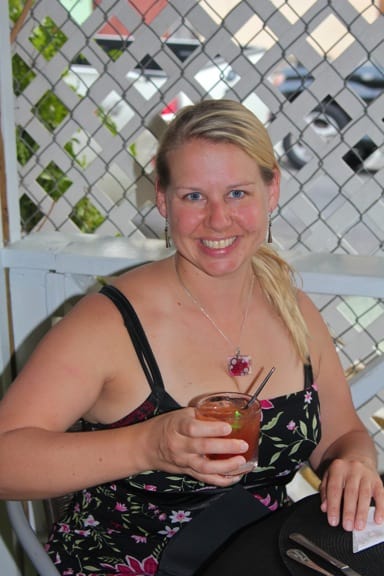 We finished off our last day in Dominica with drinks and dinner at the Old Stone Grill & Bar, one of the island's swankiest foodie-friendly restaurants.
It ranked right alongside the Rosalie Bay Resort's restaurant for the best meals we had on the island, with killer conch fritters, amazing grilled fish and succulent oxtail.
We were actually a bit melancholy as we toasted with Rum Punch: So many times when we travel we're eager to get home, feeling as if we've seen and done it all.
But we could've easily imagined spending several weeks on Dominica. Even now, nearly three months after our trip, we break into huge grins when we hear from our buddy Oris, or meet someone from the island.
Though it may not be as well-known as its Caribbean brethren, the Nature Island truly is one of our favorite places we've ever traveled. –Bret Love; photos by Bret Love & Mary Gabbett
If you enjoyed this Dominica Photo Gallery, you might also like:
20 Best Caribbean Islands To Visit (If You Love Nature & Hate Crowds)
20 Best Things to Do in Aruba (For Nature & History Lovers)
The 20 Best Things to Do in Barbados (For Nature & History Lovers)
The 20 Best Things to Do in Curacao (For Nature & History Lovers)
Top 20 Things to Do in Cancun (For Nature Lovers)
The 20 Best Things to Do in Jamaica (For Nature & History Lovers)
St Thomas Islands: Outdoor Adventures on Cas Cay
St. George, Bermuda: Oldest Town in the New World
Dominican Republic Outdoor Adventures
St Kitts Travel Tips (A St. Kitts Travel Guide)
10 Exotic Islands (for your World Travel Bucket List