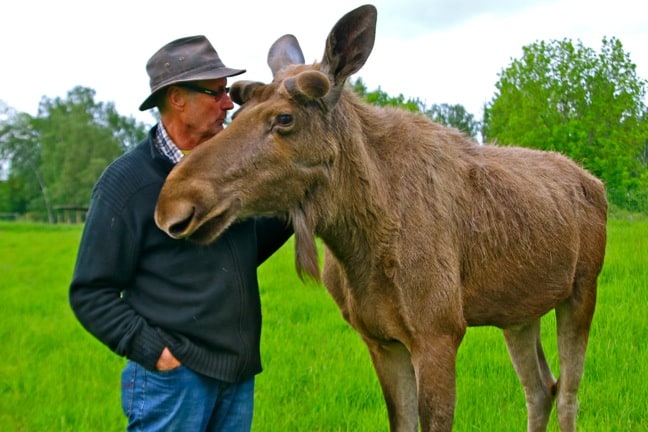 The Moose Whisperer &
The Coolest Moose in Sweden
"What does bloggers do?"
We've just arrived at Wrågården Farm, 15 minutes late for our appointed tour with Bo Alexandersson– the semi-retired father of fifth-generation owner Henrik– because our GPS couldn't recognize their remote, rural address. In my flustered state (I despise being late), his question briefly throws me for a loop.
I'm not sure if it's the off-kilter edginess of his personality, the twinkle of mischief in his eyes, or the Scandinavian cowboy look of his jeans and hat. But somehow the ruggedly handsome farmer reminds me of my late grandfather, who could tease like nobody's business. Unsure whether he's pulling my leg or not, I simply laugh and respond, "We write stories and share them on the Internet." This answer seems to suffice.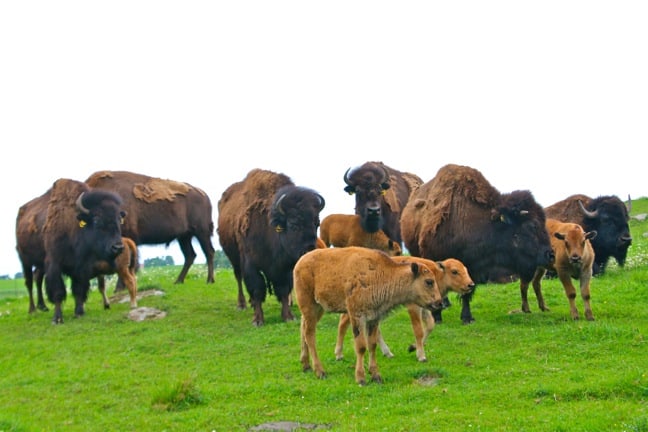 As we scooch into the back of Bo's golf cart for our private tour of the farm, he begins telling us a bit about its history. His great grandfather bought the 43-acre property (which is located near Falkoping, Sweden) back in 1895. Bo grew up on the farm, but in the '60s he moved to Canada, where he worked as a blacksmith and rodeo rider.
It was there, in Saskatchewan's Prince Albert National Park, that he first fell in love with Wood Bison, a bigger subspecies of the American Bison. With males weighing in at around 2,000 pounds, the Wood Bison is the largest terrestrial animal in North America. This story is all the more interesting because he's telling it as we sit in a field surrounded by 24 two-year-old bison, who seem a little skittish in our presence.
Flash forward to 2006, when son Henrik buys the family farm from his parents, Bo and Gun. Bo decides to use the money to invest in bison, deer and "elk"– a word which seems to be used interchangeably with moose in Sweden– which serve as both a tourist attraction and meat (served in Wrågården's restaurant and for sale at a local market). Now, the farm has more than 50 Wood Bison, including 15 adorable calves born this year.
"Do you want to meet my dog?" Bo asks us with a sly grin as we leave the bison behind.
With his playful personality and skewed sense of humor, we're not quite sure what to expect when he opens the gate to an expansive fenced enclosure and drives us into the center. But, given our general philosophy of being game for anything, we say "Sure!" without hesitation as he drives us downhill, past gorgeous spotted deer who clearly want nothing to do with us.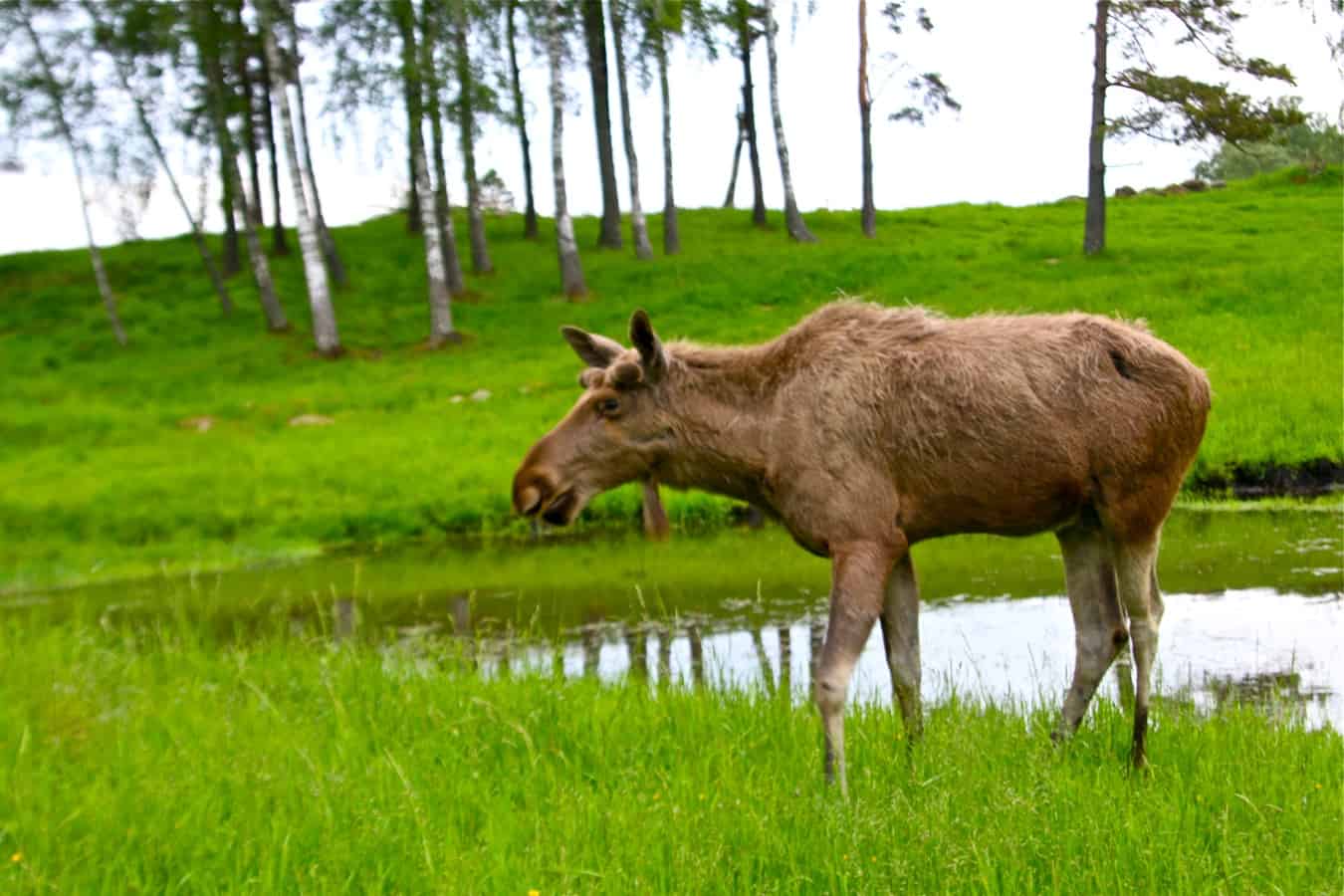 "Oskar!" Bo yells, then whistles. Within a few seconds, a massive bull moose– over 5 feet tall at the shoulders, weighing around 1,000 pounds– comes ambling over the hill, looking for all intents and purposes like an overgrown puppy dog.
Still sitting in the golf cart, Bo hands Mary (who's in the passenger seat) a banana, explaining that it's one of Oskar's favorite treats. Before I even have time to extend our GoPro Pole and press the record button, the big fella has wolfed it down, nuzzling in Mary's lap in hopes that there might be more where that came from.
When he discovers that there isn't, Oskar suddenly lifts his head to check me out. "Is the camera food?" he seems to wonder, coming in for a closer look. Sniffing, he can tell it is not. But this fact does nothing whatsoever to diminish the copious amount of drool currently dripping from his jowls.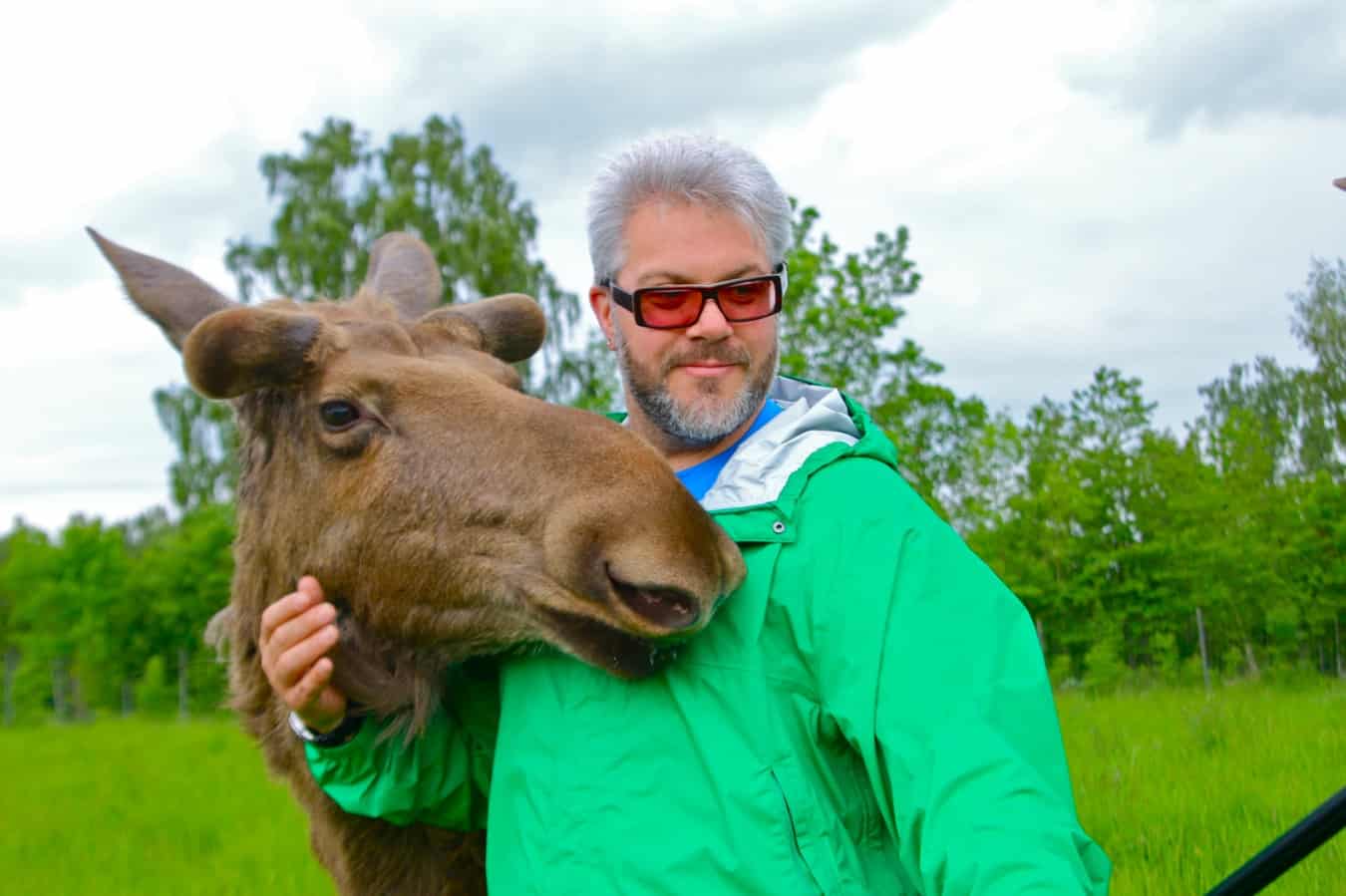 It's a little unnerving, having an animal four times your weight run up to you like Dino tackling Fred Flintstone as he comes home from work. But Oskar's eager openness is infectious, and we quickly find ourselves grinning from ear to ear as he moseys over to see if I might have any treats hidden in the back of the cart.
He bends his huge snout towards me, sniffing the container holding the drinks Bo brought for our sunset picnic, drooling so heavily that his spittle fills about 20% of one of the cups. He sniffs my legs, soaking my pants from knee to thigh. And he investigates the GoPro once again, just to make sure he didn't miss some tender morsel hidden in the pole.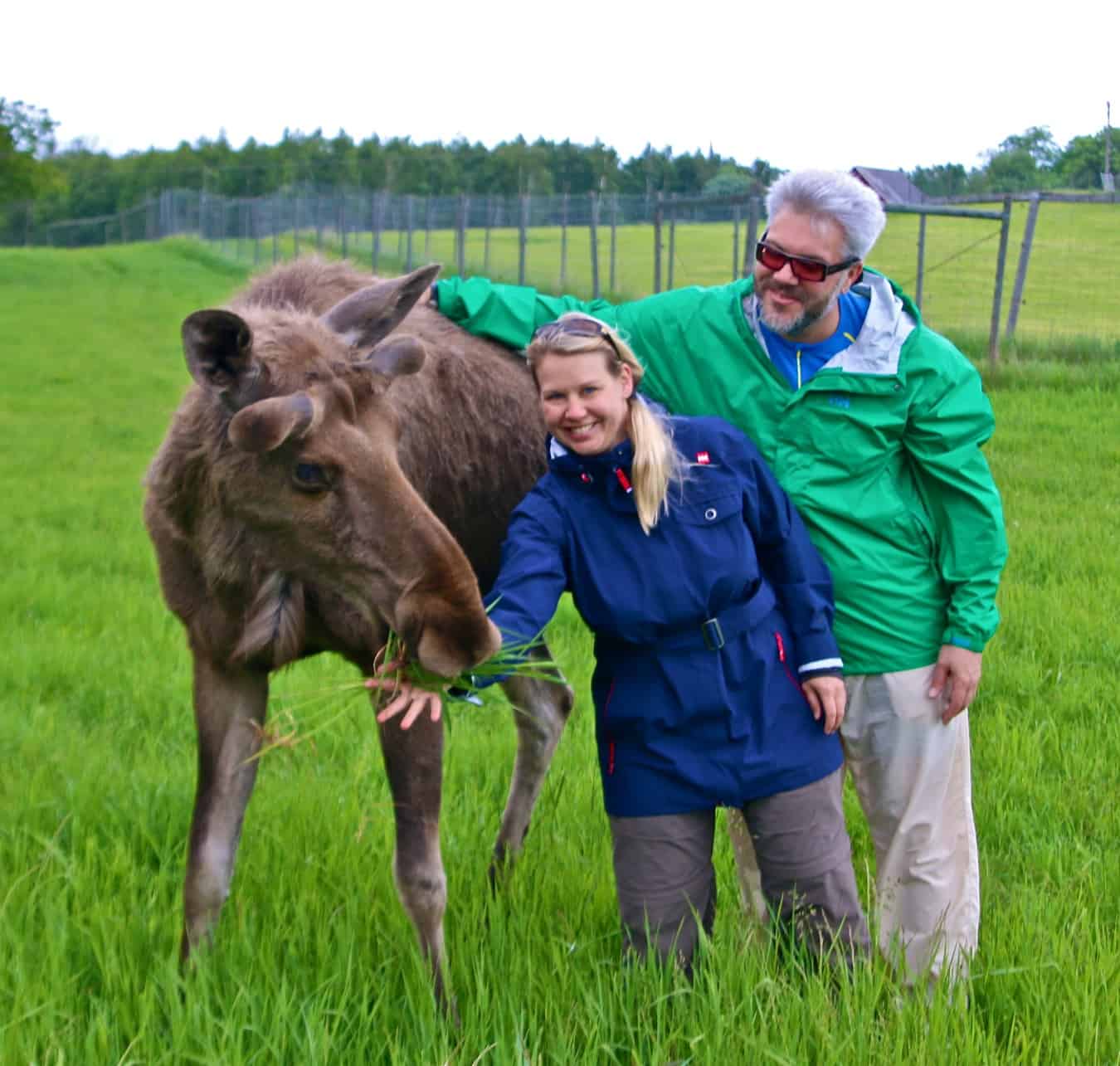 Eventually Bo motions for us to get out of the cart and come pet Oskar. "Have you ever hugged a moose?" he asks, with that same playful grin crossing his face.
"Why no," I say facetiously, "I have not." Because, seriously, how many people in the world have ever hugged an adult moose and lived to tell the tale?
But Oskar is different. Bo (who bought Oskar's grandfather back in 2005) has hand-reared the 2-year-old moose since he was about six hours old, bottle-feeding him to ensure a personal bond that remains strong today. He may not be as small as a dog, but Oskar's personality was strikingly similar– curious and cuddly and strangely cute, especially when you scratched him behind the ears and antlers (which left a soft, velvety brown residue on your hands).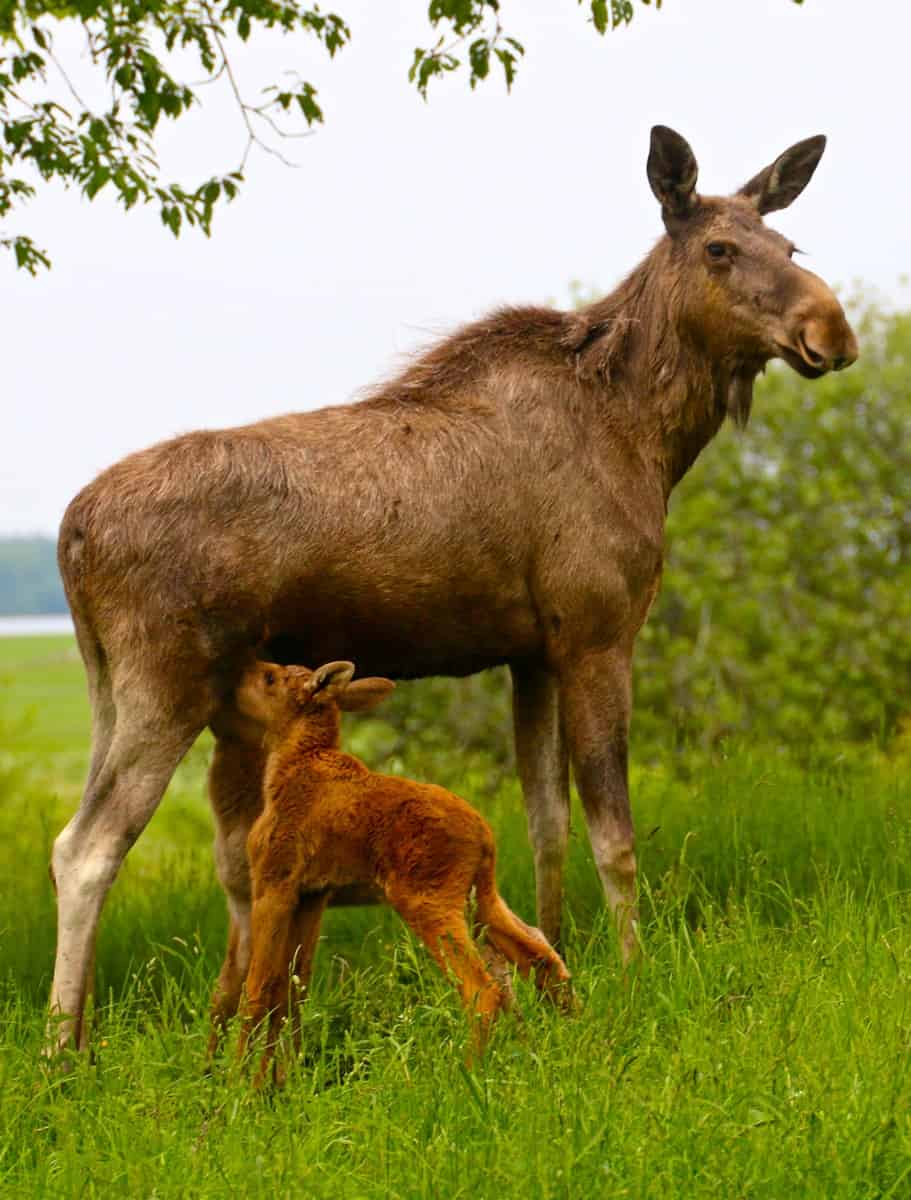 The look on Bo's face whenever Oskar is around can only be described as sheer joy, and the feeling is obviously reciprocated. Watching Oskar lean in for a kiss, I immediately come to think of Alexandersson as "the Moose Whisperer."
We soon get another surprise as Oskar's lady friend Ebba crests the hill, with her adorably awkward twins Ebbot and Älgvira following closely behind her. Bo got Ebba when she was four days old, and she's not nearly as comfortable around strangers as Oskar is. She cautiously creeps close to Bo in order to get a banana treat of her own, but eyes Mary and I suspiciously the whole time.
Still, it's amazing to watch as she nurses the 14-day-old calves just 20 yards away from us as we feast on our picnic of homemade quiche, bison meat, locally-made cheese, and moose-shaped crackers. Oskar stands right beside us the entire time, munching his own dinner and allowing us to rub on him as much as we want… which is a lot.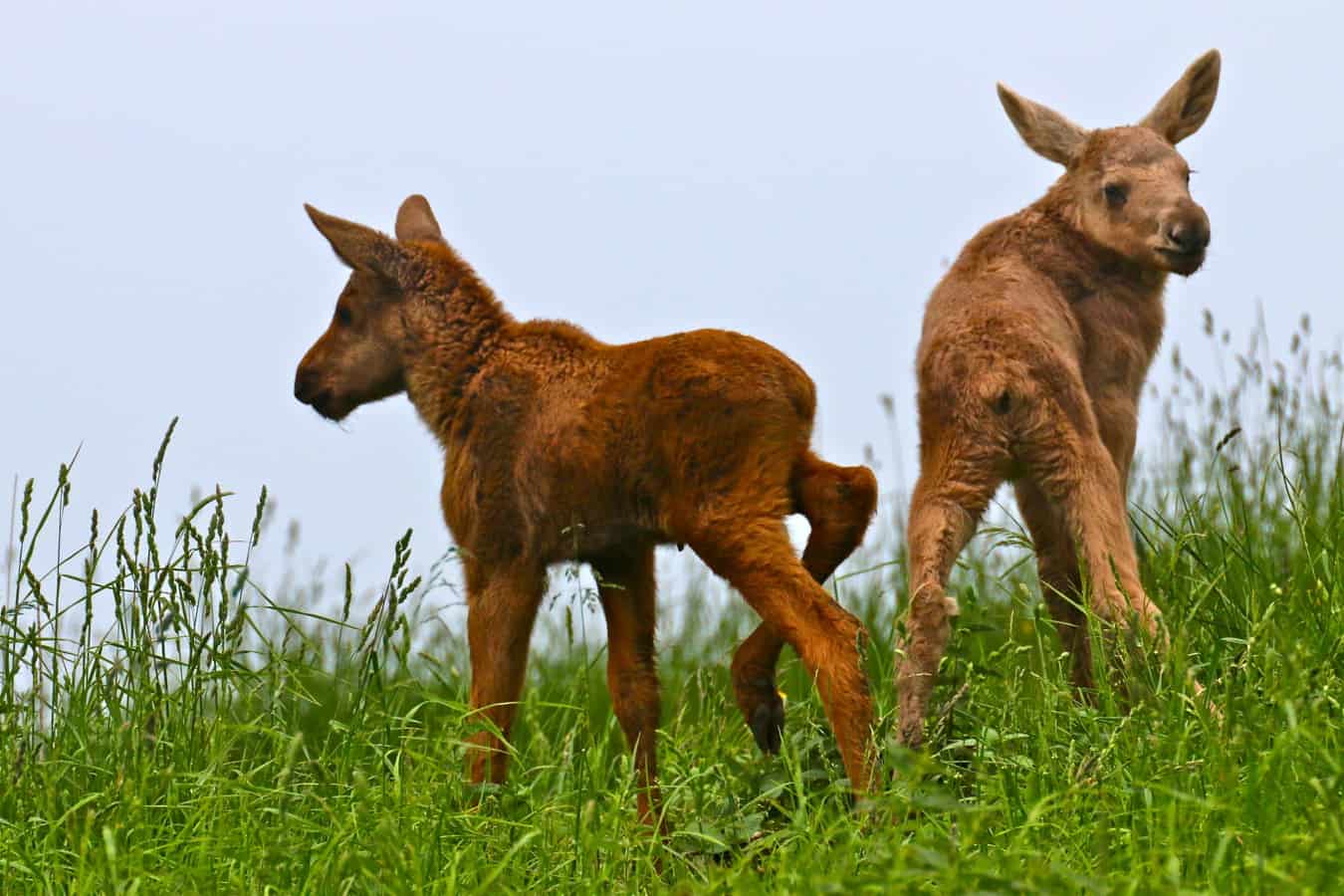 As we nibble and rub and chat about Bo's various previous careers (which include a stint as a nurse), his aversion to the farm's Scottish Highland cattle, and the family's plan for the future of Wrågården Farm (hint: more moose and bison), I realize my heart is filled with affection, not only for the place and the experience, but for Bo himself.
On the surface he may seem like a curmudgeonly cowboy. But, over the course of our few hours together, it becomes clear that Alexandersson loves these animals with an unbridled passion, and takes pride in this unique place he and his son are building together. The big smile on his face every time Oskar comes over for a nuzzle says it all, and he seems genuinely touched to see our appreciation of his pastoral slice of paradise.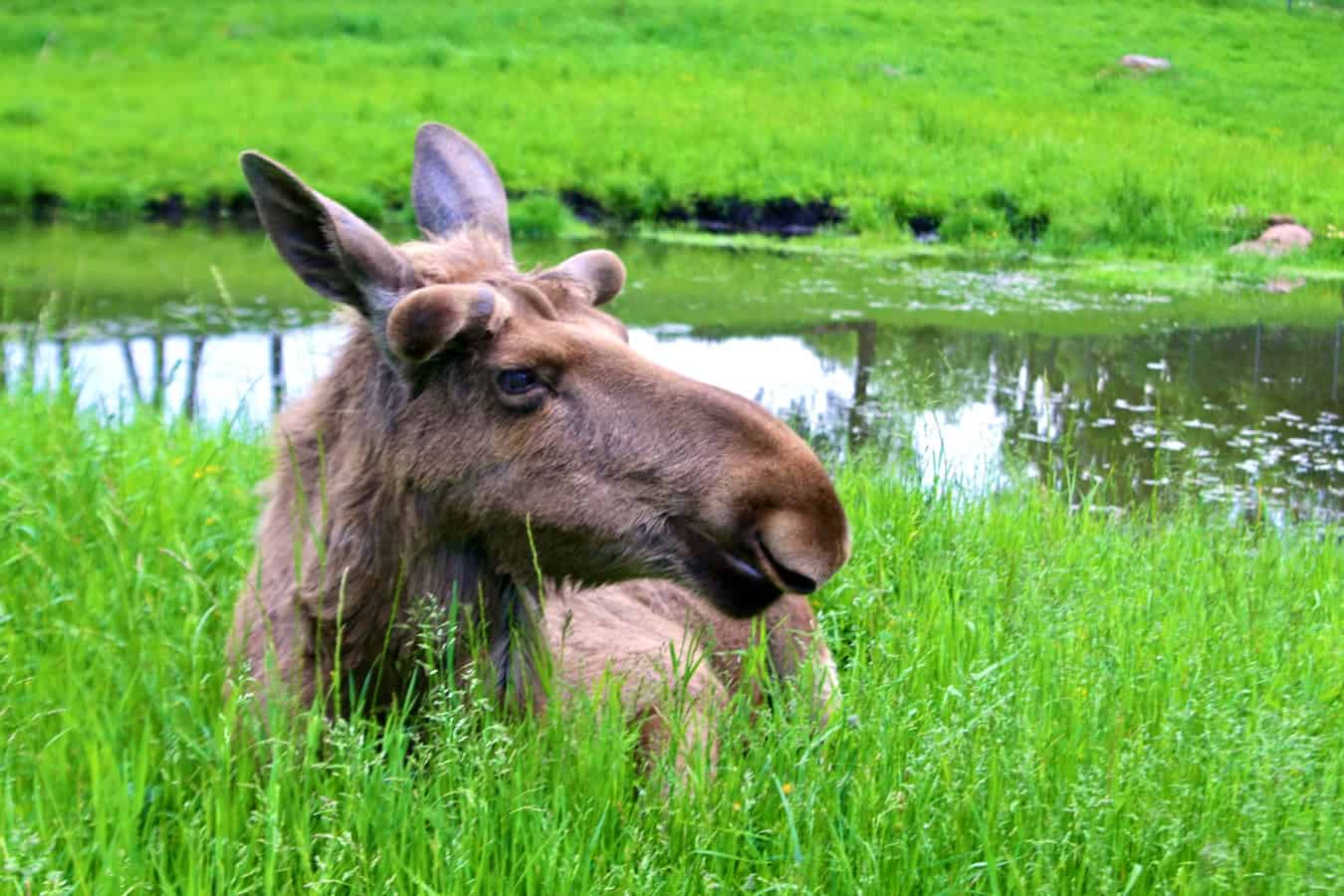 Eventually the time comes to bid Bo and his four-legged friends farewell. Oskar settles down in a particularly lush patch of grass right next to his watering hole, allowing me to pet him one last time before we leave. I linger, stroking the top of his head between where this year's new antlers are beginning to grow, savoring the moment.
We end the night much as we began, with a GPS that has no clue where we are, and no clue where we're going. Alexandersson, who seemed so tough to read in the beginning, graciously offers to get in his truck and escort us back to our B&B, which is 15+ minutes away. As it turns out, a good friend of his used to own the property.
We didn't know what to expect when we visited Wrågården Farm, but what we got was an incredible experience we'll never forget. And not just because we got to hug the coolest moose in Sweden, but because we got to know the "Moose Whisperer" who raised him. –Bret Love; photos & video by Bret Love & Mary Gabbett
Our trip was sponsored by the West Sweden Tourist Board and Volvo, but we will never compromise our obligation to our readers. Our opinions remain our own.
If you enjoyed our post on the Moose Whisperer & the Coolest Moose in Sweden, you might also like:
SWEDEN: Cycling Remote South Koster Island
SWEDEN: Touring West Sweden in a Volvo
FRIDAY PHOTO: Twin Moose Babies in Sweden
NORWAY: Our Amazing Road Trip Through the Jotunheimen Mountains
Top 5 Eco Attractions in Norway