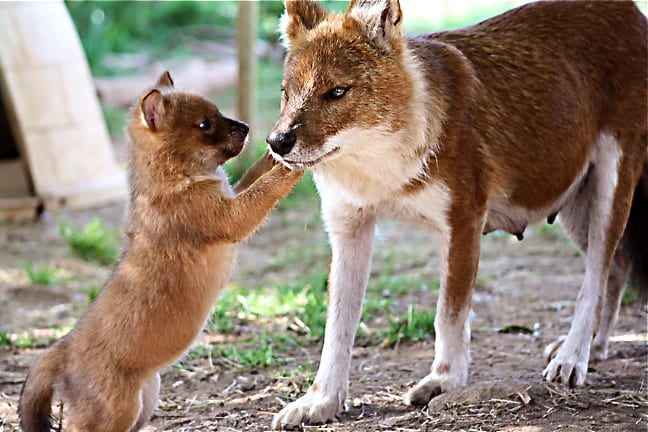 ENDANGERED SPECIES SPOTLIGHT: Dhole
SPECIES:  Dhole
CURRENT RANGE:  Southeast Asia, including India, Tibet, Bhutan, Malaysia and Sumatra
CURRENT THREATS:  Habitat loss, depletion of prey base, competition from other predators, persecution and possibly diseases from domestic and feral dogs.
CONSERVATION STATUS:  Endangered  (numbers estimated at 2000-2500)
WHERE YOU CAN SEE THEM: Cambodia's Srepok River Area, San Diego Zoo Safari Park
WHAT IS IT?   The dhole is a fascinating little mammal. Though it resembles your everyday red fox, it's commonly referred to as an "Asiatic Wild Dog" or "Indian Wild Dog." But even though it's called a "dog," it doesn't have many typical canine traits. For starters, the dhole (pronounced "dole") has only two molars on each side of its mouth instead of the usual three. And secondly, the smart, social animal has an amazing system of communication that allows them to make the most bizarre noises, ranging from whistles and growls to screams and even a chicken-like cluck.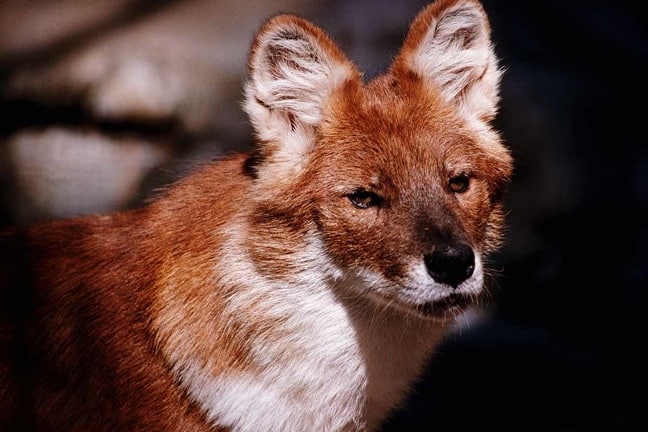 WHY ARE THEY ENDANGERED?  Like many species on the IUCN Endangered list, the biggest reason for the decline of the dhole is man's rise. As more humans inch closer into the mammal's homes in Southern India, Russia and Thailand, they're killing off the dhole's food supply in the process. (Dholes have been known to nibble on everything from berries and turtles to rodents and deer.) Humans are exposing the animal to domestic dog diseases, too. As a result, the number of dholes living in the wild has plummeted to somewhere between 2,000 and 2,500, making it one of the most endangered species of Asian wildlife.
WHAT'S BEING DONE TO SAVE THEM?  Though it's been illegal to kill a dhole since the early 1970s, people are still doing it out of fear that the wild dogs are threatening livestock. There has been some pressure on the Indian government to make penalties stiffer for said acts. The World Wildlife Fund has taken the approach that locals will care about saving the dhole only if they see economic benefits, so the WWF is assisting in the development of an ecotourism venture in Cambodia's Srepok River Area. In the U.S., the only dhole-breeding program is at the San Diego Zoo Safari Park. The Park is also supporting conservation efforts in Asia as well as participating in a study to better understand the dhole's unique communication methods.  –DeMarco Williams
IF YOU LIKE IT, PIN IT! 
If you enjoyed our post on the Dhole, you might also like: 
ENDANGERED SPECIES SPOTLIGHT: Iberian Lynx
26 Weird Animals Around the World