SPECIES– Markhor (Capra falconeri)
CURRENT RANGE– From Afghanistan and Pakistan to North India
CURRENT THREAT– Trophy Hunters and Habitat Loss
CURRENT STATUS– Threatened
WHERE YOU CAN SEE THEM– Los Angeles Zoo, Rosamond Gifford Zoo (Syracuse, NY), India's Tatakuti Wildlife Sanctuary
WHAT IS A MARKHOR?
A large wild goat found from Afghanistan to northern India, the markhor is divided into three subspecies: the Astor markhor, the Bukharan markhor, and the Kabul markhor.
This majestic mammal, the national animal of Pakistan, is one of the more sexually dimorphic animals in the wild.
Males can grow to well over 200 pounds, have an exaggerated amount of hair extending from their chin/chest and, most notably, have spectacular spiraling horns atop their heads.
Females' horns are less dramatic, throats less hairy and bodies a lot less stout. However, both sexes graze on grass and live in mountain elevations as high as 3,000 meters.
READ MORE: Saving Asian Animals (Best Wildlife Conservation Programs)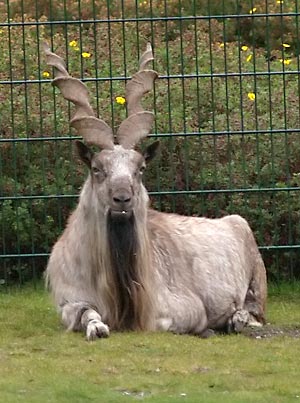 WHY ARE MARKHORS ENDANGERED?
Because of the males' unique physical appearance, it has long been a sought-after target of humans.
Trophy hunters want the circling horns for display. Locals want the meat for food. Some Chinese groups even seek out the animal for its medicinal purposes.
With man's steady encroachment, the endangered markhor is also in a fight over land with domestic livestock.
According to the International Union for the Conservation of Nature, the world's population of markhor is down to around 2,500 adults. In the northern Indian state of Jammu and Kashmir, the number uncomfortably sits near 400.
READ MORE: 60 Weird Animals Around the World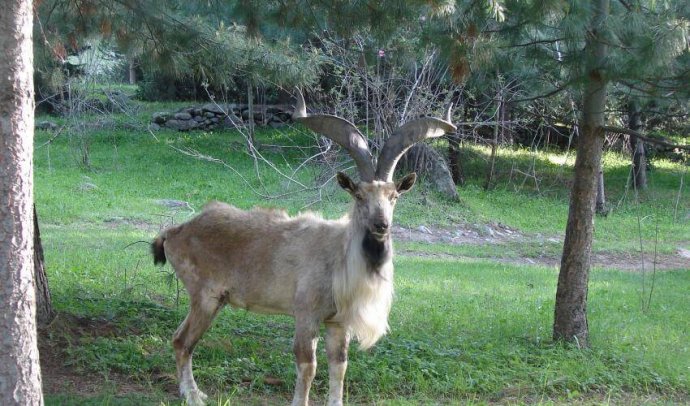 WHAT'S BEING DONE TO SAVE MARKHORS?
To counter the sad statistics in Jammu and Kashmir, five parks (including the new Tatakuti Wildlife Sanctuary) have set up sanctuaries for the markhor.
Unfortunately, other countries have been slower to respond to the animal's plight. Even though the gorgeous wild goat serves as Pakistan's national animal, it's still legally being hunted in the country.
Wildlife conservation organizations like Save Our Species and WCS Pakistan are becoming more vocal on the local village level about the importance of keeping the species alive in Pakistan, one of the animal's essential natural habitats. –DeMarco Williams
If you enjoyed reading our Endangered Species Spotlight on the Markhor, you might also like: 
ENDANGERED SPECIES SPOTLIGHT: Dhole, the Indian Wild Dog
ENDANGERED SPECIES SPOTLIGHT: Sumatran Elephant
ENDANGERED SPECIES SPOTLIGHT: Saola
ENDANGERED SPECIES SPOTLIGHT: Iberian Lynx