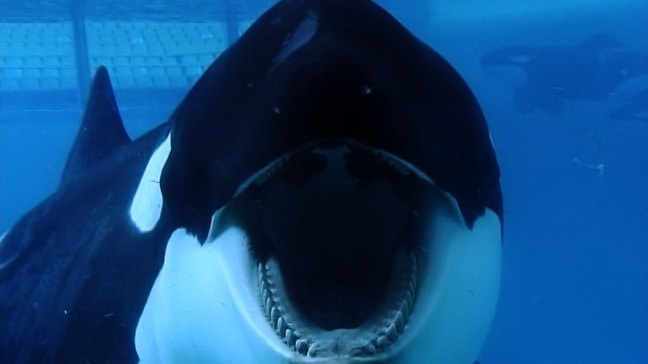 Blackfish Documentary Director
Gabriela Cowperthwaite Takes On Sea World
In February of 2010, during a moment of post-show bonding, a killer whale at Sea World in Orlando suddenly grabbed his trainer by the ponytail, pulled her underwater, and shook her violently. The trainer, 40-year-old Dawn Brancheau– literally the poster girl for the theme park– was pronounced dead on the scene. Gabriela Cowperthwaite, director of the Blackfish documentary, had a simple question: Why?
Inspired in part by The Killer in the Pool, an in-depth expose written by Tom Zimmerman for Outside magazine, Cowperthwaite delved deeper into the murky world of captive cetacean facilities. Former Sea World trainers came out of the woodwork to talk to her for Blackfish, in large part to refute much of the misinformation about the tragic incident being spread by Sea World's PR people.
Doing for whales what The Cove did for dolphins, Blackfish examines how whales were historically captured for facilities such as Sea World, explains why these remarkably intelligent creatures are especially ill-suited for captivity, and shines a harsh spotlight on an entire industry that uses animals for human entertainment. In the end, the film suggests that it's not Tilikum who is to blame for Dawn Brancheau's death, but Sea World itself (and its customers, by proxy).
There's been a lot of controversy swirling around the documentary, with Sea World and the filmmakers (including Zimmerman, who served as an associate producer) each firing off press releases accusing the other of lying. So we were excited to get a chance to speak with Cowperthwaite about her undeniably disturbing film.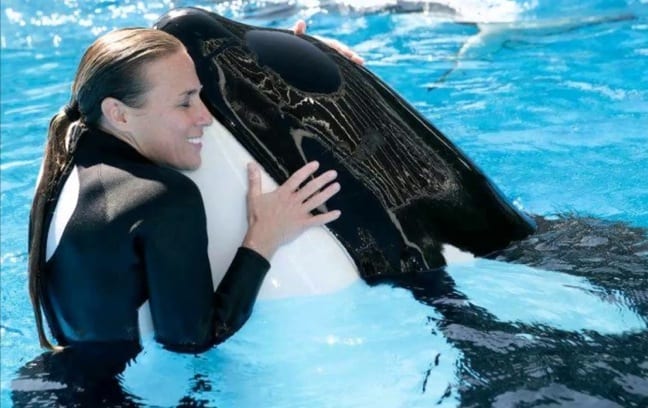 What was it about Dawn Brancheau's death at Sea World that inspired you to make this movie?
I didn't understand how this tragedy could've happened­– how a Killer Whale could've killed a top-level trainer. I imagined it was an anomaly. The more I researched, the more confused I became. First it was communicated that she had slipped and fallen into the pool. Then it was said that she'd been held down by her ponytail. Then there was a suggestion that the whale, Tilikum, was associated with two prior deaths. I started vigorously peeling back the onion, and I stumbled on Tim Zimmermann's article from Outside magazine. It was revelatory. He looked at how Killer Whales had been captured in the early '70s, and how they first came to marine parks all over the world. It was a very comprehensive article, so I called him and asked if he'd come aboard as an associate producer.
You interviewed many former Sea World employees in the film. Were they at all hesitant to talk, or were people eager to go on the record about Sea World?
Some trainers became vocal in the media after Dawn Bancheau's death. They heard stories coming out of Sea World about her death, and they knew something was very off. I think what drove them to be interviewed was the desire to make sure I told a factual story. When they left Sea World, I think it was a hard decision because they knew they were leaving the whales behind. They're speaking up now on behalf of the whales. I think that was something they all needed for closure.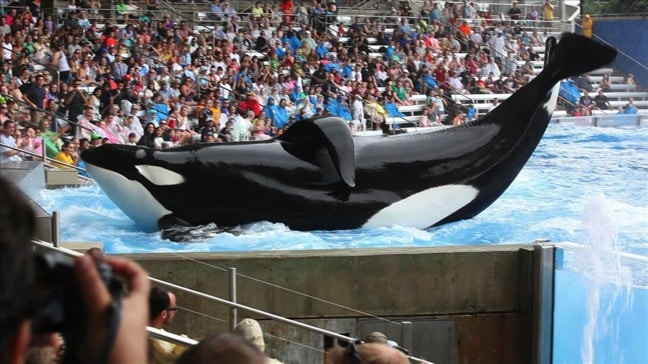 Did you get a sense that these folks want to atone for how Sea World's whales have been treated?
There's no question! That was the part of this documentary I didn't expect– for everyone to have such strong emotional bonds with their whales. They talk about them like they're their children. These are highly intelligent animals, capable of tremendously strong bonds. They have everything in their brains that we have, plus they have a part that we don't have. The more I learned about whales, the more I understood how strongly humans can bond with them.
How did your respect and understanding of whales change over the course of this project?
I understand so much more about this animal's capacity. I've learned there's absolutely no way a human can provide even a fraction of what a whale needs to survive, let alone thrive. They're so complex. They're built for speed. They grieve the loss of their young. They swim 100 miles a day. How could we think that we can give them what they need? It's a silly mad scientist experiment! And I think, 40 years later, we're seeing that it didn't work. We're only paying attention to it now because a trainer was killed. Sadly, that's the only reason I was making the film, so I have to call myself out here, too.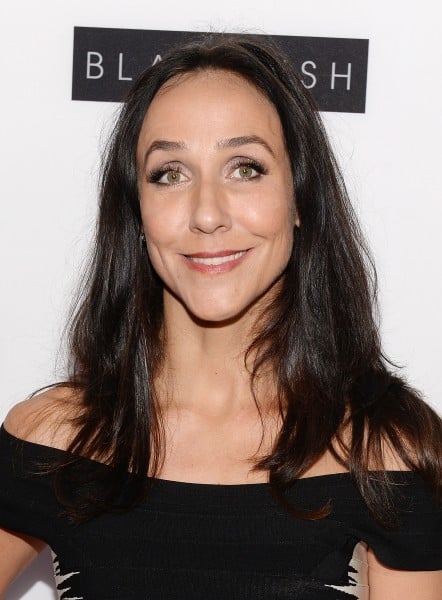 Did Sea World ever talk to you at all, or did they simply ignore your requests for an interview?
They entertained the idea. Or at least they told me they were likely to grant me an interview. Over the course of six months, we went back and forth over emails. I gave them my list of questions, which is something you usually never do in a documentary. But that's how badly I wanted them to have a voice in this film. Eventually they declined.
Did they give you a reason?
I'm exposing things in this film that Sea World has successfully kept under wraps for 40 years. They certainly don't want to acknowledge that some of these things happen, let alone talk about them and examine why they happen. The more I learned about what that park has been doing, the more I came to understand that they wouldn't talk to me.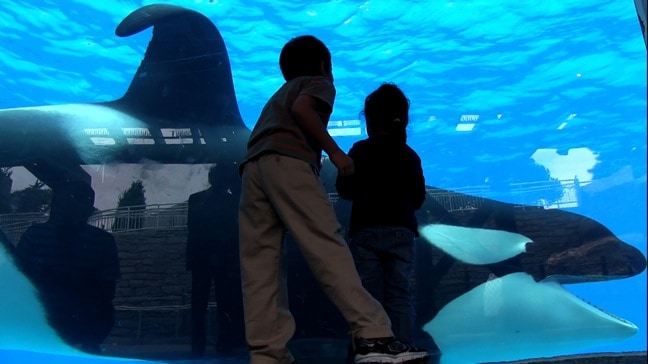 Talk to me about Sea World's statement, refuting many of the film's facts, which came out last week.
It's old fashioned damage control. What's interesting is that they came after the facts, which is not fruitful stomping grounds for them. Challenging facts is not something Sea World has ever been good at, so it was odd that they took that tactic. We rebuked everything they brought up quite easily, because the facts are indisputable. But what it also did was to bring all of these people out of the woodwork that I never would've heard from otherwise. Former Sea World trainers who weren't in the film are contacting me. Veterinarians are contacting me, saying that not only is Blackfish factually correct, but you're barely scratching the surface. Effectively, Sea World opened a big can of worms.
The film opened in New York and L.A., but I noticed people on your Facebook page asking about opening dates in their area. Are you trying to let it build organically?
Magnolia Pictures has taken over the theatrical endeavor, so they're the ones connected to the theatres. I do know that if people live in a town where the picture isn't opening, they can go to their local theater and request it. It's spreading to more new cities every day.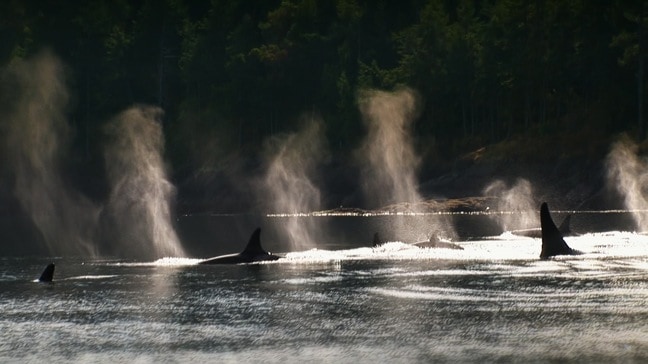 What do you hope this film will do for the captive cetacean industry, Sea World, and whales in general?
I hope Blackfish can be an agent of change in the way humans use animals for entertainment. We're hoping Sea World will use some of their $2.7 billion in annual revenue to create rehab and release facilities for whales. They could create sea pens, where they cordone off an ocean cove and retire their whales to an open ocean environment. People say, "Why can't you just release the whales?" But they were raised in captivity, and they don't know how to eat live fish. There's tremendous training involved in teaching them that. Doing this in a controlled sea pen environment could be a profit-driven endeavor, and I think school groups would come to see Killer Whales in the ocean. They'd be seeing the real thing for the first time. I think there is something very hopeful about where all this will ultimately take us… –Bret Love; all photos provided by Magnolia Pictures
If you enjoyed our interview with Blackfish Documentary Director Gabriela Cowperthwaite, you might also like:
INTERVIEW: Jean-Michel Cousteau On Marine Conservation
INTERVIEW: Artist/Marine Conservationist Guy Harvey
ANTARCTICA: The Whales of Antarctica
ENDANGERED SPECIES SPOTLIGHT: Blue Whale
Sea Shepherd Conservation Society Fights For Marine Life
ENDANGERED SPECIES SPOTLIGHT: Southern Resident Killer Whales