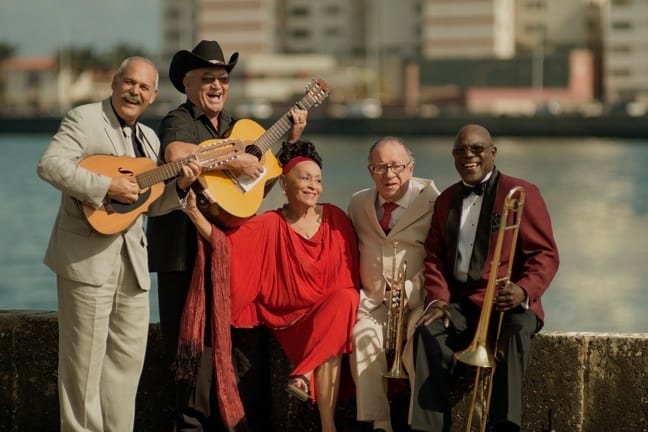 Orquesta Buena Vista Social Club
Celebrates Cuban Culture
The Buena Vista Social Club originally came together as a happy accident.
Assembled by musical director Juan de Marco González, the project was designed to be a cross-cultural collaboration pairing African and Cuban artists. At the same time, González was organizing an all-star team of veteran musicians for an album paying tribute to the golden era of Cuban Big Band jazz.
When the Mali-based musicians failed to get their travel visas, González quickly arranged an album of songs in the more relaxed Son Montuno style. He enlisted many of the all-stars, including bassist Orlando "Cachaito" López, pianist Rubén González, and guitarist/vocalist Eliades Ochoa. Once American producer/guitarist Ry Cooder arrived, they entered EGREM Studios in Havana and recorded a Big Band set (released as A Toda Cuba le Gusta by the Afro-Cuban All Stars) and the Buena Vista Social Club album in rapid succession.

Named after a members-only club in Havana whose dances attracted the city's best musicians in the 1940s, Buena Vista Social Club sold over 12 million copies, got made into a Wim Wenders documentary, and brought well-deserved attention to vocalists Ibrahim Ferrer and Compay Segundo, who had performed at the club during its heyday. More importantly, the album revived international interest in the rich musical traditions of Cuba.
Although Segundo, Ferrer and Rubén González all passed away shortly after the BVSC's popularity exploded, original members Omara Portuondo, Eliades Ochoa, Guajiro Mirabal, and Barbarito Torres continue to lead the 13-piece Orquesta Buena Vista Social Club today.
We were delighted to get a chance to speak (via translator) to guitarist/vocalist Ochoa and laud virtuoso Torres, covering topics ranging from Cuban culture and Cuban travel to how the universal language of Orquesta Buena Vista Social Club's music helps break down boundaries.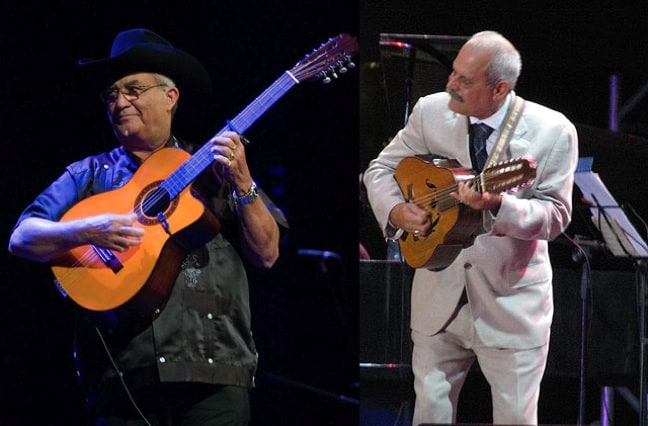 How did each of you come to be involved in the original Buena Vista Social Club project?
Eliades Ochoa: I was one of the original members, but that's just because I was doing what I was doing, in Cuba, with all of the other members at the time. It was just a natural fit.
Barbarito Torres: I was honored to be included in the original list of musicians that Juan de Marco González made for our debut London concert.
The music of BVSC is rooted in the Son Montuno style. For our readers who don't know much about Son Montuno, can you explain a little about its origins and history?
Ochoa: Son originally comes from the countryside, the tumbao campesino. It grew out of Cuban music styles such as the quiriba and the changuí, though it has more of a cadence to it than those other rhythms.
Torres: We play the son that comes from the countryside. But in addition, we also play a more urban variation, which is more sophisticated and uses different instruments and arrangements than the traditional version.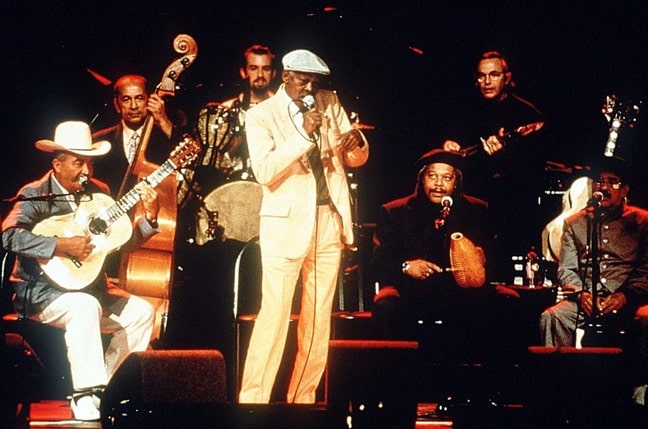 Buena Vista Social Club gave Cuban musical legends like Compay Segundo, Ibrahim Ferrer and Rubén González their well-deserved moment in the spotlight of stardom. Can you talk about the incredible musical talent that the project brought together?
Ochoa: Simply put, Buena Vista Social Club arrived at just the moment it needed to arrive. It is indebted both to the history of the Cuban people and Cuban music, as well as to the original founders of the project, who also have their own musical histories.
Torres: This project brought together three generations of prestigious and well-known musicians, some a bit older than me and some a bit younger. It's been a great privilege to work with them.
Buena Vista Social Club became one of the most successful World Music albums ever released. What was your reaction to the resounding success? Were you surprised or overwhelmed by the response?
Ochoa: To be involved– to be able to make music for a living and take Cuban music all over the world– fills me with great pride and happiness. Truthfully, I get happier and happier every day!
Torres: I had been touring and working in other countries prior to working with BVSC, and had already grown to expect a certain level of success. The international response to Cuban music was strong. But with BVSC it became even stronger, almost like a worldwide explosion!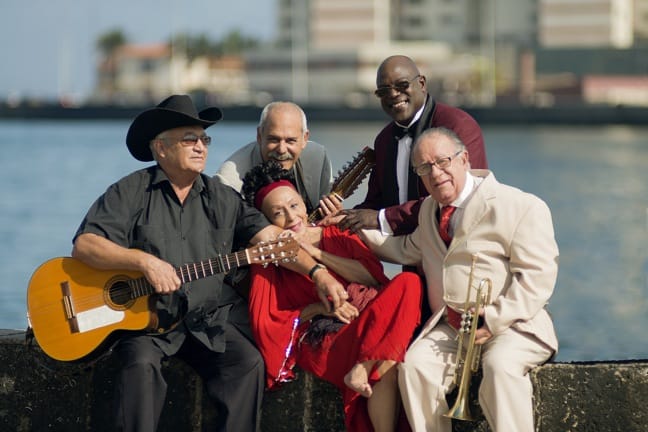 In Cuba, this music is very much a traditional, classic sound. What was the reaction to your success back home?
Ochoa: There is great love and support for us in the Cuban community. Every day at home they would congratulate me when I woke up in the morning, and it continued straight on until I went to sleep at night.
Torres: I think Cubans felt and continue to feel extremely proud of our success.
For many Americans, this project was their first exposure to Cuban culture. Do you feel that BVSC contributed in some way to the softening in tone of relations between America and Cuba?
Ochoa: Possibly. I don't want to overstate it, of course, but there is something about music that unites people. We have seen that our music has been embraced by many American listeners. And yes, it may have been many Americans' first contact with traditional Cuban culture.
Torres: I think it definitely helped for Cuban musicians and culture to become known around the world… something that everyone could relate to.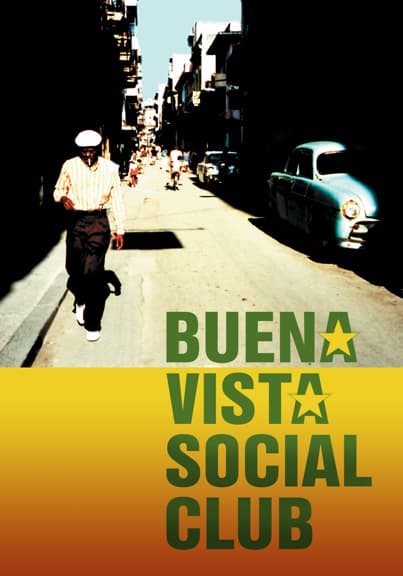 Now that Americans can legally travel to your native country, can you talk about some of your favorite places in Cuba that people should visit?
Ochoa: There are so many beautiful Cuban places to visit! I would definitely suggest Casa de la Trova in Santiago de Cuba for its incredible musical history, as well as Bodeguita del Medio. The areas of Viñales and Trinidad are also wonderful to visit.
Torres: Absolutely! Havana, Varadero, Trinidad, Viñales… It's such a beautiful country, and truly worth visiting and spending some time in.
How does Orquesta Buena Vista Social Club differ from the original band people fell in love with?
Ochoa: We still maintain the original roots, not only because they're essential to who we are and what we do, but also because the public still wants us to play the songs that made BVSC famous. Songs like "Carretero," "Chan Chan," "Cuarto de Tula," and "Candela" remain part of our repertoire. But, at the same time, we've incorporated younger musicians with other careers and other influences. Pianist Roberto Fonseca, for example, whose Cuban jazz career is an excellent example.
Torres: This orchestra was originally founded to accompany our master, Ibrahim Ferrer. It has definitely changed some over the years, but it still includes venerable musicians like our trumpet player, Guajir Miralbal, who is still with us even though he is in his 80s.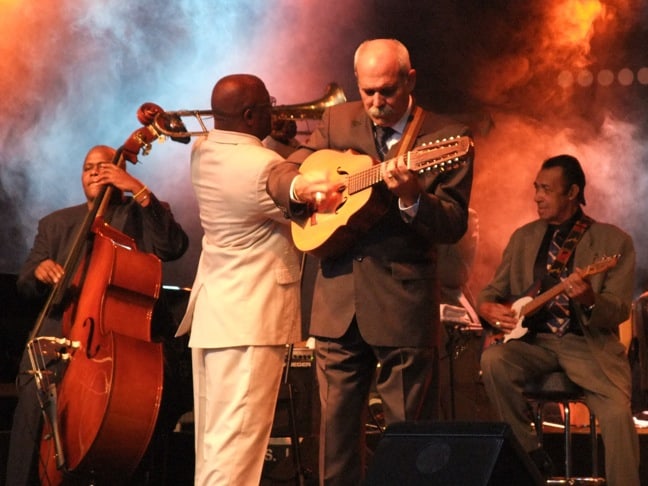 Can you talk about the 13-member band you're touring with now?
Ochoa: They are young and talented musicians who have big shoes to fill, and do it remarkably well, while bringing a host of their own skills and perspectives to the table.
Torres: The musicians in the orchestra are all exceptional, with great energy. There are a range of ages/generations between us, but we have such a fantastic interplay and an atmosphere that knows no age.
You're not fluent in English, and most of your American listeners aren't fluent in Spanish. What do you hope to communicate to them through the universal language of music?
Ochoa: That's true, but we've always communicated in the language of Cuban music. Over the years, we've found that that language has no borders.
Torres: Everyone everywhere loves music and understands it, and therefore it's the language that has an ability to cross all boundaries. –by Bret Love; photos provided by Orquesta Buena Vista Social Club; special thanks to Rease Kirchner for her help with translation
If you enjoyed our interview with Orquesta Buena Vista Social Club, you might also like:
INTERVIEW: Afro-Cuban All-Stars
The History Of Jamaican Music Genres (From Ska And Reggae To Dub)
Dub Music: The History & Evolution Of Dub (Plus Top 10 Dub Albums)
20 Best Caribbean Islands To Visit (If You Love Nature & Hate Crowds)
The 20 Best Things to Do in Jamaica (For Nature & History Lovers)
20 Best Things to Do in Aruba (For Nature & History Lovers)
The 20 Best Things to Do in Barbados (For Nature & History Lovers)
The 20 Best Things to Do in Curacao (For Nature & History Lovers)
Caribbean & Latin American Art (History & Travel Guide)
St Kitts Travel Tips (A St. Kitts Travel Guide)
Top 20 Things to Do in Cancun (For Nature Lovers)
St Thomas Islands: Outdoor Adventures on Cas Cay
St. George, Bermuda: Oldest Town in the New World
Dominican Republic Outdoor Adventures