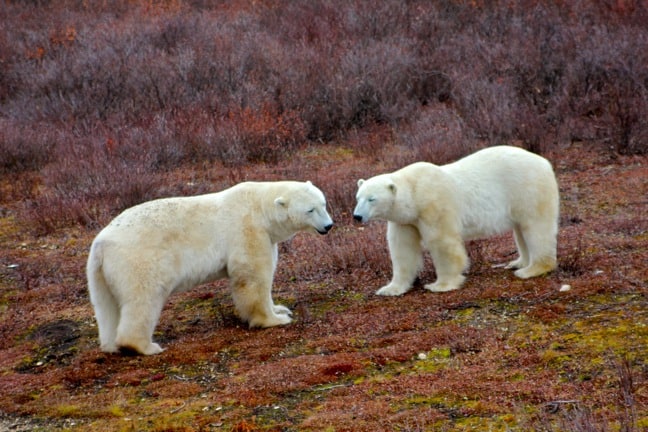 CHURCHILL: Polar Bear Fight!
If you think all Polar Bears are cute and cuddly, then you've probably never seen a polar bear fight.
During our time at Natural Habitat's Tundra Lodge on the shores of the Hudson Bay in Churchill, Manitoba, we had plenty of time to observe polar bears in the wild. We watched them sleeping, exploring, sniffing around the dining car at mealtime, and… well, mostly looking bored while waiting for the sea ice that would allow them to go out hunting for seals.
Churchill is one of the only places in the world where you can see male Polar Bears living together in close quarters with relatively few conflicts. In their state of walking hibernation, the bears are focused on conserving energy for their winter hunt, so disagreements tend to be brief and rarely escalate to physical violence. But these massive mammals do tend to get bored, so every day we'd watch eagerly in hopes of seeing a polar bear fight break out.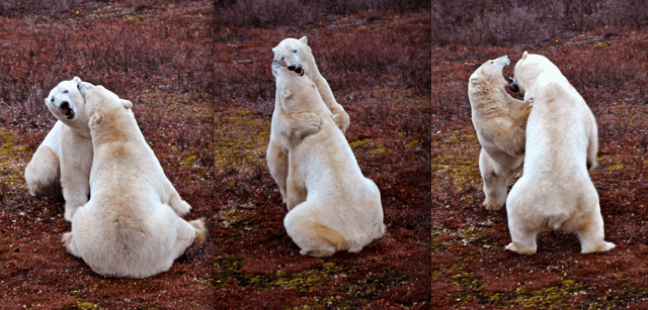 It started innocently enough: The Polar Bears would all be lazing around, when suddenly one would get up for a stretch, walk over to his buddy and gently nudge him with his nose. It was like he was saying, "Hey, you wanna play?"
More often than not, the intended playmate would simply roll over and go back to sleep. But, at least once per day, the other bear would nudge back, and the Polar Bear equivalent of a Greco-Roman wrestling match would ensue. A little sleepy ear-nibbling here, a cuddly grapple there and, next thing you knew, the teeth were bared and the claws were out.
Our naturalist guides reassured us that these Polar Bear fights, which typically lasted anywhere from 2 to 10 minutes, were more about alleviating boredom and getting exercise than they were about trying to do bodily harm. Only once did we see any blood whatsoever. And, because the bears were in a state of walking hibernation, their movements sometimes made them look more like two drunk puppies playing than the most fearsome predators on the planet.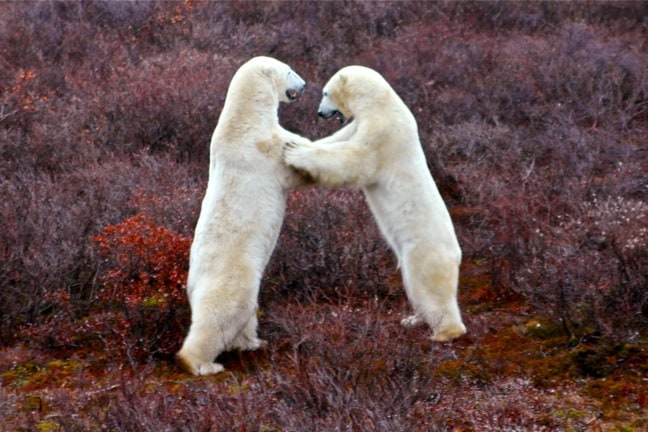 But the bouts did serve an important purpose: In challenging each other now, when the stakes were low, the Polar Bears were establishing a dominance hierarchy. This helps them avoid deadly confrontations with the stronger alphas when they're out on the ice, in fierce competition for limited food sources and mating privileges.
Though the Polar Bears may have been sleepy, once they got going their movements were anything but slow. It was  thrilling to watch as they rose up on hind legs, pushing and grabbing and baring massive teeth at one another. Everyone would drop whatever they were doing each time a Polar Bear fight broke out, and it was difficult to maintainl quiet voices when the equivalent of a heavyweight boxing match was happening 30 feet away from us.
We often found ourselves rooting on the underdog, barely able to contain ourselves from whooping and hollering every time he executed a solid takedown or rose to the dominant male's challenge in a pushing contest. We're not normally big fans of blood-sports like MMA or Ultimate Fighting, but a Polar Bear fight is truly a spectacle to behold.
Hopefully this brief video will give you a visceral taste of what it's like to be so close to the heart of the action. And Churchill, Manitoba is the only place in the world you can experience it. –Bret Love; photos &video by Bret Love & Mary Gabbett
IF YOU LIKE IT, PIN IT! 
If you enjoyed reading (and watching) Polar Bear Fight, you might also like: 
CHURCHILL: Tundra Wildlife Photo Gallery
CHURCHILL: Into the Wilds of the Canadian Arctic
CHURCHILL: Polar Bear Photo Gallery
WWF Polar Bear Biologist Geoff York on Preserving the Arctic